75 Hilarious The Office Graduation Cap Ideas For Ultimate Fans
This post is all about the funniest graduation cap ideas for fans of the office. Because you're like, really smart now you don't even know.
This post may contain affiliate links, which means I'll receive a commission if you purchase through my link, at no extra cost to you. Learn more: Affiliate Disclaimer.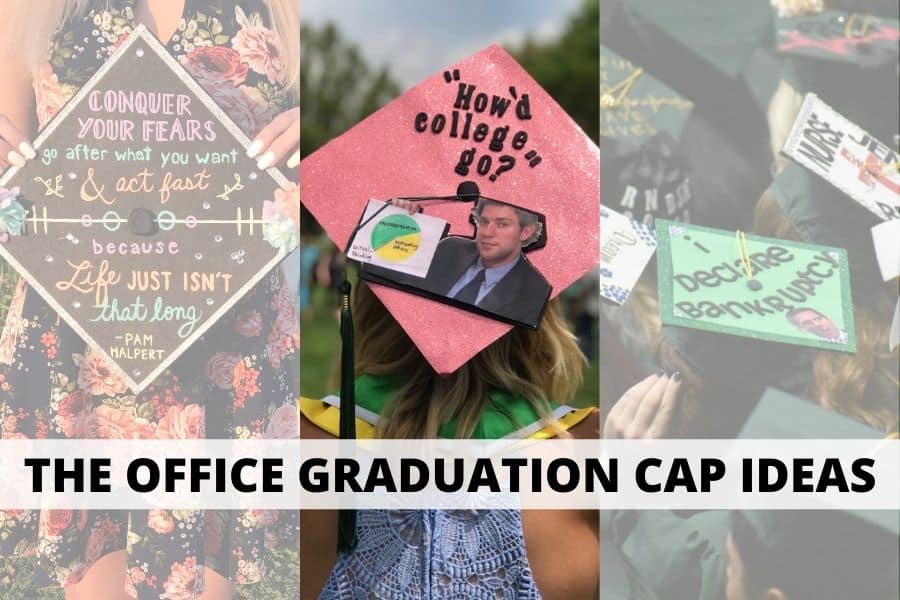 Are you a super fan of The Office? You're definitely not the only one. The Office is one of the most popular shows of all time and a lot of people have rewatched it over and over throughout the years.
Honestly, watching The Office got me through college. It always helped me unwind after a stressful day of lectures. If you're a super fan like me, you'll go crazy over these Office-themed graduation cap ideas.
I've put together a list of 75 of the most funny, relatable, and quotable quotes that you should recreate for your graduation cap.
Skip ahead to grad caps inspired by your favorite character:
 P.s. we do not own the rights to these images. If you are the original copyright owner, please email [email protected] for credit/removal.
Check out 75 of the most hilarious The Office graduation caps below.
Graduation Cap Designs Inspired By Dwight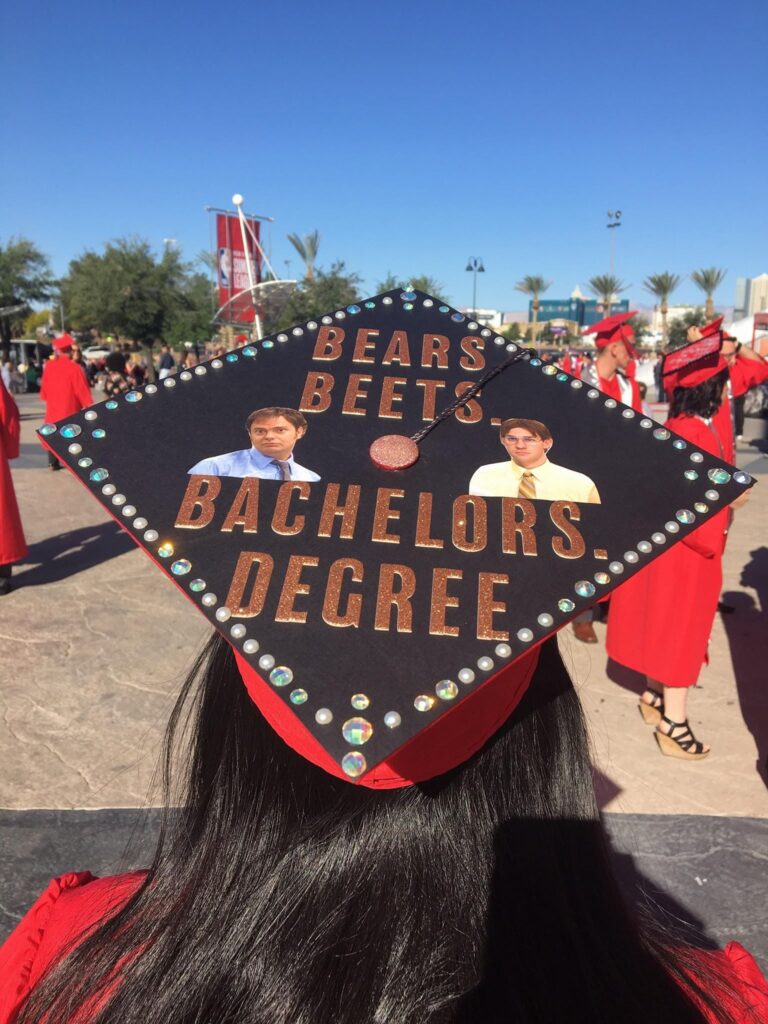 I know, I know, this quote from The Office is actually said by Jim Halpert. But I included it under Dwight's category because he says it while he's dressed up like Dwight.
"Bears, Beets, Battlestar Galactica" is one of the most iconic quotes from the TV show so it makes a great graduation cap idea.
Here's another take on this iconic quote. The glittery glasses are absolutely hilarious to me.
[RELATED: 31 Clever Graduation Cap Ideas You'll Obsess Over]
Yes, another one. There are so many different ways you can use this iconic scene on an Office inspired graduation cap.
Is your whole friend group obsessed with The Office? Split up the quote and put part of it on each of your hats! Such a cute group graduation cap design idea.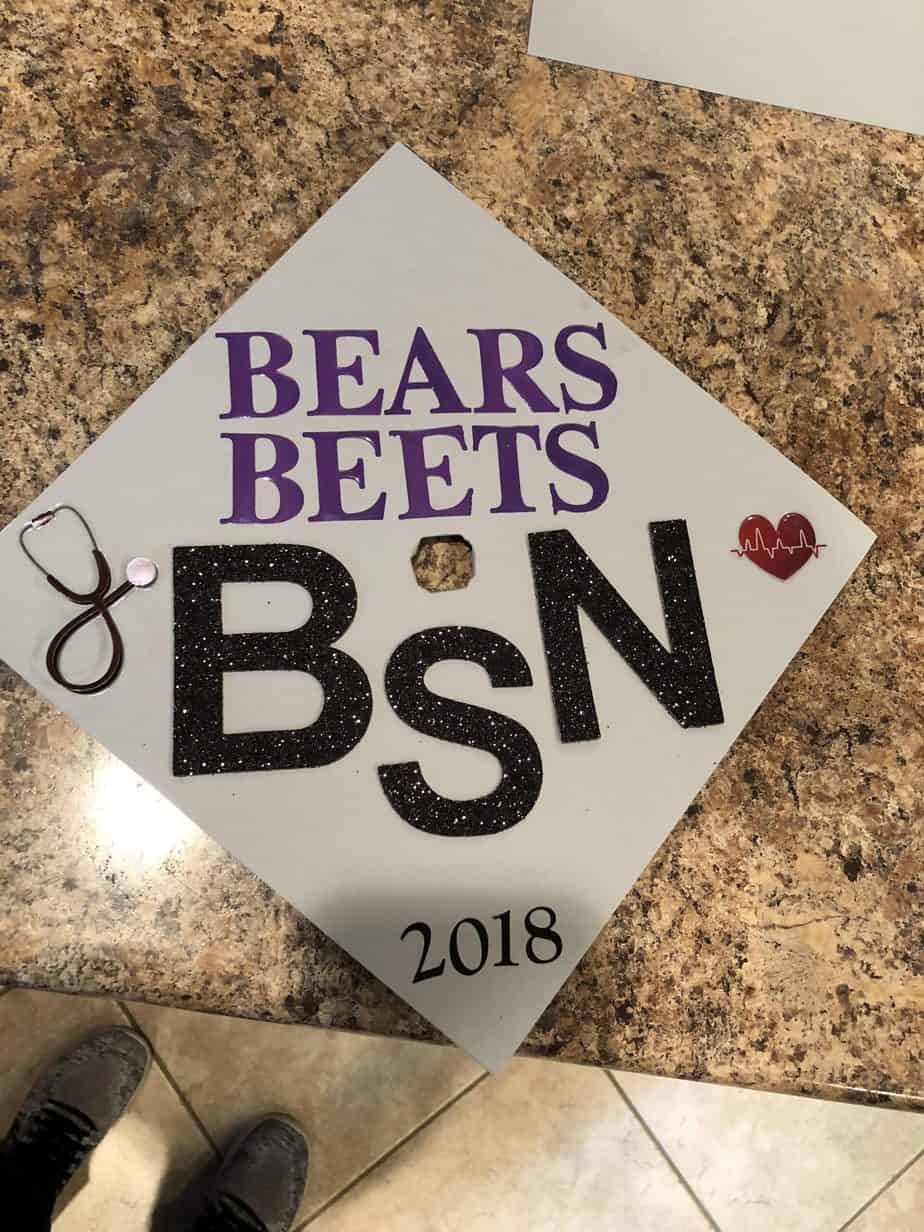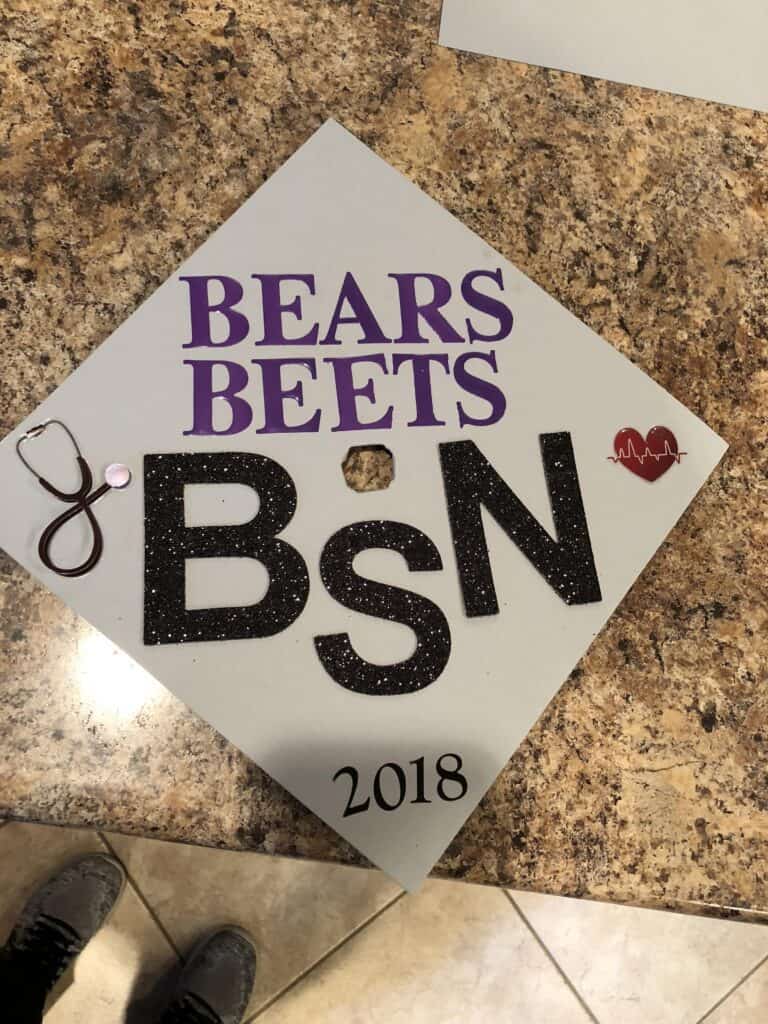 Okay, last one from this quote. I just love it because you can personalize it to whatever your major is. This 'Bears, Beets, BSN' graduation cap is a great example of that.
[RELATED: 34 Nurse Graduation Cap Ideas You Need To See]
"I am ready to face any challenge that might be foolish enough to face me."
This is another iconic Dwight line that makes for a great graduation cap quote. Add in some graphics of Dwight and any other decorations you like.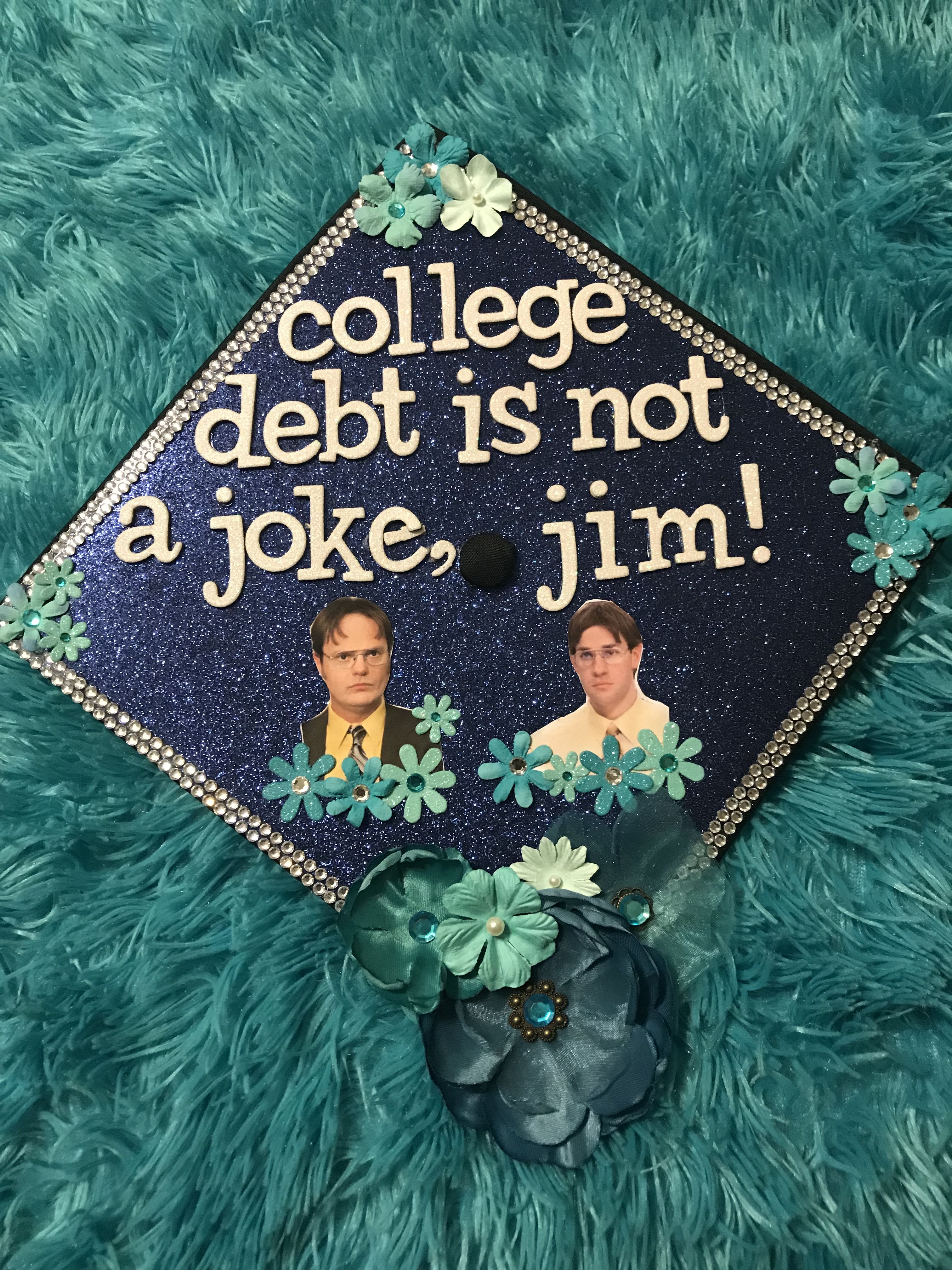 "Identity theft is not a joke Jim!"
This iconic Dwight Schrute line is perfect for a graduation cap. You could personalize it to be about college debt, your course load, the post-college job search, etc.
If you're a true office fan, you know that Dwight uses the word fact at the beginning of a lot of his statements. It's the funniest when it's put in front of something super obvious. That's what makes this graduation cap idea so hilarious.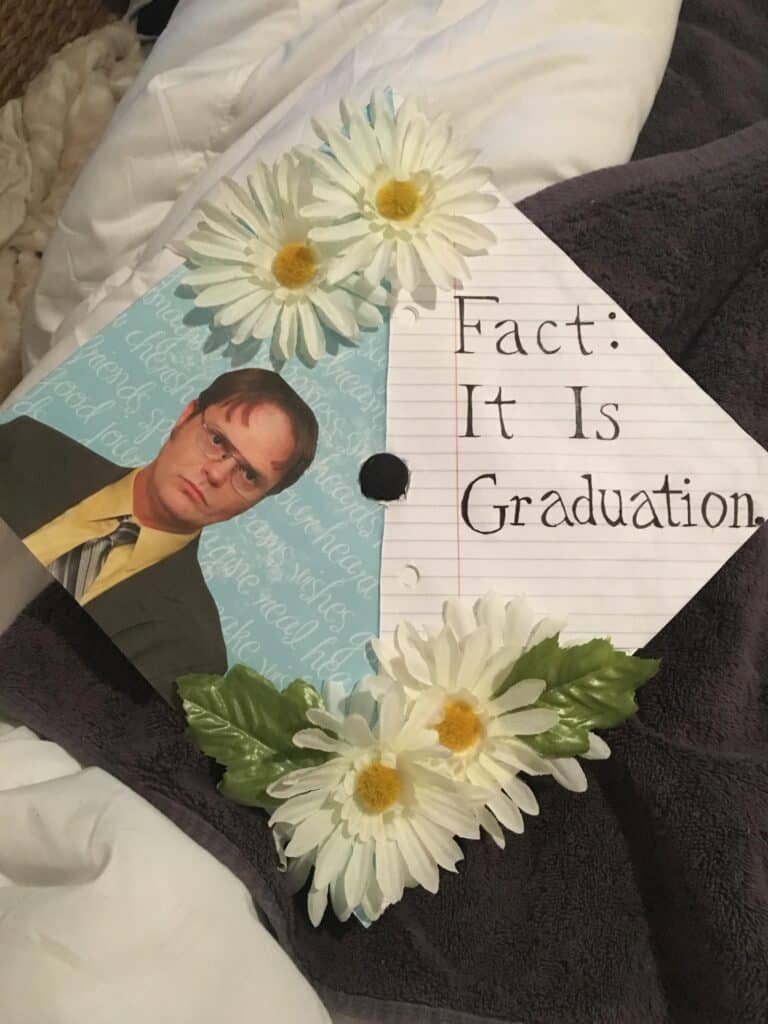 [RELATED: 5 Easy Ways To Decorate Your Graduation Cap Without Ruining It]
Make a big statement with this quote from Dwight's iconic sales conference speech.
Honestly, Dwight's face just make's any graduation cap instantly funnier.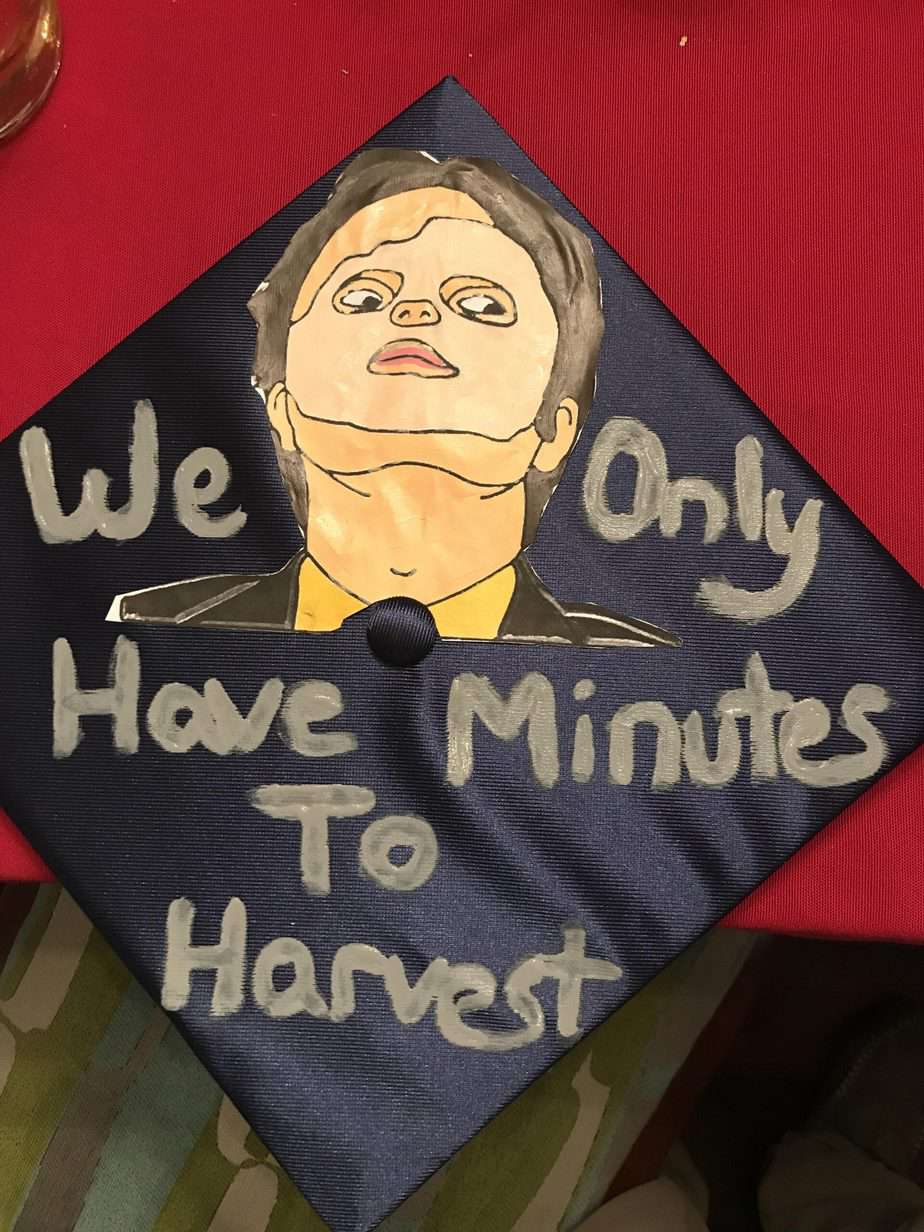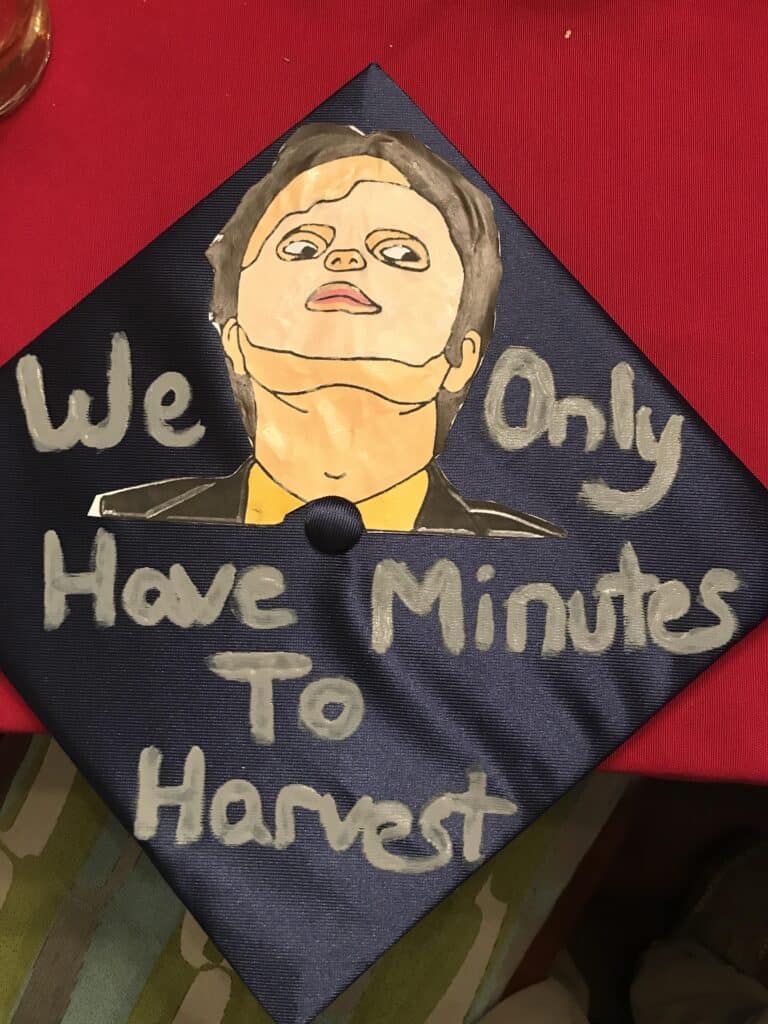 This Dwight quote has nothing to do with graduating but it's still hilarious on a grad cap.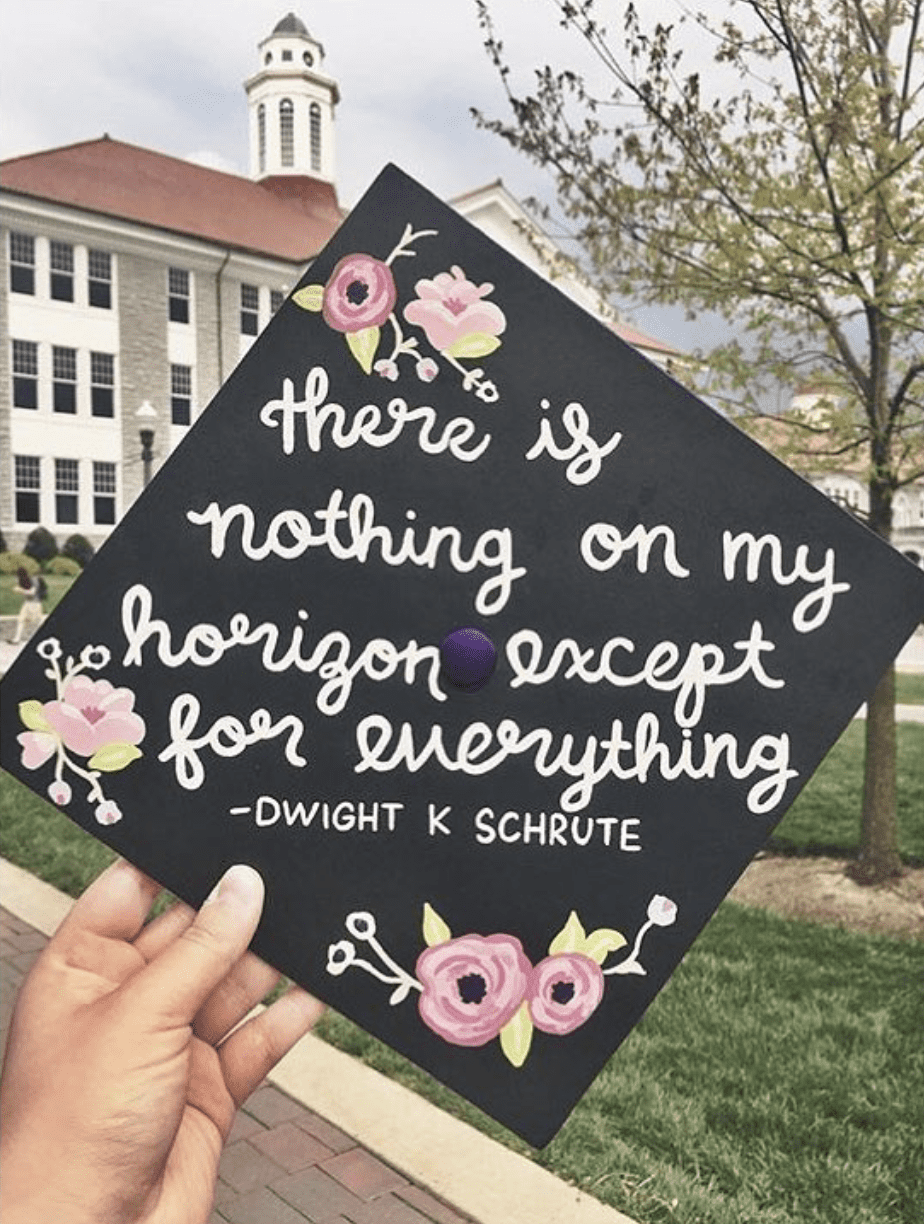 Oddly inspirational but also super hilarious quote from Dwight Schrute.
Graduation Caps Inspired By Michael Scott From The Office
As the main character of The Office, Michael Scott has some insanely iconic lines and quotes. Here are the best graduation caps inspired by Michael from The Office.
How can we ever forget Michael saying "I understand nothing". It pretty much sums up our entire college experience if we're being honest lol.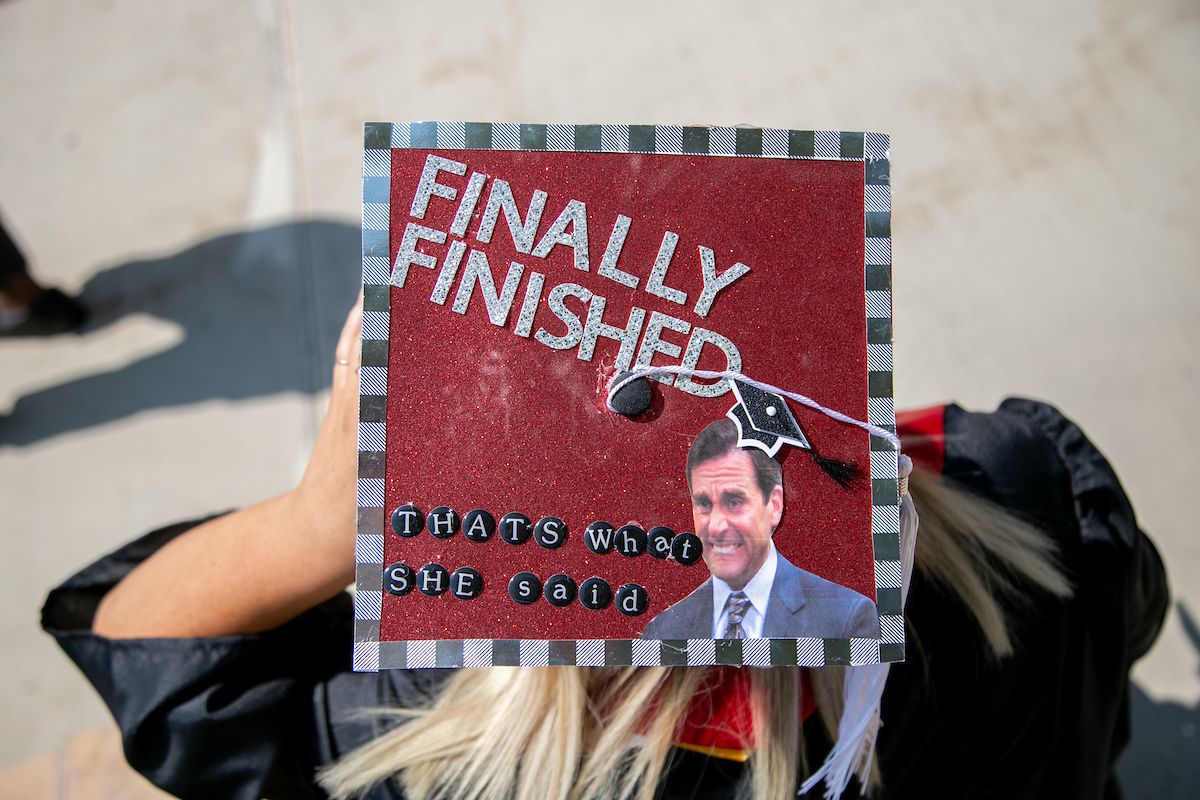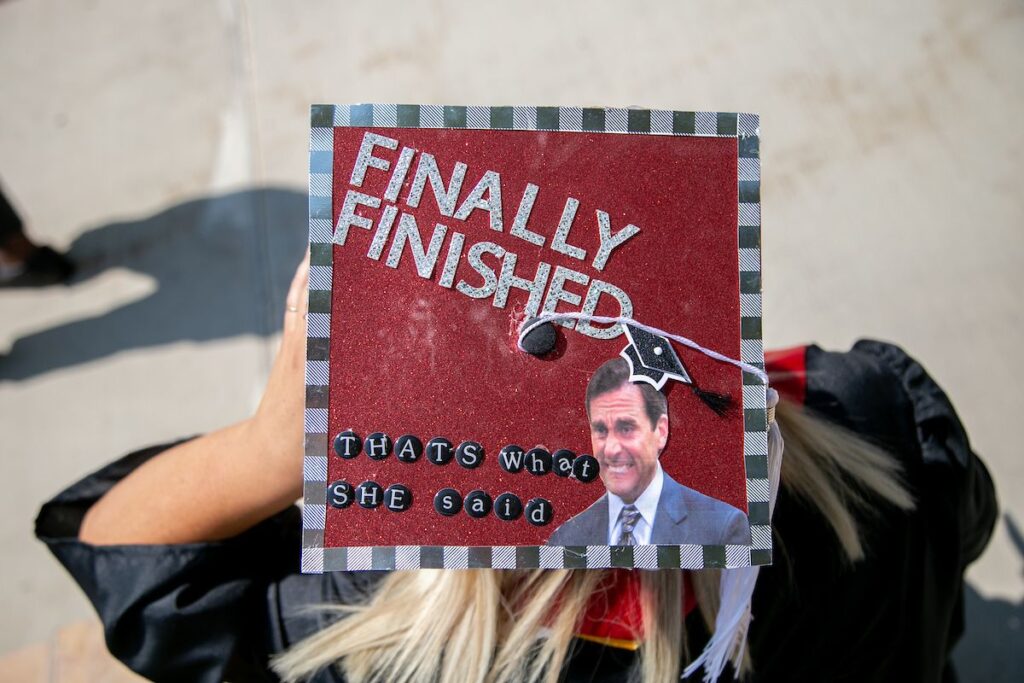 Of course, we can't forget about the ICONIC "that's what she said" jokes that Michael makes throughout the series. There are so many good ideas for grad caps with this quote so I've included a few of them.
"The worst thing about prison was the dementors." -Prison Mike
Michael's 'Prison Mike' character is so legendary. Pay homage to Prison Mike by using his dementor's quote on your graduation cap.
Another character that Michael Scott does is Michael Scarn. He's the main character in Michael's movie Threat Level Midnight. True fans will definitely understand this reference.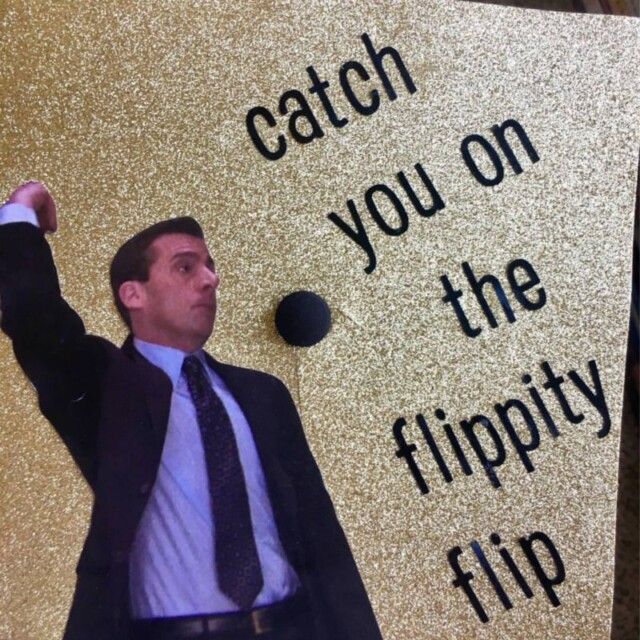 Another classic Michael Scott line from The Office.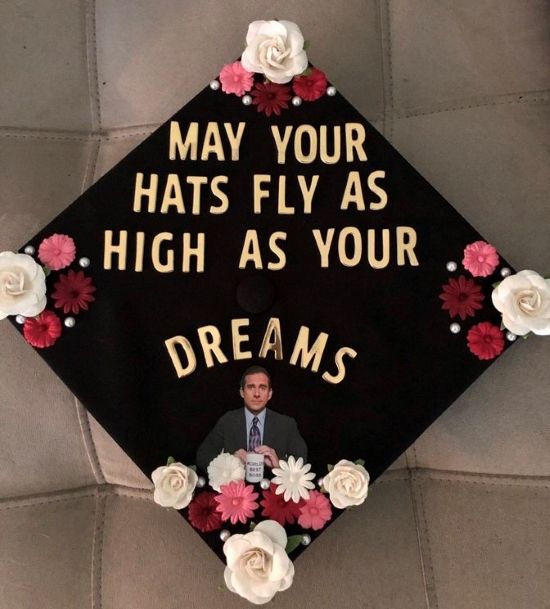 I've seen this quote on so many graduation caps! It's such a perfect Michael Scott line for a graduation cap design.
"Maybe next time you will estimate me." – Michael Scott
After Jan tells Michael that she underestimated him he hits her back with this hilarious line. Such a good graduation cap idea if you have people in your life who underestimated your abilities.
One of my all-time favorite scenes from The Office is when Michael thinks declaring bankruptcy just means to yell "I declare bankruptcy".
This is a hilarious quote to put on a grad cap because we're all feeling the pain of student loans when we're getting ready to graduate.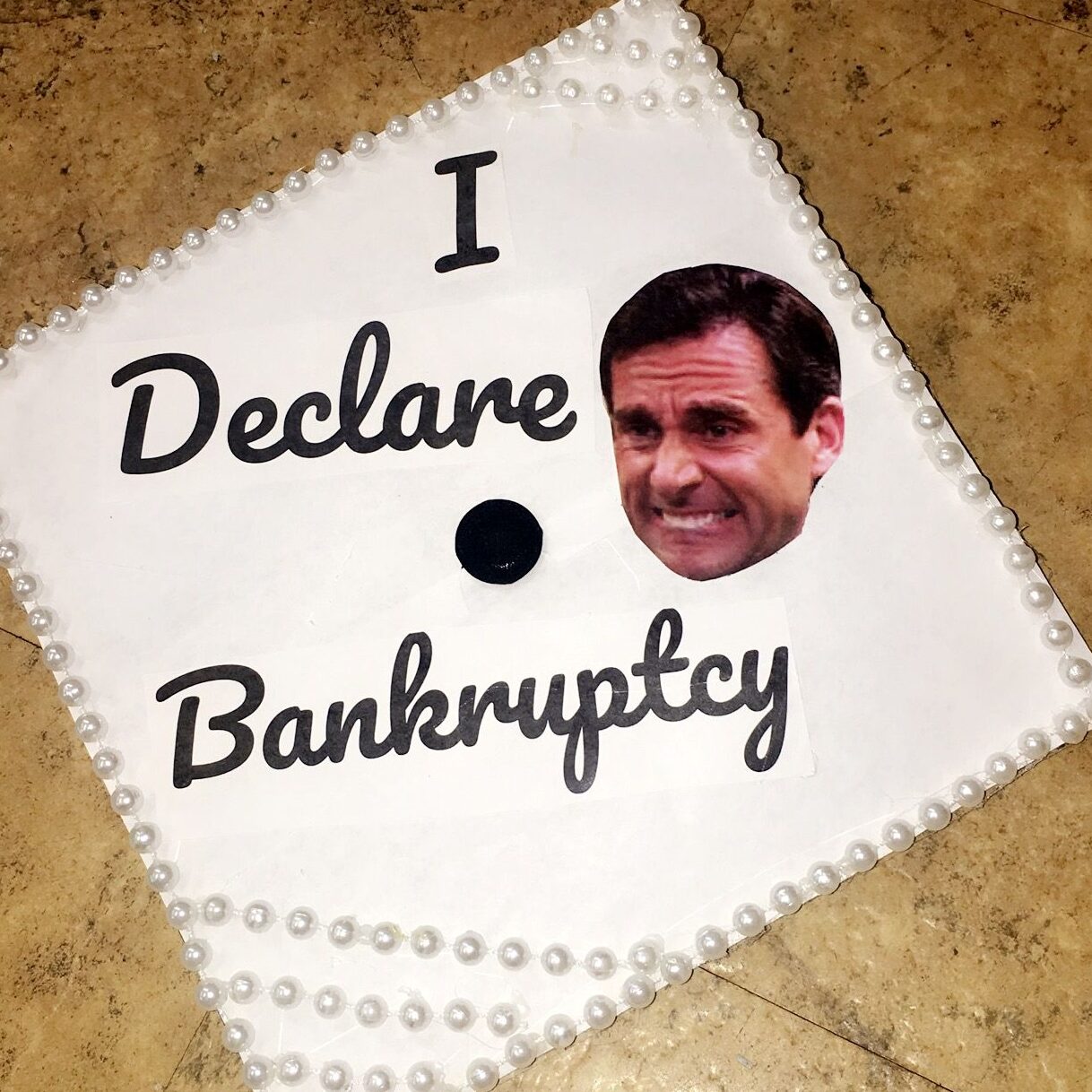 You could also switch things up and put the word graduation into the quote. Still hilarious!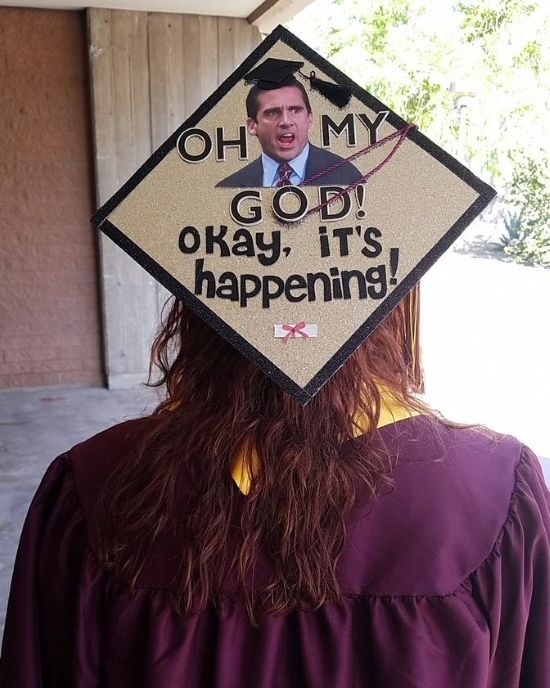 Nothing is funnier than Michael Scott when he's excited or riled up. It's perfect for capturing the excitement of graduation.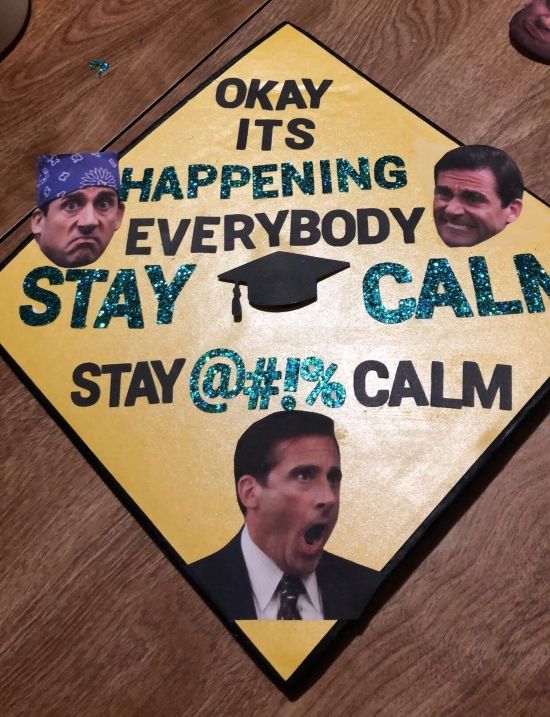 This one is obviously very niche, but if you're heading to Colorado after graduation this is definitely the graduation cap design for you.
Another favorite Michael Scott quote!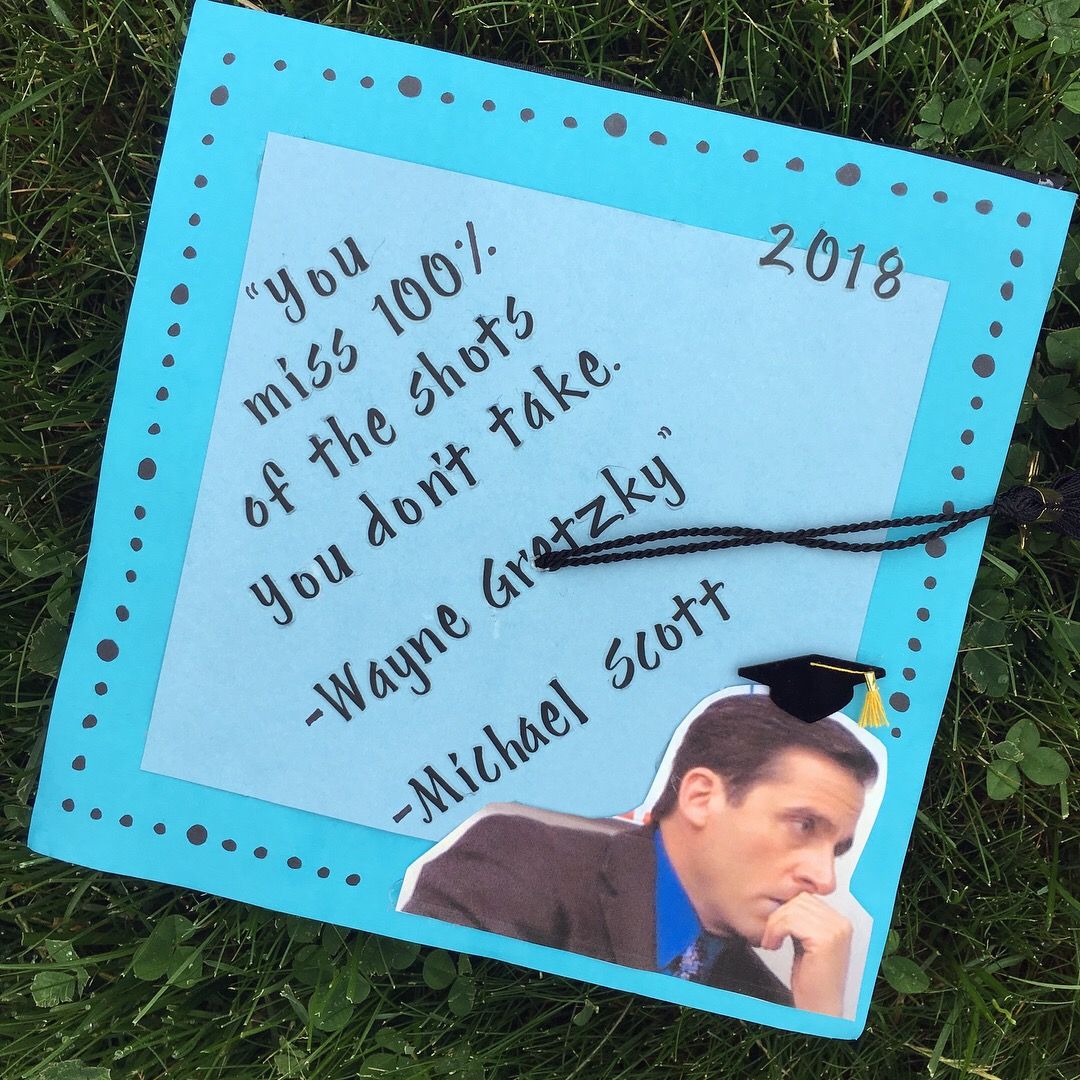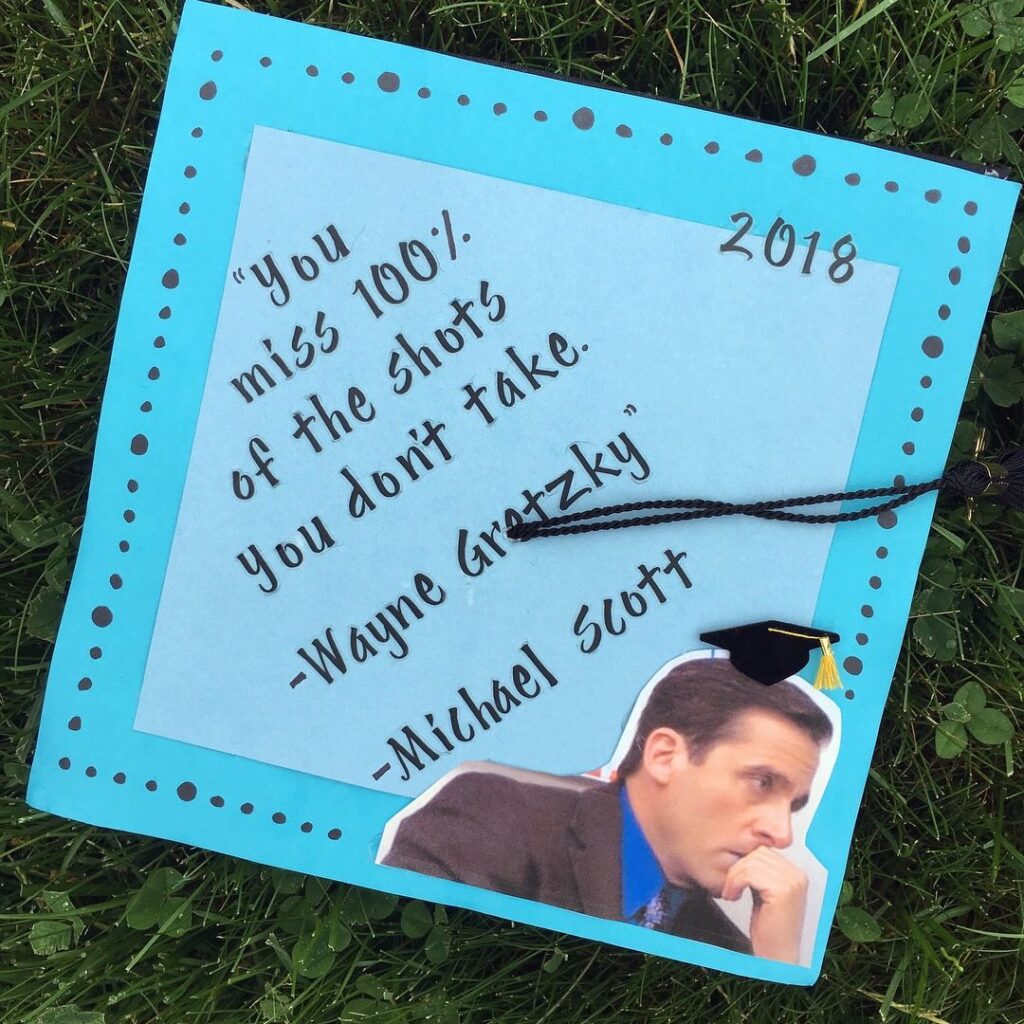 Who can forget when Michael gives himself credit for this iconic Wayne Gretzky quote. I think it would be even funnier to add your own name underneath Michael Scott on this grad cap.
I can relate to this Michael quote a little bit too well.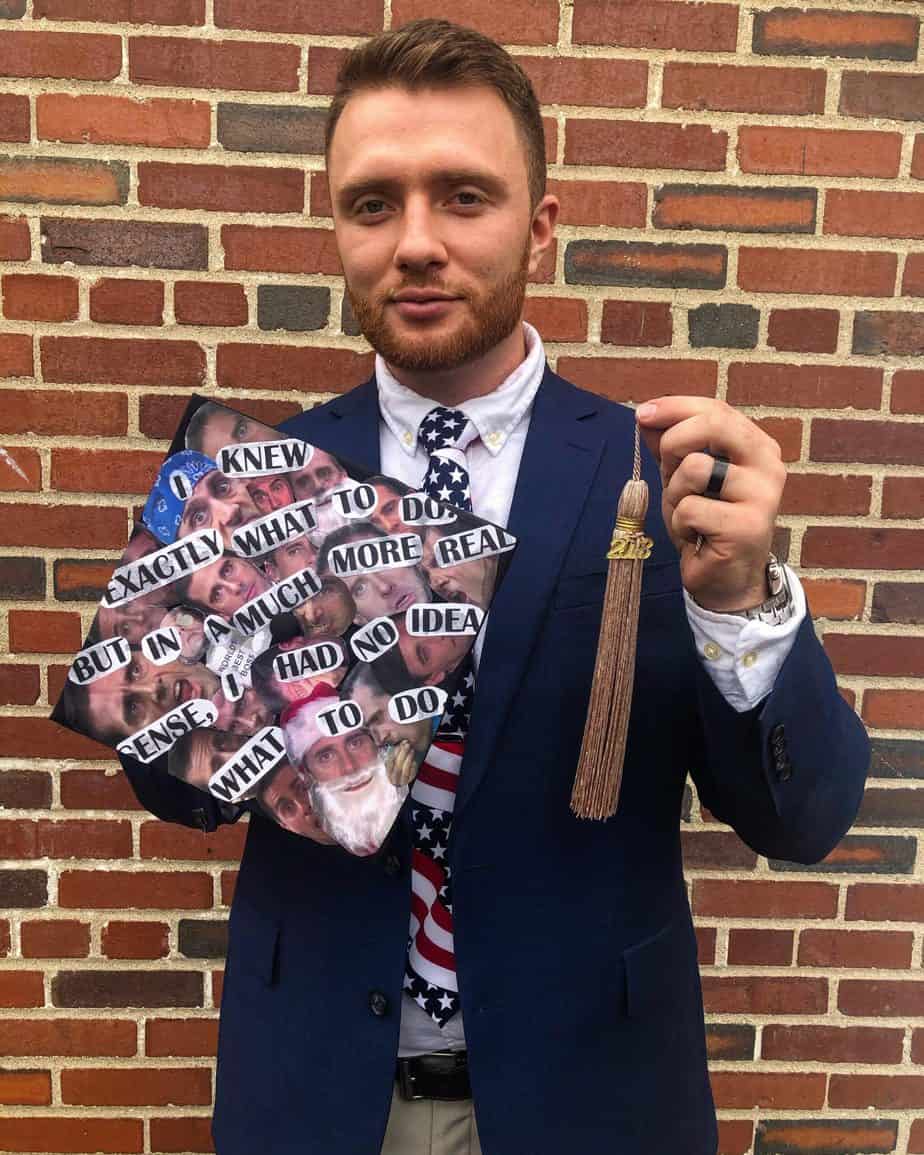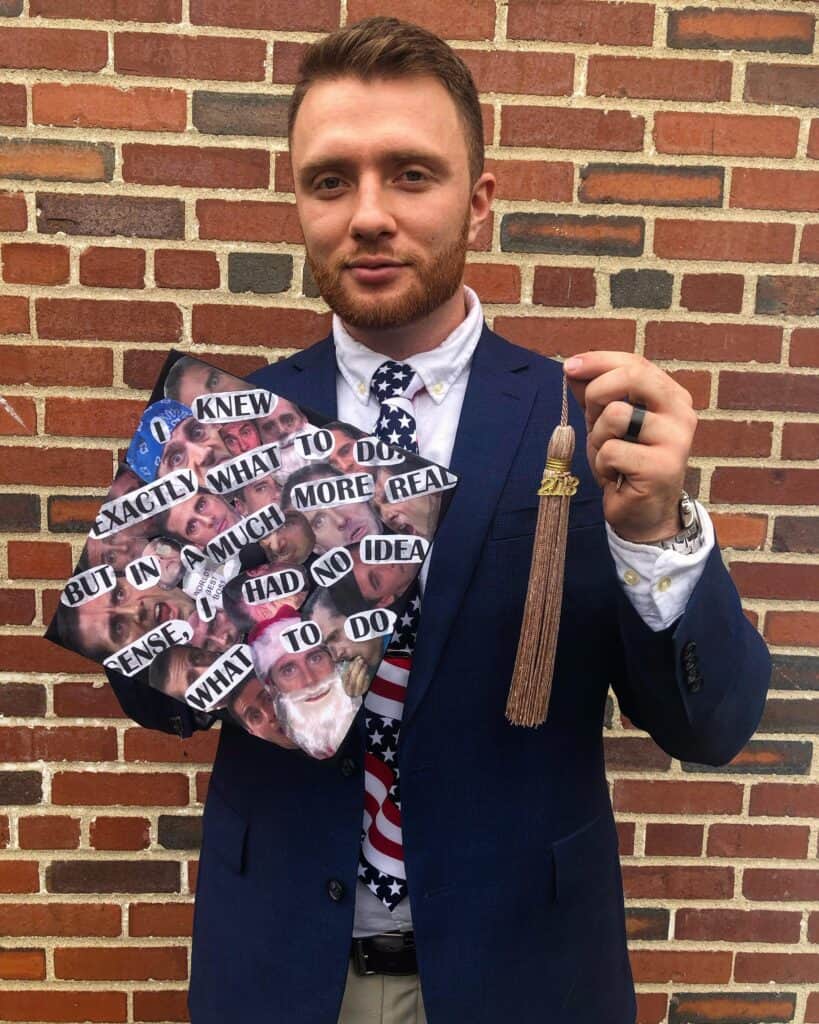 Are you a true Office fan? Show it off with a collage of Michael's face on the top of your grad cap.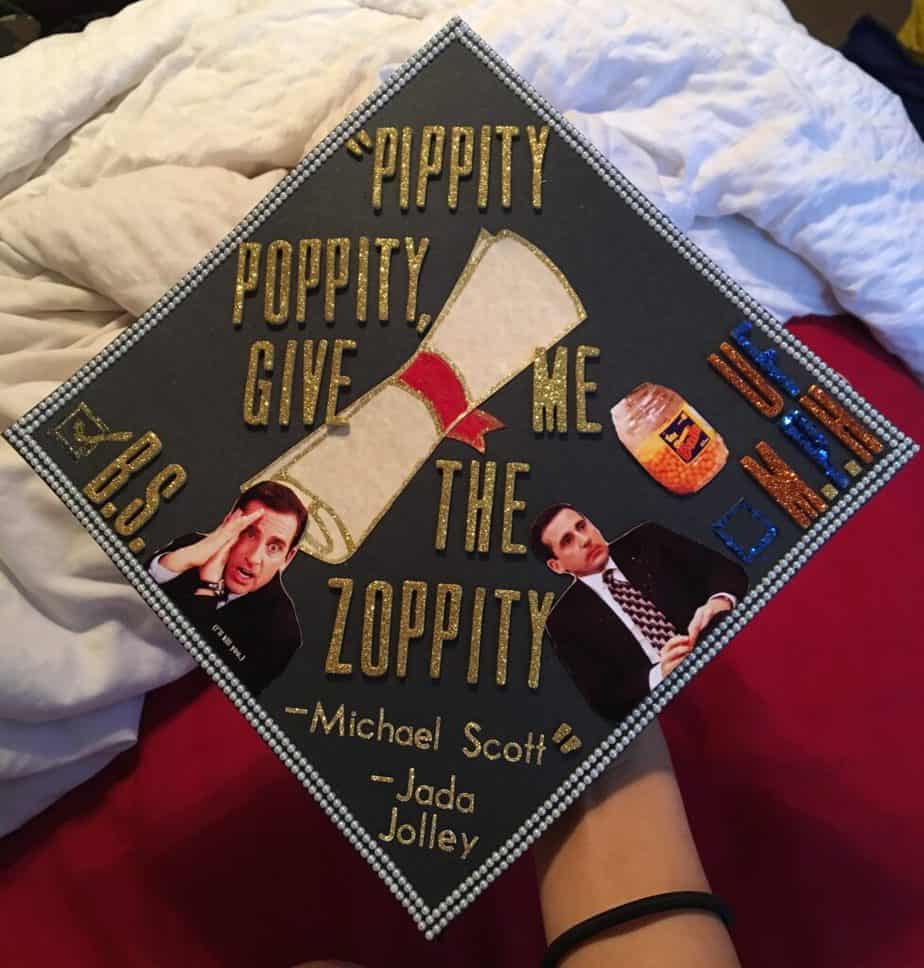 Such a funny Michael Scott moment. You could also swap out the word 'zoppity' for diploma or degree to make it more graduation themed.
This is one of the last lines in The Office series and it's super iconic.
Okay this one might not go over well with your school. But if you can get away with it, this Michael Scott quote would be pretty funny on a graduation cap.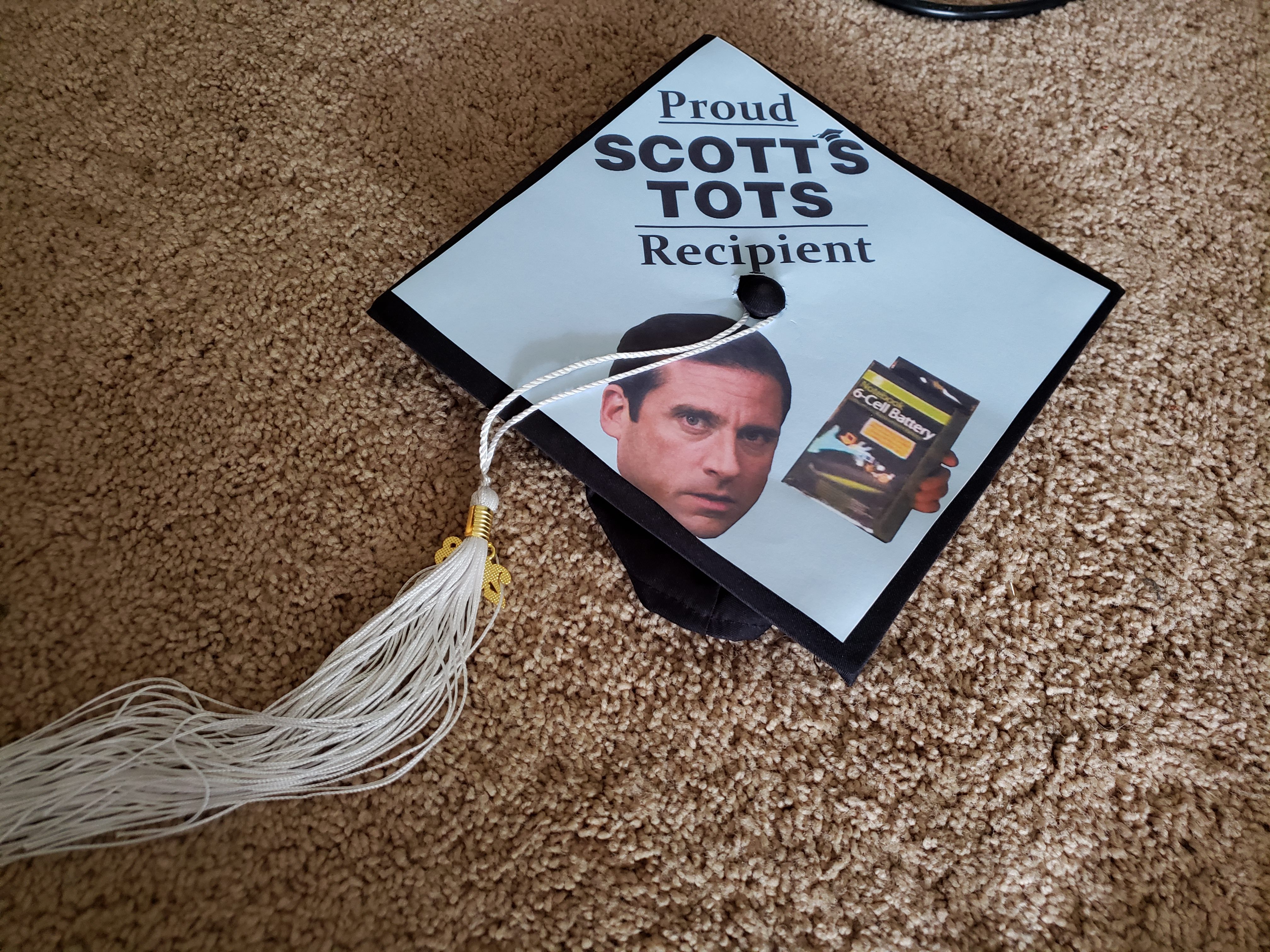 Who can forget the infamous Scott's Tots episode when Michael promises to pay for the college tuition of an entire class (and then fails to deliver of course)?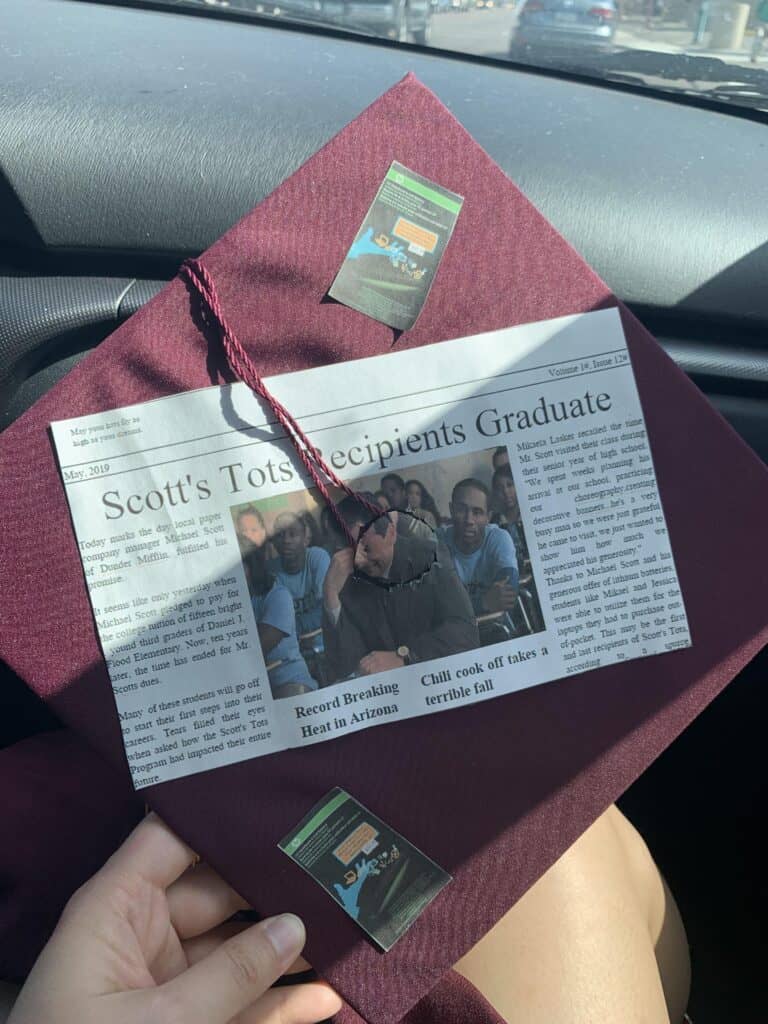 Only super fans will recognize this hilarious Michael Scott quote.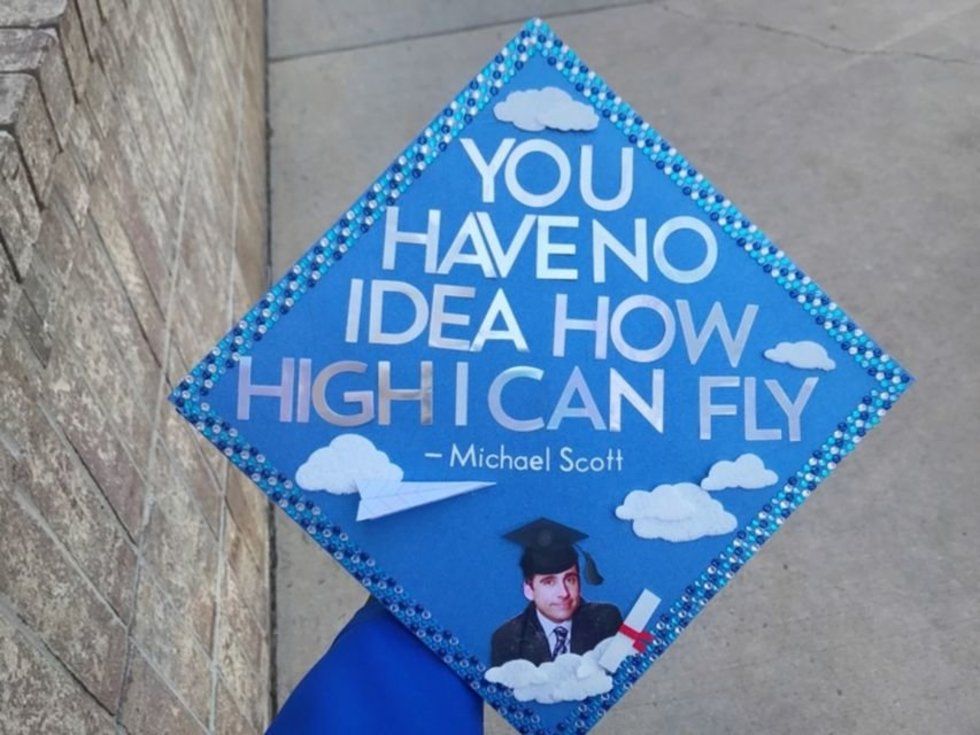 This is one of the most relevant Michael quotes for an Office themed graduation cap.
"Sometimes I'll start a degree and I don't even know where it's going. I just hope I find it along the way."
So funny!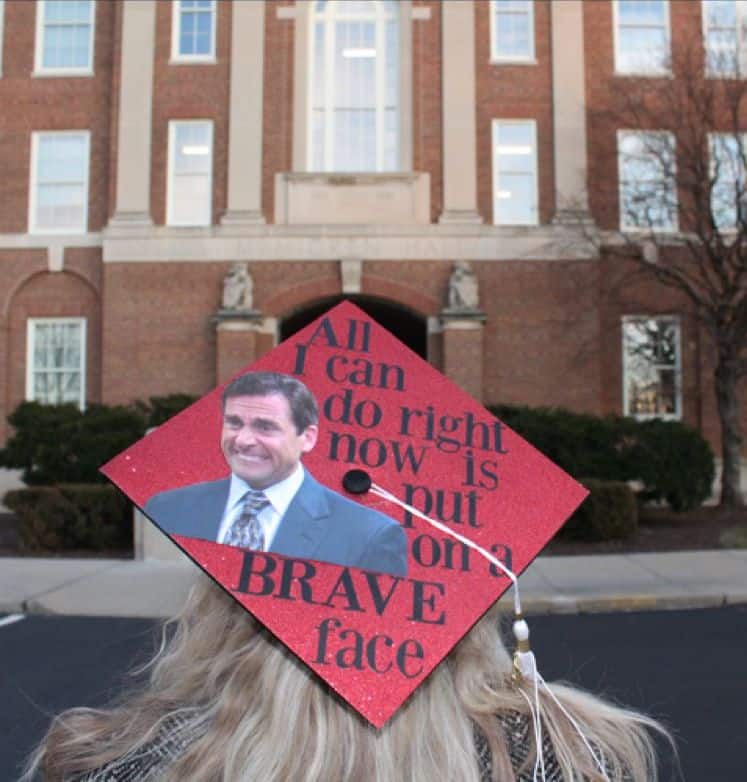 Put on a brave face before you have to face the student loans lol.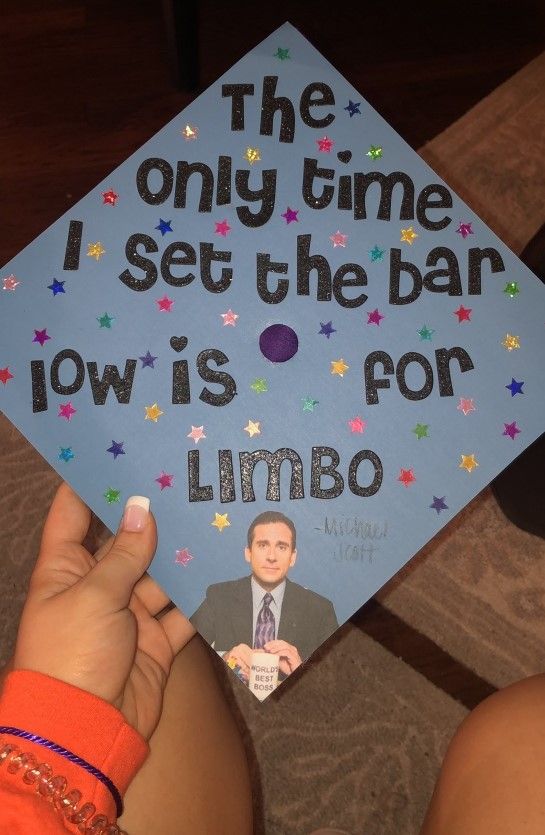 This is another deep cut quote that only Office super fans will know!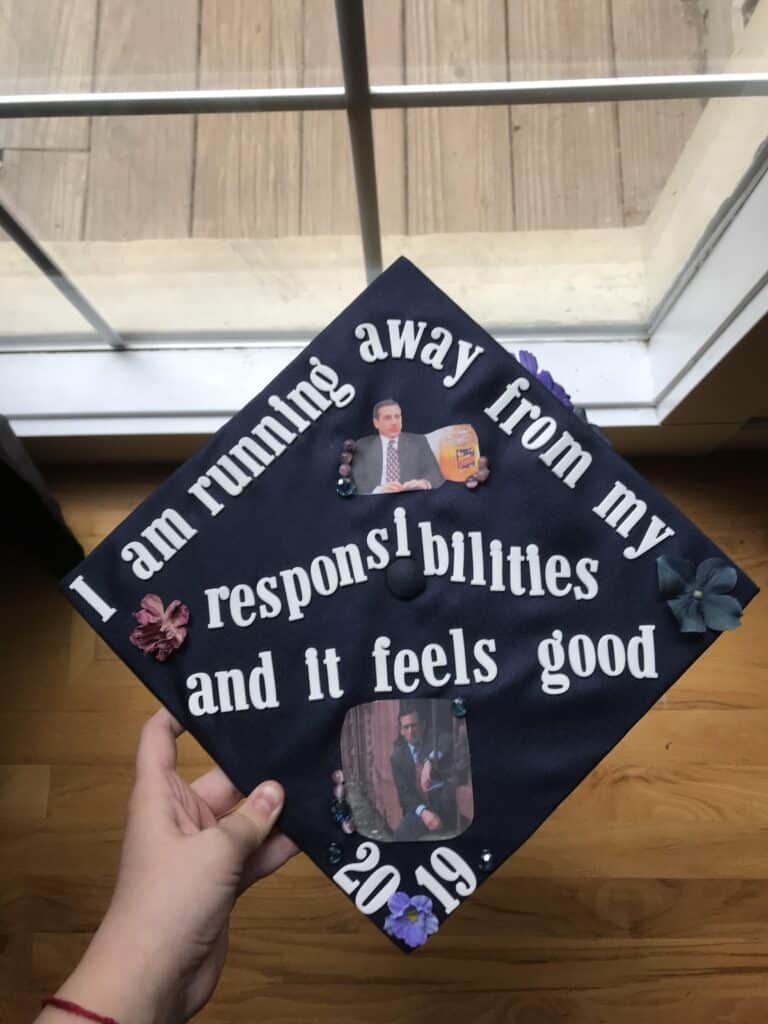 You just graduated so it's time to take a little break from your responsibilities!
"I am Beyonce always." -Michael Scott
Another one of my favorite quotes from Michael.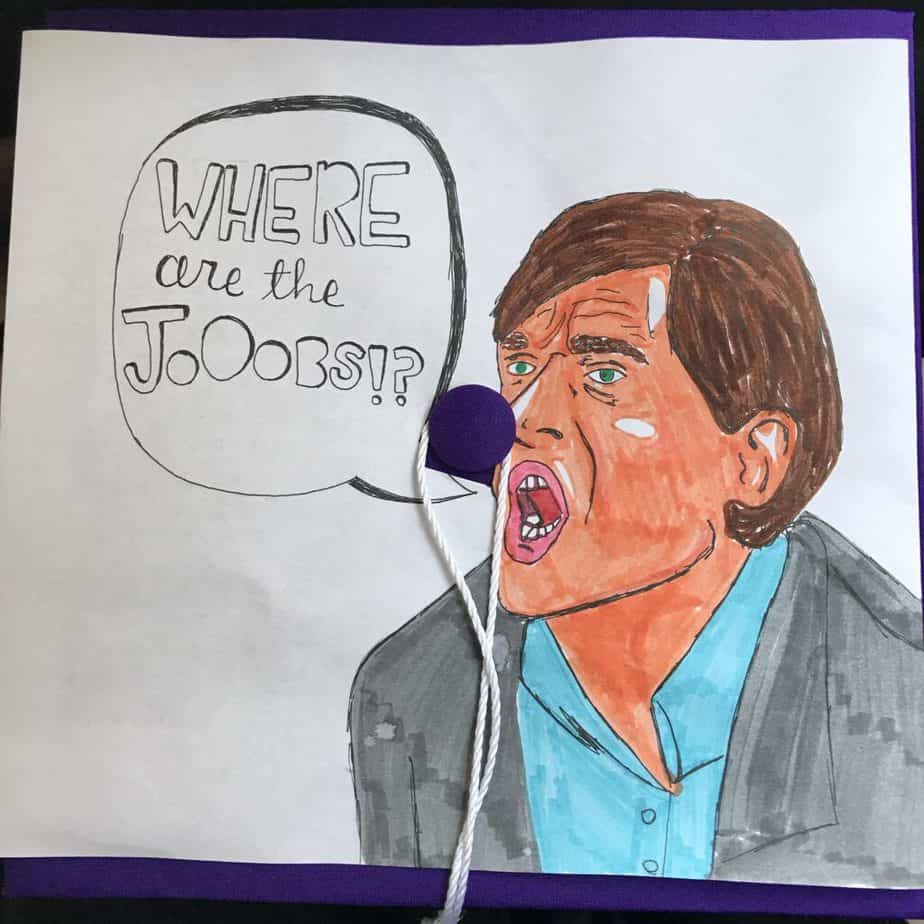 Anyone else remember when Michael is screaming about the turtles? This is a hilarious take on that. If you're not artsy, you could definitely just print out a picture of Michael yelling and add the quote in.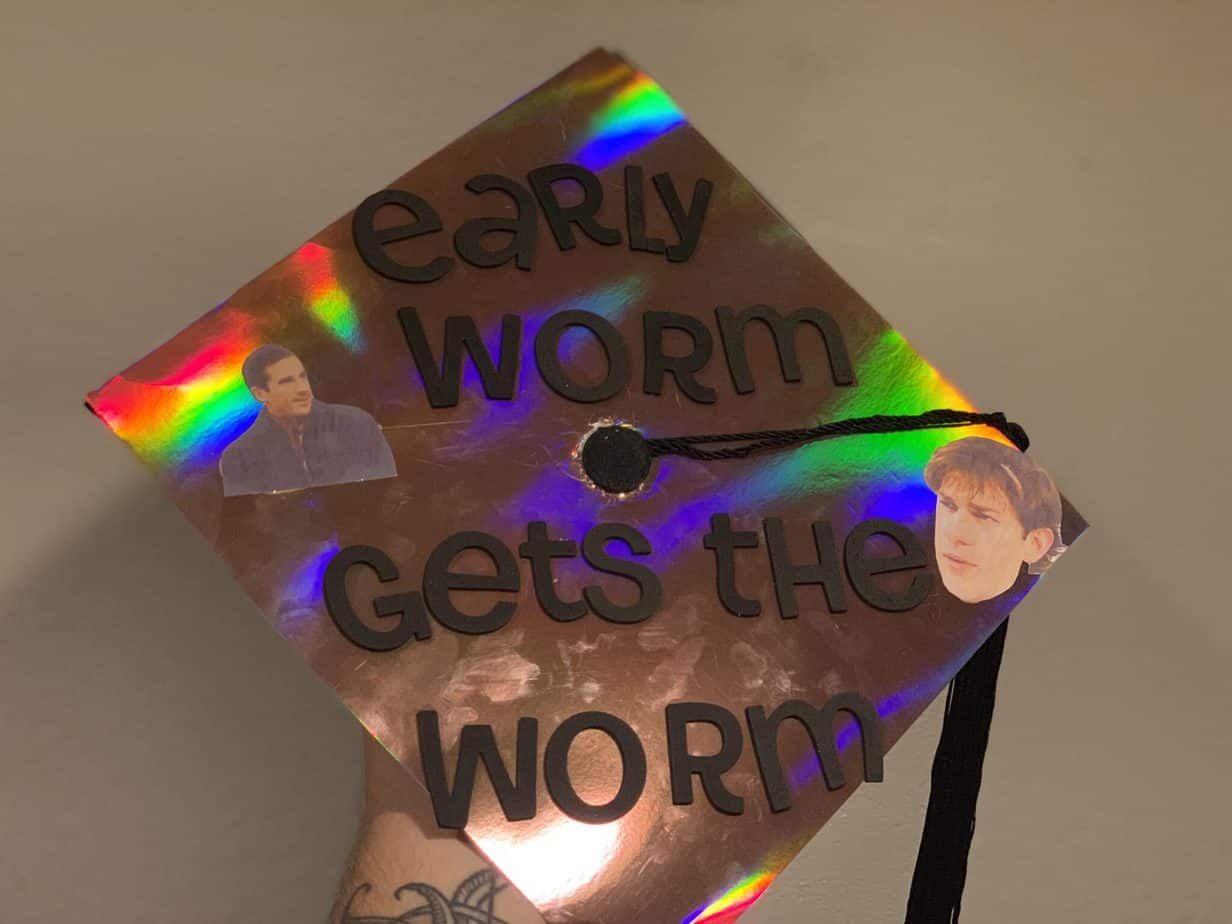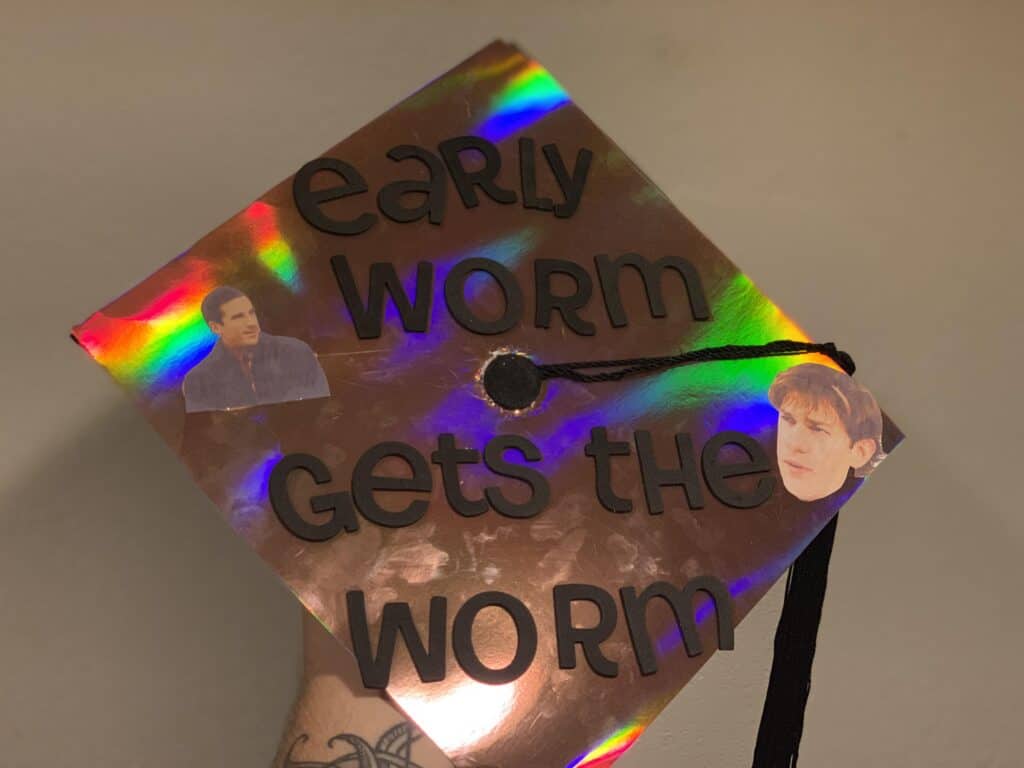 Michael is notorious for getting common quotes wrong. This is one of my favorite of his misquotes.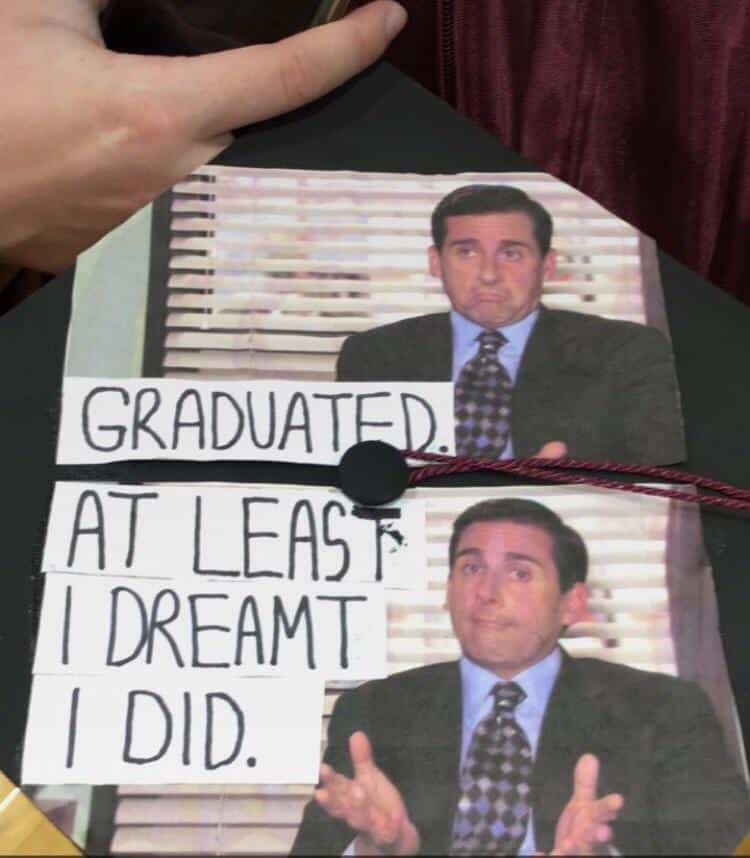 Was it all a dream?
Graduation Caps Inspired By Creed
It's so hilariously random when Creed is concerned about whether or not he can scuba. If you're a diver, you definitely need to recreate this graduation cap idea.
It's always a good time to get your degree!
Graduation Cap Designs Inspired By Andy
Andy is always bragging about his Cornell education during his time in Scranton. If you're a Cornell graduate, this would be an absolutely iconic graduation cap.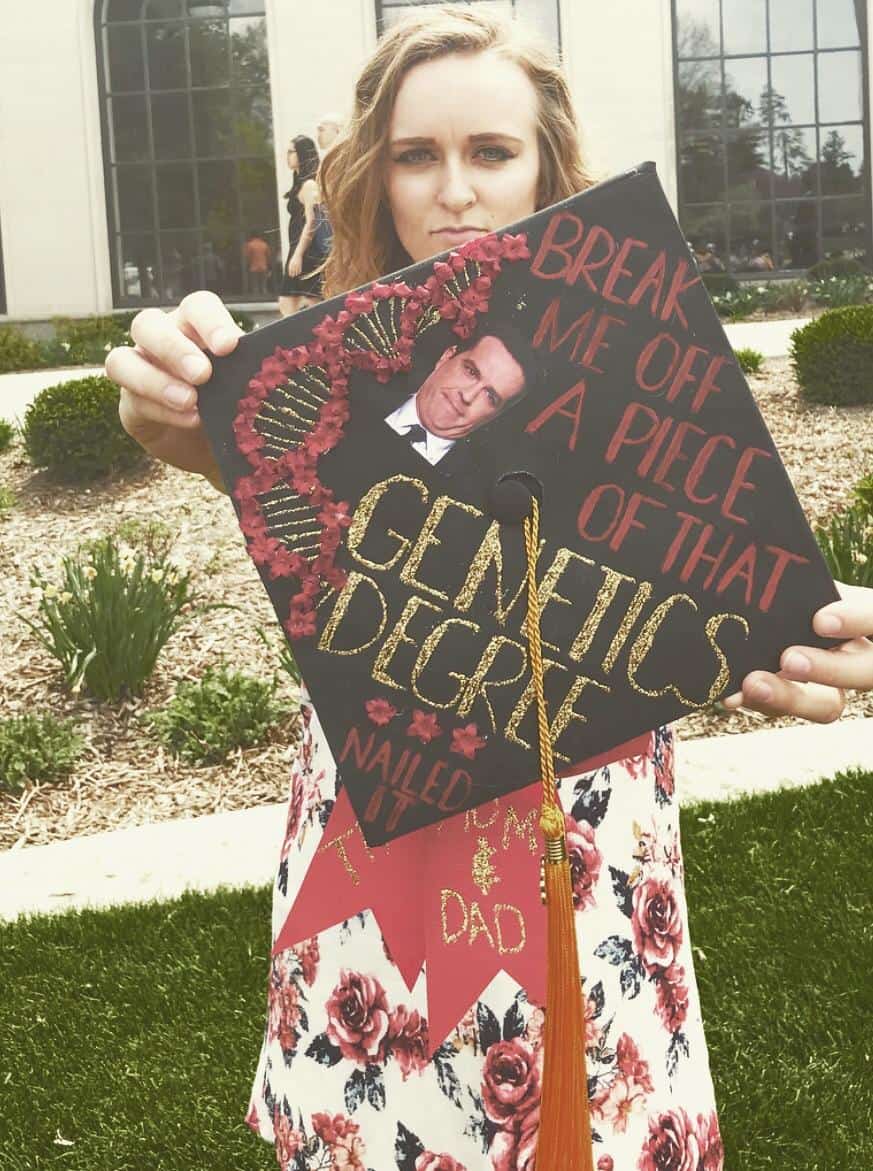 Remember when Andy is trying to figure out the lyrics to the KitKat commercial? This is a play on that hilarious scene!
"I wish there was a way to know you're in the good old days before you've actually left them." – Andy Bernard
A super sentimental Office quote from Andy that makes a great graduation cap idea.
Stanley From The Office Graduation Cap Ideas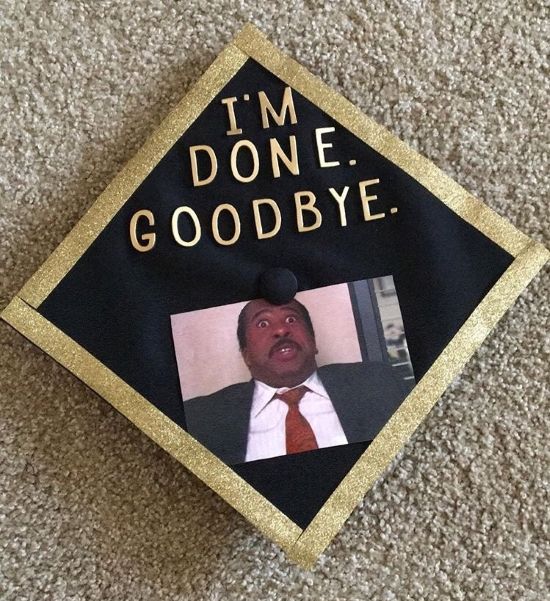 Stanley is one of my favorite characters because he is always OVER it. This graduation cap sums it up perfectly.
One of the only times we see Stanley excited in The Office is on pretzel day. We think graduation is just as worthy of celebration as pretzel day!
True Office fans will know all about Florida Stanley and this amazing quote.
The Office Kevin Graduation Cap Ideas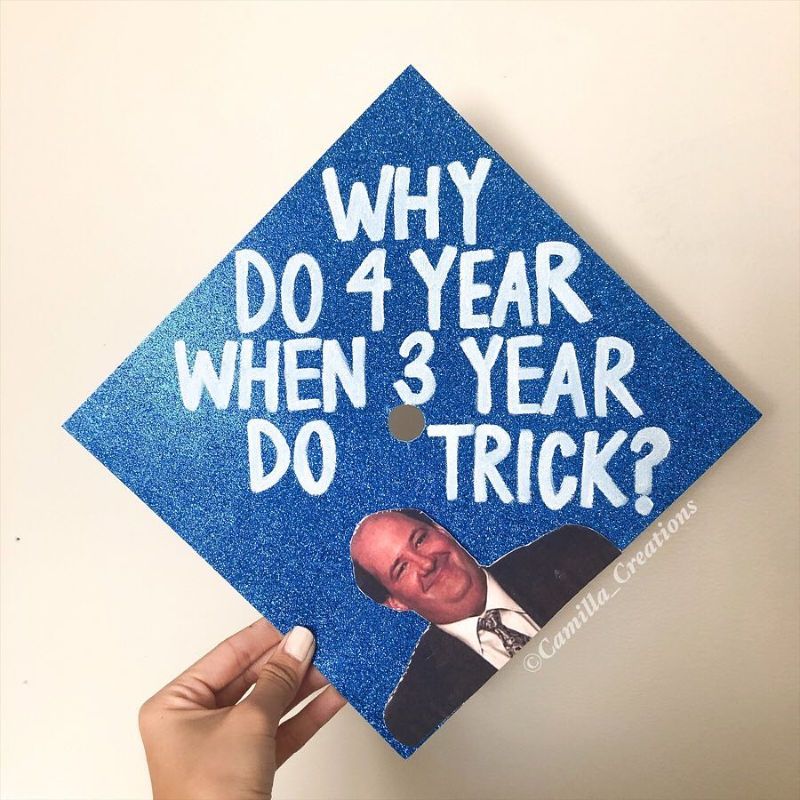 If you're graduating early, you definitely need to use this funny Kevin quote from The Office.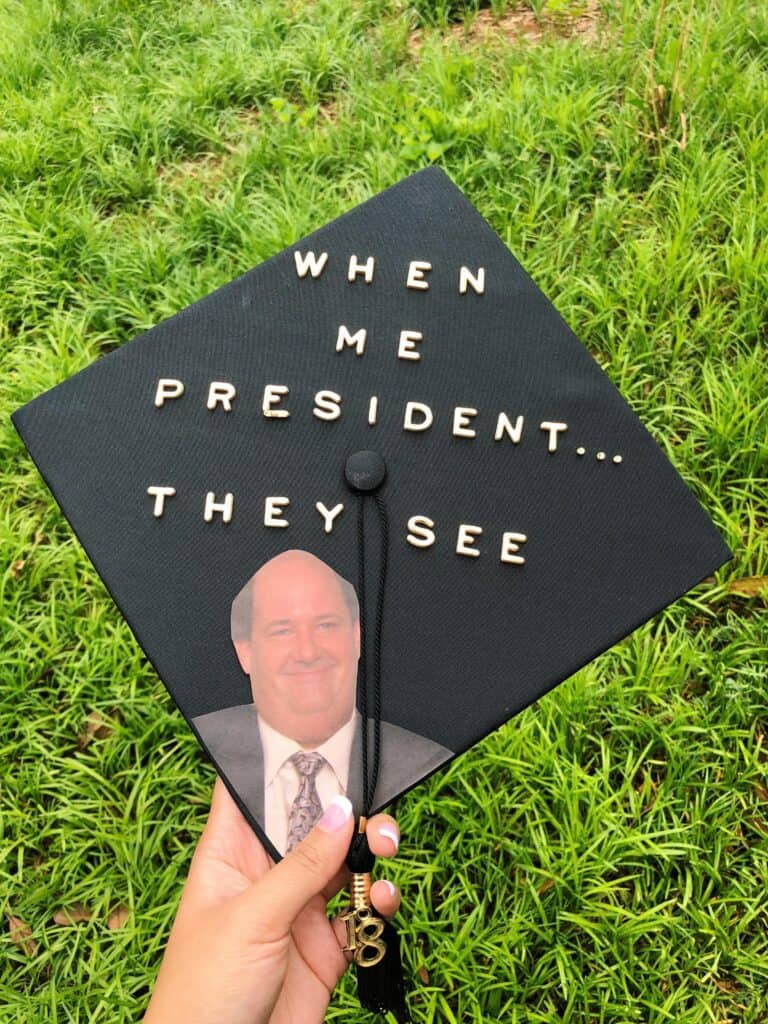 Kevin goes through this whole phase of speaking in super basic language. When people question him, he says "when me president…they see." Such a funny graduation cap idea for Kevin fans.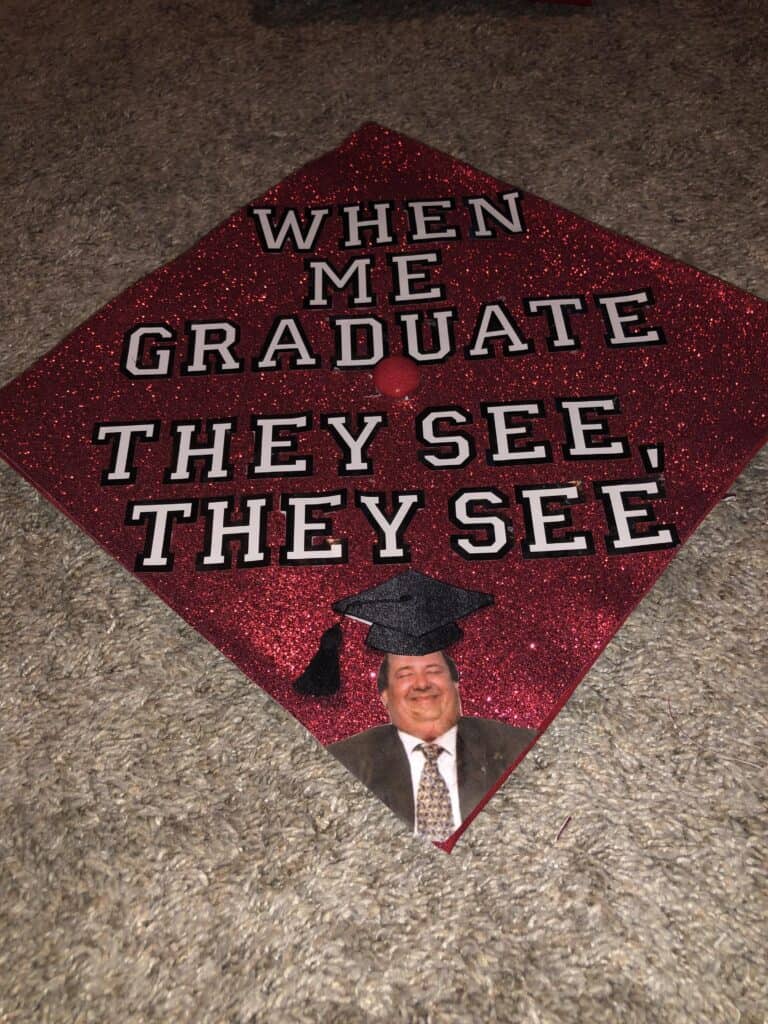 This is a funny graduation-themed play on the previous quote.
Kelly From The Office Graduation Cap Ideas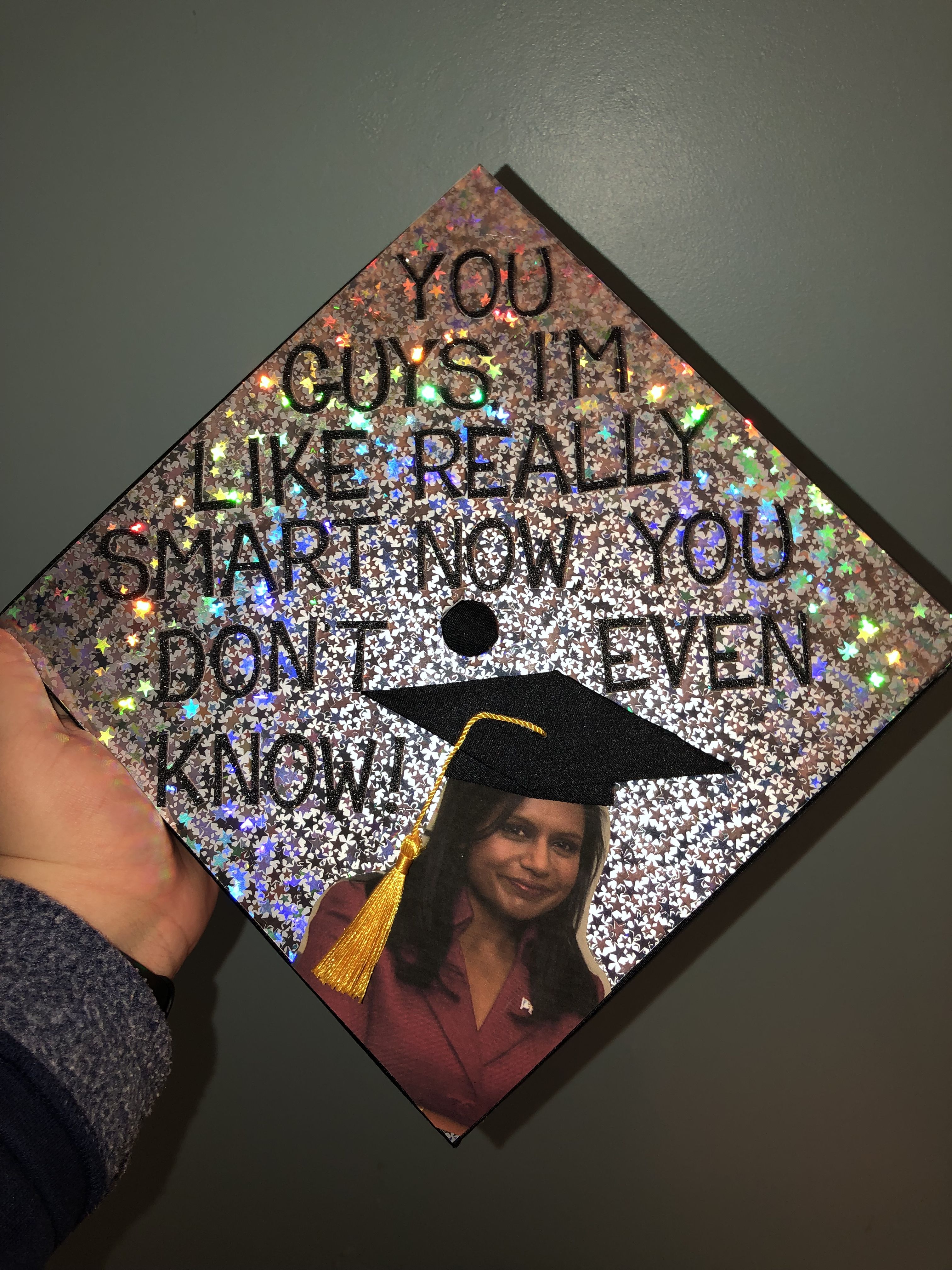 "I'm like really smart now, you don't even know. Who am I? Kelly Kapoor, Business B*tch"
I've seen this Kelly Kapoor quote on a ton of graduation caps, and it fits perfectly. You could just use the first part of the quote for any major, or add in the "business b*tch" part for business majors.
Such a funny quote for any business majors!
The Office Jim Graduation Cap Ideas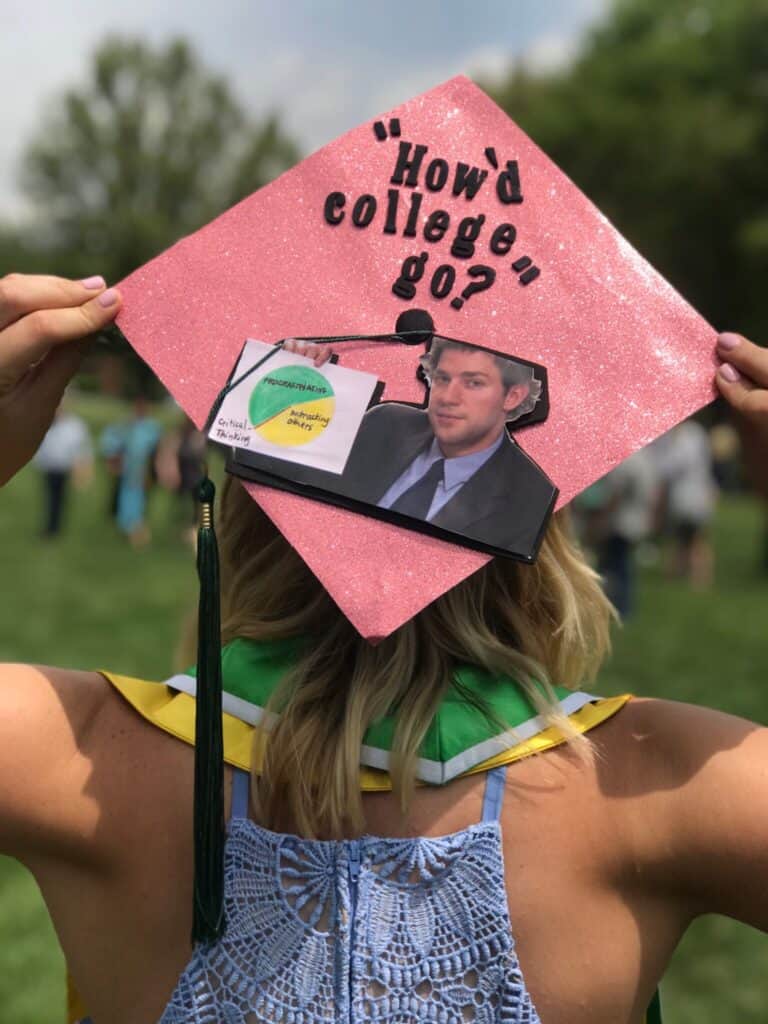 For some reason, Jim doesn't have a lot of quotes that have made it onto graduation caps. I had to dig around a ton before I found this one.
But how funny is this? If you can't see it, the graph that Jim is holding up has two large sections for "procrastination" and "distracting others" and then a tiny section for critical thinking.
Pam Graduation Cap Ideas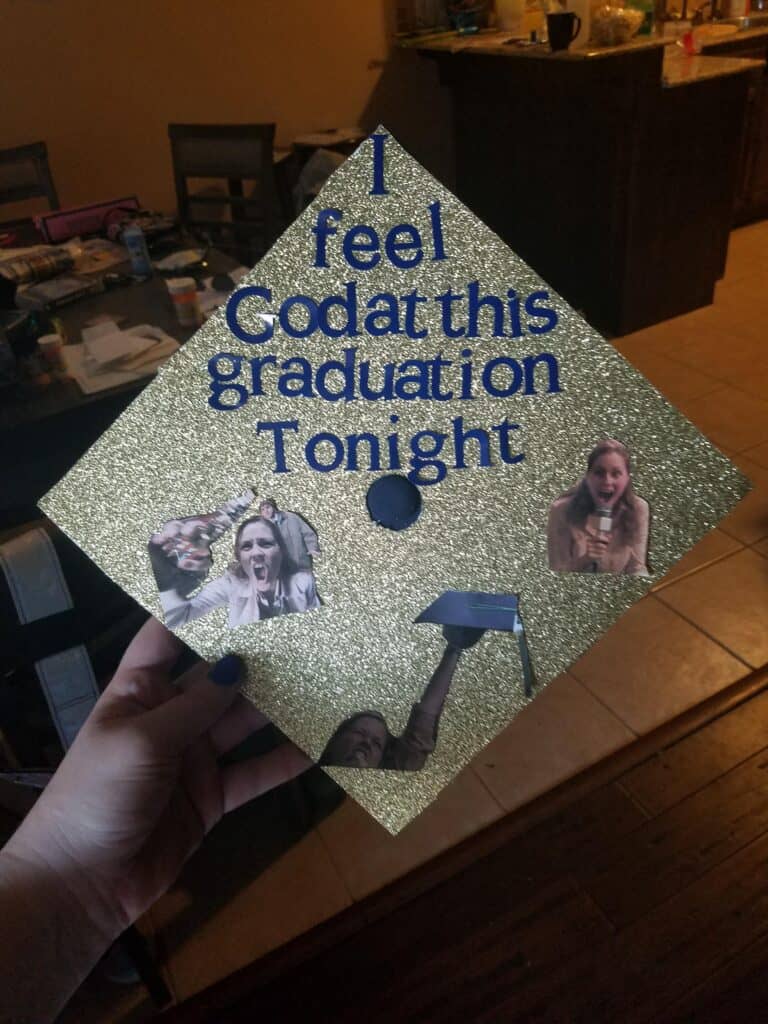 Who else remembers when Pam says "I feel God in this Chilis tonight" at one of the first Dundee awards? This is a super funny graduation-themed version of that iconic scene.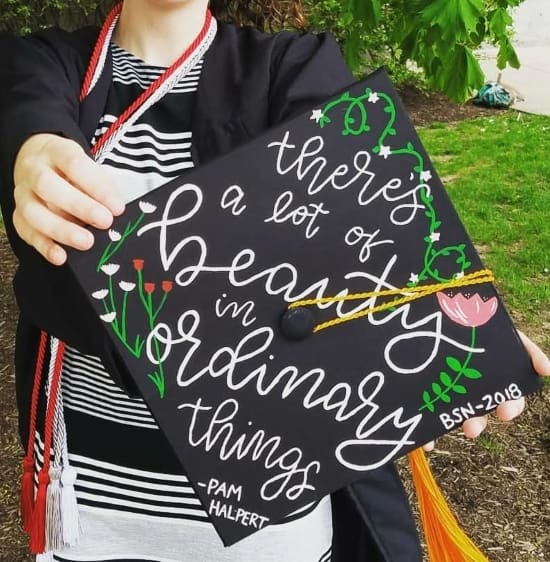 "There's a lot of beauty in ordinary things." -Pam Halpert
In case you didn't know, this is the last line of the last episode of The Office. Pam is reflecting on her years at Dunder Mifflin. It's a great quote for graduation and just something to live by!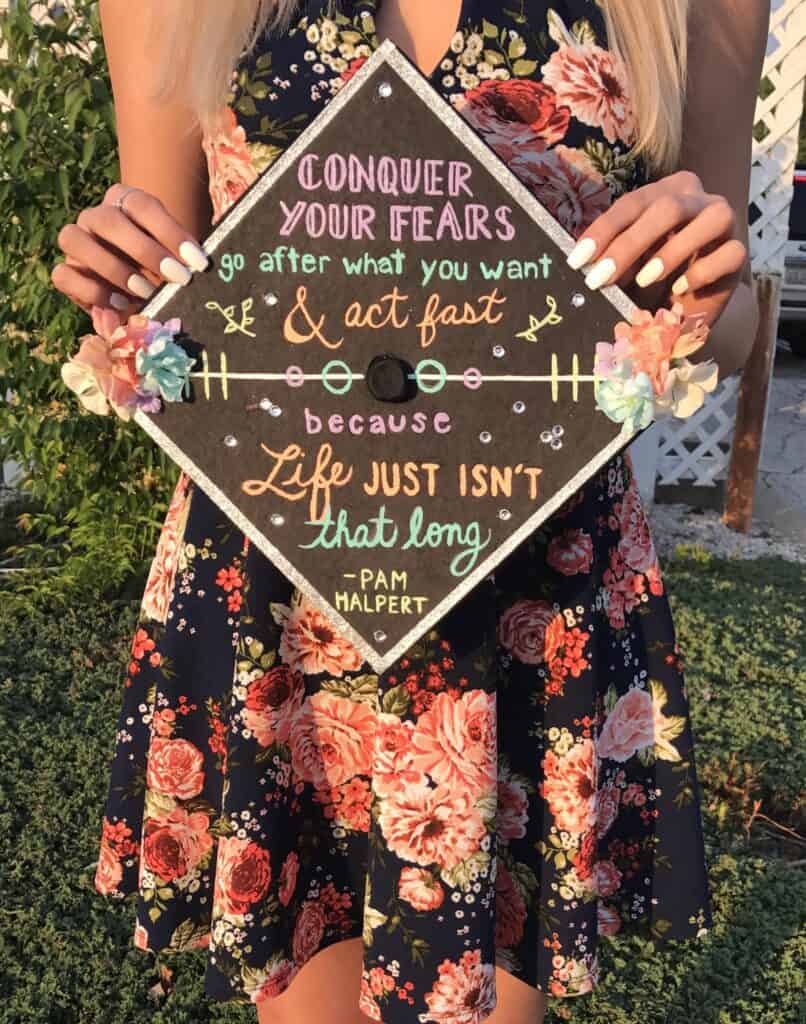 "Conquer your fears, go after what you want, and act fast because life just isn't that long." -Pam Halpert
This is advice that Pam would give to her younger self. It's one of the most sentimental lines in the series and a great one to include on your graduation cap.
General Graduation Cap Designs Inspired By The Office
This clever graduation cap just replaced the word "Office" with the word "Graduate". True Office fans will definitely understand the reference.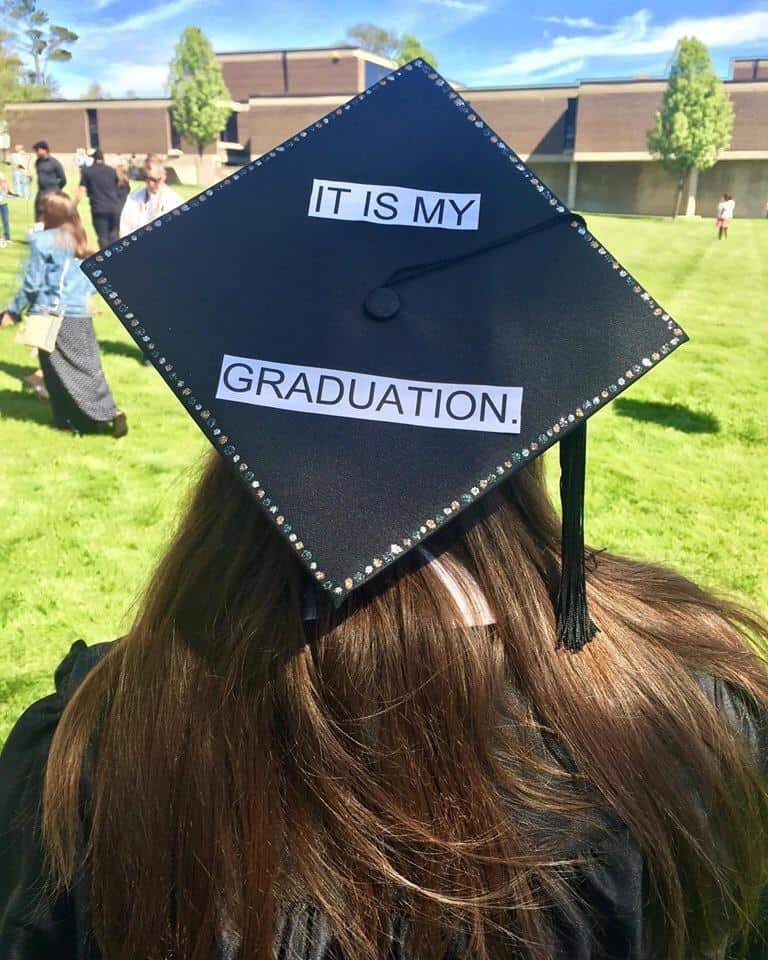 One of my favorite scenes in The Office is when Dwight hangs up the sign that says "It Is Your Birthday" for Kelly's party. This is a clever play on that scene.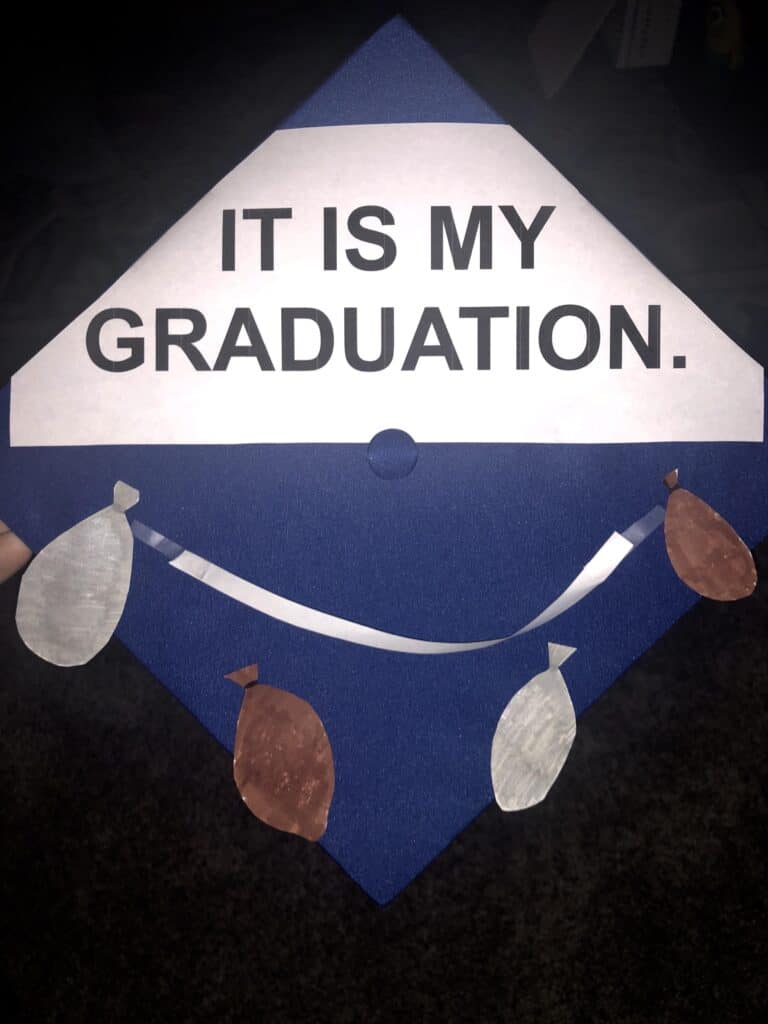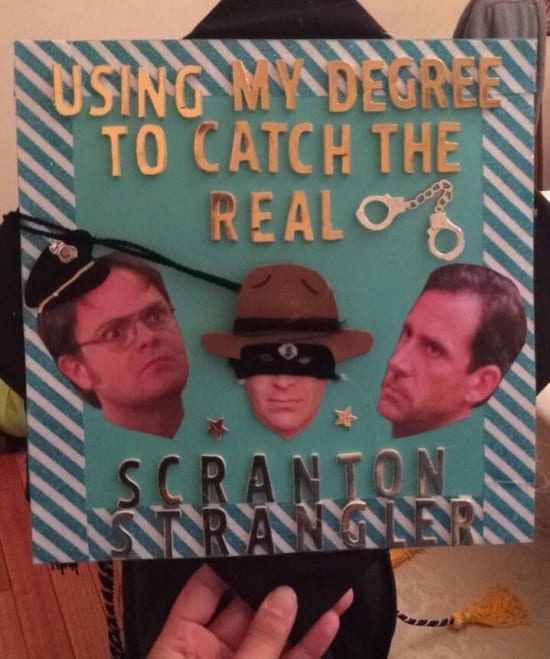 One funny plot point in The Office is the phenomenon of the Scranton Strangler. A lot of fans think that Tobey is secretly the Scranton Strangler all along. If you're an Office fan graduating with a criminal justice degree, this is the perfect grad cap design for you.
This post is all about hilarious The Office graduation cap ideas.
You may also like: