Looking for cute ways to display pictures at your grad party? Here are the best graduation party photo display ideas that you'll want to copy.
This post may contain affiliate links, which means I'll receive a commission if you purchase through my link, at no extra cost to you. Learn more: Affiliate Disclaimer.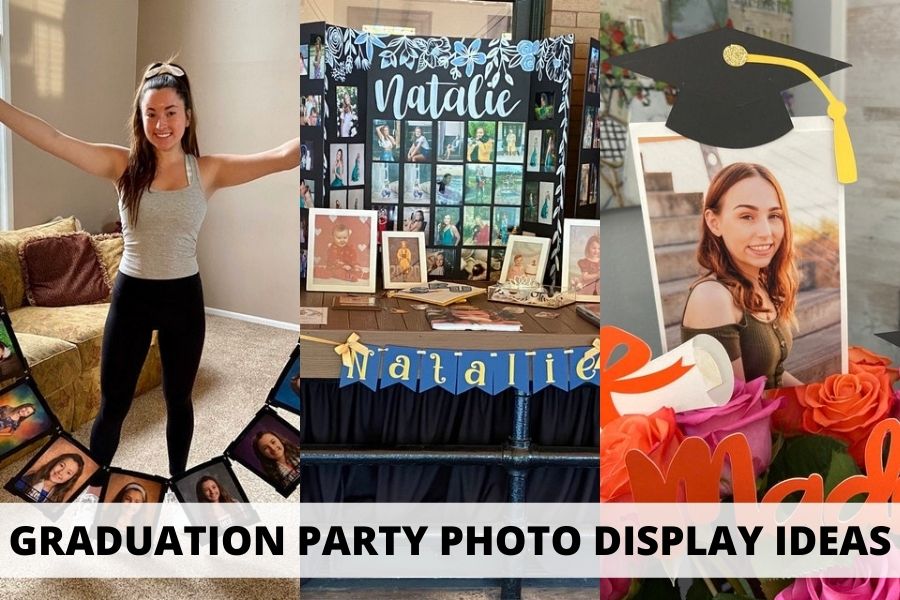 Looking for the best way to display pictures at your graduation party? This article has you covered!
Photos are a must-have decoration for any graduation party. Your guests will love looking back on your favorite memories from your years in school. Plus, it's a great way to show off any milestones and achievements from your school career.
Here are 11 of the most creative graduation party picture display ideas that will make a huge impact at your party.
P.S. If you're planning a graduation party, we have a TON of helpful guides for you. Everything from decorations to food to photo booth ideas (and more!):
Graduation Party Photo Display Ideas
1. Graduation Photo Yard Signs
One of my favorite graduation party photo display ideas is to put the graduate's pictures through the years onto yard signs. Guests will be able to watch them grow up as they walk up to the party.
You don't really need too much to recreate this photo display. Just print out some pictures and glue them to card stock. Then secure them to lawn stakes and stick them in the ground.
If your graduation party will be indoors, you could also line the hallway with these pictures of the graduate through the years.
[RELATED: 40 Insanely Fun High School Graduation Party Ideas]
2. Outdoor Pallet Photo Display
How beautiful is this reclaimed pallet graduation picture display? This one will definitely require a little bit more work, but it's definitely worth it if you're handy.
If you have something to lean it against, like a deck or patio wall, you can secure the pallets in place with zip ties. If you want it to be freestanding like in this picture, you'll need to make a base for it. Here are some good instructions for making a DIY pallet photo backdrop.
If you want to skip the hassle of DIYing your pallet photo display, you can buy a pre-made one on Etsy!
This is also a great photo display idea for when you're on a budget. You can usually get pallets for free from most stores. I've seen free pallets outside of hardware stores, grocery stores, and sometimes just on people's front lawns.
Once you have your structure built, you can easily attach photos, balloons, banners, and whatever else you'd like. Banners and balloons can be tied to the pallet slats with string and you can use heavy duty double sided tape for the pictures.
If your graduation party is at night, you definitely need to add string lights to your pallet photo display! A fun idea would be to use string lights with photos attached. You can buy string lights with photo clips already attached like these ones from Amazon.
If you don't want to go through the hassle of creating a huge pallet backdrop, you could also just use one large pallet. Lean it up against a wall or deck railing and secure pictures on with string and mini clothespins.
Such a simple and budget-friendly graduation party photo backdrop idea.
[RELATED: 23 Outdoor Graduation Party Ideas For A Super Memorable Party]
3. Photo Wreath
A really cute way to display photos from every year of the graduate's life is with a photo wreath. This would look really cute on a front door or inside the party on a display board.
I love the photo wreath idea because it's super easy to DIY. Just print out photos, stick them to card stock, and arrange them in a circle.
Add a fake graduation cap in the center that has your graduate's name and graduation year.
4. Tabletop Graduation Party Photo Display
A classic way to display photos at a graduation party is to make a tabletop display. Get a large display board and fill it with your favorite photos from your time in school. Guests will love taking a few minutes to check out all of the pictures.
I love this graduation party picture display idea because it's super easy. All you really need is a trifold poster board, pictures of the graduate, and some double sided tape.
If you want to have some fun with this project, you could add some cute decorations like graduation stickers, a banner, or some cute paper photo frames.
If you don't have the time to DIY this, you can also order something similar from Etsy!
You just upload digital files of your favorite pictures, and this Etsy seller will create a beautiful custom photo board for you.
5. Display Photos On The Stairs
If you're having an indoor graduation party, your staircase is a great place to display photos!
Decorate your railings with ribbon and stick some photos on there. Such a fun and colorful way to display photos at a grad party!
6. Graduation Party Picture Centerpieces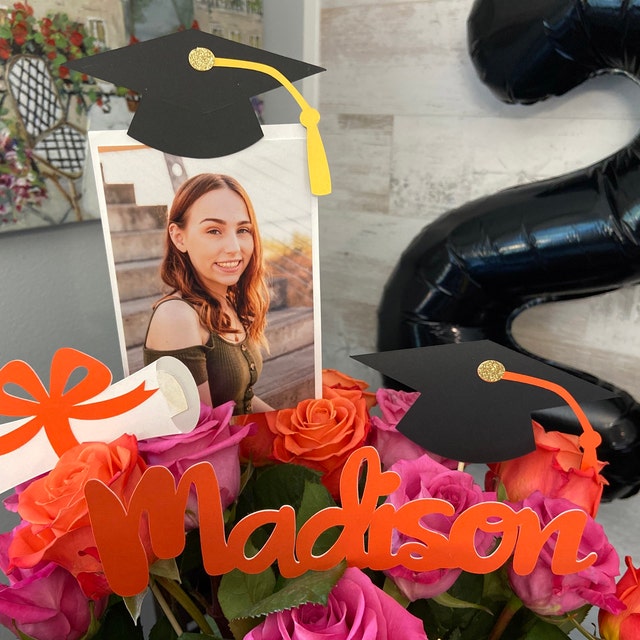 Another genius idea for displaying photos at a graduation party is to use them in your centerpieces. Your guests will love going table to table looking at all of the pictures of the graduate.
[RELATED: 15 Graduation Party Centerpieces You'll Want To Display On Every Table]
If you want to go the DIY route, you'll just need printed photos, card stock, and some wooden dowels. Stick the photos onto the card stock and then glue the wooden dowels to the back.
You can stick the photos into vases of flowers, cups with glass beads, or any other centerpiece that will allow them to stay upright.
I like the idea of putting a different picture on each table so guests have plenty to look at during the party.
If you want someone else to make these for you, you can order them off of Etsy as well. Here are two really cute options for photo centerpieces:
7. Friends Themed Grad Party Photo Display
If you're a fan of the show Friends, you definitely need to recreate this photo display idea at your grad party! You can use this display board to showcase all of your favorite memories with your friends from over the years.
To recreate this cute photo display board, you're going to need the following supplies:
First, you'll paint the word FRIENDS onto the top of the foam poster board in the iconic font from the show's title. You'll probably want to sketch this out in pencil first to avoid any mistakes.
Next, you'll glue one end of your string to the back of the board, stretch it around the front, and glue the other end to the back on the other side.
Make sure you leave enough room for your pictures in between the rows of string.
Once the glue has dried, it's time to fasten your photos onto your board with the mini clothespins. Then you're good to go! Such an easy and creative DIY project for a graduation party.
8. Tree Photo Display
One of my favorite picture display ideas for an outdoor graduation party is to wrap photos around a tree. All you need for this are printed photos, string, and mini clothespins.
If your graduation party takes place in the late afternoon or at night, you could even use string light with photo clips for a really magical effect.
Another super unique picture display idea involving a tree is to hang your pictures with ribbons from a tree branch. Such a beautiful idea!
9. Grad Photo Letters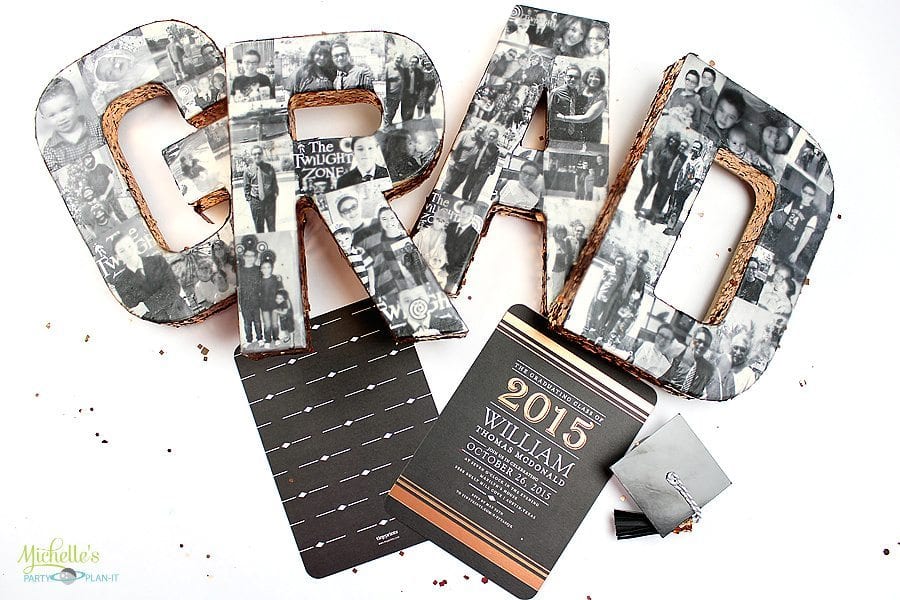 How good do these "grad" photo letters look? This DIY project is a little bit more advanced than the others on the list, but the results make all of the effort worth it!
For this project, you'll need the following supplies:
Elmer's Craft Bond Rubber Cement
Scissors
Photos
Basically, all you need to do are cut the photos to fit the cardboard letters and glue them down with rubber cement and Modge Podge. For the full instructions, head over to Michelle's Party Planit Blog.
10. Graduation Year Photo Display
One really creative way to display photos at a grad party is to make a graduation year display. Cut the numbers of your graduation year out of card stock or foam board and stick your photos on them.
You can cut the edges of the photos for clean edges, or leave the photos as-is like the example below.
This would look really good on a fence at an outdoor graduation party or hung on the wall for an indoor one. If you want to skip the whole process of cutting giant numbers out, you could even just stick the photos straight to the wall in the shape of the graduation numbers.
11. Graduation Photo Banner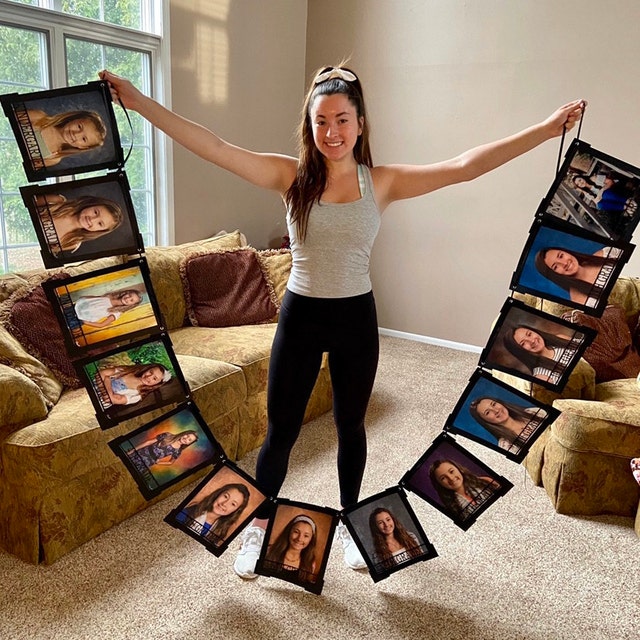 One really cute way to display pictures from each year of school is with a graduation year banner. Make a giant party banner with one photo from each year of school, starting with kindergarten.
You could DIY this with paper frames, photos, and string, but I think this pre-made version from Etsy looks incredible.
It has large frames that fit 8×10 photos for every year. The quality is amazing and I love that it says which year each photo is from.
Whether you go the DIY route or get the pre-made version, this photo banner will look amazing at any graduation party.
This post was all about the best graduation party photo display ideas.
You may also like: