Is your child graduating from college this year? If so, you're probably wondering what should parents wear to college graduation? Here are some outfit ideas and guidelines to follow for this occasion.
This post may contain affiliate links, which means I'll receive a commission if you purchase through my link, at no extra cost to you. Learn more: Affiliate Disclaimer.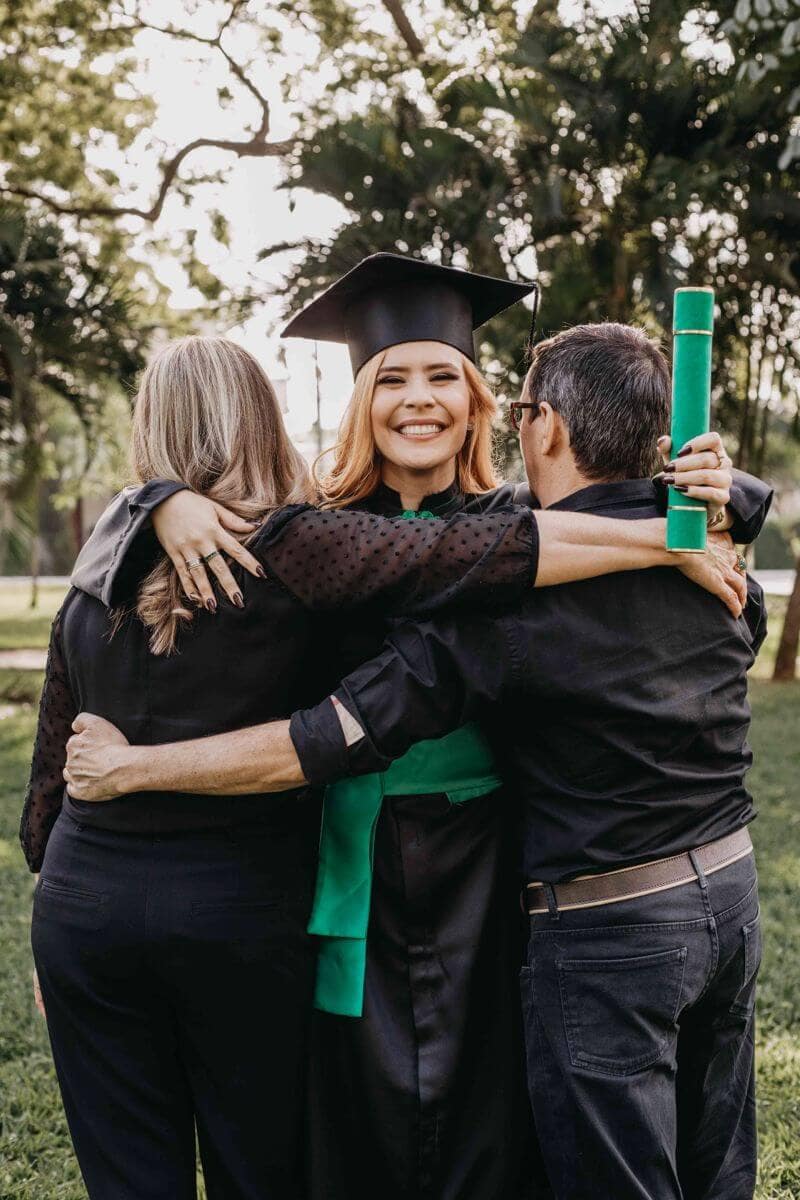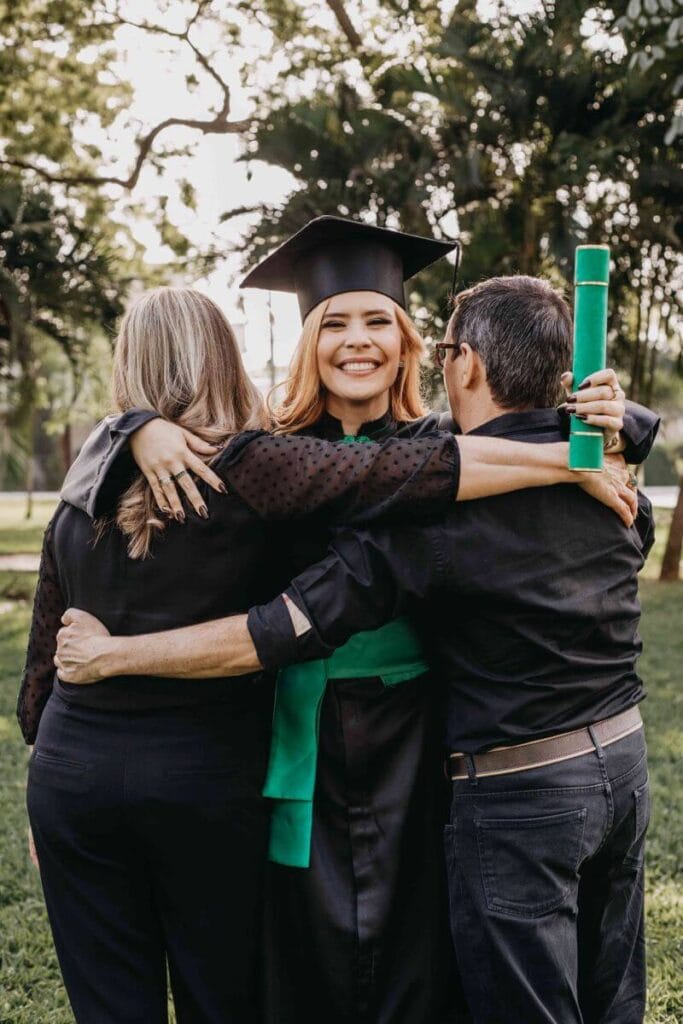 The day your child graduates from college is a momentous occasion and one that you will want to remember forever.
As a parent, you will want to look your best to show your pride in your child's hard work and achievements. However, it can be difficult to know what is appropriate attire for such a special event.
While there's no one "right" outfit, there are a few things to keep in mind to ensure that you're dressed appropriately for the occasion.
Here are some tips for what parents should wear to their child's college graduation ceremony.
What Should Parents Wear To College Graduation?
Check For Guidelines And Dress Codes
Before planning your outfit, check your invitation and ask your child for dress code guidelines. If a school wants guests to dress formally, it'll communicate this requirement. 
Also, find out if there are policies that limit your wardrobe options.
For example, some schools have a clear bag policy. The only bags getting into these ceremonies are transparent or the size of a hand. 
Handy Tip: Wear garments with deep pockets to hold your essentials if you're attending a clear bag ceremony.
General Rules For What Parents Should Wear To Graduation
Suppose there aren't guidelines. In this case, it's a safe bet to go with a semi-formal dress code.
Here are some general guidelines for what to wear:
Choose comfortable clothing. Graduation ceremonies can last several hours.
Wear well-fitting clothing you feel good in so you're not tempted to hide from the cameras. This is a big day and you'll want to capture some memories!
Clean and iron your outfit before the big day. You don't want to run out of time on the morning of the ceremony and show up in wrinkled or stained clothing.
Don't go with anything too revealing. As the parent of the graduate, you want the focus to be on them, not you. Now is not the time to show up in anything too revealing or edgy.
Pick timeless pieces of clothing. The pictures from your child's graduation ceremony will be looked at for years. Don't go with anything too trendy or bold that may go out of style in a year or two. You can never go wrong with classic and timeless pieces.
Now that we've covered some basic guidelines, it's time to go over some outfit ideas for parents to wear to college graduation ceremonies.
Here are some of the best outfit ideas for dads and moms of college graduates:
What Should Dads Wear To College Graduation?
Here are college graduation outfit picks to suit every dad's style.
Formal Graduation Ceremony Outfits For Dads
The failsafe outfit for a polished, formal look is a tailored suit, tucked-in dress shirt, and a silk tie in a complementary color. You pretty much can't go wrong with this classic look.
You can wear a 3-piece if you want to dress up, but save the tuxedo for black-tie events. Pair your suit with Oxfords and socks in a color that doesn't clash with your suit.
For a winter graduation ceremony, it would also be appropriate to wear a slim-fitting turtleneck sweater underneath your suit coat.
Fashion Tip: Add a pocket square or cufflinks to make your outfit more formal, or skip the tie for a less polished look.
Casual Graduation Ceremony Outfits For Dads
For a smart-casual look, you'll want to take your pick from dress pants, chinos, or khaki pants. Add a button-down shirt and throw on a blazer or sport coat.
For a summer ceremony, you can skip the jacket altogether.
For a more laidback look, go with a pair of dark jeans and a zip-up sweater. Wear a nicer pair of sneakers or some loafers to complete the look.
If the graduation ceremony takes place during the summertime, a solid-color polo shirt would also be appropriate to wear.
What Should Moms Wear To College Graduation?
Here's a roundup of outfit options to make every mom look and feel great on graduation day.
Outfit Ideas For Moms Who Want To Look Dressy
If you want to look formal on your child's graduation day, there are several outfit options that would be appropriate for the occasion.
One outfit idea would be to pair a tailored blazer with a dressy pair of pants or culottes. Here is a good example of a blazer outfit for moms of college graduates:
Another nice formal look for moms would be a knee-length or maxi dress. Look for luxe fabrics like silk, cashmere, and satin.
Complete your look with closed-toe kitten heels, flat pointy pumps or Oxfords, and a classy clutch (if bags are allowed at your ceremony).
Here are a few cute dress options for a college graduation ceremony:
Fashion Tip: Stick to minimalist jewelry pieces like hoop earrings, a single chain necklace, or a delicate bracelet for a classy and understated look.
Casual Graduation Ceremony Outfits For Moms
Want to keep things a bit more casual? Here are some less formal outfit options for moms to wear to a college graduation ceremony.
One easy outfit idea is a white button-up shirt with a pair of trousers. This outfit is casual while still looking very put-together.
Plus, pretty much everyone has a white button-up shirt in their closet! Accessorize with a long necklace, belt, and a nice watch. If you want to add a pop of color, carry a bright colored handbag for the day.
Fashion Tip: You can swap dress pants for jeans for an even more casual look. Add a blazer, gemstone, sparkly jewelry, and kitten or wedge heels to dress up the look.
Another casual outfit idea is a modest sundress. This is a great options for an outdoor graduation ceremony in the summertime.
Here are some cute sundresses that can be worn for a college graduation:
Pair your sundress with some wedge heel sandals, a nice clutch, and a simple pair of earrings for a cute summery look.
For winter ceremonies, you can't go wrong with a sweater and a nice pair of pants or jeans. Add some bold statement jewelry and a handbag for a complete look.
What Should Parents NOT Wear To Their Child's Graduation?
While most schools don't insist that guests stick to a dress code for college graduations, you should avoid clothing that's revealing, sloppy, or too formal (like ballgowns and tuxedos).
Also, avoid headpieces or hats that block the view of guests behind you and jewelry that makes a noise whenever you move, like clanky necklaces and jingly earrings.
Here are items that are may be no-no's for parents of college graduates:
Ripped or acid-wash jeans
Hooded sweatshirts
Blouses with plunging necklines
Spaghetti-strap tops, tank tops, and crop tops
Strapless dresses
Flip-flops
Shorts and miniskirts
Baseball caps
Final Thoughts
College graduation is a significant occasion in your child's life. Show them that this event means a lot to you by dressing up in semi-formal wear.
Looking nice will also help boost your confidence when the cameras start flashing!
This post was all about what parents should wear to college graduation.
Is your child graduating soon? Here are some resources for throwing them the perfect graduation party: