All sororities have philanthropies that they support. But what is a sorority philanthropy and why are they important? Let's dive in.
This post may contain affiliate links, which means I'll receive a commission if you purchase through my link, at no extra cost to you. Learn more: Affiliate Disclaimer.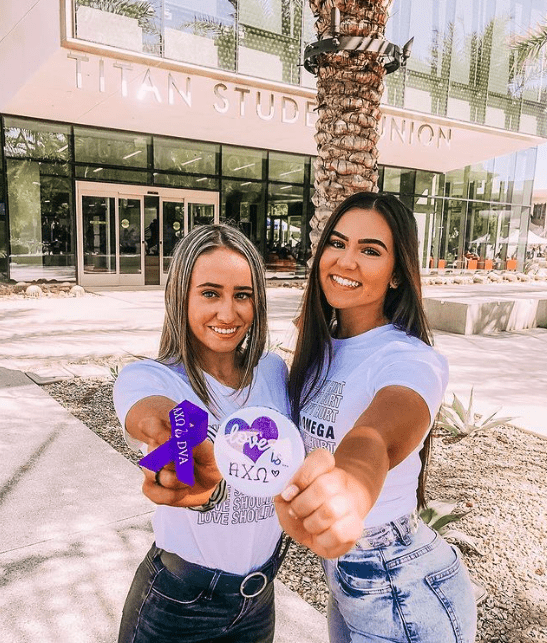 Sororities are Greek organizations that promote sisterhood through shared values, living spaces, and goals. To act on those values and reach those goals, these organizations have what is called a sorority philanthropy.
A sorority philanthropy can be an organization that focuses on spreading awareness about a specific issue or a more general organization that raises funds for more specific organizations.
Sorority philanthropies can operate at a national level or a local level, depending on the sorority.
Sorority philanthropies are specific to each sorority, allowing them to fundraise and spread awareness through philanthropy events for a particular issue rather than focusing on many issues at once.
If you're curious about what a sorority philanthropy is and why it's important, keep reading!
Do Sororities Have Philanthropies?
Yes, sororities have philanthropies. Each sorority has a philanthropy at a national or local level.
In general, sororities aim to create a sense of community for their members through events and activities, sorority-specific ceremonies, and even shared living spaces.
Philanthropies are an essential part of forming that sense of authentic sisterhood because they provide an opportunity for sorority sisters to plan, organize, and participate in events like fundraisers that give back to their larger community.
As you can see, not only do sororities have philanthropies, they incorporate them into the foundation of their organization.
What Is A Sorority Philanthropy?
A sorority philanthropy is an organization that raises awareness about or donates funds supporting a certain issue.
Philanthropy is an opportunity for sorority members to organize and participate in a charitable event.
You can find information about a specific sorority's philanthropy online or during the philanthropy round of recruitment.
If you're curious about how far a sorority philanthropy reaches, they can operate at a national, international, or local level. Depending on the sorority chapter, the philanthropy may address a specific community need or a larger-scale problem or illness.
For an example of a national sorority philanthropy, Delta Delta Delta (AKA Tri Delta) has been raising money for St. Jude Children's Research Hospital since 1999, raising millions of dollars over the decades to help children access cancer treatment.
Another example is the Alpha Delta Chi chapter at the University of Colorado Boulder decided to work with Restore Innocence. Restore Innocence is a non-profit organization that supports human trafficking victims and is based in Colorado Springs, Colorado.
Other examples of sorority philanthropies include Service for Sight (Delta Gamma), Building Strong Girls (Gamma Phi Beta), Prevent Child Abuse America (Kappa Delta), and the Cystic Fibrosis Foundation (Delta Phi Epsilon).
Why Do Sororities Have Philanthropies?
Sororities aim to create a genuine sense of sisterhood amongst their members through shared activities, values, and spaces.
There is no better way to build a close-knit team or community than through shared experiences. By focusing on a particular cause, a sorority philanthropy provides an opportunity for sorority members to create positive shared experiences and help others.
While living together in sorority houses fosters community in its own way, working together to create fundraising events and spreading awareness about national or local philanthropies helps sorority sisters express shared values.
These philanthropies are essential for sorority members to build deep, long-lasting connections while contributing to a legacy of selflessness for future sorority sisters.
What Happens During Philanthropy Round Of Rush?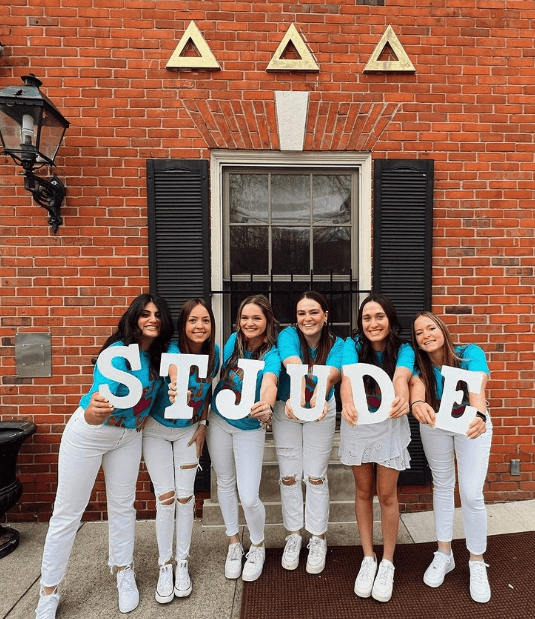 If you know anything about the sorority recruitment process, you probably know that each round focuses on a different aspect of the sorority.
These rounds each have their own dress code and set of activities so that you can understand whether that sorority is a good fit for you.
Philanthropy is a huge part of sorority life – so it gets its own round of rush! But what does that look like?
The sorority philanthropy round has been described as a time for the sorority to promote their philanthropy. During this round, they advertise what kind of service events they host and participate in.
For potential members, you can expect to learn and ask questions about the sorority's philanthropy efforts. This is also a chance to ask questions about current members' experiences with their philanthropies.
You can get the gist of what the philanthropy is about, how the sorority promotes awareness and raises funds for the philanthropy, and personal experiences sorority members have had with philanthropy events.
Not sure what to ask about philanthropy? Here are some question ideas:
What is your favorite thing about your chapter's philanthropy?
What philanthropy events does this chapter hold?
Are there any notable accomplishments this chapter has achieved for their philanthropy?
What does your sorority's philanthropy mean to you?
How can new members get involved in the philanthropy efforts?
What Is A Philanthropy Event For A Sorority?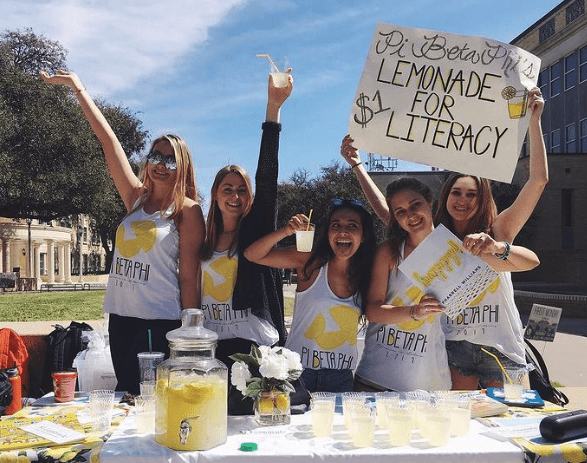 A philanthropy event for a sorority is a one-time or recurring event that sororities hold to fundraise and raise awareness for their philanthropy.
There are almost endless ideas for philanthropy events. Sororities choose these events based on their resources, what's been successful in the past, and what has potential to be successful based on specific schools and communities.
These events can come in the form of athletic competitions. For example, Alpha Delta Pi hosts an annual kickball tournament, which brings together Greek organizations and other community members alike.
Popular ideas for sorority philanthropy events include a 5k race, dance marathons, movie screenings, date auctions, lemonade stand, or a talent show.
As you can see, each potential philanthropy event caters to a different crowd. Sororities choose and organize these events based on what they think will most effectively raise awareness for their philanthropy.
Final Thoughts
Sororities are centered around creating a sense of community and sisterhood. Sorority philanthropies are essential to that mission because they create a shared sense of purpose among members.
Sorority philanthropies come in all shapes and sizes. They can operate on a national level, an international level, or even a local level.
Oftentimes, sororities choose national organizations as their philanthropies because the names are more easily recognizable, increasing the chances of actually raising funds.
If you're interested in a sorority, you'll learn about their philanthropy during recruitment.
During the philanthropy round of recruitment, you'll have the opportunity to hear about what philanthropy the sorority stands behind, why the sorority supports their specific philanthropy, and how they raise awareness and funds for that organization.
A sorority philanthropy will tell you a lot about what kind of values that sorority is built upon. Efforts to give back to the community through philanthropy events help define the foundation a specific sorority stands on.
You can tell if a sorority is the right fit for you based on which organization they choose to support.
Overall, sorority philanthropies turn these Greek organizations into a force for good in the community. If you're all about giving back and helping others, it might be time to see if sorority life is right for you!
This post was all about what a sorority philanthropy is and why they're an important part of greek life.
You may also like: