This post is all about the cutest sorority paddles to recreate for your big.
This post may contain affiliate links, which means I'll receive a commission if you purchase through my link, at no extra cost to you. Learn more: Affiliate Disclaimer.
Does your sorority have a tradition of giving sorority paddles? Sorority paddles are a symbol of sisterhood and are a big deal in the world of Greek life.
In many sororities, they commemorate the big little relationship with a gift swap. Typically the little will make a custom paddle for the big. The big will either give the little a custom jersey, pillow, or other sentimental gift. Each sorority is different, so yours may not do any paddle exchange at all!
If your sorority does gift paddles, you're probably looking for the perfect design ideas. In this post we'll go over super trendy paddle ideas that you can make for your big.
What Are Sorority Paddles For?
These days, wooden sorority paddles are gifts that littles give their bigs after initiation. Bigs will display the paddles in their houses as a decorate keepsake that represents sisterhood.
However, the history of paddles in sororities is a little bit darker. According to Fraternal Law, paddles were used as a tool and symbol of hazing in Greek organizations. For this reason, many sororities are phasing out the use of paddles as gifts.
[RELATED: How To Paint A Fraternity Cooler]
When Do Sororities Exchange Paddles?
Each sorority has different rules for when paddles are exchanged. Some have specific events dedicated to this event, while other will have big little duos exchange their gifts on their own time.
If your sorority doesn't have an official event for exchanging paddles, they may be given at other special occasions. A lot of sorority girls will make each other paddles for their 21st birthdays.
Sorority Paddle Supplies: Everything You Need
Wooden Paddle
The most obvious thing you need to make a sorority paddle is a wooden paddle! There are a ton of different sizes and finishes on Amazon, but this unfinished wooden paddle is the most commonly used one for sorority paddles.
Acrylic Paint
The next thing you'll need when making a sorority paddle is acrylic paint. Acrylic paint works the best for craft projects because it goes on thick and sticks really well to different surfaces.
Depending on how you decorate your paddle, you're probably going to need a LOT of paint. You can either buy a set of acrylic paint like this one, or just buy the colors individually.
Sealant Spray
After you've finished painting, you need to seal everything so that it doesn't scratch off or get faded. The best way to seal your paddle is with a clear acrylic sealant like this one from Mod Podge. It's quick-drying, dries clear, and it's super affordable.
Paint Brushes
You're obviously going to need some paint brushes for painting your sorority paddle. I recommend getting a variety pack like this one so that you have plenty of different sizes to choose from.
The thicker ones are great for bigger designs and the background color, while the finer ones can be used for lettering or more intricate designs.
Other Decorations
If you want to go all out with your sorority paddle design, you can add some other embellishments like glitter, faux flowers, rhinestones, etc. Make sure you secure them with hot glue or gorilla glue so that they don't fall off.
How To Decide What To Put On Your Sorority Paddle
There's an endless amount of ways to decorate a sorority paddle for your Big. I recommend asking around to figure out what her likes and interests are if you don't already know.
You could include things like:
Her drink of choice
Her favorite TV show or musical artist
Something you two have in common
A brand that she wears often
Her favorite hobbies
Sorority Paddle Designs To Recreate
1. Geode Paddle
I'm obsessed with this geode paddle! It's so gorgeous and intricate and your big will definitely appreciate the effort that you put into making this.
I'm not 100% sure how they created this paddle, but it looks like they used crush glass and foil flakes. I would guess that they just hot glued them to the paddle.
2. Pink Floral Paddle
Pretty much anyone would love to get this beautiful floral sorority paddle as a gift. It looks beautiful but it's also super easy to recreate.
Just paint the flowers with pink and purple paint and then outline them with sharpie once the paint is dry.
3. Rock And Roll Sorority Paddle
This is such a unique paddle idea for a rock-loving big. It looks like the little put in SO much time and effort into this, so I'm sure it was a huge hit with her big.
4. Coffee Inspired Paddle
Is your big a coffee drinker? This is such a perfect paddle design idea for her! Just paint a coffee cup, some swirly white lines, and both of your names.
5. Palm Leaf Paddle
If your big is into the beach aesthetic, she'll love this palm leaf themed paddle. It's also pretty easy to recreate, even if you're not very artsy.
Just use acrylic paint for the background and use a green sharpie for the fine lines in the leaves.
6. Cowgirl Boot Sorority Paddle
How cute would this cowgirl boot paddle be for a country girl? If your big is into the cowgirl aesthetic, you should definitely recreate this paddle for her.
7. Groovy Sorority Paddle
This sorority paddle is giving major Cheshire Cat / That 70s Show vibes. If your big loves a lot of color in her life, she'll love getting this groovy paddle as a gift.
8. Butterfly Paddle
This is such a sweet and simple design for a sorority paddle. Just add your names and some butterflies for a super pretty paddle idea. If you're not confident in your butterfly-painting abilities, you just could glue on some butterfly decals.
9. Perfume Themed Paddle
Does your big have a signature perfume that she always wears? Make her this perfume bottle themed paddle! This would be such a thoughtful and special gift.
10. Sunshine Sorority Paddle
This sunshine design is a simple but super cute sorority paddle idea. You can recreate this with pretty much zero artistic ability. Just trace a circle for the center of the sun, and draw some lines around for the sunbeams.
11. Harry Styles Paddle
How perfect is this paddle idea for a Harry Styles lover? Let's be honest, who ISN'T a Harry Styles lover??
12. Wine Bottle Paddle
What sorority girl doesn't like Barefoot wine? This is such a cute idea because the shape of the paddle works perfectly as a wine bottle.
13. Tropical Sorority Paddle
A super fun and girly idea for a paddle is to do a pink tropical theme. Just paint your paddle pink and add some green palm trees with acrylic paint. Add both of your names and you're good to go.
14. Dunkin Donuts Paddle
Can your big not live without her Dunkin fix every morning? This is the PERFECT paddle for any DD lover out there.
15. Cow Print Paddle
Cow print is super trendy right now so this would be the perfect paddle to make for your big. Also, did you notice the tiny cowbell hanging from the handle? Such a cute extra touch.
16. Multicolored Floral Sorority Paddle
This multicolored floral paddle is absolutely stunning. Any big would love to receive this from her little!
If you have some artistic talent, you definitely need to recreate this gorgeous sorority paddle idea.
17. Succulent Paddle Idea
This is such a creative idea! Hot glue some fake succulents to your sorority paddle for a super cool 3D design.
Add some little pebbles from the dollar store to make it look like a serene succulent garden.
18. Drake Paddle
How hilarious is this paddle with a collage of Drake's face?? Just print out a bunch of pictures of your big's favorite celebrity and attach them to the paddle with Mod Podge.
19. Friends Themed Paddle
If she's a big fan of the show Friends, she'll go absolutely crazy over this. This sorority paddle requires some precision, so make sure you outline your design on your paddle with pencil before you start painting.
20. Ranch Dressing Sorority Paddle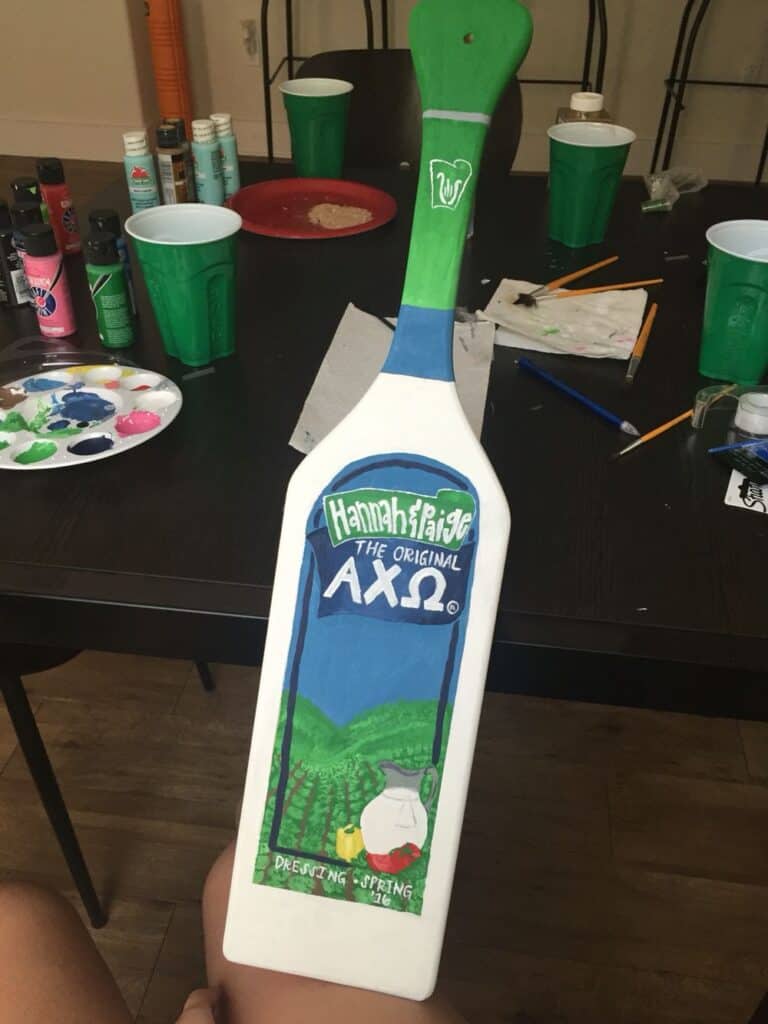 The Midwestern girlies will understand this one lol. If your big drowns all of her food in ranch dressing, you NEED to make her this sorority paddle idea.
21. Future Pharmacist Paddle
Another great sorority paddle idea is to base it off of your big's major. If she's going to school to become a pharmacist, this would be the perfect paddle to gift to her.
[RELATED: 34 Nurse Graduation Cap Ideas You Need To See]
22. Teacher Greek Life Paddle
This paddle is along the same lines as the last one. If she's an education major, celebrate her with this future teacher-themed paddle.
Pre-Made Sorority Paddles To Buy
If you're not particularly crafty, you can still present your Big with a beautiful paddle! Just buy a pre-made paddle from Etsy.
There are some gorgeous sorority paddles available on Etsy, and they're all customizable. Here are some of the cutest paddles I've found that you can purchase:
23. Dainty Flowers Sorority Paddle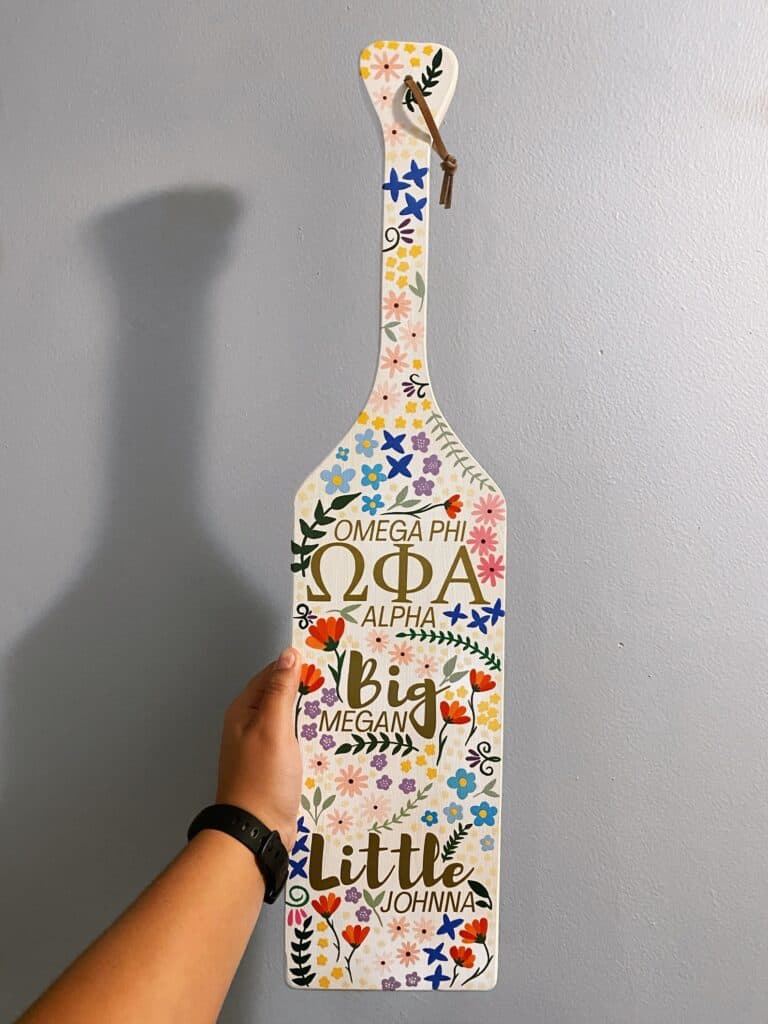 How beautiful is this flower-covered paddle? I love how fun and colorful it is!
You can customize the name of your sorority, the big's name, little's name, and even add a personalized note on the back.
24. Sparkly Geode Sorority Paddle
This sparkly geode paddle is absolutely gorgeous! I would have no idea how to recreate this, so it's definitely a good one to buy already-made.
You can customize the background color, geode colors, and the names and other text you want on the paddle.
25. Butterflies Sorority Paddle
This butterfly paddle is so cute and well-made! Any big would love to get such a beautifully designed paddle from their little.
26. Groovy Swirl Paddle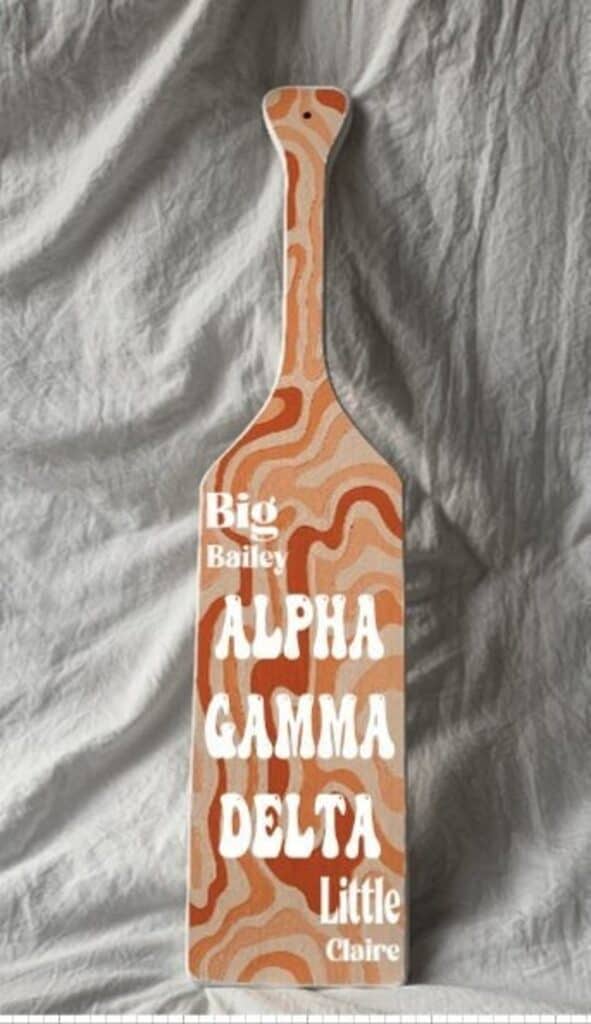 I'm so obsessed with this groovy swirled sorority paddle design. It's not too complicated, but it's colorful and makes a big impact. The vintage text really pulls the whole look together.
27. White Claw Paddle
It's such a good idea to get your big a paddle that features their favorite drink! As long as your sorority allows it of course. This White Claw paddle is perfect for any hard seltzer lovers out there.
You can customize the flavor, name on the paddle, birthdate, phrase for the bottom, and an optional note for the back of the paddle.
Don't worry – the White Claw logo won't be blurred out on the actual paddle. It's just covered up for copyright purposes.
28. Custom Sorority Paddle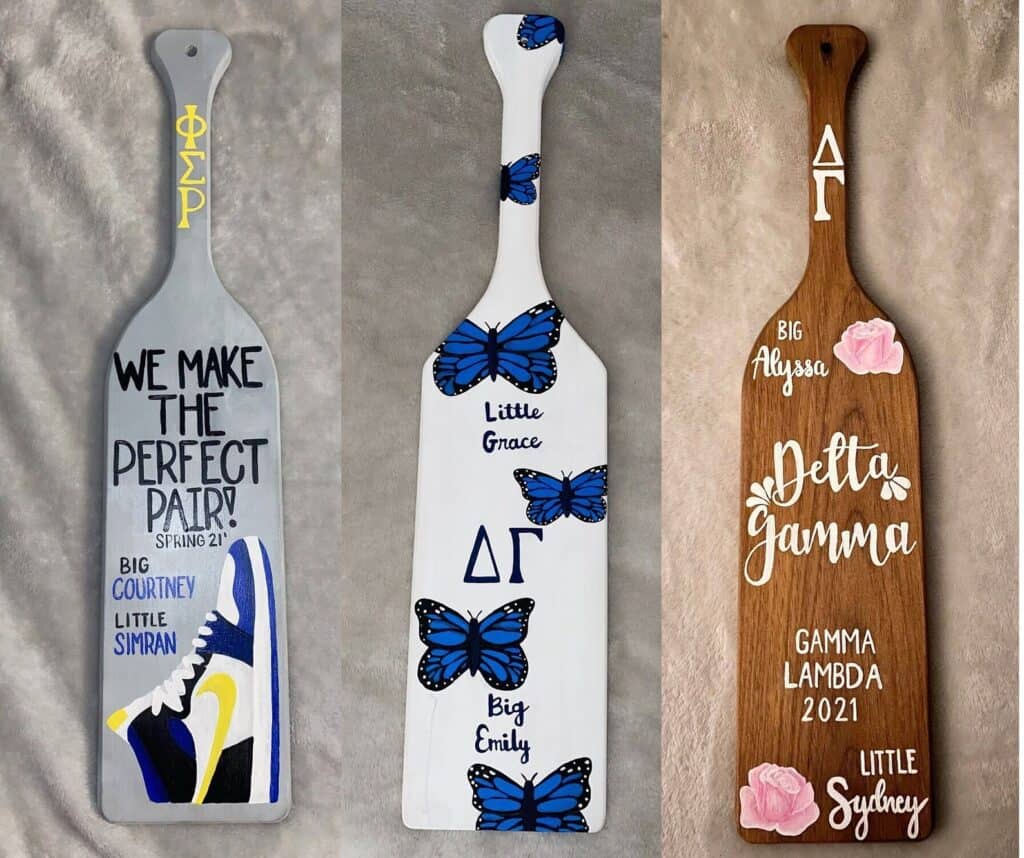 Have your own idea for a sorority paddle but you just want someone else to make it for you? Great! This Etsy seller can make a totally customized paddle with pretty much anything you want on it.
This post was all about cute sorority paddle ideas.
You may also like: