Looking for picture perfect Big Little Reveal Ideas? We've got you covered with 27 super cute ideas for how to celebrate Big Little Reveal Day.
This post may contain affiliate links, which means I'll receive a commission if you purchase through my link, at no extra cost to you. Learn more: Affiliate Disclaimer.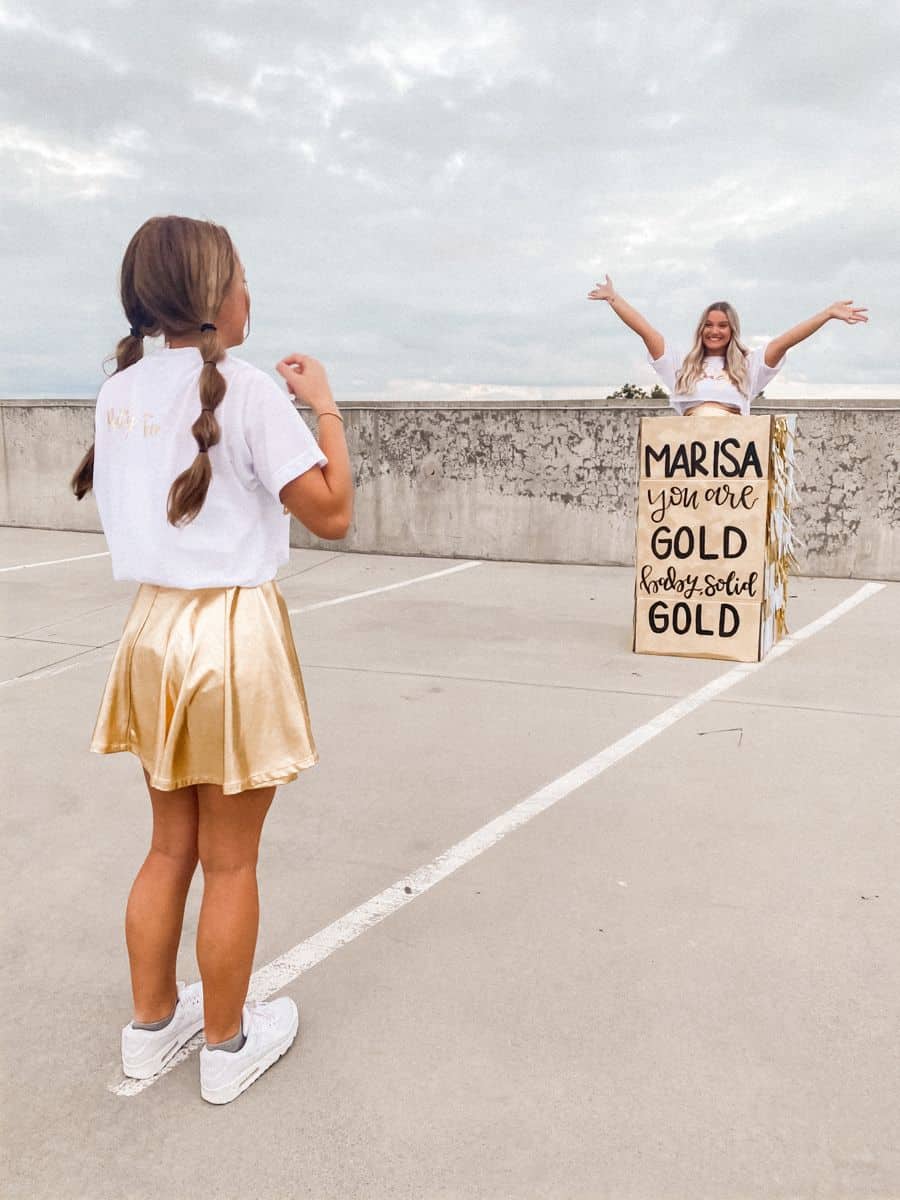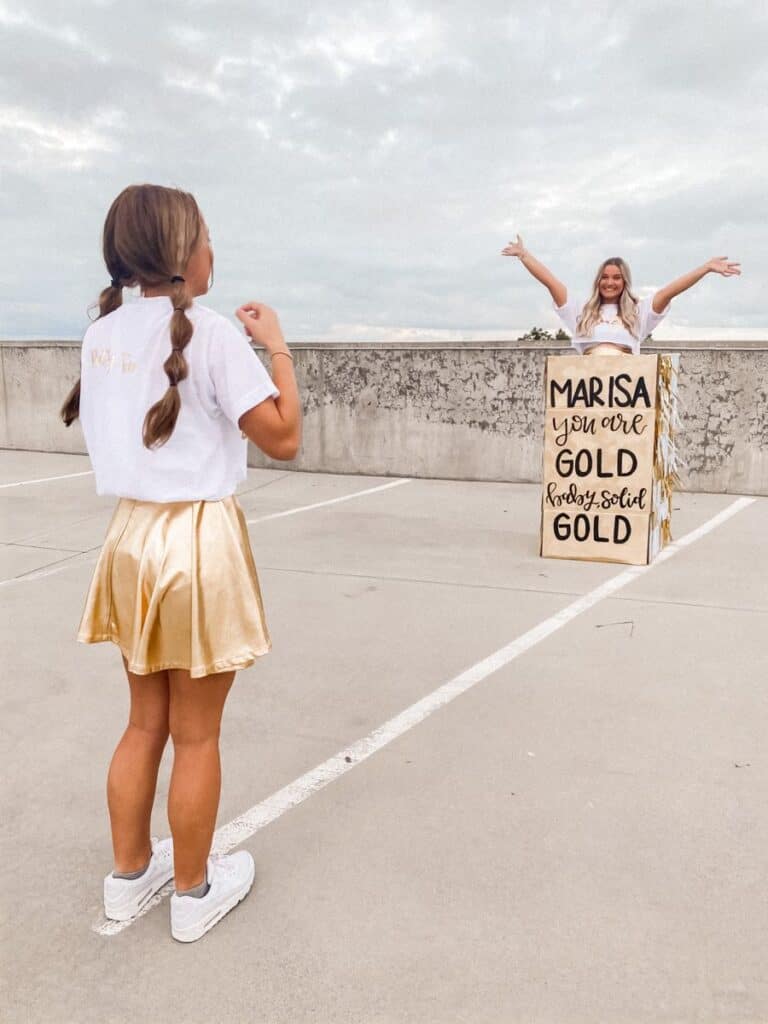 What Is A Big Little Reveal?
If you've never been a part of Greek Life before, you're probably wondering what a Big Little Reveal even means.
This event is when new members of a sorority (Littles) get introduced to their mentors (Bigs) for the first time. It's typically a huge party where all of the girls dress up in matching outfits or themed costumes to celebrate their new "family".
Related posts:
Types Of Big Little Reveals
1. Sheet Reveal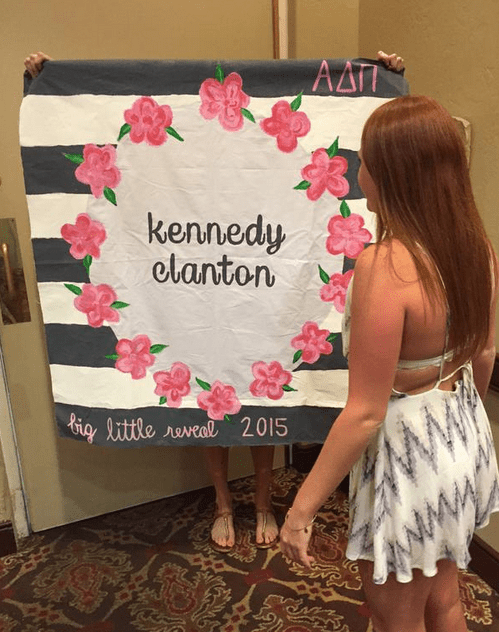 A sheet drop is a super popular way to reveal yourself to your little.
For this reveal idea, you'll just need to write your little's name on a sheet. Decorate the sheet however you want with fabric paint or sharpies.
When it's time for the big reveal, you'll stand against a wall with your sheet covering you. Your little will come find you and then you drop the sheet to reveal yourself. So fun and simple!
2. Flower Pass
Another super cute big little reveal idea is the flower pass.
For this reveal, all of the bigs stand in a circle with one little in the middle. A flower gets passed around until it gets to the big. The big then steps into the circle to greet her new little.
You'll repeat this process until every big little pair has been matched!
3. Musical Reveal
This is one of my favorite big little reveal ideas.
For this one, all of the littles will be assigned a specific song. Bigs will go into a car or bedroom and blast the song on the speaker.
Littles will then run around to the cars or rooms and listen for their specific song. When they find the source of the song, they know that they've found their big! So creative and fun.
4. Hiding In A Car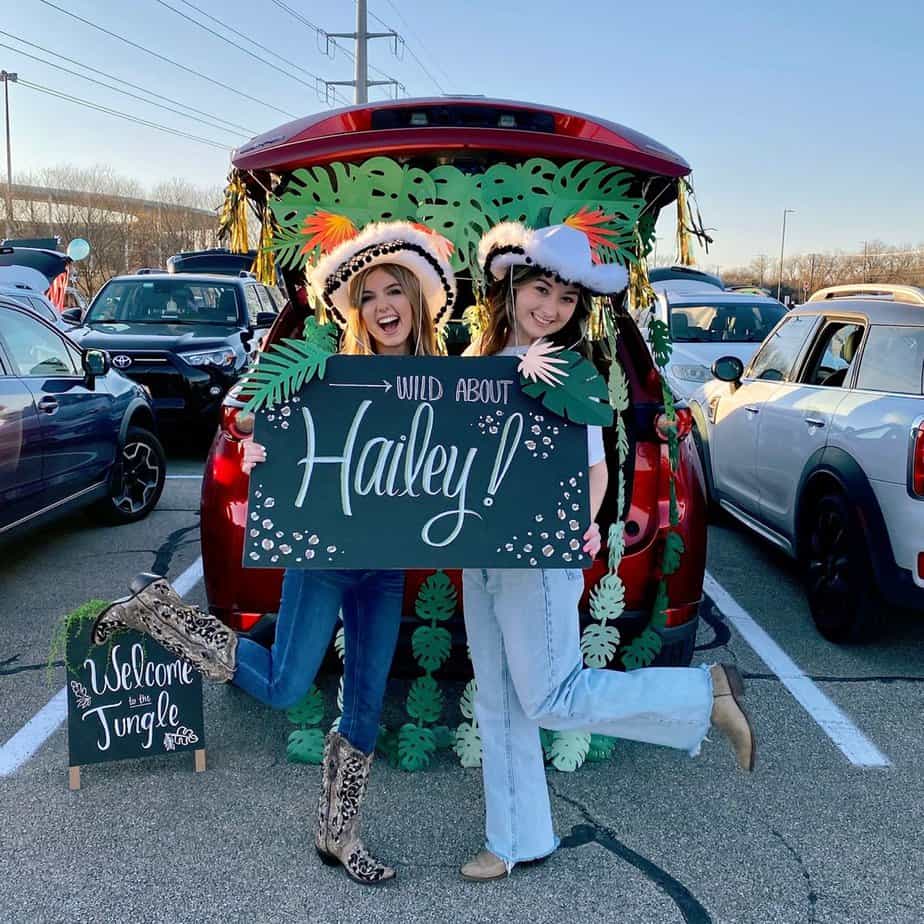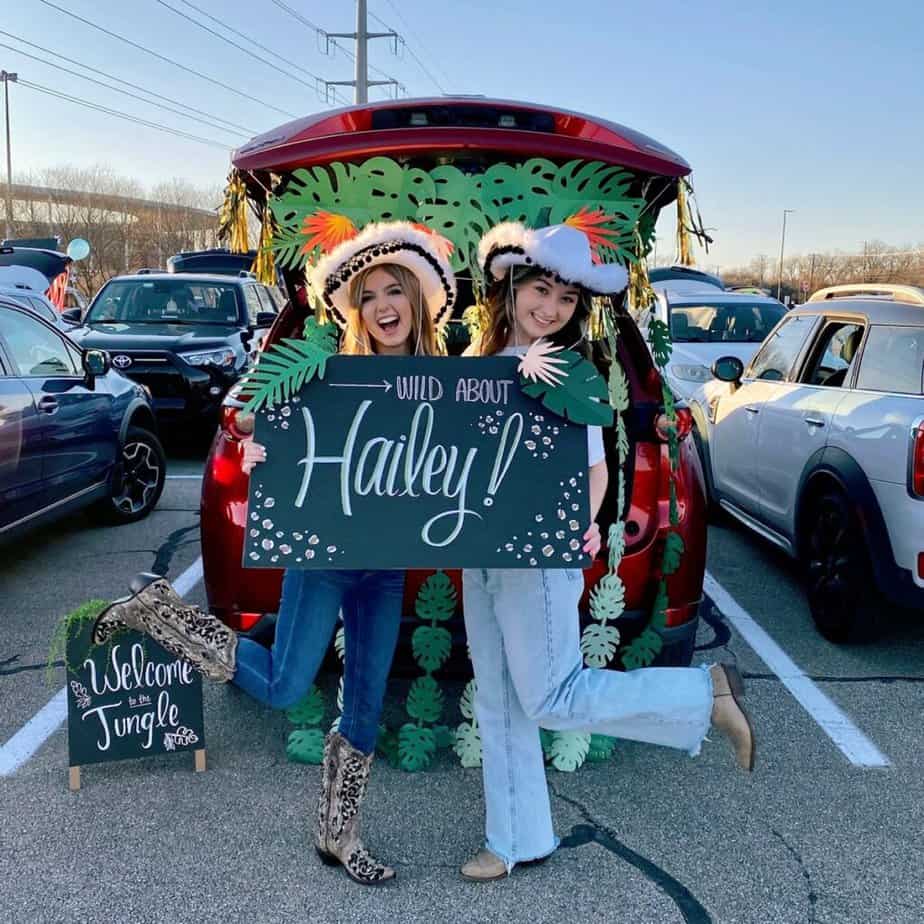 The car reveal is another super popular idea for littles to find their bigs.
Bigs will decorate their cars with their little's name on the back windshield. Then, the bigs will all go to a parking lot and hide in the trunks.
Littles will all go out into the parking lot and try to find their names on the cars. When they open the trunk their big will be inside!
Just make sure that it's not too hot out when you do this. You may need to have your cars on and the air conditioning running if it's a really hot day.
5. Balloon Pop
One really creative reveal idea is the balloon pop.
Your chapter will put balloons in a sheet and attach it to the ceiling with string. Then they'll let the balloons down and all of the littles will have to find a balloon with their name on it.
The littles will then pop their balloons to reveal the name of their big. Such a cute idea for a sorority reveal!
6. Box Reveal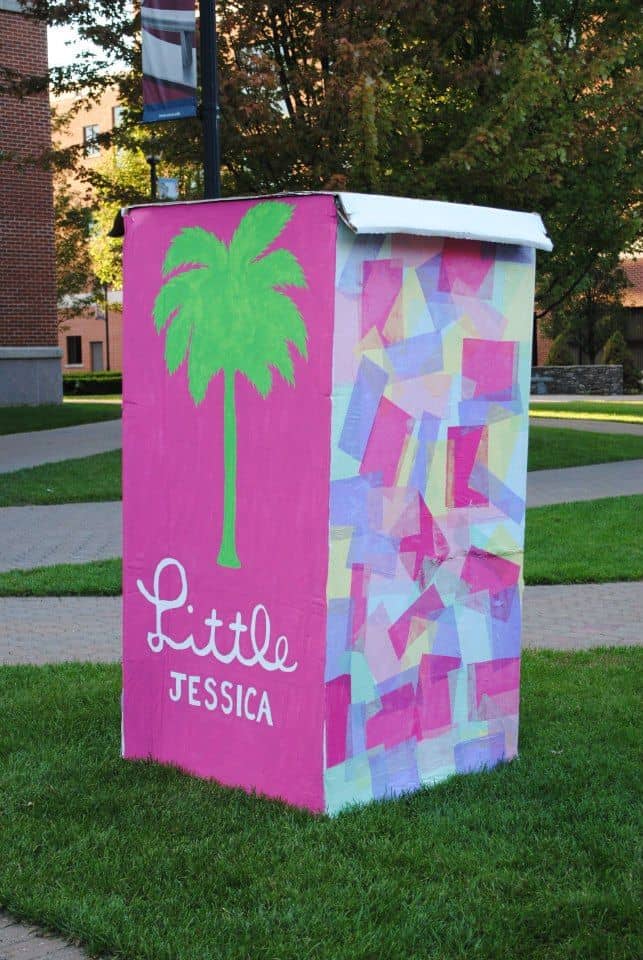 The box reveal is one of the most popular ways to introduce yourself to your little.
All you need is a giant box and some decorations for this one. Decorate your box according to your theme and write your little's name on it.
Then you'll hide inside of your box and jump out when your little finds you!
7. String Maze
This sorority reveal idea is one of my absolute favorites. Each big gets a ball of string and they have to run all over the house making a path with the string.
The littles will then come over and find the string with their name on it. Then they have to follow the string through the house until they find their big.
8. Puzzle Pieces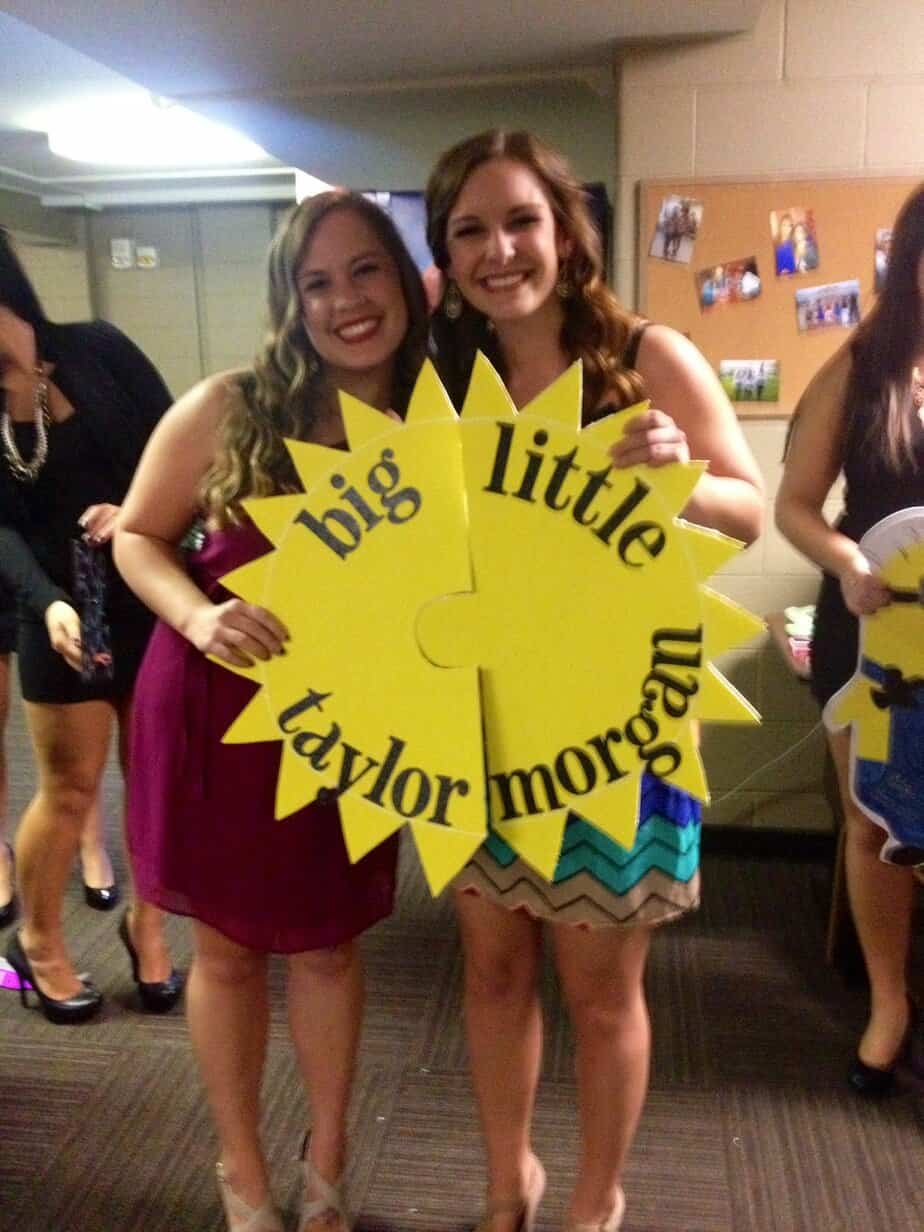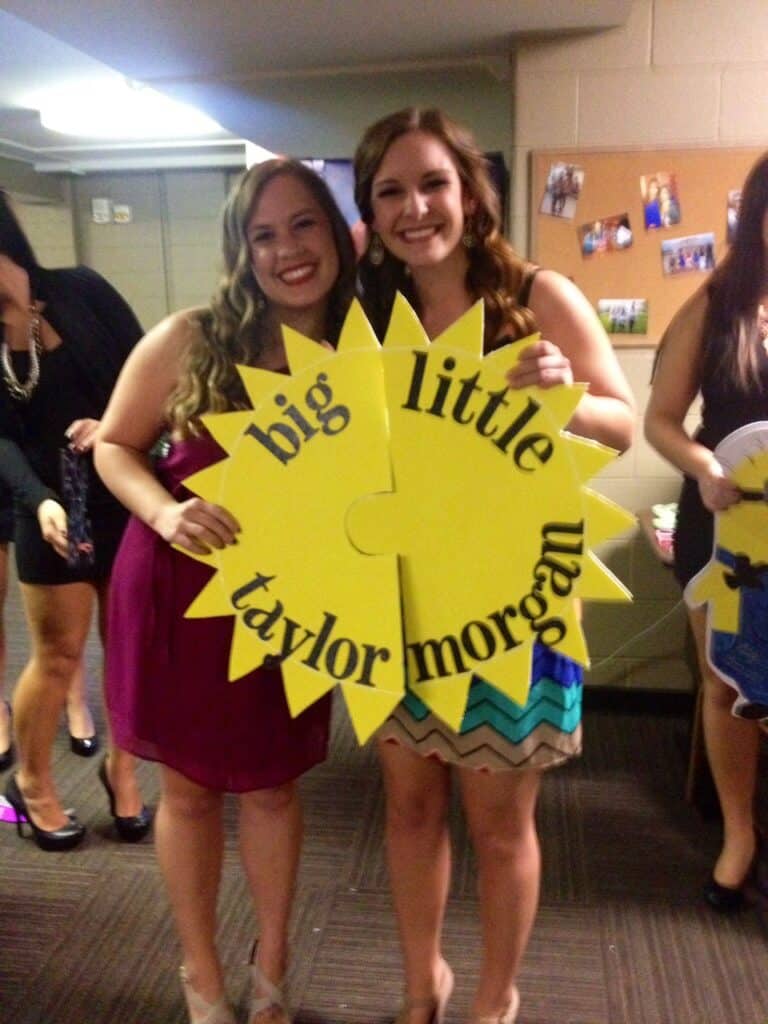 The concept of this one is really easy. Each of the littles will get a puzzle piece and they have to find their big with the matching piece.
9. Wrapping Paper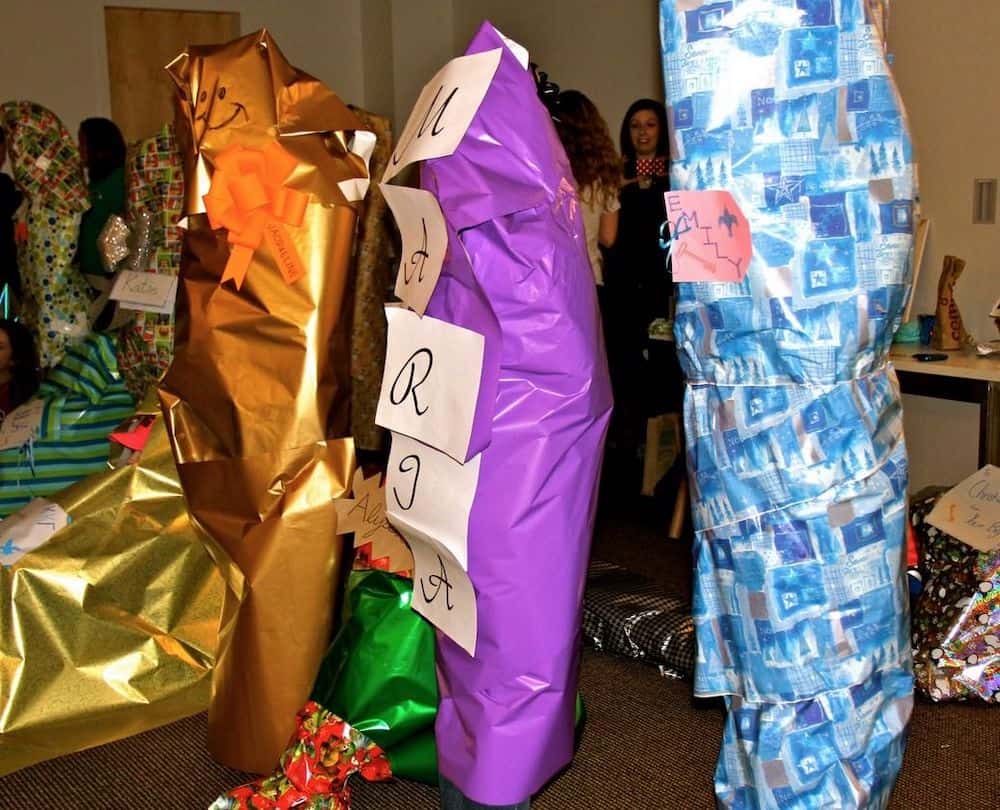 How fun does this one look?
Basically, the bigs will just wrap themselves in wrapping paper with the little's name on it. Then the little has to unwrap their big!
This one will require some extra hands, so make sure you have some helpers around.
10. Matching Socks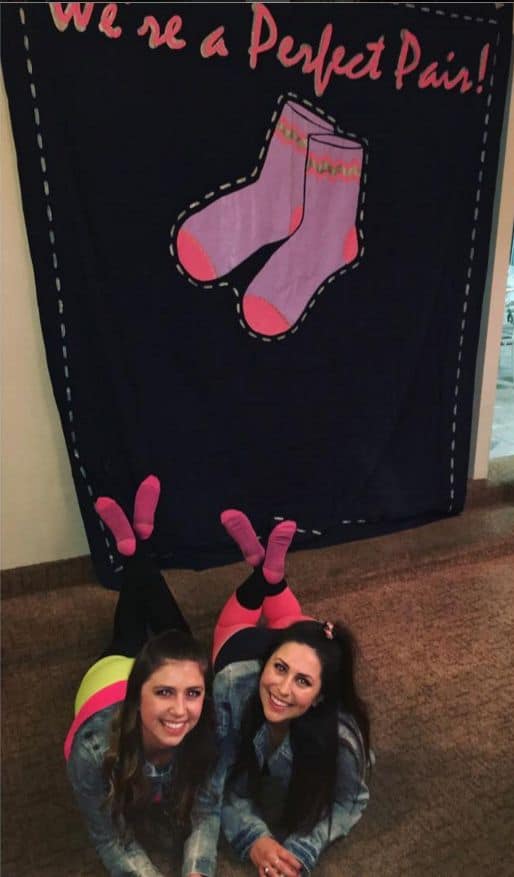 The sock reveal is another super fun way to introduce yourself to your little.
You'll give your little a pair of socks sometime before the big day. Then you'll wear the matching ones and hide so that only your feet are showing. Some chapters do this with a big sheet, while others will just have you wear a hoodie and turn around.
Once the little finds you with the matching socks you get to turn around or take off the sheet!
Big Little Reveal Shirts
11. Dunkin Big Little Shirts
How cute are these Dunkin Donuts themed tanks for a big little reveal? Surprise her with a Dunkin coffee and some donuts if you want this reveal to be extra sweet.
12. Butterfly Big Little Theme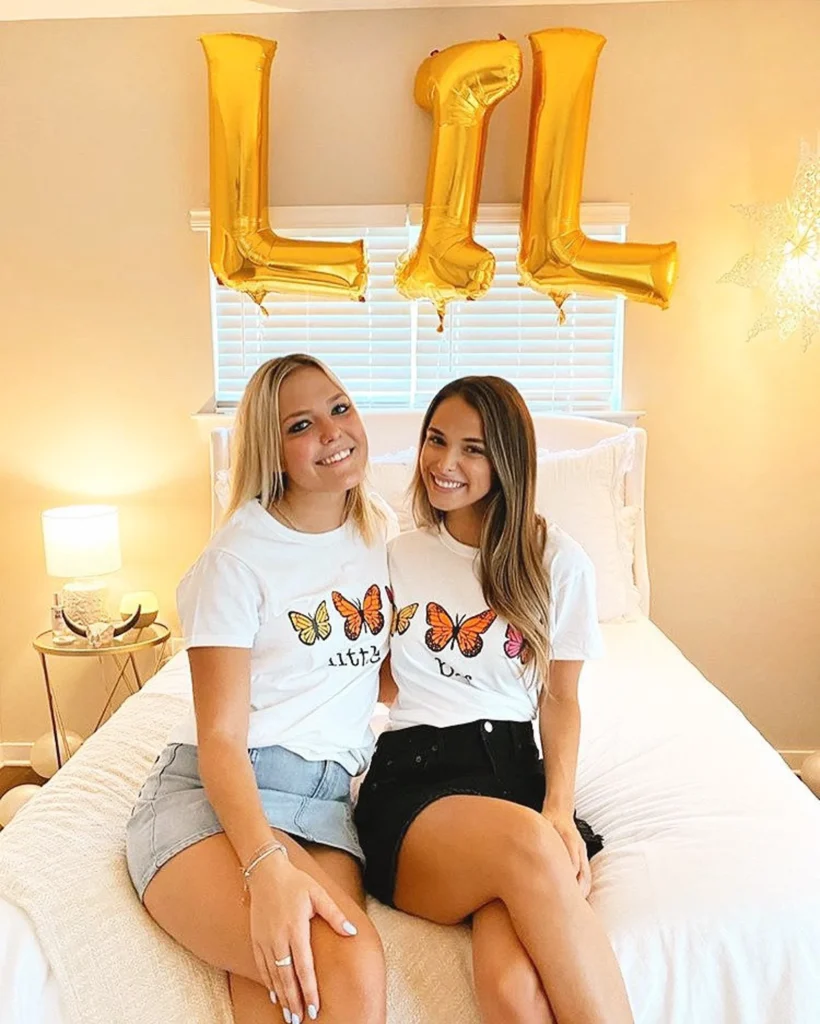 These butterfly t-shirts are so trendy right now in the sorority world. I absolutely love the Y2K vibes they give.
13. Chick-Fil-A Themed Shirts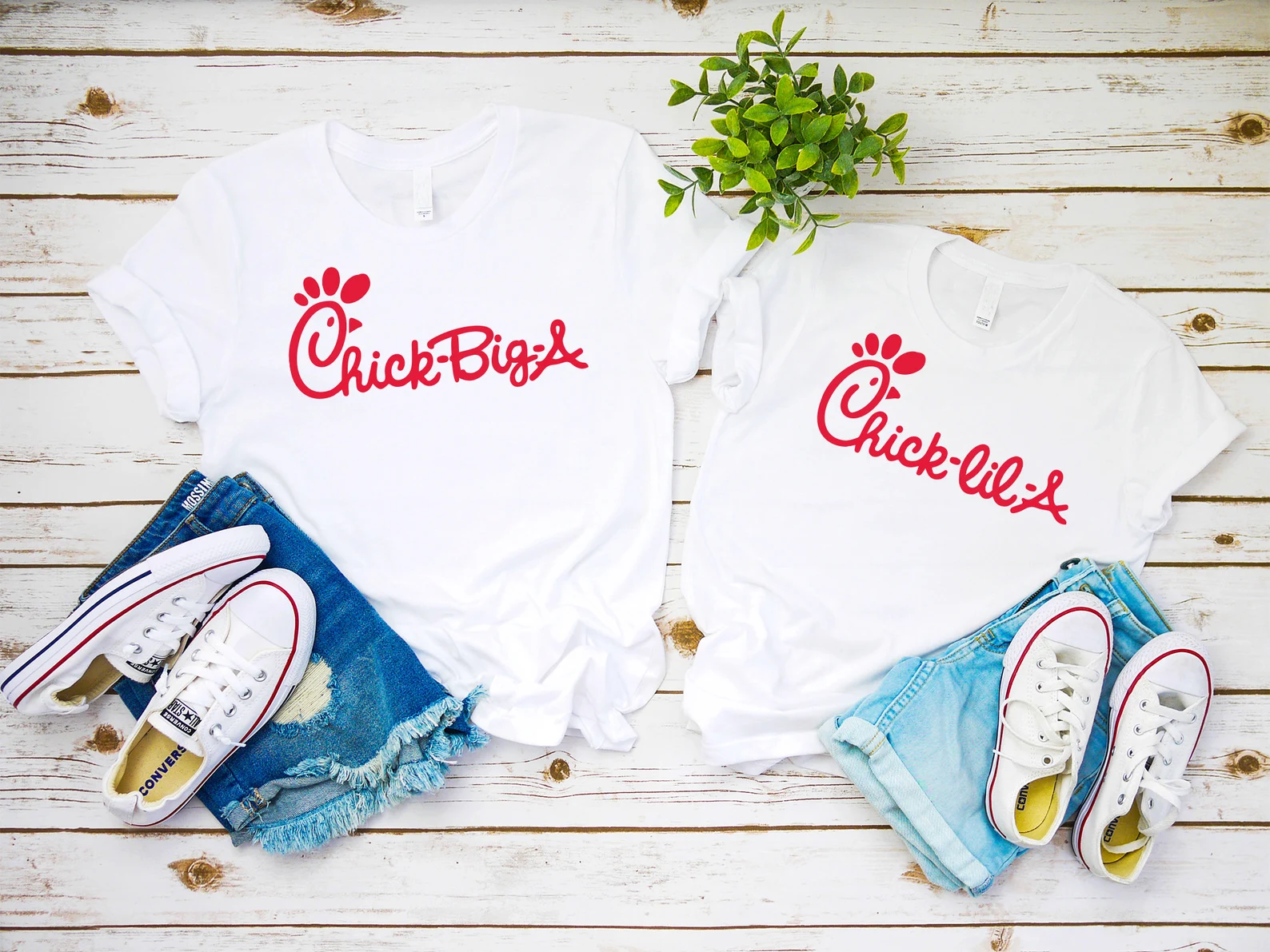 Do you and your little have a Chick-Fil-A obsession? These shirts would be SO cute for reveal day, especially if you go to school somewhere in the south.
14. AC/DC Big Little T-Shirts
These edgy-looking AC/DC-inspired shirts are so dang cute! Pair them with a pair of cut off jean shorts for an adorable rockstar look.
15. Fuller House Big Little Shirts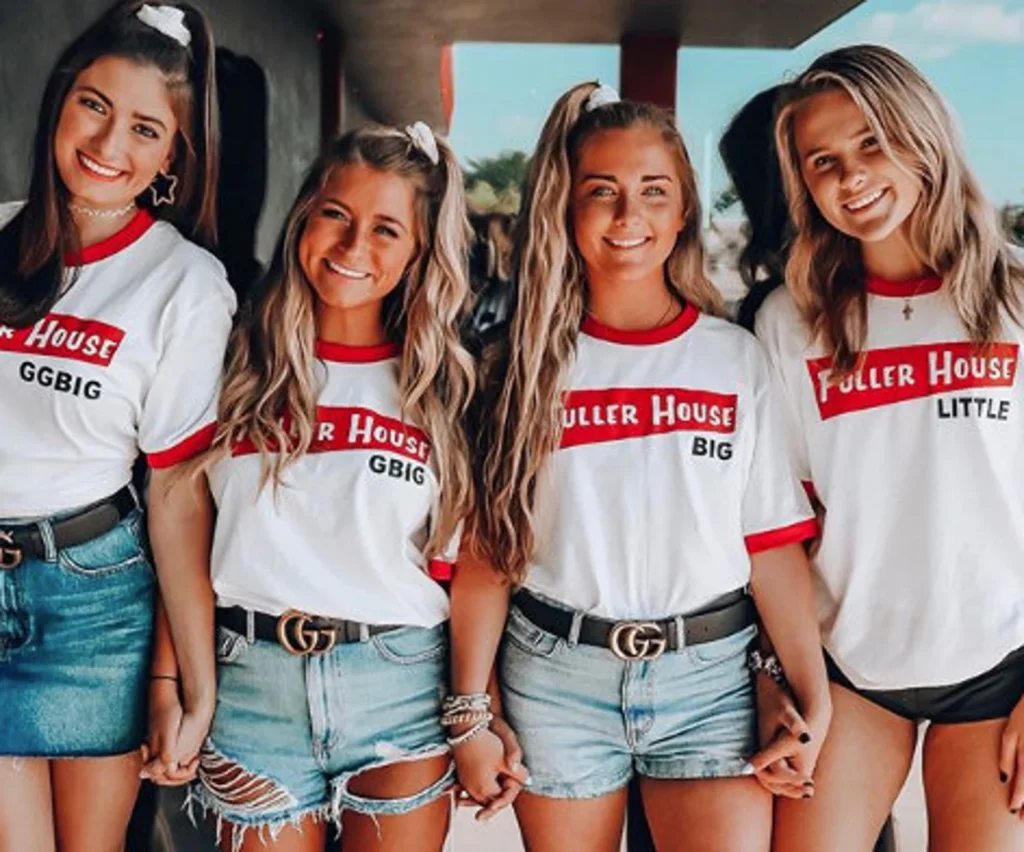 I am absolutely obsessed with these Fuller House shirts for a larger sorority family. Such a creative idea for a big little reveal picture.
16. Harley Davidson Big Little Shirts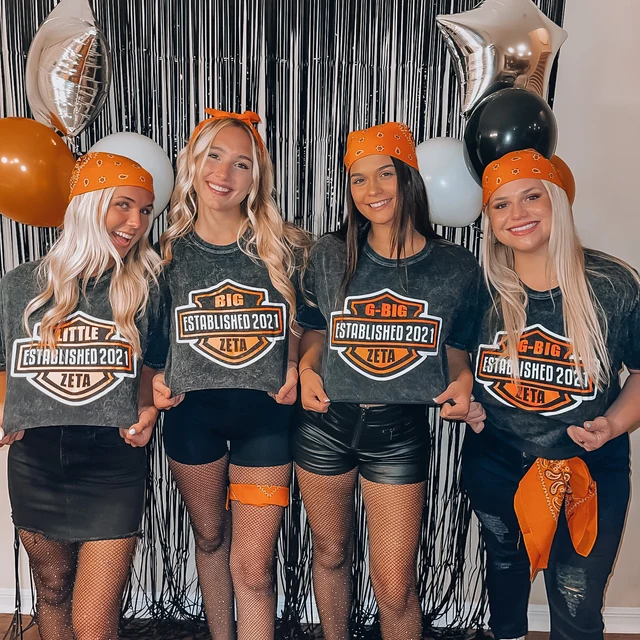 One of the trendiest theme ideas for a sorority reveal picture is the Harley Davidson girl look. Channel your inner biker chick with Harley shirts, orange bandanas, and some leather pants or shorts.
17. Twin Flames Big Little Reveal Shirts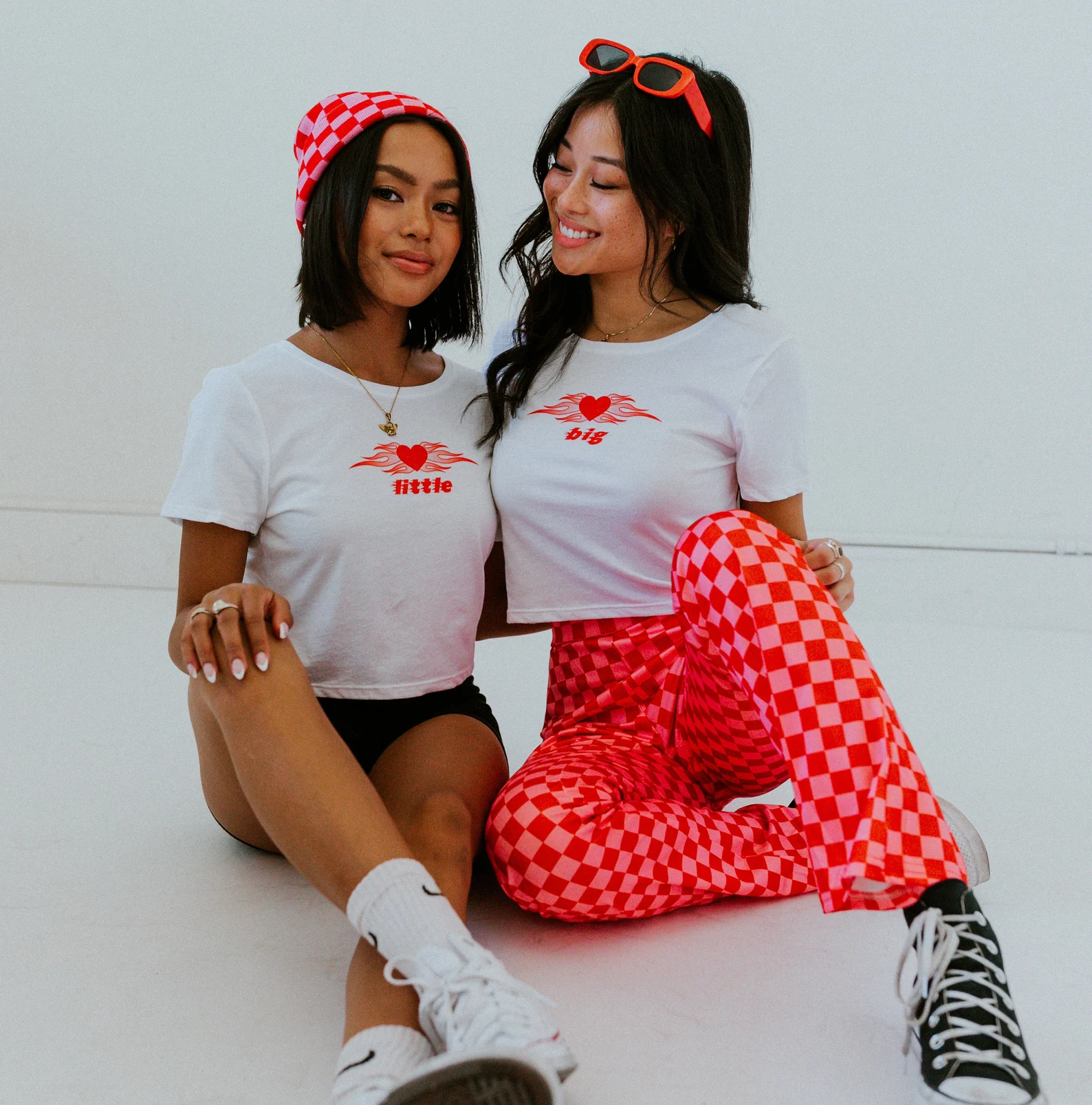 The connection between a little and a big is such a special one. Celebrate that beautiful connection with these twin flames t-shirts.
Not only are they SO cute, but they're also really meaningful.
18. Flame Big Little Shirts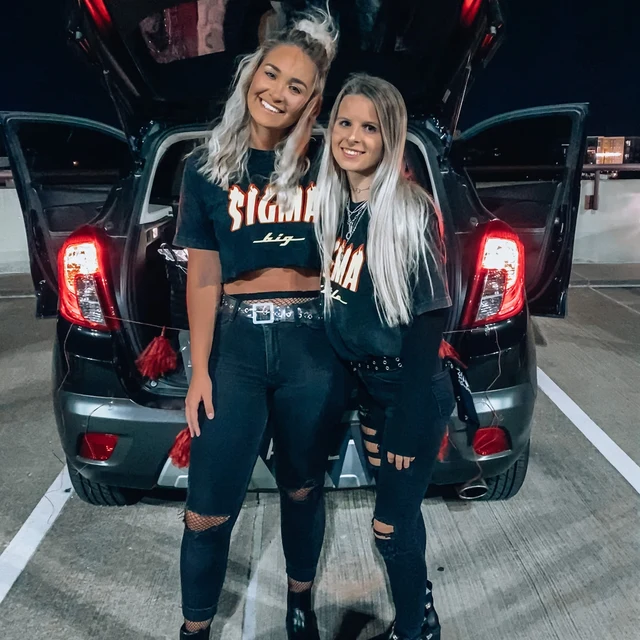 These flame font shirts would look so bada$$ with some ripped jeans and studded belts. Perfect if you and your little both have an edgier side to you.
19. Cow Print Big Little Shirts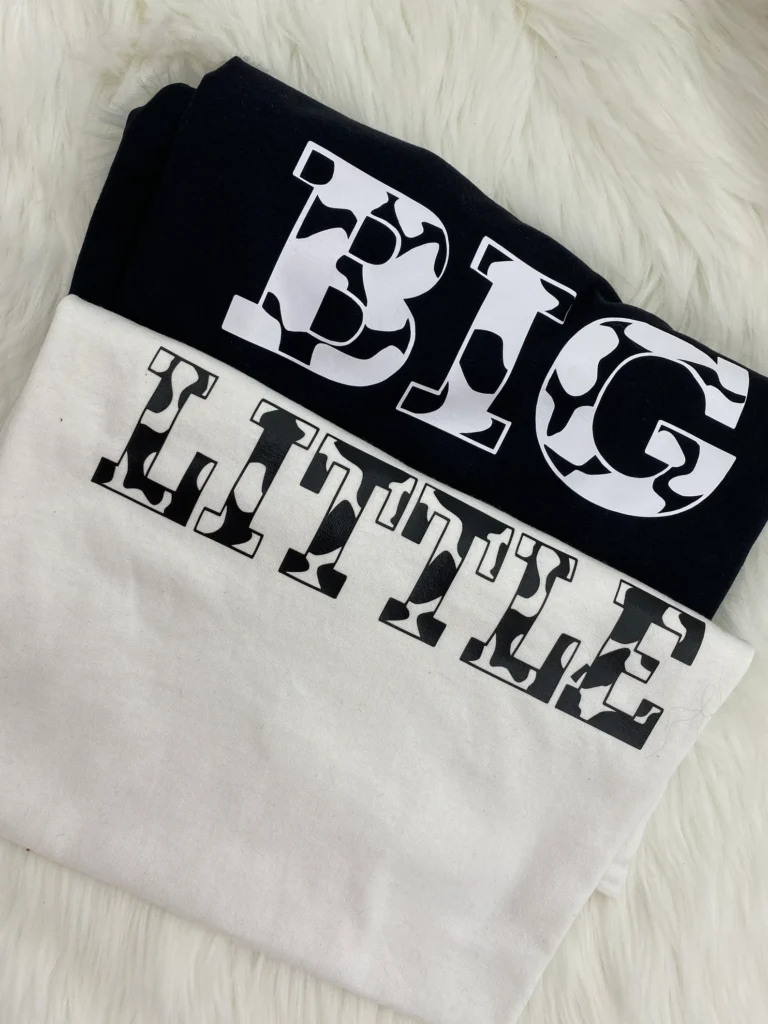 Cow print is having a total moment right now, and we are totally here for it. These shirts would look so cute for a cowgirl (or space cowgirl) reveal theme.
20. Smiley Face Big Little Shirts
Yeehaw! These funky cowboy smiley face shirts are so dang cute!
I love that they go all the way up to GGBIG, so that you can get a shirt for the whole sorority family.
21. KitKat Big Little Shirts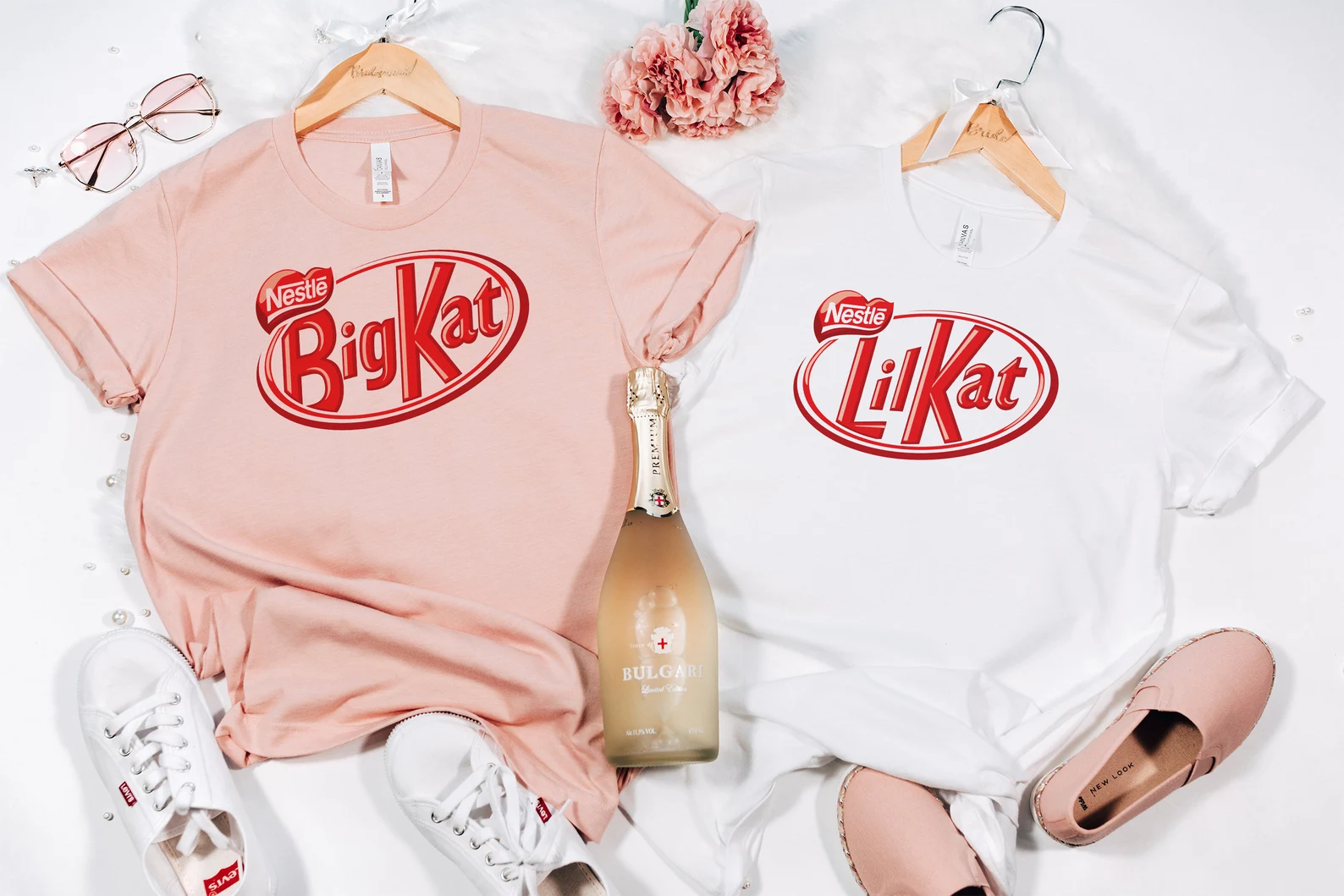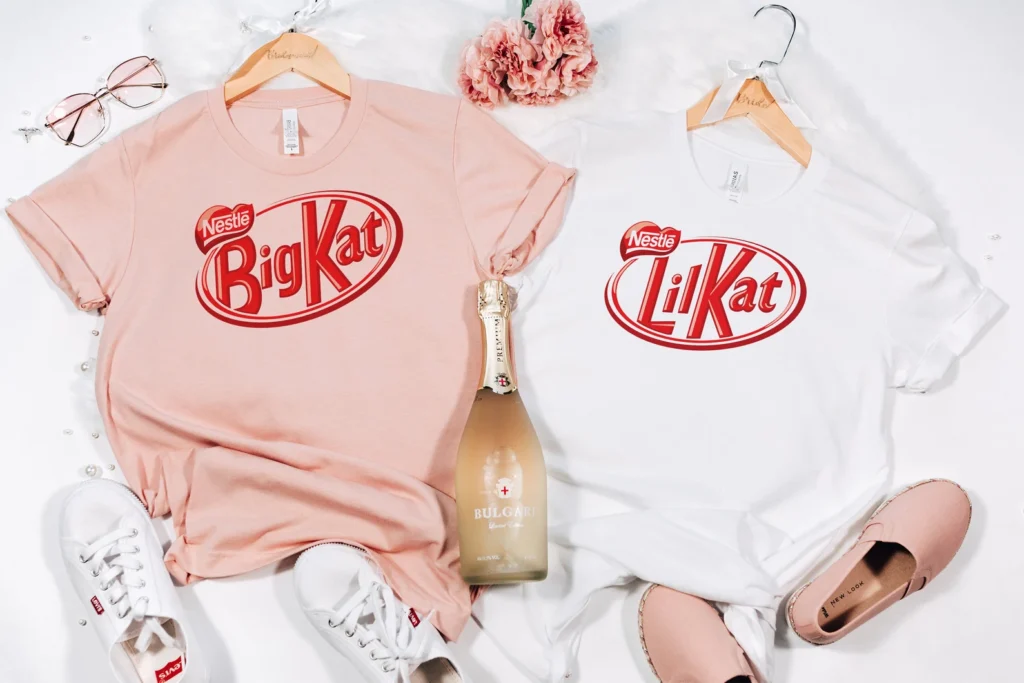 These KitKat shirts are so unique and fun for a sorority reveal. I love the retro font and color scheme.
22. Drip Font Big Little Shirts
How cool does this retro drip font look on a shirt? Sometimes a simple t-shirt with some jean shorts is all you need for a super cute big little reveal picture.
23. Incredibles Big Little Tees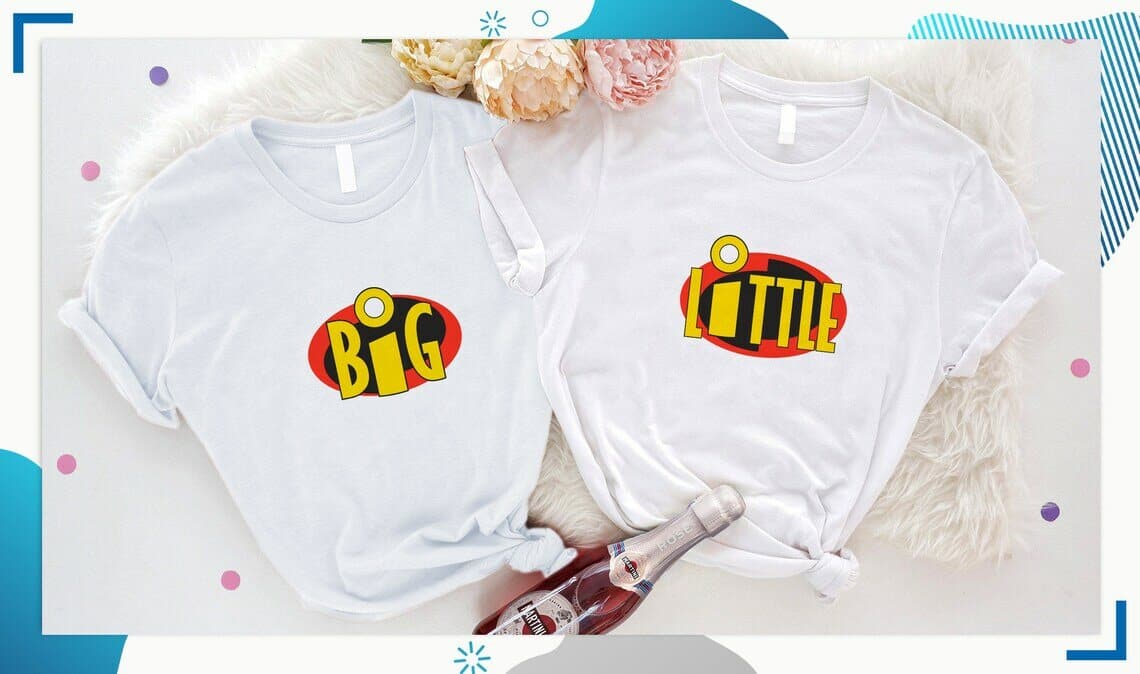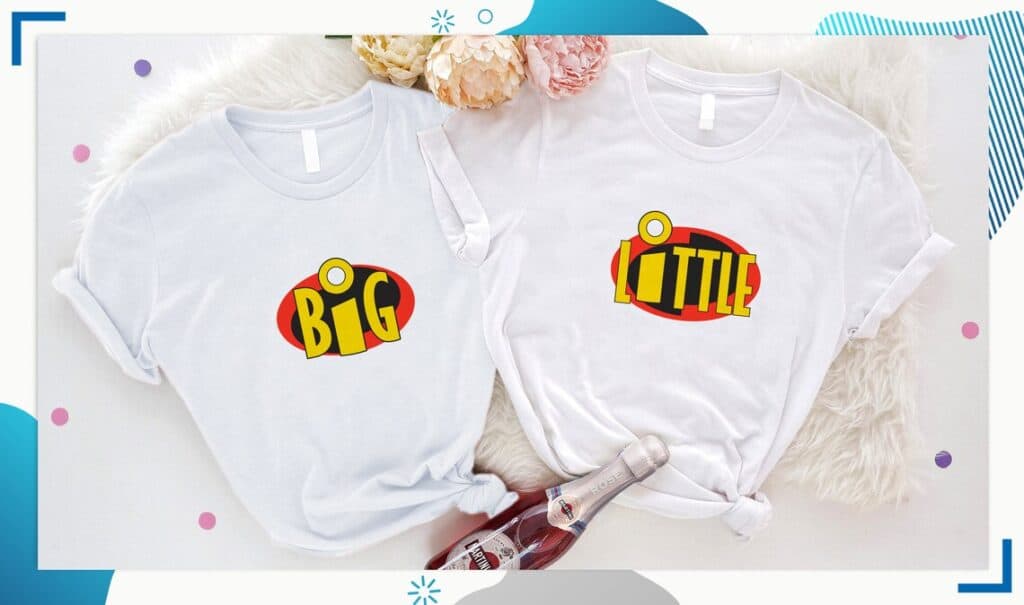 You and your little are both *incredible* in your own ways, so make sure to celebrate that! These Incredibles themed t-shirts are so adorable.
24. Harry Styles Sorority T-shirts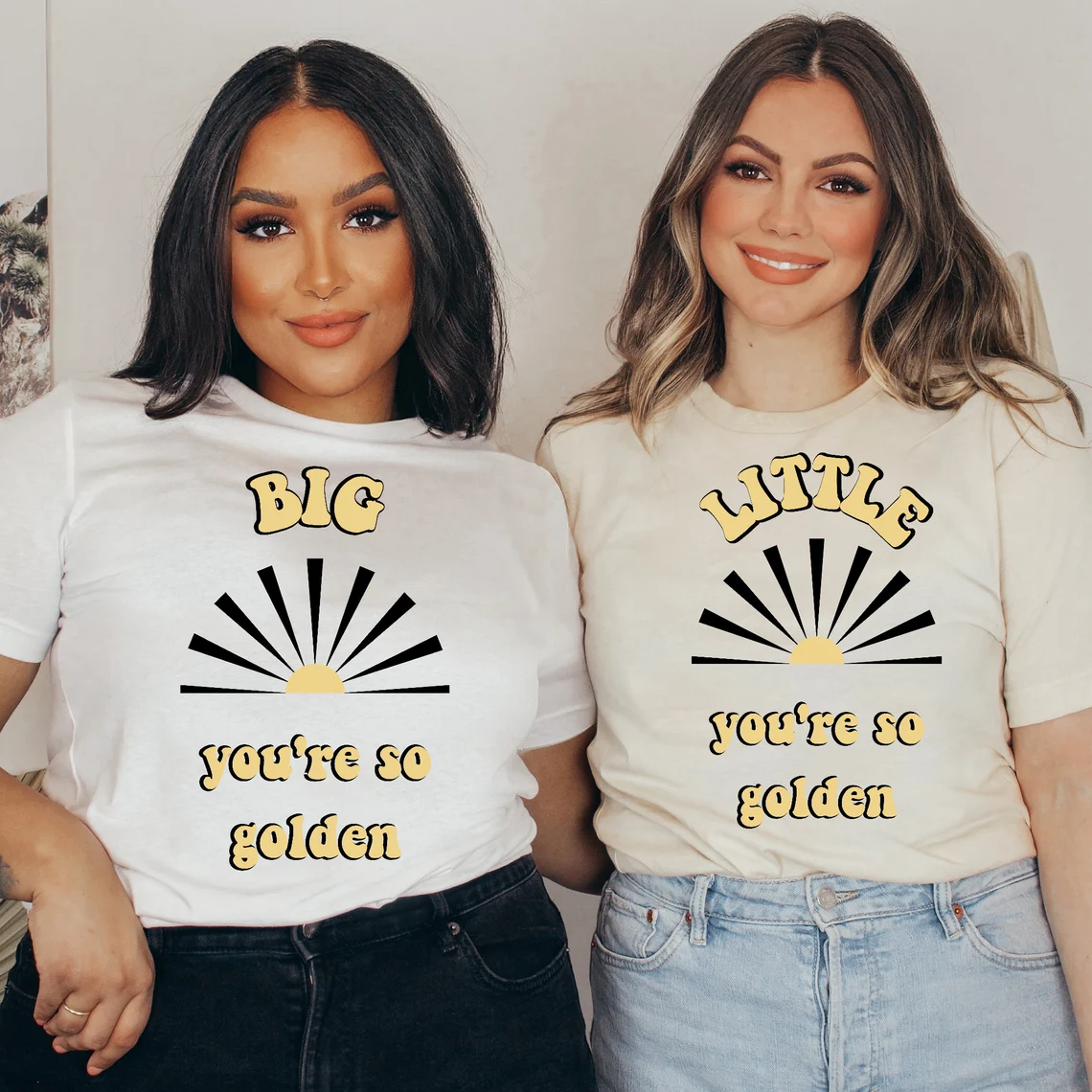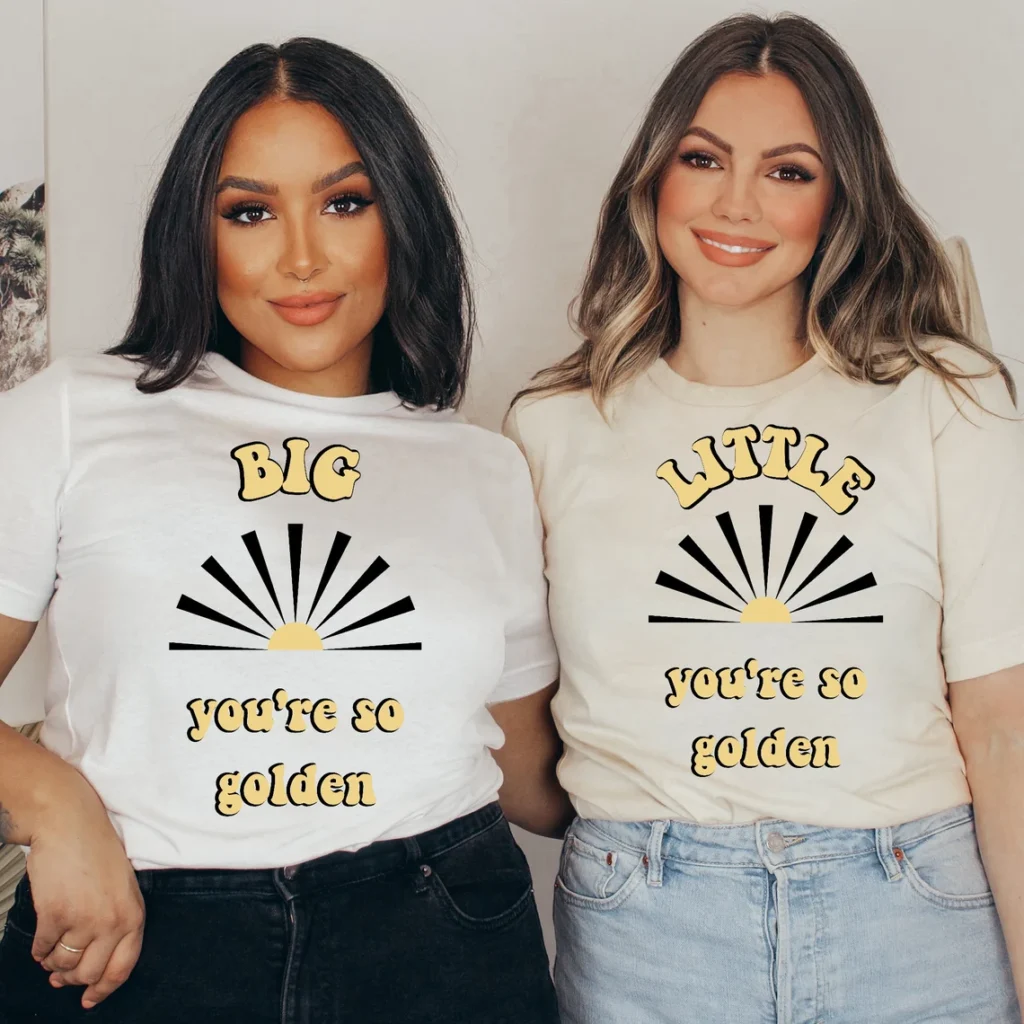 Are you both huge Harry Styles fans? (I mean honestly, who isn't at this point?)
Then these shirts are so perfect for you two to wear together!
25. Race Car Big Little Reveal Shirts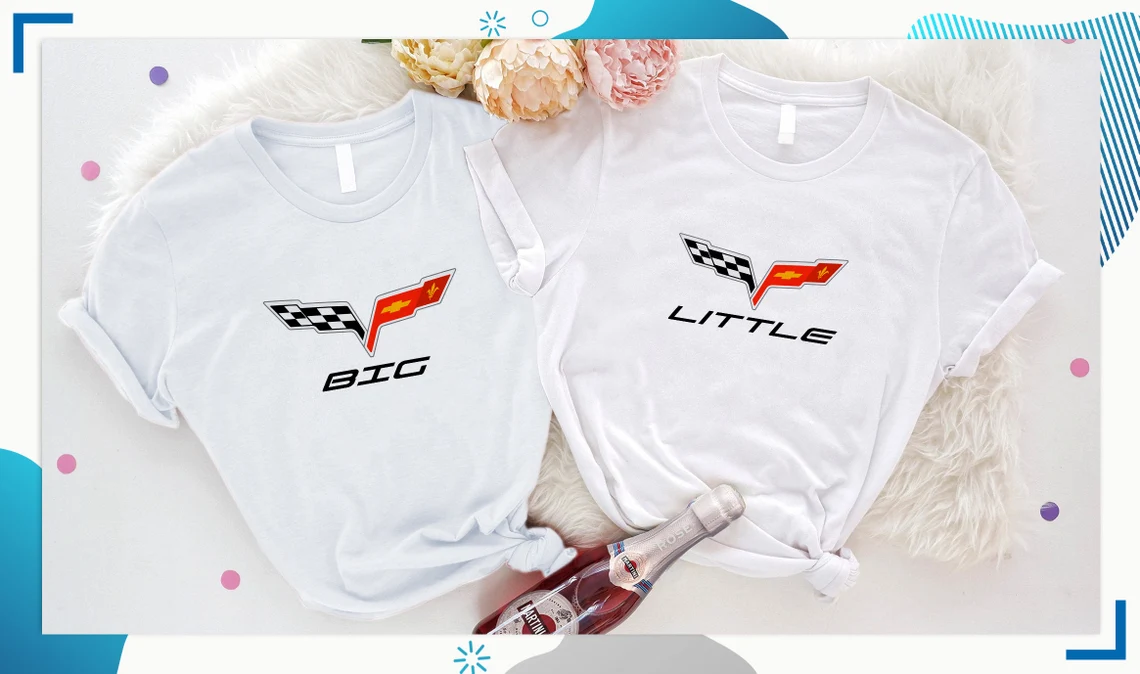 A race car theme would be so cute for a big little reveal. You could wear checkered shorts and sunglasses to really finish off the look.
26. Orange Slice Sorority Shirts
I'm obsessed with these adorable orange slice shirts! If you can't see, they say big squeeze, little squeeze, and gbig squeeze on them. So stinkin' cute!
27. Sunflower Big Little Shirts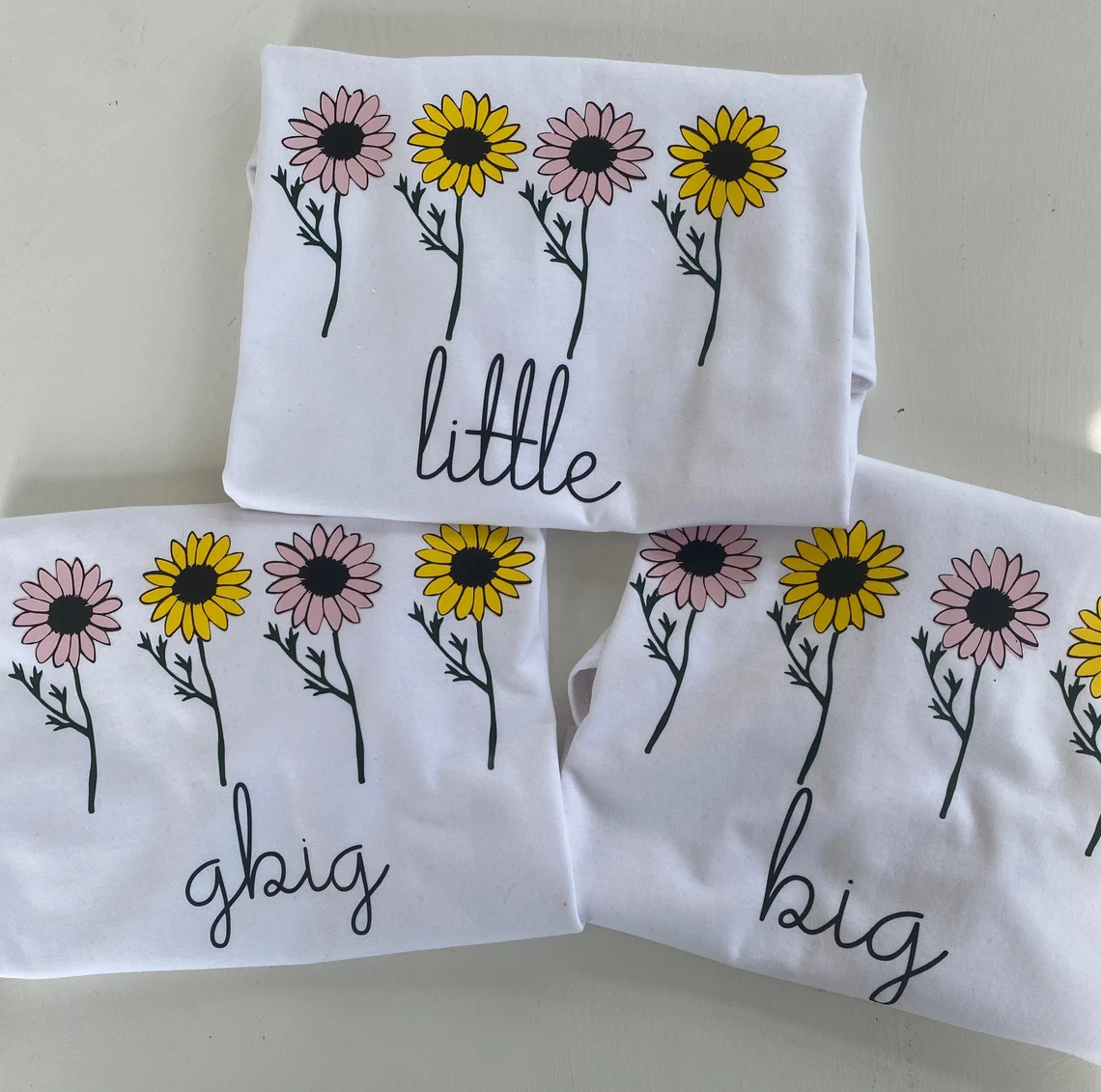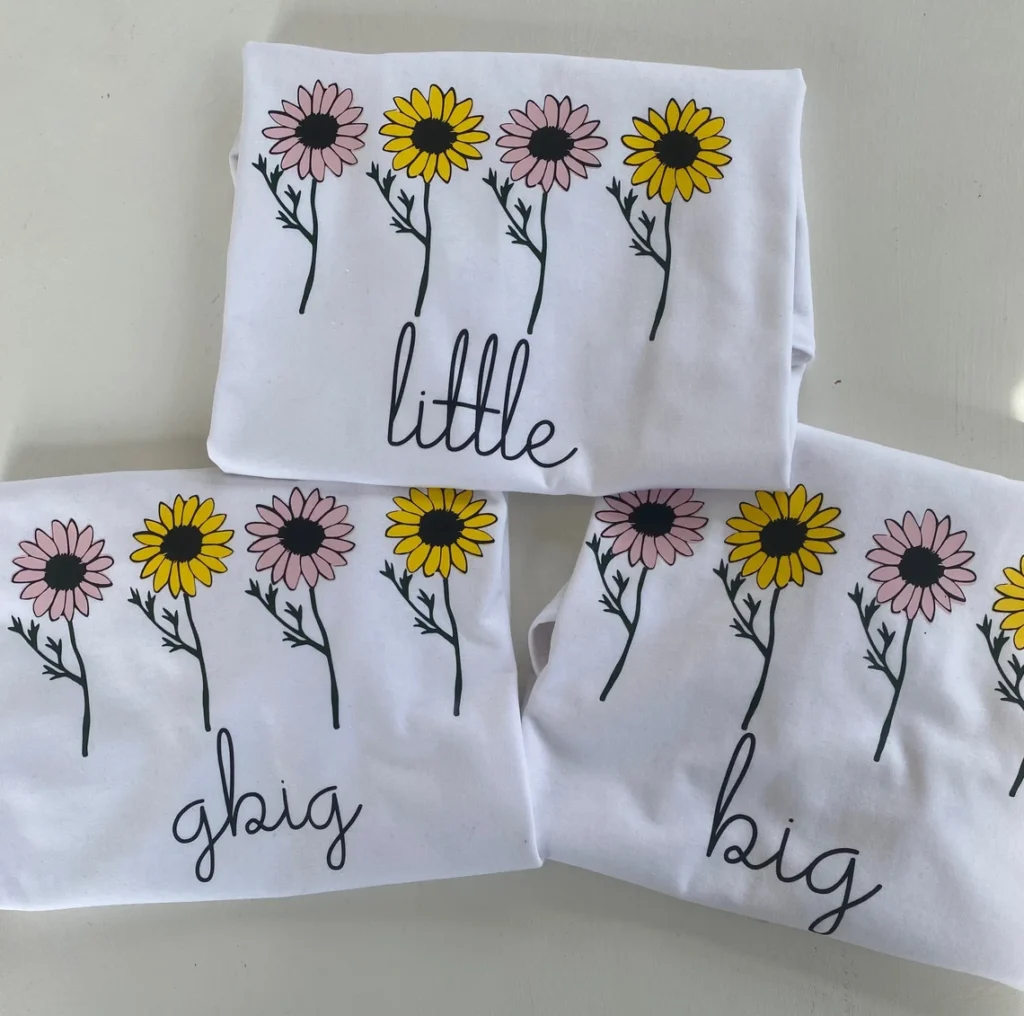 You're all going to be blooming together as a family with these adorable sunflower shirts! So sweet for a big little reveal.
Frequently Asked Questions About Big Little Reveal
When Does Big Little Reveal Take Place?
While every sorority operates on a different timeline, your big little reveal will generally take place within the first three months of your time in the sorority.
The timeline generally looks something like this:
The process begins after bid day, when bigs will start to scope out potential littles. Bigs may start inviting new members to hang out or participate in activities with them. This is their way of getting to know the new girls and seeing how they get along with them.
Next, there is a more official "dating" process that takes place. Littles will be required to meet with one or two current members per week to get to know them. This process typically lasts for about a month.
The dating period ends on Big Little Matching Day. On this day, Bigs will write down their top 10 choices for potential Littles, and vice versa. The lists will be looked over by the New Member Educator and Bigs will be notified who they matched with.
After Big Little Matching Day, Bigs will take a week or two to send gifts to their Littles and give them little hints to tease them. This time is also used for Bigs to plan their big reveal.
Finally, a week or two after Matching Day, it's time for Big Little Reveal Week. During this week, Bigs will typically leave big gift baskets for their Littles to open up.
After all of the gift baskets have been distributed, it's time for the big reveal. Big Little Reveal Day is the day where Bigs finally get to reveal themselves to their Littles.
What Do You Wear To Big Little Reveal?
On Big Little Reveal Day, Littles will typically be given a theme to dress up in. Your Big may even provide you with a matching T-shirt so you can take cute pictures together after the reveal.
If your Big doesn't provide you with any instructions, you can dress in something cute and casual for reveal day. I recommend a nice sundress or jean shorts with a cute top.
What To Do After Big Little Reveal?
After the big reveal, you'll probably want to hang out and celebrate with your new sorority family. Here are some cute ideas for what to do afterwards:
Go out to eat at a nice restaurant
Head to a park and have a cute picnic together
Have a slumber party with your new sorority fam
Go bowling or roller skating together in your matching outfits
Whatever you do, make sure it's fun for the whole "family". You guys are in this together now!
Final Thoughts On Big Little Reveal Day
Big Little Reveal Day is one of the most exciting days that you'll have as a sorority sister. Whether you're a Big or a Little, you're probably experiencing so much excitement and nervousness in the days leading up to the reveal.
In this post, we covered 27 of the best Big Little Reveal ideas. Hopefully this gave you some inspiration for how to plan the perfect reveal.
Here are some more posts you may like: