Are you attending a golf pros and tennis hoes themed party soon? Here's everything you need to know about this super fun college party theme.
This post may contain affiliate links, which means I'll receive a commission if you purchase through my link, at no extra cost to you. Learn more: Affiliate Disclaimer.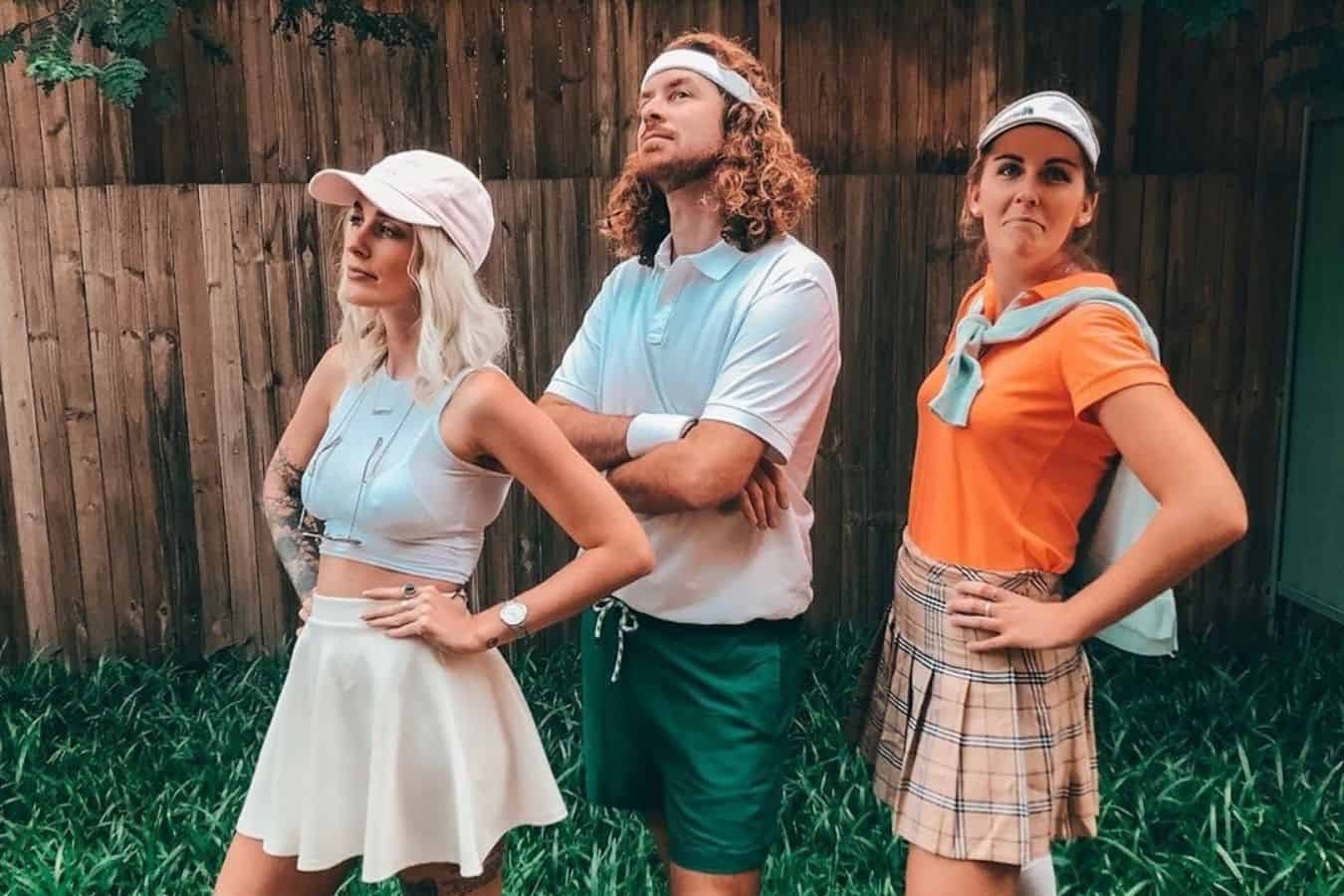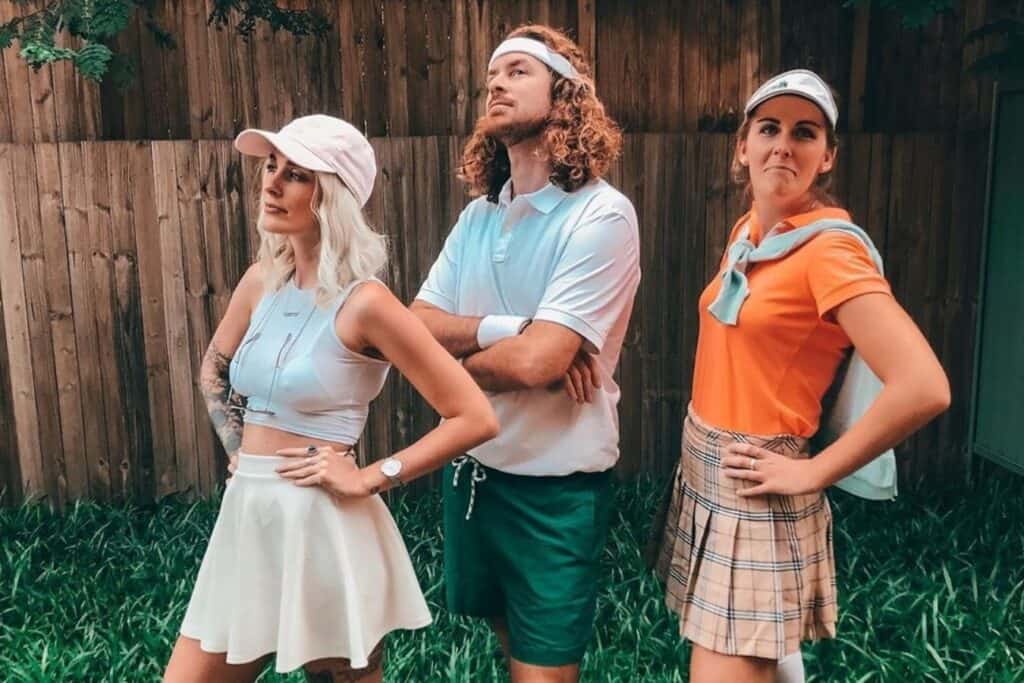 Golf pros and tennis hoes is one of our favorite college party themes, but it's not always easy to figure out what to wear or how to decorate for it.
That's why we put together this guide. We'll go over what to wear, what decorations to put up, and what activities you should have at the party.
What Is A Golf Pros And Tennis Hoes College Party?
So you've been invited to a golf pros and tennis hoes party, but what exactly is it?
Golf pros and tennis hoes is a party theme that is very popular among college students. It involves dressing up in preppy clothes.
Guys typically will dress up like professional tennis players. They wear plain colored polos, preppy quarter zip sweaters, and formal golf pants.
Girls usually dress up like the tennis "hoes" with short tennis skirts, cropped sports tops, preppy crewneck sweatshirts, etc.
Of course, there's no hard and fast rule that guys have to be "golf pros" and girls have to be "tennis hoes". Girls can absolutely rock a polo and golf pants, and vice versa. Show up in whatever makes you feel comfortable!
Looking for more fun college party theme ideas? We've got you!
Golf Pros And Tennis Hoes Party Ideas
1. Set Up A Mini Golf Course
If you're having the party outdoors, it would be such a fun idea to set up a DIY mini golf course. You could really easily make this with some pool noodles and plastic containers.
We always recommend having some activities for your party guests to do. This will make for a way more fun and memorable college party.
2. Have The Party On A Golf Course
Some local golf courses allow you to rent out either part or all of the course for private parties. If you have the funds for it, you should definitely try to rent out a golf course for this themed college party!
Just make sure that things don't get too out of hand. Golf courses tend to be pretty classy places, so they won't want a bunch of college kids getting rowdy and breaking things.
If you're throwing this party for a fraternity or sorority, you could turn it into a fundraiser party for your philanthropy. Everyone could play a round of golf and the theme party could be in the clubhouse afterwards.
3. Do A Table Tennis Tournament
It's probably not possible to play actual tennis at your party, but table tennis (aka pingpong) is just as fun! If your college house has a pingpong table, this would be the perfect activity to do at your golf pros and tennis hoes party.
If you don't have a pingpong table, you can easily convert any dining room table into one with this super affordable kit.
4. Play Golf Pong
This game is SO perfect for this themed college party. It's basically like a mixture of mini golf and beer pong.
The rules of the game are really similar to regular pong, but you hit the balls into the holes with golf clubs instead of throwing them. This set from Amazon has everything you'll need to play, minus the golf clubs.
5. Set Up A Golf-Themed Drinking Game
This golf-themed drinking game would be so fun to play at a party.
To play the game, players take turns trying to hit the ball into the hole. Once the ball goes in, follow the instructions on the side of the shot glass that corresponds with the number of strokes it took to get the ball in the hole.
Golf Pros And Tennis Hoes Outfit Essentials
Tennis Skirts
Pretty much every girl at a golf pros and tennis hoes party will show up in a tennis skirt. It's cute, classic, and pretty affordable. You may even already have one you can use!
Here are some cute tennis skirts that you can wear for this party theme. Both of these styles come in tons of different colors, so you'll definitely find one that fits your vibe.
Crop Tops
Tennis skirts and crop tops are pretty much the uniform of any tennis babe. A regular sporty crop top will work, but we also love the cropped polo tank!
Here are our top picks for tennis babe crop tops:
Tennis Dresses
Another great outfit option is a cute tennis dress. You could even throw a crewneck sweatshirt over your shoulders for an extra preppy vibe.
Here are some of the cutest tennis dresses we could find:
Golf Shirts
Guys typically wear plain polos or preppy sweaters for this party theme. Here are some of our top picks for golf pro shirts:
Golf Pros And Tennis Hoes Party Outfit Ideas
This party theme is one of our favorites for college parties because it's so easy to dress for. All you really need are some preppy clothes and you're good to go.
Guys will typically wear the classic golf outfit – a plain polo shirt and dress pants. Girls will dress up in their cutest tennis outfits. Think white skirts, tight crop tops, preppy crewneck sweatshirts, etc.
If you need some more outfit inspo, here are some of our favorite golf pros and tennis hoes themed outfits:
Golf Pros And Tennis Hoes Theme Decorations
Golf Ball Balloons
These golf ball balloons are so fun and would look perfect at a sporty themed college party.
Tennis Photo Props
One of the best parts of any theme party is taking pictures with your besties! These tennis-themed photo props would be perfect for a golf pros and tennis hoes college party.
You could also get these golf-themed photo props to fully encapsulate the theme!
Golf Course Photo Backdrop
If you can't have the party at a real golf course, this is definitely the next best thing! Everyone will have a ton of fun taking pictures in front of this backdrop.
Tennis Ball Piñata
A piñata makes every party more fun! This tennis ball piñata is perfectly on-theme and holds up to three pounds of candy (or mini booze bottles lol).
This article was all about the best golf pros and tennis hoes party theme ideas.
You may also like: