Are you heading to a Rhyme Without Reason party soon? Here are 55 of the absolute funniest costume ideas to wear to this trendy theme party.
This post may contain affiliate links, which means I'll receive a commission if you purchase through my link, at no extra cost to you. Learn more: Affiliate Disclaimer.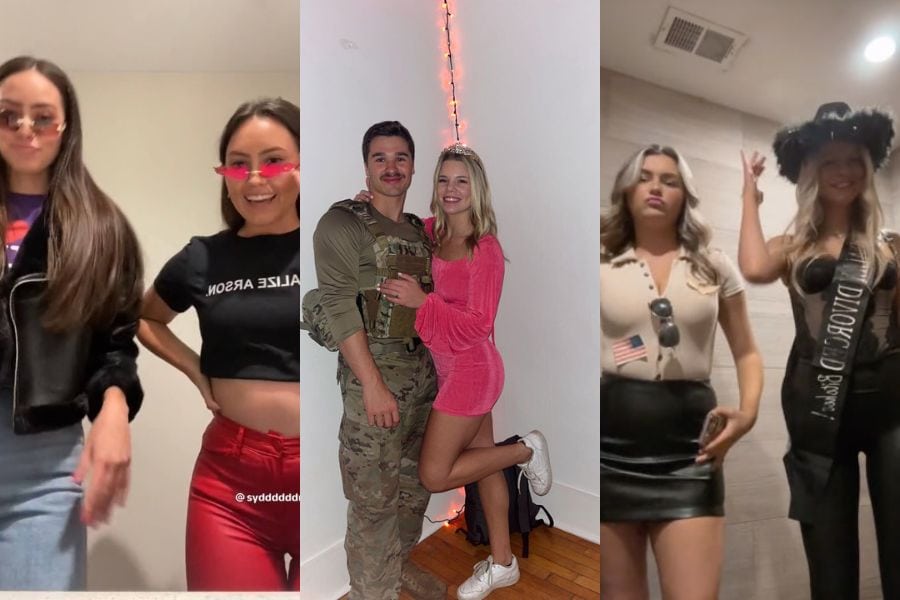 What Is A Rhyme Without Reason Party?
Rhyme Without Reason is the latest party theme to take over TikTok. But what exactly is it and how do you dress up for it?
Basically, it's a date party theme where you and your date dress up as two things that rhyme. However, the rhyming things should be unrelated.
It'll make a lot more sense when you see an example, so here's a popular TikTok from a Rhyme Without Reason date party.
Now that you get the idea of what this party theme is, let's go over some of the best and funniest rhyme without reason outfit ideas.
The Best Rhyme Without Reason Costume Ideas
1. Guy Fieri + Blueberry
You'll get lots of laughs going as the Mayor of Flavor Town and a blueberry.
There are plenty of good Guy Fieri t-shirts out there that you can pair with a blonde spiky wig. For the blueberry costume, just wear an all blue outfit and top it with a fun blue wig.
Shop this rhyme without reason costume idea:
2. Traffic Cone + Post Malone
This one is super popular for a reason! How funny would it be to show up with a date dressed as a traffic cone and Post Malone.
For the traffic cone, just wear an all orange outfit and a traffic cone hat. The partner who dresses as Post Malone should draw on his signature face tattoos.
Recreate this costume idea:
3. FBI + Butterfly
One person dresses in all black with an FBI badge, and the other wears butterfly wings. Such a cute and easy rhyme without reason party idea!
Recreate this rhyming duo outfit:
[RELATED: 40 Genius Ideas For A 2000s Themed Party (Fun Y2K Party Ideas)]
4. Ballerina + John Cena
These are definitely two polar opposite costume ideas, which makes for a really funny rhyme without reason party outfit!
Recreate this date party outfit idea:
5. Ice Spice + Three Blind Mice
Another really funny rhyming costume idea would be to go as Ice Spice and one of the Three Blind Mice.
Here are some essentials for this costume idea:
6. Socks + Cardboard Box
Here's a cute rhyming costume idea that doesn't require you to buy anything.
One person will just pin some socks onto their shirt. The other will cut a hole in a cardboard box and wear is as their costume. So easy and cute!
[RELATED: 45 Outrageous Anything But Clothes Party Ideas]
7. Emo + Nemo
This is definitely one of the funnier rhyme without reason costumes. One partner will go as an emo person and the other will go as Nemo the fish.
For the emo person, you'll want to wear all-black clothing, some black eyeliner, and plenty of punk accessories.
For Nemo, you can find a full Flounder costume on Amazon. Super cute and easy!
Recreate this rhyming costume idea:
8. Barbie + Army
With all of the hype around Barbie lately, this will definitely be one of the most popular costumes to rhyme with.
Have one person dress up as a pretty-in-pink Barbie, while the other wears camo print.
Here are some good options for this costume idea:
[RELATED: 15 Fabulous Barbie Halloween Costume Ideas For College]
9. Narcissist + Arsonist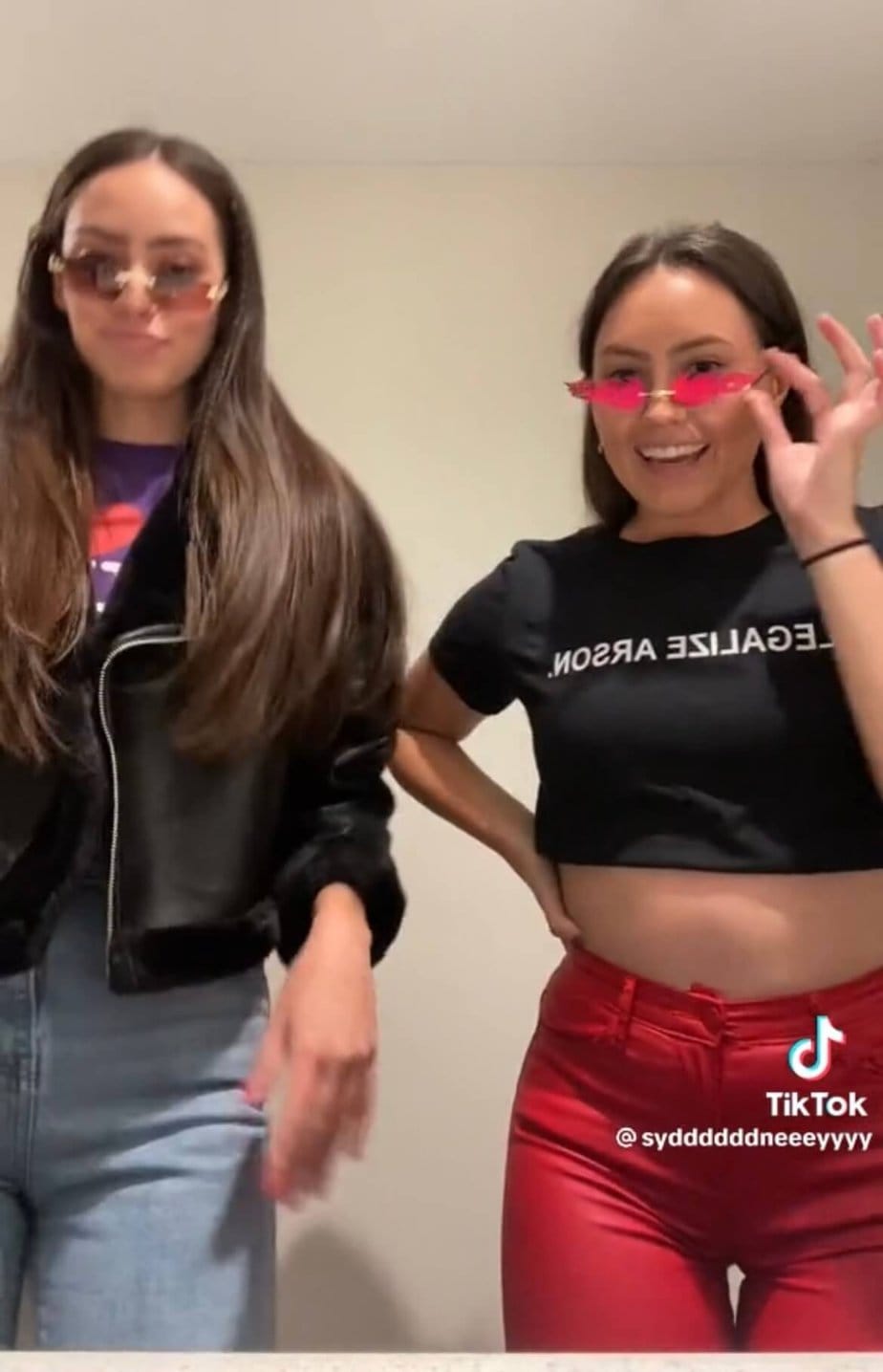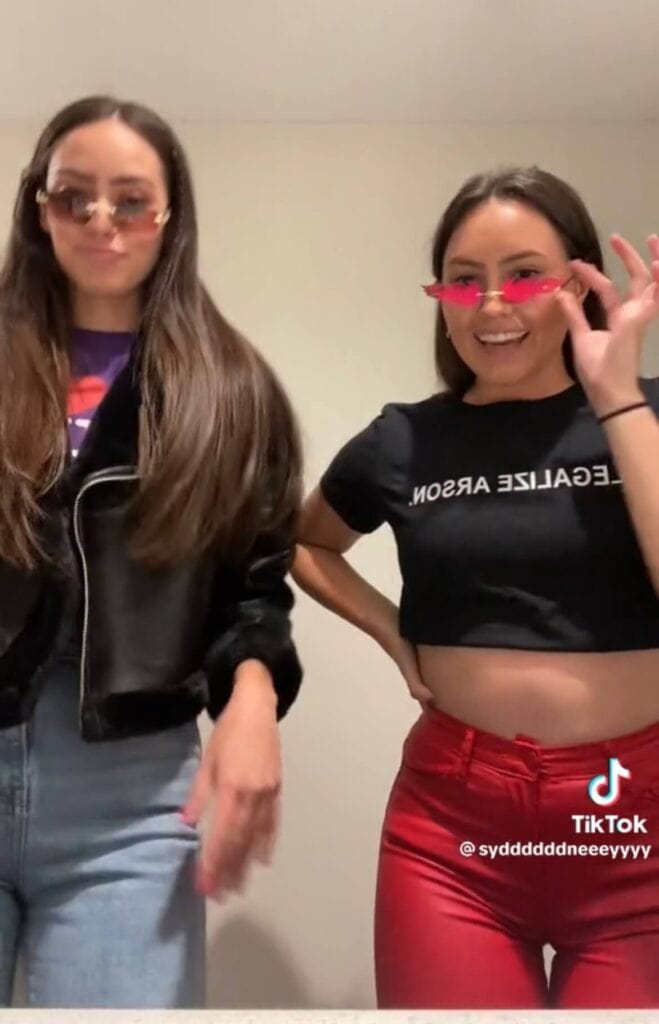 One super cute duo outfit idea is to go as an arsonist and narcissist.
The narcissist wears an "I <3 Me" shirt and leather jacket, and the arsonist stuns in all red with flame sunglasses.
Here are some good options for this duo outfit:
10. Referee + Bumblebee
You and your date will both be rocking stripes with this rhyming outfit idea.
Just put on a striped referee top and your date will wear a bumblebee costume. Super easy and adorable.
Copy this costume idea:
11. Captain Underpants + Implants
Looking for a really funny rhyme without reason outfit? Have one person go as Captain Underpants and the other as someone with implants.
For the Captain Underpants outfit, throw on a red cape and an oversized pair of white briefs.
The "implants" person can just wear any outfit. Just stuff your shirt/pants with socks or pillow stuffing.
Here are some good options for the Captain Underpants costume:
12. Cheer + Beer
Here's another super cute rhyming costume idea for a date party.
One partner goes as a cheerleader and the other goes as a bottle of beer.
Shop for these costume ideas:
13. Spongebob + Corn On The Cob
Here's a really unexpected rhyming costume idea. One partner dresses as Spongebob Squarepants and the other is a corn on the cob.
Recreate this costume idea:
14. Sleeping Beauty + Call of Duty
This is another super cute date costume for this party theme. One of you goes as Sleeping Beauty and the other is a Call of Duty character.
For Sleeping Beauty, just wear a little pink dress and a tiara. The other partner should wear camouflage print and a military-style vest.
Here are some essential items for this costume:
15. She's The Man + Trash Can
This costume idea would honestly be iconic for a Rhyme Without Reason date party.
One person goes as a trash can and the other goes as Amanda Bynes Character in She's The Man.
Shop for the essentials for this costume:
16. Air Force + Recently Divorced
Here's a really funny and unique costume idea for this party theme.
One person goes as a member of the Air Force, and another is someone who has recently been divorced.
Here's what you'll need for this rhyming costume:
17. Fairy + Dairy
For this easy rhyming costume idea, one person dresses up like a fairy and the other dresses like a cow (dairy). Super cute and simple!
Here's what you'll need:
18. Patriotic + Joe Exotic
Who could ever forget the infamous Joe Exotic from Tiger King? Just throw on a blonde mullet and a tiger-print shirt to channel your inner Tiger King. Make sure to draw on his half-goatee mustache for the full effect.
Then the other partner will dress in all red white and blue to be patriotic. Or the colors of whatever country you're in!
Here's what you'll need:
19. Wall Street + Athlete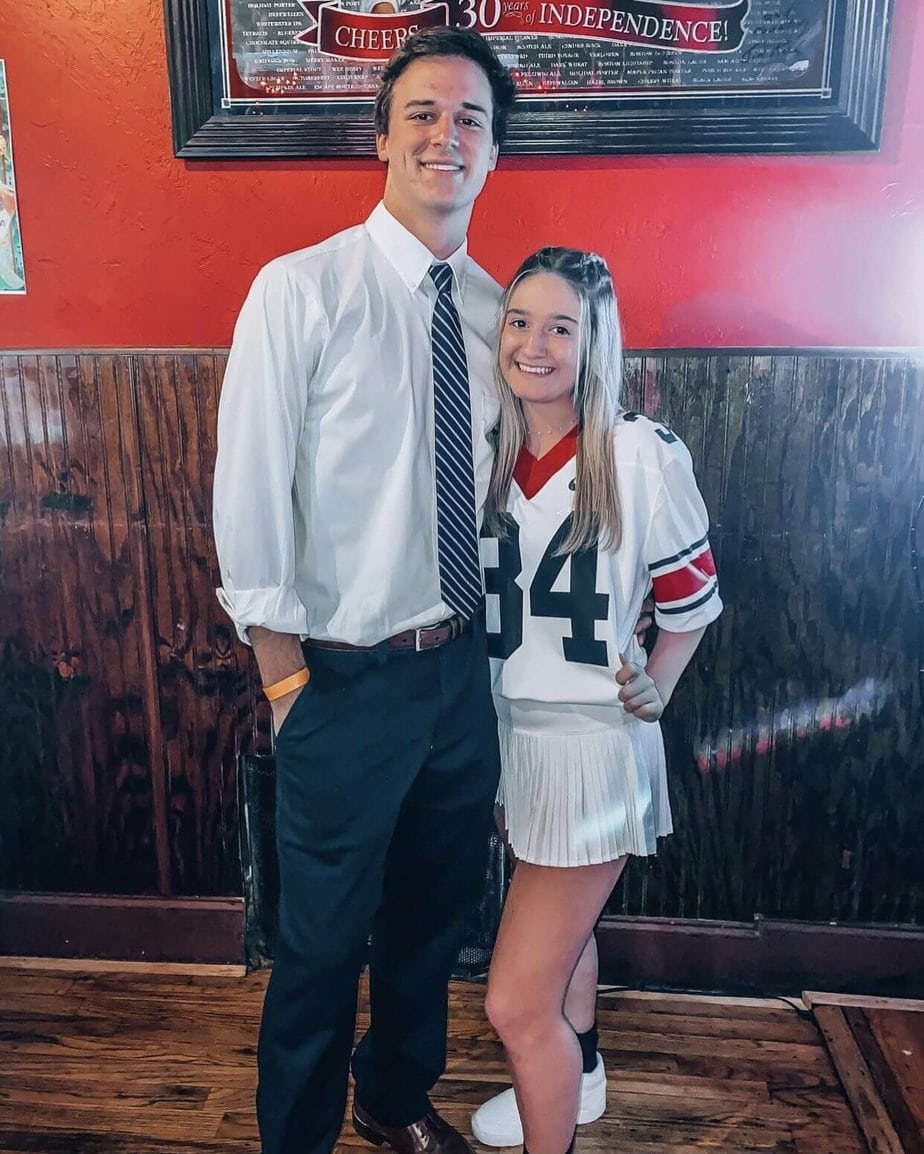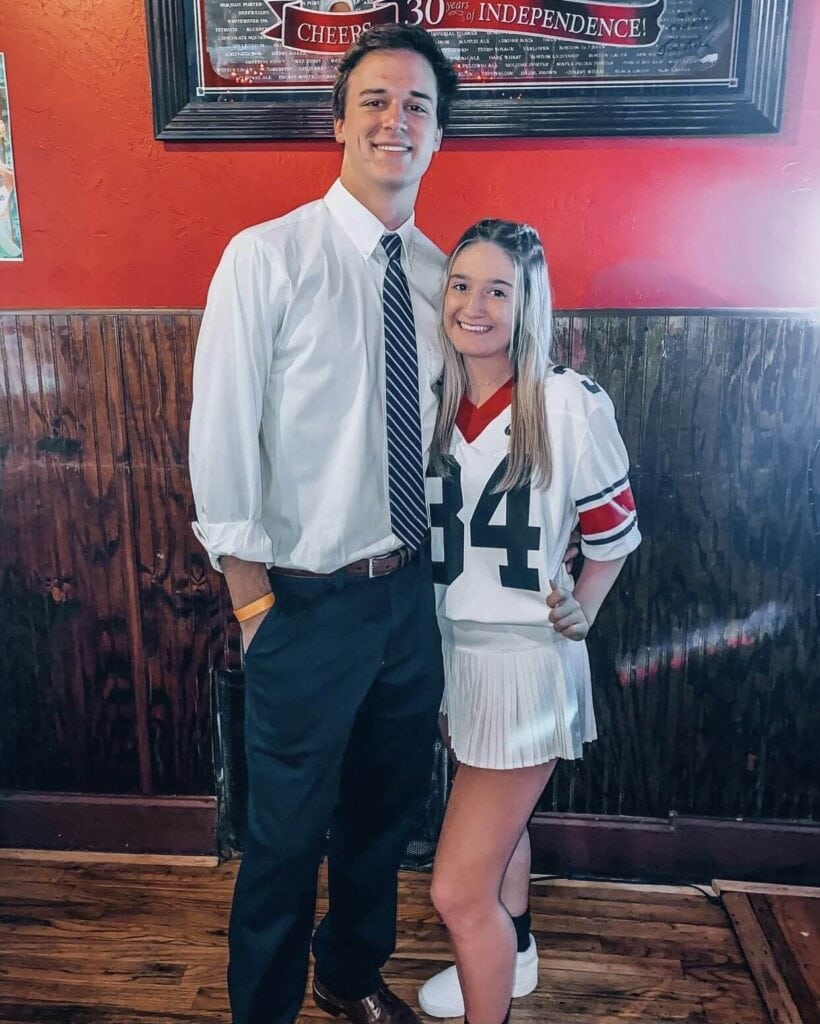 Here's a great costume idea that you can use normal clothes for!
One partner wears business-casual clothes and the other dresses in athletic gear. So easy but super cute!
[RELATED: 37 Easy Costumes With Normal Clothes For A Low-Effort Halloween]
20. Ferrari + Safari
One really creative rhyming costume idea is to go as a Ferrari driver and a safari person.
For the Ferrari, you just need a cute race car driver costume. The safari person will wear an all-tan outfit and a safari hat.
Shop this rhyming costume idea:
21. Mr. Clean + Queen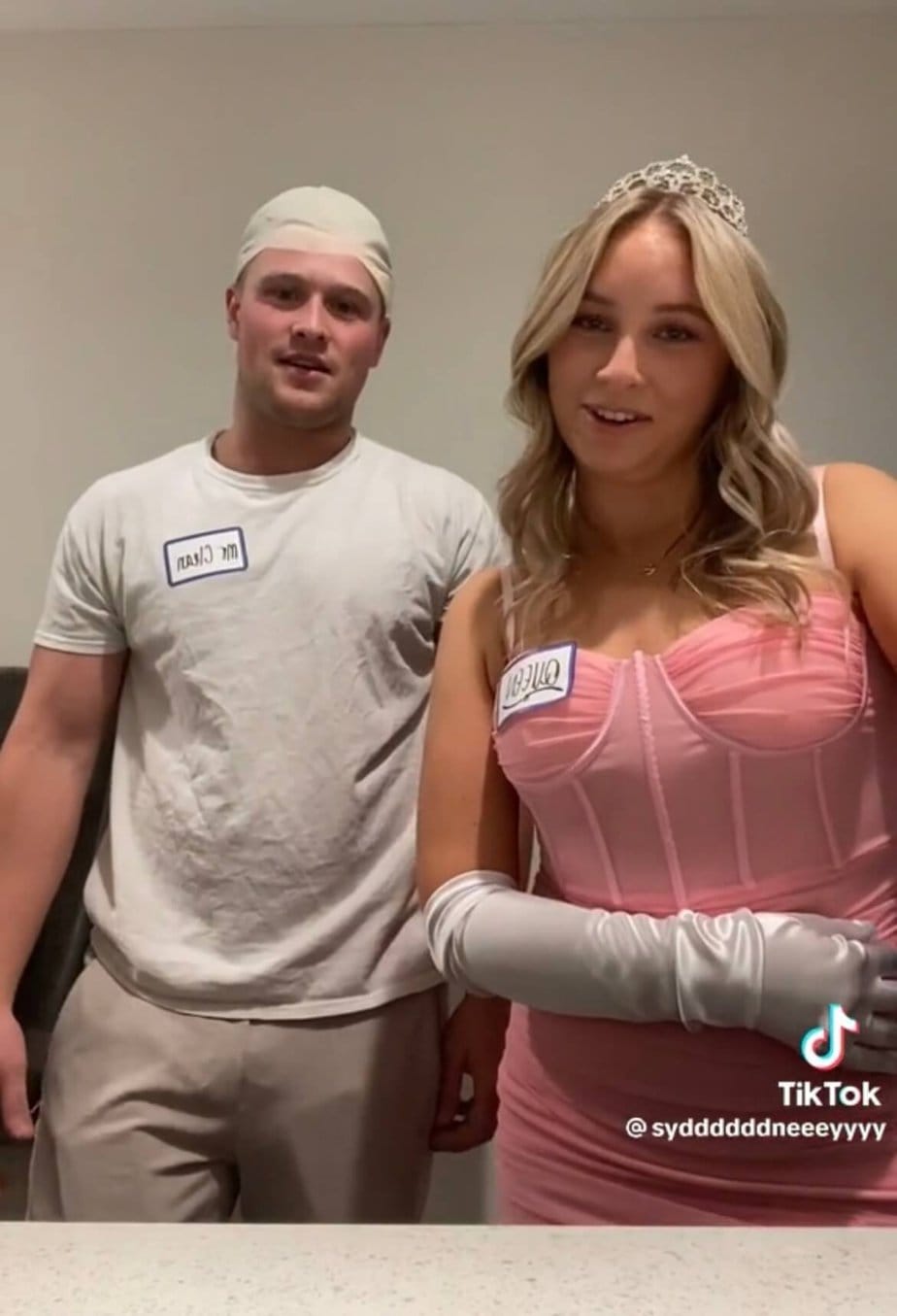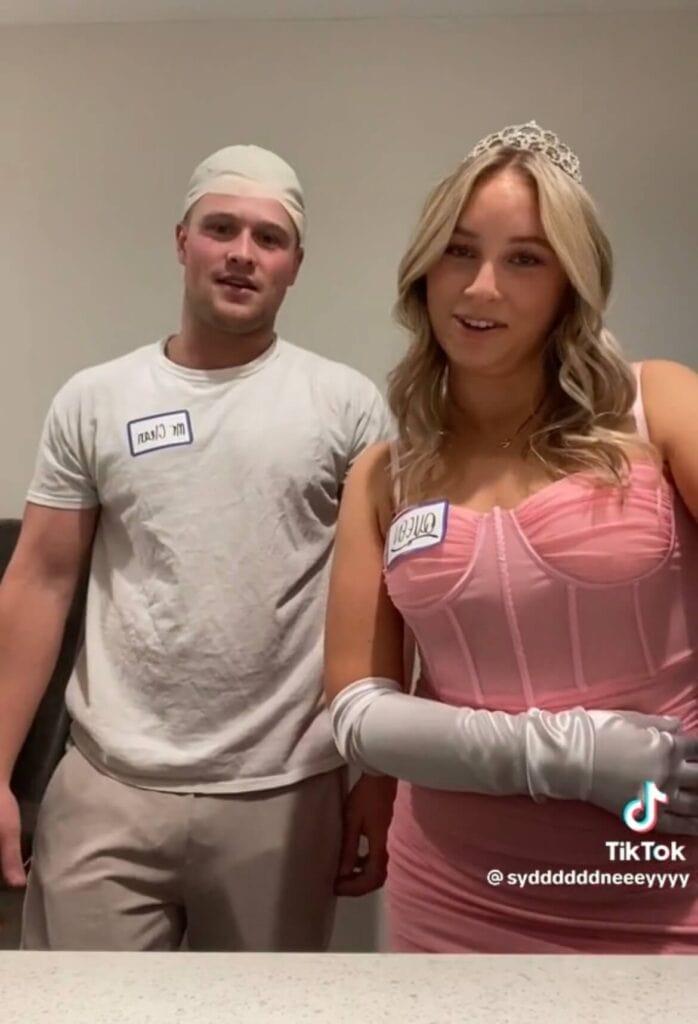 Mr. Clean and a Queen make for a super cute rhyme without reason costume idea.
Mr. Clean just needs a white T-shirt and a bald cap. And the queen wears a gown and a crown!
Here's what you need for this costume:
22. Alpine + Valentine
Here's another costume idea that we've seen all over TikTok.
One partner dresses as "alpine" or basically a ski bro. The other dresses in all red with heart accessories – a valentine!
Copy this rhyme without reason party idea:
23. Baby + Old Lady
This multigenerational costume is super easy to recreate.
The baby will wear an adult diaper and a baby bonnet and the old lady will rock a gray wig and some granny clothes.
Get this costume:
24. Cleaner + Weiner
Ok, get your mind out of the gutter. We're talking about a hot dog!
One partner dresses up as a cleaning person and the other wears a hot dog costume. Such a funny rhyme without reason costume idea!
Shop this date party costume idea:
More Rhyme Without Reason Outfit Ideas
25. Princess Peach + Day At The Beach
26. Nun + Top Gun
27. Hot Rod + Dad Bod
28. Vampire Slayer + Hockey Player
29. Lobster + Mobster
30. Tinkerbell + Pharrell
31. Jack Sparrow + Cupid's Arrow
32. Lightning McQueen + Aquamarine
[RELATED: How To Put Together The Cutest Aquamarine Halloween Costume]
33. Risky Business + Merry Christmas
34. Park Ranger + Hermione Granger
35. Trash Bag + Old Hag
36. Banana + Hannah Montana
[RELATED: 25 Iconic Blonde Halloween Costumes]
37. Slim Shady + Pregnant Lady
38. Kim K + NBA
39. Wild West + House Arrest
40. Rapper + Flapper
41. Mr. Bean + Prom Queen
42. Construction Worker + Subway Surfer
43. Old Money + Playboy Bunny
44. PJ + DJ
45. Ahoy (Pirate) + Cowboy
46. Cruella DeVille + Dr. Phil
47. Legally Blonde + James Bond
48. Snow White + Coors Light
49. Southern Belle + NHL
50. G.I. Joe + Tennis Pro
51. VSCO + Disco
52. Police + Grease
53. Shrimp + Pimp
54. Bob Ross + Mafia Boss
55. Wizard + Squidward
This post was all about the best Rhyme Without Reason date party ideas.
Looking for more college party theme ideas?