How Long Is A Semester? And How Many Semesters In A Year?
How long is a semester? And how many semesters are there in a year? Here's everything you need to know about the semester system!
This post may contain affiliate links, which means I'll receive a commission if you purchase through my link, at no extra cost to you. Learn more: Affiliate Disclaimer.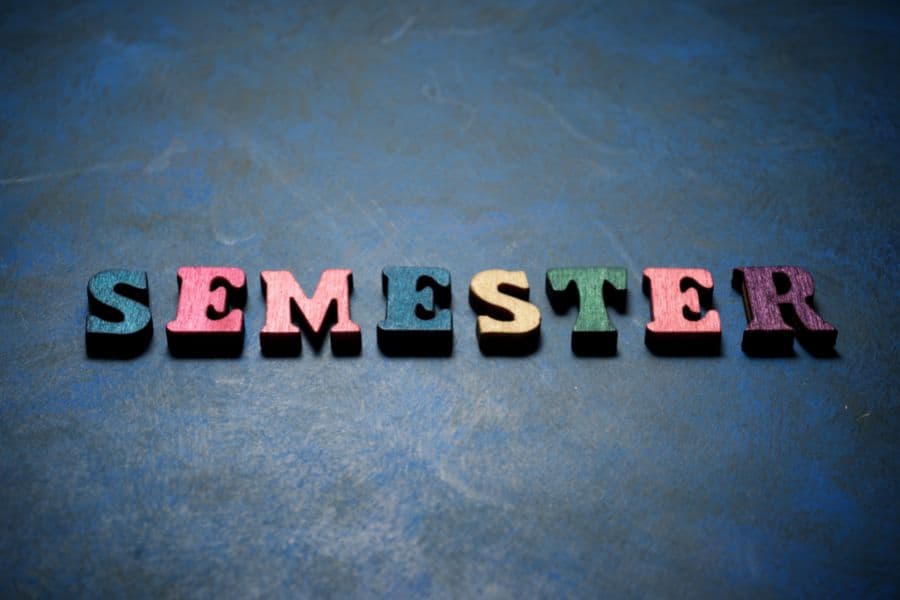 For students, school can be a time of great exploration and growth.
There are many different aspects to consider when planning for high school or college, and one of the most important is understanding the semester schedule.
So, how long is a semester?
A standard semester is about 15-17 weeks. The first 15 weeks are for coursework plus an additional one week for exams. Most schools using the semester system have two semesters in one academic year, with a summer and winter break after each semester.
Many schools in America offer the same system, but this can differ, especially in colleges and universities.
So stick around as we take a moment to talk about semesters – what they are, how they work, and what you can expect from them.
[RELATED: 10 Insanely Smart Study Hacks For College Students]
Semester Overview: What is a Semester?
For those of you who don't know, a semester is a period of time – typically around four months – during which you take classes and work towards completing your degree.
Each semester has a start and end date, and during that time, you'll be expected to attend classes, do homework, and (likely) take exams.
At the end of each semester, you'll get a grade for each class you took. These grades will go towards your overall GPA, which is a measure of how well you're doing in college or high school.
A semester schedule might vary depending on the school, but most have two sessions:
The first semester of the school year starts during the fall. That is from late August to mid-December when students go for winter break.
The second semester, also known as the spring semester, begins in mid -January to early May.
After this session, students break for the summer holidays, and the cycle repeats. In addition, some schools usually have optional summer programs in June and July.
Summer programs are great, especially for college students who want to take extra classes and add their credits for the year. This strategy can help accelerate your graduation or improve your chances of getting an associate degree earlier.
How Long is a Semester in College?
Did you know that 95% of colleges and universities in the US use the semester system?
A semester in college lasts as long as the standard semester – about 15 weeks, with two semesters every academic year.
However, many of these institutions will also offer different variations of the academic calendar, such as quarters and trimesters.
How Long is a Semester in High School?
The length of a high school semester usually depends on where you live.
The school board and the Department of Education in your state usually decide how the school calendar is divided. However, many high schools in the country follow the standard semester system: two 15-week terms in an academic year.
Like some higher education institutions, some high schools can also have trimesters. A trimester divides the school year into three terms, each for three months.
Remember, schools can have different semester schedules depending on the province or state of residence.
How Many Months Are in a Semester?
Typical semesters equate to about four months. However, some can go for five months, depending on the school.
Usually, the first 15 weeks or four months of a semester are for classes, and a week after that is for exams and assessments.
In some schools, the 15 weeks also includes the exam period. This depends on the assessment types.
For example, college students might have intense practical exams that require more time than high school students. Hence the additional time after completing coursework.
[RELATED: 10 Dorm Desk Essentials for Stress-Free Studying]
What is the Difference Between a Semester and a Quarter?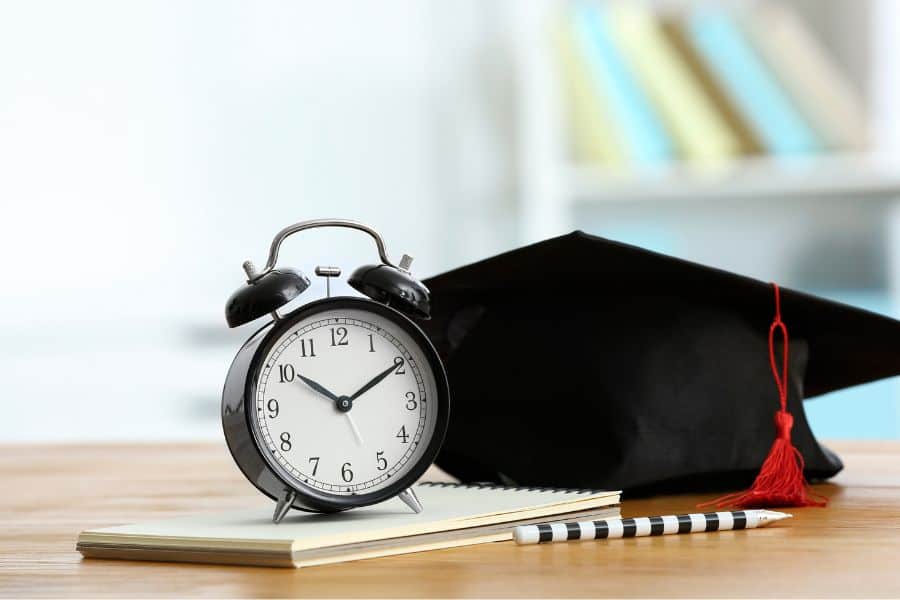 As established earlier, different schools can have a variety of semester schedules. The most common variations are:
Semesters – two 15-week terms in an academic year
Quarters – four 10-week terms in an academic year
From the above short descriptions, the main thing that differentiates the two systems is the number of terms in an academic year.
A semester system has two terms, one in the fall and the other in the spring. A quarter system has four terms, one for each season of the year: fall, spring, summer, and winter.
The other difference between a semester and a quarter system is the number of courses a student takes per term. Students in the semester system must take five courses in each session. On the other hand, quarter system students take 3-4 classes per term.
[RELATED: Is Psychology A Hard Major? (Everything To Know)]
These programs also require a certain amount of credit hours per student. A student must have 120 credit hours for the semester program, and the quarter system requires 180 credit hours per student.
The class hours do not differ much, but the above information is enough to tell you that the quarter system is more intense than the semester system.
Below is a table showing the main differences between a semester and a quarter system:
| | |
| --- | --- |
| Semester System | Quarter System |
| 15 weeks long | 10 weeks long |
| Two sessions per academic year | Four sessions per academic year |
| 5 courses per term | 3 or 4 courses per term |
| 120 credit hours required per program | 180 credit hours required per program |
Although most colleges and universities use semesters, some popular ones use the quarter system. These include:
Stanford University
University of Washington
University of California
University of Chicago
Pros of the Semester System
Since most schools, including colleges and universities, use the system, there must be a good reason, right? Here are the main advantages of using semesters:
1. Students Have More Time to Learn
Learning a subject for 15 weeks increases the chances for students to absorb and retain information. Of course, for most students, the goal is to ace the test, but even so, it is likely that they will retain what they learn on each subject for a more extended period.
Additionally, there is enough time for teachers to go in-depth on a particular subject, enhancing students' understanding of the same.
2. Better Chance to Create Student-Teacher Relationships
Experts say that one-on-one relationships between students and instructors enhance the learning experience. Students enjoy learning from teachers they like and have healthy relationships with.
In addition, a positive relationship with a teacher gives students the confidence to approach them when they have a problem or need academic advice on an internship or scholarship application.
3. Shorter Class Durations to Accommodate the Average Student's Attention Span
Most college students have a busy schedule, especially those who work and study. Fortunately, lectures in the semester system last about 50-75 minutes.
One hour is a good time, even for a class you do not particularly enjoy.
4. Easier Transition from High School to College
Most high schools and universities in the US use the semesters system. Going to college is already a big transition, but at least students maintain the same schedules making it easier to adjust to college life.
Disadvantages of the Semester System
Below are some disadvantages of the semester system:
1. Higher Stress Levels Among Students
Within the 15 weeks in a semester, students have to take a certain number of subjects or courses. Even though there is enough time to learn these subjects, it can be stressful to maintain good grades in all the subjects.
2. It Can be Difficult to Improve Your GPA
A student's grades in the semester system carry a lot of weight. So performing poorly in one course during a semester can severely affect your mean score at the end of the academic year.
Since there is no option to take extra classes like in the quarter system, chances of improving your GPA are minimal.
3. Changing Your Major Can be Tricky
Changing your mind is allowed, but you must be ready to cover the costs. Switching your major in the middle of an academic year can result in you paying for unnecessary courses.
Additionally, the new major might be more expensive than the other one. Besides the money, there is also the time it takes to complete all the bureaucracy required to transition to your new classes.
How Many Semesters are in a Year?
Following the standard schedule of the semester system, one academic year has two semesters.
The first session is during fall, and the second is during spring. Note that semesters schedules differ depending on the school.
Hopefully this answered the question – how many semesters are in a year?
Need more college tips? Here are some of our most popular posts: