20 Dorm Room Lighting Ideas to Totally Transform Your Space
Looking to brighten up your dorm room? Here are 20 of the best dorm room lighting ideas that will totally transform your space.
This post may contain affiliate links, which means I'll receive a commission if you purchase through my link, at no extra cost to you. Learn more: Affiliate Disclaimer.
If you're a college student looking to transform your dull and cramped dorm room into a cozy and stylish space, then you've come to the right place.
In this article, we'll explore 20 fantastic lighting ideas that will not only brighten up your room but also add a touch of personality and ambiance.
We'll also share how to hang your lights safely, and without causing any damage, in your dorm room.
From string lights to fairy lights, neon signs to desk lamps, we've got you covered. So, let's dive in and discover how you can light up your dorm room in style!
Desk Light Ideas For Dorm Rooms
We highly recommend having a light on your desk for late night study sessions. Bonus points if you can find one with built-in charging ports to keep your phone charged while you work!
1. LED Desk Lamp
A sleek and modern LED desk lamp is not only functional but also adds a stylish touch to your study space.
Look for one with adjustable brightness settings and a flexible neck for maximum versatility.
The dorm room desk lamp linked above has 5 lighting modes, built-in USB and USB-C ports, and an auto-off feature for safety. Plus, it's super affordable!
2. Himalayan Salt Lamp
Not only do Himalayan salt lamps emit a warm and soothing glow, but they are also believed to have health benefits such as improving air quality and reducing stress levels.
Place one on your desk to create a calming atmosphere while you study.
3. Clip-on Lamp
If you're short on desk space, a clip-on lamp is a great option.
These lamps can easily attach to the edge of your desk or bed and provide focused lighting for studying or reading.
4. Edison Bulb Desk Lamp
For a vintage and industrial look, go for a desk lamp with an Edison bulb.
The soft glow emitted by these bulbs adds a cozy and nostalgic feel to your dorm room.
5. Aesthetic Table Lamp
If you're someone who wants your dorm room to be as cute as possible, you need to think about the little details!
That means that even things as boring as lamps should match your aesthetic and design style. This table lamp is SO cute and would look amazing in a dorm room.
6. Mushroom Lamp
If you're into all things whimsical, then this mushroom lamp is a must-buy for your dorm room.
It's so adorable, comes in a ton of colors, and adds so much character to your dorm decor.
Dorm Room String Light Ideas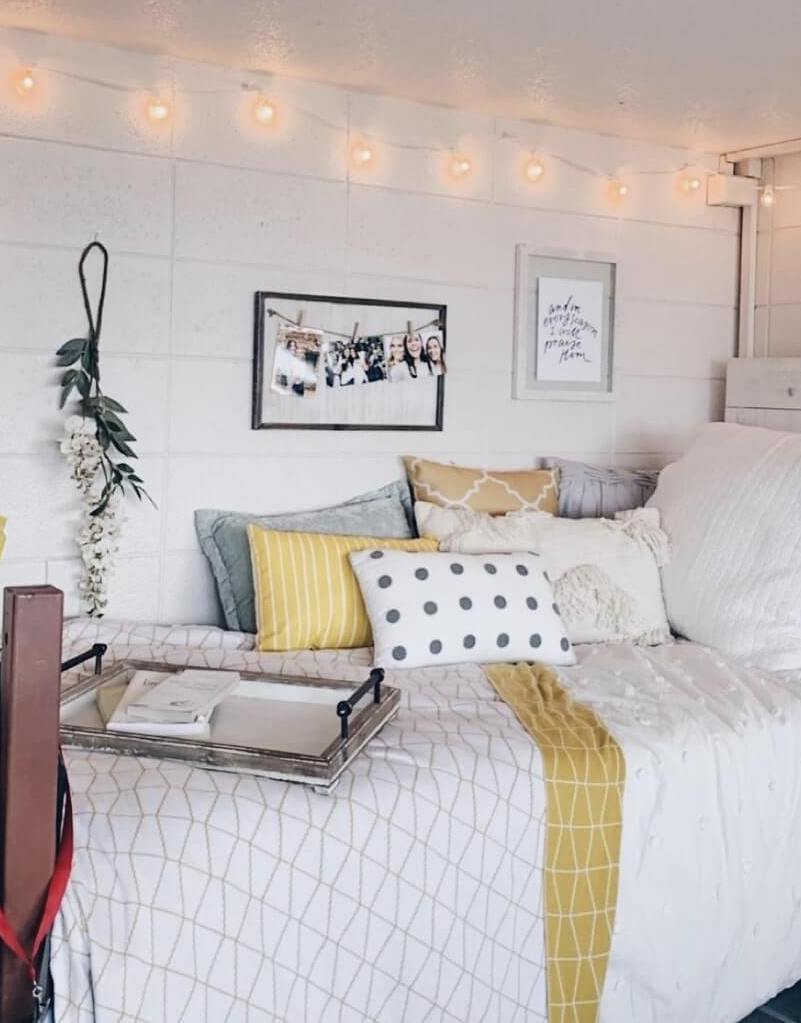 One way to illuminate your college bedroom is to add string lights around the room.
We recommend hanging lights that come with a remote, so you can easily turn them on from your bed or desk.
Here are some good string light ideas for dorm rooms:
7. Fairy Lights
Fairy lights are a popular choice for adding a whimsical and cozy ambiance to any space.
Hang them along your bed frame or drape them across your walls for a magical effect.
8. Photo Clip String Lights
Combine functionality with decoration by using photo clip string lights.
Hang your favorite memories, polaroids, or inspiring quotes from the clips so that you always have something positive to look at while you're in your dorm room.
9. Geometric String Lights
Add a modern touch to your dorm room decor with geometric string lights.
They add a fun touch to the basic string light look, and can be hung on your walls or draped under your bed if you loft your dorm bed.
10. Globe String Lights
Create a dreamy atmosphere with globe string lights.
Globe string lights have a larger bulb than fairy lights, so they definitely make a big impact on your dorm room ambiance.
11. Curtain Lights
Transform your dorm room into a cozy oasis by using curtain lights. Hang them from the ceiling or drape them across your windows to create a serene and warm ambiance.
12. Mason Jar Lights
Don't want to hang anything from your dorm room walls? You can still use string lights in your dorm room!
Just wrap them up inside of a mason jar and place it on your desk or shelves for a really cute DIY dorm room lighting option.
Make sure that the string lights you buy are battery powered, because you won't be able to plug them in once they're inside of the jars.
P.S. this also makes a really gorgeous centerpiece for a graduation party or wedding!
Wall Lighting Ideas For Dorms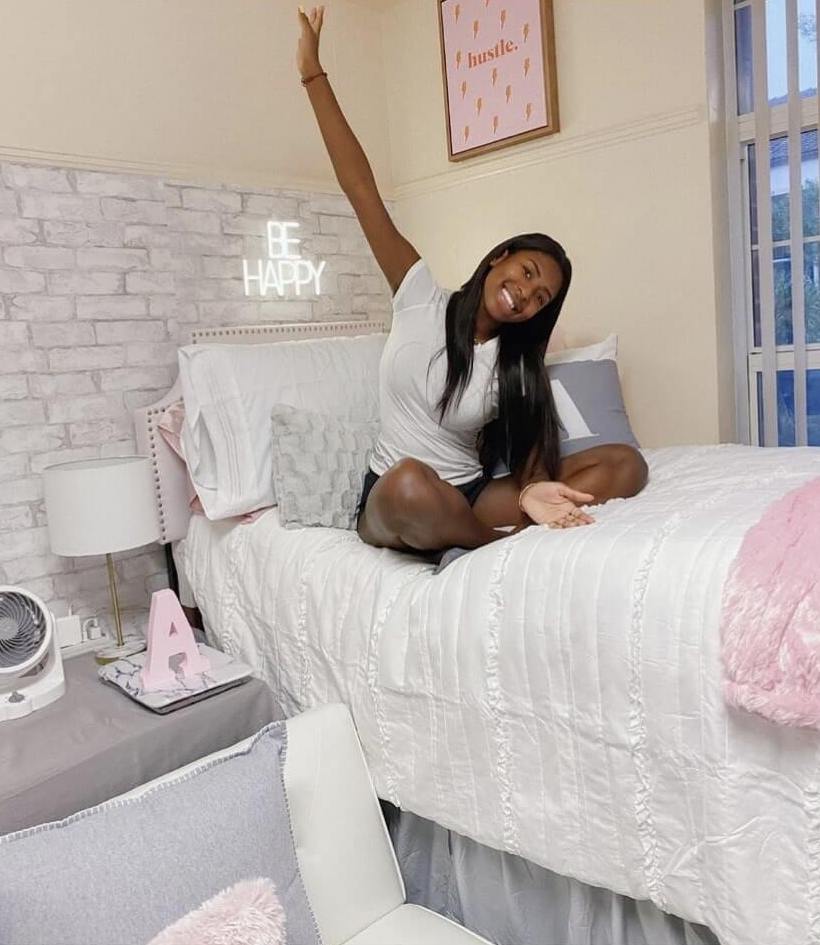 Although your dorm room may be on the smaller side, you still have plenty of wall space to decorate!
And one of our favorite dorm room wall decor ideas is to actually incorporate lighting into your decor.
13. Neon Signs
Add a pop of color and personality to your dorm room with a neon sign.
Whether it's your favorite quote, a symbol that represents you, or simply your initials, neon signs are a fun and trendy way to light up your walls.
14. Cloud Wall Lights
Create a dreamy atmosphere with these cute cloud wall lights.
These lights resemble fluffy clouds and can be easily mounted on your walls (without damaging them) for a whimsical touch. Just use command strips instead of the included screws to attach them to your walls.
15. Letter Lights
Spell out your name or a meaningful word with letter lights. These lights come in various styles and sizes and can be hung or mounted on your walls for a personalized touch.
16. Wall Sconces
If you're looking to add a touch of elegance to your dorm room, consider wall sconces. These lights can be attached to the walls and provide both functional and decorative lighting.
For dorm rooms, you're going to want to hang your wall sconces with command strips. And because you can't hardwire your lights into the walls, you'll need to go for plug-in or battery powered lightbulbs.
17. LED Strip Lights
Add a futuristic and colorful vibe to your dorm room with LED strip lights.
These lights can be easily attached to your walls or furniture and come in various colors and patterns.
Dorm Room Floor Lighting Ideas
18. Tripod Floor Lamp
Add a modern and stylish touch to your dorm room with a tripod floor lamp. These lamps have a unique design with three legs and can be easily moved around to provide light wherever you need it.
And the one we linked even has a little shelf for displaying a plant or a picture frame!
A note about these lamps though – they do take up a lot of floor space! So you may want to look into other options if you're tight on space in your dorm room.
19. Minimalist Floor Lamp
Tight on space? Go for this super minimalist corner floor lamp.
This lamp is dimmable, which is perfect for creating a relaxing atmosphere in your dorm room.
20. Floor Lamp with Shelves
Maximize your storage space while adding light to your dorm room with a floor lamp with shelves.
These lamps have built-in shelving units, perfect for displaying books, plants, or other decorative items.
21. Multi-Head Floor Lamp For Dorms
These types of floor lamps are super popular for dorm rooms. They're affordable, let off a ton of light, and can change colors for different vibes.
Plus, you can decide how many to turn on at once, so this lighting option can be as bright or as cozy as you want it to be.
Safety Tips for Dorm Room Lighting
When it comes to dorm room lighting, it's important to prioritize safety. Here are some tips to keep in mind:
1. Use LED Lights
LED lights are energy-efficient and generate less heat compared to traditional incandescent bulbs.
This reduces the risk of fire hazards and makes them a safer option for dorm rooms.
2. Check the Wattage
Make sure to check the maximum wattage allowed for the fixtures in your dorm room. Exceeding this limit can overload the circuit and pose a safety risk.
Opt for lower-wattage bulbs to stay within the safe range.
3. Don't Overload Outlets
Avoid plugging too many devices or lights into a single outlet. Overloading an outlet can cause the circuit to trip or even start a fire.
Use power strips with surge protectors to distribute the load evenly.
4. Keep Cords Out of the Way
Avoid placing cords in high-traffic areas where they can be tripped over. Use cord covers or cable management solutions to keep them tidy and out of harm's way.
5. Avoid Flammable Materials
When decorating with lights, be mindful of the materials you use. Avoid flammable decorations or fabrics that can easily catch fire. Opt for non-flammable materials such as metal or plastic.
How To Hang Lights In A Dorm Room
When it comes to adding some extra coziness to your dorm room, hanging lights is a popular choice among college students.
However, it's crucial to prioritize safety when hanging lights in a dorm room, as you don't want to risk any accidents or damage.
Here are some tips to ensure you hang your lights in the safest way possible:
1. Check The Rules
Before you start hanging lights, make sure to familiarize yourself with your college's dorm room regulations.
Some universities may have specific guidelines regarding the types of lights you can use and the methods of installation.
2. Use Adhesive Hooks & Strips
Instead of using nails or screws, opt for adhesive hooks to hang your lights. These hooks are designed to stick to walls and surfaces without causing any damage.
Just make sure to read and follow the instructions carefully to ensure proper installation.
3. Avoid Blocking Fire Alarms & Sprinklers
When hanging lights, make sure they don't block or obstruct any fire alarms or sprinklers in your dorm room.
Fire alarms are essential for your safety, so it's crucial to keep them clear and visible at all times.
This post was all about the best dorm room lighting ideas.
Looking for more dorm room tips?