Need a boost to your GPA this quarter? Here are 11 easy classes at UW Madison that you can take if you want an easy A.
This post may contain affiliate links, which means I'll receive a commission if you purchase through my link, at no extra cost to you. Learn more: Affiliate Disclaimer.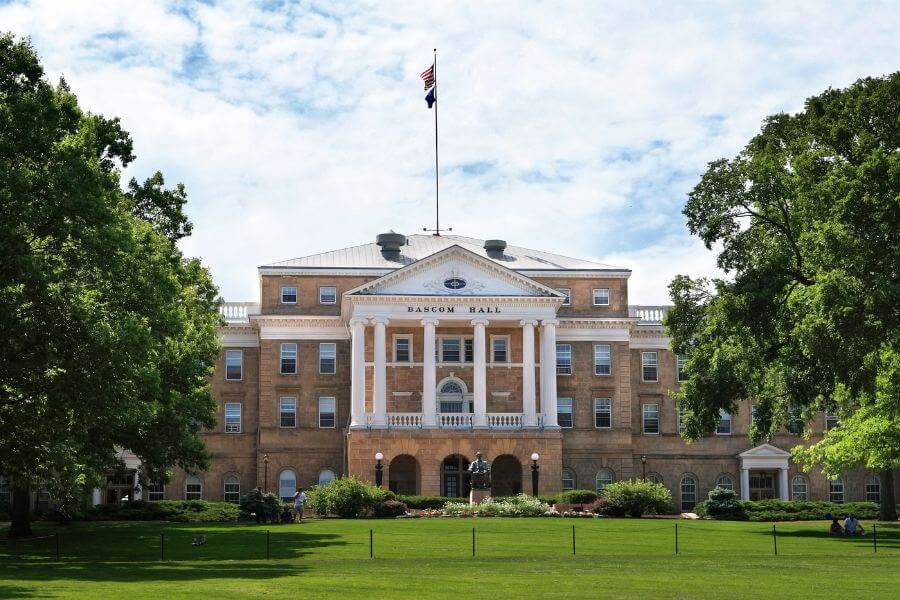 We've all been there – your GPA isn't where you want it to be and you're freaking out.
Luckily, you're probably only a few A's away from a better GPA. If you need a boost to your grade point average, we recommend taking an easy class that you think you can get a good grade in.
If you're a student at UW Madison, here are the easiest classes you can take to boost your GPA:
Easy Classes At UW Madison
1. Sociology 120 – Family and Marriage
Sociology 120 is known among UW-Madison students to be an interesting yet engaging course.
You'll learn about the history of values surrounding marriage and the family, as well as the societal impacts of family behaviors and norms.
According to this Reddit user, the course's professors make the course content interesting yet not challenging.
View a past course syllabus here.
2. Music 113 – Music in Performance
Especially if you are a music person, this course is as easy as it gets.
The course has earned the nickname "Clap for Credit" because the lectures involve primarily listening/watching a musical performance and then clapping when it is finished. How great is that?
Unlike some other easy A classes, this one should be a GPA booster no matter who you get for a professor.
3. LIS 202 – Informational Divides and Differences in a Multicultural Society
Looking for a class with a small workload that will also provide knowledge on the issues that society currently faces? Look no further than LIS 202.
Students on Reddit describe this course as having only two optional lectures per week with easy homework assignments and tests.
Not only will this information broaden your knowledge on societal issues, it will also help you secure the A that you need.
3. ANTHRO 104 – Cultural Anthropology and Human Diversity
This course is meant to be a fun and engaging look into the various cultures around the world. You will explore aspects of different cultures including economics, politics, religion, and gender.
According to this Reddit user, the course does have exams, but it is an incredibly easy class.
If you are someone that loves to travel and learn about the world, this course is perfect for you, and will provide an easy A.
5. ED PSYCH 301 – How People Learn
This 3 credit course focuses on how people learn in both formal and informal settings.
You will focus on what impacts peoples' ability to learn, as well as how learning actually happens in the brain.
With an especially easy workload, this course does not have exams and only has one paper due at the end of the semester, according to this Reddit user.
According to this grade distribution, the course difficulty may be somewhat dependent on your professor, but we still recommend it as an easy A.
6. SOC/GEN&WS 301 -Introduction to Lesbian, Gay, Bisexual, Transgender, and Queer+ Studies
If you're interested in gender and sexuality studies, this course is definitely for you.
This course is 4 credits and can be applied to both Humanities and Ethnic Studies credit.
You will explore theories of identity formation, societal interactions with LGBTQ+ communities, and how LGBTQ+ identity intersects with marginalized individuals.
According to this Reddit user, this course does not have any exams or quizzes. You only need to complete lecture reflections and easy concept maps.
View a past syllabus from Fall 2020 here.
7. AFROAMER 156 – Black Music and American Cultural History
AFROAMER 156 is a 3 credit deep-dive into the interaction between African American musical culture and its historical context.
This course's grade distribution is heavily skewed towards A's, so it's definitely worth checking out if you need a GPA boost this semester.
You may have difficulty enrolling in this class if you are not an upperclassman. But if you do get in, you will find that you are exposed to great music and intriguing lectures.
8. ENGL/ENVIR ST 153 – Literature and the Environment
This unique class explores literature pieces in English that relate to nature.
According to this Reddit user,  this class may only be suitable for you if you are OK with a decent amount of reading. But, the course does not have many assignments on top of the reading.
So, if you are looking for an interesting course that combines the subjects of environmental studies and literature, this easy course may be perfect for you.
9. SOC 170 – Population Problems
If you are looking for a class that is both easy and entirely online, this course is perfect for you.
This class is described by UW-Madison students as having no cumulative exams, just multiple choice exams that are relevant to recent lectures.
Coursework will consist of short writing assignments and brief reading quizzes.
This class will explore issues that different populations around the world experience through a political lense.
View a past syllabus for SOC 170 at UW Madison here.
10. ED PSYCH 320 – Human Development and Infancy in Childhood
Another online class, this class is described as being able to be completed at your own pace.
One Reddit user even said that they were able to complete the entire semester's coursework in a week and a half.
This course will explore how physical, mental, social and emotional development is affected by upbringing and circumstance.
11. ENTOM/ENVIR ST 205 – Our Planet, Our Health
This course is an overview of all things public health. It will focus on how climate and environment interact with human wellbeing.
ENTOM 205 is mainly online, with 4 question quizzes weekly, alongside discussion posts and portfolios as major assignments.
 According to the course's grade distribution, this course is an easy A regardless of which professor you take it with.
This post was all about easy classes to take at UW-Madison to boost your GPA.
You may also like: