Are you looking for ways to improve your memory and make studying easier and more enjoyable? Here are 10 smart study hacks for college students that will make your study sessions more bearable.
This post may contain affiliate links, which means I'll receive a commission if you purchase through my link, at no extra cost to you. Learn more: Affiliate Disclaimer.
When it comes to college, studying can sometimes fall to the bottom of your list of priorities. Many students talk about late nights, and cramming before big exams, which can be disastrous for your grades, and your sleeping habits! Most studies have shown that cramming isn't effective, after all.
On the other hand, there's studying over time, in spaced out increments. This is one of the best ways to study, but not all college lives allow for large amounts of time to study. Some students are working, while others are taking part in campus activities.
So what's there to do? It's time to find some new study techniques. If you're looking for a better way to study, keep reading. We're covering 10 of the best study hacks for college students!
Study Hacks For College Students
1. The Pomodoro Technique
The Pomodoro technique is one of the best ways to study or do work. It works for most college students, as well as professionals. This way of studying focuses on a person's attention span, and helps to minimize distractions in a manageable way. All you need is a timer.
When you use the Pomodoro technique, you set a timer for 25 minutes. For those 25 minutes, you focus on the task at hand, and nothing else.
When the timer goes off, you give yourself a 5 minute break. For those 5 minutes, you take a break from studying and do something enjoyable like watch a video or scroll on Instagram.
Then, you start the timer for another 25 minutes, and continue to study until you feel prepared. This is the best method for avoiding study burnout, and it helps you retain knowledge.
2. Study Before Bed
Many studies have shown that studying prior to sleep can help people retain their memory.
In one study specifically, two groups of people were shown images with names or descriptions. One group studied in the morning, while others studied before 8 hours of sleep. Then, 12 hours after the study session, each group's memory was tested.
All participants in the group that studied before sleep did better than the group that studied in the morning.
The theory behind this connection is that the brain has time to digest and focus on the information being studied overnight. When you study during the day, there are a large amount of interactions that can interrupt the digestion of the information.
Studying before sleep is an excellent technique to use throughout your college years.
3. Block Distracting Apps
Technology is one of the biggest distractions we have in modern times. For some people, it can be as simple as blocking distracting apps on your phone or tablet.
Consider putting restrictions on apps like TikTok, Twitter, and Snapchat, or any other apps that may notify you frequently. This can help you keep your focus during your study session.
4. Learn by "Chunking"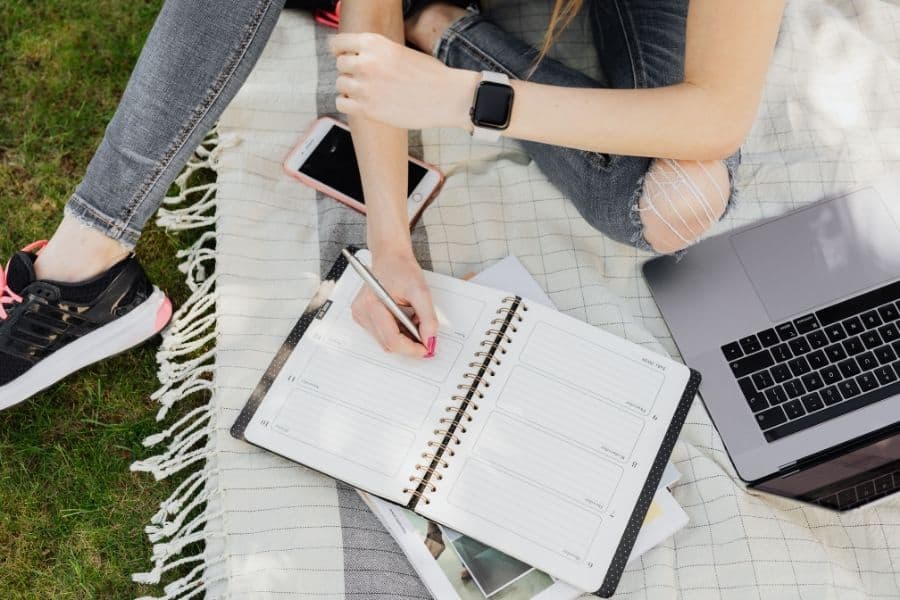 Many of the subjects you're studying, or will study, tend to be large in scale. Occasionally they're so large that they can't be retained entirely. This can create problems for studying.
In most cases, the best way to learn about a subject that requires a lot of knowledge is by "chunking".
Chunking is the act of taking a large subject and breaking it down into more manageable "chunks" of related information.
For example, when you're studying a large historical event, you can break it down into a timeline of smaller events. These events can be remembered more easily by studying them individually.
Then, once you've studied all of the smaller events, you'll have a better understanding of the larger event as a whole.
The same technique can be applied to almost any subject you'll study. In math, you can break down equations into smaller chunks. In English or Literature, you can break subject matter up into smaller pieces to make writing and reading easier.
Chunking goes very well with the Pomodoro technique, as well, if you break your information up into 25 minute sessions.
5. Study After Exercising
Physical activity is one of the best ways to increase your study game. There are a number of different advantages to studying after exercise.
Among them, you're going to first see strengthened memory. Studies have shown that exercising releases proteins into the brain that increase both memory and cognitive performance. When you exercise regularly, these proteins remain active for longer.
Additionally, you're likely to benefit from improved concentration when you exercise regularly. Exercising increases blood flow to the brain, which allows neurons to fire up, and promotes cell growth. Exercising 20 minutes before studying can drastically improve concentration for your session.
Two of the best benefits from studying after exercising are an improved mood, as well as increased energy.
Studying isn't always a fun activity. In fact, at times it can feel draining and frustrating. However, when you study after exercise, you tend to be in a better mood, and have more energy for studying overall.
This can make the entire experience a bit more pleasant, and your study can be more meaningful. You'll get more out of studying if you feel better while doing it, after all!
6. Listen to Recorded Lectures at 2x Speed
This seems like it's hard to do, but with a little bit of time, it's entirely manageable. Most of your classes will let you record the lectures that you attend.
In fact, doing so is one of the best study habits that you can form while you're at college. It lets you revisit the information that you just observed at a later time, strengthening your understanding of it.
However, you can improve this skill by listening to your lectures at a faster speed, as well. This does a number of things for you. First, it reduces your study time, which is always a good thing.
It also forces you to focus on your lecture more attentively. When a lecture is listened to at twice the speed, it's hard to be passive. This results in a better grasp on the knowledge that you're forming.
Again, listening to lectures at twice the speed seems impossible, especially when you're first starting out. This technique is backed by science, though!
Studies have shown that listening to lectures at a faster pace is an easily trainable skill. It can even be self-taught up to four times the speed.
7. Reward Yourself
Studying is a chore. It's something that you have to do so that you can get the grades you need to graduate. As with any other chore you may not want to do, it's best to reward yourself!
If you're tackling particularly hard material, treat yourself to good food or relaxing time after a study session. Just make sure that it doesn't interfere with retaining the knowledge, though!
8. Chew Gum
Wait, what? This can't be a study hack, right? Don't be too skeptical. Chewing gum while studying is an actual study hack.
When you chew gum during your study session, you're adding a different layer of memory recognition. The act of chewing gum becomes a linked memory device.
Then, when you take the test, be sure to chew the same gum. The flavor, as well as the action of chewing the gum, will help to jog your memory. Information that you studied may come back that you could have forgotten otherwise.
Chewing gum while studying, then while taking the test, can make a big difference.
9. Study With All of Your Lights On
This one is for the crammers, and the late night studiers. Studying late into the night can cause you to get drowsy, which leads to poor memory retention.
When you're studying at night, be sure to keep all of the lights on. This keeps your brain more "awake," so to speak, which improves how much information you take from the study session itself. It's also better for your eyes – looking at screens in the dark can really hurt your eyesight.
10. Study in Groups
College is supposed to be a social experience, right? Getting a group study session going is a great way to test your knowledge in a number of ways.
If you are studying the same information as the people around you, it makes it easier to bounce that information off of each other. This is an excellent technique for memory.
You can also take the time to teach others in the group something that you excel in, and vice versa. Teaching is one of the best ways to improve your own understanding of a subject.
Reiteration is also great for other members of the group, as learning something in more than one way can improve retention, as well.
When you're getting ready for your next study session, keep these study hacks for college students in mind. They'll help you master the knowledge that you're working with, and will benefit you in the long run.
You may also like: