When you're in college, it can be hard knowing how to plan and prepare your meals. In this post, we'll go over everything you need to make your college grocery list.
This post may contain affiliate links, which means I'll receive a commission if you purchase through my link, at no extra cost to you. Learn more: Affiliate Disclaimer.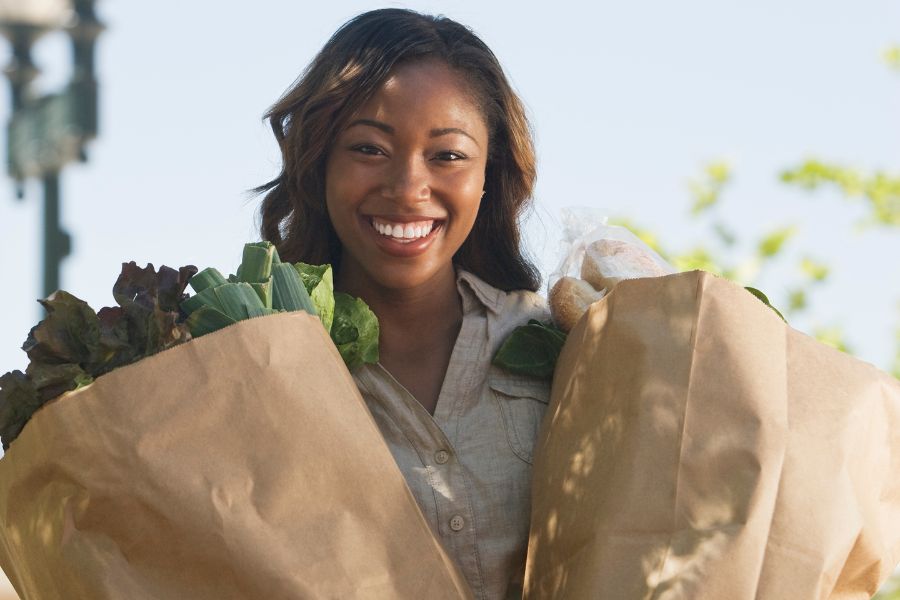 Are you a college student looking to make the most out of your grocery shopping trips?
Creating a college grocery list is a game-changer when it comes to meal planning, budgeting, and staying organized.
As you navigate the demands of college life, having a well-curated shopping list can save you time, money, and unnecessary stress.
Whether you're a freshman just starting out or a seasoned student looking for some new tips, this blog post will guide you through the process of creating an efficient and effective college grocery list.
Why You Need A Grocery List In College
As college students, we are always busy with classes, assignments, and extracurricular activities.
With so much going on, it can be hard to make time for important tasks like grocery shopping. However, having a grocery list can help you stay organized and save time.
One of the main benefits of having a grocery list is that it helps you stick to your grocery budget.
By planning your meals in advance and only buying what you need, you can avoid overspending. This is especially important for college students who are on a tight budget.
Additionally, having a grocery list can help you avoid impulse purchases and reduce food waste.
When it comes to grocery shopping, having a list can also save you time and energy.
By knowing exactly what you need, you can navigate the grocery store more efficiently and avoid wandering aimlessly through the aisles. This can be especially helpful during busy times of the day or week when the store is crowded.
In summary, having a grocery list is essential for college students who want to save money, reduce food waste, and stay organized.
How to Plan Your College Grocery List
When it comes to grocery shopping in college, planning is the key to success. Without a plan, you may end up overspending, wasting food, or resorting to unhealthy options.
Here are some tips to help you plan your college grocery list effectively:
Start with a meal plan: Before you head to the grocery store, figure out what meals you want to make for the week. This will help you determine what ingredients you need to buy and prevent you from buying unnecessary items.
Consider meal prepping: If you're short on time during the week, meal prep can be a lifesaver. Plan to make a big batch of a few meals on the weekend and portion them out for the week.
Write out the ingredients you'll need: Once you have your meal plan and meal prep figured out, make a list of the ingredients you'll need.
Figure out what you already have: Before you head to the store, take inventory of your pantry and freezer. You may already have some of the ingredients you need, which can save you money and prevent food waste.
By following these tips, you can avoid stress and overspending at the grocery store. Remember to stick to your plan and avoid impulse buys.
Meal Ideas For College Students
As you now know, you NEED to have some meals in mind before heading to the grocery store. So here are some super easy college student meal ideas that you can throw together.
Most of these meals are dorm-friendly, but some do require some kitchen equipment.
If you're looking for some meal ideas that can be made with just a microwave, be sure to check out our post on dorm-friendly microwave mug meals.
College Student Breakfast Ideas
Breakfast is the most important meal of the day, but it can be challenging to find time to make a nutritious meal before class. Here are some quick and easy breakfast ideas:
Overnight oats: Mix rolled oats, milk, and your favorite toppings in a jar and let it sit in the fridge overnight.
Smoothie bowl: Blend frozen fruit, yogurt, and milk, and top it with granola and fresh berries.
Avocado toast: Toast bread, spread mashed avocado on top, and add toppings like eggs, tomatoes, or bacon.
Yogurt with granola: A protein-packed breakfast like yogurt will keep you going until lunch!
College Student Lunch and Dinner Ideas
When it comes to lunch and dinner, we need meals that are easy to prepare and can be eaten on-the-go. Here are some ideas:
Wraps: Fill a tortilla with protein, veggies, and hummus, and wrap it up for a quick and filling meal.
Stir-fry: Cook protein and veggies in a pan with soy sauce and spices, and serve it with rice or noodles.
Baked potato: Microwave a potato, top it with cheese, veggies, and protein, and bake it in the oven for a hearty meal.
Noodle dishes: It doesn't get much easier than a pot of pasta or mac n cheese for dinner.
Frozen pizza: This is a staple college student meal for a good reason! It's affordable, filling, and a breeze to make.
Peanut butter and jelly sandwiches: Even if you've never prepared a meal in your life you can throw together a PB&J.
Snacks For College Students
Snacks are essential for keeping you energized throughout the day. Here are some healthy snack ideas for college:
Hummus and veggies: Dip carrots, celery, or cucumbers in hummus for a satisfying snack.
Trail mix: Mix nuts, seeds, and dried fruits for a protein-packed snack.
Apple slices with peanut butter: Slice an apple and spread peanut butter on top for a sweet and savory snack.
Single-serve snacks like string cheese, granola bars, jerky sticks, etc.
Example College Grocery List
With those easy meals in mind, here's an example of what your weekly grocery list may look like:
Dairy
Yogurt
Milk
Cheese sticks
Fruit
Apples
Frozen berries
Dried fruit
Grains
Oatmeal
Bread
Wraps
Rice
Granola
Pasta
Popcorn
Protein
Eggs
Turkey Slices
Nuts
Jerky Sticks
Chicken Breast
Vegetables
Avocados
Lettuce
Cucumbers
Carrots
Potatoes
Condiments
Hummus
Peanut Butter
Soy Sauce
Jelly
Frozen
Frozen pizzas
Burritos
Other frozen meals
Tips For Saving On Groceries In College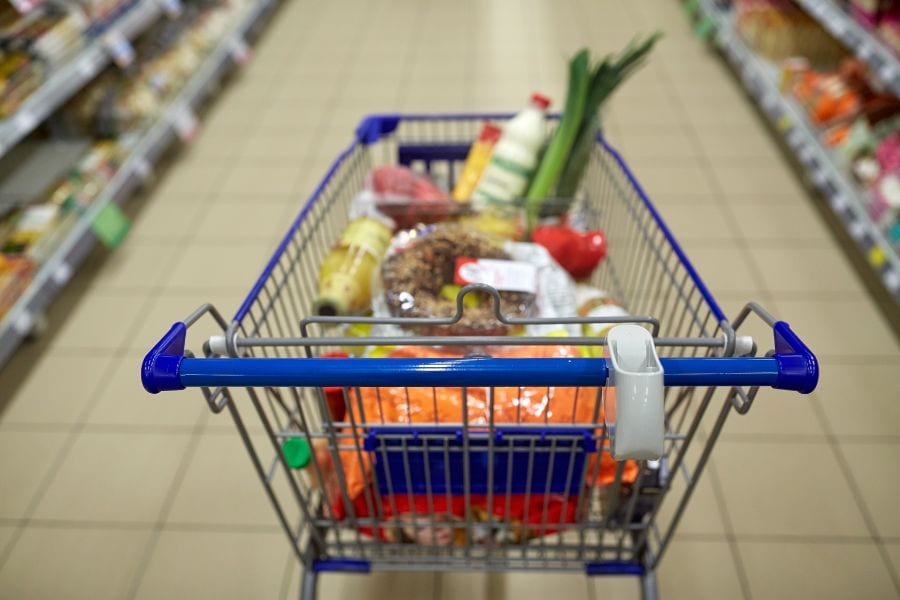 When it comes to grocery shopping in college, we all want to save some money without compromising on the quality of food we eat.
Here are some tips that can help you save some money on your grocery budget:
Plan ahead: Before heading to the grocery store, make a list of the items you need for the week. This can help you avoid impulse buying and stick to your budget.
Look for deals: Many grocery stores offer weekly deals and discounts on certain items. Take advantage of these offers and save some money.
Buy in bulk: Buying in bulk can be cheaper in the long run. You can split the cost with your roommates and save some money.
Avoid packaged foods: Packaged foods can be expensive and unhealthy. You can opt for whole foods, such as fruits, vegetables, and grains, which are cheaper and healthier.
Make coffee at home: Buying coffee out every day can add up quickly. Make your own coffee at home and save some money.
Choose cheaper protein sources: Protein is important, but it can get expensive. Opt for cheaper protein sources, such as beans, lentils, and eggs.
By following these tips, you can save money on your grocery budget without sacrificing the quality of food you eat.
Final Thoughts
Creating a college grocery list is a small, yet impactful, step towards a more organized and fulfilling college experience.
By taking the time to plan and prepare, you can ensure that you have the necessary ingredients for healthy meals and snacks, avoid unnecessary trips to the store, and stay within your budget.
With a well-thought-out grocery list in hand, you'll have one less thing to worry about, leaving you more time to focus on your studies, hobbies, and social life.
Looking for more helpful college resources? You may also like: