20 Dorm Kitchen Essentials You'll Actually Use In Your College Dorm
Not sure what kitchen items you'll need in college? Here are the top 20 dorm kitchen essentials that will actually get use in your dorm room.
This post may contain affiliate links, which means I'll receive a commission if you purchase through my link, at no extra cost to you. Learn more: Affiliate Disclaimer.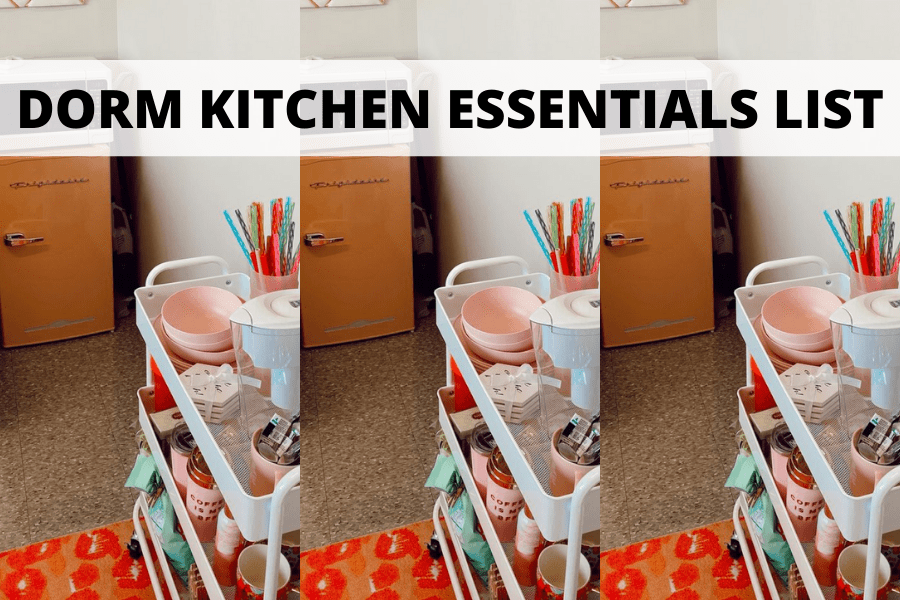 Are you looking for a dorm kitchen list full of items that you'll ACTUALLY use?
Traditional dorm rooms don't offer much in terms of kitchen space or kitchen appliances.
If you're planning on cooking or eating in your dorm room at all, there are a few things you can pack that will make your life so much easier.
Here is everything you need to add to your college kitchen essentials list.
The Best Dorm Kitchen Essentials
1. Mini Fridge
Having a mini fridge in your dorm room is an absolute must. Even if you think you'll be eating most meals in the dining hall, you'll want to have a small fridge to store your snacks and drinks in your dorm room.
If you're interested in eating healthy in college, having a mini fridge allows you to keep healthier foods like fruits and vegetables in your dorm room.
One thing to keep in mind is that some colleges actually provide mini fridges in every dorm room. Make sure you check with your residence hall before you buy one.
2. Mini Fridge Caddy
A mini fridge caddy is the perfect dorm kitchen organizer. You can store your tableware, snacks, and utensils in here and it basically takes up no room.
The caddy hangs over the top of your mini fridge and has little pockets for all of your kitchen items.
[RELATED: 21 Life-Changing Amazon Dorm Essentials For College Students]
3. Mini Fridge Stand
If you need some extra storage space for snacks or utensils, a mini fridge stand with drawers is an absolutely genius solution.
It won't take up much space but it'll give you a ton of storage for your dorm kitchen essentials.
4. Coffee Maker
A coffee maker is one of the most important things you can have in your dorm room.
When you're running late to class or studying all night, you can't always run to the dining hall for coffee. Having a compact coffee maker in your dorm room allows you to make a cup of coffee any time you need it.
The mini Keurig is the most popular type of coffee maker for dorm rooms. It's small enough to keep on your desk or on a storage cart and it's super convenient and easy to use.
If you're not a coffee drinker, you can also use your Keurig to dispense hot water for things like hot chocolate or tea.
Make sure you get plenty of K Cups to use in your mini Keurig. Here are some of our favorite flavors:
5. Microwave
A microwave is one of the most important dorm cooking gadgets to add to your list. Pretty much everything you'll eat in your dorm room will be made in a microwave!
Definitely check with your dorm front desk AND your roommate before purchasing a microwave for your dorm room.
Your dorm might already provide microwaves on each floor for students. My dorm didn't allow us to have microwaves in our dorm rooms but they provided a communal microwave on each floor.
If it's not provided, you can see if your roommate will split the cost of a microwave with you.
[RELATED: 22 Microwave Mug Meals You Can Make In Your Dorm]
6. Storage Cart
A storage cart is an absolute must-have in your dorm kitchen area. You can use it to store all of your snacks, dorm kitchen gadgets, and other kitchen essentials.
I love this one because it has three tiers of storage PLUS three little storage cups that would be handy for small snacks or utensils.
It comes in a few different colors so you can match it to your dorm aesthetic!
[RELATED: 23 Under Bed Dorm Storage Ideas You Need In Your Dorm Room]
7. Dorm Kitchen Tableware
If you're planning on doing any cooking or eating in your dorm room, you're going to need some tableware.
I recommend getting about four of each – bowls, plates, and cups. You're not going to need a crazy amount of dishes but you will want to have a few of each item.
This set of tableware is perfect for dorm rooms because it's cheap, eco-friendly, and unbreakable.
It's a great idea to keep paper plates and bowls around as well, just in case your dishes are dirty.
8. Silverware
A cheap set of silverware is a good idea to bring to your college dorm. This 31-piece silverware set comes with the storage tray, reusable straws, and a few of each utensil.
It's the perfect set of utensils for a college dorm room.
[RELATED: Can You Have An Air Fryer In A Dorm Room? (Everything To Know)]
9. Water Filter
Sometimes the water in your dorm building might not taste the best. If you have a water filter pitcher you can fill your water bottle up with great tasting water any time.
Just make sure you keep an eye on the filters and buy new ones when they need to be replaced.
[RELATED: 17 Commonly Forgotten College Items To Add To Your Packing List ASAP]
10. Reusable Water Bottles
A water bottle is one of the most important college kitchen essentials.
You need to stay hydrated when you're walking to class, working out, and living life as a college student. The last thing you want is to have to spend money on plastic water bottles.
Get an insulated one that will keep your water cool all day. My favorite brands are Stanley, Yeti, and Owala.
11. Reusable Coffee Mug
A reusable coffee mug is one of my top dorm kitchen essentials. You'll want to have a convenient way to bring coffee with you to class or to study sessions. Make sure you get a durable mug that's easy to clean so it lasts you all year.
My favorite travel mug is from YETI. It keeps your drinks super hot all day and it's really easy to clean.
Another favorite of mine is this one from Ello. I've had it for a few years and it's super cute and affordable.
[RELATED: 27 Best Dorm Gifts College Students Will Love]
12. Food Storage Containers
If you like to bring snacks or meals with you on the go, keep a few food storage containers in your dorm room.
You can clean them pretty easily and they're so convenient for storing leftovers from the dining hall.
I recommend getting a set of containers in a few different sizes, like the one linked above.
13. Chip Clips
I HIGHLY recommend getting a set of chip clips for your dorm room.
College students pretty much survive off of snacks like potato chips, veggie straws, etc. and chip clips keep your favorite snacks fresh.
14. Ziploc Bags
Ziploc bags are always handy to have around for transporting snacks or other little items.
I recommend getting a variety pack of different sizes that will last you the entire school year.
If you're the eco-friendly type, you can get a variety pack of reusable snack bags that will last you years! This set of different sized reusable bags from Amazon has really good reviews and it's insanely affordable.
15. Can Opener
A can opener is something I forgot to bring to college with me but I definitely wish I had packed one.
A lot of quick, easy meals come in cans and not all of them have those convenient pull tabs.
16. Paper Towels
Paper towels are an absolute must-have item for your dorm room kitchen. You'll use them all the time for cleaning up spills and covering your food in the microwave.
Put them in your storage cart or store them with a cute paper towel holder.
17. Dish Soap
Even if you don't have a kitchen sink in your dorm room, you're going to want to keep a small bottle of dish soap around.
I would take my dirty dishes and cups to the communal sink on my dorm floor and clean them with dish soap and a sponge.
I also recommend having a little wash bin if you don't always do your dishes immediately after using them. It's the perfect place to store dirty dishes and a great way to transport them to the communal sink.
[RELATED: 21 Dorm Cleaning Supplies Every College Freshman Needs]
18. Dorm Kitchen Knife Set
You probably won't need a whole set of chef-quality knives for dorm living, but a few small knives can be really useful in your college dorm.
I was always cutting up fruits and veggies for snacks in my dorm room. I recommend getting a cheap set of knives that come with a few different sizes.
19. Cutting Board
If you're going to be cutting anything up, you'll need to add a small cutting board to your dorm kitchen essentials list.
20. Blender
The one kitchen appliance I used every single day in my dorm room was my blender. Smoothies were the easiest way for me to get a ton of vegetables and nutrients in college.
If you're a smoothie person, definitely pack a small blender like the NutriBullet when you're moving into your dorm room.
Dorm Kitchen Essentials FAQ
Do college dorms have kitchens?
It's highly unlikely that your college dorm will have a kitchen in it. There are a few different scenarios that are common for dorm room kitchens.
Your dorm room will not have a kitchen but there will be a communal kitchen available to you.
You will have access to a microwave and sink but no communal kitchen.
If your dorm building has suite-style dorms, you may have a shared kitchen with the other rooms in your suite.
At my college, all three options were available.
My freshman year, I had a dorm with no kitchen but we had a microwave and large sink on every floor.
When I was a sophomore, I lived in a dorm building with shared kitchens in every suite. We had a full fridge, stovetop, oven, microwave, and shared cabinet space.
Check out your options for college dorm kitchens when you're selecting your housing for your freshman year.
How do you cook in dorms?
If you have a full kitchen in your dorm room, you can cook in it just like a regular kitchen.
Just make sure that you turn off appliances after using them because you'll be responsible for any damage you cause to your dorm room.
If you only have access to a microwave and mini fridge, you can cook simple meals like ramen noodles, canned soups, microwave mug cakes, microwave eggs, etc.
If you're not sure what to cook in your dorm kitchen, this list of microwave mug meals is a great place to start. You can find tons of dorm kitchen recipes on Pinterest as well.
What kitchen appliances can you bring to your dorm?
Each college will have different rules for what appliances you can have in your dorm room. I recommend checking with your university housing to make sure that your appliances are allowed.
Here are some common appliances that college students may be able to bring to their dorm room:
This post was all about the best dorm kitchen essentials for college students.
Looking for more dorm inspiration?