Greek life can be one of the best parts of college. But how much does it cost to join a sorority? And what should you do if you can't afford it? We're answering all of your questions in this post.
This post may contain affiliate links, which means I'll receive a commission if you purchase through my link, at no extra cost to you. Learn more: Affiliate Disclaimer.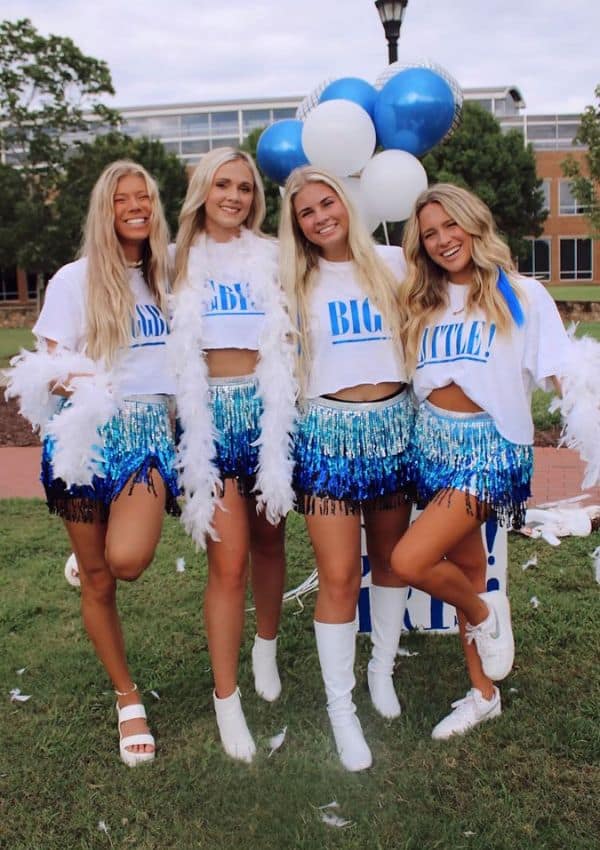 While joining a sorority has many benefits as far as finding community, networking, and participating in philanthropy, membership does have a cost.
To be able to host chapter events, philanthropy events, and social activities across the country, sororities require their members to pay dues and fees at local and national levels. 
On average, the cost to join a sorority is somewhere between $1,000 and $4,750 per semester.
These numbers will look a bit different depending on the school, chapter, and living situation, but this is what most students pay to join a sorority.
This post is all about answering the question, "how much does it cost to join a sorority?"
Do You Have To Pay To Join Sororities?
In short, yes. Remember, sororities revolve around building sisterhood through a variety of social gatherings, philanthropy events, and shared living spaces AKA sorority houses. That all costs money!
To join a sorority, future members must take a variety of fees into account, including: new member fees, social fees, room and board, and rush registration. That's right—new members have a special fee to pay.
These Greek organizations use their members' dues and other fees to fund their activities both locally and at a national level.
How Much Does It Cost To Join A Sorority?
Joining a sorority costs hundreds to thousands of dollars a semester. The exact cost to join a sorority varies by school and chapter.
On average, sorority members pays somewhere between $1,000 and $4,750 per semester for member dues, housing, application fees, recruitment fees, and social expenses.
For our first example, we'll look at the Delta Delta Delta (Tri Delta) chapter at Clemson University. They do not require their members to live in a sorority house. Their new member dues are $848, and active member dues are $460 per semester.
Now, cost can also vary significantly between sororities at the same school. At the University of California, Los Angeles (UCLA), Delta Gamma has new member dues of $1,194. Active member dues are $3,159 for in-house and $864 out-of-house per quarter.
Also at UCLA, Phi Sigma Rho has new member dues of $415 and active member dues of $300 per quarter. There is no living requirement.
If you look at Greek life at the University of Arizona, you'll find even more variation. Lambda Theta Alpha charges new members $380 and active members $150 per semester—no housing requirement.
The Delta Gamma chapter, however, charges new members $3,383 and active members $3,053 per semester with no housing.
As you can see, dues can be hundreds or thousands of dollars per academic term.
What Do Sorority Dues Go Towards?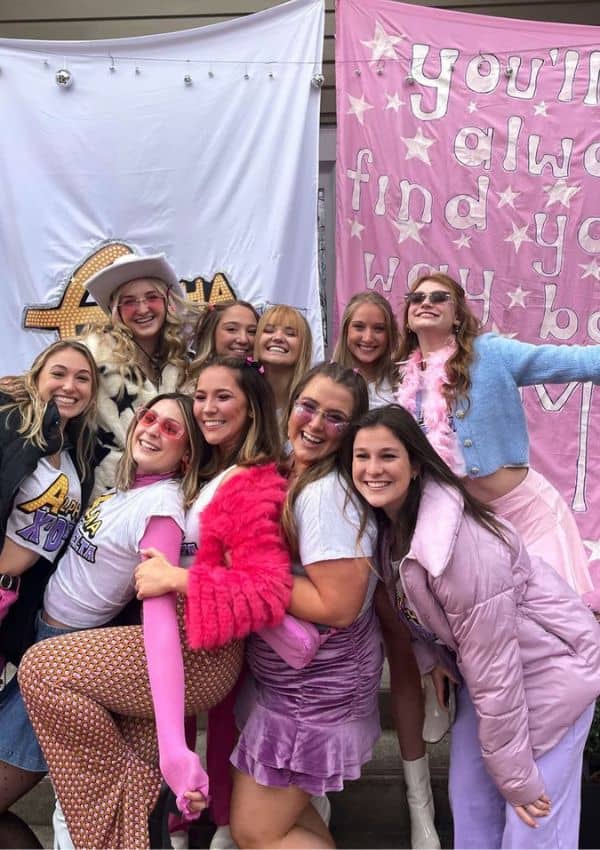 Each sorority manages their funds a little differently, though some dues are always designated toward the same thing. For example, a percentage of sorority dues are exclusively for the national organization.
The National Panhellenic Conference (NPC) breaks down sorority dues into the following uses: chapter programming, educational tools, dues to national organization, and sisterhood events.
They explain that members of each sorority chapter vote to approve their budget annually or for each academic term (e.g. quarter, semester). 
Like we mentioned before, these funds go towards things like social gatherings and philanthropy events. The NPC goes into more detail, saying that money is also allocated for "educational programming," insurance for each member, and "helpful resources to chapters" from the national organization.
For sororities that have a housing requirement, a portion of dues goes toward room and board. This varies by chapter and university.
Food may or may not be included with these dues, depending on whether that sorority uses housing funds for in-house chefs.
For a smaller scale example, a sorority may budget for a "miscellaneous" category, which sorority leadership can pull from to pay for leadership luncheons or other random expenses.
What Are The Different Costs Associated With Sororities?
As you can probably tell by now, there are many costs to joining and staying in a sorority.
There are costs at a chapter level during recruitment, initiation, and active membership. Each chapter tailors their fees to their specific events from there.
Here is what you can expect to pay for if you're joining a sorority:
Registration Fees
Before you've even interacted with a sorority, there are registration fees for rush. These tend to be between $50 and $100.
Why? Throughout rush, you'll be attending events. Events cost money. Sororities use these fees to fund your rush experience.
New Member Dues
So you've been through rush, you've received your bid, and you've successfully been initiated into your sorority. What's next?
That would be the new membership dues. And why do you get special dues as soon as you join? Like any organization or membership, there's usually a one-time fee when you're first starting out.
Also, when you first join a sorority, there are special events you'll attend and items you'll receive, like t-shirts and gifts. Your new member dues will cover that one-time fee at a national and chapter level, and it'll also cover all those initiation events.
So what do new member dues actually look like? They vary by school and chapter. In general, they're around $600 to $900 per semester.
For some real-life examples, at Texas Christian University, new member fees range from $876 to $1,890.
But at the University of Florida, the first two initiation semesters for new members will cost between $900 to $3,500, depending on the chapter.
Active Member Dues
Active members dues are a little cheaper than new members dues. Like we said, new members have to pay costs that only come up during their first couple of semesters.
From there, dues typically go down a few hundred dollars every semester.
One source affiliated with JPMorgan Chase bank cites active member dues as being between $300 to $600 per semester. 
Drawing from the previous example of University of Florida, active member dues range from $1,400 to $3,100. That's several hundred dollars cheaper than new member dues.
Going back to Texas Christian University, sorority dues range from $414 to $1,384. Again, that's significantly cheaper than the range for new member fees.
In-House Dues / Out-Of-House-Dues
If you haven't heard of a sorority house, it's a communal living space for members of a sorority. Many sororities require their members to live in a sorority house at some point after their freshman year.
All college students have to live somewhere while attending school, whether it's in dorms, off-campus apartments, sorority houses, or at home with their family.
Sororities that require members to live in the sorority house charge in-house dues, while sorority members that don't live in the house pay out-of-house dues.
Just like the new versus active member dues, there's a price difference between in-house dues and out-of-house dues. Out-of-house dues tend to be slightly cheaper.
For example, at North Carolina State University, Kappa Alpha Theta's in-house dues are $1,700 and their out-of-house dues are $1,225 per semester.
While in-house dues have a higher sticker price, these fees include utilities, a meal plan, and maintenance. Depending on the school, this may be cheaper than living in dorms and paying out-of-house dues.
Inclusive And Exclusive Dues
Similarly, sorority members have the option to pay inclusive and exclusive dues.
Inclusive dues pay for pretty much all activities and resources you'll use in your sorority.  Typically, you'll be paying more up front, but you'll be participating in more expensive and quality events.
When it comes to exclusive dues, you pick and choose which activities, events, and resources you'll attend or use. The exclusive dues are initially cheaper, but they're a "pay-as-you-go" option.
Social Expenses
Aside from your membership dues, you should also factor in the expenses you'll occur by attending sorority social events.
These include food and drinks, new outfits, hair and nails, etc. Many sorority girls will get a new outfit for every chapter event.
While these aren't mandatory expenses, they still should be factored in when deciding if you can afford sorority life.
Alumni Dues
If you decide that you'd like to join your sorority's alumni network, there are dues associated with that, too. They range from $50 to $100 a year, depending on the sorority.
You may also have a one-time payment option, which counts as a lifetime of dues. For example, the lifetime alumni payment for Kappa Delta is $295.
This allows former sorority members to give back to their organization, funding current members' opportunities for personal and professional development.
How To Pay For A Sorority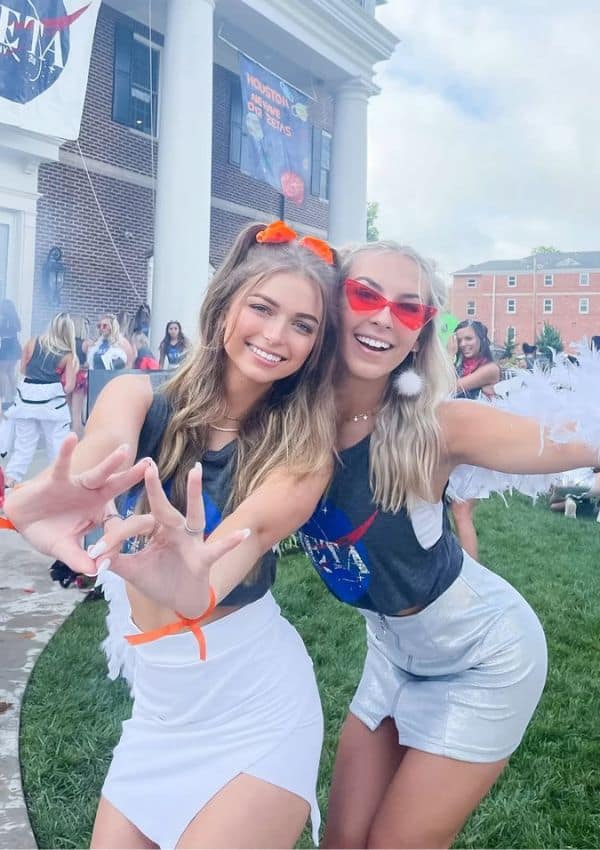 Paying for a sorority may seem daunting, but there are many different ways to do it. Here are some options for how to pay for joining a sorority:
Ask About Payment Plans
If you aren't able to foot the bill from the get-go, sororities usually have a payment plan option. This allows you to divide up your dues into increments.
At Kappa Delta, the payment plan worksheet outlines the timetable for one academic semester of dues. This includes payment amount and deadlines for each payment. It notes that payment plans do not actually change the amount of chapter dues.
You should also note that many chapters don't have payment plans available to new members, at least in the first semester of membership. Chapters that do tend to offer three- or four-month payment plans.
Apply For Scholarships And Grants
Scholarships and grants don't just exist in the academic world. Sororities also offer national scholarship opportunities.
These scholarships are competitive. They range from $1,000 to $7,000. Examples include the Mary Louise Roller Scholarship, the Carole Jurenko Jones Scholarship, and the Sigma Kappa Courage and Commitment Scholarship.
These scholarships tend to be awarded annually, so they're worth a shot.
Use Your Student Loans
If you're wondering if student loans can cover sorority expenses, look no further—they can! But it's not always straightforward.
As personal finance expert Taylor Medine states, student loans are a viable option for covering sorority expenses. Loans are first disbursed to your student account, where your university will take out whatever tuition you owe for the period.
Then, the rest of the loan disbursement will be directly deposited into your personal account for education-related expenses.
Usually, the remainder of the loan is used for housing, textbooks, groceries, and so forth. If you're in a sorority, you can also use that remainder to pay sorority dues.
However, be careful when taking out too many student loans. Eventually, you'll need to pay those loans back, usually with interest.
Consider A Part Time Job
Many undergraduate students work either full-time or part-time jobs to fund their education.
In fact, the National Center for Education Statistics reports that as of 2020, 40% of undergraduate students worked full-time jobs and 74% worked part-time jobs.
So working during your undergraduate years is completely normal. If working part time is what you need to do to pay your sorority dues, know that you're most likely not the only one.
Frequently Asked Questions
What Happens If You Don't Pay Sorority Dues?
According to Omega Fi, if you don't pay your sorority dues, those dues will get sent to collections and you'll then be kicked out of the chapter.
However, there are a few smaller steps leading up to those drastic actions. After your sorority leadership team first contacts you about unpaid dues, you will be unable to attend optional events or receive sorority merchandise.
From there, you won't be able to pick up a Little or be initiated into the chapter as a new member. Late fees will be added to your initial dues.
If you still don't pay those dues after those consequences, they will get sent to collections and you'll be kicked out of the chapter.
Can Your Sorority Fine You?
Sororities can fine you for breaking rules or not attending events.
First, you can be fined for breaking Panhellenic rules, including contacting potential new members during recruitment.
Some sorority members claim that they were fined for not attending social or philanthropy events. These fines can be contested if you've missed the event for a legitimate reason, though this is up to the chapter's leadership.
Can Scholarships Be Used For Sororities?
Scholarships without specification can be used for sorority dues.
That is, any scholarship that doesn't specify that its funds must be used for tuition can be used for sorority dues. Technically, you can define sorority dues as an "education-related" expense.
It depends on the verbiage of your particular scholarship, so pay close attention to its terms and conditions.
Can You Use Student Loans For Sorority Dues?
Surveys conducted by LendEDU's research team show that almost 55% of Greek life use student loans for dues. This number includes both sororities and fraternities.
Interestingly enough, they also found that females were more likely to use student loans for Greek life dues than male students were.
How? As we discussed earlier, funds left over from your tuition payment are directly deposited into your bank account. That money is left to your discretion.
While students that don't participate in Greek life may use that money to pay for housing and textbooks, sorority members usually opt to use it for sorority dues.
Why Is Joining A Sorority So Expensive?
There are many moving parts within a sorority budget. That means that sorority dues are being used to fund activities and resources at a chapter and national level.
The National Panhellenic Conference lists the expenses that sorority dues cover, including: educational programming, chapter activities, sisterhood activities, insurance, and educational resources.
A sorority requires its members to pay dues so that it can operate at a national or even international level. The chapter dues come in for chapter-specific activities, which vary from school to school.
The University of Rochester breaks this down into national conference dues, national chapter dues, and local chapter dues.
So while sorority sisters have to fund their local activities, they also have to contribute to overall chapter dues on top of national dues that cover insurance and educational resources.
Sororities that require members to live in a sorority house can also pile on the cost, depending on the sorority house and school.
While some sorority houses offer cheaper room and board than the university's average dorm cost, other sorority houses are more expensive.
Overall, to join and stay in a sorority, you're taking on the costs of national dues, chapter dues, and housing. That adds up quickly, making sororities objectively expensive compared to other organizations and clubs on college campuses.
Final Thoughts On How Much It Costs To Be In A Sorority
Taking into account membership dues, housing costs, and additional social fees, the total cost to join a sorority can range from a couple hundred dollars to thousands of dollars per semester.
However, these costs can be managed if you choose to apply to scholarships, work part time, dip into your student loans, or be extra selective about which sorority you join in the first place.
If you want to experience the sisterhood elements of a sorority but don't want to pay for expensive sorority house living, you can rush a smaller chapter with cheaper dues.
At the end of the day, the cost to join a sorority is partially up to you and how you want to manage your finances.
Hopefully this post answered the question of how much does it cost to join a sorority.
You may also like: