20 Spookiest Dorm Halloween Decorations For 2023
Want to have the spookiest dorm room in your hall? Here are 20 of the cutest and spookiest dorm Halloween decorations.
This post may contain affiliate links, which means I'll receive a commission if you purchase through my link, at no extra cost to you. Learn more: Affiliate Disclaimer.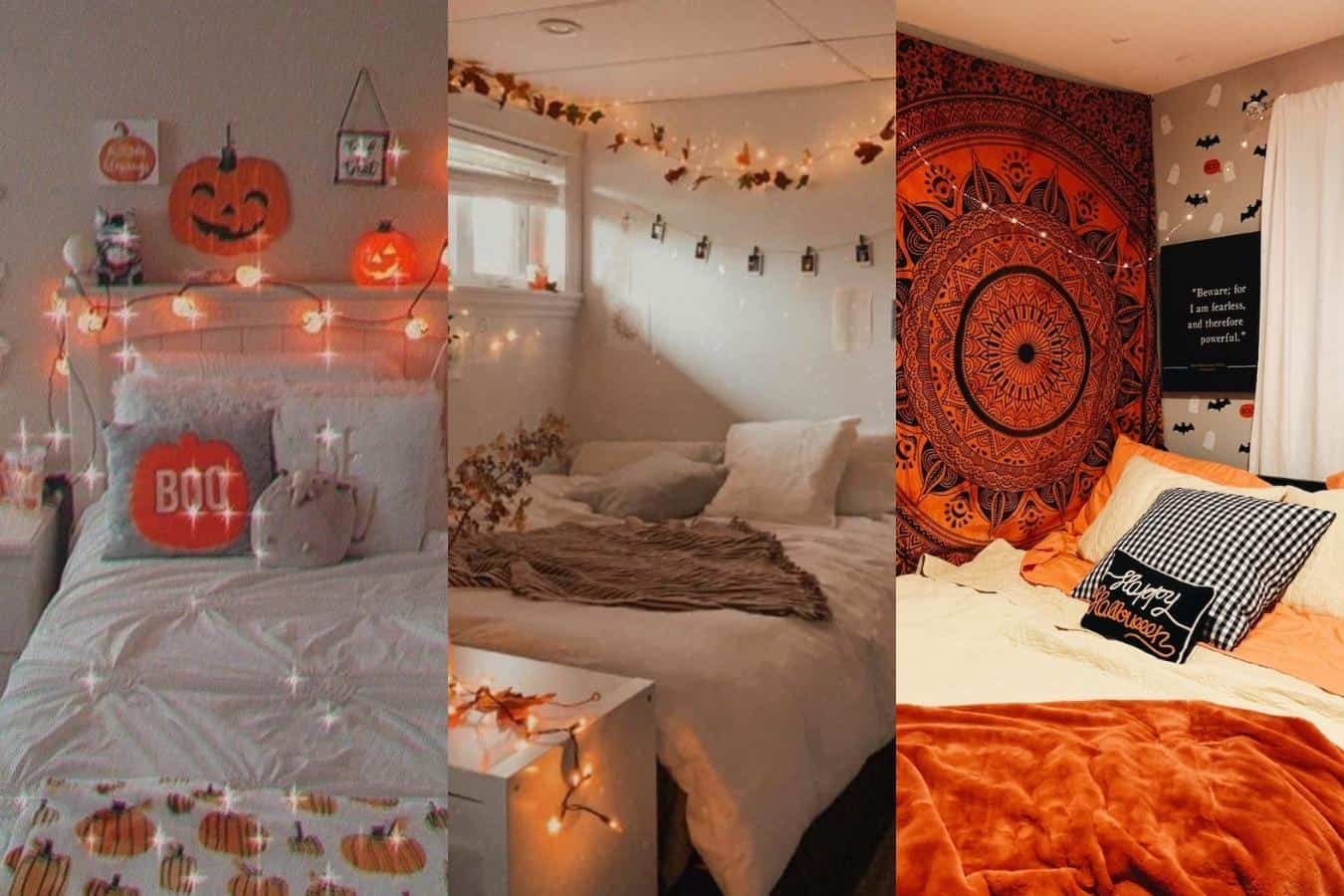 The Halloween season is approaching fast, and you know what that means! It's time to decorate your dorm room for the holiday.
I love going all out with my holiday decor, but it can be hard to know how to decorate a dorm room. You don't have a ton of space for adding decorations, so you have to be creative.
The trick is finding decor that won't take up any extra room. Some decor pieces that work really well in a dorm room are throw blankets, string lights, and wall posters.
I put together a list of 20 dorm Halloween decorations that are affordable, super cute, and work really well in a dorm room.
Dorm Halloween Inspiration
Before we get into specifics, we wanted to show you a few examples of super cute Halloween dorm room decor.
This will give you inspiration for how you want to decorate your own dorm room for spooky season!
1. All Pumpkin Everything
Pumpkins and jack-o-lanterns are one of the main symbols of Halloween. Go all out and incorporate pumpkins into every aspect of your Halloween dorm decorations!
Get a pumpkin throw blanket, pumpkin pillows, jack-o-lantern wall decals, and even some pumpkin string lights!
Recreate this dorm room decor idea for Halloween:
2. Fall Leaves Garland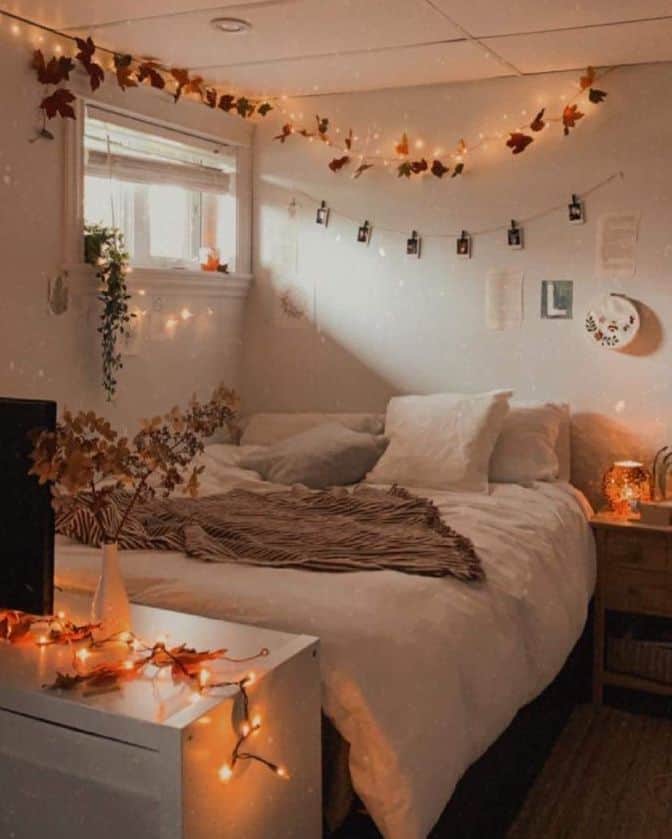 How cozy does this fall-themed dorm room look? I love that they decorated for the holidays without going overboard or looking tacky.
You can get this same look with some dried plants in vases, fall leaf garland, a neutral throw blanket, and some string lights.
Recreate this dorm Halloween decor:
3. Halloween Bat Decals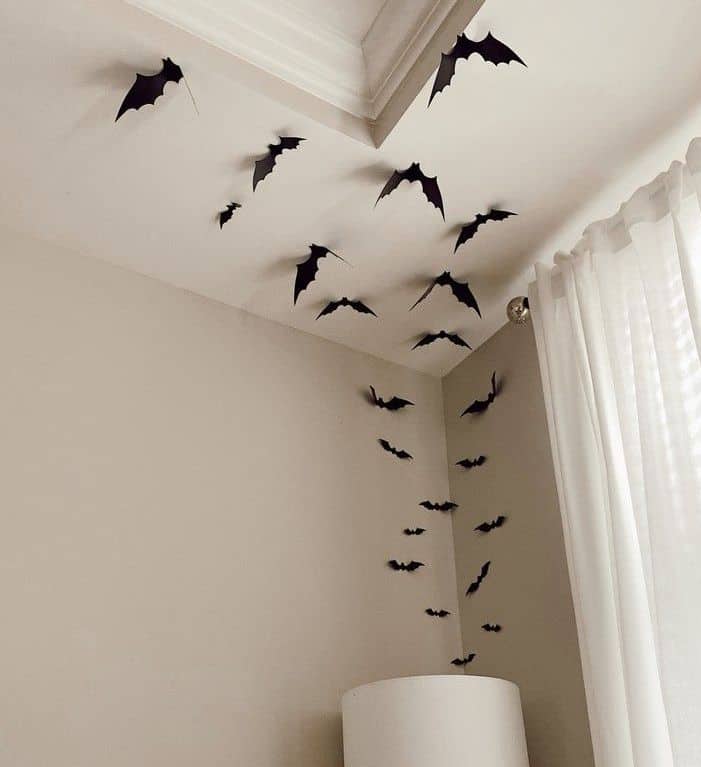 One super easy way to decorate your dorm room for Halloween is to use little bat decals on the wall.
You can make it look like they're flying through the window, up the corner of your room, or just scatter them around your wall! Such a small thing that makes a huge impact.
Recreate this dorm room Halloween decor idea:
4. Orange And Black Halloween Decor
Want Halloween dorm decorations that you can reuse after the holiday is over?
Grab some orange and black decor pieces that don't have a specific Halloween pattern to them. They'll still look festive but they won't look out of place if you leave them up until Christmas!
Recreate this orange and black dorm room:
5. Halloween Wall Decorations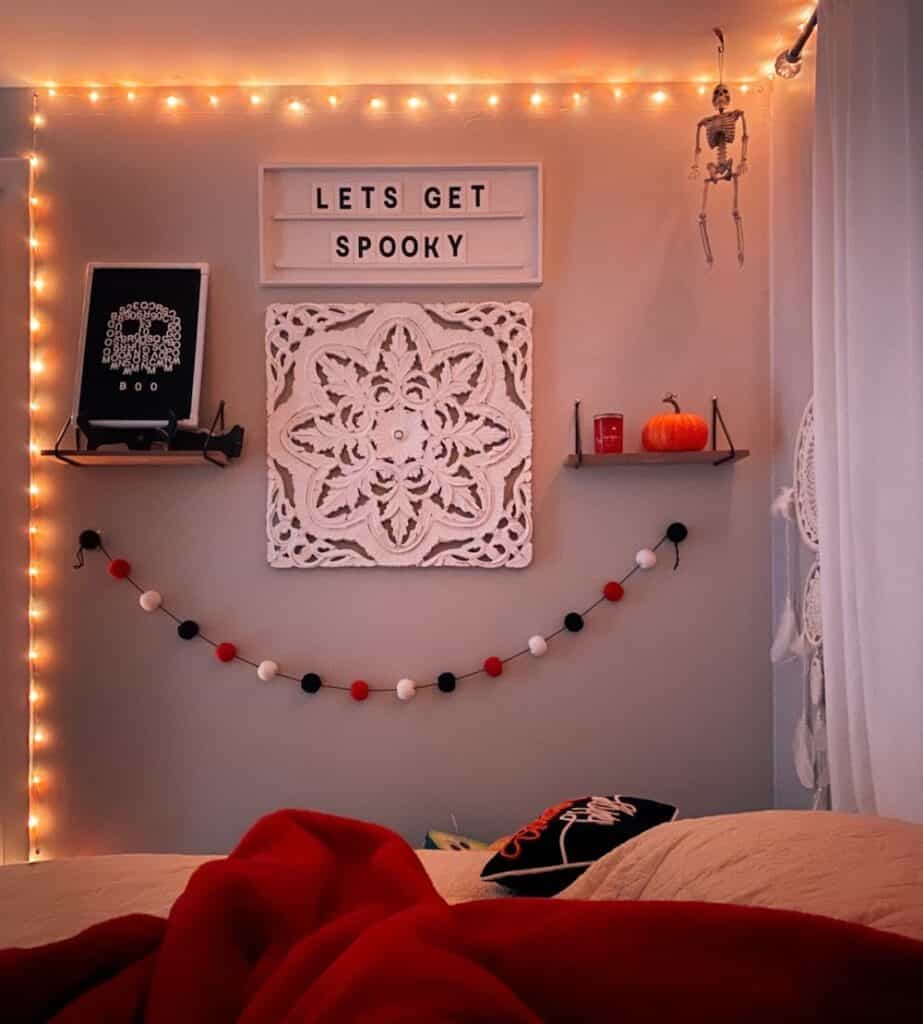 Wall decor is perfect for dorm rooms because it takes up almost no space.
Hang some garland, put up a spooky letter board sign, and throw a Halloween trinket or two on your shelves. Easy, affordable, and perfect for dorm rooms!
Recreate this Halloween wall decor for dorms:
Dorm Halloween Decorations
Looking for the cutest Halloween decorations to add to your dorm room?
Here are some super cute and spooky dorm Halloween decorations that you'll definitely want to get for your room:
6. Waving Skeleton Neon Light
Neon lights are one of the coolest ways to decorate a dorm room. You can get them in pretty much any shape and style, but this waving skeleton one is SO perfect for Halloween!
7. Pumpkin Throw Pillow
How adorable would these little pumpkins look on your dorm bed?
Throw pillows are one of the easiest ways to decorate for the holidays because you can easily change out the covers for each holiday!
8. Aesthetic Halloween Wall Posters
These aesthetic Halloween posters would make a great addition to any dorm room wall.
You can hang them as-is or frame them for a classier look! Stick them to your walls with command strips so you don't cause any damage.
9. Spooky Ghost Garland
Boo! How cute is this spooky ghost garland for Halloween?
These would look so adorable strung around your windows, on your walls, or under a lofted dorm bed. The possibilities are endless.
10. Dancing Skeletons Tapestry
Tapestries are one of the best decorations for dorm rooms – they're lightweight, super affordable, and you can hang them without causing any damage to your walls.
This dancing skeleton tapestry would be the perfect dorm room decoration for Halloween. It's the perfect mix of cute and spooky.
11. Halloween Window Decorations
Once you've run out of space on your walls, it's time to start decorating your windows! These decals were made specifically to go on windows, so they won't leave any residue or damage the glass.
I love that there are SO many different decals to choose from. You can stick them all up or choose your favorites.
12. Pumpkin Throw Blanket
Target is one of my favorite places to shop for Halloween decor. They have a ton of variety and most things are so affordable!
This pumpkin throw blanket is so cute and only $10! Such a steal.
13. Halloween Collage Kit
Collage kits are another wall decor item that works really well in dorm rooms. They're generally pretty affordable and can be hung easily without damaging the wall.
This Halloween-themed collage kit is perfect for covering lots of wall space without spending a lot of money.
Hang it up with double sided tape or sticky putty so you can easily remove it when the holiday is over.
14. Purple And Orange String Lights
String lights are a staple decor piece for dorm rooms, but the plain white ones aren't exactly spooky.
Switch them out with these purple and orange lights and you'll be ready for the spooky season!
15. Mini Pumpkins
Mini felt pumpkins are a cute way to give your room a makeover for the Fall season. You can scatter them around the different surfaces in your room to get in the holiday spirit.
16. Cute Ghost Throw Pillow
I am absolutely OBSESSED with this adorable ghost throw pillow. It would look so cute on your dorm room bed.
17. Skeleton Wall Art
Skeletons are super trendy for Halloween decor this year. These wall prints would look really cute and aesthetic in a minimalist dorm room.
18. LED Pumpkin Light
This cute little pumpkin light would be a great addition to your dorm room desk or dresser. It's battery-powered, so no need to worry about figuring out another cord in your dorm room.
19. Plush Pumpkin Throw Pillow
As soon as I saw this cute pumpkin pillow I had to add it to my shopping cart! How cute would this look on your bed or futon in your dorm?
It's great for Halloween, but honestly, it's cute enough that you could leave it out for the whole Fall semester!
20. Halloween Throw Blanket
If there's one thing I love, it's a good throw blanket. It's cute, functional, and super cozy.
This one would look adorable at the end of your bed or draped over the back of your futon. I love the dark colors and all of the different Halloween items on it.
This post was all about the cutest and spookiest dorm Halloween decorations.
You may also like: