You know what they say – three is better than one! Here are the best trio halloween costumes for groups of college girls to wear this year.
This post may contain affiliate links, which means I'll receive a commission if you purchase through my link, at no extra cost to you. Learn more: Affiliate Disclaimer.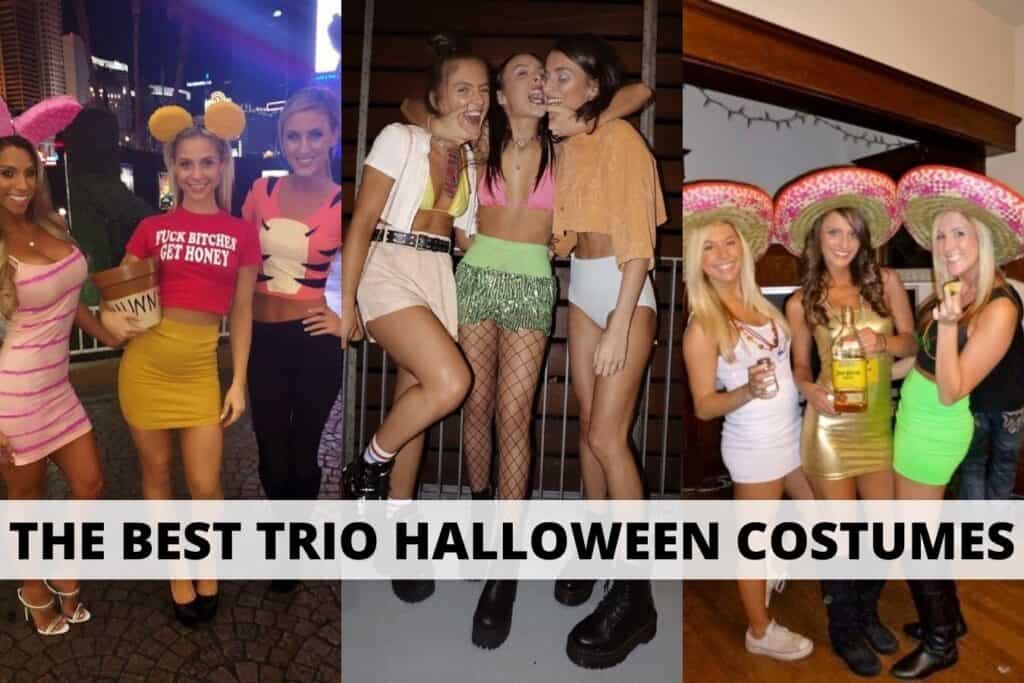 Are you heading out for halloween this year with your besties by your side? It can be so hard to think of good trio halloween costumes for college girls.
We've scoured the internet and put together this list of creative group halloween costumes for trios. Hopefully this list gives you some inspiration for costumes to wear with your besties this year!
The Best Trio Halloween Costumes For College Girls
1. Power Puff Girls
The Powerpuff Girls are a classic cartoon trio that make for a super cute group costume.
Buttercup, Bubbles, and Blossom all wear super cute outfits, so everyone in the group will have an adorable costume to wear.
2. Three Blind Mice
Another super popular trio costume for college girls is the three blind mice. I love this one because it's pretty easy to recreate.
For this costume, you and your besties will just need black dresses, sunglasses, and mouse ears. You can walk around with canes if you really want to go all out for this look!
[RELATED: 19 Creative White Dress Halloween Costume Ideas]
3. Winnie The Pooh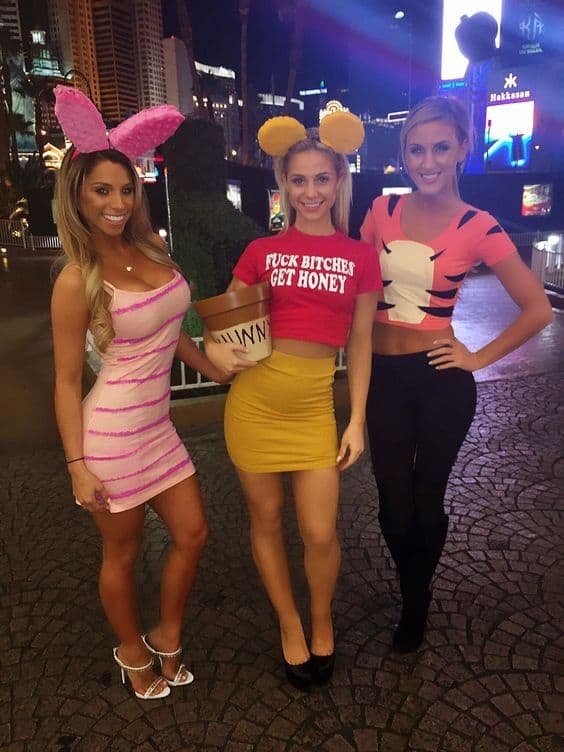 How adorable are these Winnie The Pooh costumes for a group of three girls? You and your friends can hit the town as Pooh, Tigger, and Piglet. Such a cute group costume idea.
4. Angel, Devil, and Dark Angel Trio Costume
We absolutely love this idea for a trio halloween costume. You and your besties can go as an angel, devil, and dark angel.
These are such easy costumes because you just need the halo and horn headbands and some regular dresses!
5. Alvin And The Chipmunks
Another perfect trio costume idea is Alvin and The Chipmunks. Such an adorable costume for a group of three college girls.
6. Police And Prisoners
It should be illegal for three best friends to look this hot! One friend can be the police officer and two can dress as prisoners for this super hot trio halloween costume idea.
[RELATED: 27 Hot College Halloween Costume Ideas for 2022]
7. Tequila Shot Trio Costume
How hilarious is this tequila shot trio costume for college girls? One girl can go as a tequila bottle, another as a lime slice, and the third can be salt.
8. Hocus Pocus
Does it get more iconic than this Hocus Pocus trio halloween costume idea? You'll be putting everyone at the party under a spell when you and your besties show up like this.
9. Sun, Moon, and Stars
This trio costume idea for college girls is so out of this world. One friend can be the sun, the other the moon, and the third the stars.
10. Scooby Doo
Velma and Daphne is an iconic duo costume, but how cute is it to have another friend be Scooby? This is such a fun and creative group costume idea for college girls.
11. Titanic
Okay this is one of the best trio halloween costumes we've seen! Two friends can be the two halves of the Titanic and the third can go as the Iceberg.
This is seriously so creative, so props to these girls for thinking of this!
12. Friends Girls
Another iconic trio costume idea would be the girls from the cast of Friends.
The friend who dresses up as Phoebe can wear a long dress and carry a guitar. Your Rachel costume could be her iconic plaid skirt and white turtleneck outfit. Monica is a little more difficult but one idea would be to wear rubber cleaning gloves to show off her OCD side.
13. Mean Girls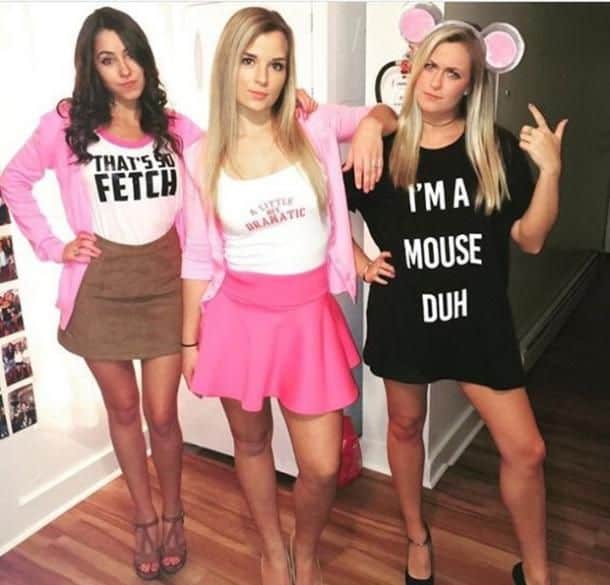 The Plastics from Mean Girls is another iconic trio that makes for a really good group halloween costume.
Regina George, Gretchen Wieners, and Karen Smith make up the Plastics and they wear some really fun Y2K fashion throughout the whole movie. Such a fun costume idea for a group of 3.
14. Bring It On Trio Halloween Costumes
If you're a 90s kid, you definitely remember the movie Bring It On. The Clovers cheerleaders would make for a really cute group costume for college girls.
You can get their exact cheerleading uniforms from Amazon for this trio costume idea.
15. Napoleon Dynamite
Another one of the funniest trio halloween costumes is this Napoleon Dynamite group costume. You could choose any three characters from the movie, but I love this combination of Napoleon, Kip, and Deb for a group costume.
16. Monsters University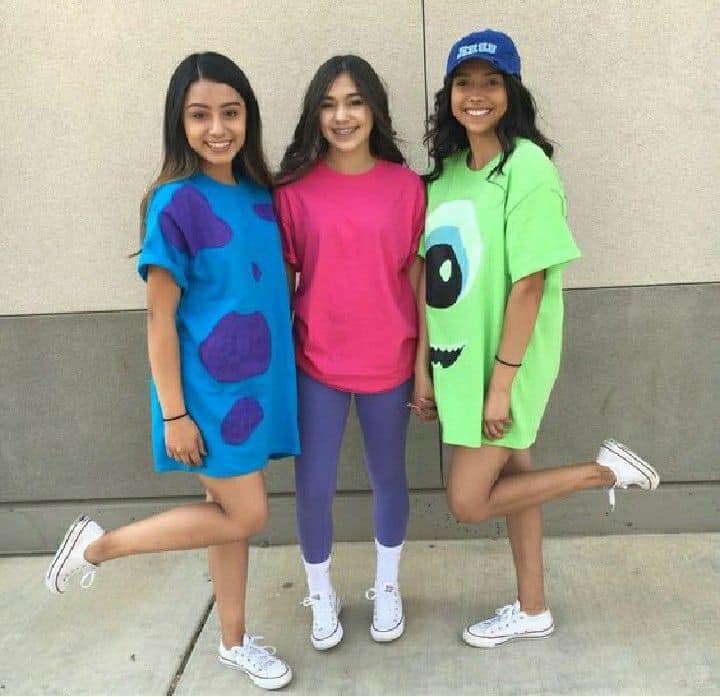 Does it get more iconic than Sully, Mike Wazowski, and Boo? Monsters Inc is a timeless classic and it makes for a super cute costume idea for a trio of college girls.
17. Spongebob Characters Trio Costume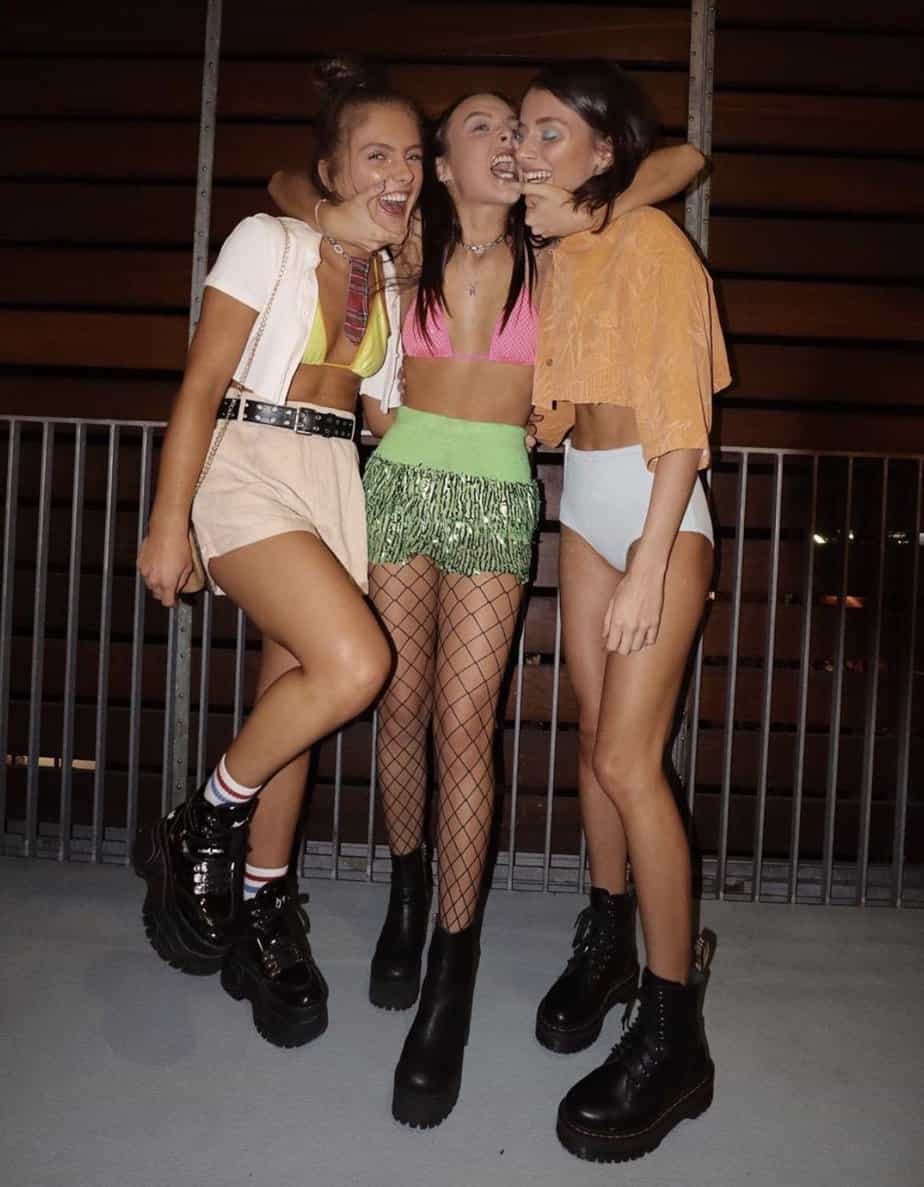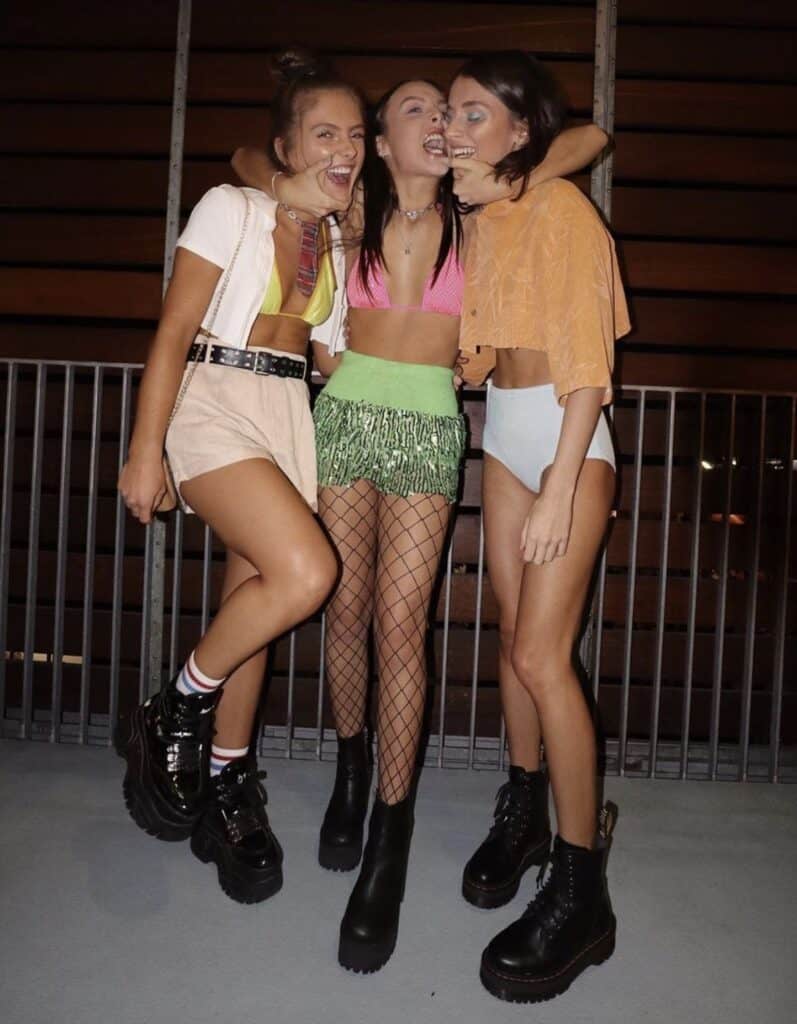 We are absolutely obsessed with this sexy take on Spongebob Characters. In case you couldn't tell, these three college girls dressed as Spongebob, Patrick, and Sandy for this hilarious trio halloween costume idea.
[RELATED: 60+ College Halloween Costumes For Girls That Are Perfect for 2022]
18. Emperor's New Groove
Another childhood favorite movie is The Emperor's New Groove. These Kuzco, Izma, and Kronk costumes are spot-on and make for a really cute group of three halloween costume.
19. Peas In A Pod
How adorable is this three peas in a pod group costume idea? Each of you can dress as a pea and then you can stand together to form the pod. The cutest trio costume ever!
20. Rock Paper Scissors
The best trio halloween costumes are the ones that only make sense when you're standing together. Going as rock, paper, scissors is such a cute idea for a group of three college girls!
21. Neapolitan Ice Cream
Strawberry, vanilla, and chocolate come together to make the cutest Neapolitan ice cream costume!
Just get tank tops or bodysuits in your ice cream color, cut out sprinkles from multicolored paper, and finish off with a cute tutu skirt!
22. Fairly Odd Parents
The Fairly Odd Parents costume idea is so trendy right now and we're absolutely obsessed with it. You'll create magic with these adorable Cosmo, Wanda, and Timmy costumes.
23. Charlie's Angels
Charlie's Angels are an iconic Hollywood trio. This costume is SO easy to recreate because all you really need is a black outfit and two of your besties.
In this post, we showed you 23 of the cutest college trio Halloween costumes. Hopefully this gave you some inspiration for costumes to wear with your besties this Halloween!
You may also like: