Looking for an elegant nail design for the holiday season? Here are 25 of the most beautiful white Christmas nails to try this year.
This post may contain affiliate links, which means I'll receive a commission if you purchase through my link, at no extra cost to you. Learn more: Affiliate Disclaimer.
White is a go-to nail color for a reason. It's beautiful, easy to match, and works with so many different designs.
When it comes to white Christmas nails, there are so many different options to choose from. If you need a little inspiration, look no futher!
Here are 25 gorgeous white Christmas nail designs that you'll want to recreate this year.
Acrylic Press-On White Christmas Nails
Looking for beautiful white press-on nails for the holiday season? Here are some of our top picks for white Christmas press-on nails:
1. White Snowflake Nails
These white snowflake nails are so elegant and beautiful. They are festive but still classy enough to wear to the office Christmas party.
2. 3D Christmas Lights Nails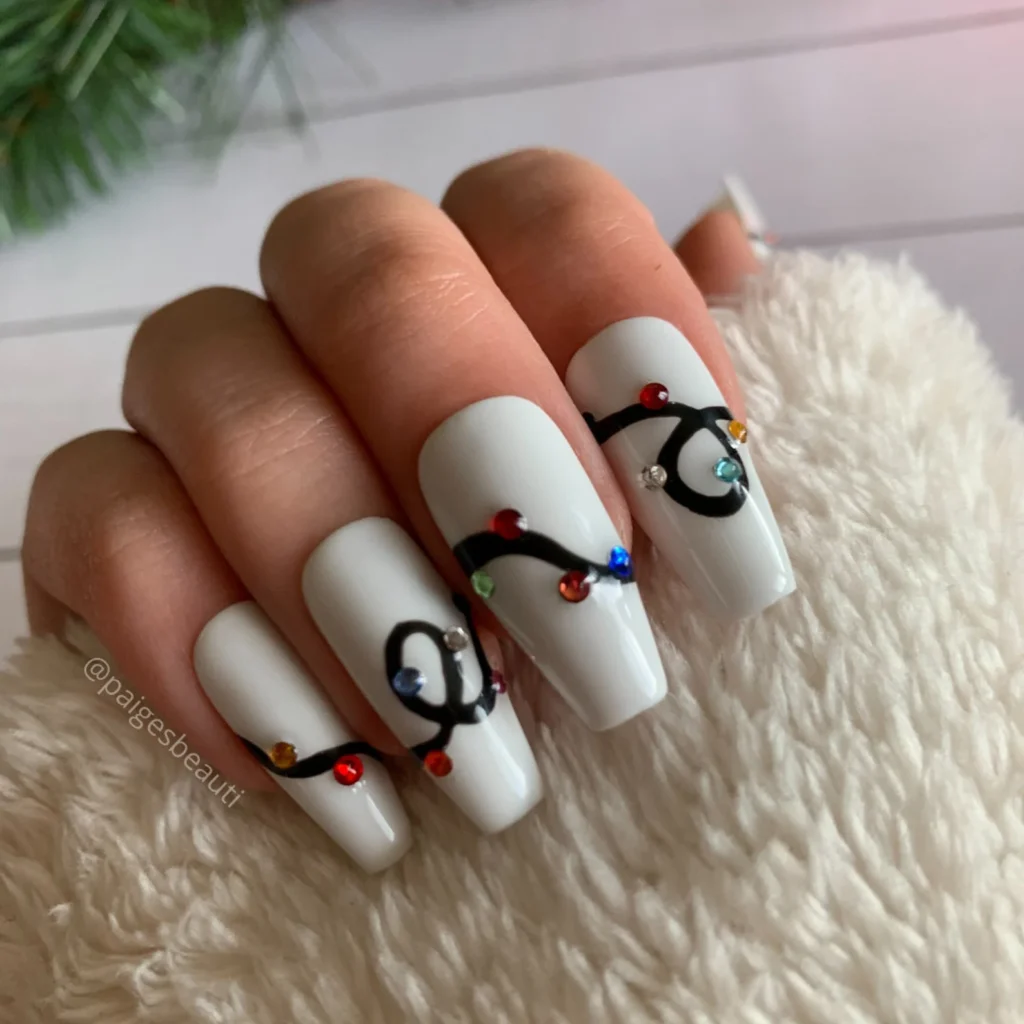 Want your white Christmas nails to really stand out this year? These 3D holiday light nails are stunning and make a big impact.
I love the 3D gemstones as the lightbulbs. So fun and creative!
3. White Christmas Sweater Nails
Looking for the coziest white nails for the holiday season? I'm absolutely obsessed with these 3D white sweater nails this year.
4. White Tips Snowflake Nails
How gorgeous are these Christmas nails? I love the white tips with the 3D pearl snowflakes.
5. White And Taupe Holiday Nails
Looking for a nail design that will go with every outfit? These taupe and white nails are stunning and they would pair really well with any neutral outfit.
6. White And Silver Snowflake Nails
If you like your nails longer, these are a great option for you. The white and silver snowflakes are beautiful and would look amazing all winter long.
7. Frosted White Christmas Nails
These are some of the most unique white nails for the holiday season. I love the frosted look paired with the snowflake designs.
8. White And Gold Christmas Nails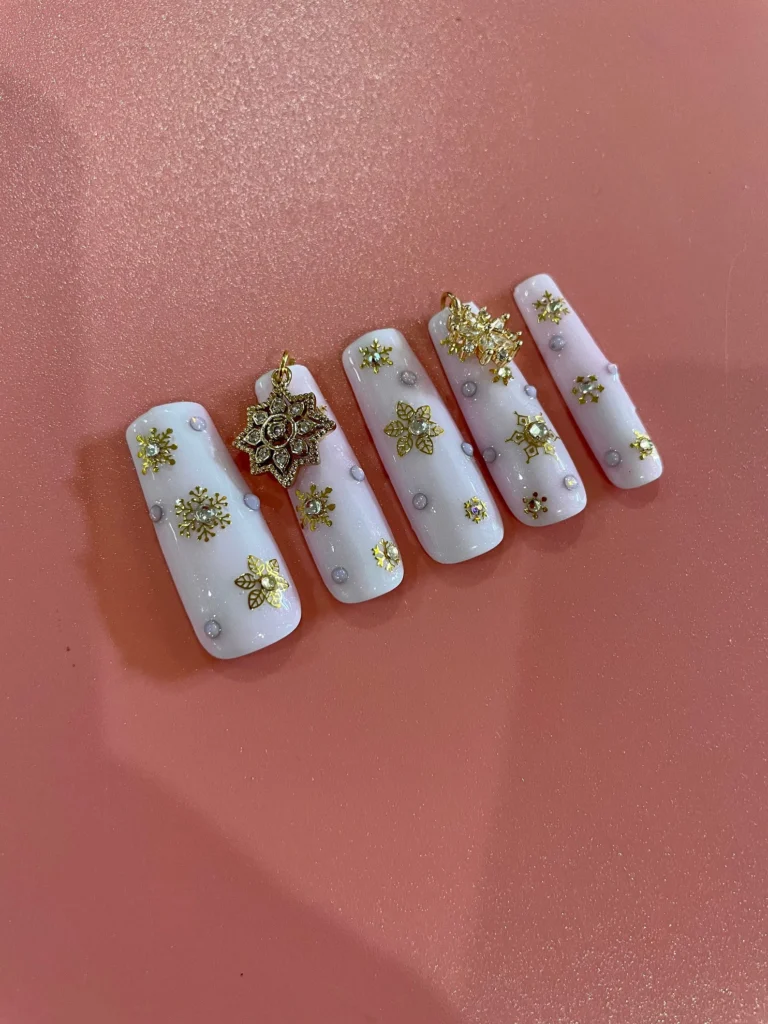 The holiday season is all about being a little extra – and that includes your nail art!
These white and gold nails have snowflakes, charms, and gems. They're so over-the-top but in such a classy way.
9. Handmade Christmas Lights Nails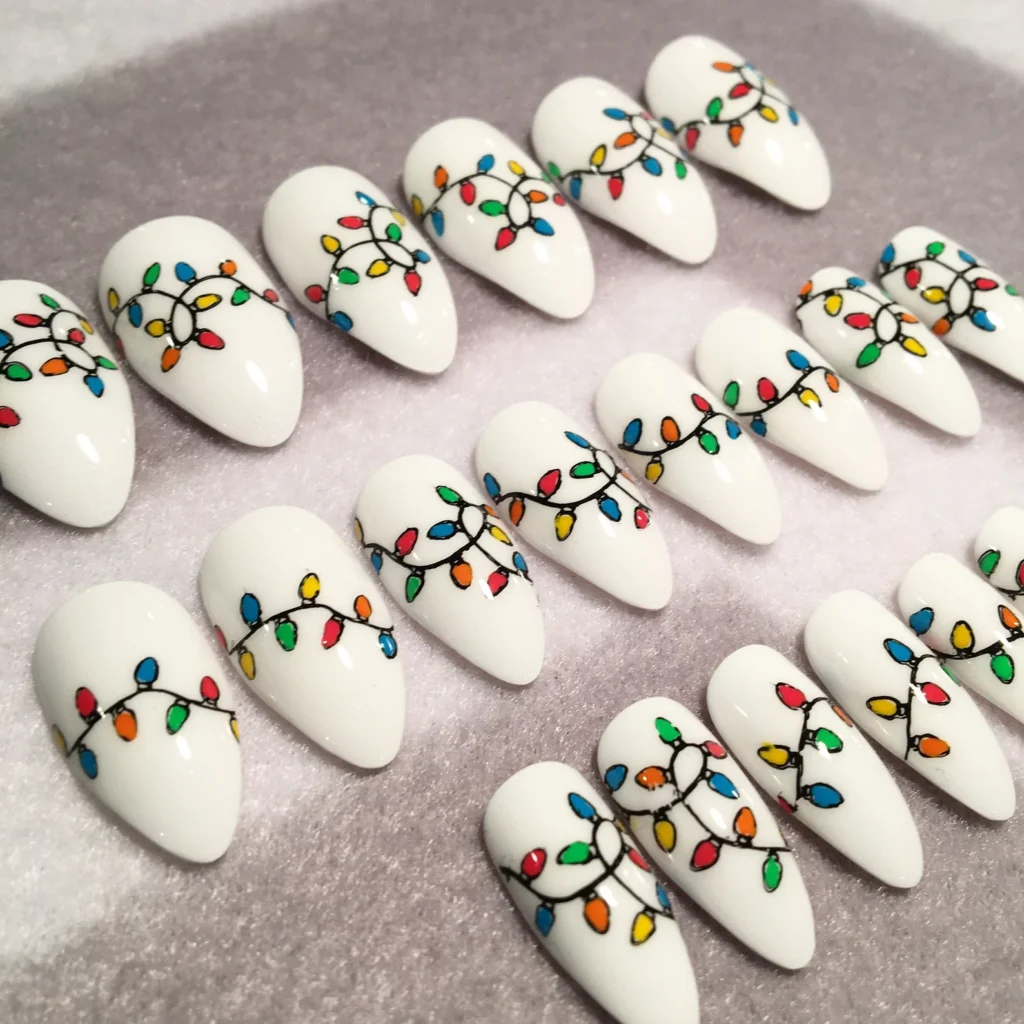 Here's another beautiful set of nails with Christmas lights painted on them.
Unlike the other ones, these nails are completely flat. This makes it less likely that you'll get them snagged on anything.
White Christmas Nail Designs
Looking for a cute design to show your nail tech? Here are some of the most beautiful white Christmas nails that you can get in a salon:
10. White Nails With Christmas Accent Colors
Looking for a great way to add some interest to plain white nails? Add some Christmas colors!
Paint accent nails on each hand in red and green glitter. Such a simple but pretty look for the holiday season.
11. White And Silver Glitter Nails
If you don't want any color in your Christmas nails, you could paint your accent nails silver or gold.
We love how this set of white and silver glitter nails look for the Christmas season.
12. White Nails With Gold Details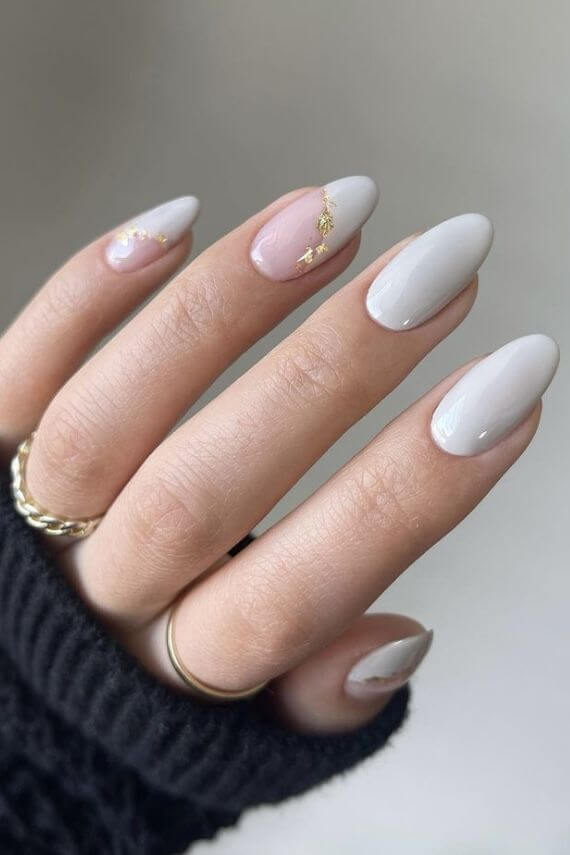 Another gorgeous idea is to add some gold leaf accent to your nails.
Your nail tech may or may not be able to pull this off, so make sure to send them a picture before your appointment to confirm.
13. White Nails With Gemstones
Looking for a really elegant set of white Christmas nails?
This nail design is really pretty and shouldn't be too difficult for your nail tech to pull off.
14. White Glitter Ombre Nails
Another way to add some interest to white nails is by doing an ombre effect. This silver glitter ombre would be perfect for the Christmas season.
Pretty much any nail tech should be able to do a basic ombre, so this one is really easy to pull off!
15. White And Pink Christmas Nail Design
I love Christmas nails that don't use traditional Christmas colors.
These pink and white candy cane nails are still totally festive without needing any red or green. Plus, they go with way more outfits!
16. White Nails With Red Accents
These nails just look so cute and cozy! I love the idea of painting white nails with red accents.
Ask your nail tech to add some cute designs like reindeer, trees, hearts, and snowflakes. So fun but still very classy.
Simple White Christmas Nails
Want to keep things simple? Sometimes, the simpler the better when it comes to nail art.
Here are some of the most classy simple white nails for the holiday season:
17. Glazed White Nails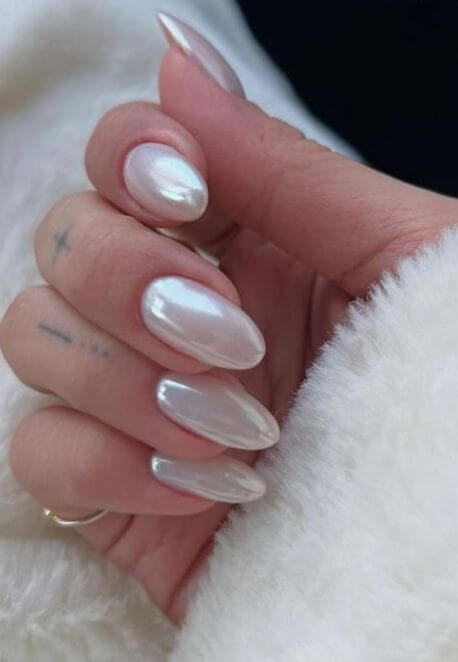 Hailey Bieber made these glazed white nails super popular this year. We think it would look great during the holiday season too!
Here's what you can ask for at the salon to get this look:
A thin layer of a neutral shade like OPI's Funny Bunny polish.
Top the nail polish with some chrome powder like the OPI Tin Man Can Chrome Effects powder
Finish off the nail with a shiny top coat and a gel curing
18. Creamy White Nails
The finish of your nail polish is almost as important as the color you choose. Go for more of a milky finish for a unique white nail look.
19. Matte White Nails
A matte finish would be the complete opposite from the glazed white nail look above. Matte white nails are classy, timeless, and go with any outfit.
They would be perfect as a low-maintenance nail around the Christmas season.
20. White French Tip Nails
A french tip is elegant, timeless, and super popular for the wintertime. We love this french tip with an almond nail shape.
Christmas Nail Decals
Want to spice up your plain white nails? Decals are a fun and affordable way to make a plain nail more fun.
First you'll want to paint your nails with a plain white nail polish. Once the polish is dry, you can apply your nail sticker or decal. Finish it off with a coat or two of clear topcoat.
Here are some of the cutest decals that you can add to your Christmas nail look:
21. Christmas Nail Art Stickers
These cute Christmas stickers will add a ton of interest to your nails. It comes with 10 sheets of stickers, so you'll have tons of options to choose from!
22. Mickey Mouse Christmas Stickers
These Christmas-themed mouse stickers would be so cute for any Disney lovers!
23. Gold And White Nail Stickers
Looking to keep things elegant and neutral? These gold and white stickers will make your plain white nails look way more festive!
24. Gold And Silver Snowflake Decals
Looking for a Christmas nail design that you can wear throughout the winter? These gold and silver snowflake decals will look good throughout the whole season.
25. Colorful Christmas Nail Stickers
Who says you have to stick to red and green when it comes to Christmas nails?
This sticker pack includes plenty of holiday-themed decals in a variety of colors.
This post was all about the cutest white Christmas nails to try this year.
You may also like: