Do you want to be Cosmo and Wanda for Halloween this year? Here's exactly how to put together the cutest Cosmo and Wanda costume.
This post may contain affiliate links, which means I'll receive a commission if you purchase through my link, at no extra cost to you. Learn more: Affiliate Disclaimer.
Cosmo and Wanda is a super trendy costume idea for Halloween this year. It's the perfect duo costume idea to dress up in with your bestie.
These lovable fairies from the show Fairly Odd Parents typically can be seen wearing basic black pants, a white and yellow shirt, and their signature crowns.
Of course, the main identifying trait is their colorful hair. Cosmo has bright green hair and Wanda rocks a vibrant pink updo.
So if you want to create the perfect Cosmo and Wanda Halloween costumes, keep on reading!
We'll share the essential pieces you need for this costume, give you some inspiration, and help you find where to shop for your costume essentials.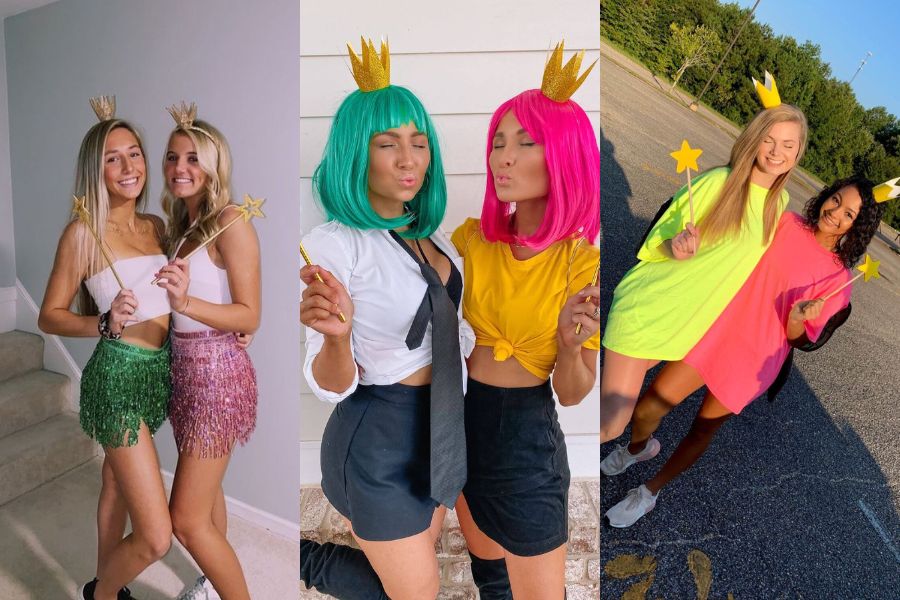 [RELATED: 37 Easy Costumes With Normal Clothes For A Low-Effort Halloween]
Cosmo And Wanda Costume Essentials
Aside from the main outfit that you'll wear, there are a couple of crucial items that you'll need if you're dressing up as Cosmo and Wanda this year.
Cosmo And Wanda Crowns & Wands
First of all, you can't forget their iconic floating yellow crowns. This could be a fun DIY project OR you could just buy some pre-made crowns off of Amazon.
You'll also want to carry around their signature star wands.
Wigs For A Cosmo And Wanda Costume
You can't forget that colorful Cosmo and Wanda hair if you're dressing up as them this year. A pink wig for Wanda and a green wig for Cosmo will really pull this Halloween costume together.
Don't want to wear a wig? Don't worry. We give a few alternative options later in this article.
Cosmo And Wanda Costume Inspiration
Now that you know what key pieces you need for a Cosmo and Wanda Halloween costume, it's time to put it all together.
Typical Cosmo And Wanda Outfit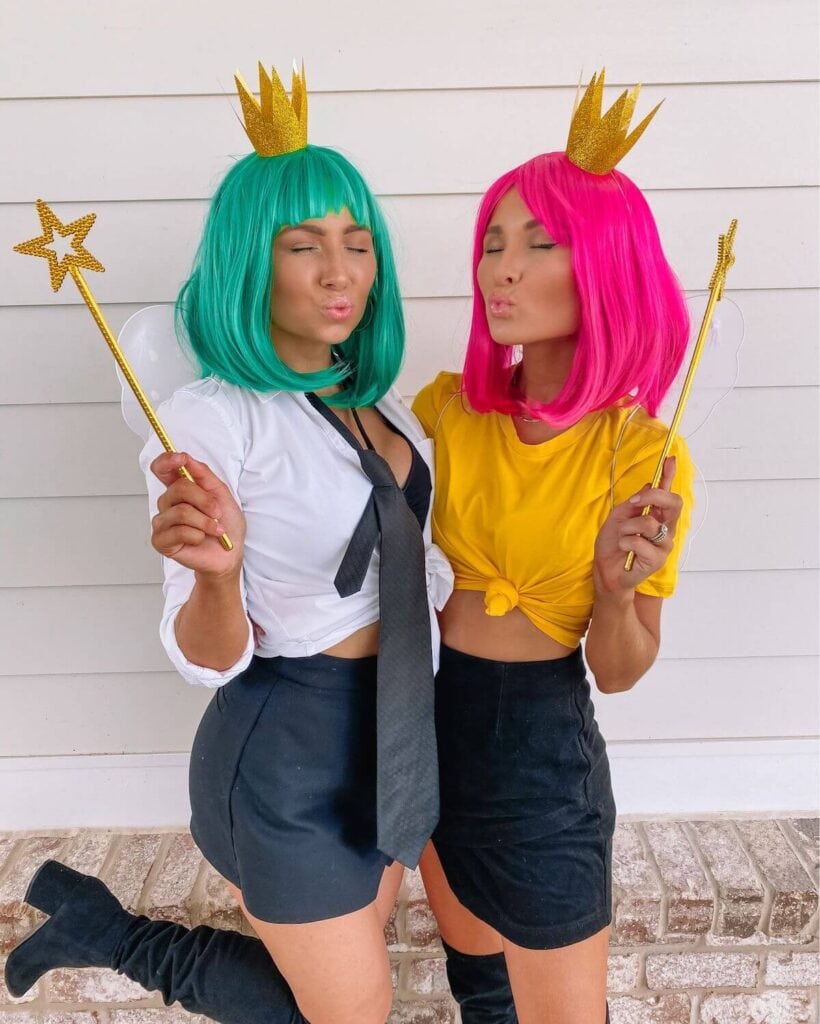 First up we have this super cute take on Cosmo and Wanda's typical outfit.
Cosmo wears black bottoms, a white button up shirt, and a black tie. Of course, you'll top off the Cosmo costume with a green wig, crown, and star wand.
Wanda can usually be seen rocking black bottoms and a yellow short sleeve top. Throw on a pink wig and some magical gold accessories and you're ready to go!
Recreate Cosmo's outfit from the Fairly Odd Parents:
Recreate Wanda's costume from the Fairly Odd Parents:
Oversized T-Shirts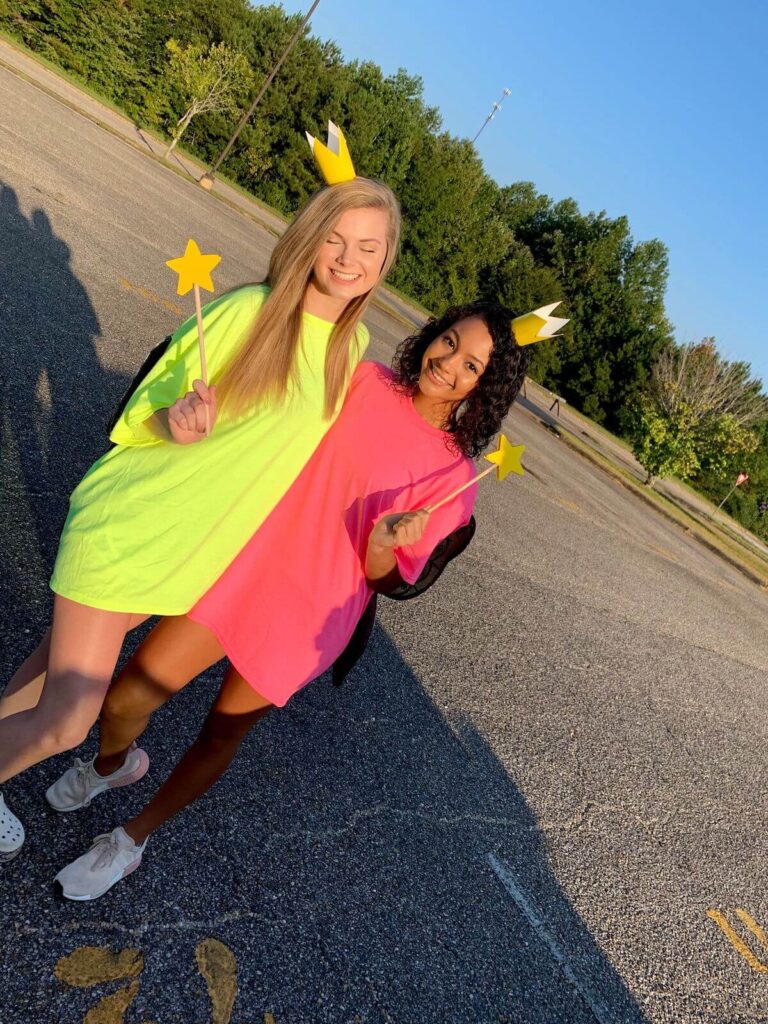 Want to have the comfiest costume at the Halloween party? Just throw on these green and pink oversized shirts for a fun Cosmo and Wanda look!
You'll obviously want to add a fun crown and a star wand to really pull the costume together.
Here are some cute oversized shirts you could wear:
Fringe Skirts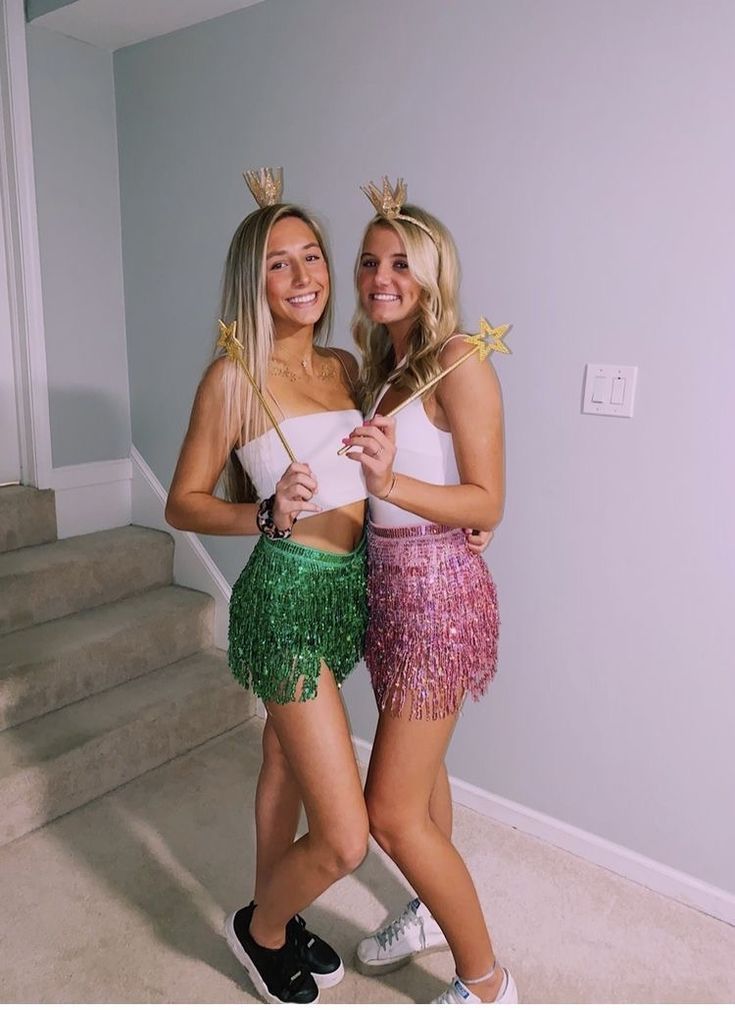 Here's another super cute example of Cosmo and Wanda costumes that don't require wigs.
Just throw on white tops, colored fringe skirts, and the signature crowns and star wands. So cute and you can even reuse the fringe skirts for future costumes!
Here are some good options for fringe skirts:
Dresses And Gloves
Looking for a really modern take on a Cosmo and Wanda costume?
Just pair pink and green dresses with gloves, boots, crowns, and star wands.
You can even add in some fairy wings for an extra cute look!
Recreate this Cosmo costume idea:
Recreate this Wanda costume idea:
Crop Tops And Wigs
Want to make Cosmo and Wanda a little bit hotter? Throw on some leather pants and crop tops to spice up this costume a bit!
Cosmo of course gets a white crop top while Wanda rocks yellow. And top things off with colored wigs and the usual accessories!
Recreate Wanda's look:
Recreate Cosmo's look:
This post was all about the best ideas for Cosmo and Wanda Halloween costumes.
Need more costume ideas?