Do you go to college in a colder climate? Here are 15 perfect college Halloween costumes for cold weather that will keep you warm all night.
This post may contain affiliate links, which means I'll receive a commission if you purchase through my link, at no extra cost to you. Learn more: Affiliate Disclaimer.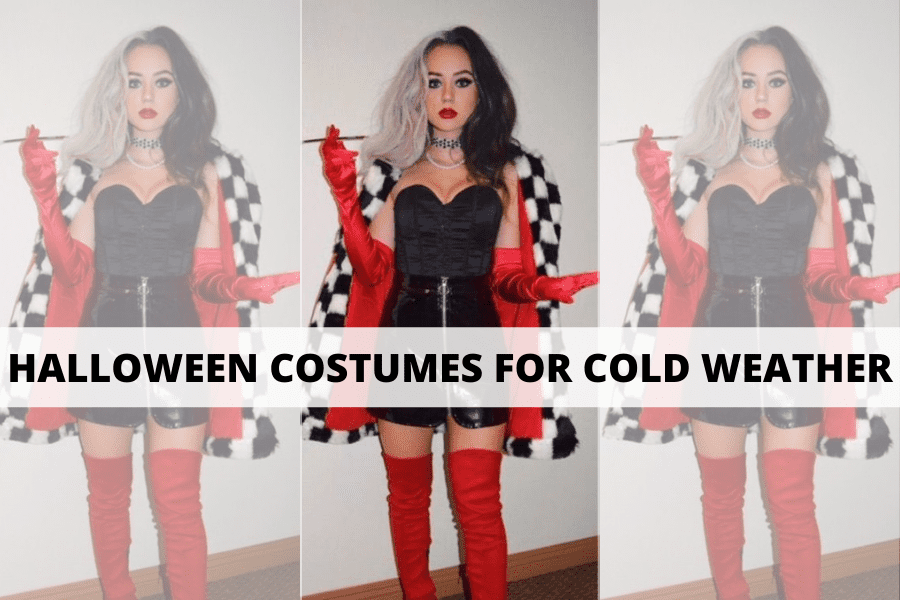 Want to look hot this halloween without freezing your butt off?
Don't worry, there are plenty of halloween costumes for college girls that will look totally amazing while keep you warm.
From a sexy devil to a supervillain, check out these awesome costume ideas for college students who want to stay warm this Halloween!
Easy Ways To Keep Warm On Halloween
No matter what costume you choose, there are some easy ways to stay warm on Halloween this year.
Here are some ways you'll stay toasty warm even if the temperature is freezing on Halloween:
1. Wear Faux Sheer Tights
These tights are seriously so genius! They come with a thick layer of skin-colored fleece and a sheer layer of nylon on top.
They provide so much warmth without making it look like you're wearing thick tights.
2. Carry Hand Warmers
Stick a pair of hand warmers in your purse or pockets.
You'll be glad to have something warm to hold onto when you're walking to the party in the cold.
You can get a pack of disposable hand warmers for really cheap, or you can invest in some rechargeable hand warmers that will last you the whole winter.
3. Put On A Base Layer
Layering is the absolute best way to stay warm. Even if it's just a thin base layer under your sweater, the extra fabric will keep you SO much warmer.
Merino wool is the best fabric choice for a base layer. It's lightweight but still extremely warm.
4. Wear A Cute Jacket
I know that wearing a jacket isn't exactly a life hack lol.
But a lot of people make the mistake of putting on a cute costume and then just throwing on their winter puffer parka.
The key is finding a jacket that goes with your costume so you can wear it all night. For example, a red fluffy jacket would look so cute with a devil costume.
College Halloween Costumes for Cold Weather
1. Devil Costume for Cold Weather
This devil outfit is the perfect halloween costume for cold weather because you can completely customize it.
If it's going to be extra cold outside, I would wear red faux leather pants and a puffy red coat with your devil horns. You'll look so hot even in the freezing cold.
Recreate this college halloween costume for cold weather:
[RELATED: 20 Hot College Halloween Costume Ideas for 2021]
2. Gossip Girl
Happy Halloween upper east siders! You'll look absolutely stunning dressed as Blair or Serena from Gossip Girl.
Plus, the tights and long sleeve shirt should keep you pretty warm on a cold day.
Recreate this gossip girl costume:
3. Animal Pajamas
You'll be cute, comfy, and best of all WARM in these adorable animal onesies. This is probably one of the warmest costumes on the list because your entire body is covered in warm fleece!
This would be such a cute group costume for college girls if you each dressed as a different animal.
Recreate this college halloween costume idea:
[RELATED: 32 Easy College Halloween Costumes That Are Perfect for College Parties]
4. Skeleton Costume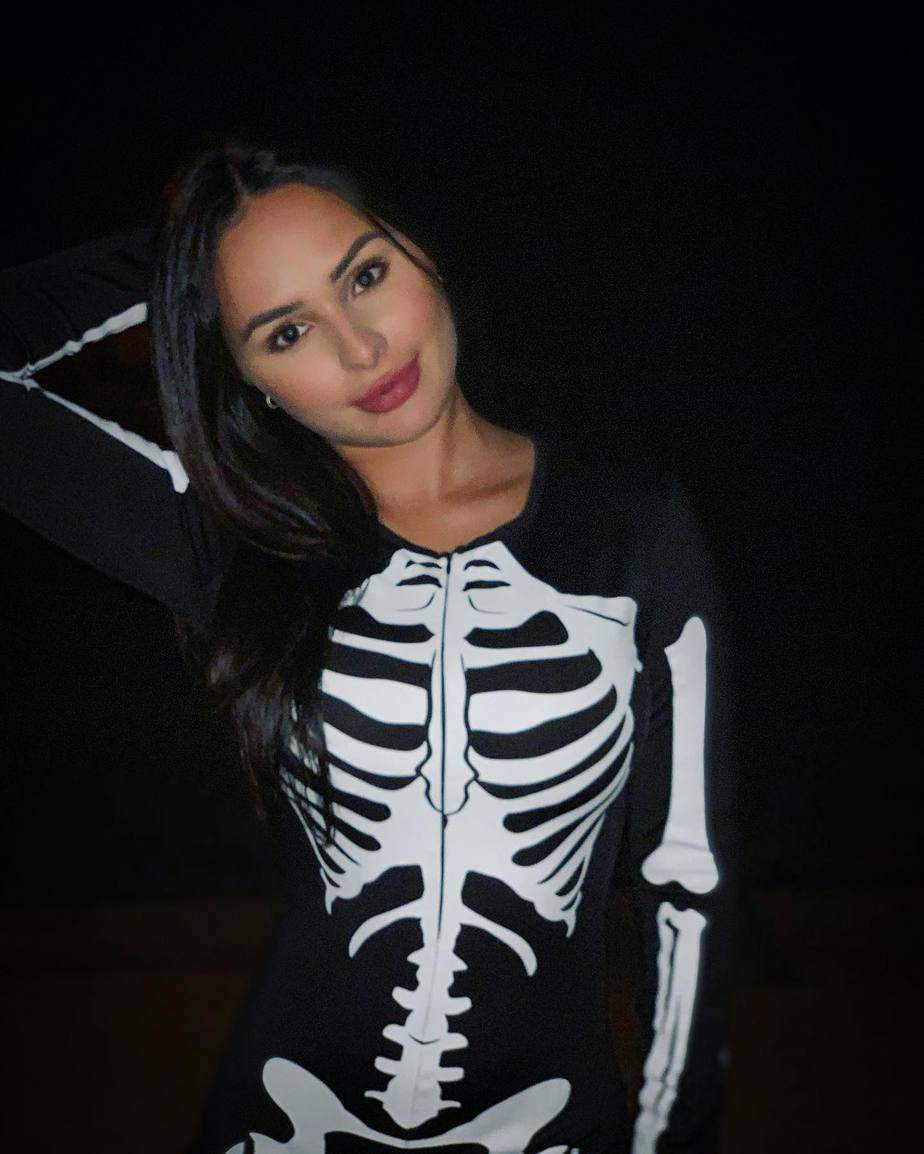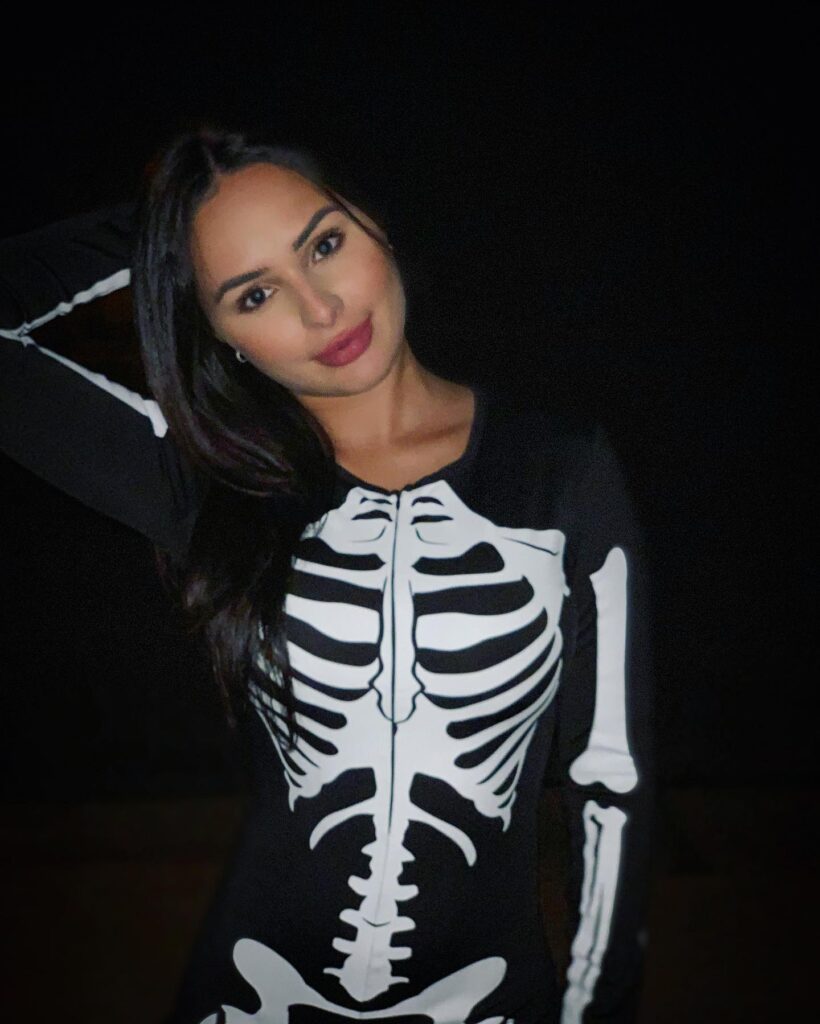 I'm totally obsessed with this costume idea!
A skeleton costume is a halloween classic and this version is super warm because it has long sleeves and long pants.
Recreate this cold weather halloween costume:
5. Animal Print
This animal print costume is genius! Just wear any animal print set (even a workout set) and put on a big fuzzy jacket over the top.
Bonus points if you top the look off with animal ears and some face paint.
Recreate this college halloween costume for cold weather:
6. Cruella Deville
I think this Cruella Deville costume looks so chic and cool. And how freaking cute are those red boots?
The giant fuzzy coat and knee high boots will definitely keep you warm on a cold Halloween night.
Recreate this look:
7. Britney Spears Halloween Costume
After all of the news about Britney over the past few years, this costume is more relevant than ever.
Her iconic red jumpsuit and headset would look incredible as a Halloween costume AND it would keep you warm all night.
Recreate this halloween costume:
8. Beetlejuice
How cute is this Beetlejuice halloween costume for cold weather?
You'll stay warm all night in a pair of pants and a blazer. Go with a longer black top underneath if you need extra warmth.
I love that each piece of the costume is cute enough to wear as regular clothing. Plus, wigs are super in right now.
Recreate this halloween costume:
9. Top Gun: Maverick
Amazon has a ton of college halloween costumes for cold weather! Just look for long sleeve halloween costumes and you should find a bunch.
I think this Top Gun halloween costume is adorable and would definitely keep you warm all night.
10. Ski Bunnies
These ski bunny costumes are practically made for cold weather.
Just wear leggings, a fun vintage jacket, and any plain shirt underneath to complete the look.
Recreate this halloween costume for when it's cold outside:
11. Kim Possible
Kim Possible's classic look is the long sleeve black shirt and green cargo pants. This college halloween costume was pretty much made for cold weather!
Plus, it doesn't look to "costume-y" so you can rewear the outfit as regular clothes if you want.
Recreate this costume idea:
12. Mamma Mia College Halloween Costume
Anyone else obsessed with the whole Mama Mia aesthetic?
Channel your inner Donna and put on a denim jacket and a pair of flared jeans to complete this look. This costume will look cute and keep you super warm.
Recreate these college halloween costumes for cold weather:
13. Police Officer Costume
You'll be stopping traffic in this super hot cop costume.
I love that it has long sleeves and long pants to keep you warm but it unzips a little bit so you can still get that sexy look.
If you have a friend or boyfriend celebrating with you, a super cute idea would be to have them dress up as an inmate! This costume would be perfect for that.
Recreate this costume:
14. Deer
How freaking cute is this deer halloween costume for cold weather?
The long sleeve shirt and furry vest will keep you super warm all night long. And you can pretty much wear whatever you want for pants!
If you want to recreate the deer makeup look, I recommend getting a neutral costume makeup palette like this one.
Recreate this cold weather halloween costume:
15. Cat Halloween Costume
The cat costume is a classic for a reason! You can dress this costume up or down, make it as sexy as you want, and make it as warm as you need it to be!
This fuzzy black shirt is SO adorable and I love the simple costume makeup look that she did.
Recreate this cat costume:
This post was all about college halloween costumes for cold weather.
Looking for more halloween costume ideas?