21 Dorm Cleaning Supplies Every College Student Needs
Looking for cleaning essentials for college dorm rooms? Here are 21 of the best dorm cleaning supplies that every college student needs.
This post may contain affiliate links, which means I'll receive a commission if you purchase through my link, at no extra cost to you. Learn more: Affiliate Disclaimer.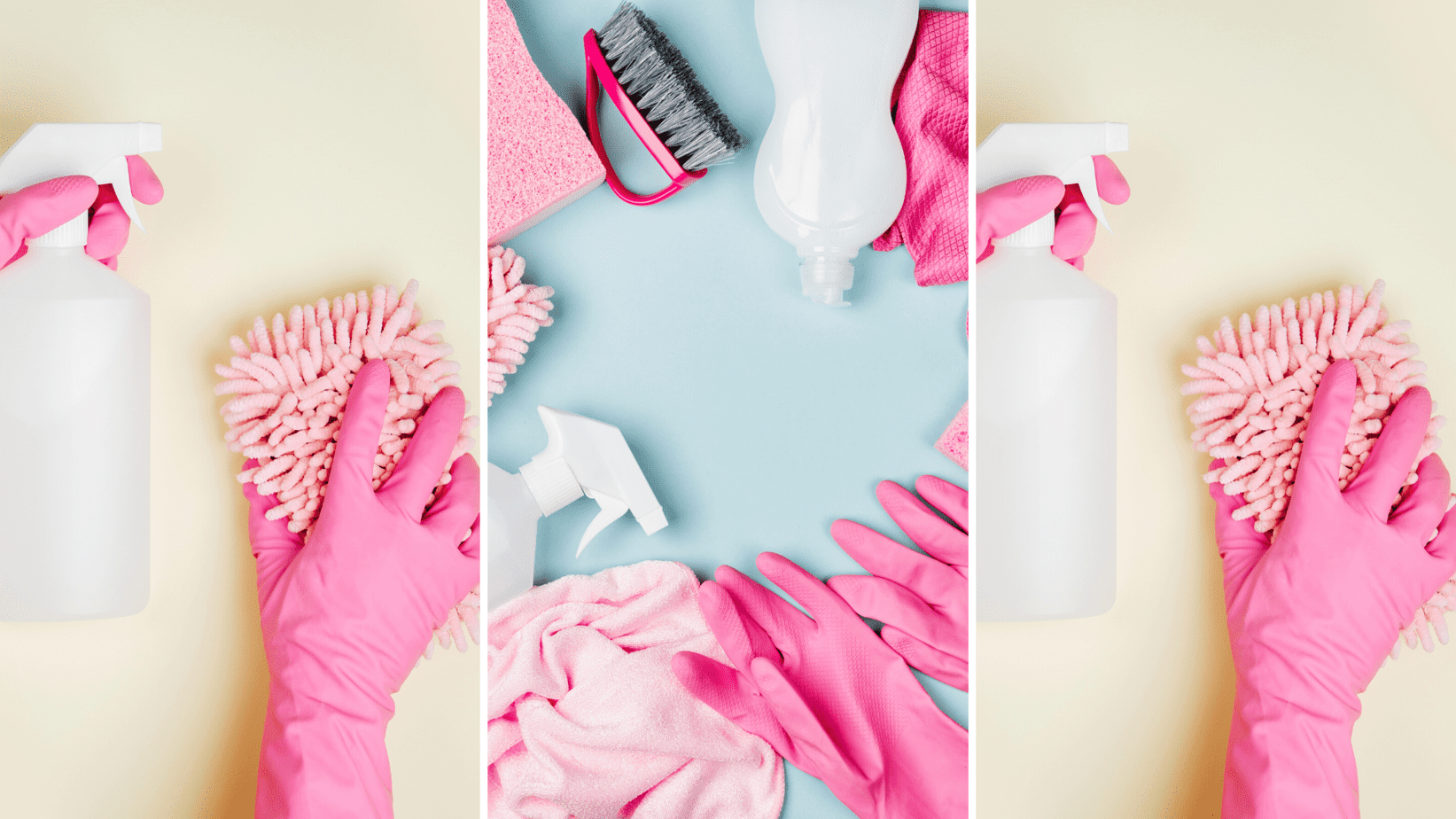 Dorm rooms are tiny, which means they can get dirty SO quickly. It's important to have a good arsenal of dorm cleaning supplies in your room so you can keep your dorm room fresh and clean. Your roommate will thank you!
Here are my top 21 recommendations for dorm cleaning supplies that every student needs.
Essential Dorm Cleaning Supplies
1. Disinfecting Wipes
Disinfecting wipes are definitely one of the top dorm cleaning supplies you need to pack for college. Especially in recent times, we're wiping down all of our surfaces more than ever.
Make sure to get ones that specifically say disinfecting so you know they're killing germs and viruses!
2. Paper Towels
Clean up your spilled coffee, use them as a napkin, cover things in the microwave, dry your hands with them, etc. Paper towels are super versatile and definitely a dorm room essential.
My favorite paper towels are these tree-free bamboo towels from Amazon because they're super strong and eco-friendly!
3. Compact Vacuum Cleaner
Your dorm building most likely offers a communal bathroom, but it's usually a giant ancient model that you have to haul up from the first floor.
Keep a compact vacuum in your dorm room for easy cleaning. Don't be surprised if everyone on your floor asks to borrow it though!
4. Scented Trash Bags
Your dorm will probably come with a small trash can, but you'll need to provide your own trash bags.
Scented trash bags will cover up the scent of whatever you're throwing away. Your roommates will definitely thank you for bringing these!
5. All purpose Cleaner
All purpose cleaner is definitely one of my top essential dorm cleaning supplies because it's so versatile.
Use it to clean your dresser, desk, door handles, sinks, countertops, etc.
6. Room Spray
A lot of dorm rooms have pretty bad airflow which can leave them smelling a little musty.
A good room spray isn't a substitute for cleaning but it can definitely help mask some unidentifiable odors.
You can also do a little spritz on your linens to keep them smelling fresh.
[RELATED: 9 Easy Ways to Make Your Dorm Room Smell Good]
Bathroom Cleaning Supplies
If your dorm floor has a communal bathroom, you may not need all of these bathroom cleaning supplies.
If you have a private bathroom that you have to clean yourself, these cleaning supplies are absolutely essential!
7. Toilet Bowl Cleaner
If you have a dorm bathroom that you have to clean yourself, you'll definitely want to have toilet bowl cleaner on hand.
I swear by soft scrub because you can use it on your sink and shower as well.
8. Plunger and Toilet Brush
Another dorm bathroom must have is the plunger and toilet brush combo.
You definitely don't want to have to ask to borrow someone's plunger (so embarrassing).
[RELATED: 9 Dorm Bathroom Essentials Every Freshman Should Have]
9. Sponges
Sponges are a must-have for cleaning your sink and shower. Get sponges with a rough scrubbing side and a soft side so you have double cleaning power!
Scrub Daddy is our favorite brand for general cleaning purposes. Not only does it work really well, but it's also so cute!
Other Helpful Cleaning Items
10. Glass Cleaner
Glass cleaner is definitely one of the most forgotten dorm cleaning supplies but it's so important.
Dirty windows can make a dorm room feel dingy. Clean your windows and mirrors with window cleaner to freshen up your space.
11. Broom and Dustpan
If you have hard floors in your room, a broom and dustpan are essential for cleaning.
It's amazing how quickly the floors of your dorm room can get dirty!
12. Carpet Spot Remover
Most dorm rooms are carpeted, which means they're a pain to clean up spills and random spots.
If you have a carpeted dorm room or are planning on bringing rugs, you'll want to have a carpet spot remover handy.
This brand of carpet spot remover is absolute magic. Red wine, ink, mystery stains, etc. are no match for this stuff. Definitely keep a bottle around at all times!
13. Rubber Gloves
I don't know about you but I'm not brave enough to scrub a toilet with bare hands.
Keep some rubber gloves in your dorm cleaning kit to protect your hands while you clean.
14. Shoe Deodorizers
Dorm rooms are SMALL! One pair of smelly shoes in your closet and your whole dorm room can start to stink.
Place these deodorizing bags in your shoes to absorb the odor.
I have these exact bags and I SWEAR by them. I keep them in my gym shoes at all times and there's never any kind of smell.
[RELATED: 9 Air Purifying Plants for Dorm Rooms]
15. Dish Soap
Even if you don't have a kitchen in your dorm room, you're going to want to keep a little bottle of dish soap around.
I had a few dishes and cups in my dorm room for snacks and coffee and I would clean them with my dish soap in our communal sink.
16. Magic Erasers
These things are legitimately magical! They can erase ANYTHING, including permanent marker. They're perfect for smudges and spots on your walls, doors, desk, etc.
Magic erasers are a life saving item that are small and easy to keep around.
17. Lint Roller
Lint rollers are so underrated. They can be used on any soft surface that needs a little bit of tidying.
Use them to freshen up your clothes, curtains, futon, or any cloth surface that collects lint or dust.
18. Laundry Detergent
This is obviously a must have cleaning item! You're going to be doing your own laundry in your dorm room so make sure you get laundry detergent right when you move in.
Remember to get one that's safe for all types of washing machines because you never know what kind they'll have in your dorm building.
19. Dryer Sheets
Dryer sheets actually serve multiple purposes. Yes, they make your clothes smell good and keep them soft. But you can also stick them in your dorm vent as a quick air freshener!
I always prefer natural products and I love this scent from Seventh Generation.
20. Dehumidifier
Dorm rooms can get so stuffy and humid. Luckily you don't need a big clunky dehumidifier to take care of the issue.
These moisture absorber bags pull moisture from the air, leaving the air much fresher and cleaner.
If you're looking for something a little bit more heavy duty, this compact dehumidifier doubles as an air purifier and has insanely good reviews.
21. Microfiber Duster
It always blows my mind how quickly a dorm room or small apartment can get dusty.
A little microfiber dusting mitt will take care of your dusty shelves with one swipe. Dusting regularly also helps with allergies so much which I definitely struggle with!
This post was all about the top dorm cleaning supplies that you can use to have the cleanest room on campus.
Need more dorm room ideas? Check out these posts: