25+ Dorm Room Essentials You Don't Want to Forget
This post is all about those 25 dorm room essentials that will make your college life so much easier!
This post may contain affiliate links, which means I'll receive a commission if you purchase through my link, at no extra cost to you. Read the full disclaimer here.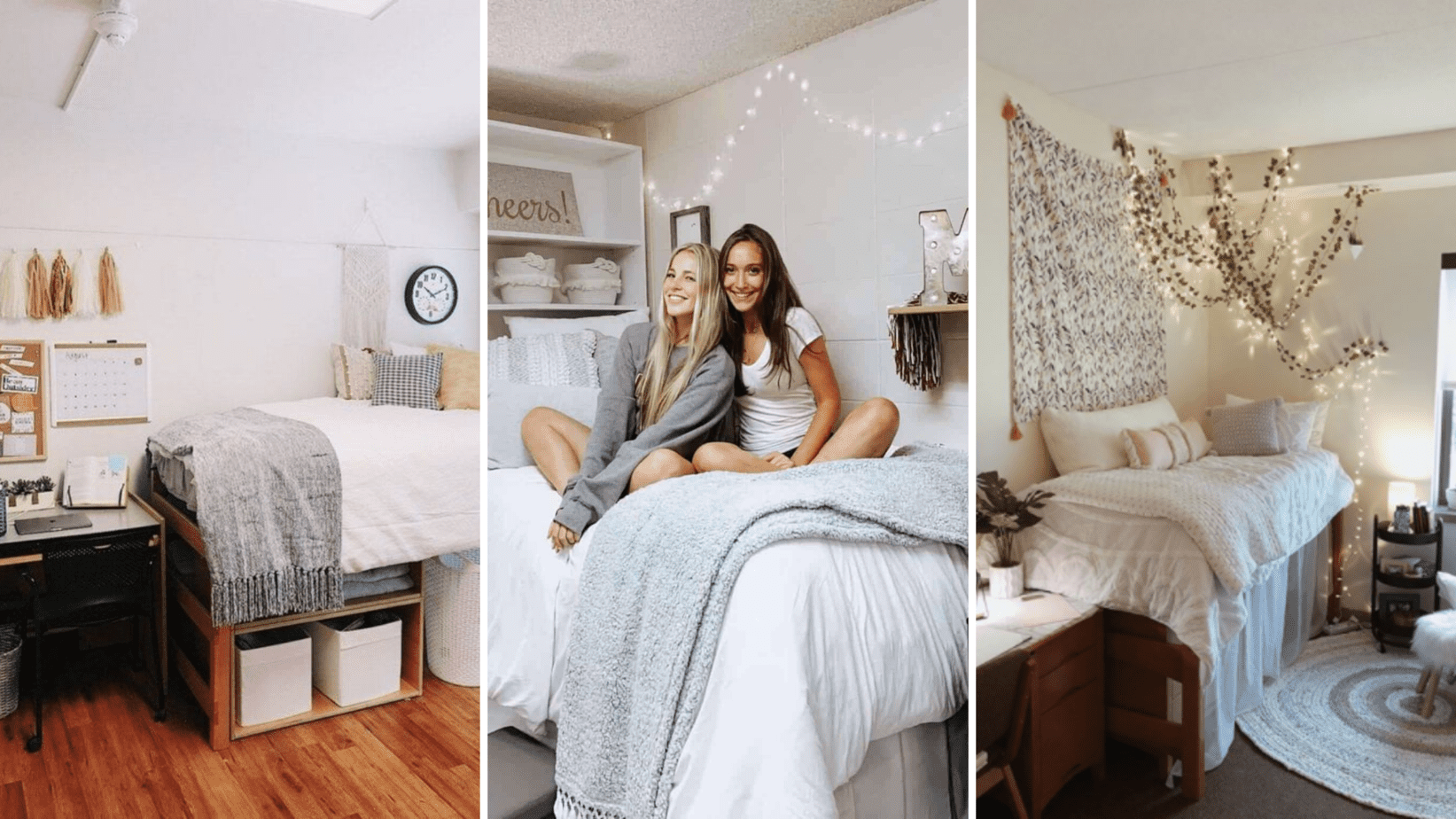 When I moved into my freshman dorm, I thought I needed to buy everything! I wasted tons of money on things I never really ended up using. After living in the dorms for two years, I learned what was really essential and what I could have lived without.
The dorm room essentials in this post are things you ACTUALLY need and will use almost daily.
 P.s. we do not own the rights to these images. If you are the original copyright owner, please email [email protected] for credit/removal.
Dorm Room Essentials
1. Extra Long Charging Cords
These are an absolute dorm room essential. You may not have an outlet right next to your bed or desk so extra long charging cords always come in handy.
These are also great for studying in the library or coffee shops when outlets aren't right next to you.
This three pack is under $10 and works great.
2. Power Strips
Speaking of outlets, most dorm rooms do not have nearly enough and they're always in inconvenient locations. Definitely add a power strip to your dorm essentials list.
Having a power strip will allow you to plug in all of your electronics at once. I like this one because it has built in USB ports too.
Pro tip: get a power strip with built in surge protection to avoid damaging your electronics.
3. Extra Blankets
You probably won't be able to control the temperature in your dorm room. Make sure you pack a few extra fuzzy blankets for those cold late-night study sessions. Bonus: having layers on your bed also makes it feel so much more luxurious.
4. First Aid Kit
Yes, the front desk probably has a spare bandaid. But do you really want to be waiting for the elevator with a giant paper cut at 2am? That's why a first kit is one of the top dorm essentials that I recommend.
Trust me, keeping a first aid kit in your dorm room will be so useful.
5. Storage Boxes
Every single inch of space counts when you're living in a tiny dorm room. I highly recommend getting storage cubbies for those random items like snacks, cleaning supplies, makeup, etc.
6. Towel Wrap
If you're going to be living in a dorm with a communal bathroom, a towel wrap is going to be an absolute LIFE SAVER. Perfect for walking down the hall to the showers without worrying about your towel slipping down.
These are the towel wraps I recommend:
[RELATED: 9 Dorm Bathroom Essentials Every Freshman Should Have]
7. Mattress Topper
Trust me, this is an absolute freshman dorm room essential. Most dorm room mattresses are thin, hard, and uncomfortable. A thick mattress topper will make your bed so much more comfy and luxurious.
I recommend getting one that is 2″ or more for maximum comfort.
Some mattress toppers I recommend:
[RELATED: How to Make Your Dorm Bed More Comfortable | Turn Your Dorm Mattress Into a Hotel Bed]
8. Desk Organizer
Focus on your homework and not your messy desk. A desk organizer is an absolute must-have for keeping all of your supplies in one place.
[RELATED: 10 Dorm Desk Essentials for Stress-Free Studying]
9. Desk Lamp
Dorm rooms aren't exactly known for having great lighting and ambiance. Get a good desk lamp so you can can actually see what you're working on.
10. Bedside Shelf
I'm going to be totally honest here – I was one of those students that stole a tray from the cafeteria and shoved it halfway under her mattress. It held my phone, water, and glasses but it was definitely an eyesore.
I recommend getting an actual bedside shelf. They're way cuter and a lot more functional.
11. Blackout curtains
If you're a light sleeper and get woken up easily by the sun, blackout curtains will be an absolute dorm room essential for you.
Hang them with these no-drill curtain rods. PERFECT for your college dorm room and they won't leave any damage when you have to take them down at the end of the year.
12. Shower Caddy
If you have a communal bathroom on your dorm floor, you're going to be hauling your products back and forth every time you shower. That's why a shower caddy is an absolute top dorm essential.
I highly recommend a mesh shower caddy for better drainage. Those plastic ones tend to hold water in them and make a big mess when you bring them back to your room.
I really like this one because it has handles that you can use to hang it on the shower door.
13. Plastic Shower Shoes
Having shower shoes is an absolute dorm room essential. Trust me, you don't want to be walking barefoot in communal bathrooms. Any cheap plastic shoe will do.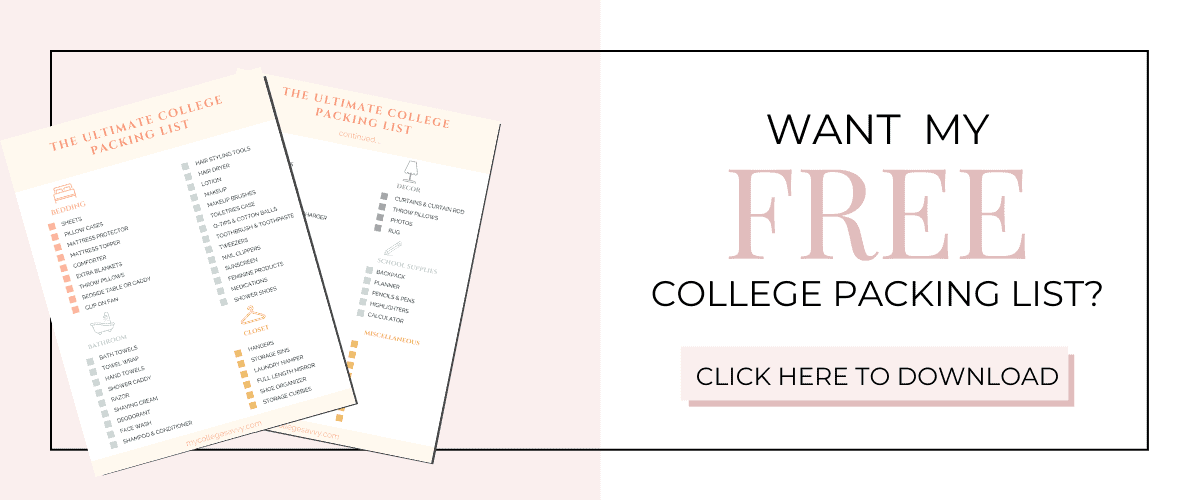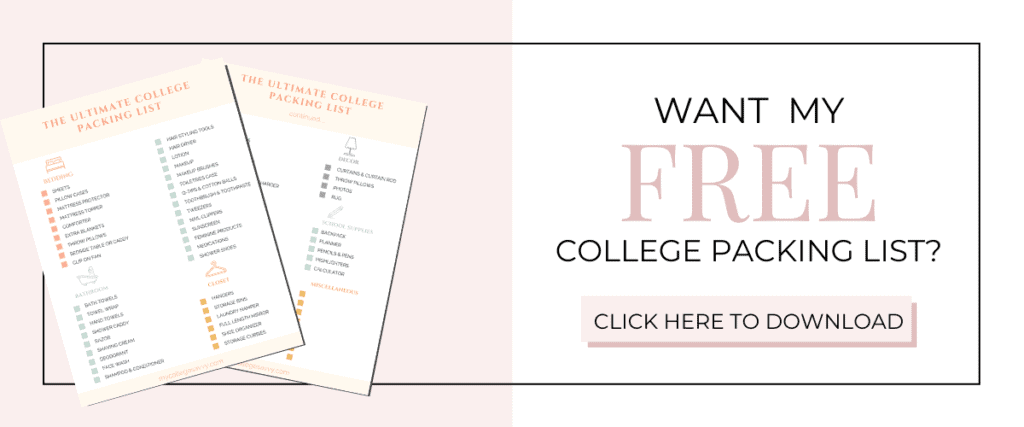 14. Compact Vacuum
Your dorm front desk may or may not have a vacuum that you can rent out but usually it is big and clunky and a pain to haul it up to your room.
Having a compact vacuum cleaner in your dorm room saves you a ton of time and sanity. This one is $30 and works really well. You can tuck it in the back of your closet and it barely takes up any room.
15. Disinfectant Wipes
You should definitely have a variety cleaning supplies in your dorm room. Dorms can get messy so quickly, especially when you're having friends over a lot. If I had to pick just one cleaning product that is a dorm room essential, I would pick disinfectant wipes.
Wipes are a quick, effortless way to keep your dorm room clean. Just wipe down any hard surfaces a couple times a week. Trust me, you'll want to have disinfectant wipes in your room at all times.
[RELATED: 21 Dorm Cleaning Supplies Every College Freshman Needs]
16. Closet Organization
If you want to maximize the space in your tiny dorm room closet, there are a few genius organization tools you can bring with you.
These hanger expanders allow you to fit 5x the amount of shirts on one hanger. Such a genius invention and perfect for dorm room closet organization.
Velvet hangers are thinner than normal hangers which allows you to hang more clothes in a small dorm closet. They're also super cute and make it so your clothes don't slide off like they do on plastic hangers.
This hanging closet organizer with a built in hamper is absolutely genius and only $10 from target. Perfect for sweaters, jeans, and other items you don't want to hang on hangers.
17. Shoe Organizer
If you have a lot of shoes, a hanging shoe organizer is a great way to save some space in a cramped dorm room. Not all dorm closets have doors though so make sure you check ahead of time!
Storage bins are a great alternative for shoe storage. You can store them under your bed or on the top shelves of your closet.
18. Laundry Basket
Hauling your laundry from your dorm room to the laundry room can be a huge pain. Get a laundry basket that rolls or one that turns into a bag for easy transport.
19. Futon
If you can fit a futon in your dorm room, I highly recommend you do so. Whenever you have friends over to your room, they'll have a comfy spot to sit.
I love this one because it's super affordable and the faux leather is perfect for wiping up spills.
You can also put bins under your futon for more storage. Here's some perfect storage bins:
21. Storage Ottoman
A storage ottoman is a dorm room essential because it serves so many purposes. It can be extra seating for when friends visit, a footrest for your futon, and an extra storage spot (so important). I loved putting my extra blankets in there when they weren't in use.
If you're looking for a more affordable option, this storage ottoman is under $20,
22. Mini Keurig
When you're running late to class or pulling an all-nighter, you can't always run to the cafeteria for a cup of coffee. Having a small coffee maker in your dorm room lets you make a good cup of coffee anytime.
This mini Keurig is the perfect size for dorm rooms and super convenient.
Some of my favorite K Cup flavors:
23. Travel Mugs
Speaking of coffee, make sure you get a durable travel mug so you can bring that coffee to class with you. My favorite travel mug is this one from Yeti. It keeps your drinks hot for the whole day and it's insanely durable.
I've had this one from Ello for a few years too and it's cute and affordable.
24. Mini Fridge
Having a mini fridge was great for keeping snacks and drinks in my dorm room. It allowed me to keep healthier options like fruits and vegetables. Just make sure your dorm room doesn't already have one before you buy!
Pro Tip: Get a mini fridge caddy to store snacks and utensils.
25. Laptop
Laptops are an obvious essential for college students nowadays. Between online classes, online textbooks, and online assignments, everything you do in college is going to involve your laptop in some way or another.
That's why I always recommend picking a sturdy laptop that will last you the full four years. I got my Macbook Air in 2015 and it's still going strong. It's the same computer I'm typing this blog post on! A good laptop is definitely an important investment for anyone heading off to college.
An iPad or tablet is a good alternative to anyone who wants to cut down on costs. You can buy a bluetooth keyboard to type notes and it functions almost like a regular laptop.
26. Sticky Phone Wallet
Having a stick-on phone wallet is so useful for college. If you don't like carrying around a purse or wallet, you can just stick your student ID, license, credit card, etc. into the pocket and carry everything around with your phone.
27. Lock Box
This is one of the more uncommon dorm room essentials on the list. But dorm room theft is much more common than you may think. Having a safe to lock up all your valuables in is a really smart idea when you live in a dorm.
This portable safe is really affordable and convenient for locking up small items like cash or small electronics.
If you need something bigger, this dorm room safe is big enough to store your laptop, tablets, and other small valuable items.
[RELATED: 5 Best Dorm Room Lock Boxes For College Students]
This post was all about 25+ dorm room essentials that you won't want to forget for your freshman year dorm.
Looking for more ideas for dorm room essentials?