How to Make Your Dorm Bed More Comfortable (Without Spending A Ton)
Looking for easy ways to make your dorm bed more comfortable? Here is our ultimate guide to making your dorm mattress feel like a hotel bed.
This post may contain affiliate links, which means I'll receive a commission if you purchase through my link, at no extra cost to you. Learn more: Affiliate Disclaimer.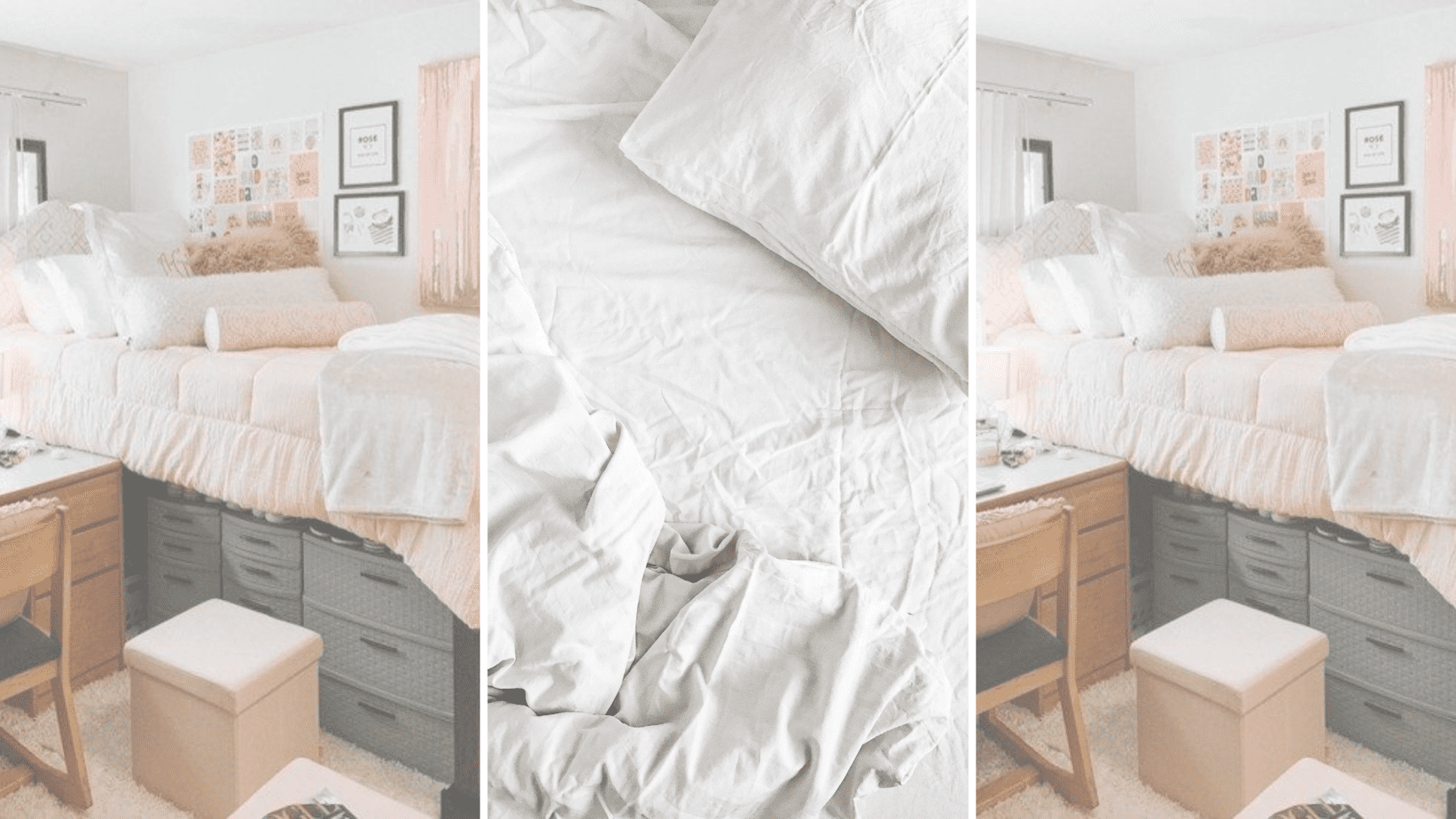 Dorm beds are SO uncomfortable. They're basically a thin piece of foam covered in a plastic-y material. Since you'll be spending so much time there, you'll want to make your dorm bed more comfortable.
With just a few affordable add-ons, you can make your horrible dorm mattress feel like a hotel bed! In this post I'll go over everything you need to make your dorm bed more comfortable.
Why Are Dorm Mattresses So Uncomfortable?
Dorm mattresses are pretty much known for being terrible. Colleges buy their mattresses in bulk, so they're more focused on affordability and durability rather than comfort. For this reason, dorm mattresses are often thin and hard with very little support.
Luckily, there are some easy ways to make your dorm mattress WAY more comfortable. With a few affordable additions, you can transform your terrible dorm mattress into a plush hotel bed.
Can You Bring Your Own Mattress To College?
Dorm mattresses are notoriously uncomfortable, so you're probably wondering if you can bring your own mattress to college.
Unfortunately, most schools do not allow you to bring your own mattress to your dorm room. Dorms usually come with a bed frame and mattress included, so you won't be allowed to bring your own in.
You can bring a foam or plush mattress topper to place on top of the mattress. This will make your dorm mattress feel way more comfortable and luxurious!
Essentials For Making Your Dorm Bed More Comfortable
1. Mattress Topper
A mattress topper is the most important thing you can buy do make your dorm bed more comfortable. Get an extra thick mattress topper and you won't even feel the hard mattress underneath!
This mattress topper has amazing reviews on Amazon and is incredibly affordable. It's way thicker than standard ones, which makes it way more comfortable and luxurious. It's also machine washable, which is great for college dorm rooms!
2. Luxurious Sheets
Having good sheets is SO underrated but it makes a huge difference in comfort.
These sheets are insanely popular on Amazon and they're so affordable. They come in a set that includes the top sheet, bottom sheet, and two pillow cases.
They're made of a super soft microfiber material and they're so comfortable and luxurious. I have them on my bed at home and I swear by them!
Make sure you get them in Twin XL for your dorm bed.
3. Plush Comforter
This plush comforter will make your dorm bed more comfortable and it's so affordable.
It's highly rated on Amazon and is made of a microfiber down alternative material. It's super soft and cozy and you can add a duvet cover if you want something that matches your dorm theme a little bit better!
This comforter is also available in a few different colors.
[RELATED: The Best Dorm Shopping Tips You Need To Know Before Moving Into College]
4. Silk Pillowcases
I love having a silk pillowcase on at least one of my pillows because it feels so luxurious. It feels way cooler on your skin, prevents wrinkles, and makes your hair softer.
The silk pillowcase linked above is what I have on my pillow at home. It's pretty affordable compared to other brands and it's made of 100% mulberry silk.
If you just want the silky feeling and don't care about having 100% silk, there are a ton of affordable options on Amazon. Here are a few top rated silk pillowcase alternatives:
5. Memory Foam Pillow
Pillows are totally a personal preference thing but I think that memory foam pillows make your bed so much more comfortable and luxurious.
Memory foam pillows can be super expensive but luckily Amazon has a few options that are more affordable. This pillow is really affordable, and has built in neck support for extra comfort. It's also adjustable which is amazing because everyone prefers different pillow heights!
Add-On Items To Make Your Dorm Bed More Luxurious
6. Mattress Protector
Dorm mattresses gross me out a little bit because you have no idea what's happened on that mattress before you moved in.
A mattress protector will ensure that you won't have to touch your gross mattress very often. It also helps prevent bed bugs and can keep your bed a bit cooler.
This mattress protector is perfect for dorm rooms and is 100% waterproof and hypoallergenic.
7. Throw Pillows
Throw pillows aren't totally necessary for comfort but they make your bed look so much more luxurious and put-together.
You can get really cheap pillowcases on Amazon that are super cute. I love this pack of velvet pillowcases. I have the dark green color on my couch at home and I'm in love with them.
[RELATED: 50+ Dorm Room Essentials For Guys (+ Free Printable Packing List)]
8. Extra Blankets
Throw blankets add some texture and coziness to your bed. They're also great to have around for colder days or if you have a friend crashing on your futon for the night!
This blanket is super cozy and affordable.
This post was all about easy ways to make your dorm bed more comfortable.
Looking for more dorm ideas?