Wondering how to mount a TV in a dorm room? Here are 4 easy methods for getting your TV hung up in your college dorm.
This post may contain affiliate links, which means I'll receive a commission if you purchase through my link, at no extra cost to you. Learn more: Affiliate Disclaimer.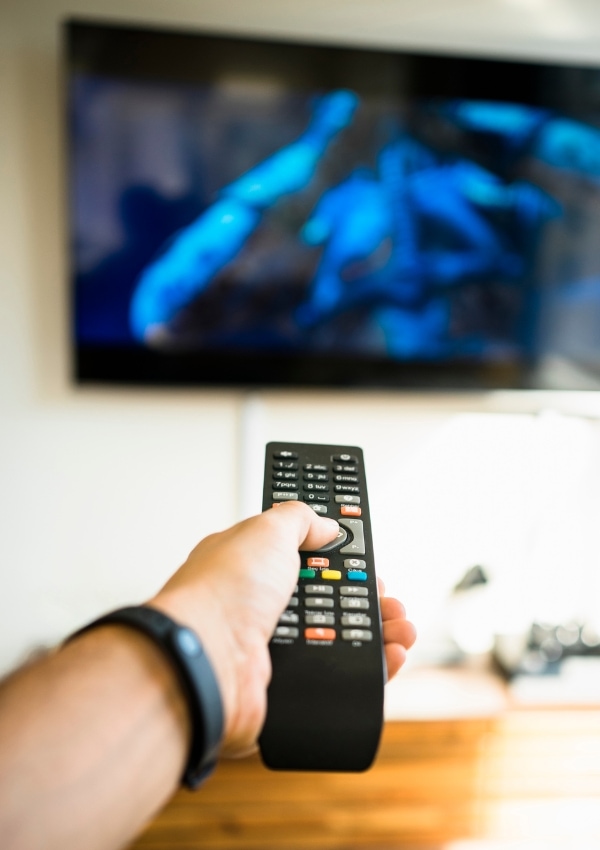 Dorms are notorious for their limited space and strict rules, making traditional TV setups a challenge.
You want to find a spot to put your TV, but you don't want to cause damage to your dorm walls. Plus, you want to be able to see your TV from anywhere in your room.
While this may seem like an impossible dilemma, don't worry, we have you covered!
Because while you may not be able to mount a TV in your dorm room using traditional methods, there are still a few ways to get the TV setup of your dreams.
From using a portable TV stand to getting creative with an over-the-door monitor mount, we'll show you the absolute best ways to mount a TV in a dorm room.
Can You Mount A TV In A Dorm Room?
First of all, you may be wondering if it's even possible to mount a TV in a dorm room. After all, most universities don't allow you to make any physical alterations to your dorm.
For example, you are likely not allowed to make any types of holes in your dorm walls – which definitely makes mounting a TV more difficult!
However, it's definitely not impossible to mount your TV in your college dorm. You just need to get a little more creative with it.
P.S. Need to get your dorm TV mounted ASAP? Grab a free 6 month student trial of Amazon Prime to get your TV mounting materials shipped to you as soon as tomorrow!
How To Mount A TV In A Dorm Room
There are a few ways that you can mount your TV in your dorm room without drilling holes or damaging your walls.
Here are some of our favorite options for how to mount a TV in a dorm room:
1. Use A Floor Stand For Your TV
A floor stand is one of the easiest options for mounting a TV in a dorm room.
It doesn't cause any damage to your walls, doesn't take up much space, and is portable so you can watch TV from your bed or your desk!
Our favorite option is this super sleek rolling TV stand from Amazon. It holds TVs up to 55 inches, has 9 wheels for super smooth rolling, and just looks really nice!
If you're on more of a budget, this rolling TV stand is another great option. It may not be as aesthetic-looking, but it's sturdy, portable, and holds TVs up to 50 inches.
We love using a TV stand as a damage-free mount for dorm rooms. You won't need any power tools except for maybe a screwdriver to assemble the stand. Plus, it allows you to move your TV any time!
2. Mount Your TV To Your Lofted Bed
If you're lofting your dorm bed, you may want to consider mounting your TV to the underside of the bed. You can then place a chair or futon opposite the TV and watch from under your bed.
For this mounting method, you'll use something called a pillar mount. This mounting system basically uses straps to attach your TV to a pillar.
You'll just need to make sure that your bed post circumference is greater than 4″, because that's the smallest size that we could find for this type of TV mount.
3. Mount A TV To A Door
Depending on the layout of your dorm room, you may be able to mount your TV to your closet or bathroom door.
For this method, you'll be using a cubicle monitor mount. This mount was basically meant for office workers to hang their monitors from their cubicle walls. But we think it would work great in dorms as well!
Just note that you'll need a TV smaller than 32″ for this mounting method. However, we have seen reviews of people using this mount for 40 inch TVs. But just proceed with caution!
You could also use this type of mount on your dorm bed frame if it has rungs on the side.
4. Use A Tabletop Mount For Your TV
A tabletop TV mount is another idea for you to consider. You can place them on your table, desk, or dresser, depending on the layout of your dorm.
These types of mounts aren't very expensive and don't require any power tools to do the job. Just be sure to buy one that will fit your TV's size.
Final Thoughts
In conclusion, finding a spot for a TV in your college dorm doesn't have to be a struggle.
With these four easy mounting methods, you can enjoy your favorite shows and movies without causing any damage to your dorm walls.
So, go ahead and transform your dorm room into the go-to hangout spot, and make your college experience even more enjoyable!
This post was all about easy ways to mount a TV in a dorm room without causing damage.
You may also like: