Looking to create the Danish pastel dorm room of your dreams? Here is the best Danish pastel dorm decor that you need for your room this year.
This post may contain affiliate links, which means I'll receive a commission if you purchase through my link, at no extra cost to you. Learn more: Affiliate Disclaimer.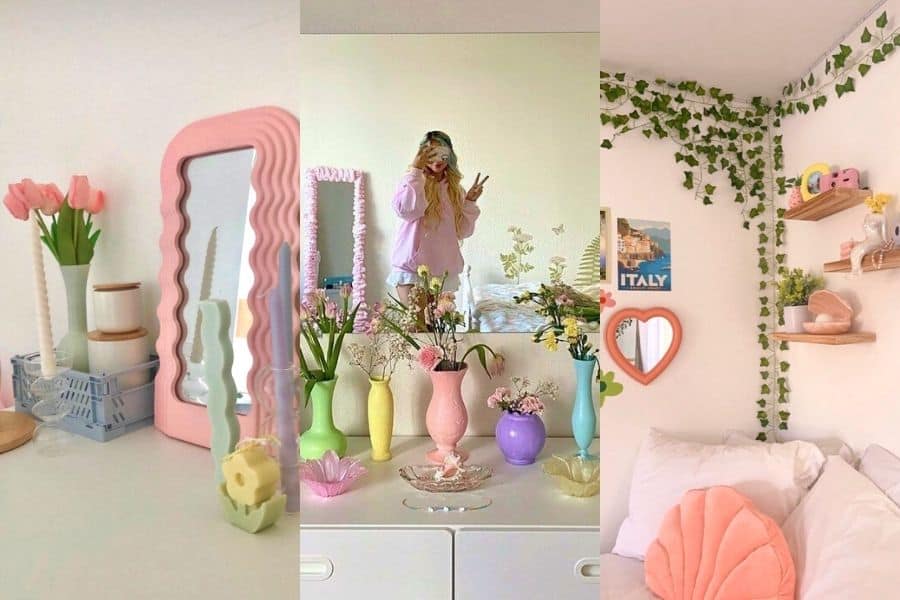 What Is The Danish Pastel Aesthetic?
Danish Pastel is an interior design style that was made popular through social media apps like TikTok and Pinterest. It is typically characterized by pastel decor, nostalgic patterns, and crisp minimalist backdrops.
A typical Danish Pastel bedroom will have white walls, white or light colored furniture, and pastel accents throughout the room.
Some patterns that are common in Danish Pastel interior decorating:
Hearts
Argyle
Swirls
Floral
Checkered
Waves
How To Make A Danish Pastel Dorm Room
It's pretty easy to recreate the Danish Pastel aesthetic for your dorm room.
Start with a clean and neutral backdrop. White walls and white or light colored furniture work really well with this design style. You may want to choose white bedding as well.
Add some bright pastel colored items that will pop against the all-white backdrop. Items like vases, throw pillows, and wall prints are cheap ways to add pops of color in your Danish Pastel dorm.
Danish Pastel Dorm Room Ideas
Looking for some inspiration for a Danish pastel dorm room? Here are some of the cutest ideas we've been able to find for danish pastel dorms.
1. Peach & Greenery Pastel Dorm Room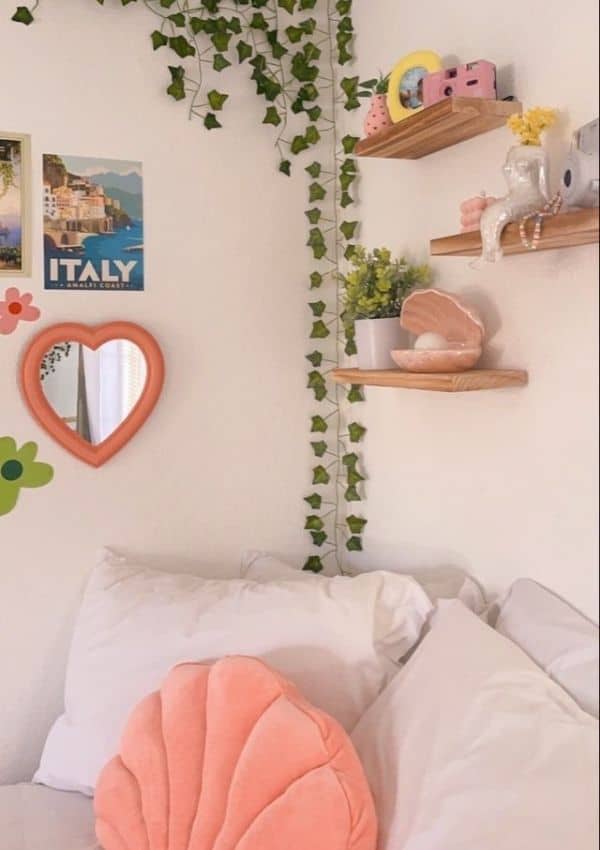 I love everything about this peachy pink pastel dorm room. It just looks so clean and cozy.
You can get this same look by pairing crisp white bed linens, pink accessories, and faux greenery vines.
Recreate this danish pastel dorm room:
2. Pastel Candles And Vases
Colorful candles and vases are the perfect accessories for a danish pastel dorm room. I love how the different heights of accessories add dimension and interest to the room.
Of course, candles are typically not allowed in dorm rooms. I found these insanely cute fake pastel candles that would help you get the same look without getting in trouble with your RA!
Recreate this aesthetic pastel dorm:
3. Clean Minimalist Pastel Danish Dorm Room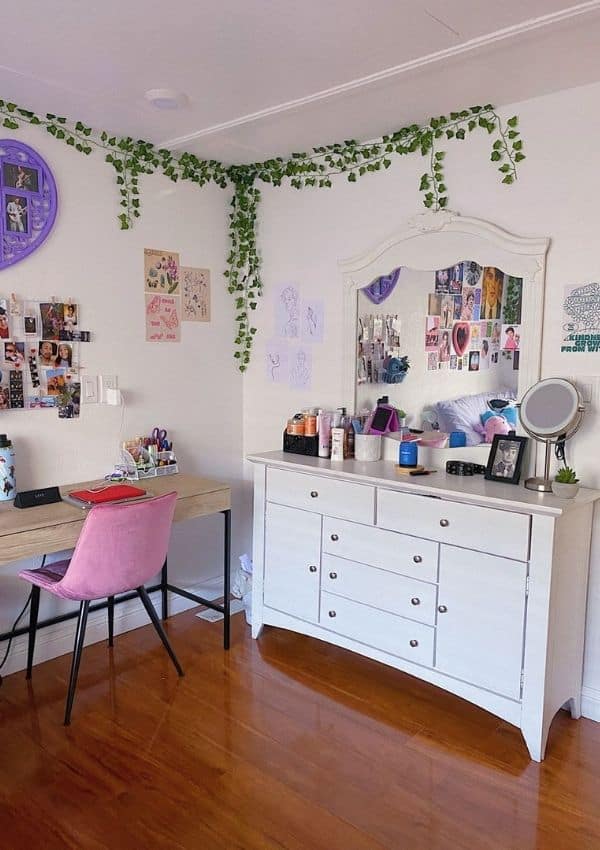 Part of the Danish pastel dorm aesthetic is a focus on looking clean and crisp. White walls and neutral furniture pieces will help keep your dorm room looking clean and minimal.
Then add in some pastel colored accessories to brighten up your room and make it more fun and feminine.
Recreate this clean danish dorm room:
4. Pastel Desktop Dorm Decor
Don't forget the tops of your surfaces when picking out dorm decor. Add in some accents like cute pastel crates, candles, succulents, and little catch-all dishes.
Recreate this pastel dorm decor idea:
5. Add Interesting Shaped Decor Items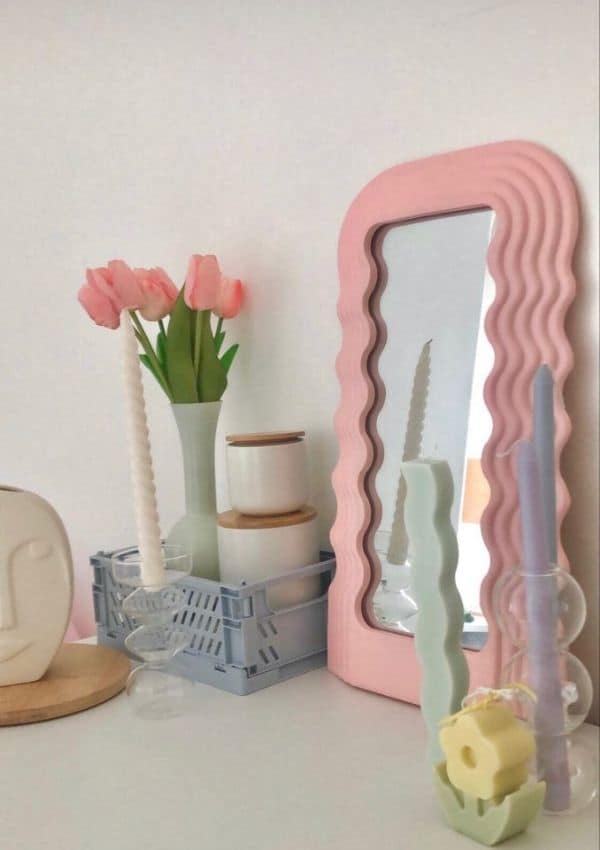 Sometimes the Danish minimalist decor style can feel a bit sterile. That's why I love the idea of adding in fun colors and shapes to your decor. Your room will still feel clean and organized, but it'll have a bit more life in it.
One of my favorite decor pieces ever is this pink wavy mirror from Etsy. It's so fun and unique and looks incredible with this decor style.
Recreate this pastel dorm room idea:
6. Pretty Pastel Vases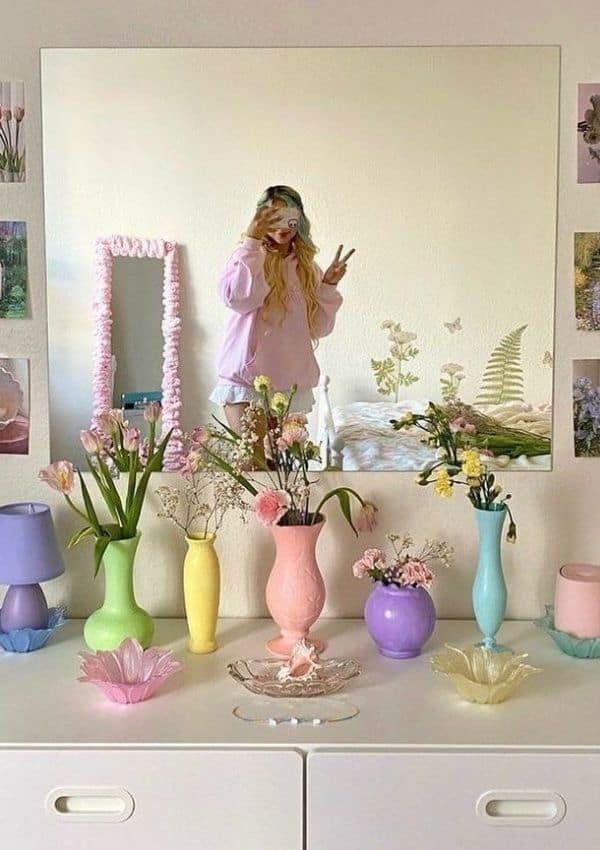 Multicolored vases are another great way to add some pops of color to your dorm room decor. Also how unique is that pink foam floor mirror?
Recreate this pastel dorm room decor idea:
7. Pastel Wall Collage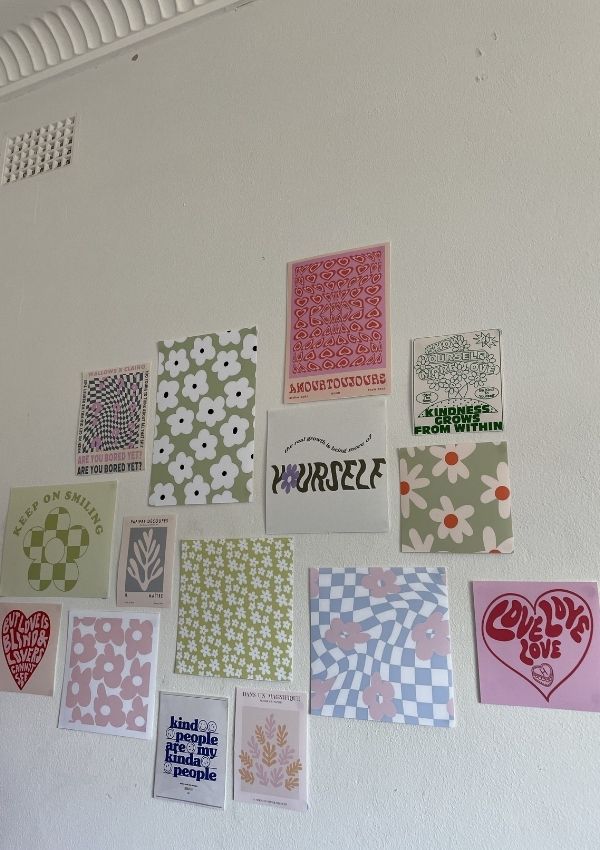 Wall collages are one of my all-time favorite dorm decor ideas. They're super affordable, easy to hang up, and cover up a lot of space on blank walls.
Recreate this dreamy pastel dorm decor:
Danish Pastel Dorm Room Essentials
One of the best things about the Danish pastel decor trend is that it's pretty easy to recreate. A lot of dorm room essentials already come in pretty pastel colors.
Here are some of the best dorm essentials that fit in with the pastel Danish aesthetic:
8. Pastel Mini Keurig
Every college student needs a coffee maker! I always recommend the mini Keurig for dorm rooms because it's compact, convenient, and comes in a ton of different colors.
This pastel pink coffee maker would look so cute on your desk in your dorm.
9. Pastel Dinnerware Set
How cute is this eco-friendly pastel dinnerware set? These are actually made with wheat straw – not plastic – which makes them much more sustainable!
10. Pink Pastel Desk Lamp
This pink lamp would go perfectly in a pastel aesthetic dorm room.
11. Cute Storage Cart
A storage cart is one of our top picks for dorm room storage ideas. It's functional, affordable, and fits perfectly under a raised dorm bed. This pastel green color will look so cute in any dorm room.
12. Desk Organizer
An organizer is another essential for your dorm desk. It's so helpful for keeping your writing utensils, notebooks, and other desk accessories organized.
13. Colorful Towels
If you want to add some extra color to your room, try swapping out boring dorm essentials for fun colorful ones!
These green bath towels are so gorgeous and would look amazing in a pastel eclectic dorm room.
14. Pastel Orange Trash Bin
Sometimes the little details make a big difference. A trash bin isn't something you'd normally expect to be cute, but this one totally is!
15. Cute Pastel Fan
Dorm rooms can get super hot and stuffy, especially during those first few weeks of school. Keeping a cute fan around can really help increase the airflow in your dorm.
Danish Pastel Dorm Furniture
Dorm furniture is usually pretty boring and ugly. Swapping out some furniture pieces for something cute and colorful will make a huge difference in the overall feel of your dorm room!
Here are some of our top picks for pastel aesthetic dorm furniture:
16. Cute White Petal Chair
We are absolutely OBSESSED with this fluffy white petal chair. It would look so cute as a desk chair or just in the corner of your dorm room.
17. Pastel Green Storage Shelf
Who says you can't have pastel green storage shelves in your dorm room? Sometimes even the most boring pieces of furniture can be made fun with some bright colors.
18. Pink Geometric Rug
This pink geometric rug is absolutely gorgeous and it's a great way to add a subtle pop of color into a dorm room.
19. Pastel Purple Side Table
Sometimes you just want your furniture to make a big statement. This unique purple side table will look so incredible in your Danish pastel dorm.
20. Pink Bookshelf
Isn't this pink bookshelf the absolute cutest? This would be perfect for storage under your raised bed or in your dorm room closet.
Danish Pastel Dorm Room Wall Decor
Adding some wall decor can completely transform your dorm room. Here are some of the best wall decorations that will fit with your pastel aesthetic.
21. Pink Heart Mirror
This is one of decor pieces that I see in pretty much every Danish pastel dorm room! It's so cute, affordable, and adds a fun pop of color to your wall or desktop.
22. Danish Pastel Wall Decor
I absolutely love this checkered and floral print for a dorm room. This would look so cute as a part of a collage kit or on its own as a piece of art on your wall.
23. Faux Vines
Faux vines are a staple in pretty much any dorm room decor style. I love adding greenery and plants to my bedroom decor, and these are a great alternative to trying to keep plants alive in your dorm lol.
24. Pastel Butterflies
These pastel butterflies are fun, girly, and super unique to add to your wall decor.
25. Pretty Pastel Collage Kit
A collage kit is pretty much the perfect wall decor for a dorm room. They're affordable, easy to hang, and come in so many different colors and styles.
This pastel collage kit would fit in perfectly with your Danish pastel dorm room.
Danish Pastel Dorm Bedding
Bedding is one of the most important aspects of your dorm room decor. Aside from your desk, your bed is one of the biggest focal points of your dorm.
Here are some of the best dorm bedding essentials for the pastel danish aesthetic:
26. Pastel Bedding Set
This pastel bedding set would look so cute in a dorm room. It includes a duvet cover and one pillowcase in the cutest pastel pink color.
27. Cute Flower Pillow
I'm absolutely obsessed with this green flower pillow for a dorm room. It's so fun and feminine and it would look adorable on your bed or futon.
28. Cute Checkered Throw Pillow
One of the most popular patterns for the Danish pastel aesthetic is this large checkered design. This blanket would look perfect in your dorm room.
29. Seashell Pillow
Here's another super cute throw pillow that would fit perfectly in with your dorm decor.
30. Checkered Bedding
This green checkered bedding set is super popular right now and it fits in perfectly with the pastel dorm aesthetic.
Other Danish Pastel Dorm Room Decor
Here are some other pastel decor pieces that would look incredible in your dorm room:
32. Squiggle Picture Frame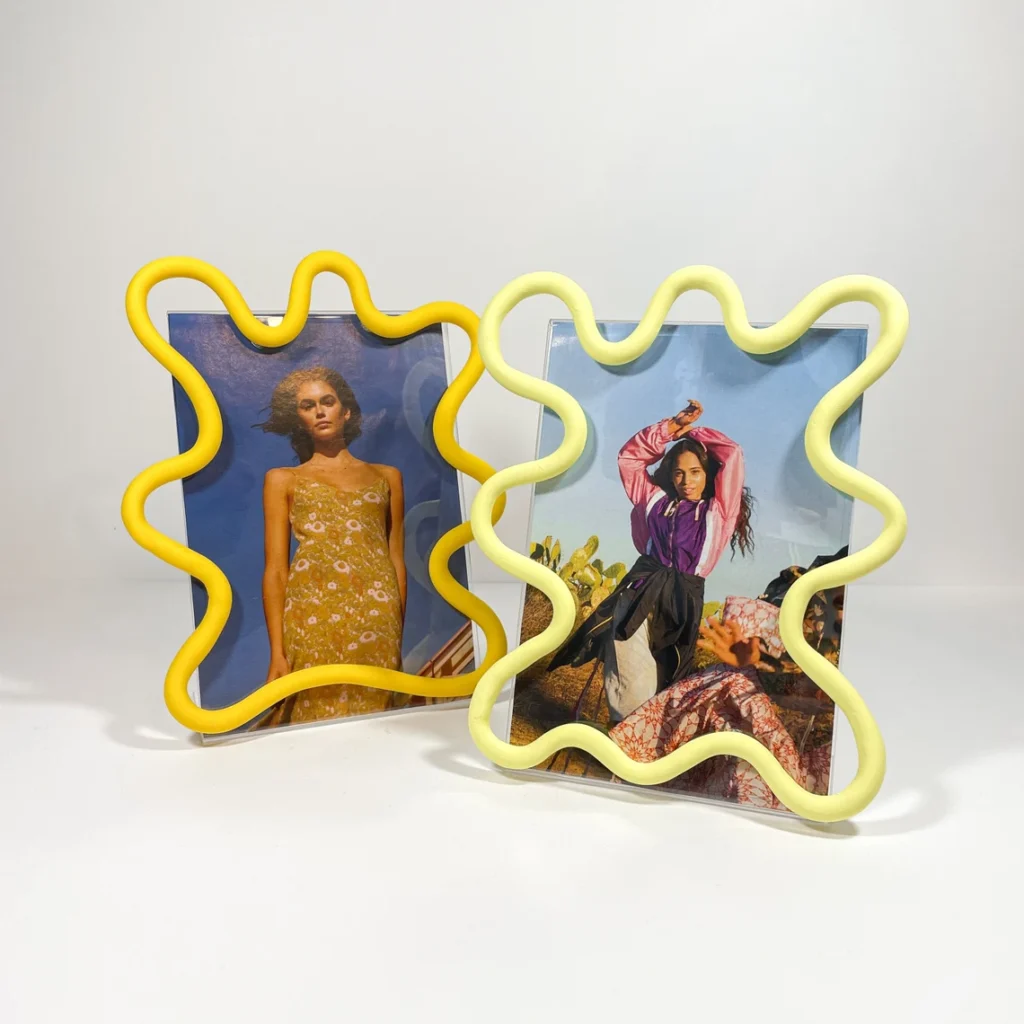 How unique are these squiggle picture frames? These would look so incredible on your desk or on top of a shelf in your dorm room.
33. Pastel Crates
These crates have been insanely popular in the dorm room decor space for years. They go with a ton of different decor styles, but look especially nice with the pastel room aesthetic.
34. Cute Juice Carton Vase
If you're looking for something super unique to display in your dorm room, this orange carton vase would be perfect! Add in some flowers or faux greenery to freshen up your space.
35. Checkered Jewelry Dish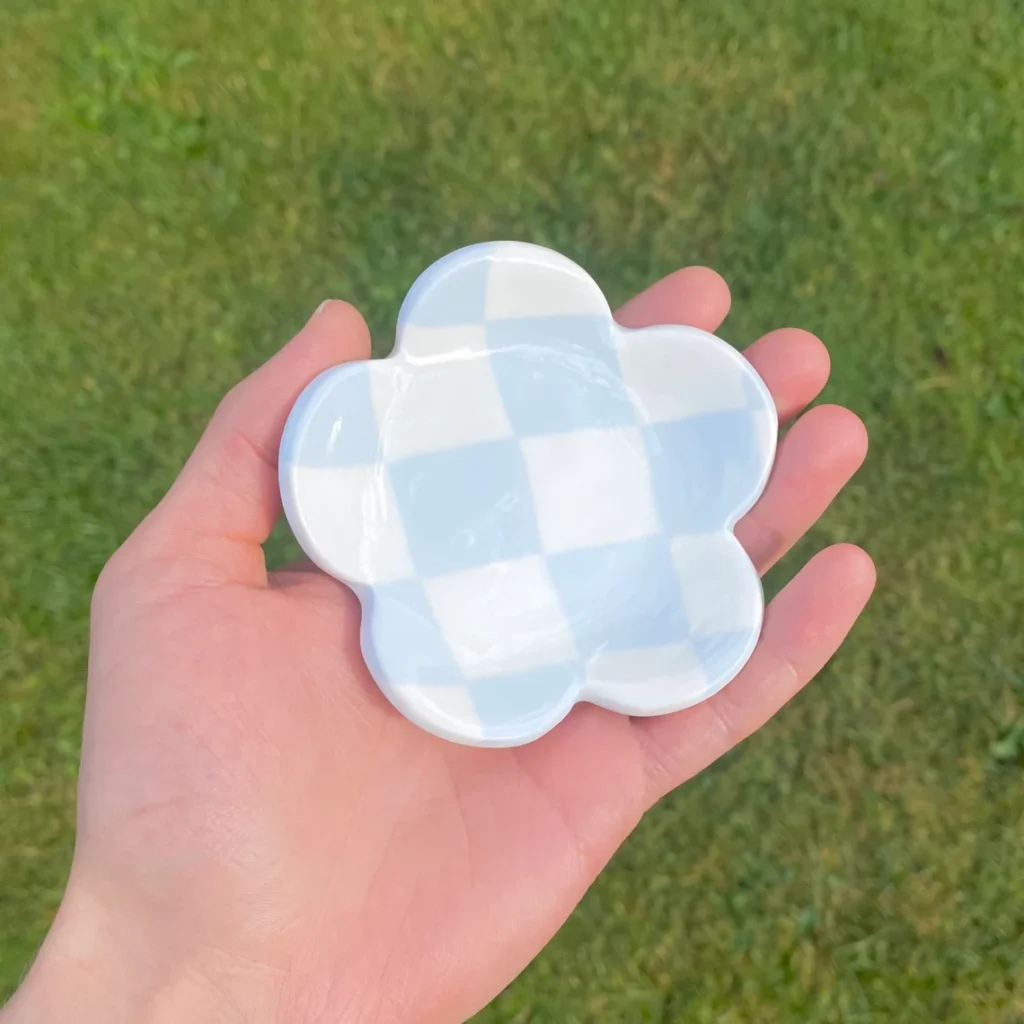 This pastel jewelry dish comes in a few different colors and would look super cute on your desk or vanity.
36. Pastel Vases
This set of pastel vases add such a fun pop of color to your dorm room. Fill them up with fresh flowers, dried florals, or eucalyptus stems.
37. Ceramic Clamshell
This ceramic clamshell is another item that I've seen in a few different pastel aesthetic dorms. It's such an interesting piece that would look so cute on a shelf or vanity.
This post was all about the best Danish pastel dorm room decor items. Hopefully you got some inspiration for how to decorate your room in the pastel aesthetic!
You may also like: