28 Perfect Gifts For A Brother In College (2023)
Are you looking for the perfect gift for a college-aged brother? Here are our top picks for gifts for a brother in college.
This post may contain affiliate links, which means I'll receive a commission if you purchase through my link, at no extra cost to you. Learn more: Affiliate Disclaimer.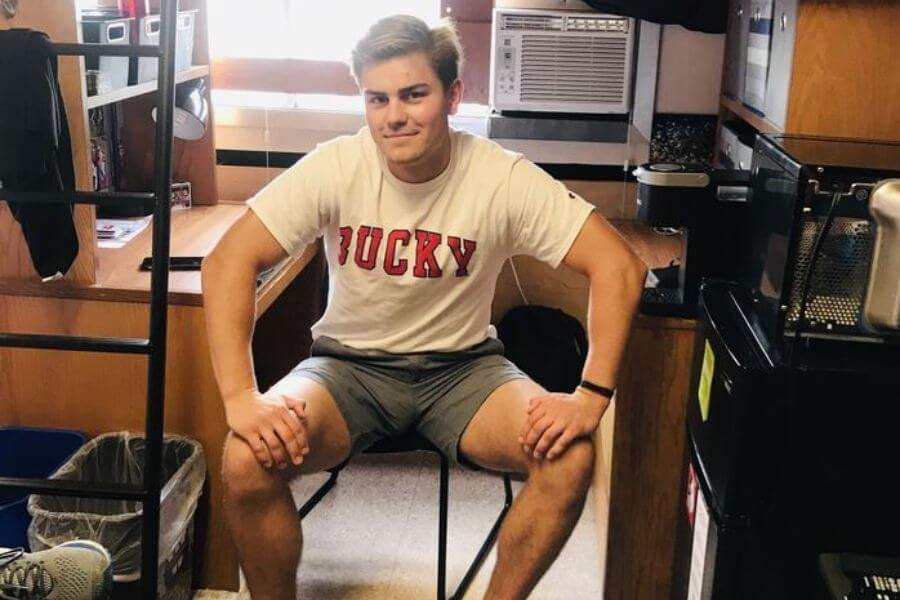 College students are hard to shop for! Even if you're really close to your brother, you may not know what he's currently up to while away at college.
Whether he's living in a dorm or sharing an apartment with friends, his living situation is probably a lot different than it was at home.
That's why we put together this list of gifts for a brother in college that they'll actually use! We asked our brothers and guy friends who are in college and they approved of this list.
So here are the absolute best gifts for a brother in college that he'll really use while at school:
Thoughtful Gifts For A Brother In College
If you want to be known as the most thoughtful sibling, here are some gift ideas for your brother in college. He'll know that you put care and thought into these gifts!
1. Dopp Kit
If your brother is still carrying his toiletries back and forth in a plastic bag, it's time for an upgrade. Get him a dopp kit that is big enough to hold all of this toiletries.
This is perfect for guys who live in the dorms to carry from their room to the bathroom.
It's also great for anyone who goes to college away from home. It'll make it so much easier to bring home all of his toiletries when he visits for the holidays.
This dopp kit from Amazon looks great and is SO affordable. My boyfriend has this exact kit and he loves it.
2. Bedside Shelf With Cupholder
One of our top recommended gifts for college guys is this bedside shelf.
It attaches directly to your bed frame, so it's perfect for college apartments that don't have enough space for a full nightstand. It's also great for dorms where the beds are lofted.
We love this version of the bedside shelf because it has a cupholder built in. It's just big enough to keep all of your belongings like your phone, water bottle, headphones, laptop, etc.
3. DIY Hot Sauce Making Kit
We don't know what it is about college guys and hot sauce but they seem to be obsessed!
He can recreate the show Hot Ones with his roommates with this homemade hot sauce kit.
4. Cologne
Cologne is a thoughtful gift for any guy in college. He wants to smell good when he's in class or at a party, but he likely doesn't have the funds to splurge on a nice bottle of cologne.
Treat your brother to a nice bottle of cologne for a gift this year. Some of the top rated colognes for college guys are Chanel BLEU and Dior Sauvage.
If you want to go the cologne route, we have a full post on the best colognes for college guys.
5. Yeti Water Bottle
Yeti water bottles are some of the best quality bottles on the market. They keep your water super cold and they're pretty much indestructible.
Plus, they come in a ton of different colors. This is one of those gifts for a brother in college that you'll want to keep for yourself.
6. The Comfy
My boyfriend and all of his roommates had these oversized blanket hoodies in college.
They wore them ALL the time while they were studying, playing video games, and watching TV in their college apartment.
This would be such a thoughtful gift for brothers in college who like to lounge! Make sure to check out the different color options – some of them are different prices.
7. Sleek Flask
I feel like a flask is a pretty self explanatory gift for college guys lol. He'll definitely find a use for this gift.
8. Chair Massager
How awesome is this chair massager? So many college guys spend a ton of time in their desk chair.
If your brother is constantly studying or playing video games at his desk, he'll definitely appreciate having this massager.
9. Keurig Coffee Maker
If there's one thing I know about college guys, it's that they drink copious amounts of coffee.
Your brother will appreciate having a super easy way to make coffee any time of day. It literally doesn't get any easier than a Keurig.
10. Bed Rest Pillow
Any college student living in a dorm needs to have one of these bed rest pillows. It's perfect for reading, studying, or just hanging out in bed.
Affordable Gifts For Brother In College (Under $25)
Want to get your brother something nice without breaking the bank? Here are some of the best gifts for a brother in college that are under $25.
11. Beer Can Flannel
How hilarious are these beer can flannels? They're super fun and they're practical because they help keep your drink cold.
If he's under 21 he can use these for soda or energy drinks too!
12. Electric Lighter
This electric lighter is SUCH a practical gift for college guys.
I feel like there's always random times where you just need a lighter, especially in college. It's rechargeable, so it's also a great eco-friendly option.
13. Books
If your brother in college is into reading, he'll love getting some good books as a gift.
I've linked some of the most popular books for college guys above. Atomic Habits especially is a must-read for any college student (or anyone of any age honestly!)
14. Tile Mate
These tile key finders are an absolutely genius gift for college guys.
You can attach them to your keys or other items and track them on your phone. So basically say goodbye to losing your keys ever again!
15. Retro Vinyl Coasters
How cool would these vinyl coasters look in your brother's dorm room or college apartment?
These are a really unique gift that are also super inexpensive! A great gift for any sibling in college.
16. Heat Changing Coffee Mug
If your brother is a gamer and a coffee drinker, he'll absolutely love this heat changing coffee mug.
The gameboy on the mug "turns on" when you add coffee. So fun and unique for a gift idea!
17. LED Light Strips
These LED Light Strips are all over every guy's dorm room and college apartment these days. They add such a cool aesthetic to any college bedroom.
Your college-aged brother will definitely love hanging these up in his dorm room! They could go under his lofted bed, behind his computer, or as a border around the ceiling of his room.
18. Death Wish Coffee
Every college student can use a cup of double-strength coffee once in awhile
Death Wish coffee is known as being the strongest cup of coffee in the world. It has twice the amount of caffeine as a normal cup of coffee.
If your brother in college is a coffee drinker, this is definitely the gift for him!
19. Scratch Off Map
Does your brother love to travel? If so, this would be such a thoughtful gift for him.
It'll help him keep track of where he's traveled to AND it'll look great hanging on his wall.
20. Portable Charger
If there's one thing that college guys need, it's a portable charger. They're constantly on their phones and it's never fun to get caught with low battery.
I love these portable chargers because they're super compact and portable.
21. USB Clock Fan
This USB clock fan is such a fun novelty item that's also super useful! It plugs into your computer and it displays the time while keeping you cool.
This is perfect if he lives in a dorm building that doesn't have air conditioning. It'll keep him cool while he's studying for finals.
22. Faux Leather iPhone Case
If your brother is anything like mine, he probably NEVER changes his phone case.
This faux leather phone case will make his phone look nicer and more professional. Such a great gift and it's super affordable!
Funny Gifts For Your Brother In College
Does your brother have a good sense of humor? If so, you definitely need to get him one of these funny gifts for a brother in college.
23. Tortilla Blanket
How hilarious is this burrito blanket?
Your brother in college will love being bundled up in this thing while he studies or plays video games in his dorm room.
24. Custom Face Socks
Want your brother to think of you while he's at college? Get him a pair of socks with your face printed all over them!
He'll have no choice but to miss you when he's wearing these lol.
25. Have A Nice Day Mug
Some people are just not ready to talk before they've finished their coffee! Your brother will be able to get the message across loud and clear with this funny mug.
26. Drinking Helmet
Being in college typically involves a lot of partying. This drink helmet would be so hilarious to wear to a college party.
Your brother will have a lot of fun drinking out of this at parties or on game days in college.
27. Bread Pillow
Is your brother a big carb guy? Then this is definitely the pillow for him!
Not only is it super funny, but it's actually squishy and soft. Just check out the review section.
28. Bacon Bandages
Looking for a funny stocking stuffer for a brother in college? These bacon bandages would be so hilarious to give to him.
This post was all about the best gifts for a brother in college.
You may also like: