30 Genius Dorm Room Ideas to Upgrade Your Space
Are you looking for the best dorm room ideas? This post is all about the best dorm ideas that will make college life so much easier.
I'll be the first to admit that living in a dorm can be tough to get used to. You've probably never lived in a tiny space with someone you barely know before.
When you move into a dorm, there's so much to do. You need to figure out storage solutions, coordinate with your roommate, and decorate your walls and other spaces.
If you're feeling stuck, this post is for you! I put together 30 genius dorm room ideas that will make dorm living a breeze.
This post is all about genius dorm room ideas that will make dorm life so much easier.
Genius College Dorm Room Ideas:
1. Coordinate With Your Roommate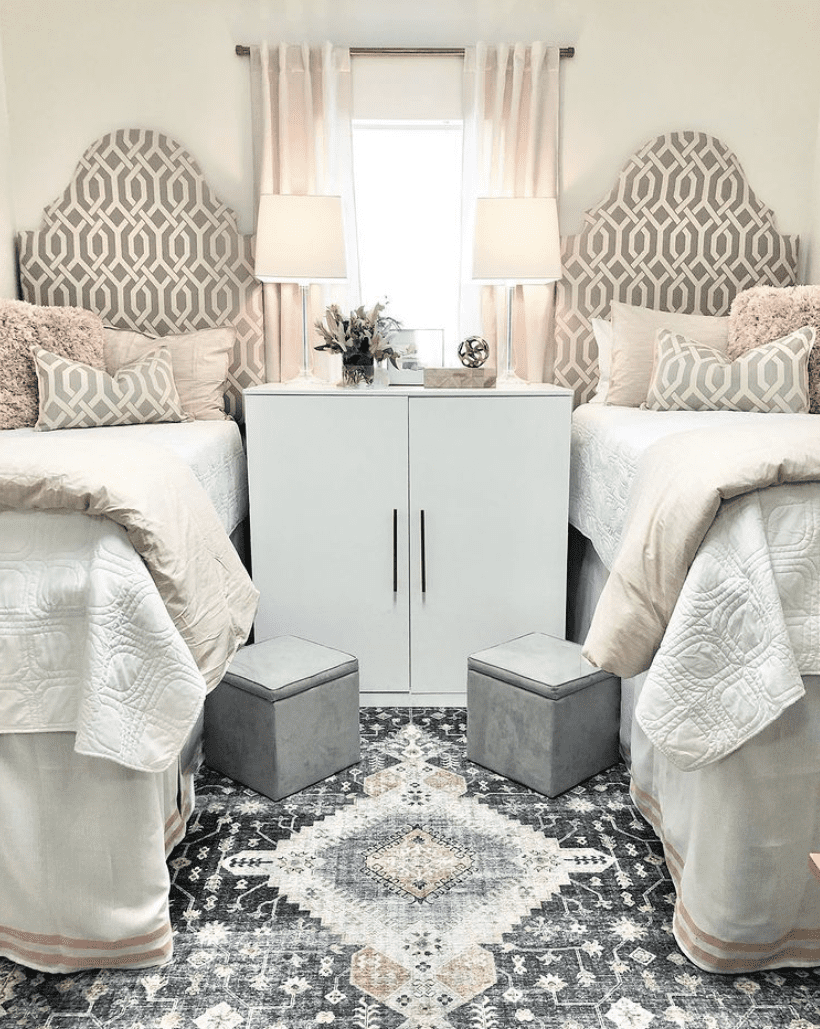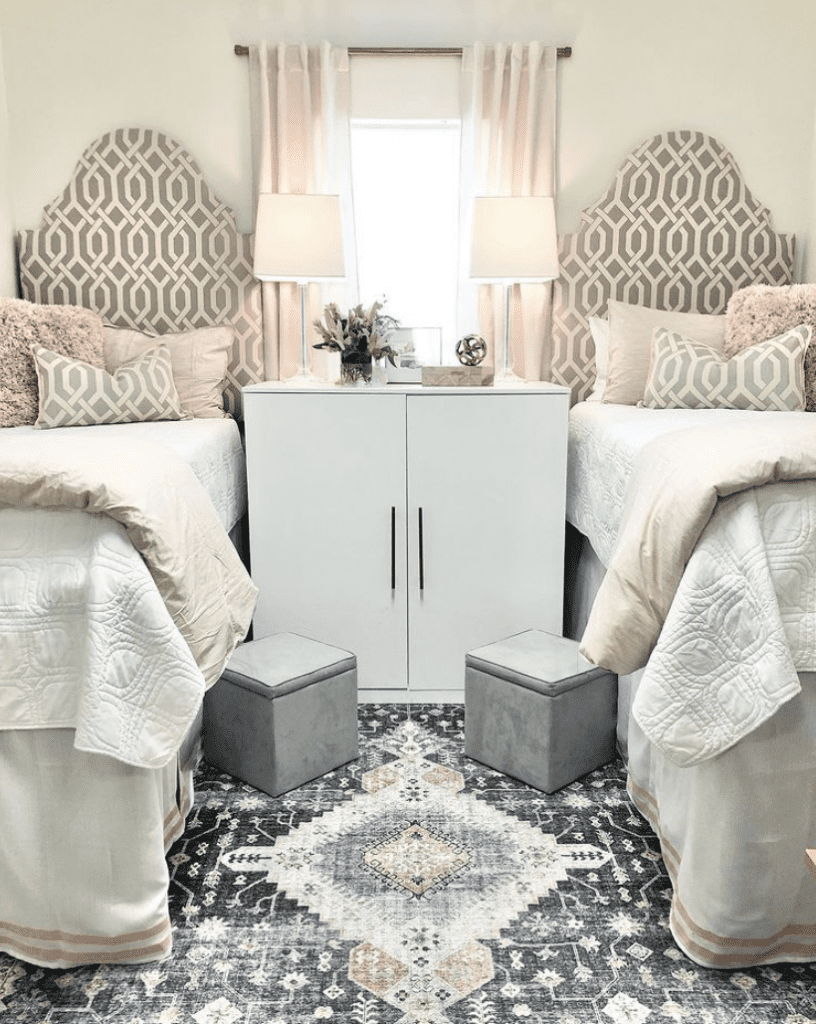 One of the best dorm room ideas is to coordinate your decor with your roommate. A well-coordinated room will look so much more cohesive and put-together.
Obviously, this only works out if you guys have similar decor styles. But you don't need to have a perfectly symmetrical dorm room like the dorm above.
Work with your roommate to see if there's a common color, pattern, or decor style that you guys can decorate your dorm with. Or try to find one item that you can both agree on, like the identical headboards in the picture above.
I also like the idea of having a shared cabinet in between your beds. It will serve as a nightstand for both of you, and it makes your room look much more put together.
[RELATED: 19 Dorm Items To Share With Your Roommate in College]
Copy this coordinated dorm idea:
2. Use a Desk Hutch
Let's face it, dorms don't have much storage space! You pretty much need to create all of the storage that you can.
I love the idea of adding a shelf or hutch above your desk. It adds SO much storage space without taking up too much room on your desk. You can use it to store your makeup, snacks, school supplies, or just display photos of your friends and family.
I also absolutely love these lights that were added to the undersides of the shelves. They makes it so much easier to see the items on the shelves and instantly makes it look more expensive and chic.
[RELATED: 10 Dorm Desk Essentials for Stress-Free Studying]
Recreate this dorm room idea:
3. Use a Wire Grid Organizer
A wire grid organizer is one of my favorite dorm room organization ideas. You can use it to hang things like photos, artwork, or homework reminders.
You can also get little shelves and bins that attach to the grid for even more functionality. Such a practical college dorm idea!
Also, can we talk about how cute this girl's dorm room decor is? I'm obsessed with the hanging vines and cow print desk chair. Such a well-decorated college dorm room.
Copy this dorm room decor idea:
4. Utilize Space Under Your Bed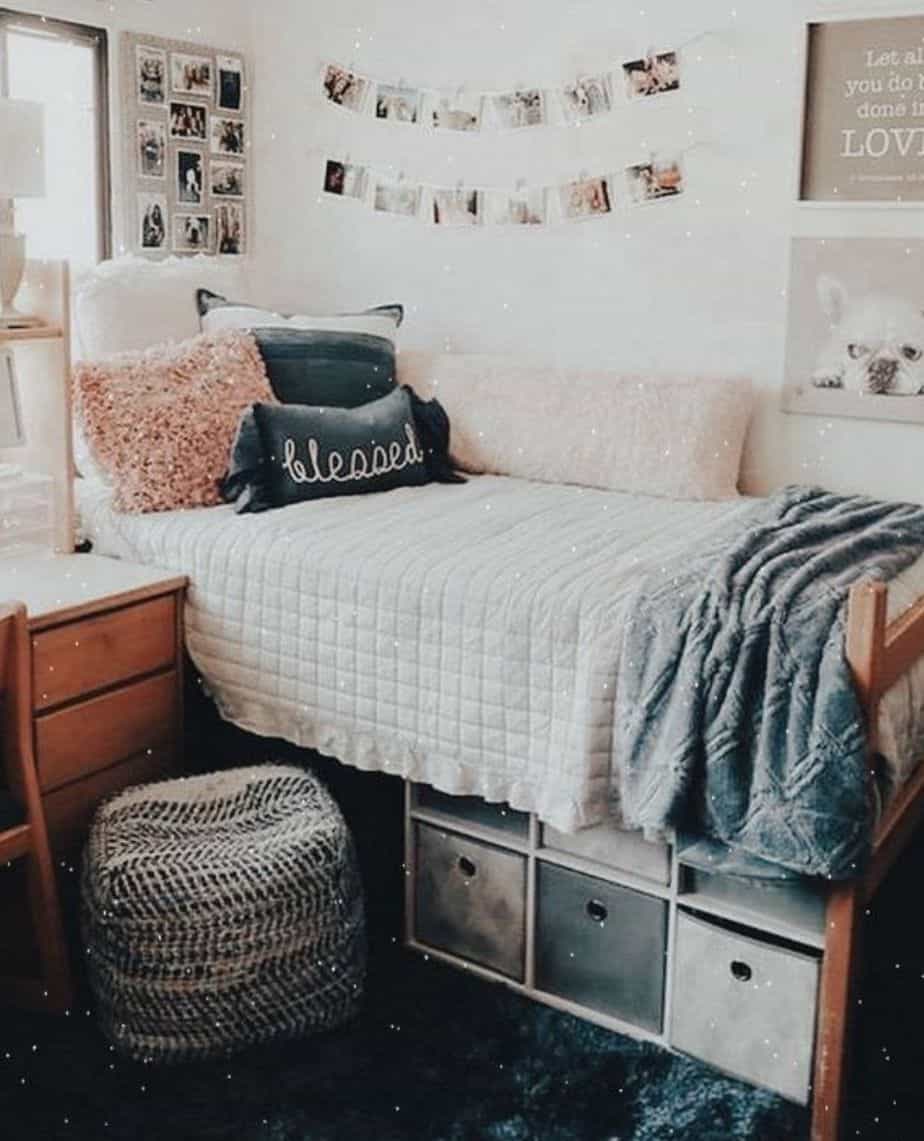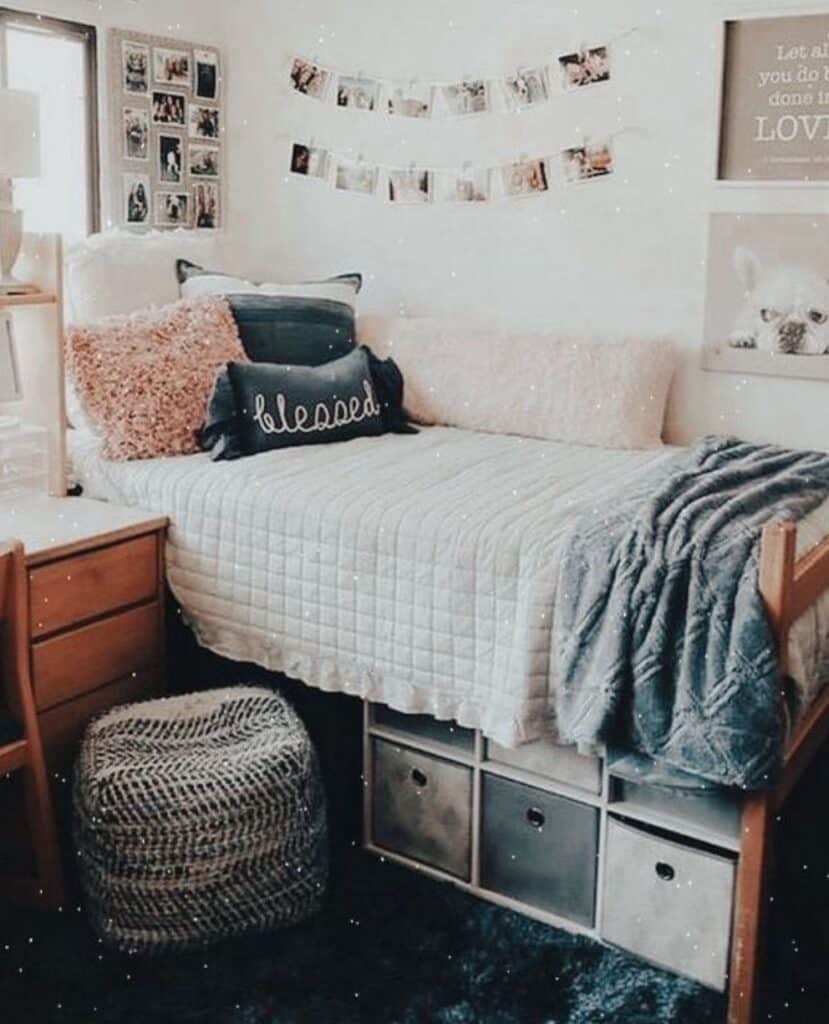 When you're living in a tiny space like a dorm room, you need to maximize every single inch of it. The space under your bed is the perfect spot to add some storage shelves and bins.
One of my favorite under bed storage solution is cube shelves. I think pretty much every college student has these cube shelves and fabric bins because they're just so insanely handy. You can store EVERYTHING in them like snacks, shoes, electronics, etc.
Looking for more genius ways to utilize the space under your bed? Check out my post about 23 Under Bed Dorm Storage Ideas You Need In Your Dorm Room.
Copy this dorm room idea:
5. Stick To a Color Scheme
If you want your dorm room to look insanely cohesive and aesthetic, make sure you stick to a color scheme. Pick an accent color and get a few dorm room decorations in that color. Then, fill in the rest of the space with neutral colors like white, tan, or black.
Feel free to ignore this advice if you're going for more of a "maximalist" look! Mixing a ton of colors and patterns can be super cute if you do it well. But if you're a beginner at home decor, it's always easiest to stick to color palettes.
I love this mix of yellows and neutrals. It's super bright and cheery without coming across as tacky. The mix of textures in the bedding and throw pillows also makes the whole room feel cozier.
[RELATED: Dorm Room Wall Decor – 10 Ways to Decorate Your Dorm Room Walls]
Copy this dorm room:
6. Maximize Your Closet Space
Dorm room closets usually aren't the biggest, so it's important that you maximize the small space that you have to store your clothes. The picture above has SO many good organizational ideas for dorm closets.
Here are some of my top small closet organization tips:
Copy this dorm room closet idea:
7. Hang Twinkle Lights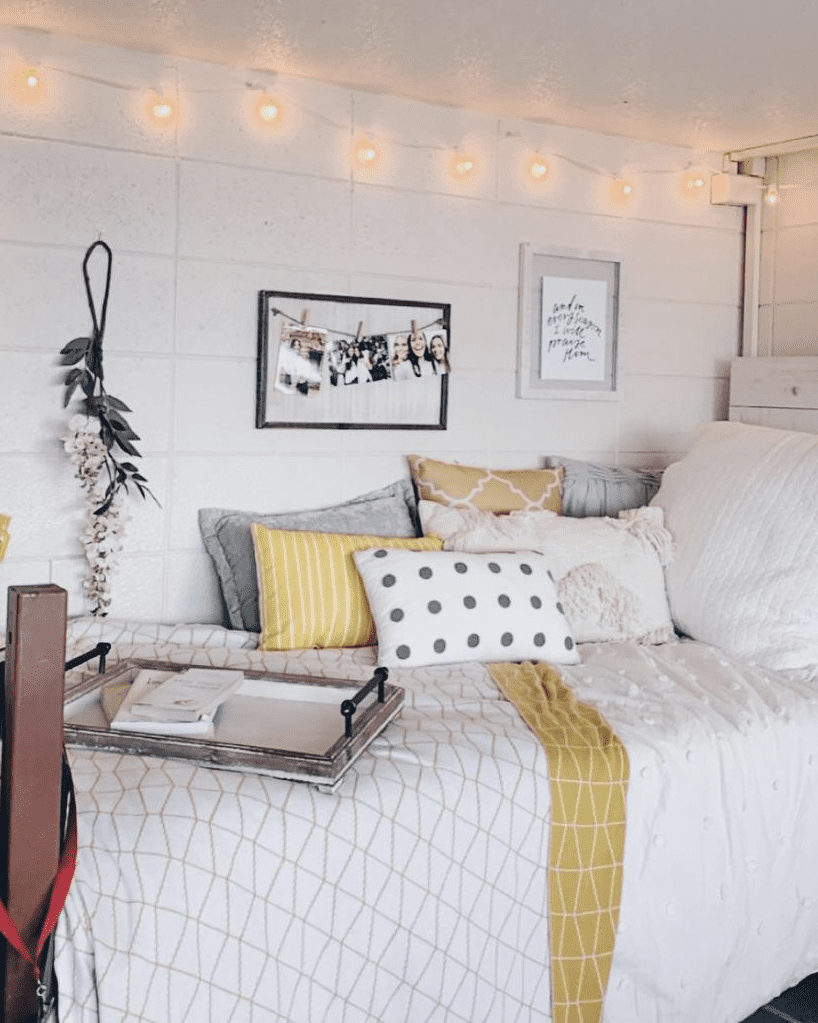 One of my favorite dorm room decorating ideas is to hang twinkle lights. String lights are perfect for dorm rooms because they're cheap, lightweight, and you can hang them ANYWHERE.
I've seen them hung on the walls, above beds, around windows, over desk hutches, etc.
They're also super nice to have in college dorm rooms because you can turn off the harsh overhead lighting and plug in your fairy lights for some ambiance.
Recreate this cute college dorm room:
8. Create a Kitchen Area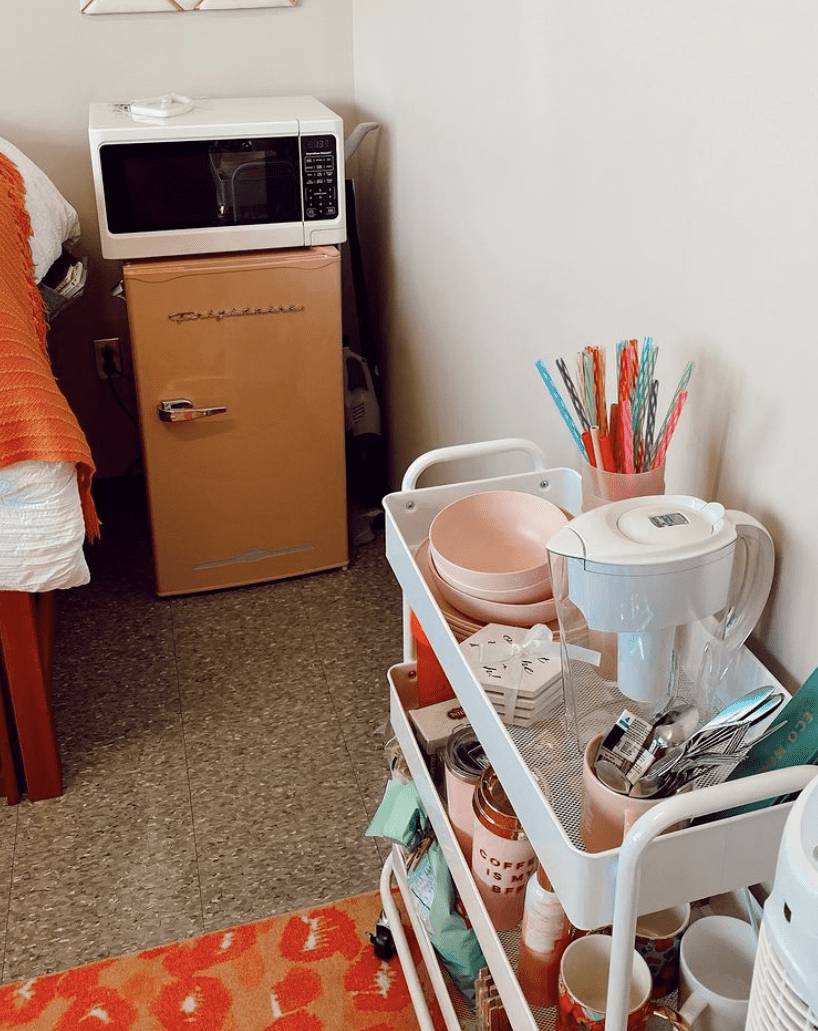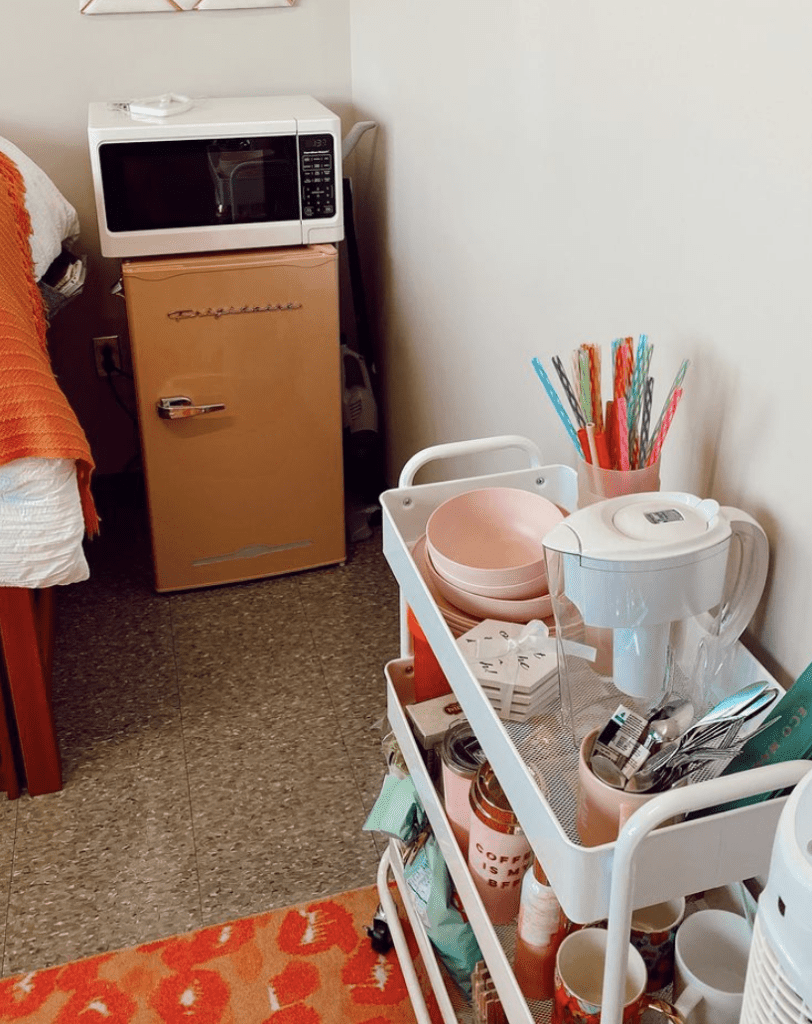 I absolutely love this little kitchen area that this girl created in her dorm room. A 3-tier rolling cart is a genius idea for college dorm kitchens because it gives SO much storage without taking up too much space.
Also can we talk about how insanely cute that retro mini fridge is?? It comes in a bunch of different colors and it's absolutely stunning.
[RELATED: 20 Dorm Kitchen Essentials You'll Actually Use]
Copy this dorm room:
9. Push Your Desks Together
One of the best dorm layout ideas is to push your desks together against one wall. This will give you so much more space in the rest of your room.
You can also use the edges of your desk as shared storage space for things like decor or a printer.
Just make sure that both of you are comfortable sitting next to each other while you study. Some people definitely like their own space when they're doing their homework!
10. Add a Futon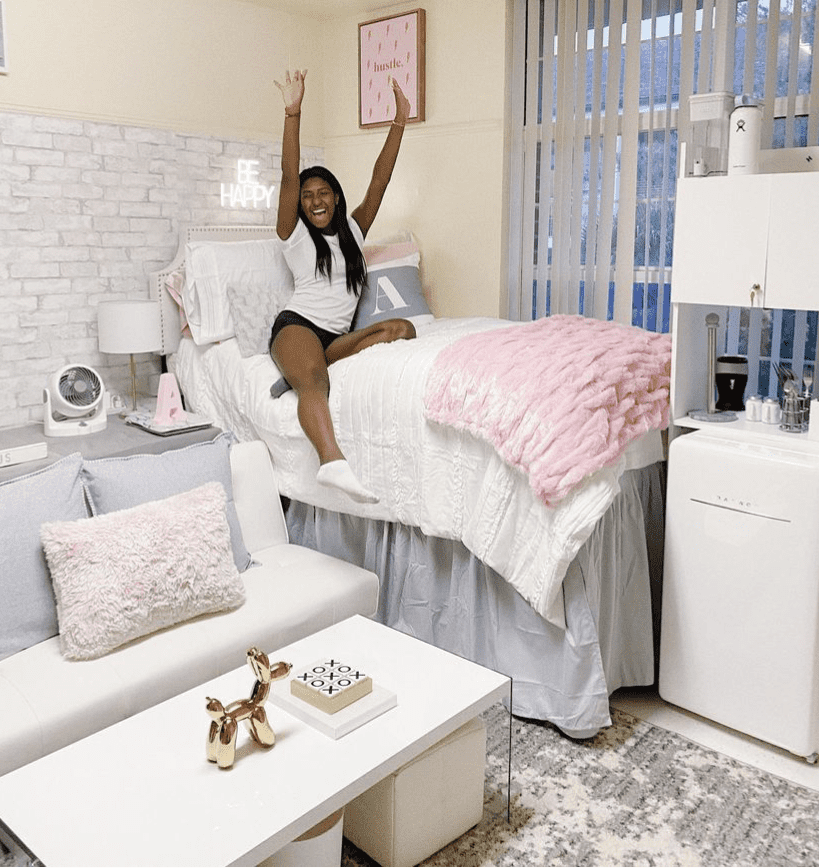 This is one of the best dorm room layouts I've seen in awhile. I love the futon, coffee table, and mini fridge shelf.
If you have a pretty big dorm room, you definitely should consider adding a seating area with a futon and a cute coffee table. It'll make your room feel so cozy and inviting for friends to come hang out in.
[RELATED: 23 Best Dorm Chairs for College Students]
Copy this dorm room layout:
11. Use a Bed Shelf
This bed shelf is one of the most popular dorm room products that I recommend on the blog. It's honestly one of my favorite dorm room essentials ever. It's seriously SO handy to have a space next to your bed for your phone, water, glasses, lotion, etc.
The bedside shelf is perfect for any bedroom but it's especially handy in dorm rooms with raised or lofted beds because it can be hard to find a tall enough nightstand.
[RELATED: 8 Things I Wish I Brought to College My Freshman Year]
Copy this cute dorm room idea:
12. Hang Removable Wallpaper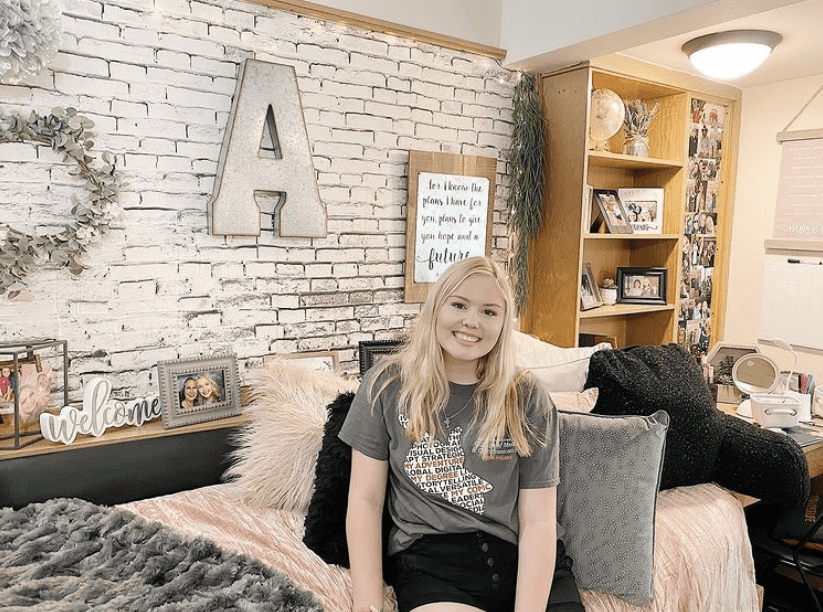 Removable wallpaper is an amazing way to make your dorm room look totally unique. It's one of my favorite cute dorm room ideas.
You can cover up those ugly cinderblock walls and make your college dorm look like a luxury apartment building. Peel and stick wallpaper comes in so many different patterns and colors so you'll definitely be able to find one that fits your aesthetic.
Copy this dorm room wall idea:
13. Get an Extra Tall Nightstand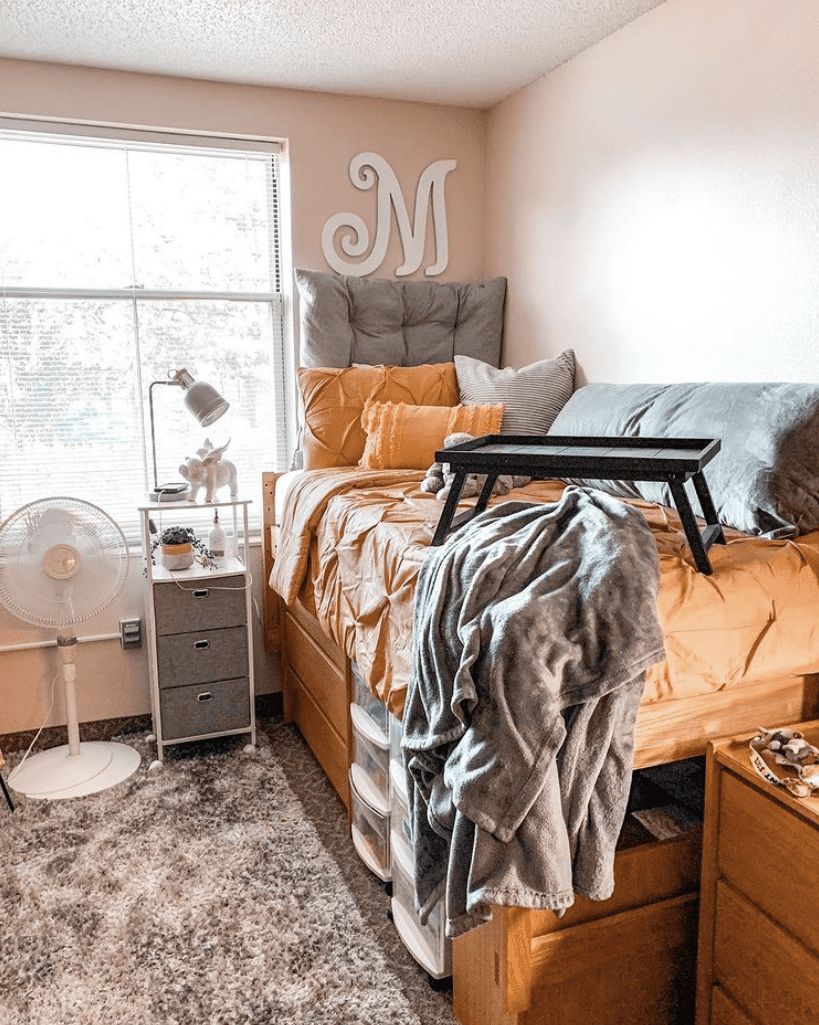 If you're going to be raising your dorm bed, you definitely need to get an extra tall nightstand. Most regular nightstands are way too short for raised dorm beds but this one from Dormify was made specifically for college dorms.
I love that it includes an outlet and some USB ports so that you can charge your electronics in bed. It also has storage drawers which you know we love!
Copy this cool dorm room idea:
14. Add a Cute Area Rug
Nothing transforms a dorm room like a cute area rug. Plus, you never know what's been on the carpets that come with dorm rooms.
I always like to cover up the gross dorm carpeting with a big, fluffy area rug. Just make sure you know the measurements of your dorm room so that you get the right size rug.
Copy this dorm room decorating idea:
15. Bring Your Own Headboard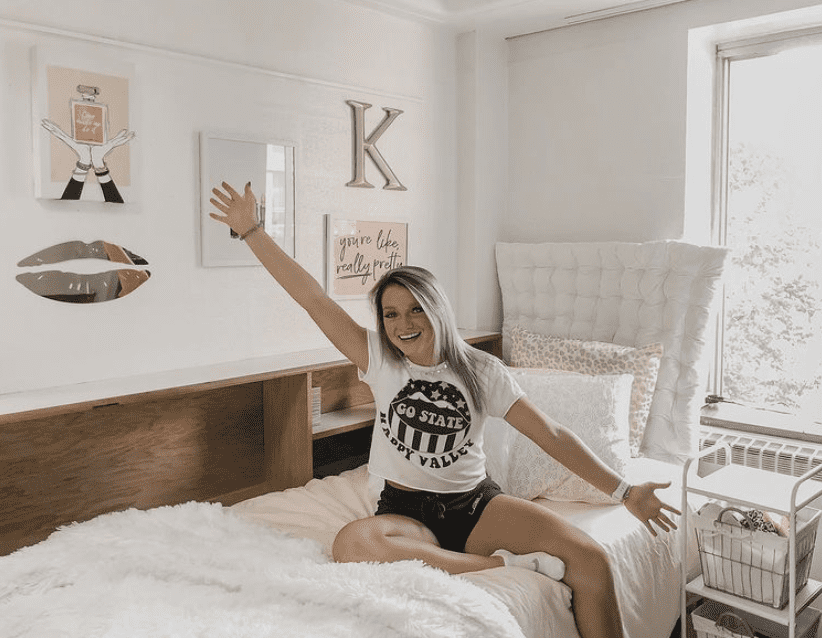 If you really want to elevate your bed in your dorm room, I highly recommend getting a dorm room headboard.
This headboard pillow was made specifically for dorm rooms. It's cushioned so it's super comfy to sit up against and you can attach it to your wall with command hooks to make it extra secure.
Copy this dorm room headboard:
16. Hang Damage-Free Shelves
Did you notice that these triangle bracket shelves are hung with command hooks? This is a totally genius way to hang shelves in your dorm room without causing any damage to the walls!
If you're looking for another damage-free shelving solution, these floating shelves stick to your walls without causing any damage.
Copy this college dorm idea:
17. Create a Vanity Area
If you don't plan on doing much studying at your desk (I'm looking at you, coffee shop studiers), you can use your dorm desk as a vanity.
Add a small vanity mirror, some makeup storage drawers, and a cup to hold your brushes. The perfect little dorm room vanity area!
Copy this dorm vanity area:
18. Use Hanger Expanders
Hanger expanders are a MUST for small college dorm room closets. They allow you to fit multiple clothing items on one hanger.
These would be perfect for t-shirts, dresses, or anything else you would hang up in your closet.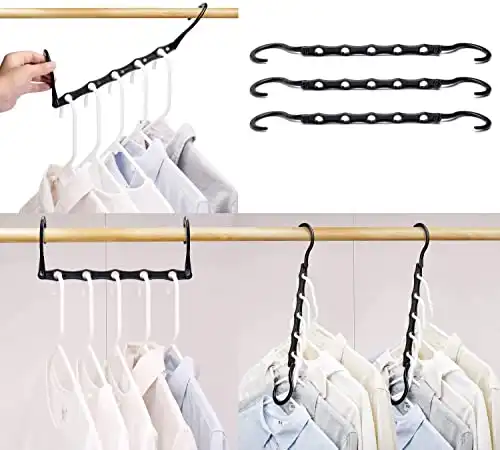 19. Get a Long Bed Skirt
If you're planning on using the space under your bed for storage, you may want to cover everything up with an extra long bed skirt.
These bed skirts are made specifically for raised dorm beds and they're one of my favorite college dorm room ideas.
Copy this dorm room:
20. Use a Storage Ottoman
One of my favorite dorm room storage ideas is to get a dual purpose storage ottoman. I LOVE multi-functional dorm room decor and the storage ottoman is one of my favorite products.
You can use the ottoman as extra seating when friends come over and you can use the storage part for shoes or other small items.
Also how cute are those black and gold storage ottomans? I think they would look SO chic in a dorm room.
[RELATED: Amazon Dorm Essentials | 21 Life Changing Dorm Items You Can Buy on Amazon]
21. Put Your Desk at The End Of Your Bed
Another great dorm room layout is to put your desk at the end of your bed. It lets you keep your space separate from your roomie, and it helps hide the stuff under your bed.
It's also the perfect place to put your TV if you want one by your bed.
22. Create a Coffee Bar
I am OBSESSED with this little dorm room coffee bar area. You can create a coffee bar on pretty much any surface in your dorm room. Just add a cute mini Keurig, some pretty mugs, and your favorite coffee accessories.
Copy this dorm room coffee bar idea:
23. Add Some Live Plants
I am absolutely obsessed with filling my house with plants. They help purify the air, make the dorm feel brighter, and they've been proven to be a mood-booster.
I definitely think everyone should have at least one low-maintenance plant in their dorm room. Check out my post about the best plants for dorm rooms.
If you don't have a green thumb, you can also just add in some fake plants! They still add a splash of color to your dorm room, but they don't require any maintenance.
Cute dorm plant accessories:
24. Fill Empty Wall Space With Tapestries
Tapestries are one of the most popular decorative items for college students. They're a great way to fill in empty space on your walls for super cheap.
Tapestries are the perfect dorm decor because they cover a lot of area and they're super lightweight so you can hang them up with command strips.
Copy this dorm room decoration idea:
[RELATED: 35 Cheap Tapestries Under $25 To Hang on Your Dorm Room Wall]
25. Organize Your Jewelry
Jewelry is one of the hardest things to find a place for in your dorm room. I highly recommend having a dedicated jewelry organizer so that you never lose anything.
I have this exact jewelry organizer and I'm OBSESSED! It has three levels for necklaces and bracelets and an attached tray for rings and earrings.
If you're looking for a full length mirror with built in jewelry storage, this over-the-door jewelry cabinet is amazing. It has tons of storage space and you won't need any other mirrors in your dorm room because it's so big!
26. Hang Curtains Under Your Bed
If you want to create the coziest under-bed area, I highly recommend hanging some curtains. If you want to make things extra magical, you could even hang some curtain lights.
Depending on what type of bed you have in your dorm room, it should be super easy to hang curtains with a tension rod.
Copy this dorm room:
27. Get This Genius Mini Fridge Shelf
One of my favorite college dorm room ideas is to put your mini fridge on a cart. These storage shelves were made specifically for mini fridges and they're the perfect place to store dorm kitchen items.
28. Organize Your Dresser Drawers With Honeycomb Dividers
One of the most popular dorm storage ideas right now are these honeycomb drawer dividers. They're perfect for organizing small items like socks and underwear.
If you're not a fan of the honeycomb style, these drawer dividers are great too.
29. Keep Your Desk Drawers Neat Too
Another place in your dorm room that could use some organization is your desk drawers. These desk drawer organizers will keep all of your school items in place.
You could also use these for makeup, skincare, or jewelry.
30. Store Kitchen Items in a Fridge Caddy
Another favorite dorm room item is this mini fridge caddy. It hangs over the top of your mini fridge and it has tons of pockets for storage. You can store your table ware, utensils, snacks, etc. in the pockets.
I love that it has tons of storage space but it takes up almost zero room in your dorm!
This post was all about the best college dorm room ideas.
Looking for more dorm inspiration?