This post is all about Christmas dorm decor ideas that you can copy for your room!
This post may contain affiliate links, which means I'll receive a commission if you purchase through my link, at no extra cost to you. Learn more: Affiliate Disclaimer.
Even when you're a college student living in a dorm, you can still go all out for the holidays.
I took a semester off before I started college so I didn't really get to experience the holiday season in the dorms. I've heard that people will start decorating their dorms as early as November 1st so it doesn't hurt to be prepared! Plus, you want to have time to enjoy the decorations before you head home for Christmas break.
Decorating for the holidays is so fun because it really helps make that tiny little box you live in feel like home. Plus you can have competitions for the best dorm decorations with the other people on your hall.
I've included 14 insanely cute Christmas dorm decoration ideas that can give you some inspiration for how to get your dorm room in the holiday spirit. So grab a warm drink, blast some Christmas music, and get decorating!
1. Christmas Window Stickers
I love this idea because it's super cheap, easy, and it decorates the inside AND outside of your dorm!
There are a ton of different window stickers available on Amazon so you can really get creative with this one. Plus, you're spreading holiday cheer inside and out of your dorm.
2. Add Christmas Throw Pillows
A super easy way to add some Christmas cheer to your room without much effort is just to throw some Christmas pillows on your bed or futon.
If you already have throw pillows, just buy Christmas-y pillow cases and cover them up!
3. Hang Ornaments
This is one of my favorite Christmas dorm decor ideas, especially because you can match it to your dorm color scheme.
Just get some cute ornaments and hang them from your window with string or ribbon. You can find cheap ornaments at the dollar store.
Another cute idea would be to hang paper snowflakes from your windows!
[RELATED: 18 Perfect Christmas Ornaments For College Students]
4. Hang a Funny Christmas Banner
Hang a funny banner in your dorm to spice up your Christmas decor a little bit. I linked a few below that are absolutely perfect for college.
If you're not feeling that sassy, you can always hang up a cute banner that says "Merry Christmas" or "Happy Holidays."
5. Decorate a Small Christmas Tree
You won't be able to fit a full Christmas tree in your dorm but that shouldn't stop you from getting in the Christmas spirit. You can find a mini tree at just about any store during the Christmas season.
This mini Christmas tree is the perfect size for a dorm room and it'll fit on your desk or night stand. Decorate it with some cheap ornaments and you'll be all ready for the holidays.
6. Decorate Your Door
Decorating your dorm room door is a really popular way to get your dorm ready for the holidays.
It's also super easy! Just hang some cute wrapping paper and a wreath. If you need some inspiration, there are tons of pictures on Pinterest to give you ideas.
You can also just hang some garland and stockings like the girls in the picture did!
7. Hang Tassels
Tassel garland is another really cheap and easy Christmas decoration for your college dorm. You can DIY it or buy some cheap tassels on Amazon.
This would also be super cute to hang on your dorm door!
8. Make a String Light Christmas Tree
A Christmas tree that doesn't take up much space is perfect for a dorm room!
All you need are twinkle lights and command hooks to recreate this super cute Christmas dorm decor idea.
9. Make a DIY Fireplace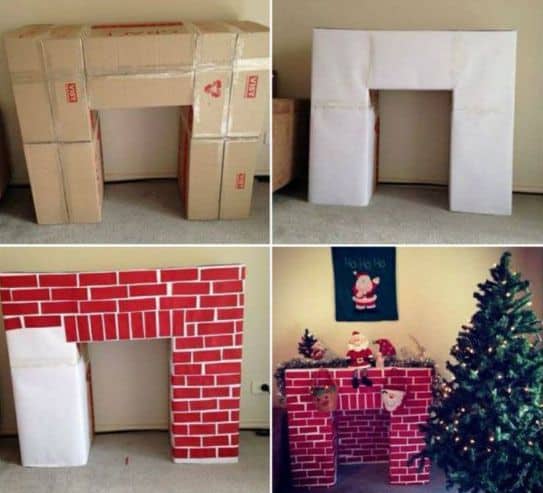 How adorable is this Christmas dorm decor idea? You obviously can't have an open flame in your dorm room, but you still have to have a way for Santa Claus to get to you ;).
You could even hang stockings on the fake fireplace for all of your roomies. Just get one of those big rolls of white paper for crafting to cover the boxes and then cut rectangles out of red construction paper. It's a little time consuming but the end result is SO cute.
10. Or Fake One With a Fireplace Tapestry
How real does this fireplace scenery tapestry look? This tapestry would also be an adorable backdrop for some Christmas pictures with your college friends if you throw a holiday party in your dorm room.
11. Hang Stockings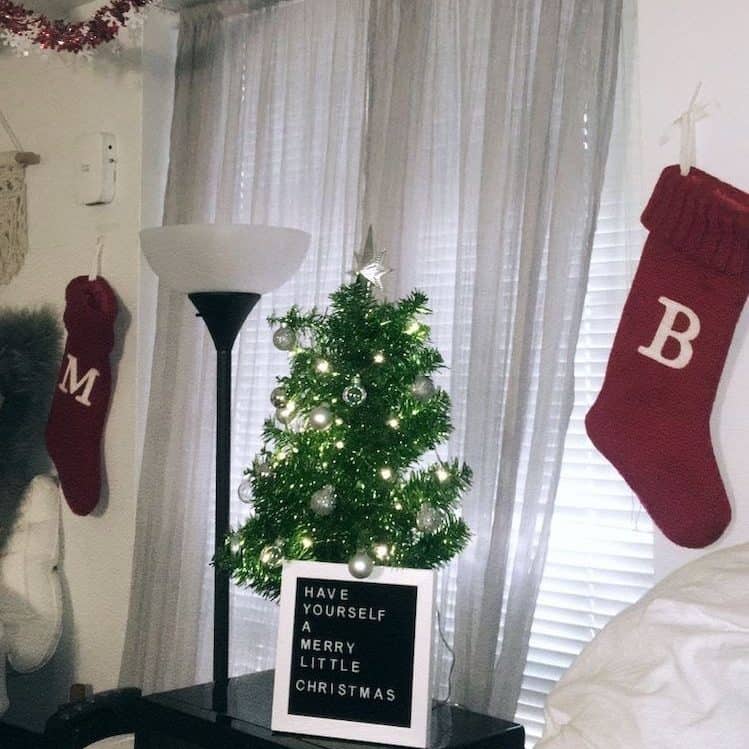 Get matching stockings with your roommate and hang them next to your bed with command hooks. Such a cute Christmas dorm decor idea!
You can leave each other little stocking stuffers if you're feeling really festive.
If you have your own dorm room, you could hang the stocking outside your door so that your friends can leave each other little treats (candy canes anyone?).
12. Hang Garland
Hang a little garland over your bed frame or around your window for an easy, damage-free Christmas dorm decor idea.
I love the way this person paired garland with twinkly lights and throw pillows to make their bed extra Christmas-y. Judging by the breakfast in bed, I doubt this was a dorm room. But it would be totally easy to recreate in your dorm!
13. Get an Elf On The Shelf
If you're not familiar with Elf On The Shelf, it's basically a really common family Christmas tradition. You move the elf around each night and try to pose them in funny or weird spots.
This would be so fun to do with your roommates! Move the elf around and see how long it takes your roommate to notice it.
Look on Pinterest for funny ways to pose your elf!
14. Deck Your Room Out in Fairy Lights
Nothing says Christmas like a ton of twinkly lights all over your room. You can buy super cheap string lights on Amazon and just go crazy hanging them all over your room!
The easiest way to hang fairy lights is with command hooks.
This post was all about Christmas dorm decor ideas.
Looking for more college Christmas ideas? Here are some posts you may like: