How To Create A Picture-Perfect Space Cowgirl Costume
Want to create the perfect space cowgirl costume for your next Halloween party? Here's how to recreate the look with a few simple costume essentials.
This post may contain affiliate links, which means I'll receive a commission if you purchase through my link, at no extra cost to you. Learn more: Affiliate Disclaimer.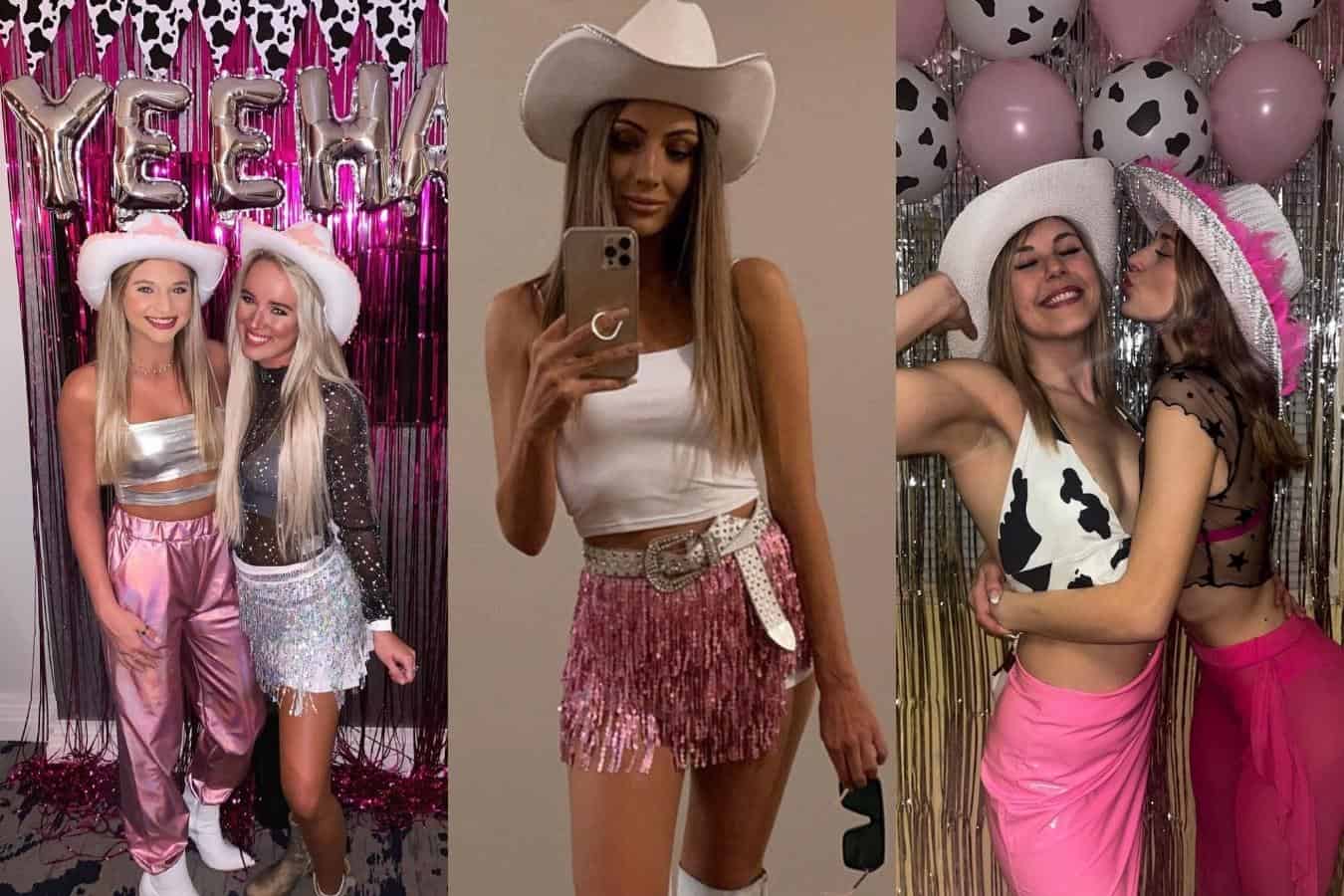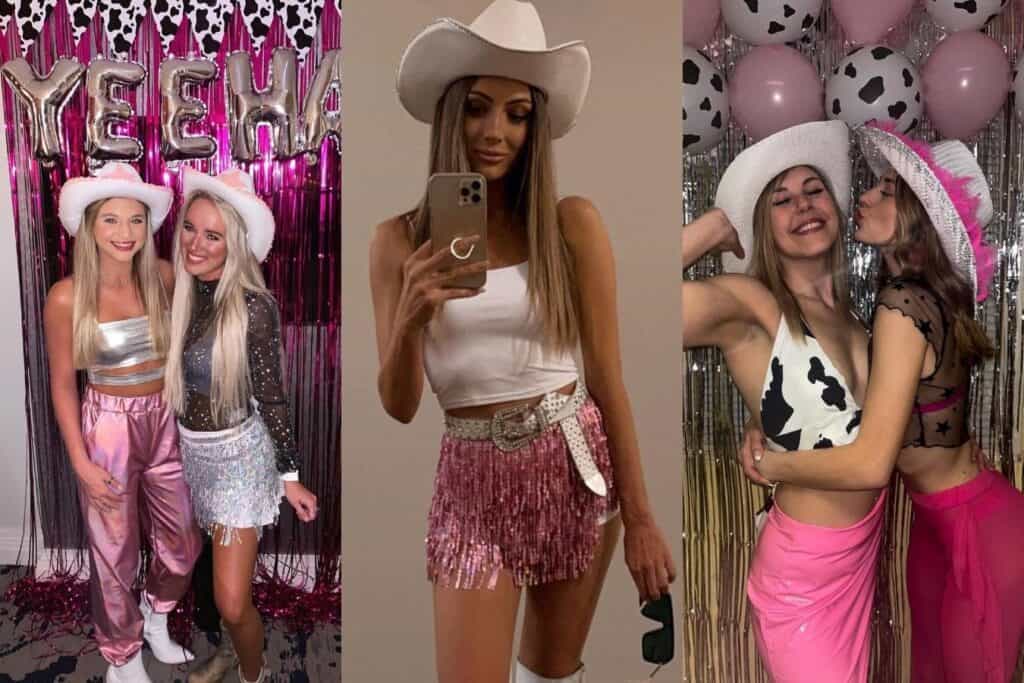 The space cowgirl costume has been trending at Halloween parties and other themed celebrations for a few years now, and rightly so!
This cool costume is a fun take on cowgirls and space aliens, and is so easy to put together. All you need are a few costume pieces in bright colors and a lot of sparkles and glitter!
The space cowgirl look is effortlessly cute and sexy, rolled into one, and all eyes are sure to be on you at the party. If you've been wondering how to dress up as one, here's everything you need. 
How Do You Dress Like a Space Cowgirl?
The best thing about this costume idea is that it's SO easy to recreate! You'll just need a few essential pieces to put together this look.
Here's everything you need in order to dress up like a Space Cowgirl:
Cowboy hat
Metallic top
Fringe skirt
Cowboy boots
Sparkly makeup
And that's about it! Of course, you're free to put your own spin on the costume, too. The most important part is that you wear a cowboy hat with some kind of metallic clothing and makeup.
Space Cowgirl Outfit Essentials
Now that you know what you need to sport the space cowgirl look, here are some ideas on the fashion styles that you could go for using those costume essentials.
1. Cowboy Hat
A cowboy hat is an absolute must for this look. This pink cowboy hat with a feather trim, paired with a pink patterned bandana will give you a super cute vibe.
2. Metallic Top
This flashy metallic crop tank top screams space cowgirl. The fabric is also stretchy and comfortable enough for a night of Halloween partying.
Want to get more use out of it? Save it for house parties, nightclubs, and other fun shenanigans.
Or, take things up a notch by wearing this shiny halter crop top instead. This sexy piece comes in a range of colors.
But for your space cowgirl aesthetic, opt for  the white, dark purple, or gray silver camisoles. 
3. Fringe Skirt
A metallic fringe skirt is perfect for the space cowgirl look and will also set the temperature soaring at the party.
You can even wear it after the Halloween season at rave parties, clubs, sorority events, or for another costume.
4. Cowboy Boots
A pair of knee-high Western cowboy boots with chunky heels is just the right kind of footwear you need to look like a true-blue space cowgirl.
Their retro style perfectly accentuates the space cowgirl outfit, making you stand out.  Just pull them on and rock the town.
5. Sparkly Makeup
Sparkly makeup is an absolute essential to finish the space cowgirl look. Put this glitter body gel anywhere you want a little extra shine to look like a stylish, shimmery space cowgirl.
It is skin-safe, waterproof, long-lasting, and dries quickly, making it easy to use.
You can also apply some waterproof liquid silver glitter eyeshadow on your eyelids, for that striking, glittery look that accentuates your eyes
Space Cowgirl Costume Inspiration
Need a little extra inspiration for the perfect space cowgirl costume? Here are some fun outfit ideas that will get your creative juices flowing.
1. Fringe Skirts And Cowboy Boots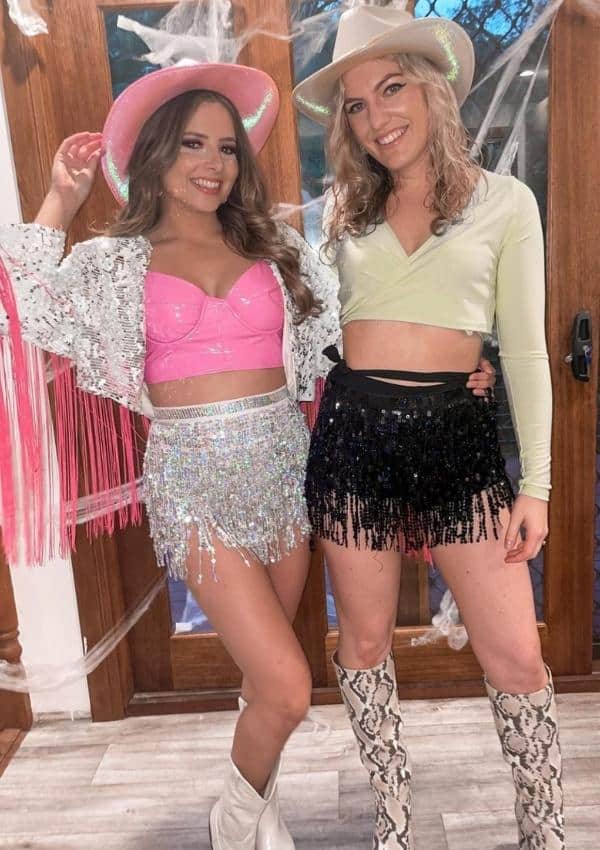 A shimmery, sequined fringe skirt and a funky pair of knee-high cowboy boots are sassy enough to show off your space cowgirl style.
Pair them with a cowboy hat and a cropped bustier top in bright colors, and you're done! If you want to go all out with this look, throw on a short sequined jacket, too.
Recreate this space cowgirl outfit:
2. Metallic Chaps and Fringe Sleeves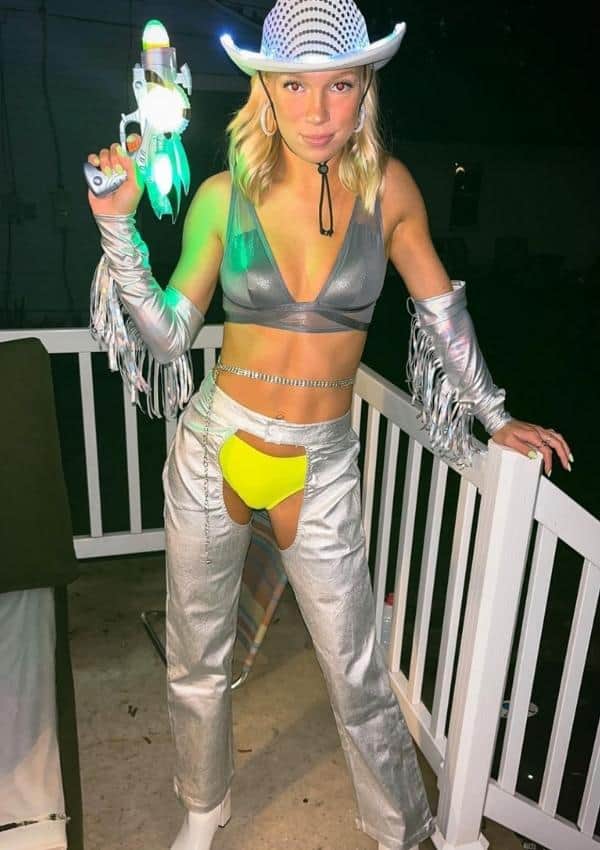 How sick does this all-metallic space cowgirl outfit look? To recreate this, pair a metallic cowboy hat and crop top with some shimmery silver chaps.
If you can't find chaps, metallic joggers would look just as cool!
Recreate this cool space cowgirl outfit:
3. Sweet and Simple Space Cowgirl Outfit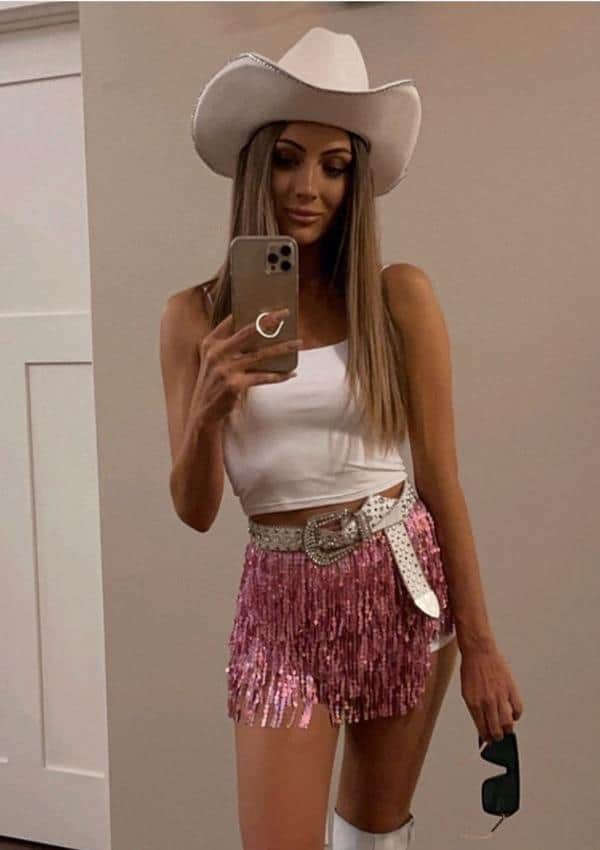 If you want to come across as a sweet yet sexy space cowgirl, keep things simple by just rocking a white cami top or tank top, a white cowboy hat, and white knee-high cowboy boots.
Break up the all-white outfit with a pink sequined skirt and a silver belt for some extra oomph.
Recreate this space cowgirl outfit idea:
4. Cow Print and Pink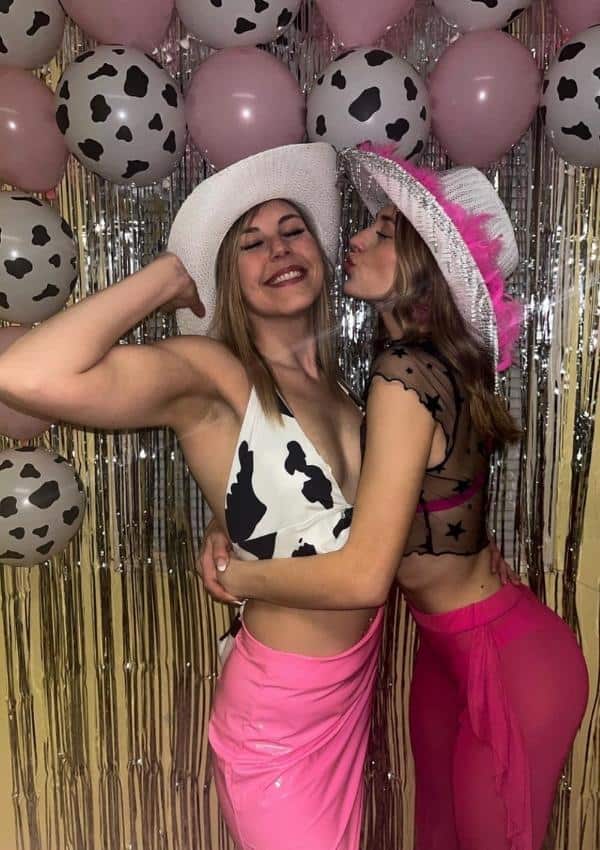 There's nothing that says cowgirl better than a v-neck cropped halter top that features a cow print.
Pair it with a white cowboy hat with pink trim. Add some color and fun to the outfit by putting on a pink faux-leather skirt.
Recreate this space cowgirl Halloween costume:
5. All-Metallic Outfit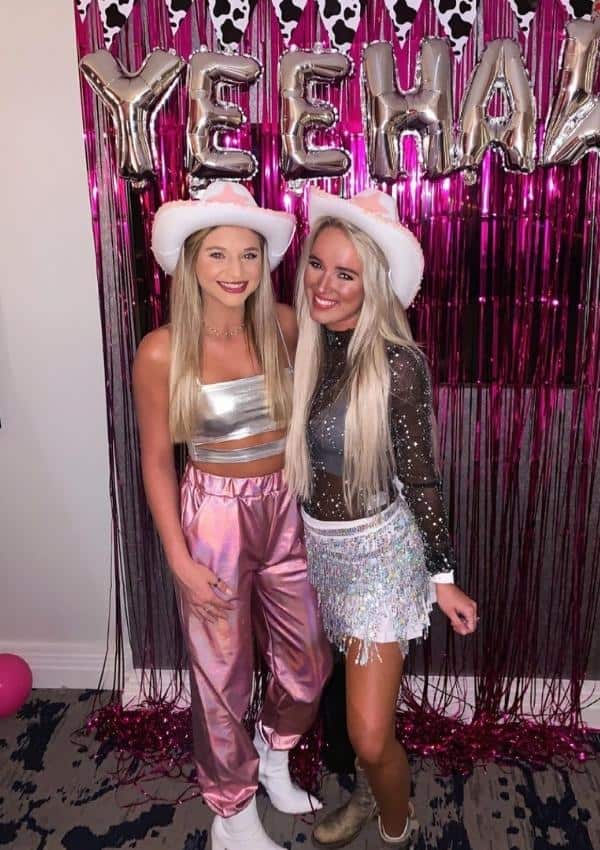 How cool do these space cowgirls look? If you want this look,  wear a shimmery silver top and a sequined fringe skirt for that bright, jazzy vibe.
Accessorize with a cowboy hat and a pair of cowboy boots, and you should be good to go.
Recreate this sparkly space cowgirl outfit:
6. Fringe Sleeve Bodysuit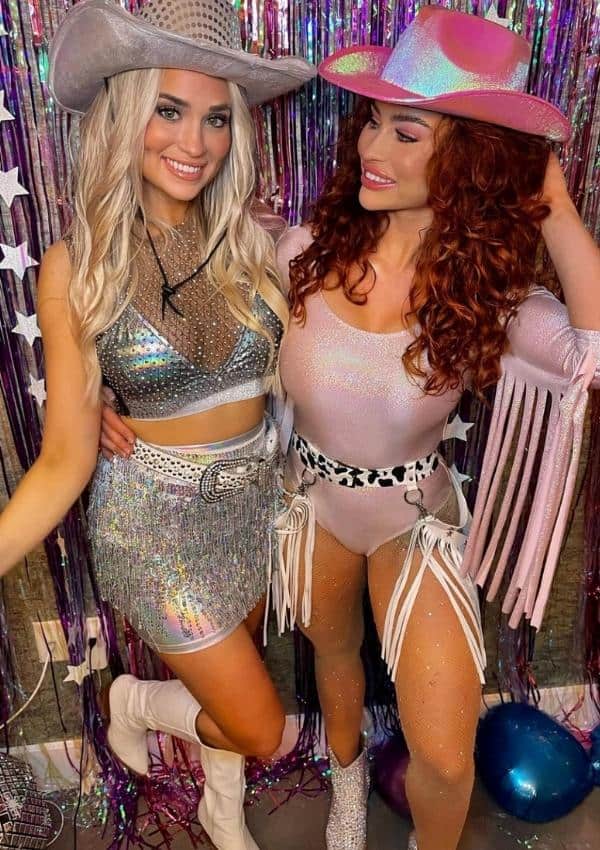 Want to take your space cowgirl outfit theme to the next level? Slip on a fringe sleeve bodysuit and cinch it at your waist with a fringe-garter belt.
Accessorize the outfit with colorful cowboy hat and some heeled booties. Such a unique spin on this popular costume idea!
Recreate this space cowgirl costume:
Space Cowgirl Costume Sets
Want some more inspiration to rock the space cowgirl look? Take a peek at these full costume sets and shop the look:
1. Full Space Cowgirl Outfit
If you don't want to shop the space cowgirl costume pieces separately and would rather prefer a full costume set, this one on Amazon is a great option.
It has a glittery cowgirl hat, a sequined fringe skirt, a pink patterned bandana, pink heart-shaped glasses, and a space-themed pink toy gun. 
All that's missing is a top and cowgirl boots. So throw on a metallic top and a pair of white or silver cowgirl boots, and you have a complete space cowgirl outfit on your hands.
2. Sexy Cowgirl Costume
This figure-hugging ensemble will showcase your beautiful curves and help you set stand out at the Halloween party.
The costume set includes a black full-sleeved collared crop top with metallic fringe trim, a pair of black high-waisted paisley print hot shorts, and a black, western-style buckle waist belt.
You'll have to shop for the cowgirl hat, boots, and fishnet tights from elsewhere, though. Put on some on your face and body and you're ready to go!
3. Pink Space Cowgirl Accessories Set
If you already have your clothes ready for the space cowgirl theme and just need the right accessories, this all-pink accessory set is your best bet.
It includes a cowboy hat, a clear vinyl fringe vest, and a western-style buckle fringe belt to add some pizzazz to your ensemble.
Wear some dark or shimmery makeup and a pair of glitter-framed sunnies, and you're all ready to ace the look.
4. Long Sleeve Space Cowgirl Set
Ready to reveal your wild space cowgirl side? This outfit set is sure to match your mood.
It comes with a metallic fringe-sleeved buckled romper, pink fishnet chaps, and a necklace. For the complete look, you'll need to buy the cowgirl hat, shoes, and glasses elsewhere.
Frequently Asked Questions
What is a Space Cowgirl?
A space cowgirl is a retro-futuristic fashion trend that is a cross between a space alien and a cowgirl.
It combines the best of the old west style with fashion inspired by outer space. Simply put, it features cowgirl fashion in metallic colors.
Why is Space Cowgirl a Thing?
The space cowgirl style trend is mostly popular for its feel-good vibes.
It also helps girls and women create an otherworldly, fashionable look that sets them apart at Halloween parties, bachelorette parties, and other themed celebrations.
Where to Buy a Space Cowgirl Costume?
There are many places you can shop for the space cowgirl look. Amazon, Etsy, Dolls Kill, Spirit Halloween, Party City, and PrettyLittleThing are just some of the online stores where you can check out this style.
Final Thoughts
The space cowgirl aesthetic is open to interpretation and lets you experiment with different outfit ideas.
The important thing to remember is that you need to have a cowboy hat and some metallic colors somewhere in your outfit. The rest of the outfit all comes down to your personal style choices!