What To Wear To A White Party (25 Classy Outfit Ideas)
Not sure what to wear to a white party? Here are 25 elegant and classy outfit ideas for your next white party.
This post may contain affiliate links, which means I'll receive a commission if you purchase through my link, at no extra cost to you. Learn more: Affiliate Disclaimer.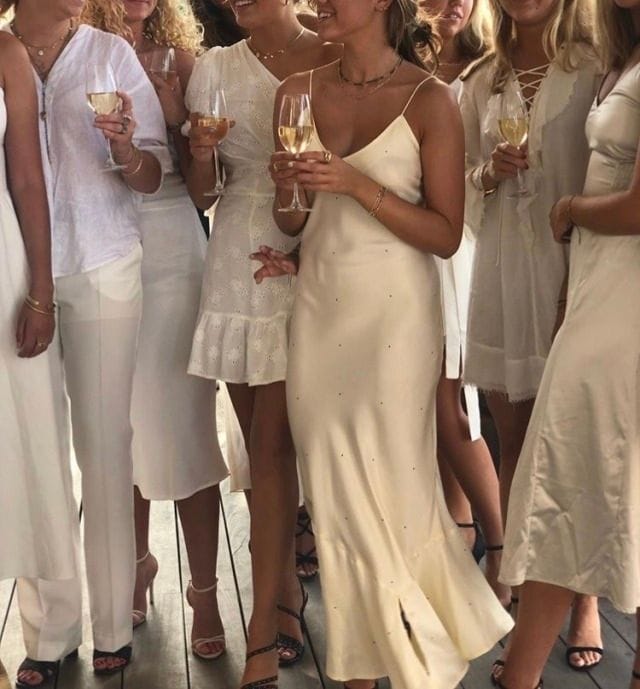 Did you receive an invitation to a white party but you're not sure what to wear?
While the concept is simple (just wear white!), the execution can be a bit harder. How do you put together an all white outfit? And what accessories should you wear?
We're answering all of your white party questions in this post, where we go over 25 of the cutest and classiest white party outfit ideas.
All of the outfits in this post are shoppable, so you'll easily be able to put together a stunning white party outfit!
[RELATED: 19 Creative White Dress Halloween Costume Ideas]
What Is A White Party?
A White Party is a type of theme party that requires its guests to dress in all-white outfits. The party decor will be white and guests will be expected to show up in white from head to toe.
White parties are typically more formal events that happen in the summertime. However, you may find yourself being invited to a more casual white party if you're a college student or young adult.
No matter how formal the event, we've included 25 cute and classy white party outfits that you can use as inspiration for your next party.
Elegant White Party Outfit Ideas For Ladies
1. Backless Midi Dress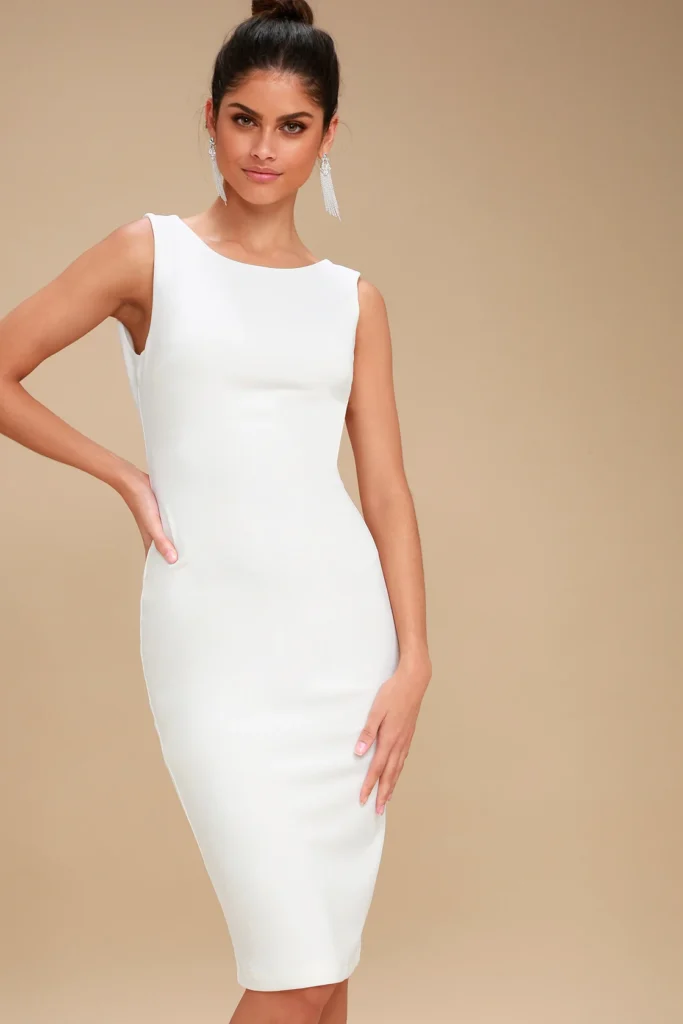 This backless midi dress is totally chic and would be perfect for a white party. We love that it is so simple and elegant.
Because of its simplicity, this would be the perfect dress to pair with some bold accessories. Add some statement earrings, a bold pair of pumps, or a stack of bracelets.
2. Satin Off-The Shoulder Dress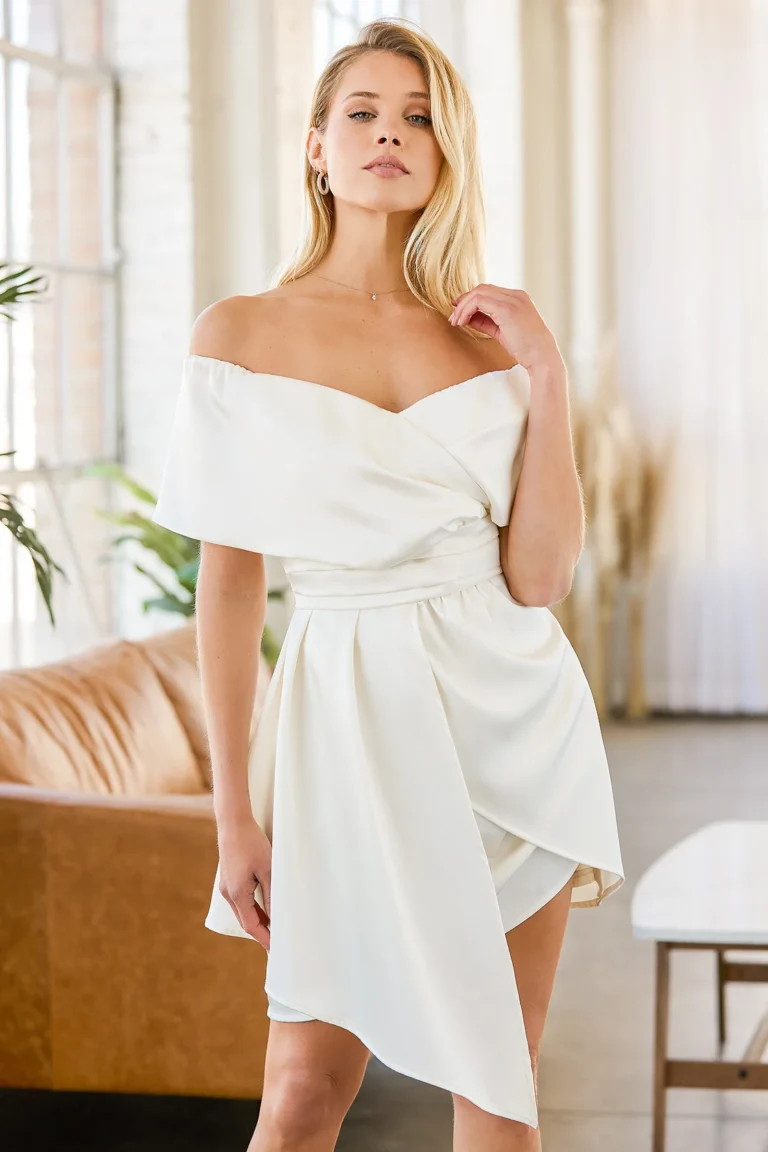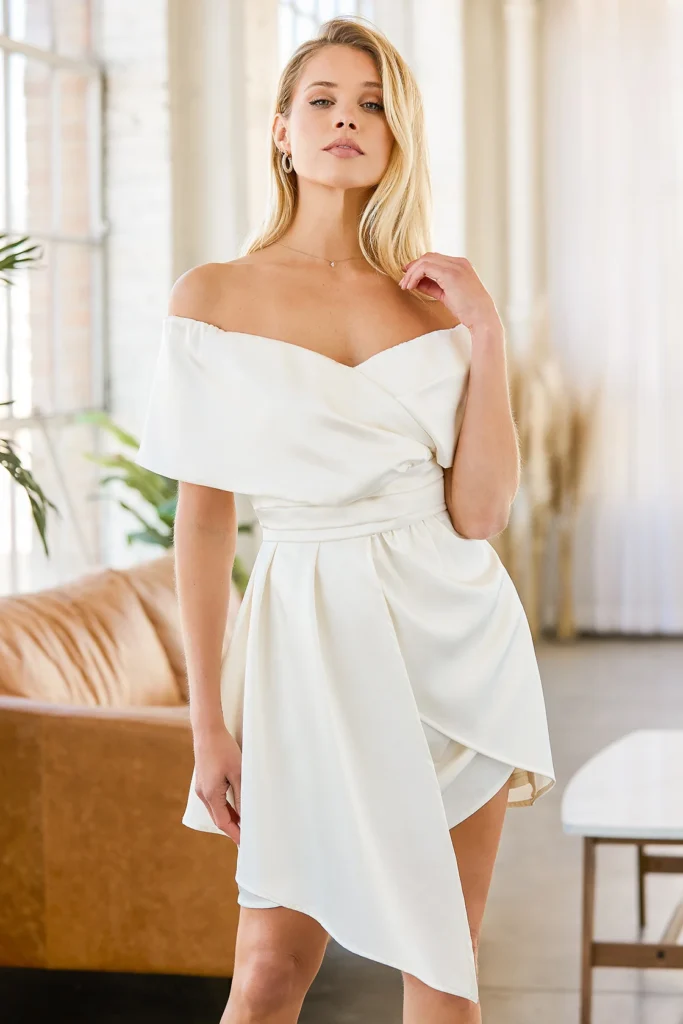 How stunning is this off-the-shoulder dress for a white party? The satin material makes it look way more expensive than it really is.
This dress is so unique that you don't even need to add accessories to make it stand out.
3. White Two Piece Set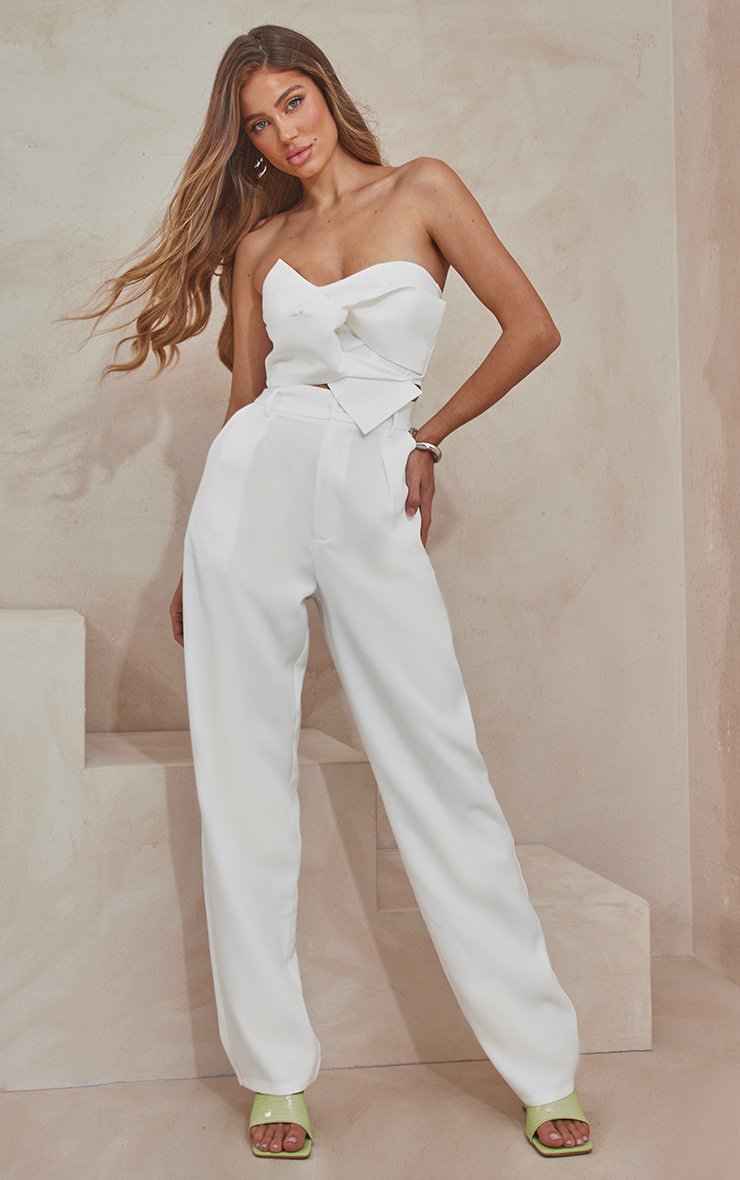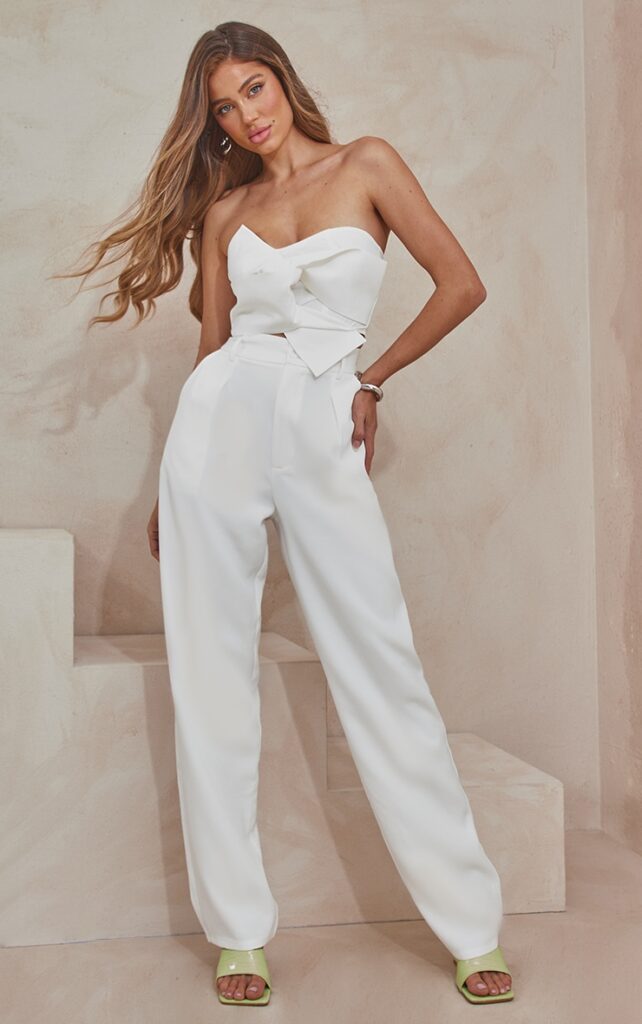 This two piece set is totally chic and classy for a white party.
The strapless top has a knot-front design and a cropped fit. The pants are tailored and have a straight leg, which is perfectly on trend right now.
4. Strapless White Jumpsuit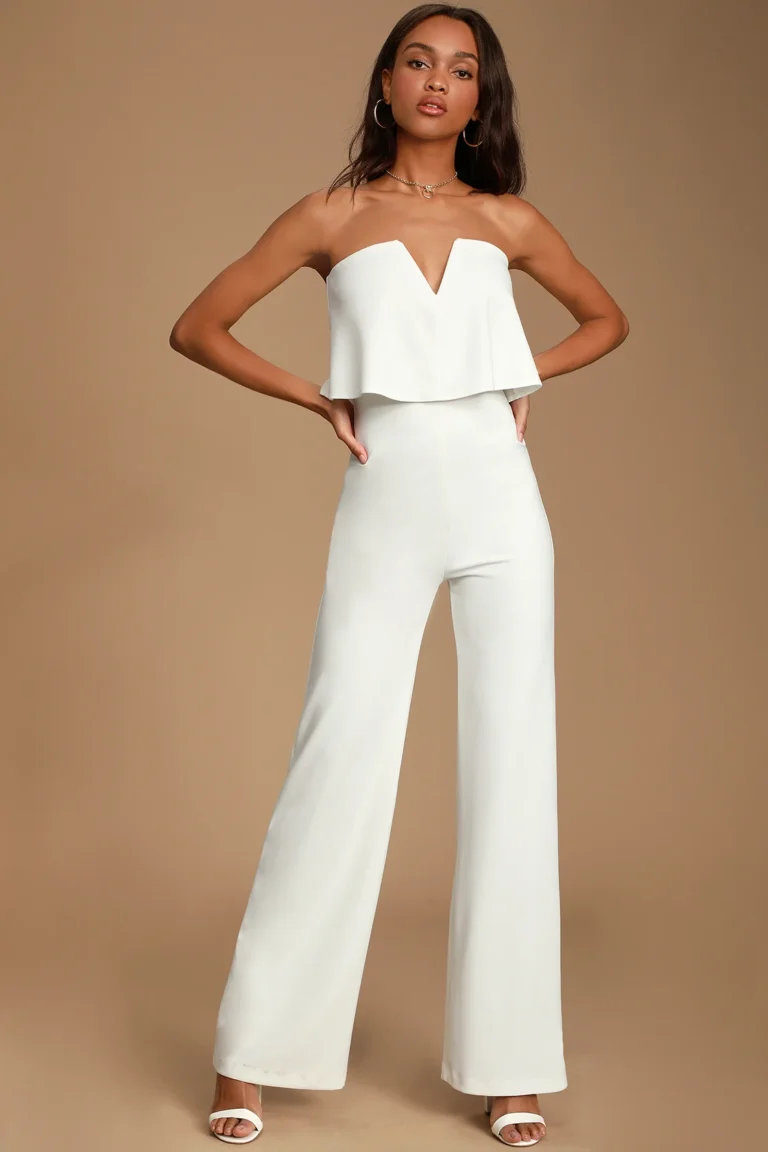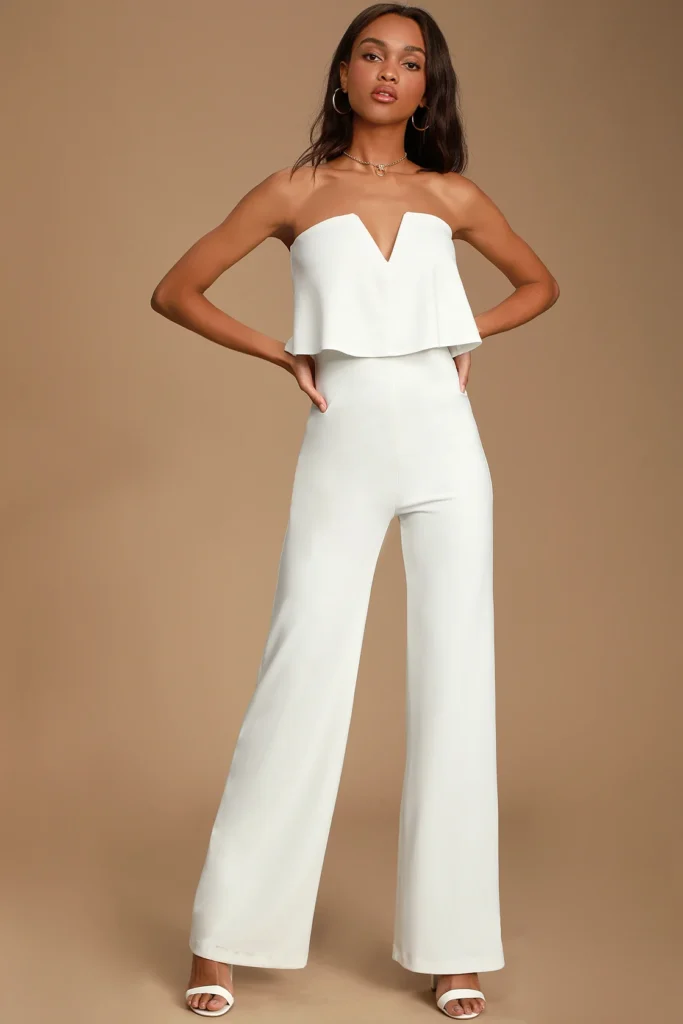 If you don't want to wear a dress to the white party, a classy jumpsuit is a great alternative.
This strapless jumpsuit from Lulus is absolutely stunning. The v-neck feature is so unique and stunning.
And as a bonus for all the short queens, the high cut waistline will make your legs look so much longer!
5. Crisscross White Jumpsuit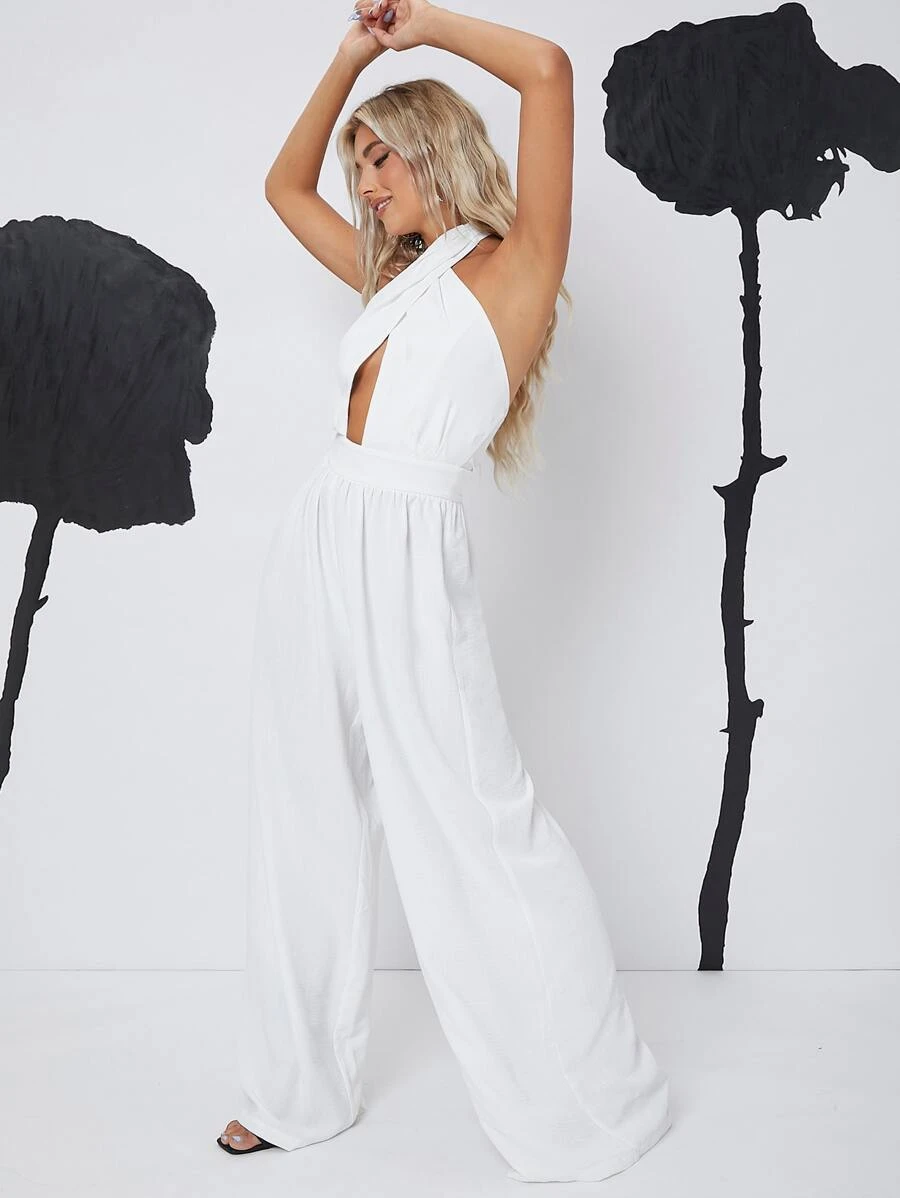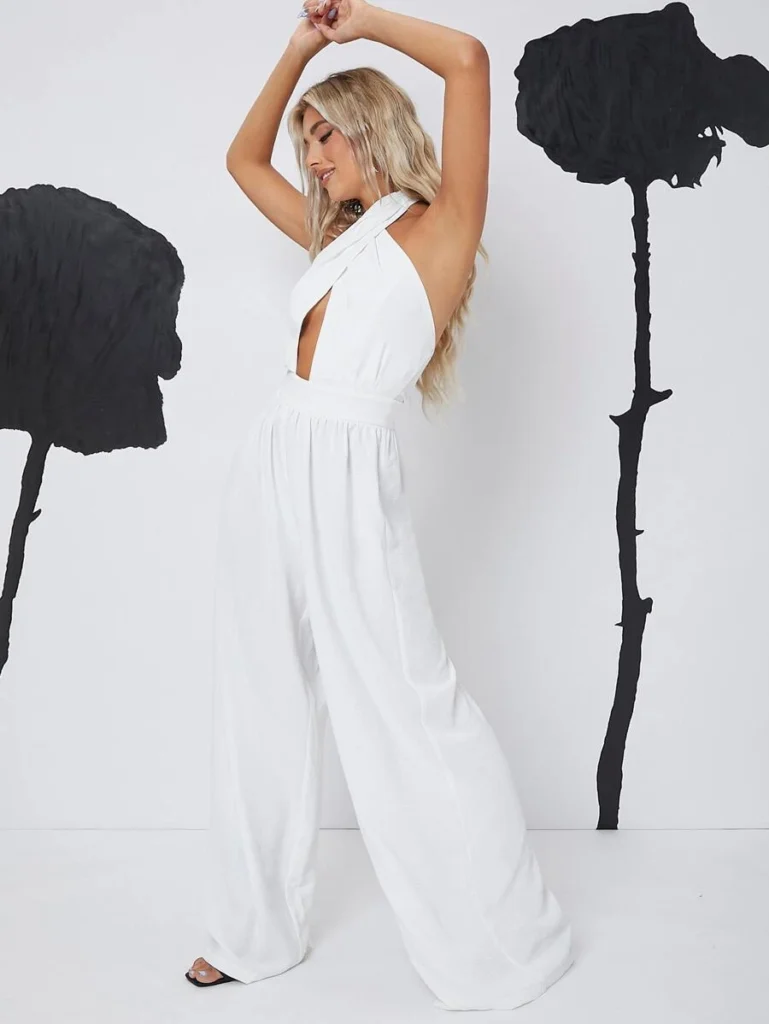 Another great option is this crisscross jumpsuit from SHEIN. It's super affordable but still looks very elegant!
The cross-neck detail is so unique and stunning. You wouldn't even need to add any accessories to this look!
6. Shoulder Detail White Party Dress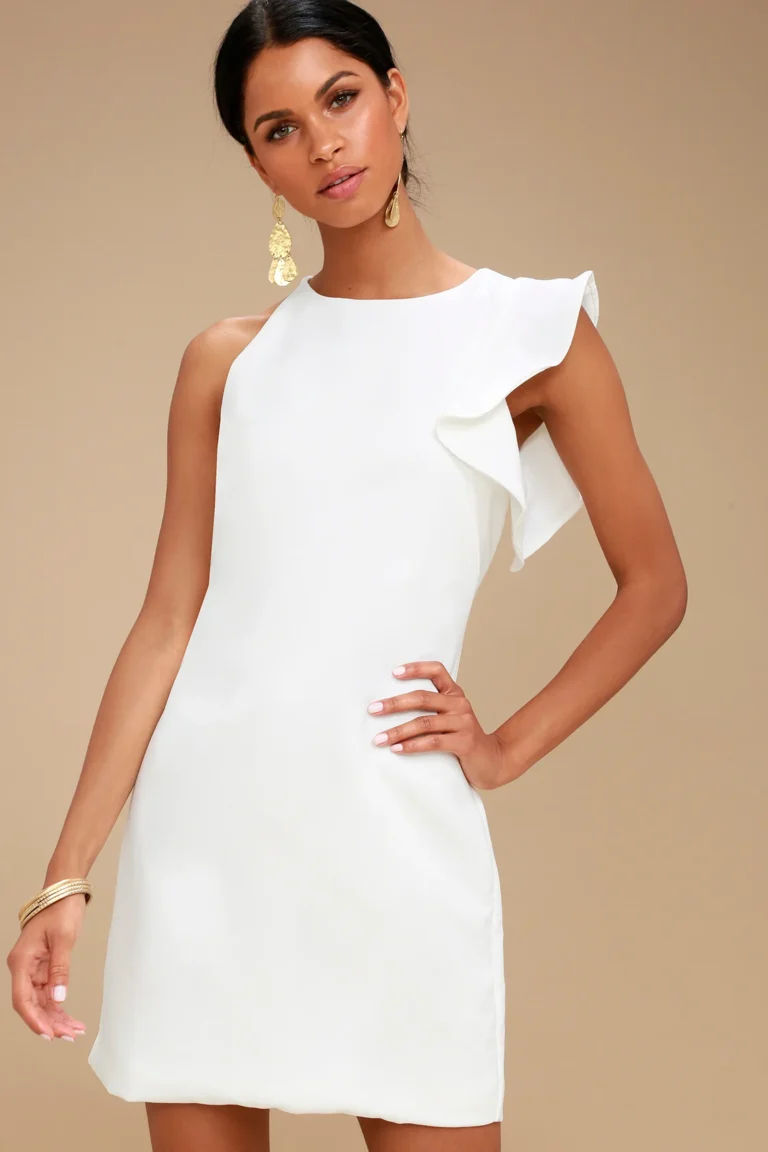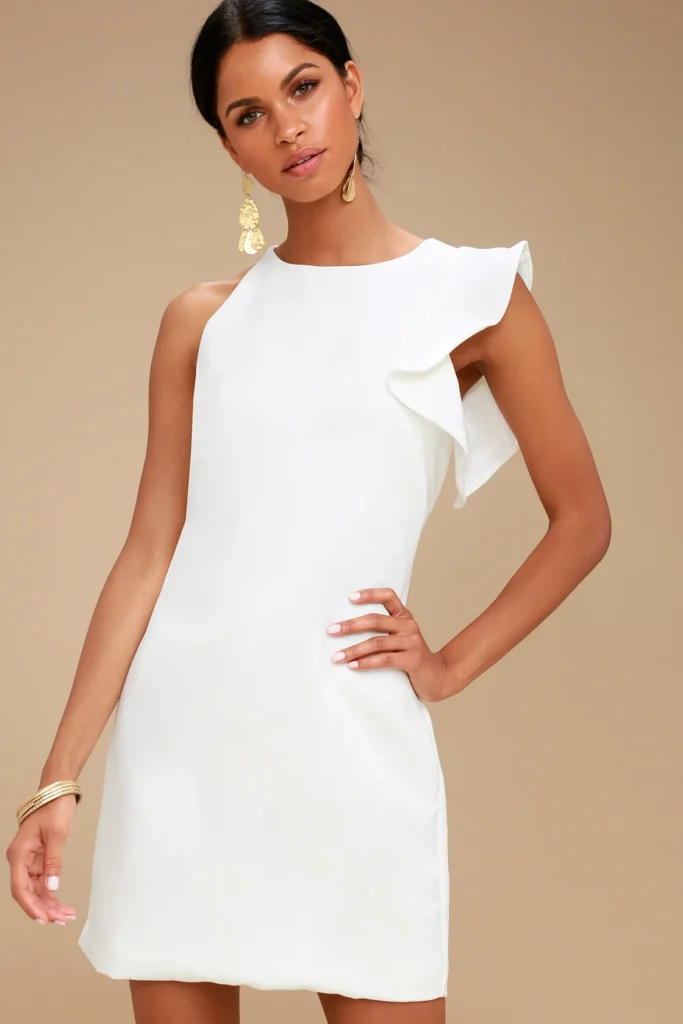 Looking for something simple but still elegant? This white dress from Lulus has the cutest shoulder detail that makes it look totally chic.
Pair it with some dainty earrings and a bracelet and you're good to go!
7. V Neck Fringe Dress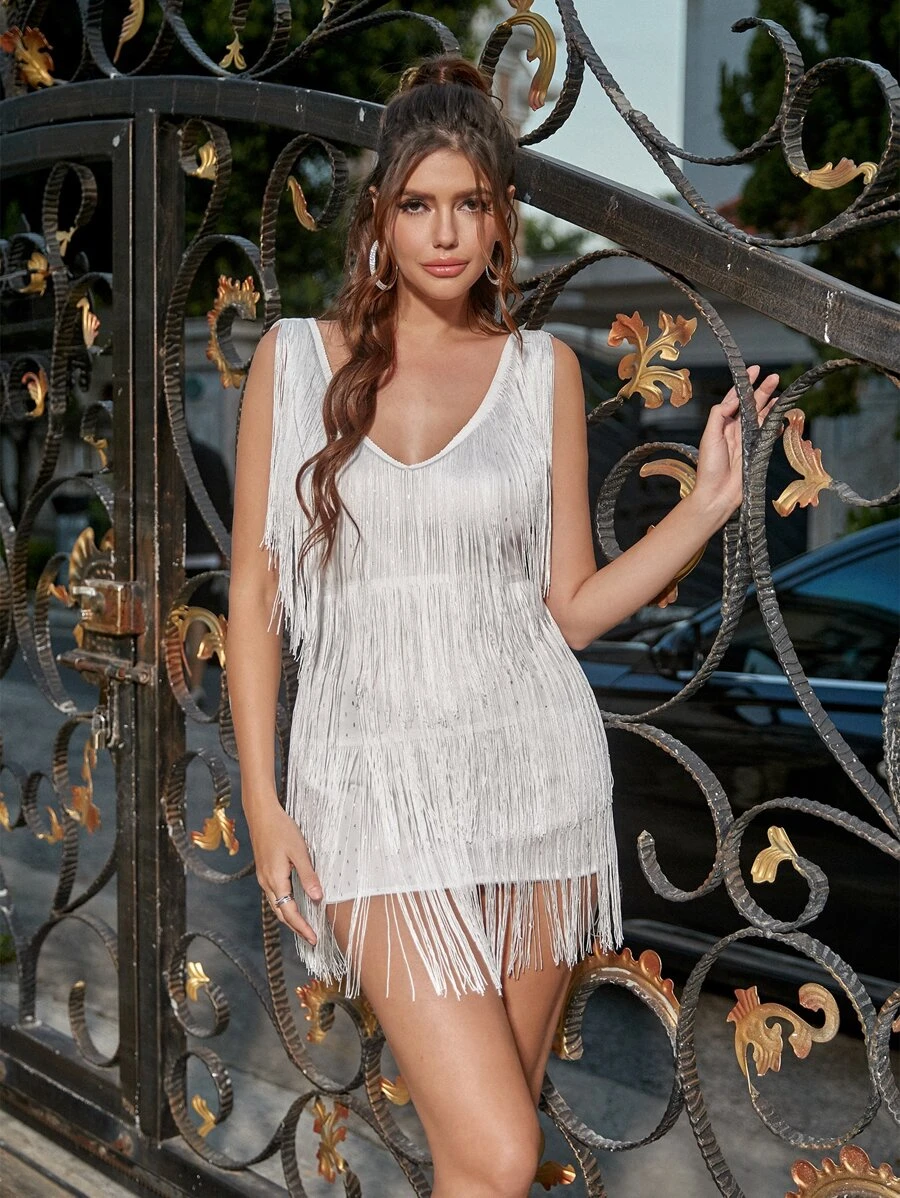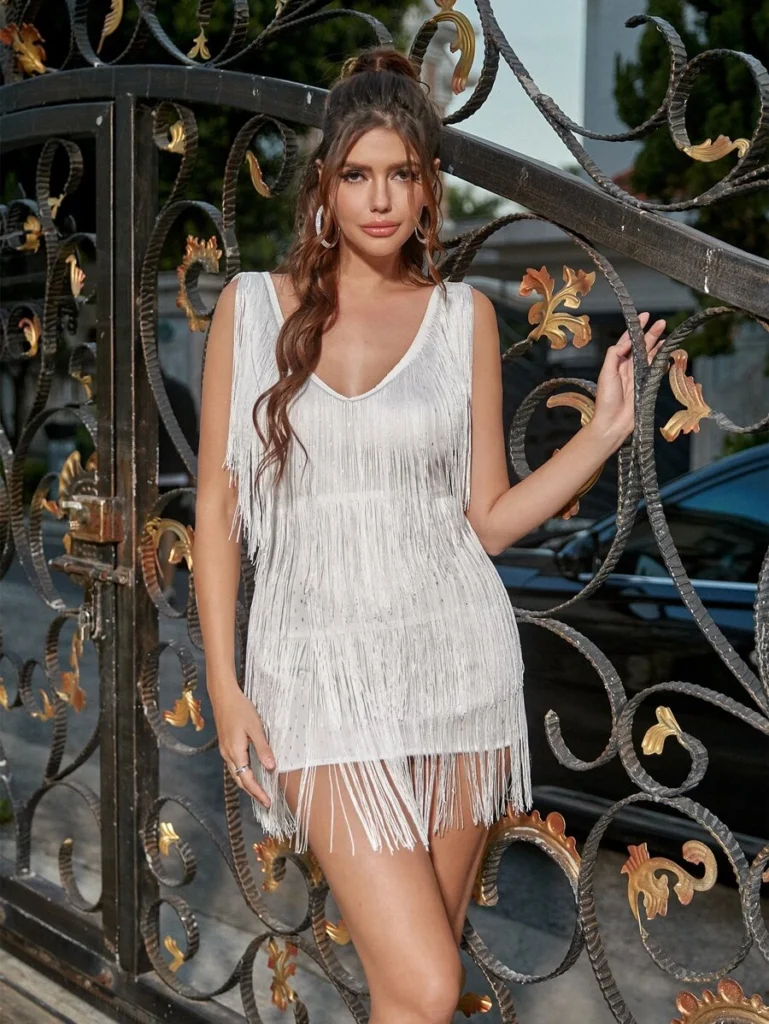 Want to make a statement at your next white party? This fringe detail dress is absolutely stunning and surprisingly affordable!
This dress will look absolutely incredible out on the dance floor.
8. Ruched Two Piece Set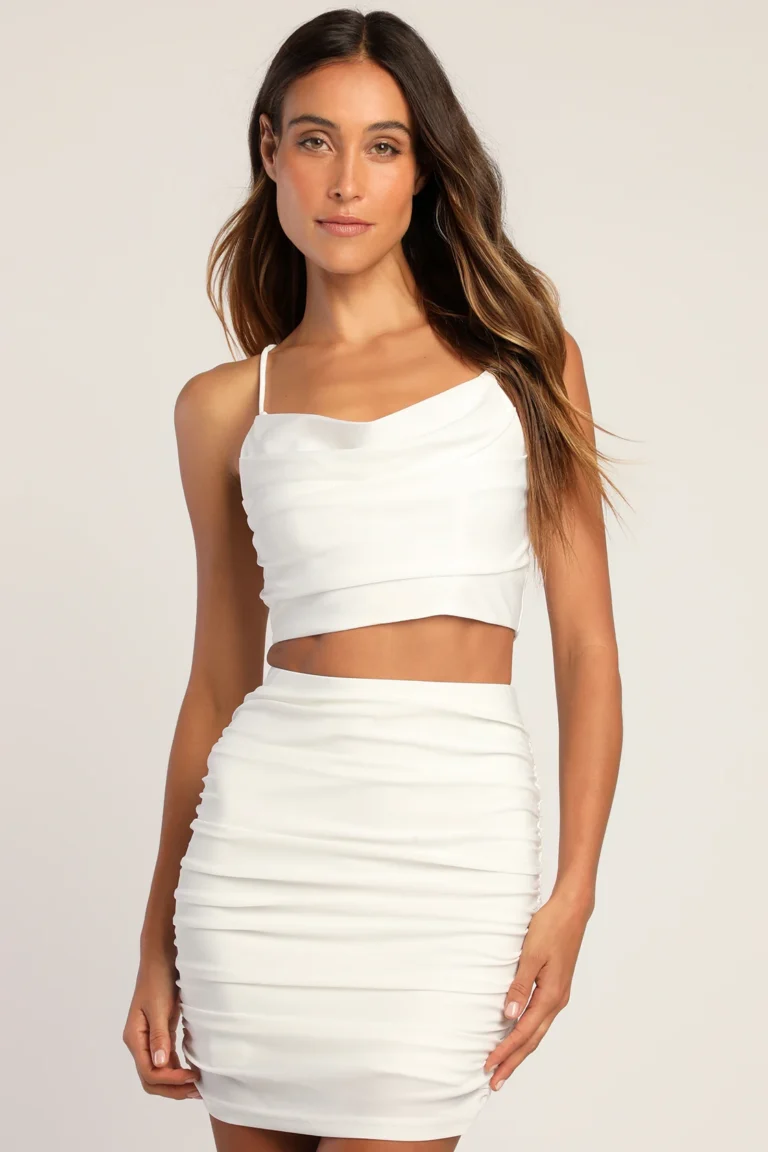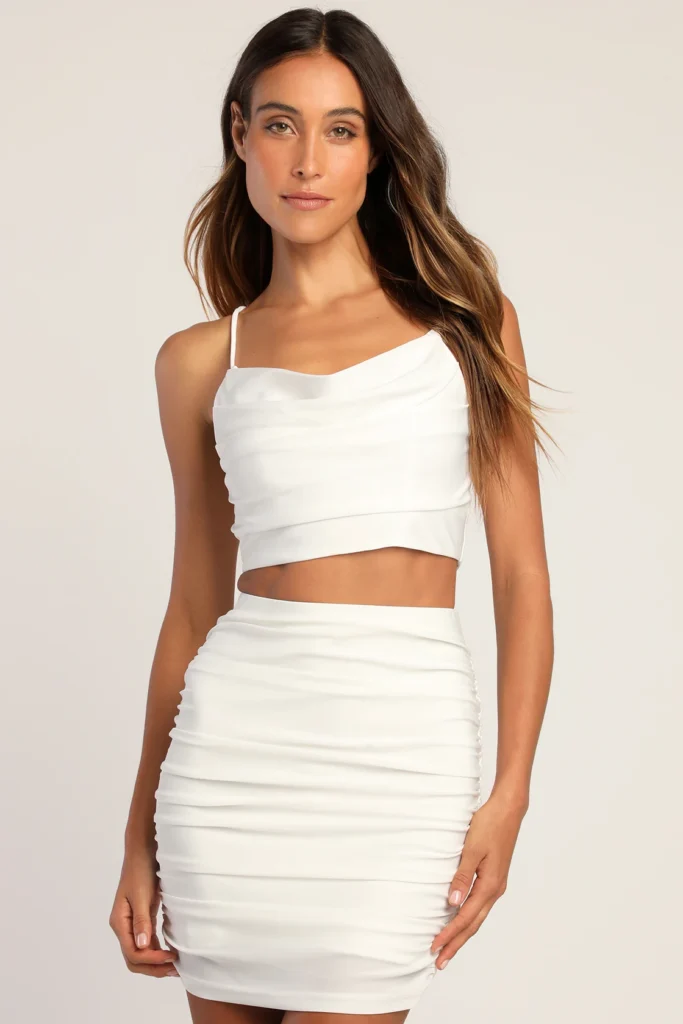 Looking for a more fun and youthful white party outfit? This two piece set is absolutely gorgeous and trendy.
The ruched detailing gives it texture and makes it more visually interesting. It also has a lace-up back, which adds even more interest.
9. Beach-y Two Piece Set
Going to a white party at a beach or by a pool? This would be a great outfit to wear for a more casual outdoor celebration. It could also double as a super cute swimsuit cover up!
10. Mesh Sleeve Body-con Dress
This unique body-con dress has see-through mesh sleeves and seam details along the front.
This dress would look gorgeous at a nighttime white party or for a bachelorette party!
11. Lace Bodysuit With White Jeans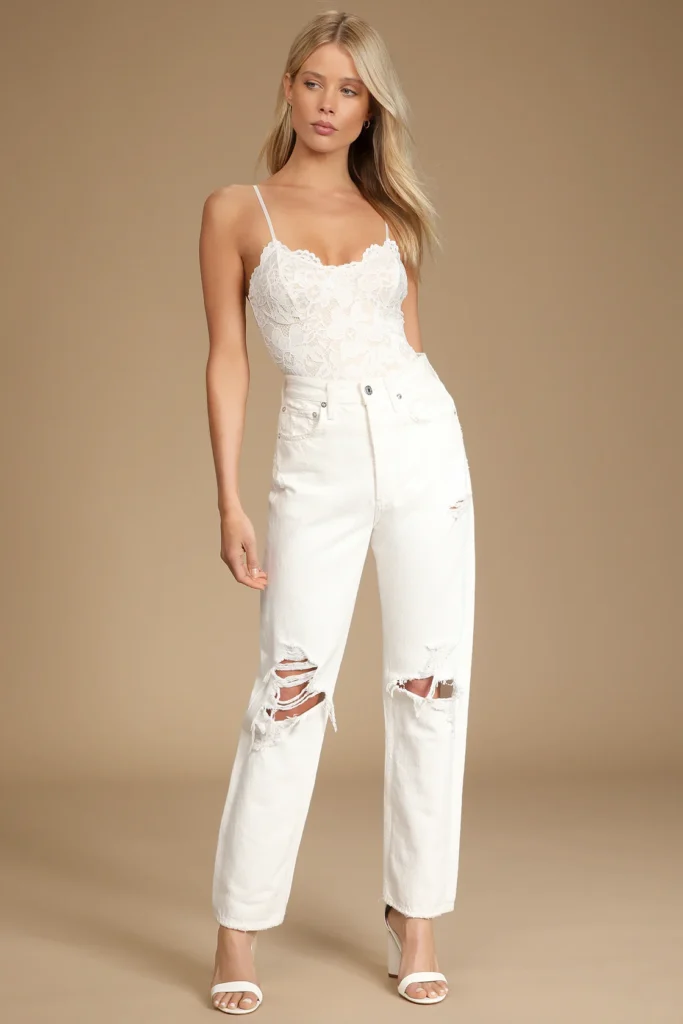 This outfit idea would be perfect for a more casual white party. Pair a white lace bodysuit with some white jeans for an instantly cool look.
12. Open Back Sequin Dress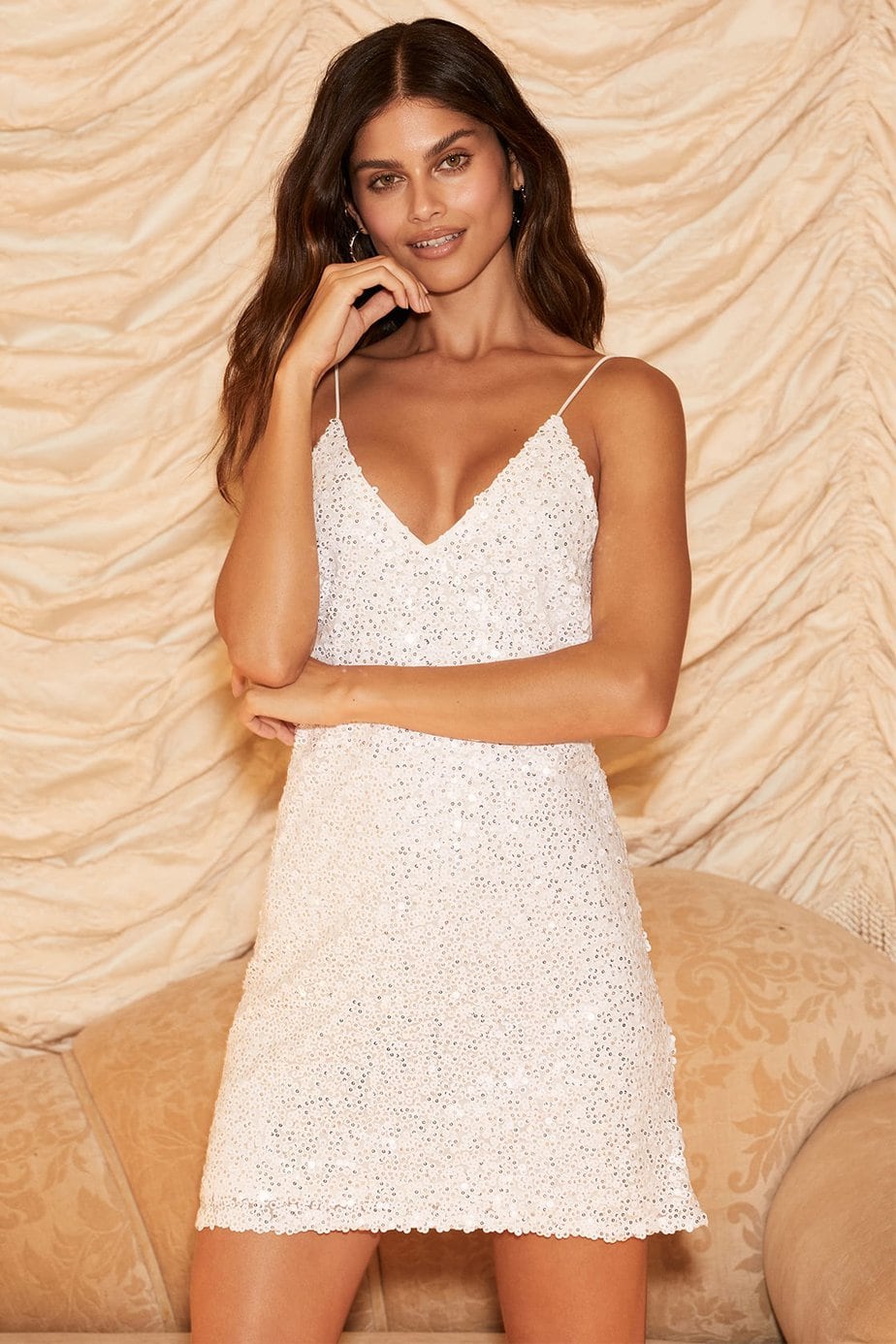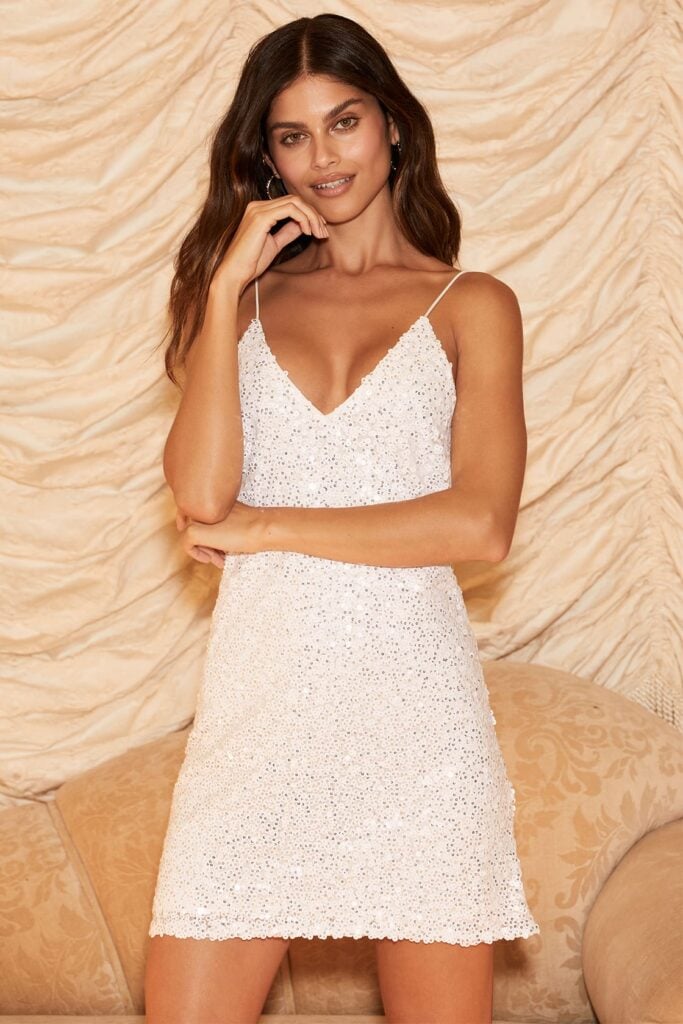 This sequin dress is perfect for anyone who wants to be the life of the white party.
The sequin fabric will make you stand out from the crowd, and the open back adds a touch of sexiness to the look.
This is definitely one of our favorite options for what to wear to a white party.
13. Mini Dress With Pearl Detail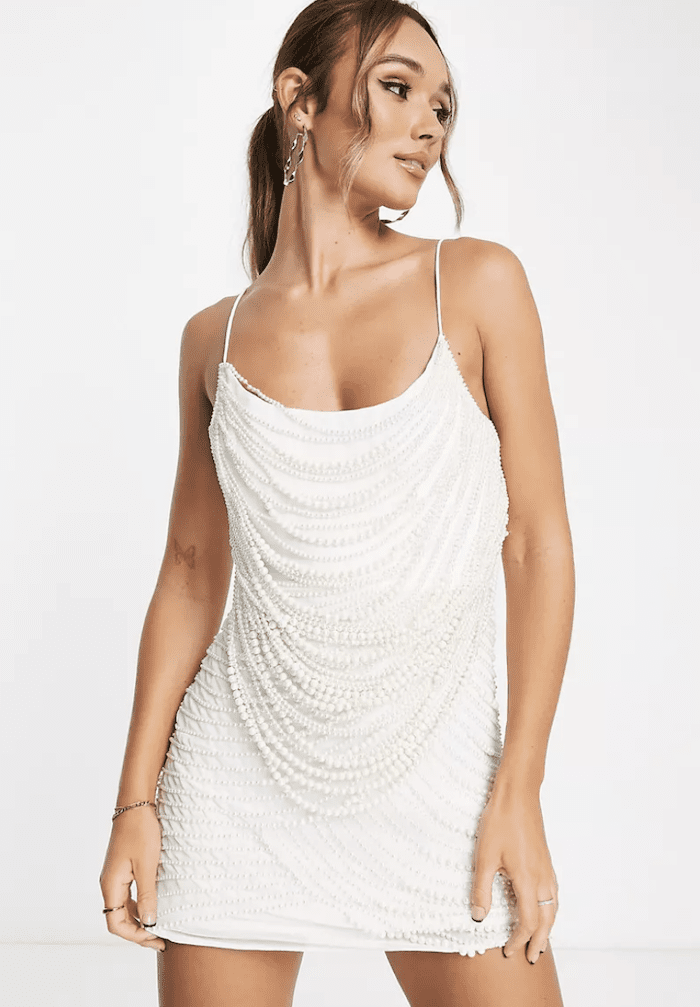 This is definitely one of the most stunning white party outfit options on the list.
A little white dress gets a major upgrade with these strings of pearls draped down the front of the dress.
Because the dress is such a statement, you can keep your accessories pretty minimal.
14. White Sundress
Want a white party outfit that can easily be reworn for other occasions?
This adorable white sundress is casual but also super cute. It would be perfect at an outdoor white party in the summertime.
Classy White Party Outfits For Guys
15. Off-White Linen Pants Outfit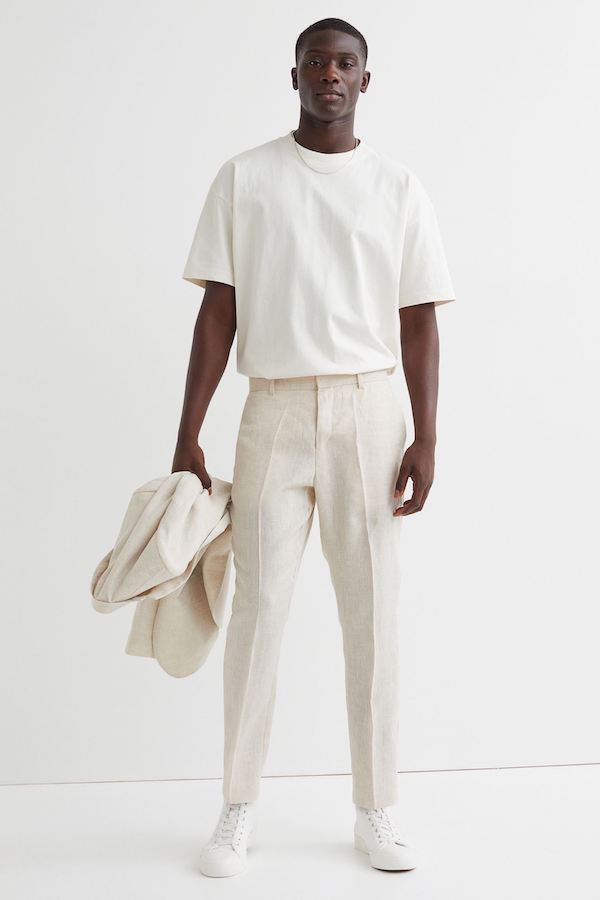 One classy white party outfit idea for guys is to wear off-white linen pants and a t-shirt. This would look great at an outdoor white party in summer.
16. White Matching Suit
You can't go wrong with a matching suit set for a white party. This slim-fitting white suit would look great on most guys.
17. Slim White Tuxedo Jacket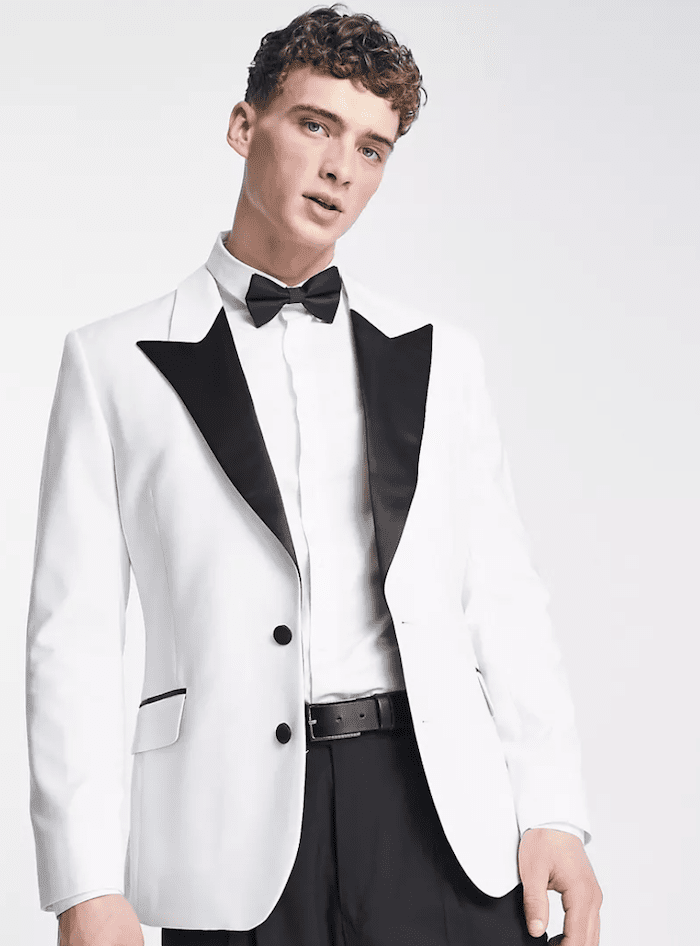 At most parties, it is perfectly acceptable to wear white with some black detailing. This slim white tuxedo jacket has black lapels, which gives it a very high-class look.
Pair it with some white suit pants and you have a full white party outfit.
18. White Chunky Knit Sweater
This white sweater would be perfect at a casual winter white party. It would pair well with white jeans, linen pants, or pretty much any other bottoms.
19. Casual White Button Down
Another outfit idea for a casual white party would be a breezy linen button down shirt. Pair it with some khaki or white pants for a very laid-back white party look.
White Party Accessories
20. White Strappy Heeled Sandals
These are the perfect shoes for a summer white party. They're beautiful, affordable, and can be paired with just about any outfit.
21. Acrylic Marble Purse
Neutrals and metal tones pair really well with white party outfits. This gold acrylic marble purse is absolutely gorgeous and would pair nicely with one of the elegant outfits on this list.
22. White Pumps
If you're looking for the perfect shoes for a winter white party, look no further. These white pumps are beautiful and surprisingly affordable.
23. Pearl Hoop Earrings
White and gold is a foolproof combination for white party accessories. These pearl hoop earrings are super classy and would pair really nicely with a plain white dress.
24. White And Gold Clutch Purse
This white and gold purse is the perfect size to hold your phone, credit cards, and your backup lipstick for the night.
It's also absolutely gorgeous and would look really good with any of the outfits on this list.
25. Statement Collar Necklace
Looking to make a huge statement with your accessories? This gold collar necklace is stunning and would look amazing with a plain high-neck white dress or top.
What To Know Before Going To A White Party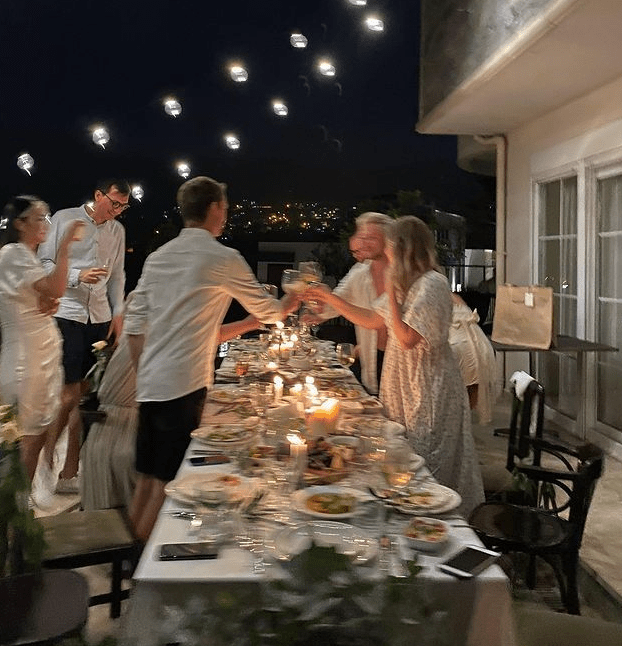 Do You Have To Wear All White To A White Party?
It's not totally mandatory to wear all white to a white party. You'll just want to make sure that the main elements of your outfit are white.
Feel free to accessorize with different colors, textures, and patterns to add some interest to your white party outfit.
Just be sure to check with the host if you're planning on wearing anything too bold. Some hosts won't mind, while others would prefer you to stick to the theme.
How To Stand Out At A White Party
When everyone is wearing the same color, it can be hard to stand out. If you want to make a bold statement, here are some ways to stand out at a white party:
Accessorize. Even if your entire outfit is white, some colorful or bold accessories will help you stand out from the crowd. Add some fun necklaces, hair accessories, or a cool belt to accessorize your outfit.
Add different textures and finishes. If you're sticking with an all-white outfit, you can add different textures and finishes to help distinguish yourself. For example, you could pair a chunky knit sweater with a sleek silky pair of pants.
Go for a bold shape or neckline. The way your clothing fits can make you stand out even more than the color would have. Opt for a bold-fitting piece of clothing if you want to turn some heads.
Add a pop of color. If you really want to stand out, you can definitely add a little bit of color to your outfit. Adding a colorful belt, shoes, or hair accessory will definitely help you stand out at a white party.
What Shoes Should You Wear To A White Party?
If you're attending a casual white party, like one in college, you can get away with pretty much any shoe choice.
However, if the white party is more formal, you'll definitely want to opt for a white or neutral shoe. Go with a white, tan, or metallic heel for women.
For guys, a pair of solid brown or black shoes are perfect for a white party. Opt for loafers or oxford shoes for a classier look.
What Purse Should You Bring To A White Party?
You're going to need something to carry your things around in all night. If you don't want to clash with the party theme, the safest bet is to stick with a white, neutral, or metallic purse.
However, you probably don't want to go and buy a whole new purse for one night. As long as your bag isn't too boldly colored, it should be totally fine to bring to a White Party.
This post was all about what to wear to a white party.
You may also like: