How To Create The Perfect Boxer Halloween Costume
Want to create the best boxer Halloween costume? Here's the ultimate guide to putting together a picture-perfect boxing costume (for guys and girls)
This post may contain affiliate links, which means I'll receive a commission if you purchase through my link, at no extra cost to you. Learn more: Affiliate Disclaimer.
Not only is a boxer one of the cutest Halloween costume trends right now, but it's also one of the easiest to recreate!
With just a few key pieces, you can put together the absolute best boxing Halloween costume of all time. You'll need an athletic outfit, a boxing robe, and possibly some gloves to pull off this look.
There are also some fun ways to accessorize or use makeup to make a fun boxing look.
With the boxing costume essentials from this post, you'll have everything you need to put together the best boxer costume at the party.
Boxer Girl Halloween Costume Essentials
There are a few directions you can go with the boxer Halloween costume idea. One of our favorites for girls is the all-black outfit with a pink satin robe over the top.
Accessorize with some plain white tennis shoes and a cute (and cheap) pair of pink boxing gloves.
If you want to go really hardcore with it, you could get some black face paint to make bruises or a black eye. You'll look like a real fighter!
Put your hair in braids to really pull together the boxing babe costume look.
Boxer Guy Halloween Costume Essentials
Guys can easily make a boxing Halloween costume with a few key elements.
The most important part will be your boxing trunks. This pair from Everlast will look super professional and bada$$.
The next important element will be your boxing gloves. This set from Everlast are not only affordable, but they're also functional! You can actually use them for boxing when the Halloween season is over.
If you want to go minimal with it, that's all you really need! But if you want to go all out, you could add a robe, a championship belt, and even some black face paint to make a fake black eye or bruises.
[RELATED: 35 Last Minute Halloween Costumes For Guys (Quick & Easy) ]
Boxer Girl Halloween Costume Inspiration
Now that you know the general elements of what makes up a good boxer Halloween costume, it's time to get inspired!
Here are different variations of a girls' boxing Halloween costume that you can recreate:
1. Pink And Black Boxing Costume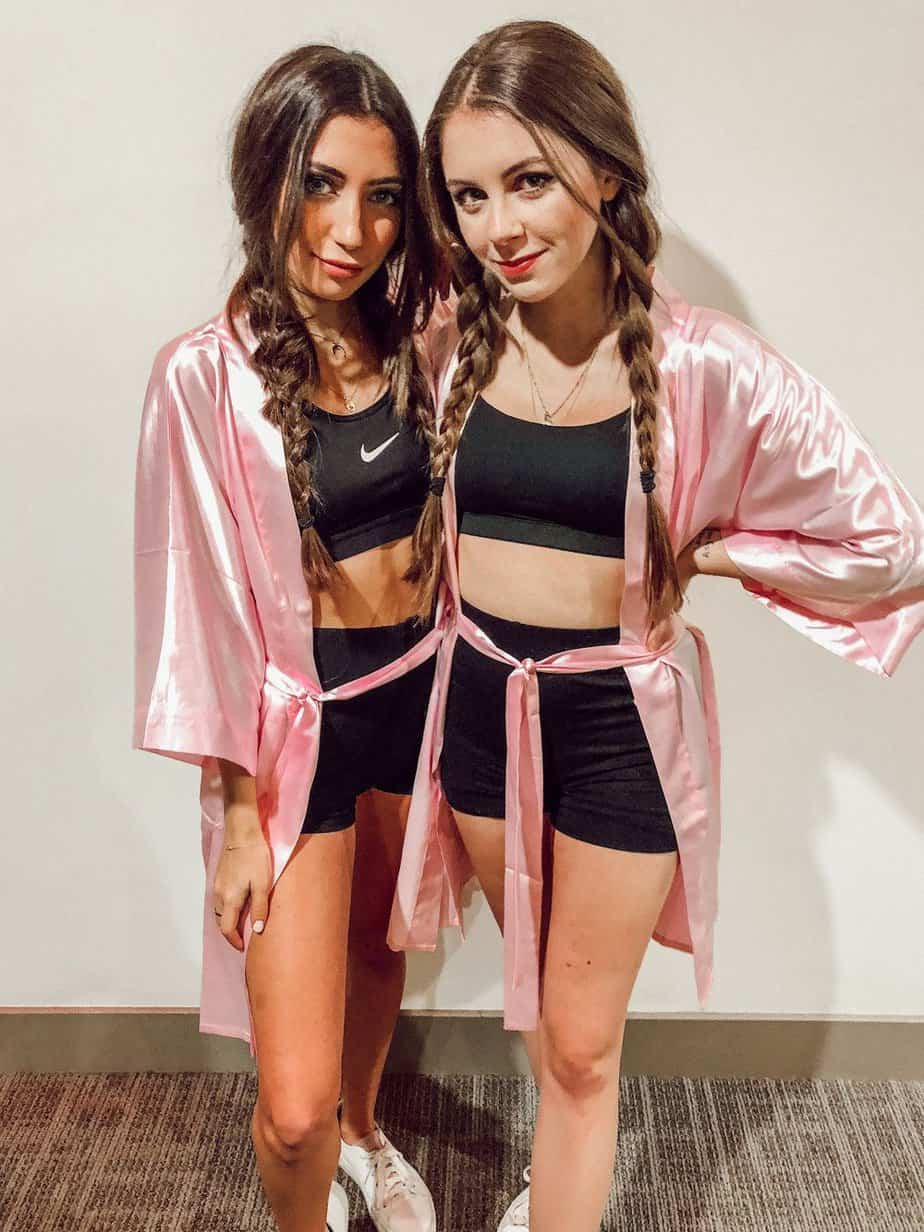 Recreate this boxing girl Halloween costume:
How adorable do these boxing babes look? I love the combination of the all-black outfit with a light pink satin robe. It's fun, feminine, but also looks really bada$$.
Putting your hair in braids and keeping your robe open will ensure that you look more like a boxer and less like you're in your pajamas.
[RELATED: 37 Easy Costumes With Normal Clothes For A Low-Effort Halloween ]
2. Red, White, And Black Boxer Halloween Costume
Recreate this boxing girl costume idea:
This costume is a total knock-out! The combination of the red and white boxing outfit, black robe, and wrapped hands make it look super realistic.
You could use regular athletic tape or you could get this professional-level hand wrap to accomplish this look.
I like this option more than wearing boxing gloves all night because it'll make it easier to eat, drink, and use your phone.
3. Hot Pink Boxing Babes
Recreate this hot boxer Halloween costume idea:
These girls definitely put a sexy spin on the typical boxing Halloween costume.
If you want to make your boxing costume look super hot, you can do what these girls did and let your hair down, put on high heels, and wear something a little bit more revealing underneath.
Boxer Halloween Costume Inspiration For Guys
1. Championship Belt Boxer
Recreate this guy's boxing Halloween costume:
Don't want to buy a ton of different pieces for your Halloween costume? Just throw a championship belt and a pair of boxing gloves on along with some regular athletic shorts.
Use some face paint or borrow makeup to make a fake black eye. You'll look like a legit fighter without putting too much effort in!
2. Bloody Boxer
Want to look like you just stepped out of the ring? Use some fake blood to make it look like you were just in a fight.
Throw on some boxing shorts and you have yourself a complete Halloween costume!
3. Color Coordinated Boxing Costume
Recreate this guys' boxing outfit:
This color-coordinated boxing outfit will make it look like you're a real professional about to get in the ring.
All you'll need for this are a pair of boxing shorts and a boxing robe in the same color. Amazon has some great options for color-coordinated boxing gear.
Boxer Halloween Costume Sets
If you want to look like a professional boxer without putting in much effort, just get a costume set! You'll get everything you need for a perfect boxing look without having to buy a bunch of stuff.
Here are the best boxer costume sets we could find:
1. Knockout Champ Costume For Women
This set has everything you need to look like a total boxing babe. It comes with a bandeau top, shorts, a satin robe, championship belt, and boxing gloves. What more could you need?
2. American Flag Boxing Costume
Your opponent will be seeing stars and stripes when they see you in this costume! It comes with everything you'll need for a super affordable price.
You'll get a hooded robe, shorts, and a belt. The robe even has pockets for your phone and wallet.
3. Hot Boxer Costume Set
How hot would you look in this costume set? It comes with a silky robe, stars and stripes sports bra, booty shorts, and the championship belt.
You'll definitely have the hottest costume at the Halloween party!
4. Heavyweight Boxing Champion Costume
This is definitely one of the more realistic boxing costumes on the list. The gold and black colors make it look really high-quality and professional.
This set comes with boxing trunks, a robe, and a belt. There are two functional pockets built into the costume which will allow you to carry around your phone and wallet all night.
This post was all about how to create a picture-perfect boxer Halloween costume.
You may also like: