This post is all about the best graduation gift ideas for your best friend.
This post may contain affiliate links, which means I'll receive a commission if you purchase through my link, at no extra cost to you. Learn more: Affiliate Disclaimer.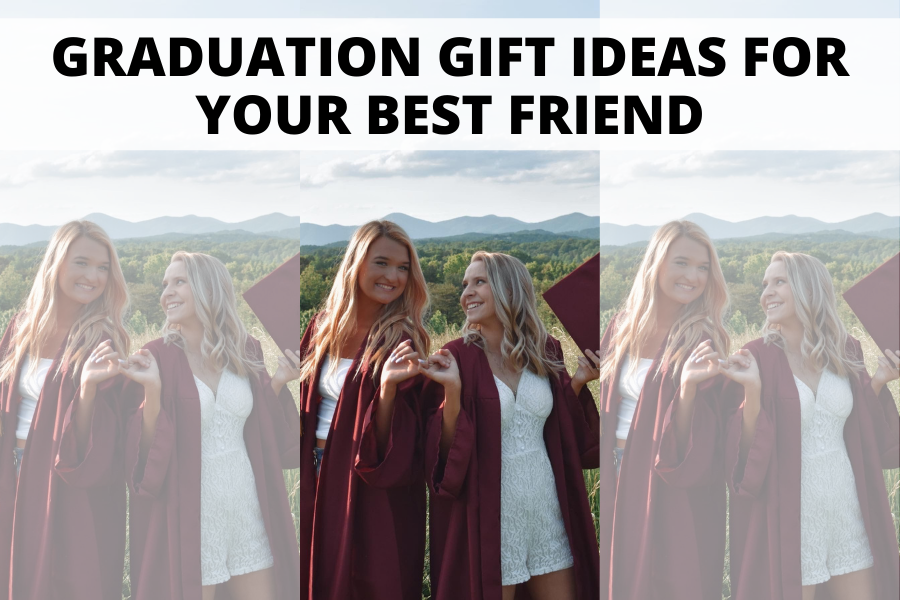 Is your best friend graduating from high school or college soon? It's time to celebrate!
You may be wondering what an appropriate graduation gift for friends is. Honestly, shopping for friends can be hard! You don't always know how much to spend or whether to go super sentimental with it.
In my opinion, the best gifts for friends are always the ones you know they'll use. That's why I included a ton of gift ideas for graduates that are practical but also super thoughtful. They'll be able to use your present when they head off to college or at their first job.
Whether you're looking for a sentimental custom gift, something cheap and easy, or a funny gag gift, I have you covered! In this post, I'll share 45 of the best graduation gift ideas for friends.
---
Table of contents:
---
The Best Graduation Gift Ideas For Your Best Friend
---
High School Graduation Gifts For Your Best Friend
A clear purse is the perfect graduation gift for best friends who are headed off to college soon. Most college stadiums require you to have a completely see-through bag to enter.
She'll get tons of use out of this, plus it'll look super cute with her game day outfit!
Does your bestie always have her nails done? She'll save so much money on manicures if you get her this at home dip kit! It comes with everything you need for the perfect dip manicure.
I have SO many friends who only drink cold brew coffee year-round. This is the perfect gift for high school grads because it'll allow them to make cold brew in their dorm room!
This amazing little cold brew pitcher will brew 4 servings of cold brew at a time. She'll save so much time and money if she doesn't have to run to the coffee shop every time she wants an iced coffee!
4. LED Lights
These LED Strip Lights are all the rage right now on TikTok. They make your bedroom look so aesthetic and cool.
This would be a great high school graduation gift for friends because they can use these in their bedroom at home or take them to college for dorm decor!
5. Mini Keurig
The mini Keurig is by far the most popular coffee maker for dorm rooms. It makes it SO easy to make a cup of coffee in the morning, and she'll save money by not having to head to Starbucks every day.
[RELATED: 27 Best Dorm Gifts College Students Will Love]
6. College Apparel
If your best friend is heading off to college soon, get them some college gear to celebrate. There's all kinds of collegiate apparel on Amazon, but my favorite gift ideas are T-shirts, sweatshirts, or hats.
This is definitely one of the most thoughtful graduation gift ideas for your best friend. They can take it with them to college to keep track of all of their favorite memories throughout the years.
Basically, you just write one line a week during your time in college. After the four years are up, you'll have a whole book's worth of memories and moments to look back on.
Girls need to be extra careful when they're walking around alone, especially on college campuses. This is one of those graduation gifts that you hope she never has to use.
When activated, this personal safety alarm will emit a loud siren noise and a flashing strobe light to create a diversion and help deter an attack.
Okay how genius is this graduation gift idea. Give your best friend a film camera so she can document her college life! Film cameras are SUPER fun and trendy right now so this gift is sure to be a hit.
I actually just ordered this exact film camera because it's so affordable and the reviews are pretty good! I can't wait to start documenting some memories on film!
[RELATED: 50+ Super Trendy Gifts for Teen Girls]
One of the best gifts for high school graduates is some fun dorm decor! If your bestie is heading off to college soon, get her a cute neon sign for her dorm room. There are a ton of different words, shapes, and colors of neon signs on Amazon to choose from.
[RELATED: Dorm Room Wall Decor – 10 Ways to Decorate Your Dorm Room Walls]
Cute jewelry is such a good graduation gift idea for your best friend. Not only is it something she'll actually use, but she'll also think of you every time she wears it!
This set of three gold rings from Amazon is absolutely gorgeous and such a good value! I bought ONE similar ring for more than the price of all three of these. Absolutely obsessed!
This fuzzy sweatsuit from amazon is an exact dupe for the super expensive SKIMS set! This is a great gift idea for anyone who's heading off to college soon.
She'll love wearing this cozy set while she studies in her dorm room.
College Graduation Gift Ideas For Your Best Friend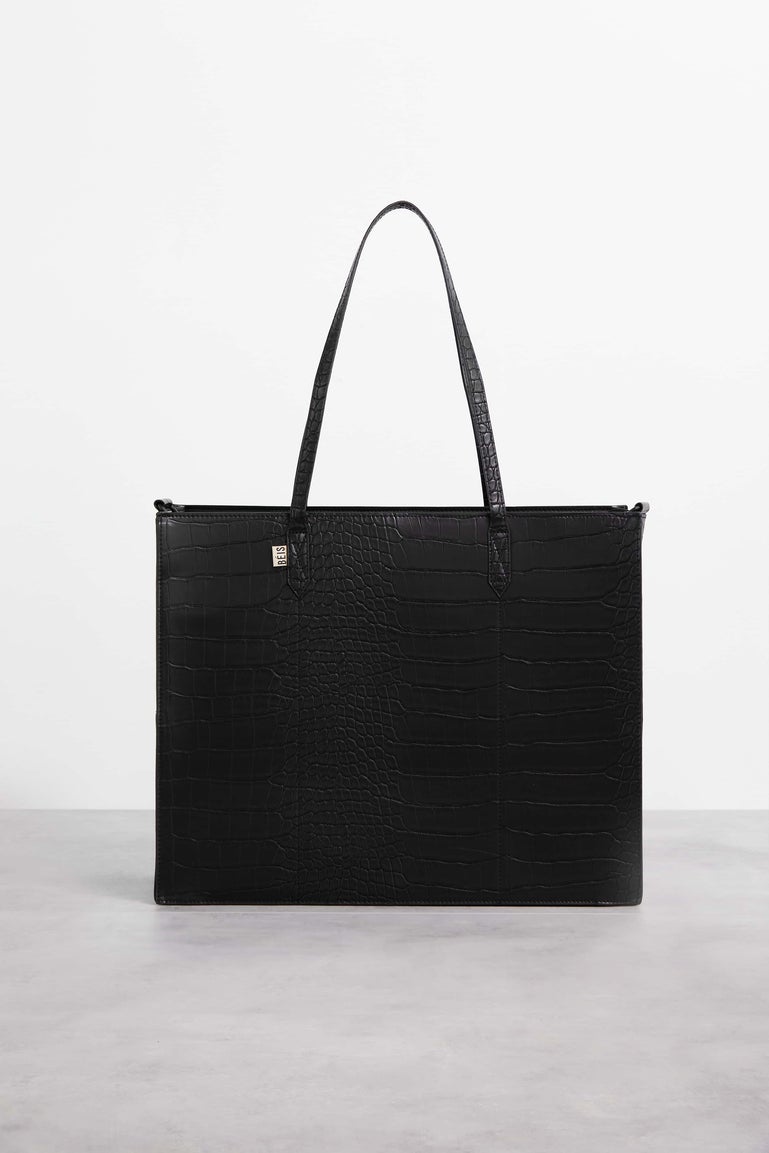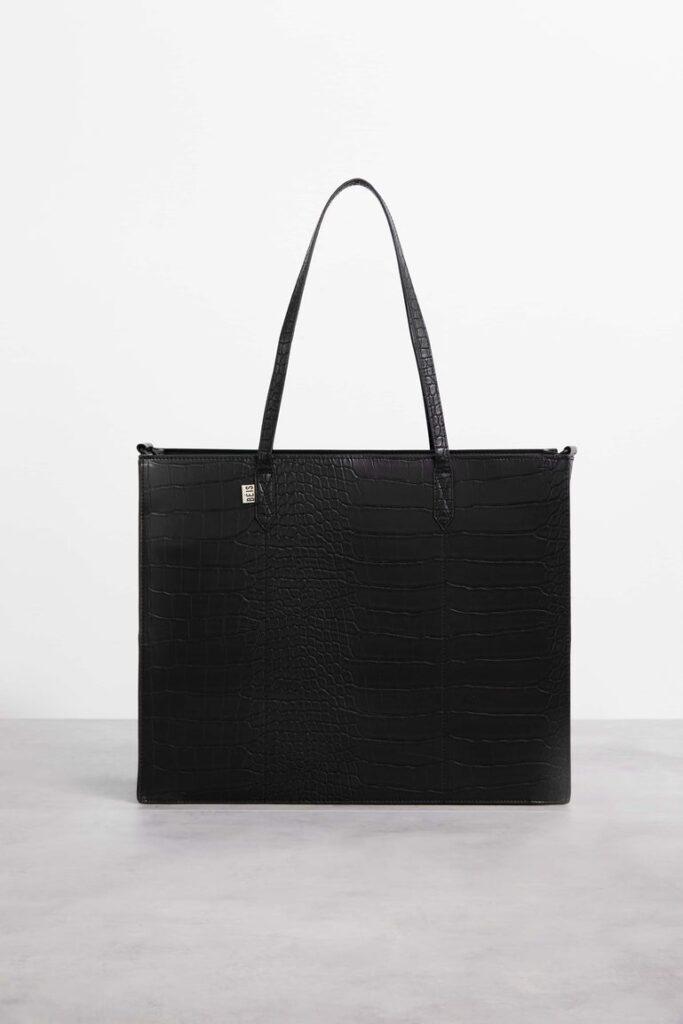 If your bestie is graduating college and heading off to her first adult job, she'll absolutely obsess over this work tote from Béis. It's super functional and includes a padded laptop pocket, key ring leash, tons of internal pockets, and a removable zip pouch.
I have a few products from Béis and I'm absolutely obsessed. Their quality is incredible and there are so many functional features that you just don't find on other bags. Plus, everything is super cute!
She'll feel like a total boss babe on her first day at work, thanks to you!
[RELATED: 30 Gifts For College Girls That They Actually Want]
14. Kitchen Accessories
Graduating college often means moving into your first adult apartment. Your best friend will definitely appreciate help stocking her kitchen with the essentials.
Here are some really thoughtful kitchen accessories that anyone would love to get as a college graduation present:
15. Apple AirTags
These AirTags by Apple are absolutely genius. You can basically attach them to anything, and then you can track it with your iPhone. This is a great graduation gift for best friends because it'll help them never lose their wallet or keys again!
You could also include an AirTag keyring with your gift so they can easily attach it to their keys.
Weighted blankets have a ton of health benefits. It helps you sleep better, calms anxiety, and has even been said to increase seratonin.
This is a great gift for someone who is just going into the "adulting" phase of their life.
Yeti is basically the gold standard for travel mugs. They're insanely durable and they keep your drinks warm ALL day. I've had mine for a few years, and it still looks brand new (and I may or may not have dropped it at least a dozen times over the years).
Any college graduate will feel good drinking their coffee or tea out of a Yeti mug on their morning commute.
Does your bestie love to stay organized? If so, she'll be absolutely obsessed with the day designer planner.
It has pages for monthly, weekly, and daily organization so she'll be able to stay on top of every single thing in her life. There are even lines for each hour of the day, which is so helpful for time blocking.
The Day Designer comes in a ton of different colors and patterns. There's also a mini version, in case you're looking for something a little bit more budget-friendly.
How cute is this wine-themed gift set? It comes with everything she needs for a relaxing night of self care and vino.
There's a bottle opener, wine stopper, wine themed socks, a wine tumbler, bath bomb, candle, and loofah. Can you believe this whole gift set is under $30?!?
I am OBSESSED with this temperature controlled smart mug from Ember. It allows you to control the exact temperature of your drinks from your smartphone.
You can keep your coffee hot for up to 1.5 hours without charing, or put your mug on the coaster to keep it going even longer. It also automatically shuts off when your mug is empty, so no need to worry about starting any apartment fires!
If you're looking for a more budget friendly option, this electric mug warmer works great as well! It doesn't have as many features, but it does keep your coffee warm on your desk all day!
The perfect gift for a work-from-home graduate, or someone who is spending their day job hunting! I work from home and wear my fuzzy slippers ALL day, so this will definitely be a gift that she gets good use out of.
Friends don't let friends put on makeup in bad lighting! If your bestie is a makeup lover, she'll love having this light up makeup mirror on her vanity.
This would also be a really nice gift for someone who is starting their first adult job soon. They'll appreciate some good lighting while they're getting ready for work in the mornings.
After 4 (or more) years of college parties and all-night study sessions, your best friend is ready for some quality sleep! This silk sleep set is such a good gift for college graduates.
Not only is it super luxurious, but silk actually helps prevent wrinkles, keep hair shiny, and cools you down while you're sleeping. This set is made from 100% natural mulberry silk and is actually pretty affordable!
24. Cute Fake Plant
If your best friend can't keep a plant alive to save her life, get her a fake one! It will look so cute in her first adult apartment, plus she doesn't have to worry about watering it.
There are a ton of good options on Amazon, but I've linked my favorites above.
[RELATED: 9 Air Purifying Plants for Dorm Rooms]
If your bestie loves Moscow Mules, get her a pair of high quality copper mugs so she can drink them in style!
These mugs are made from pure thick copper and come with matching straws and coasters. She'll feel like such a grown up when she drinks out of them. Plus it comes with two mugs, so she can invite you over for drinks!
Personalized Graduation Gift Ideas For Best Friend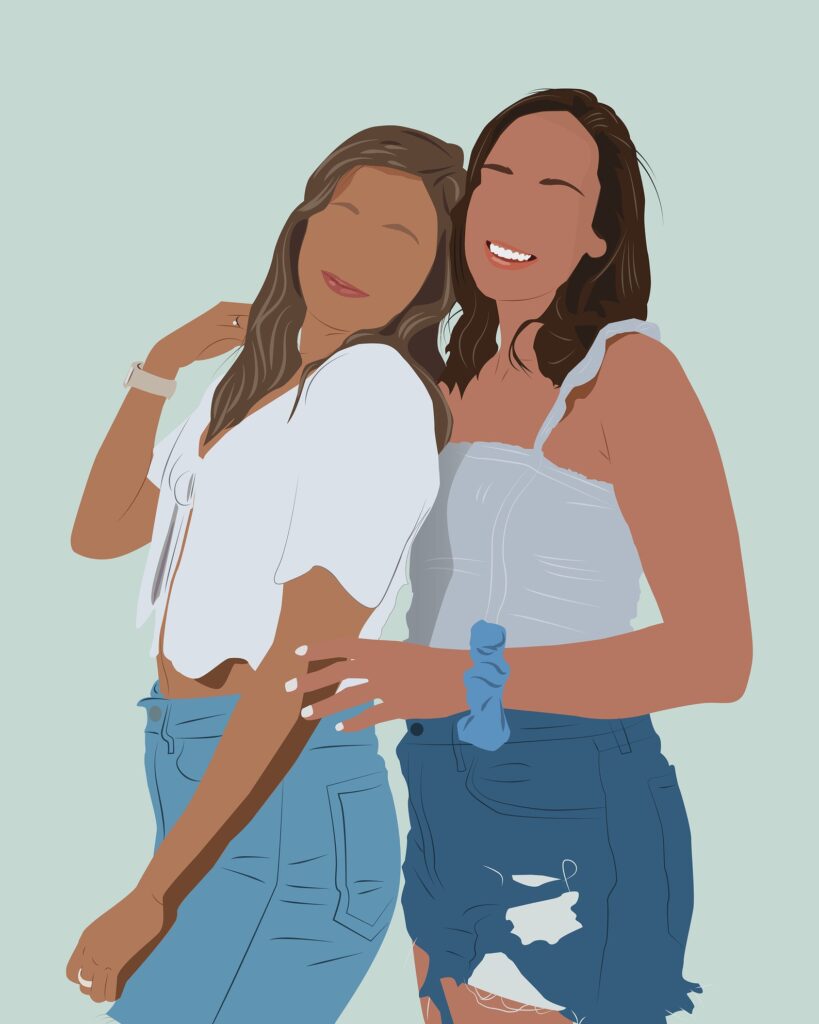 One of the cutest custom graduation gifts for best friends is a portrait of the two of you. You can send in your favorite picture and this artist on Etsy will recreate it as a cute portrait.
Make sure to get it printed and frame it before you give it to her!
[RELATED: 32 Gift Ideas for Best Friends They'll Go Crazy Over]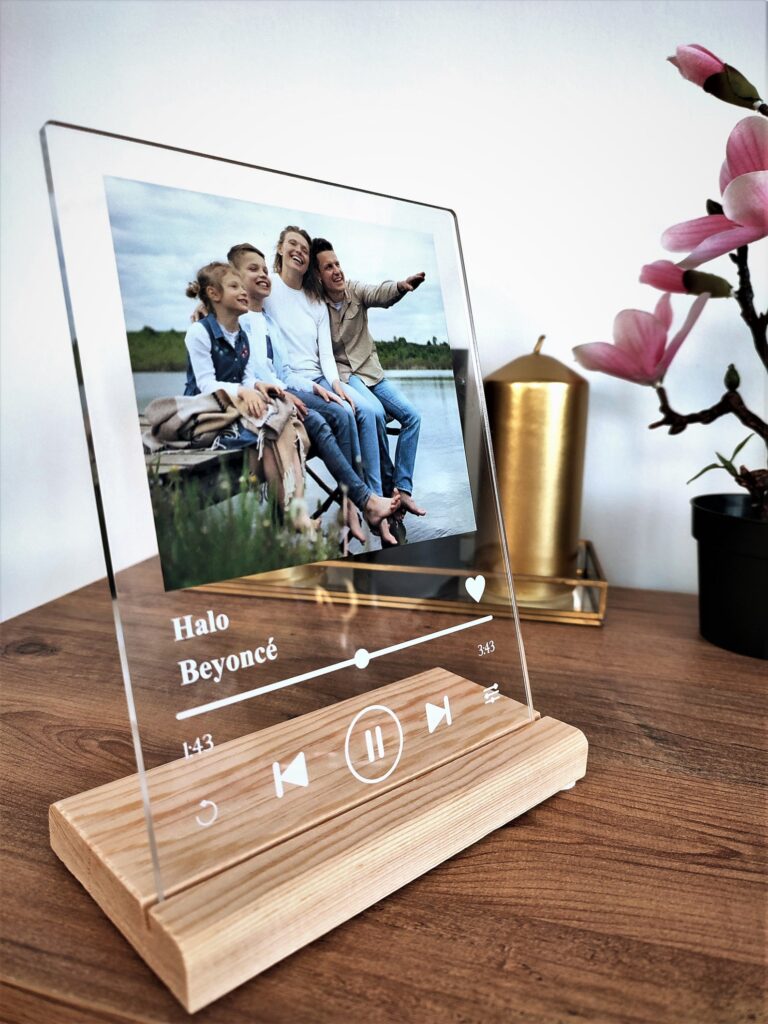 Is there a song that you two both love? Turn it into a gift with this personalized acrylic Spotify plaque from Etsy.
You can have it display a picture of the two of you and pick any song you want. Such a sweet graduation gift idea for best friends.
Is your friend headed off to college or work in a different state?
Get her this hilarious long distance best friend mug to take with her. You can have it customized to show the different states you two will be living in. I love that it's sentimental, while also being super funny and vulgar.
How cute is this personalized sequin pillow? You can send in whatever picture you want shown under the sequins.
I love it because she can use the plain sequin side as decor, but then swipe over it when she wants to see the picture of you two. Such a good graduation gift for someone moving into a dorm or new apartment.
Want your bestie to take a reminder of you everywhere she goes? Get her this custom photo keychain.
It looks like an ordinary roll of film, but she'll be able to pull out the "film strip" full of pictures of the two of you. Such a unique and thoughtful graduation gift.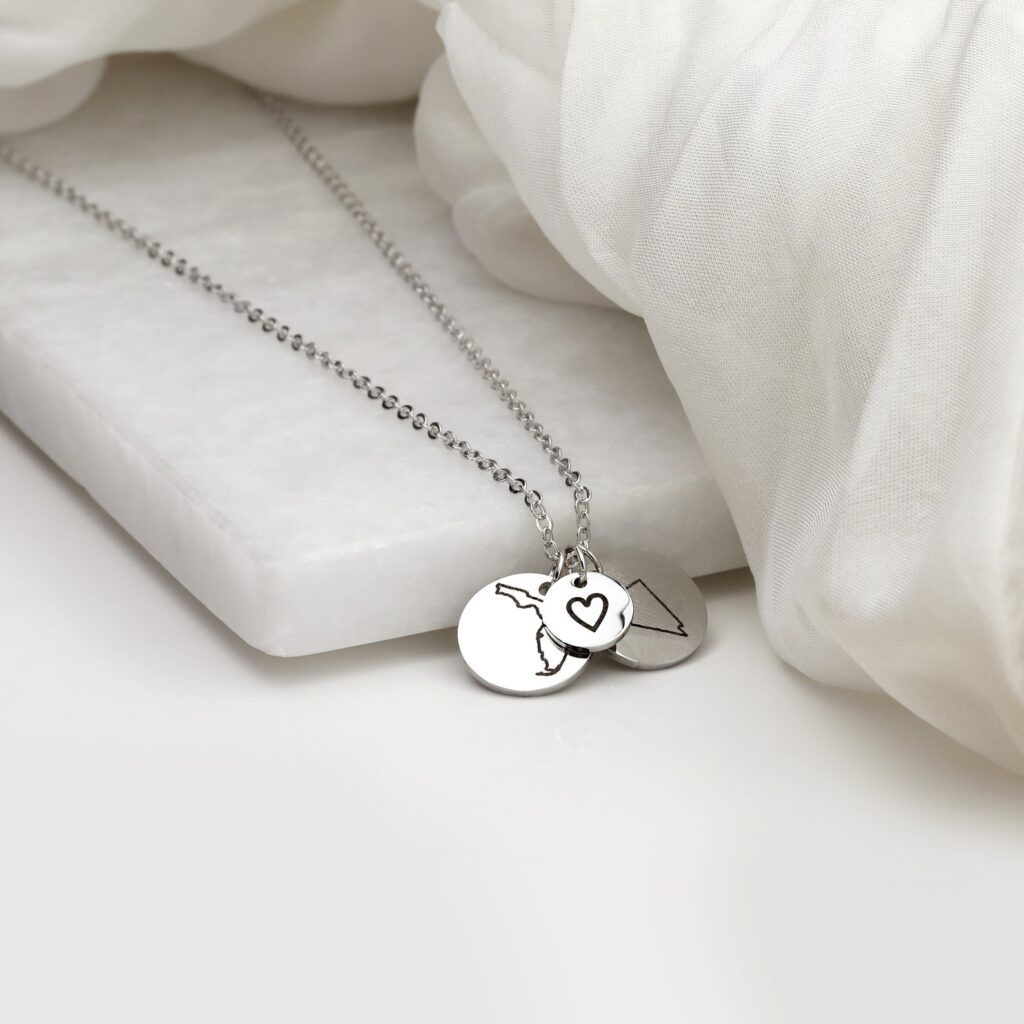 Is your bestie moving to another state when she graduates? Then this is the PERFECT gift to give her so that she always has you close to her heart.
There are two little pendants for the different states you live in, plus another smaller heart pendant in the middle. So sweet and thoughtful for a graduation present.
Another thoughtful necklace idea is this birth flower necklace. You can get little pendants with both of your birth flowers on them. If you have a group of friends you can add all of their birth flowers.
This is basically like the grown up version of friendship bracelets!
Funny Graduation Gifts For Friends
This hilarious mug is the perfect gift idea for college graduates. She'll love sipping coffee out of it when she's at her first "grown up" job.
Did your best friend just graduate from nursing or medical school? This would be such a funny gift to give her.
She can drink coffee out of the mug before work and then sip her wine out of the wine glass afterwards. Trust me, she'll be needing both beverages working in healthcare!
My best friend is a teacher and I know she would have LOVED this funny teacher pouch as a graduation gift. It's hilarious but also super practical. She can use it as a pencil case, makeup pouch, or just a miscellaneous work pouch.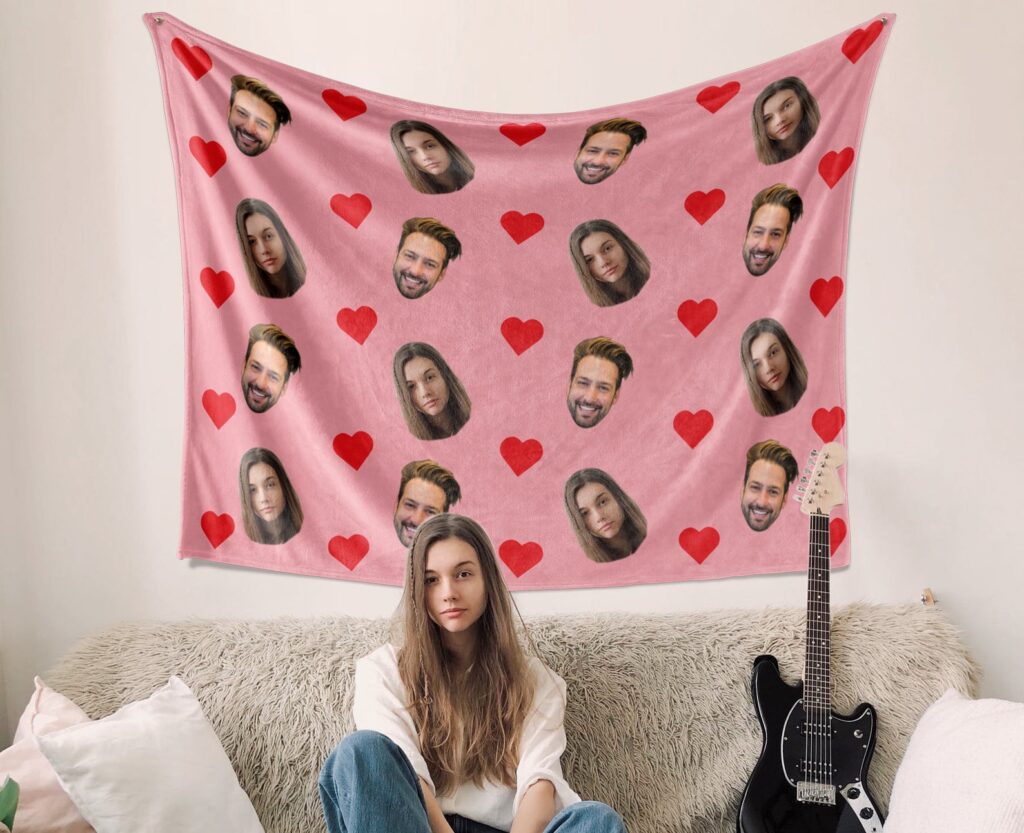 How hilarious would it be to get your best friend a blanket with your face all over it?
This wearable blanket is hilarious but actually SO comfortable and cozy. I have one and I literally never take it off when I'm working from home.
It's been a long four years – it's time for shots! Celebrate your bestie graduating with these funny "educated af" shot glasses.
Cheap Graduation Gifts For Friends (Under $15)
39. Gold Hoops
These gold earrings from Amazon have a total cult following. Pretty much everyone is wearing these hoops because they're high quality, affordable, and super on-trend. So basically the perfect cheap graduation gift for your best friend!
I know of one blogger who wears them every day without taking them off – even for showering and working out – and says they still look brand new!
How chic is this bracelet keyring & card holder?? It's hard to believe you can get this for under $15!
This is the perfect graduation gift for college or high school graduates. They can have their keys, cash, and credit cards in one place. Plus, it's super easy to carry around with the bracelet ring.
Does your best friend love to travel? Get them a cute passport holder! I have this exact passport holder and it's the best.
There's tons of pockets for your IDs, travel documents, and sim cards. Plus it even has a clear pocket for your vaccine card. Totally necessary for international travel right now.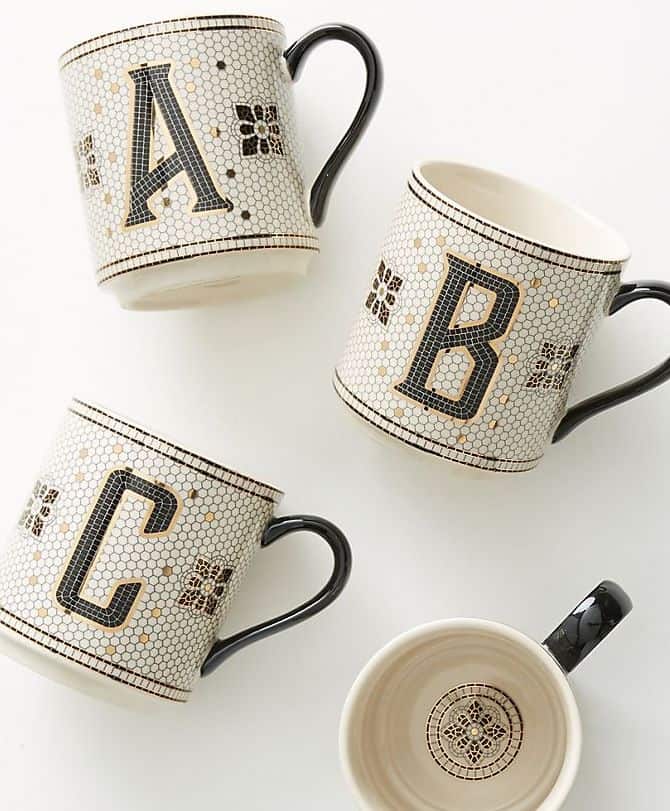 I'm absolutely obsessed with these monogram mugs from Anthropologie. They look so chic and expensive but they're only $14.
This is definitely one of my favorite cheap graduation gift ideas for your best friend.
These bubble candles are all the rage on TikTok and Pinterest these days. They're such an upgrade from regular jar candles, and they look really cute with just about any decor style.
Can you believe this gorgeous necklace is under $15?!? Initial necklaces are super popular right now, so this would be such a good gift idea for your best friend's graduation.
45. Shower Steamers
Move over bath bombs, shower steamers are the new thing in self care. I love shower steamers because I don't always have time to take a long bath.
You just put the little tab on the floor of your shower and the steam will release a calming scent and beneficial essential oils. Such a great affordable gift idea!
This post was all about the top graduation gift ideas for your best friend.
You may also like: