This post is all about gift ideas for best friends that they'll love. There are gift ideas for every type of girl on this list.
I absolutely love shopping for gifts for my best friend because we're so similar! But sometimes I get totally stumped on what to get her.
When I searched the web for good gifts for best friends, most gift guides had super tacky and cheesy gifts. That's why I wanted to put together this list of 32 gift ideas for best friends that they'll ACTUALLY like.
Here are 32 gift ideas for best friends that you can use for Christmas or her birthday.
This post may contain affiliate links, which means I'll receive a commission if you purchase through my link, at no extra cost to you.
Top Gift Ideas for Best Friends:
Gift Ideas for Best Friends:
1. Candles
I love getting cute candles as a present because it's something I don't normally splurge on myself.
These bubble candles are insanely popular right now in home decor. They're so unique looking and they'll definitely make a statement in any house.
One of my favorite candles to give as a gift is the homesick candle. They offer specialized scents that are designed to remind you of the places that you love. They have them for every state in the US. This would be the perfect gift to give for a best friend who's moving away or heading off to college in a different state.
2. The Comfy
How freaking hilarious is this wearable blanket from Comfy? It has arm holes and a hood so you literally never have to take your blanket off.
This is the perfect gift for the best friend who's always cold, or who just loves being cozy. It comes in a ton of different colors and patterns so you'll definitely find one that fits her vibe.
3. Planner
Does your best friend like to stay organized? Get her a cute planner for the upcoming year! She'll think of you on the daily when she's writing out her plans for the day.
4. Matching Pajama Set
Pajamas and loungewear sets are having a huge moment this year and they make a perfect gift for best friends. She'll think of you every time she puts on her pajamas.
5. Jewelry Stand
I've been obsessing over elegant jewelry stands lately. I think this one would make the perfect gift for your best friend! It's functional and it's pretty enough to be a decor piece.
6. Silk Pillowcase
Give your bestie's bed an instant upgrade with a silk pillowcase set. These make sleeping feel so much more luxurious and the silk is really beneficial for skin and hair.
7. Wine Glasses
A set of nice wine glasses is a great gift for your best friend. It's one of those things that she probably wants but doesn't really want to spend the money on for herself.
Plus, it's a good way for you to invite yourself over for a wine night with her!
8. Charcuterie Board
Did your best friend just move into a new place? A charcuterie board is such a good gift because it's something she might not think to buy herself. This is an especially good gift for girls who like to have friends over often!
My best friend gave me this exact charcuterie board and it's been so much fun using it when we have people over! It was such a thoughtful gift.
9. Gel Manicure Set
Doing your gel manicures at home can be super fun and save so much money. If your bestie does her nails pretty often, this is such a good gift to get her.
This kit has everything she needs for a perfect at-home gel manicure. It has nail polish, a UV lamp, and a ton of different manicure tools.
10. Aeropress Coffee Maker
I'm obsessed with my Aeropress and I use it every single day. If your best friend is a coffee drinker she'll love getting one of these.
It seriously makes coffee that tastes like the stuff you get at fancy coffee shops. Plus, it's way quicker and easier to use than a french press.
11. Weighted Blanket
Weighted blankets have been all the rage the past few years. They offer tons of calming benefits and can help you get a better night of sleep. This would make a great gift, especially if your bestie gets anxious!
12. Massage Gift Card
Treat your BFF to some serious pampering with a gift card to get a massage. Buy one for yourself too and you guys can go together for a fun spa day! Groupon is a great place to find spa gift cards for a discount.
13. Custom Jewelry
Custom jewelry is such a sweet and sentimental gift to get your BFF. I love dainty monogram necklaces because they're perfect for layering.
14. Kombucha Brewing Kit
I got this as a gift a few years ago and I'm obsessed! If your best friend loves drinking Kombucha, this kit is the perfect gift for her.
She'll be able to make a big batch of Kombucha at home with this kit. It seriously has everything you need for brewing Kombucha – down to the pen for marking the jar lol.
15. Staycation
A staycation is a fun way to gift an experience without breaking the bank.
Book a hotel in your city or just do fancy restaurant reservations and a sleepover afterwards for a fun night she'll remember forever!
My favorite place to book hotels is Booking.com. You can browse a bunch of different hotels at once and they always seem to have the best price.
16. Face Masks
Every girl deserves a bit of pampering. Face masks are a cute and affordable way to treat your best friend to some R&R.
My favorite brand of face masks is Tony Moly. They sell them at reputable places like Ulta and Urban Outfitters but the best price is on Amazon.
17. Yoga Mat
A high quality yoga mat is such a thoughtful gift if you have a Yogi best friend. She'll love that you thought of her hobbies when you were shopping for her.
18. ClassPass Membership
Do you have a best friend that loves working out? Get her a membership to ClassPass. She'll be able to try out a bunch of different local classes and fitness studios.
Better yet, get one for both of you so that you can work out together! This is such a thoughtful gift for best friend.
19. Cute Phone Case
There are so many cute phone cases on the market so you'll definitely find one that fits your bestie's personality and taste. And it's a super affordable gift option!
Just make sure you know which phone she has so you can get a case that fits it perfectly.
20. Tapestry or Wall Hanging
I love getting home decor and artwork as a gift. A great way to freshen up your best friend's apartment is with a tapestry or macrame wall hanging.
This is a great gift if you have a best friend who's going off to college soon. She'll love getting a cool piece of artwork to hang in her dorm room.
[RELATED: 35 Cute Tapestries To Hang on Your Dorm Room Wall]
21. Yeti Mug
This is another gift that I've gotten that I'm obsessed with! It keeps your drinks super hot all day and it comes in a ton of cute colors.
It may seem a little bit pricey for a coffee mug but I promise it's so worth it! I've had mine for years and it legit looks like new. I have it next to me right now while I'm writing this lol.
22. Gold Hoops
Gold hoops are having a serious comeback and pretty much every girl is wearing them! If your best friend wears earrings, she'll love to get a cute pair of gold hoops.
This pair of gold hoops on Amazon is a best seller for a good reason! They're coated in 14k gold so they'll last for a super long time. Plus, they're only $14 which is an insanely good price for gold plated jewelry.
23. Framed Picture
A framed picture of the two of you is a super cute best friend gift. You can get photos printed for super cheap at Walgreens or CVS and put them in a cute frame.
This is an especially cute gift if you're both heading off to different colleges soon. She'll be able to have a picture of you guys to hang in her dorm room!
24. Custom Print
Or go one step further and have a custom illustration made of the two of you! These are so popular right now and are absolutely adorable.
This artist on Etsy can make a custom illustration from pretty much any photo. Just pick your favorite picture together and they'll recreate it as a drawing!
25. Board Games
My best friends and I love playing board games and card games together. These games are specifically made for girls night and would be such a cute best friend gift idea.
26. Claw Clips
Claw clips are SO popular right now and the perfect little gift to get your best friend if you're on a budget.
These colorful clips from Amazon are the most popular claw clips on the market. I have them and I'm absolutely obsessed with them. They're cute and they're actually big enough to hold up long hair!
27. Reusable Straws
If your friend is interested in being more eco-friendly, she'll love getting a set of reusable straws. I love metal straws but you can also get them in glass, silicone, or bamboo.
28. Passport Cover
If your BFF is always on the go, she'll love this gorgeous passport cover. It'll protect her passport from getting damaged AND looks super chic.
I have this exact holder and I love that it has a slot to hold her vax card. I'm always afraid I'm going to lose my card when I'm traveling so it's so nice to have a protected holder for it.
29. Monogram Mug
This tiled monogram Anthropologie mug is insanely popular and for good reason. It's so cute and a perfect gift or anyone.
I love that it's personalized and thoughtful but still super cheap. Get her a bag of her favorite tea or coffee for a super thoughtful gift idea for best friend.
30. Smiley Face Slippers
A cozy pair of slippers is a perfect gift for any best friend who works from home. These smiley face slippers are ALL OVER TikTok right now. Pretty much every Gen Z girl is wearing them this year!
Your best friend will LOVE getting these as a gift this year.
31. Cookbooks
My best friend and I love cooking up meals together. A cookbook would be the perfect gift for any friend who likes to cook.
Some of the most popular cookbooks right now are the Snoop Dogg cookbook (how hilarious??) and Cravings by Chrissy Teigen.
32. Tarte Mascara Trio
Tarte mascara has a cult-like following. The Lights, Camera, Lashes is my go-to mascara. This mascara trio gift set is the cutest and it would be an awesome gift for anyone who likes cleaner beauty products!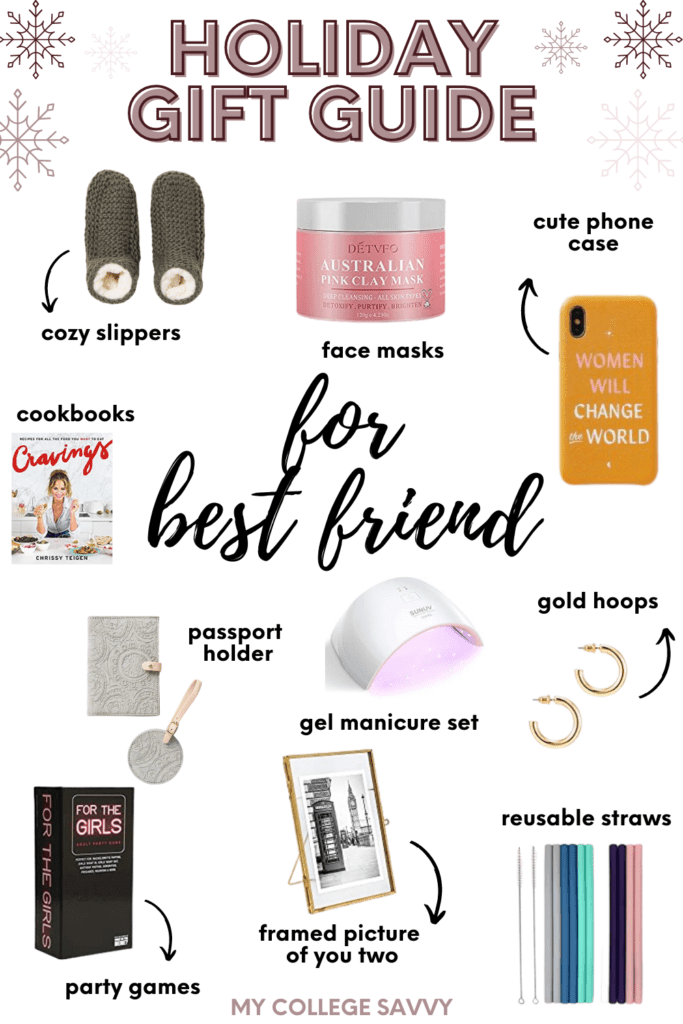 This post was all about gift ideas for best friends.
Looking for more gift guides?