35 Cute & Cheap Tapestries For Dorm Rooms (Under $25)
Looking for a cute and cheap way to decorate your dorm room walls? Tapestries are the best way to cover a lot of wall space on a budget! Here are 35 of the best cheap tapestries for dorm rooms.
This post may contain affiliate links, which means I'll receive a commission if you purchase through my link, at no extra cost to you. Learn more: Affiliate Disclaimer.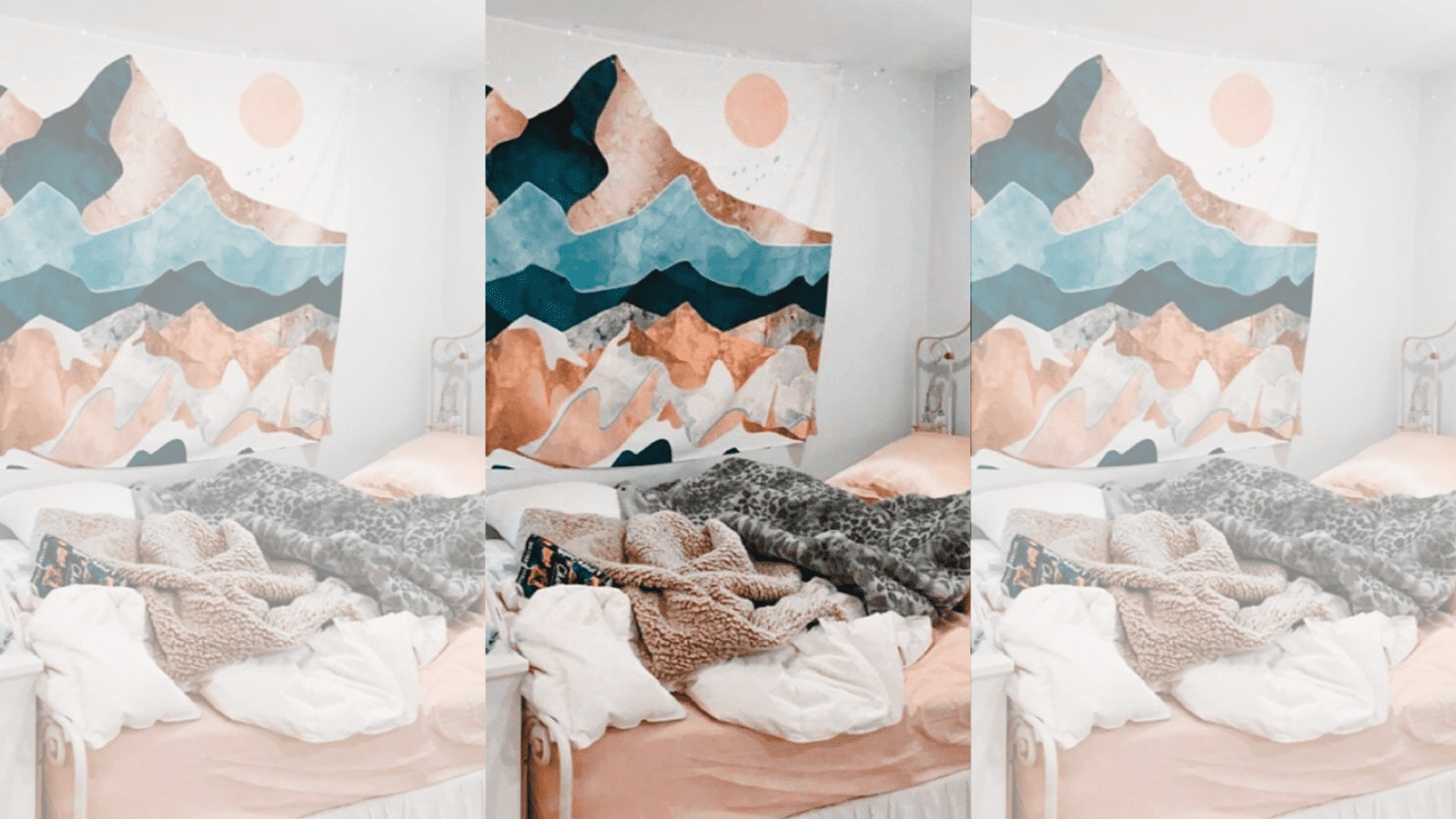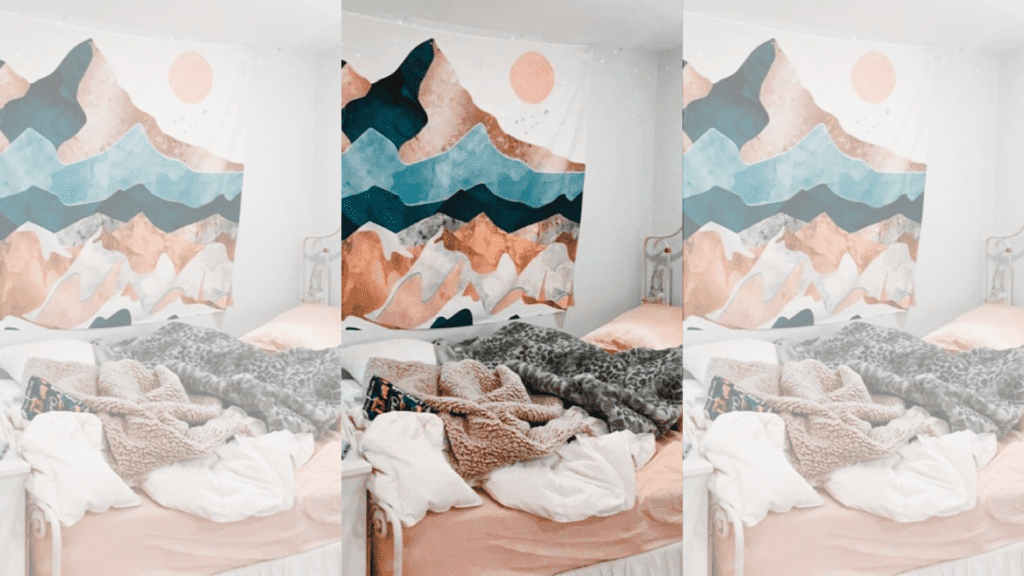 If your dorm room is anything like mine was, the walls are a boring beige color. The whole room can feel a little monotone and bleh if you don't have any cute wall decor.
Tapestries are a great way to add a big statement to your dorm room decor. They're also very lightweight so you can hang them without damaging the walls.
Best of all, most tapestries are very affordable. Every tapestry on this list is under $25.
Here are 35 of the cutest tapestries you can hang on your dorm room wall.
The Best Cheap Tapestries For Dorm Rooms
Mountain Themed Tapestries
Craving the great outdoors? These mountain-themed tapestries are the perfect vibe for anyone who's into the more outdoorsy style of decorating.
There are a ton of different cheap options for mountain tapestries on Amazon, but we've linked a few of our favorites:
Floral Tapestries For Dorm Rooms
We love these options for floral tapestries because they're cute and feminine without being too over-the-top.
Mandala Tapestries
Mandala tapestries are super common for college dorm rooms.
They come in SO many different colors and designs, so you can definitely find one that fits your dorm room color scheme. Here are some of our favs:
Ocean & Water Tapestries
Are you more of a beach person? No matter where you end up going to college, you'll get a taste of coastal living with these cute ocean-themed tapestries.
Here are some good options for cheap tapestries for dorm rooms:
Celestial Tapestries
Another super popular tapestry style is a celestial print. Moon phases, astrology signs, etc. are all super aesthetic prints for dorm rooms.
Here are some really cute and affordable options:
Forest Tapestries
Another great option for outdoorsy people is to hang a tapestry with a forest scene printed on it. It'll instantly make your dorm room feel more serene and calming.
Here are some great options for forest-themed tapestries for dorms:
Artsy Tapestries
College is a time for expressing yourself, and that includes your dorm decor!
Here are some really cool and unique options for artsy tapestries that would look amazing in a dorm:
Line Art Tapestries
Do you want to keep things more minimal and simple? Embrace your inner "clean girl aesthetic" with these line art tapestries.
Funny Tapestries
Some people go for the more "aesthetic" dorm decor, while others want something that will make people laugh when they visit their room!
If you belong to the second group, you'll definitely want to hang a funny tapestry in your dorm room. Here are some good funny (and cheap) tapestries from Amazon:
Girly Tapestries
If the Barbie movie taught us anything, it's that there's nothing more beautiful than being a woman!
And to celebrate girlhood, we think these girly tapestries would be SO cute in any dorm room.
Animal Tapestries
Although you can't have pets in a dorm room, you can still turn your room into a zoo with these cue and fun animal tapestries!
Our favorite is definitely the artsy leopard tapestry, but they're all super cute!
Plant Tapestries
Thankfully, you CAN have plants in dorm rooms. And we've made a whole post about the best plants to grow in a dorm room.
But even if you don't have a green thumb, you can still enjoy the vibe of filling your room with plants. Just hang up a big plant-themed tapestry instead!
Here are some of the cutest options:
This post was all about 35 cheap tapestries you can hang in your college dorm room.
More dorm room decor ideas: