Looking for the best nurse graduation party ideas? In this article, we will share decorations, party food, invitations, and party favors to make the celebration unforgettable.
This post may contain affiliate links, which means I'll receive a commission if you purchase through my link, at no extra cost to you. Learn more: Affiliate Disclaimer.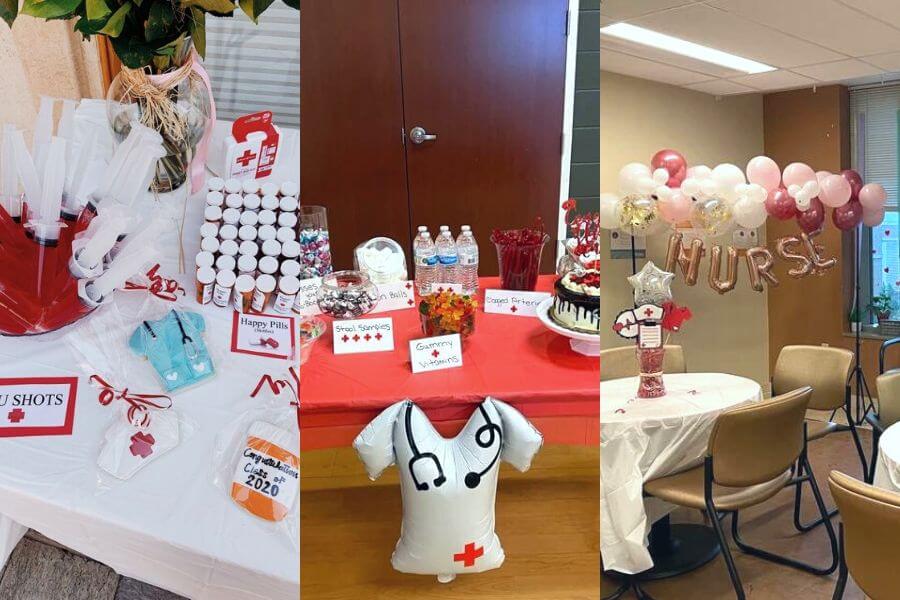 Graduating from nursing school is a major accomplishment that deserves to be celebrated in style. It's a time to reflect on all the hard work, late nights, and sacrifice that went into earning that degree.
So, if you're looking to throw a graduation party that will make your nursing school graduate feel special, then you've come to the right place!
In this article, we'll be sharing some of the best graduation party ideas for nursing school graduates.
From decorations to party food, invitations to party favors, we've got you covered with everything you need to know to make your nurse's graduation party a memorable one.
Here are the best nurse graduation party ideas that you'll want to copy.
Nursing Grad Party Invitations
Before your party even starts, you want to set the tone for your guests with some cute invitations.
There are so many amazing options out there for nursing grad party invites, but here are a few of our favorites:
1. Call The Shots Party Invitation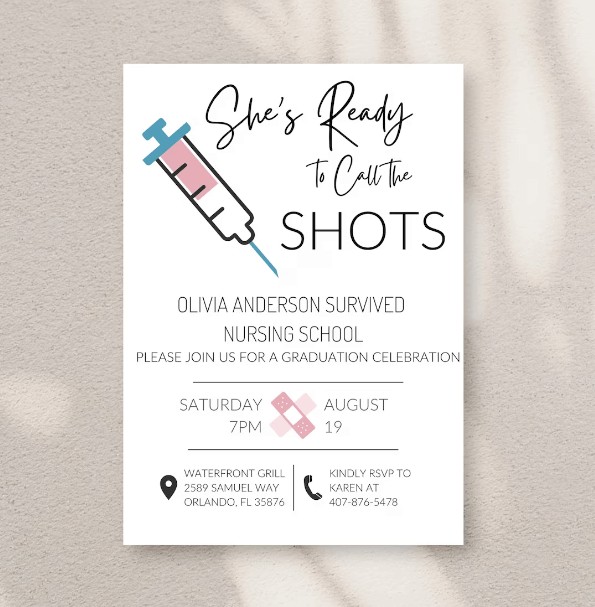 2. Party With A Nurse Invite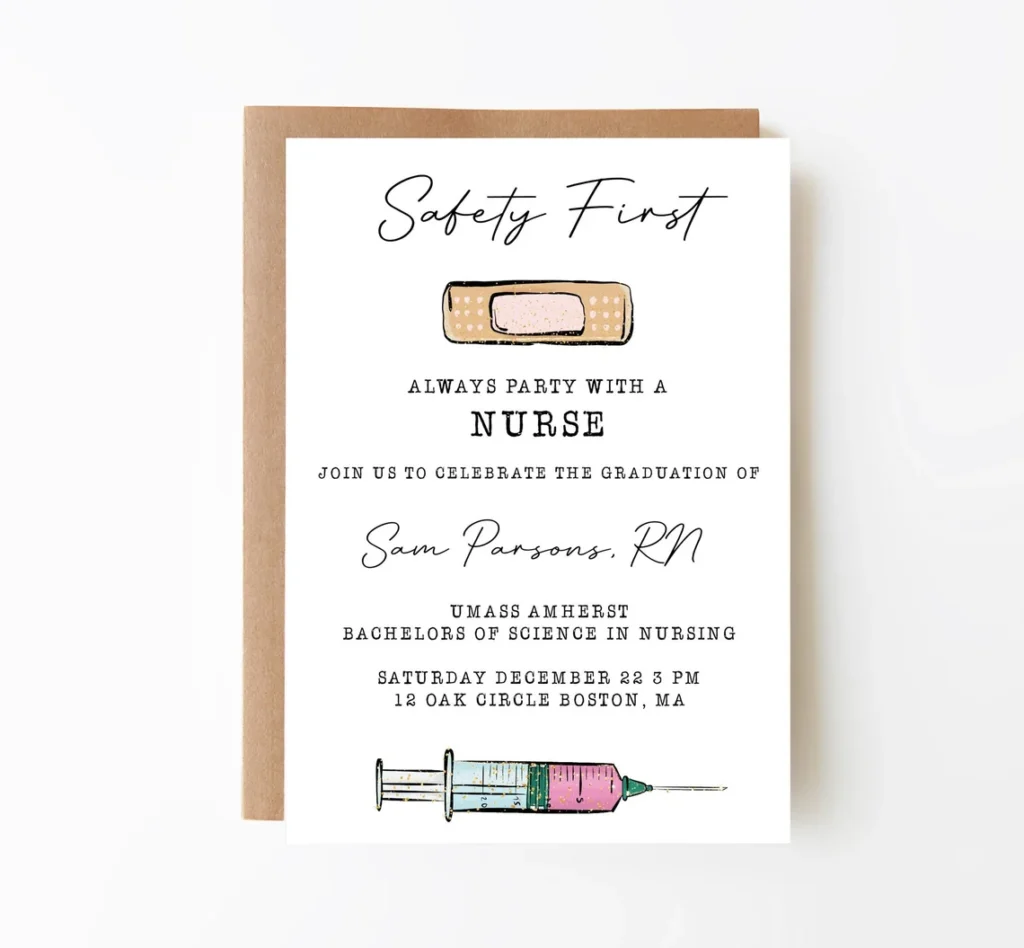 3. Floral RN Graduation Party Invite
4. Customizable Nurse Grad Party Invitation
5. Fill-In Grad Party Invitations With Envelopes
6. Black And Gold Nursing Graduation Invitation
Decorations For A Nurse Graduation Party
No graduation party is complete without some cute decorations! To make it easier on you, we've scoured the internet for the cutest decorations for a nursing graduation party.
From centerpieces to balloon arches to cupcake toppers (and everything in between), we've found the absolute cutest decor pieces that you'll want to use for your party.
7. Nursing Themed Centerpieces
How adorable would these nurse graduation centerpieces look on your party tables?
If you want more graduation party centerpiece inspiration, we have a full article with ideas!
8. Nursing Photo Booth Props
Everyone loves a graduation party photo booth. And it's a great way for the graduate to have some memories of their party!
No photo booth is complete without some props, and these ones are perfect for a nursing school graduation.
9. Metallic Photo Booth Backdrop
While we're on the topic of photo booths, you'll need some kind of background for your booth.
This metallic gold photo booth backdrop is absolutely gorgeous, and will really make your photos pop.
[RELATED: 25 Picture-Perfect Graduation Photo Booth Ideas]
10. Balloon Arch
Balloon arches are one of the easiest and cheapest decorations for a graduation party!
You can buy kits on Amazon for under $20 that include SO many balloons, plus all of the supplies you need to put the arch together.
I think a red and white balloon arch would look so cute for a nurse's graduation party, but there are tons of other color options to choose from as well.
P.S. want to save your time (and lungs) while putting together a balloon arch? Then this electric balloon inflator is a MUST!
11. Nursing Themed Balloons
While we're on the subject of balloons, these medical themed balloons would be so adorable to scatter around your nursing graduation party.
The set comes with 50 pieces, so there are plenty to work with for your party. Another super cheap way to make a big statement in your party decor!
12. Table Centerpiece Sticks
These nursing-themed centerpiece sticks would look really cute stuck inside a vase or mason jar. Such an easy centerpiece idea for a nursing grad party.
They come in a set of 15, so you can distribute them around your whole party. Or cluster them together as shown in the product image.
13. Cute Cupcake Toppers
One practical idea is to make your graduation party food a part of your decor! These nursing-themed cupcake toppers will make your dessert table look totally adorable.
14. Nursing School Survivor Banner
Making it through nursing school is a HUGE accomplishment! This banner perfectly captures the mood that most nursing graduates are feeling.
Plus, it would make a really cute backdrop for photos at your party.
15. Nurse Graphic Banner
While we're looking at banners, how adorable is this nursing-themed bunting banner? It has graphics of all of the items we associate with nurses.
This banner would look super cute hanging up on the wall, draped in front of your graduation food table, or at the entrance to the party.
16. Funny Nursing Grad Party Banner
If you want your party decor to reflect your sense of humor, you definitely have to go with this hilarious banner for a nurse's graduation party.
17. Earned It Banner
Ok, last party banner on the list, we promise! This RN graduation banner was just too cute not to include.
18. Personalized Confetti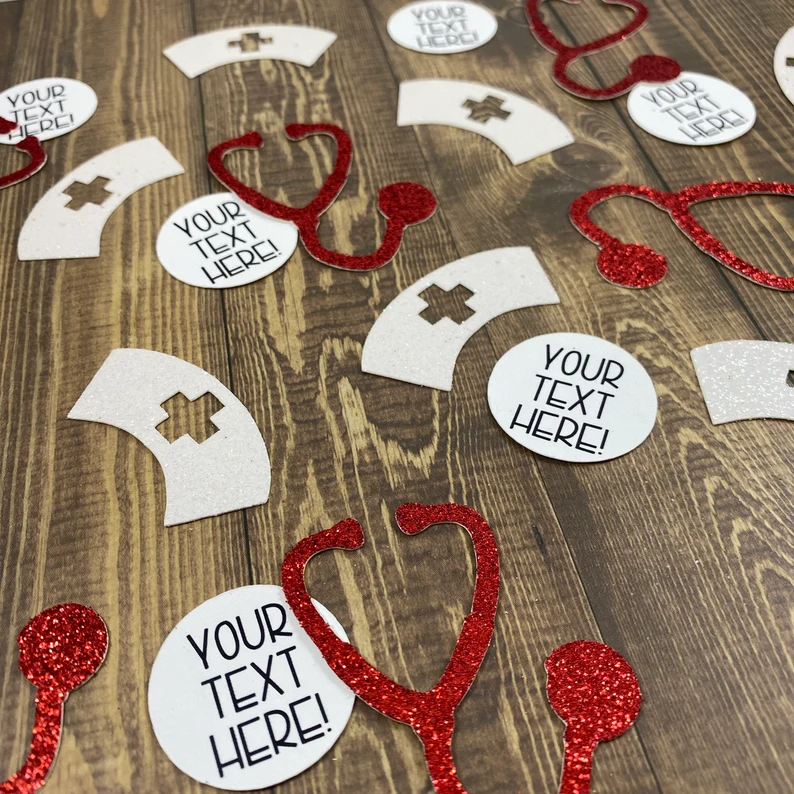 Want to go the extra mile for the graduate? Cover the tables and other party surfaces with this custom nursing graduation confetti!
You can add your own text on the round pieces of confetti, which adds a super thoughtful touch to your nurse graduation party decor.
19. Sassy Balloon Letters
Whether or not you want to use these sassy balloon letters for your party will definitely depend on your guest list, but we think they're hilarious!
20. Nurse Scrubs Balloon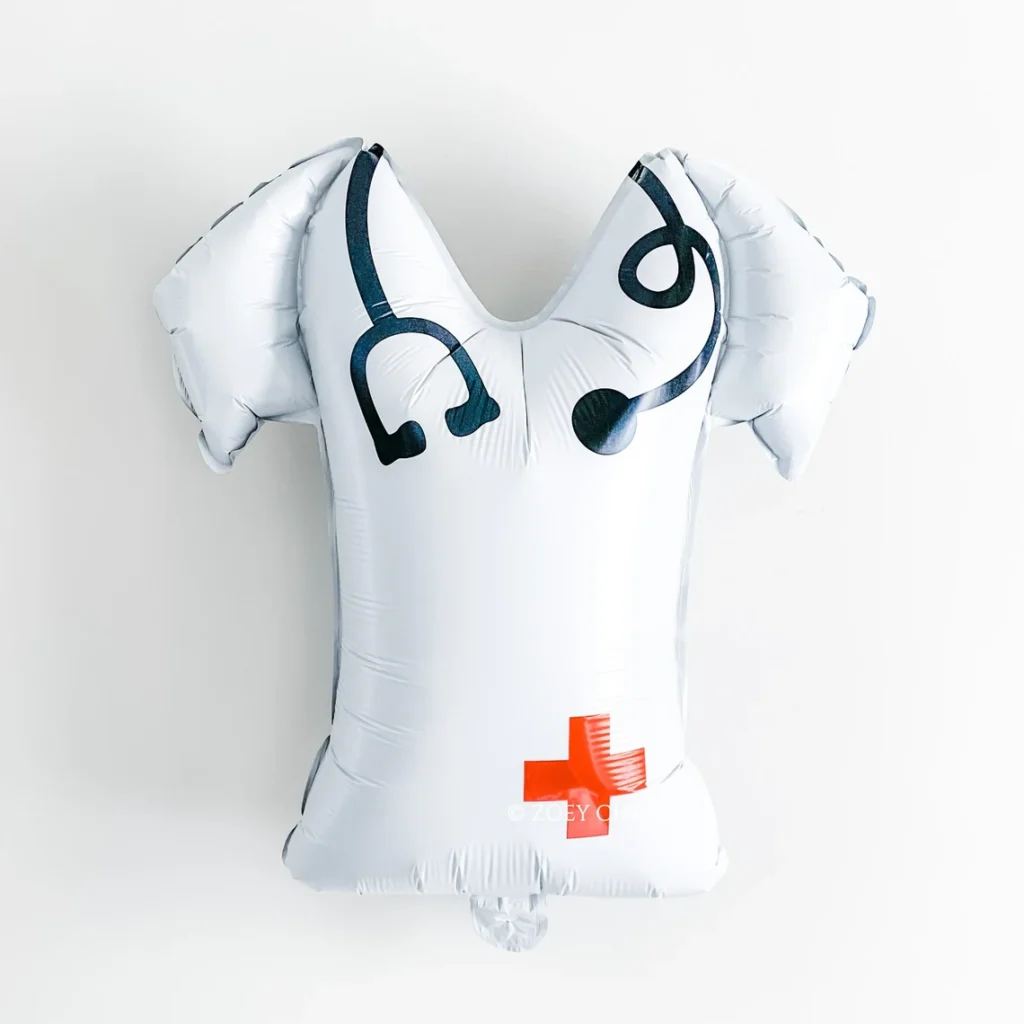 This has to be one of the all-time cutest nurse graduation party decorations. It will add SO much to your graduation party decor.
Just check out some of the Etsy reviews for inspiration on how people used these balloons in their party decor!
Nursing Graduation Party Food
Of course, one of the main events at any graduation party is the food. And a nursing school graduation party is no different!
Here are some of the tastiest and most creative food ideas for a nursing graduation party:
21. Nursing Themed Tableware
Before we get into the actual food you'll serve, we need to talk about what your guests will be eating off of.
Sure, you could go with plain tableware for your party, but where's the fun in that? These nurse-themed tableware sets are super affordable and make a big impact on your food table aesthetic.
22. Nurse Graduation Cookies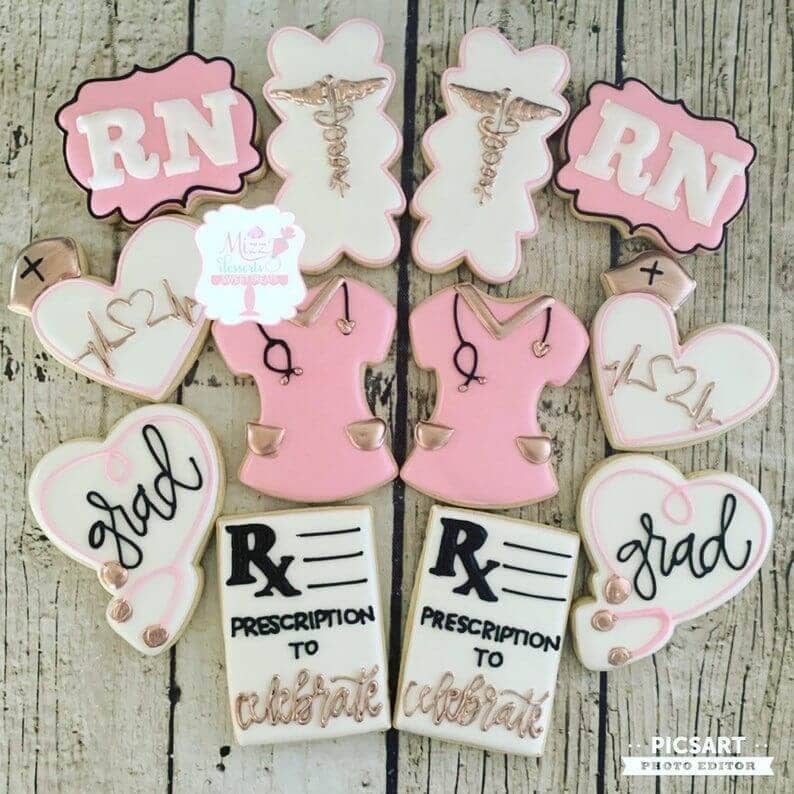 Speaking of aesthetic, how gorgeous are these nurse graduation cookies? You can order them right from Etsy and customize them to fit your party decor.
23. Nacho Bar
Want a theme for your party food? How about a "Nacho Average Nurse" nacho bar for your guests?
Nachos are super easy to serve at a party – just set out some tortilla chips, some melted cheese over a burner, and all of the toppings. Your guests can make their own nacho plates!
Of course, you need the adorable "Nacho Average Nurse" balloon banner to hang over the food table.
24. Personalized Cupcakes
Cupcakes are pretty much the perfect party dessert because they're already individually portioned.
If you're going to be serving cupcakes at your graduation party, you NEED to add these personalized cupcake toppers to them.
You can submit the graduate's face and it'll be printed with a little nursing cap on top. So cute!
25. Syringe Jello Shots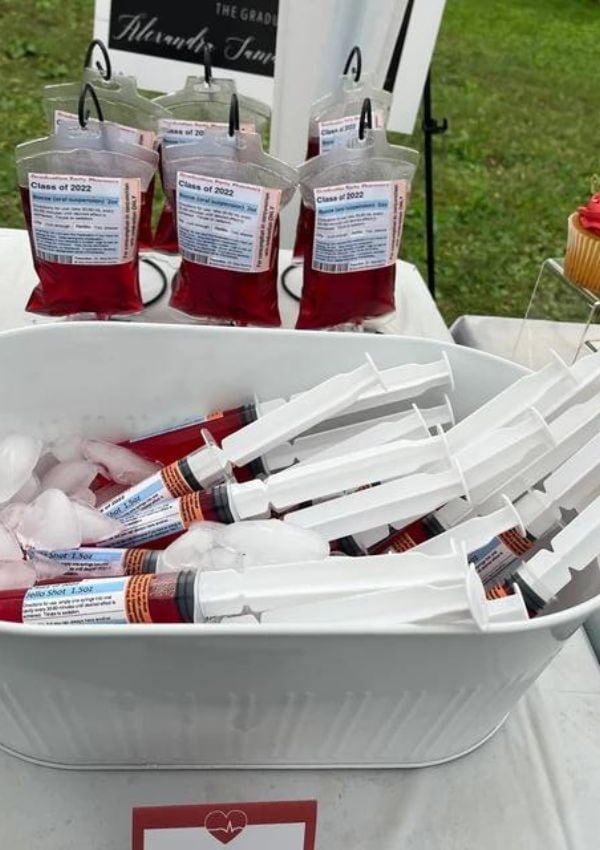 How fun would it be to serve jello shots out of syringes for a nurse's graduation party? You can choose to make these alcoholic or non, depending on your party crowd.
Recreate this fun nurse graduation party food idea:
26. Pretzel Rod Thermometers
Another super creative snack idea is to turn pretzel rods into little thermometers.
You can easily do this by dipping pretzel rods into white chocolate. Then use a piping bag with colored chocolate to add the decorative elements.
Or just order them off of Etsy if you're not the DIY type!
27. IV Fluid Drink Station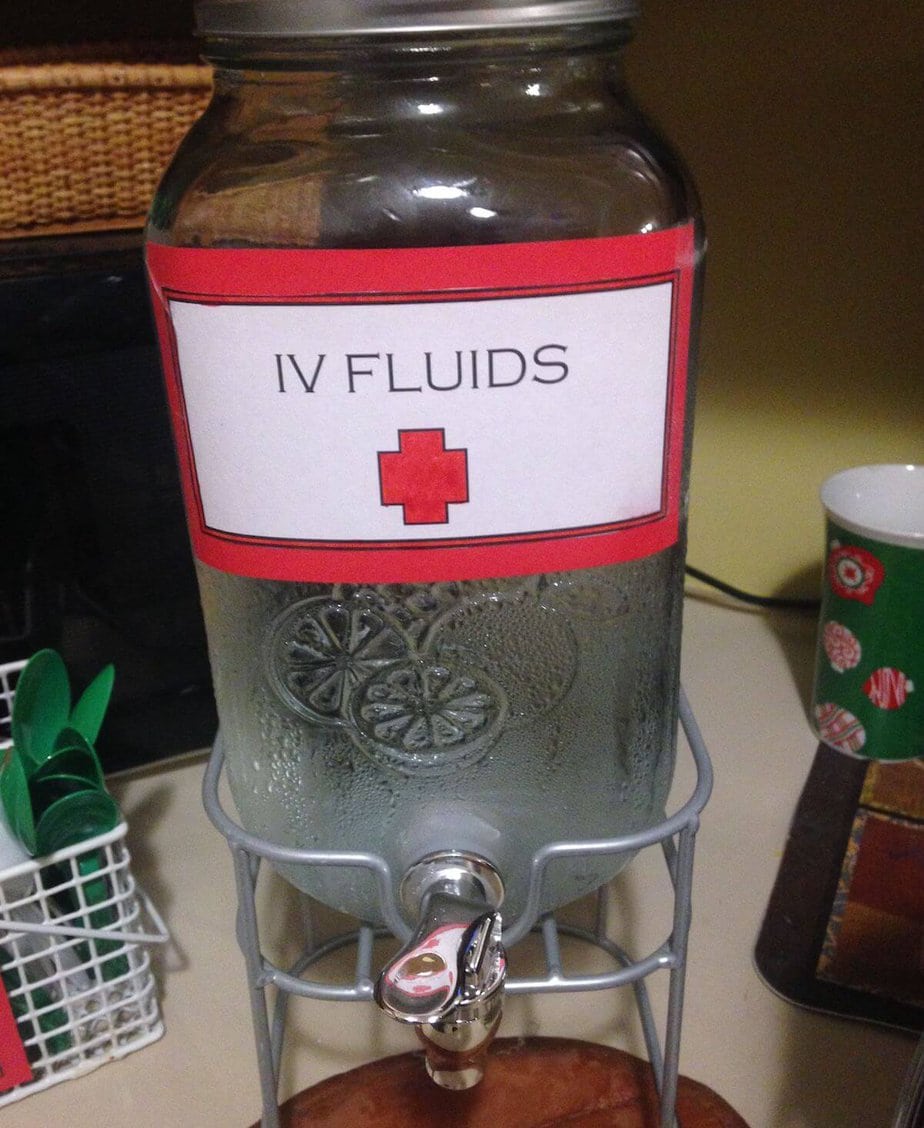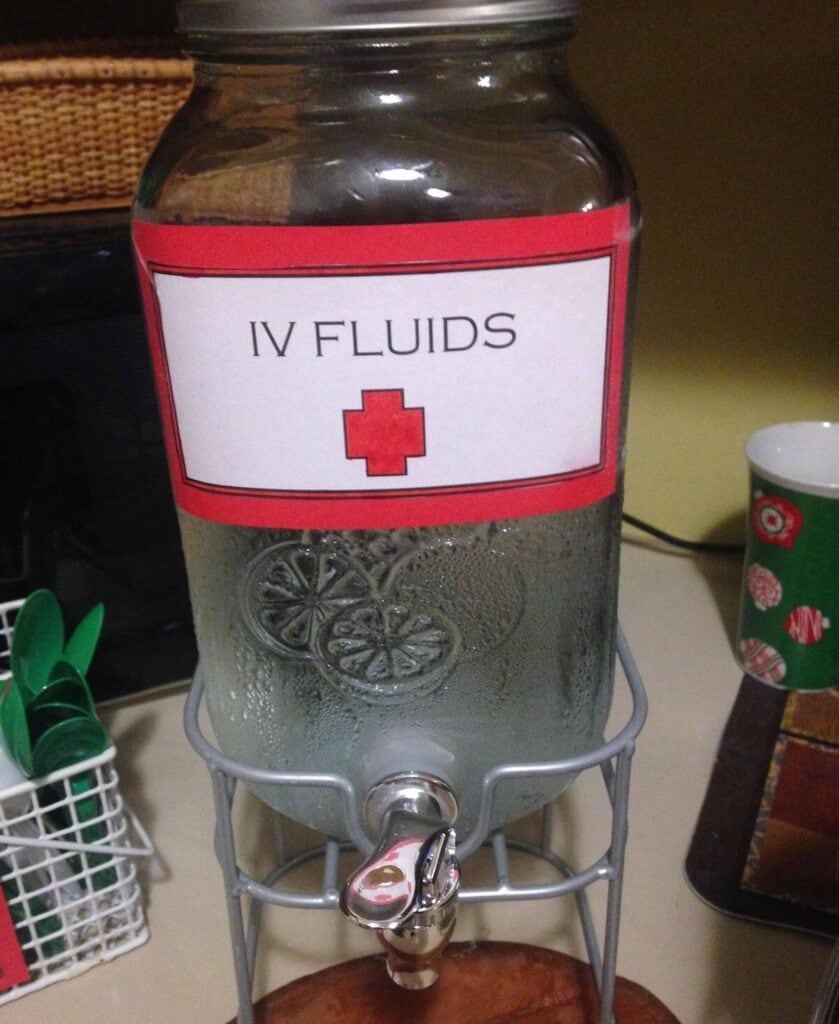 Even your drinks can be nursing themed if you label them as "IV Fluids". Just print off some labels and stick them to your beverage dispensers.
28. Medical Candy Bar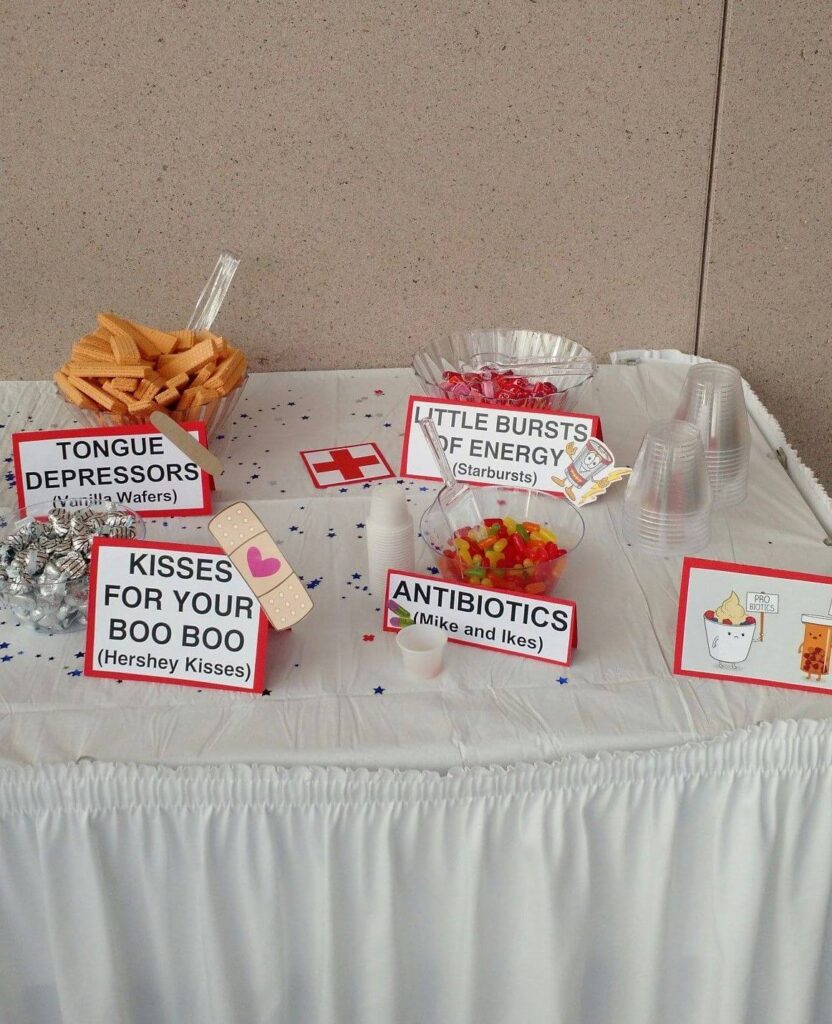 Want to entertain your guests while you feed them? Label your snacks and candies with nursing-themed puns.
Here are some ideas for labelms you could make:
Mike and Ikes – antibiotics
Graham crackers – mammo-grahams
Vanilla wafers – tongue depressors
Marshmallows – cotton balls
Hersheys Kisses – kisses for your boo boo
Skittles – vitamins
Cups of apple juice – urine samples
Twizzlers – clogged arteries
Triscuit crackers – gauze
Strawberries – enlarged hearts
Nutter butters – bandaids
And I'm sure there are so many others that we haven't thought of! Have fun with this and your guests will be sure to love it.
29. Nursing Themed Cake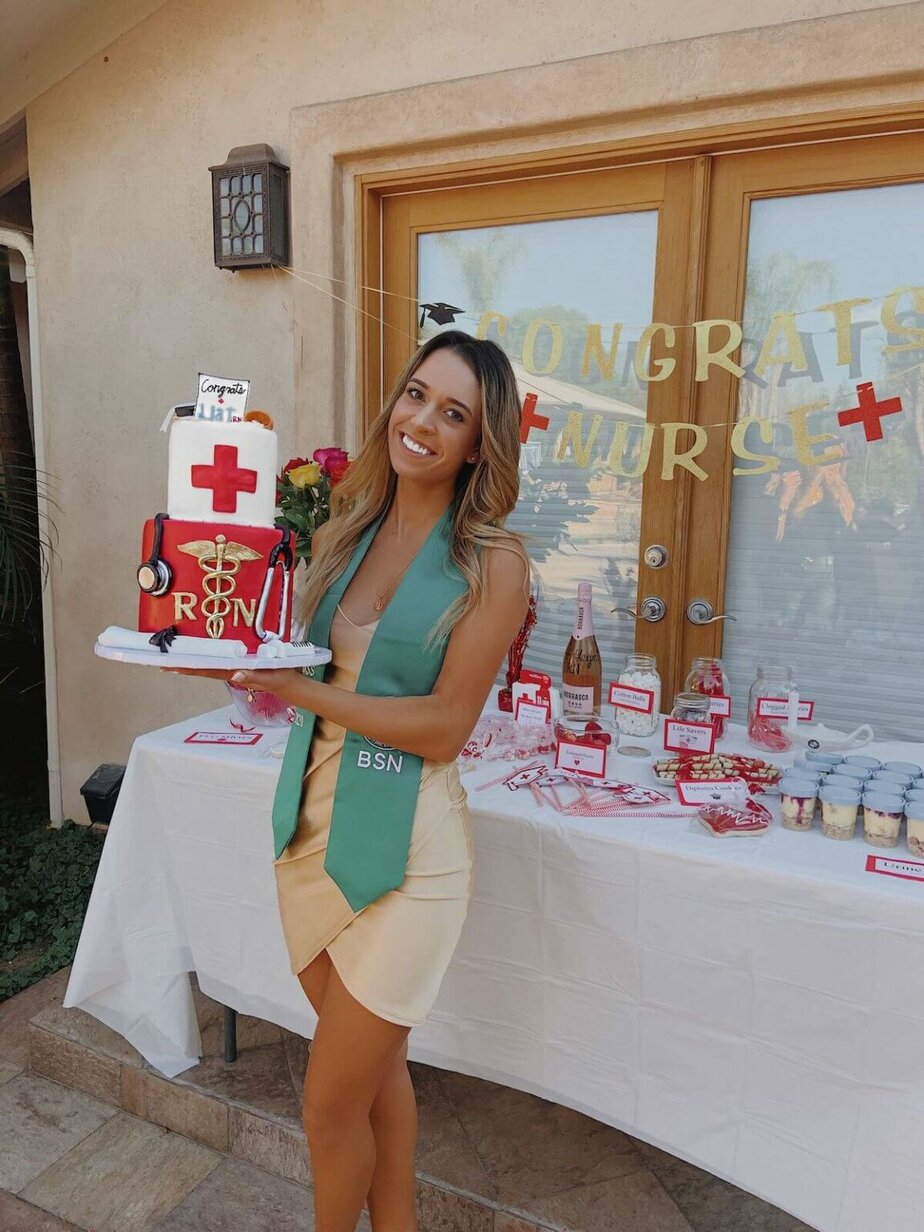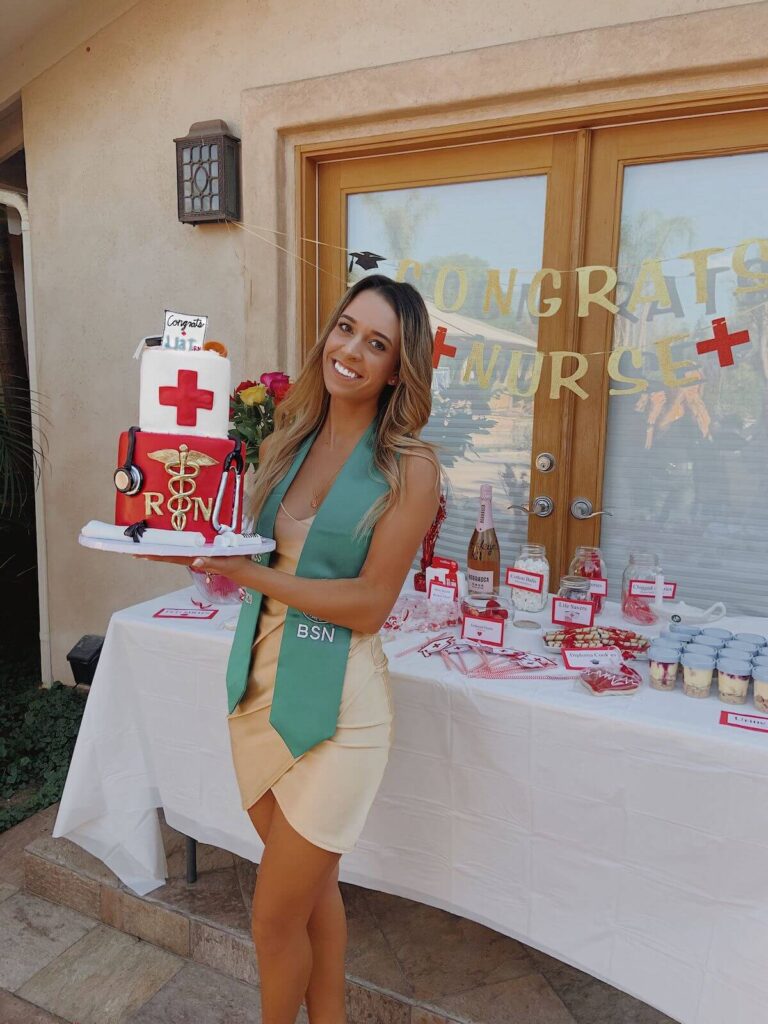 Of course, you can't forget the cake for a graduation party!
Go all out and make your cake nursing themed to really celebrate the graduate's accomplishments. After all, this is a once in a lifetime celebration.
I recommend going to a local bakery and asking if they do custom graduation party cakes. Show them some inspiration from Pinterest if you have a particular style in mind.
Nurse Graduation Party Games
Games are a the perfect way to add some excitement and entertainment to a nurse's graduation party, bringing guests together to celebrate the graduate's hard work and achievements.
In this section, we'll share some great game ideas to make your nurse's graduation party a hit!
30. Operation
One perfect game to provide for guests is Operation. Your guests will take turns trying to remove the body parts from the game board without setting off the buzzer.
This is a great game for graduation parties because it doesn't require all of your guests to participate at once. People can make their way over to the game station and play at their leisure.
31. Medical Charades
For this game, players act out medical terms and conditions while their team tries to guess the correct answer.
You could definitely DIY this game by just writing down some medical terms on strips of paper and placing them in a hat.
32. Stethoscope Hot Potato
Want to get all of your guests involved in a super easy game? Play hot potato, but with a medical twist!
Have your guests pass around a stethoscope. When the music stops, the person holding the stethoscope is out.
33. Pill Bottle Toss
Everyone knows how to play the classic beer pong game. Just set up a pong table but make your cups look like pill bottles to keep the nursing theme going.
You can buy customized pill bottle labels from Etsy and include the graduate's name and school. Such a cute and unique party game idea.
34. Who Knows The Graduate Best Game
While this game isn't nursing themed, it's still a classic for a graduation party. Have the graduate fill out their answers before the party starts, and then have your guests fill them in at their leisure.
Later on in the party, you can reveal the graduate's answers and your guests will tally up their scores. Feel free to provide prizes to the guests with the highest scores.
35. Nurse Bingo
Bingo is a classic party game that's super easy for your guests to play.
Create bingo cards with nursing-related phrases or tasks, such as "start an IV" or "administer medication," and have guests mark off the tasks as they complete them.
Don't want to DIY this party game? You can buy a done-for-you version from Etsy.
Favors For A Nursing Grad Party
Send your guests off right! These nursing-themed graduation party favors will ensure that your guests will always remember your big day.
36. Nursing Graduation Party Favor Boxes
No matter what you send your guests away with, send it in style with these cute party favor boxes.
37. Nurse Themed Candy Bar Stickers
Sending your guests away with candy? Make sure it stays on theme with these nurse-themed candy bar stickers.
38. Pill Bottle Candies
Another way to send your guests home with candy is by putting it in empty (and clean) pill bottles.
Such a creative way to thank your guests for celebrating with you.
Recreate this cute graduation party favor:
39. Mini First Aid Kits
These little first aid kits are such a cute (and practical) party favor for a nurse graduation party. They come in a pack of 12 and are super reasonably priced.
40. Chill Pill Soaps
How cute would these little soaps be as party favors for a nursing school grad party?
They come in a set of 4 colors so guests can choose their favorite to bring home. Such a cute and unique party favor idea.
This post was all about the best ideas for a nurse graduation party. If you're throwing a graduation party soon, here are some other posts you may like: