Want to provide a fun way for guests to capture memories at your graduation party? Here are the absolute best graduation photo booth ideas to try.
This post may contain affiliate links, which means I'll receive a commission if you purchase through my link, at no extra cost to you. Learn more: Affiliate Disclaimer.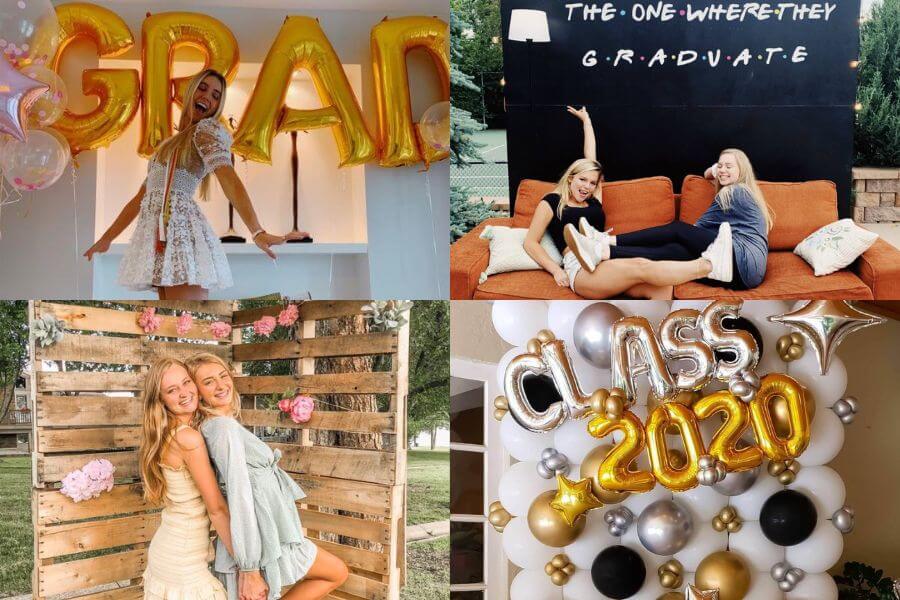 How To Set Up A DIY Photo Booth For A Graduation Party
Creating a DIY graduation photo booth sounds tricky, but it definitely doesn't have to be!
These days, everyone has their own smartphones with cameras. That means that all you really need to worry about is setting up a backdrop!
We'll go over TONS of graduation photo booth backdrop ideas later in this post, so be sure to keep reading for that.
Designate a corner of your backyard or party space to be the photo booth spot. Set up a small card table with some props if you want your party guests to use those.
If you want to make the process easier for your guests, you can set up a smartphone tripod in front of the photo backdrop.
This tripod with a ring light would be a great option for a graduation party photo booth:
Then just sit back and relax while your guests have a blast snapping pictures of themselves at the party!
Graduation Photo Booth Backdrops
The most important element of a graduation photo booth is the backdrop. There are SO many ways to put together a good photo booth backdrop, so we'll be sure to share plenty of examples.
1. Fringe And Balloons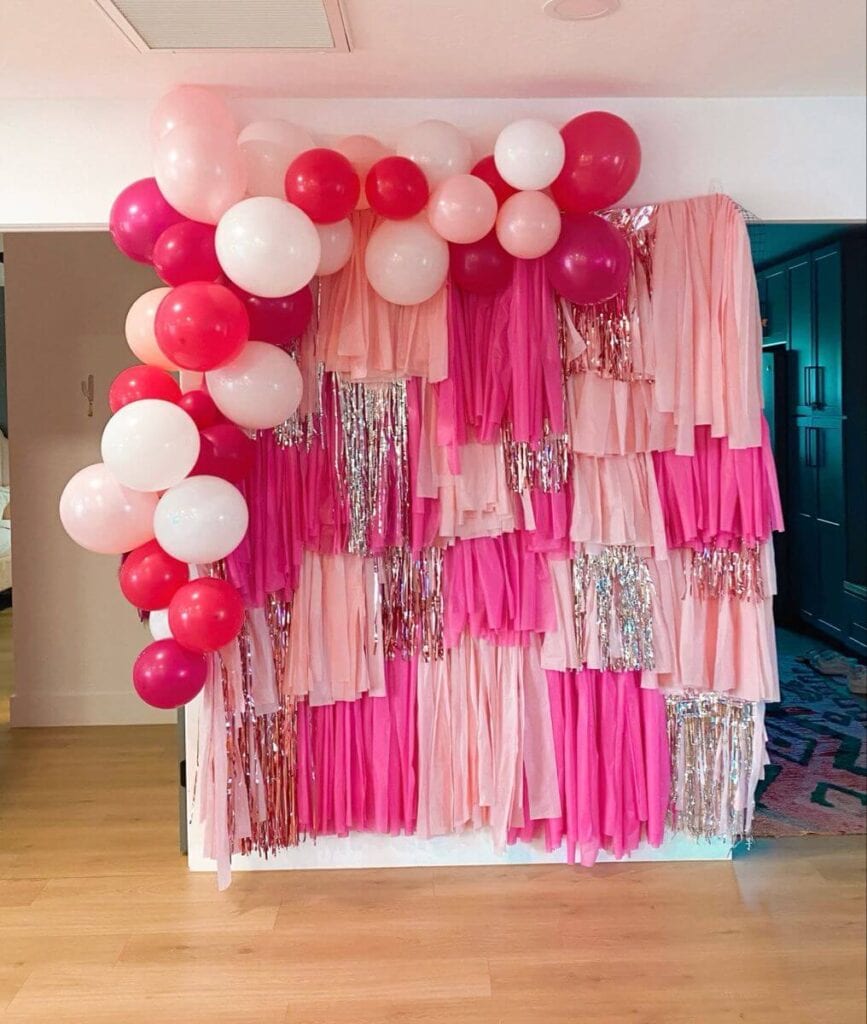 How stunning is this fringe photo backdrop with balloons? This will definitely take a bit more time to put together, but it's totally worth it for that outcome.
In order to make this, you'll need to start with a base of multipurpose netting.
Cut a TON of strips out of plastic tablecloths for the pink streamers. Pick at least two shades of pink for extra texture and interest.
Tie the streamers in the holes of the netting to start creating the backdrop. Add in pieces of metallic fringe if you want to achieve the same look as the picture.
Once your backdrop is complete, you can attach a balloon arch (like this one from Amazon) to the top corner.
We LOVE this photo backdrop idea because you can customize it to match your school colors or any other color scheme you like.
Recreate this graduation party photo booth backdrop:
[RELATED: 15 Perfect Outdoor Graduation Party Games]
2. Natural Vines Photo Backdrop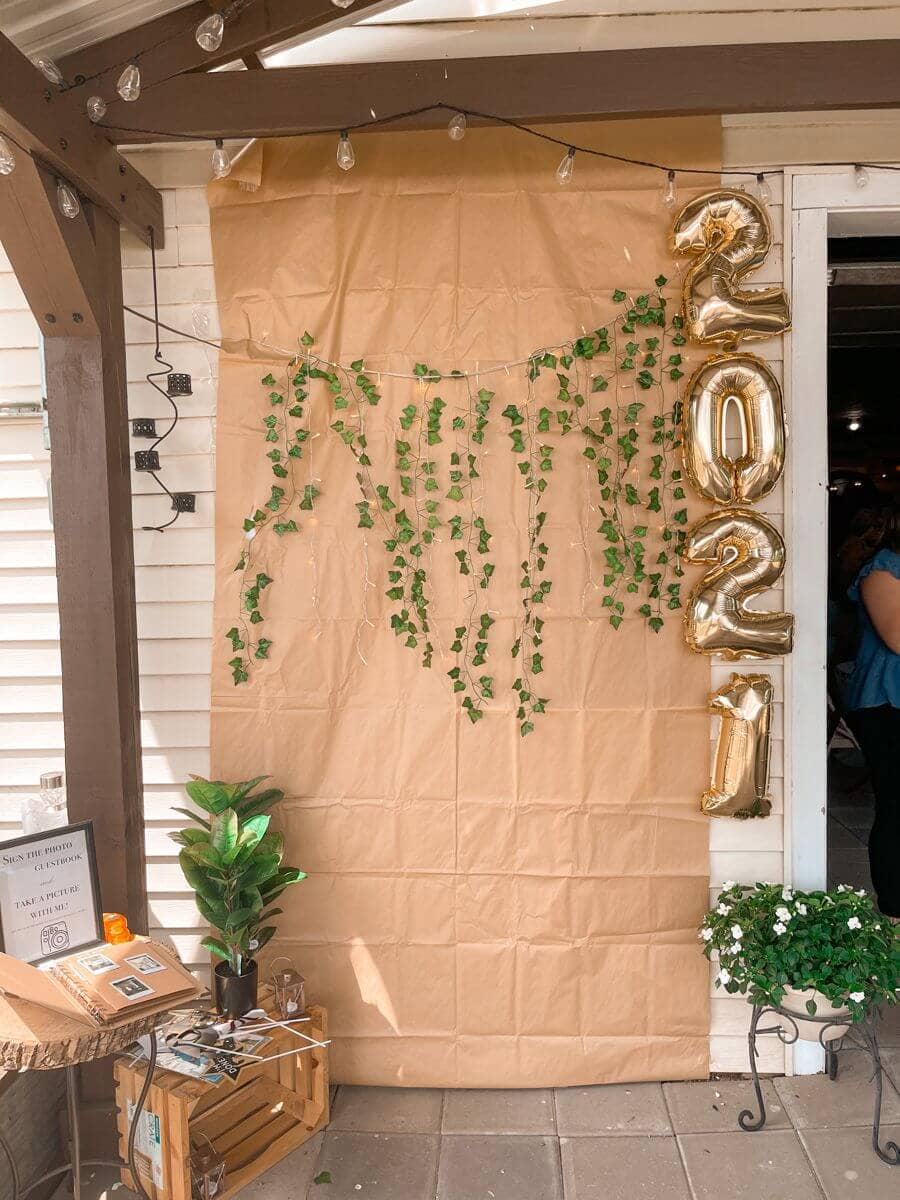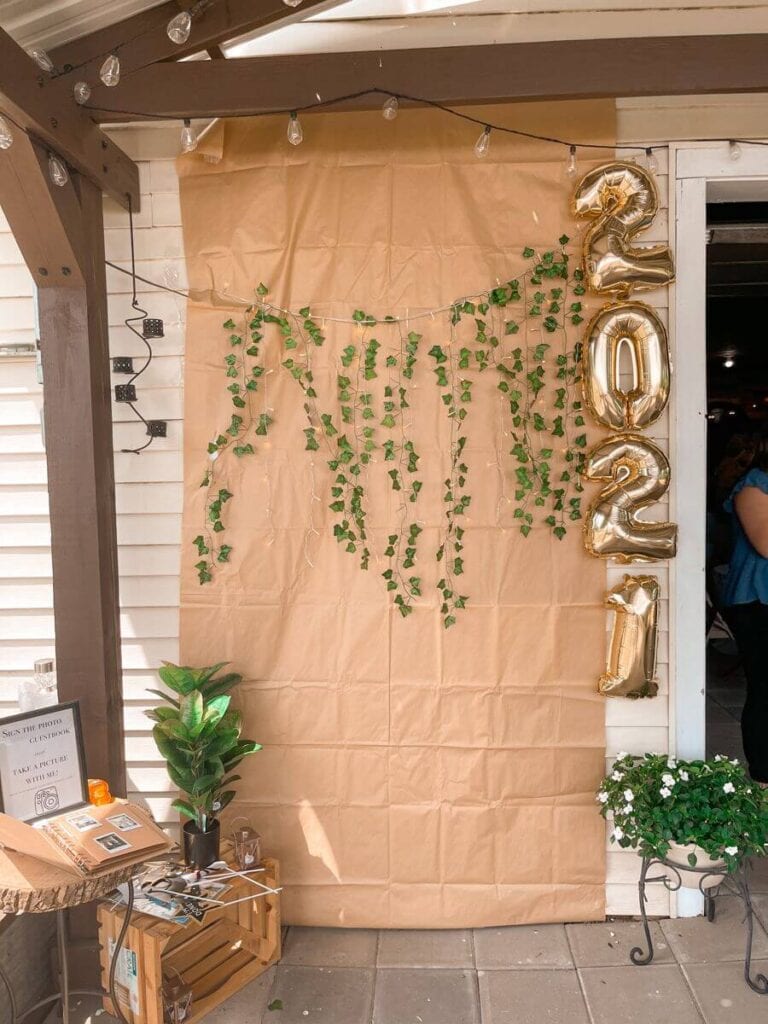 Looking for a more natural and minimal look? Go with a plain kraft paper backdrop and add some pretty vines for texture.
Top off the look with some balloons in the shape of your graduation year. So cute and simple! You could probably throw this together in less than 15 minutes.
We love how they turned this photo booth into a guest book opportunity too. Set out a polaroid camera and have each guest take a picture of themselves for your guest book.
P.S. want more fun guest book ideas for a graduation party? We have a full post about the best. graduation party guest book alternatives.
Recreate this cute photo booth idea for a graduation party:
3. Balloon Arch Photo Booth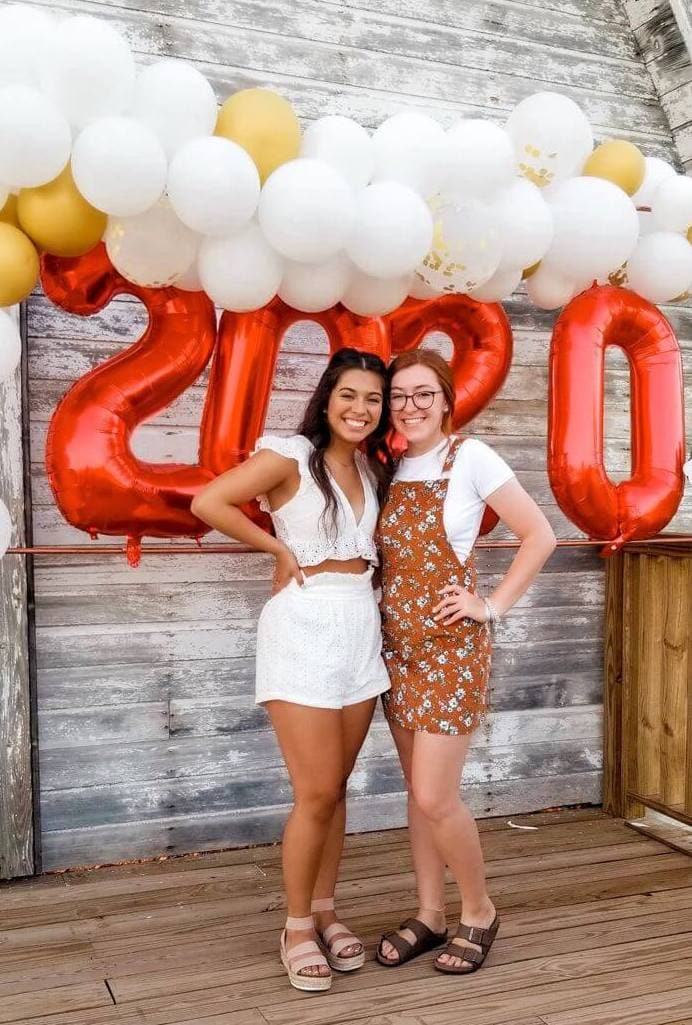 Want a super affordable photo booth backdrop? Just hang a balloon arch against a plain wall!
Add in some graduation year balloons and you have a picture-perfect backdrop for your guests to take photos in front of.
Recreate this cute photo backdrop idea:
[RELATED: 19 Graduation Party Centerpieces You'll Want To Display On Every Table]
4. Tassel Garland Backdrop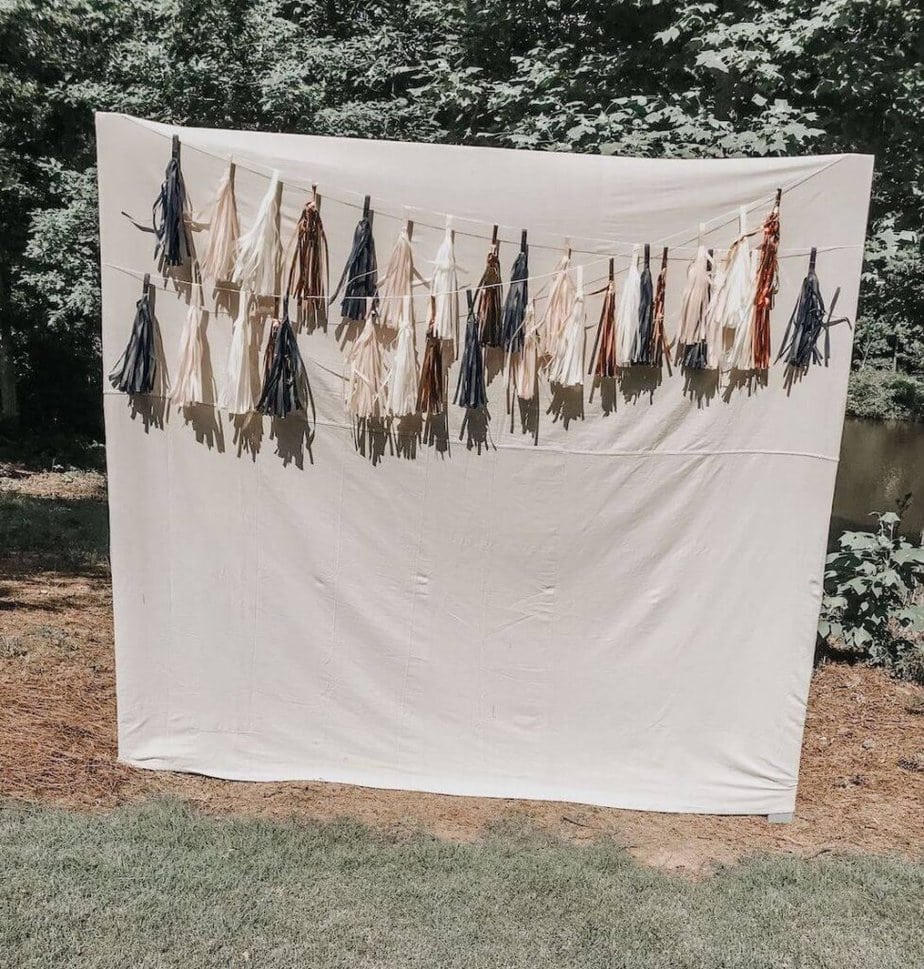 If you want a super simple backdrop that will still look amazing in pictures, this tassel wall is perfect.
Just hang some tassel garland over any white photo backdrop. You could get a professional-level photography backdrop or just hang a white sheet over a clothesline!
Recreate this grad party photo booth backdrop idea:
5. Pallet Photo Booth Backdrop For Grad Party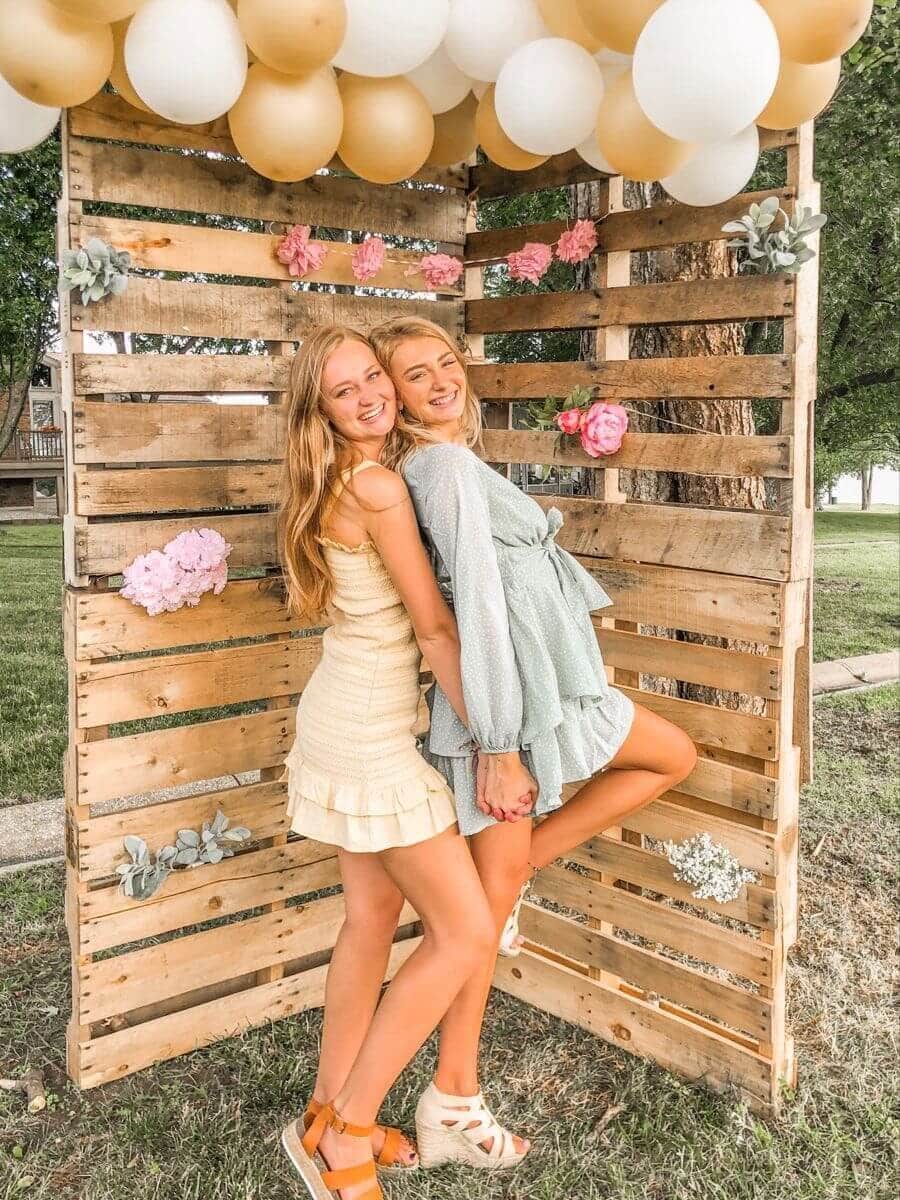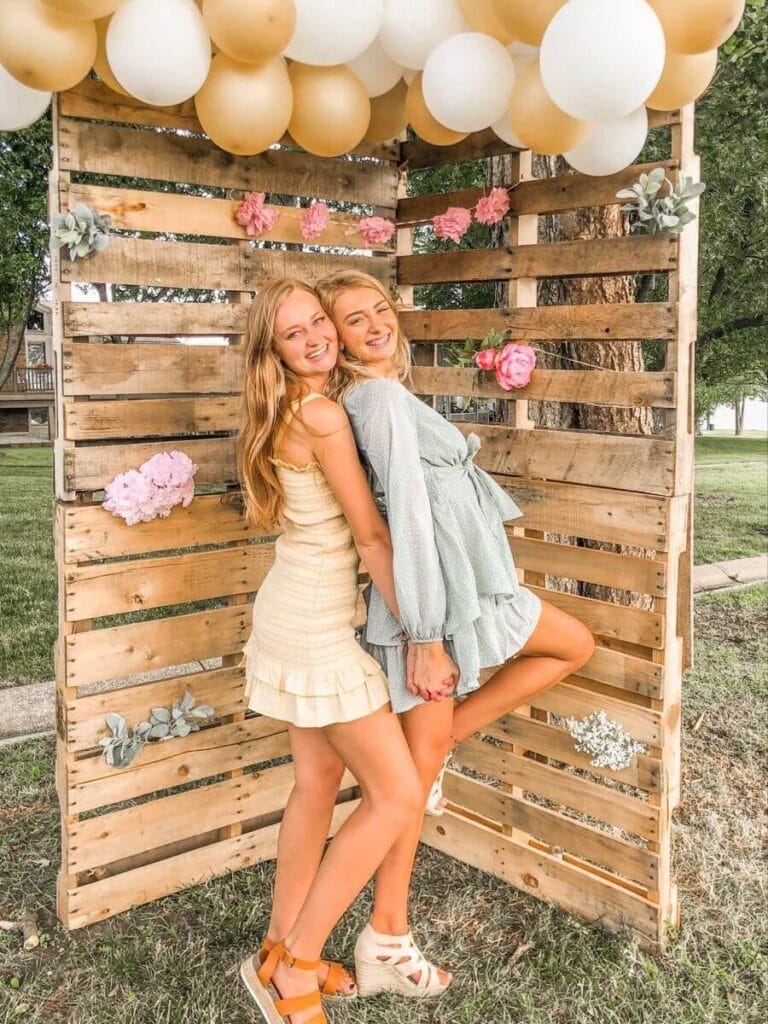 If you don't mind doing a little DIY-ing, a pallet backdrop would be SO cute for a graduation party!
Just attach four pallets to one another and put together a stand or lean them up against a wall. There are plenty of pallet wall tutorials on YouTube that will show you how to recreate this.
If you don't feel like busting out the power tools, you can also search for pallet wall rentals in your area. Many people rent out portable photo backdrops for weddings and events, so be sure to check Google and Facebook Marketplace.
Once your wall is assembled (or rented), deck it out with flowers, garland, and a balloon arch. So cute for an outdoor graduation party!
Recreate this pallet photo backdrop:
[RELATED: 19 Graduation Party Dessert Ideas To Impress Your Guests]
6. Flower Wall Photo Booth Backdrop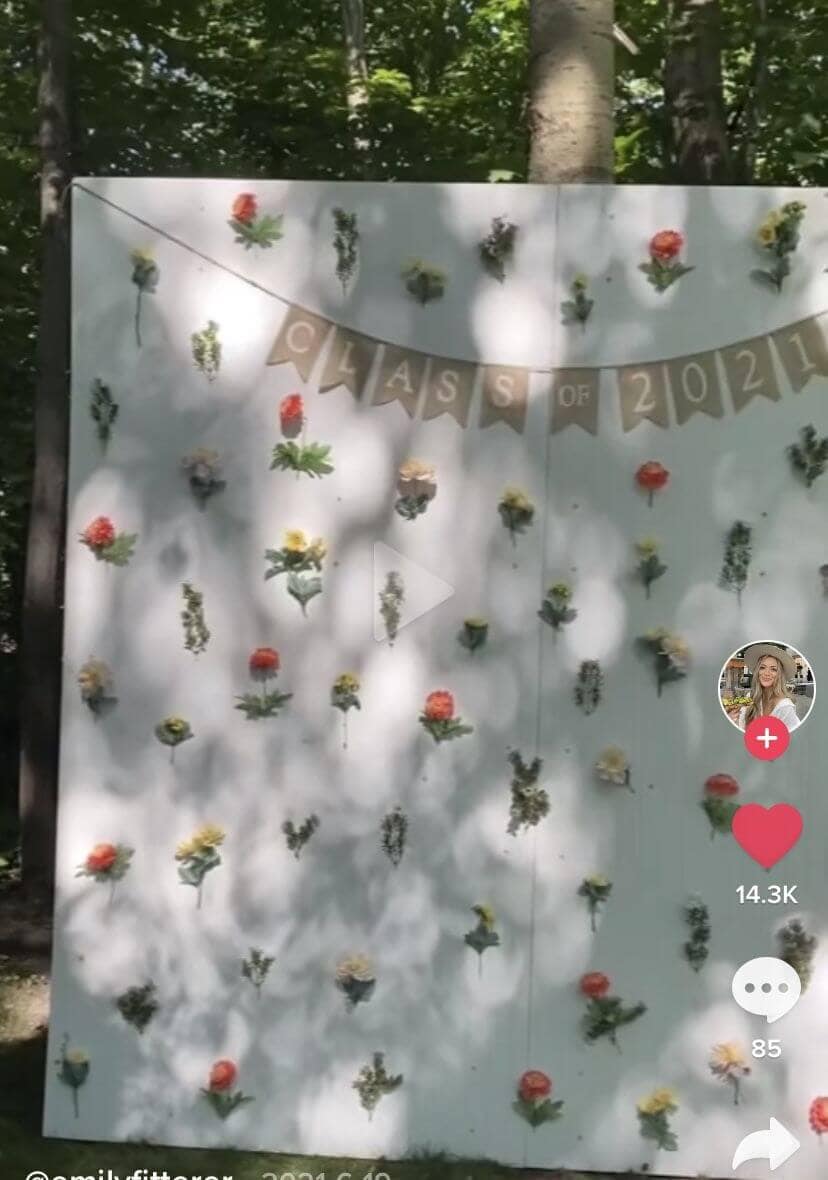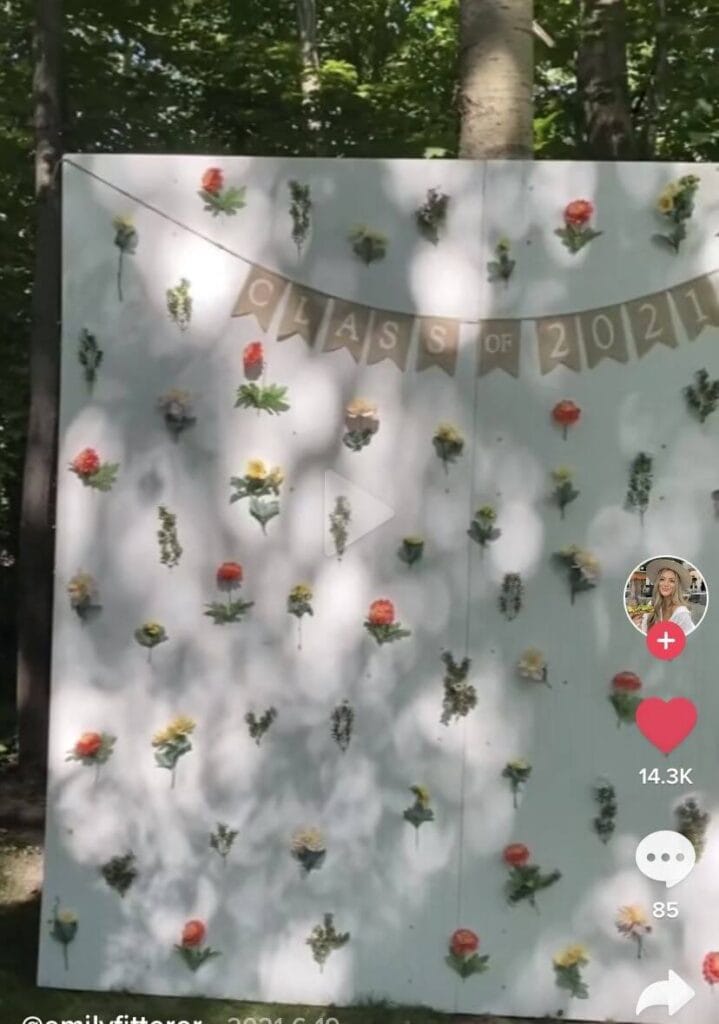 Looking for a super sweet photo booth idea for a backyard graduation party? This flower wall would look SO adorable as a backdrop for pictures.
Just attach fake flowers to any white backdrop. You could use large boards of painted plywood or a white photography backdrop.
The easiest way to attach the flowers is by using hot glue. However, if you plan on reusing your backdrop, you could use command strips or tape to minimize damage.
Recreate this graduation party photo booth idea:
7. Friends Themed Graduation Backdrop
If the graduate is a fan of the show Friends, you HAVE to do this fun grad party photo booth idea.
Take a plain black backdrop and add the Friends logo to it. Use the graduation year as the season and episode numbers.
Not confident in your DIY skills? You can just buy they full done-for-you backdrop from Etsy.
Then place your backdrop behind a couch like the one they always use at the coffee shop. If you don't have a spare couch to use for this, check out a local thrift store for a cheap option.
Or an even better idea would be to buy a futon that the graduate can use in their college dorm! We love a multitasking gift option.
[RELATED: 23 Best Dorm Chairs for College Students]
DIY this photo backdrop idea:
8. Balloon Wall Photo Booth Backdrop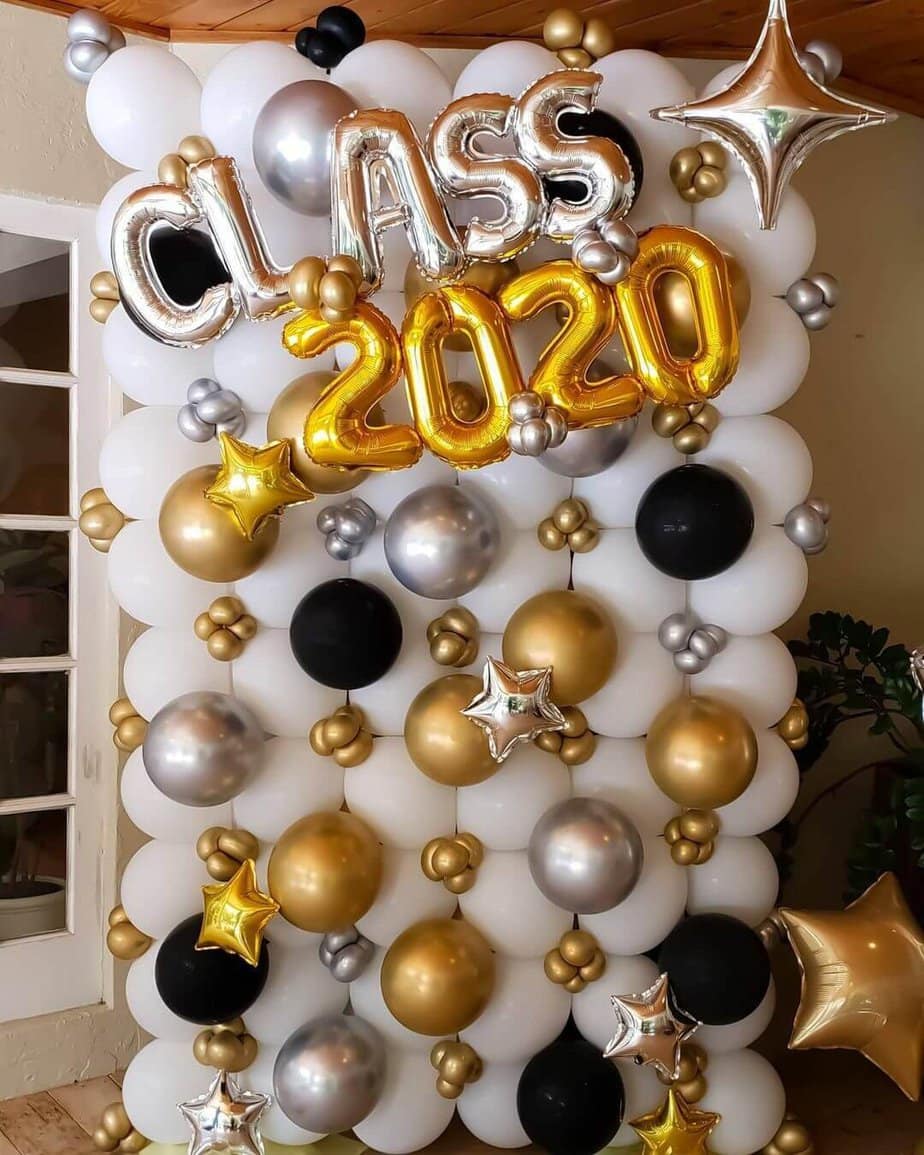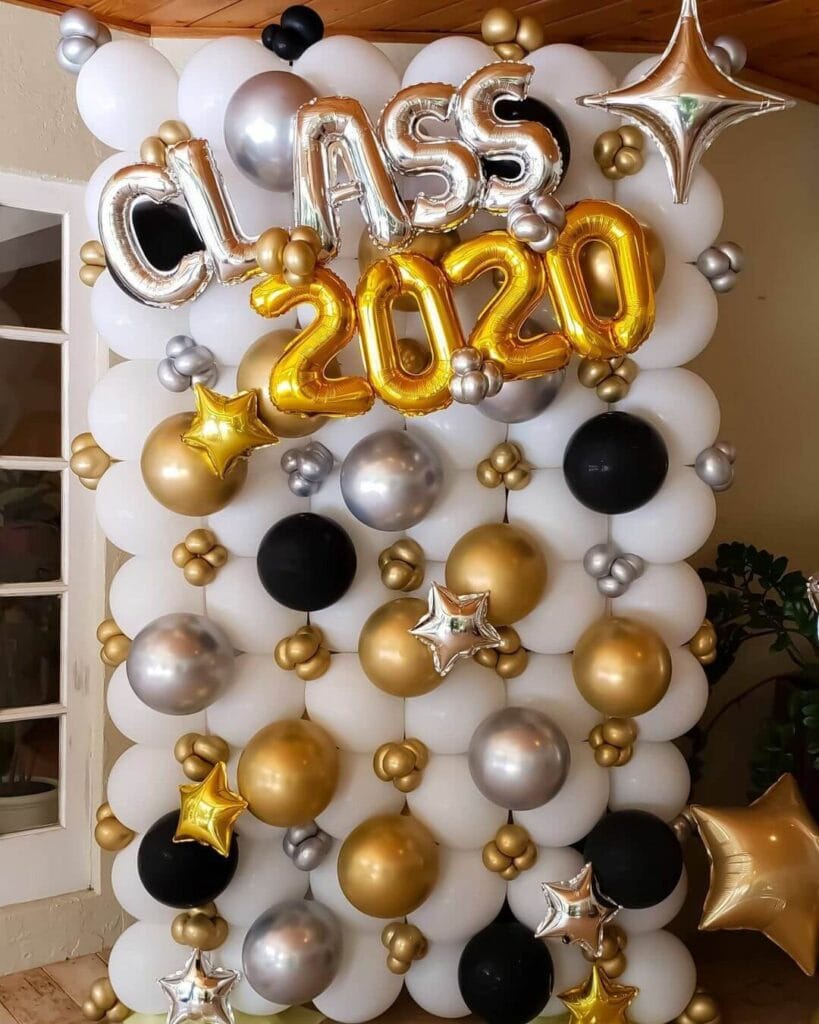 How creative is this balloon wall backdrop for a graduation party photo booth?
Blow up balloons to various sizes and use them to create a pattern for your photo backdrop.
You can attach them right to the wall with tape or use some multipurpose netting so that you have a portable backdrop.
Finish it off with your graduating year balloons and you have a picture-perfect background.
Recreate this graduation photo booth idea:
9. Greenery Wall With Balloons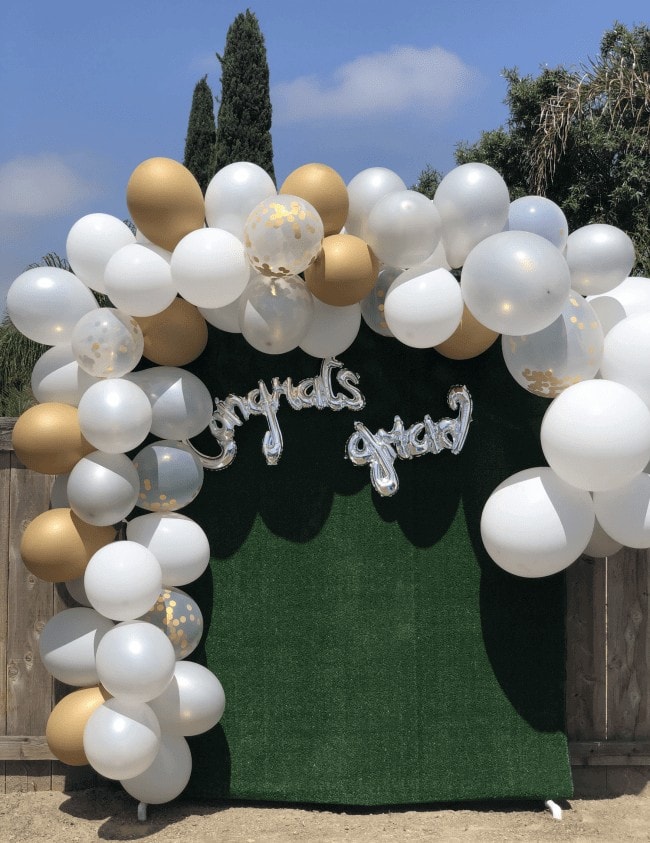 We just love the look of this faux greenery wall with a balloon arch draped over the top.
You can recreate this look with a roll of fake grass draped over a stand. Attach your balloon arch and other decor to the top and you're good to go!
Recreate this photo backdrop idea:
10. Tulle And Greenery Backdrop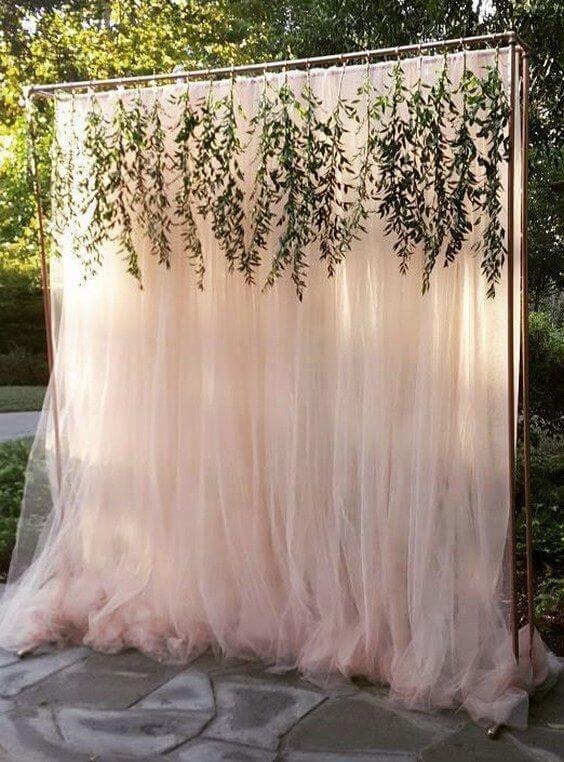 Is this not the most stunning photo backdrop you've ever seen? This would be so perfect at a garden-themed graduation party.
[RELATED: 23 Creative Graduation Party Themes Your Guests Will Love]
Just hang some tulle / chiffon fabric from an archway and add stems of greenery.
If you don't have any sort of archway handy, you could also use a clothesline to hang your fabric from.
Recreate this gorgeous graduation party photo backdrop idea:
11. Custom Colored Ribbons Backdrop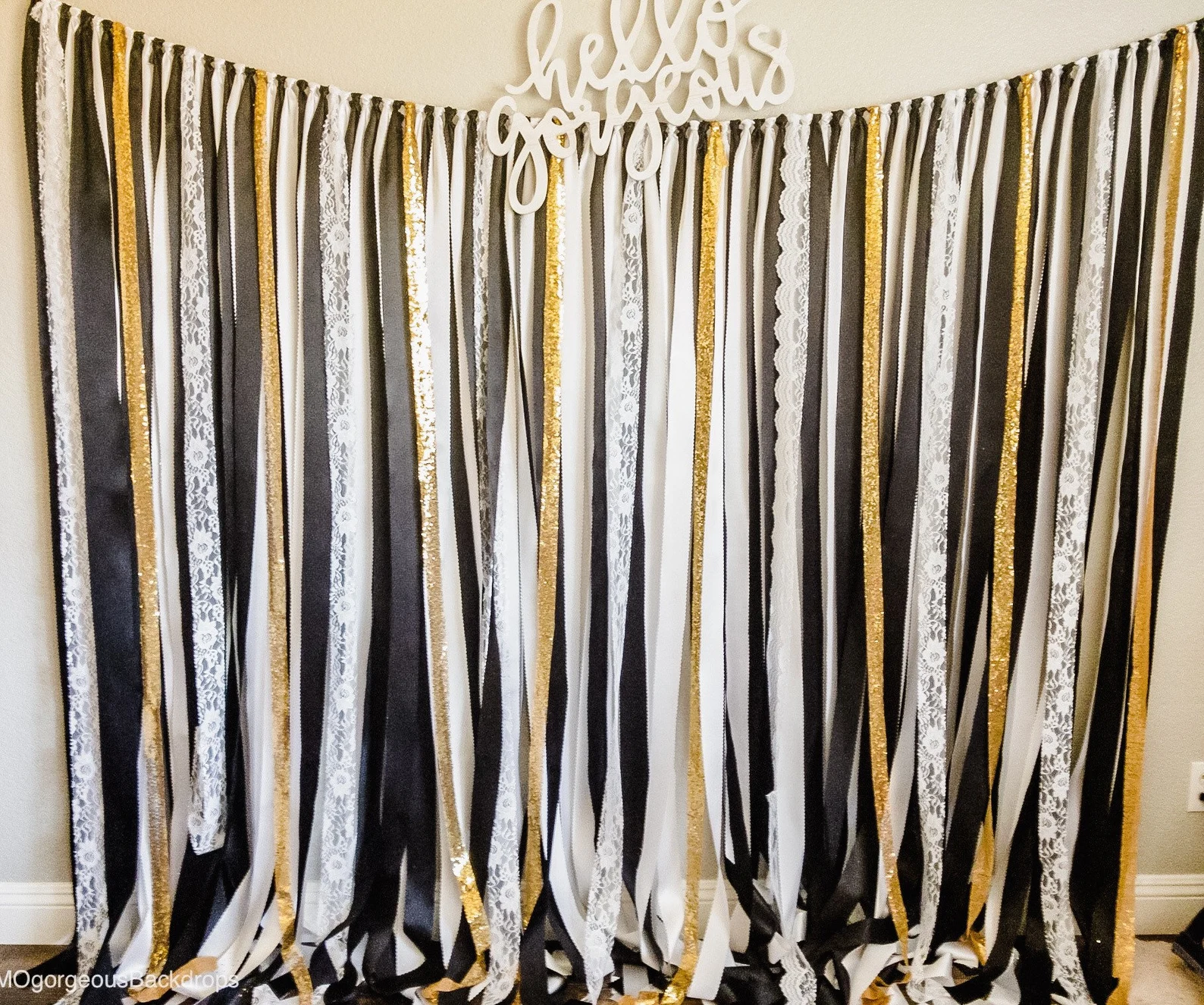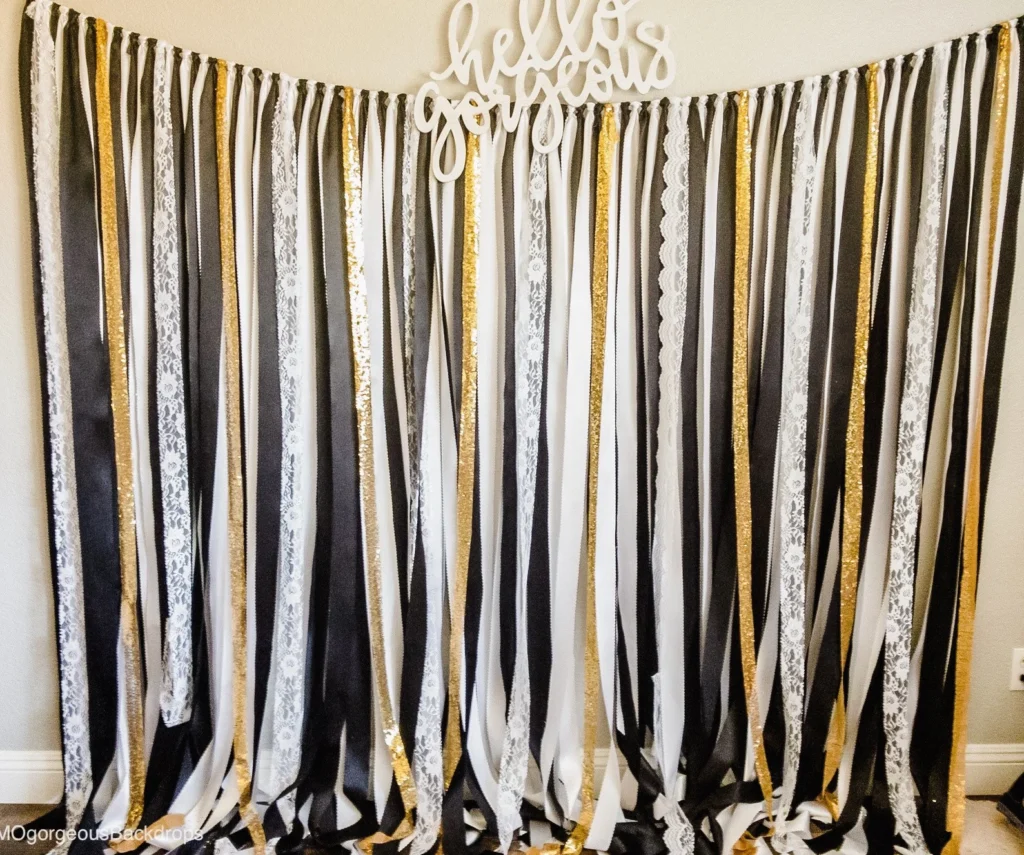 Want a photo booth backdrop that matches your school colors? This ribbon backdrop from Etsy is totally customizable so you can pick any colors you'd like.
This backdrop would look so stunning when paired with a balloon arch, graduation year balloons, or just on its own.
12. Grad Balloons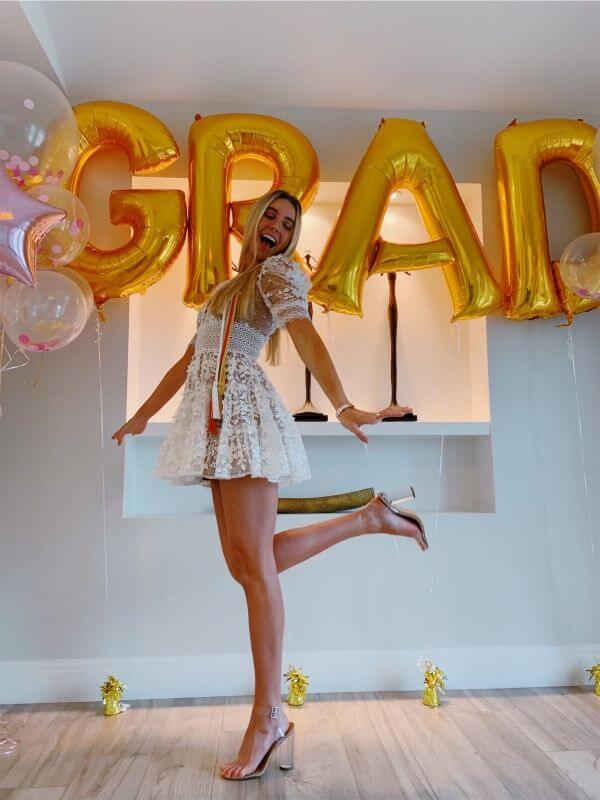 When in doubt, you can't go wrong with giant balloons as a photo backdrop.
You could go with the letter that spell out "GRAD", your graduation year, or anything else that you think would look good in pictures.
Add some balloons, streamers, and other decor around your balloon letters to finish off the look.
Recreate this graduation photo backdrop idea:
13. School Flag And Balloons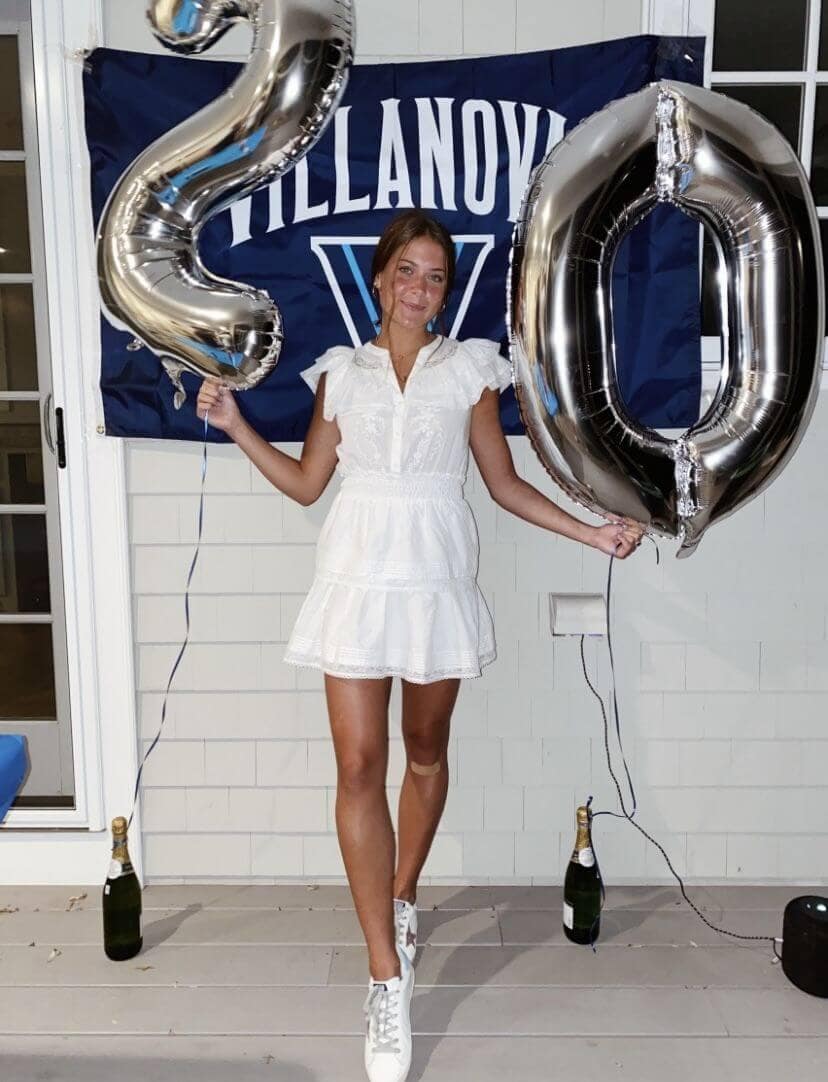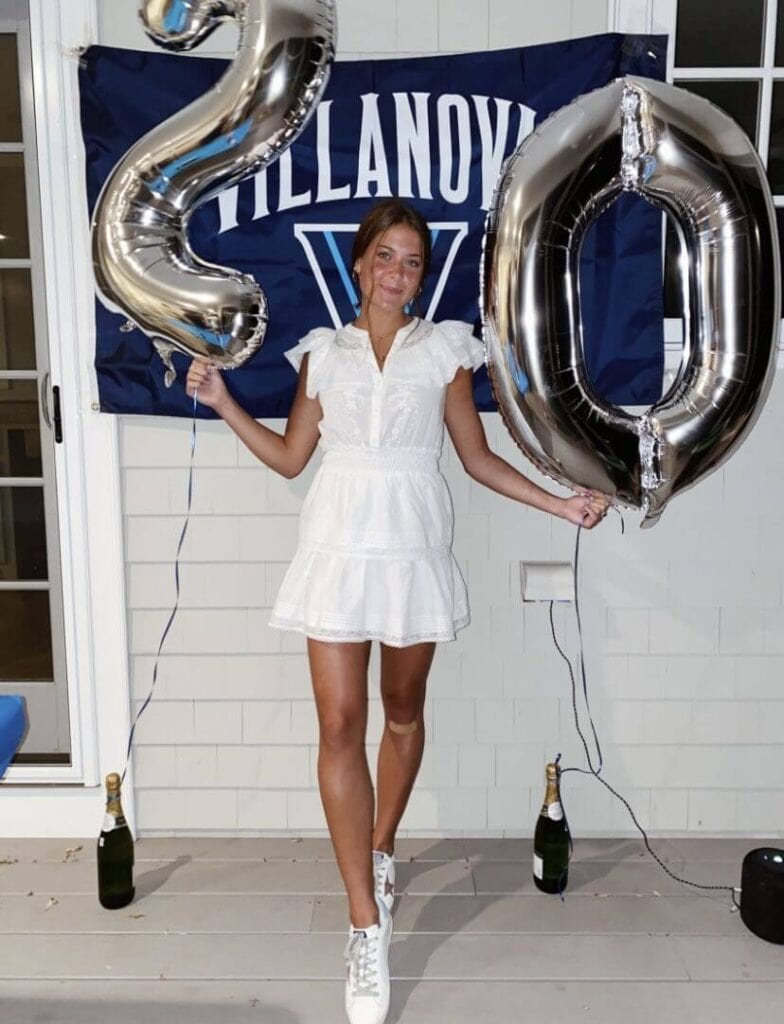 We're all about keeping things SIMPLE here at the College Savvy blog. And what could be simpler than just hanging up your school flag as a photo backdrop?
You could either hang a flag from the school you just graduated from, or grab one from the school you're heading to next fall.
Don't forget some cute graduation year balloons to pose with!
Here's what you'll need to recreate this:
14. Photo Frame Archway
This photo booth backdrop has so many cute elements to it – a copper archway, cutout photo frame, greenery, and graduation year balloons.
You don't have to include ALL of these elements in your own backdrop, but the archway with the frame is a great place to start.
In order to make the frame, just cut out a square from the center of a large piece of poster board.
Here's what you'll need:
15. Grad Marquee Letters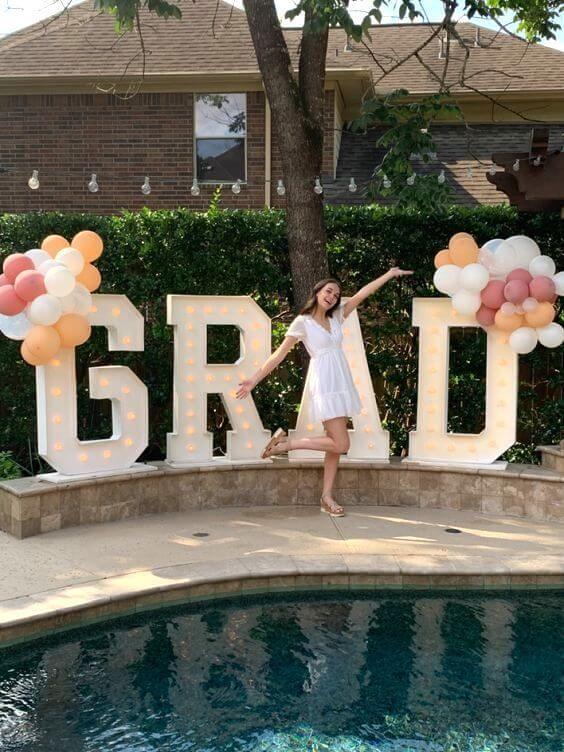 Want a background for your graduation party photos that looks super luxurious?
Rent or buy some giant marquee letters that spell out grad! This will definitely make for some party photos that you won't forget.
If you're on a budget, there are also ways to get this look for a lot less.
You can buy these marquee letter frame kits from Etsy and fill them with string lights. Just be aware that the string lights are sold separately.
Choose your letters under the "Primary Colors" tab. If you also want to buy your string lights from the seller, scroll down all the way in the "Primary Colors" tab and you'll see the string lights option on the bottom.
Recreate this look:
16. Pallet With Photo Collage
We love this graduation party photo booth idea because it doubles as something for guests to look at!
Grad party guests LOVE to see pictures of the graduate throughout the years, so this is a great way to display those memories.
Recreate this photo backdrop by hanging pictures on a pallet wall. If you're not sure how to build a pallet wall, check out this tutorial.
Grad Party Photo Booth Props
One of the best parts about any photo booth is the props! Providing props helps your guests have more fun with the photo booth because they have something to do with their hands.
Here are some of the cutest photo booth props for a graduation party:
17. Graduation Photo Booth Props
These photo booth props are perfect for a graduation party. There are 20 different graduation-themed props, as well as wooden dowels and stickers to help with assembly.
18. Graduation Photo Booth Frame
Another fun idea for a prop is to have a giant frame for guests to stand inside. Every single photo will be like a little congratulation message for the graduate!
19. Funny Assorted Props
If you want something a little bit nicer than paper signs, these assorted props would be perfect for taking funny photo booth pictures.
It comes with 18 different hats, wigs, glasses, and other costume accessories so you'll never run out of options.
20. Black And Gold Photo Booth Props
These black and gold graduation props would look good in just about any photo booth! It comes with 23 different signs to hold up so you'll have lots of options to choose from.
21. Graduation Year Balloons
Grad year balloons are one of the best props to hold up in graduation party photos.
They look amazing in pictures and they let everyone know what year you graduated in.
Amazon has some great options for letter and number balloons. Gold and silver are always safe bets, but there are other colors available as well!
22. Graduation Glasses
Looking for a fun photo booth prop that doesn't cover too much of your face?
Try out these fun graduation glasses props. The set comes with 15 cute paper glasses that you can wear for photos.
Things To Know About Graduation Photo Booths
Here are some common questions about setting up and running a graduation party photo booth:
23. Should You Rent or DIY a Graduation Party Photo Booth?
To be honest, this is totally up to your budget and how much time you have to put into the graduation party planning process!
As we showed you before, putting together a DIY photo booth can be really quick and easy. But if you don't want to add any work onto your plate, you can also go with a rental service.
Most places have photo booth rental services for weddings, corporate events, and private parties. Google *your city* photo booth rental to find options in your area.
24. Do You Need Someone To Run The Photo Booth?
If you've ever used a photo booth at a wedding or big event, there was probably someone running the station.
That might lead you to wonder if you need someone running the photo booth at your graduation party.
For most parties, the answer is no. Your guests should be more than capable of snapping pictures on their phones in front of your photo backdrop.
However, if you want to have access to your guests' pictures after the party, you may want to have someone operating the booth.
This will ensure that people either use the phone / camera that you've set out for them, or that they send their pictures to the appropriate spot.
One smart idea is to have someone there with a phone for your guests to airdrop or email the pictures to once they've taken them.
25. How Do You Keep Your Photo Booth Backdrop From Falling Over?
If you're setting up your photo booth yourself, you'll want to make sure it's extra sturdy.
Your guests will probably be bumping into it as they get into place for pictures. You don't want something that will easily collapse or break if it's touched.
For solid backdrops like pallets or plywood sheets, you'll want to create a sturdy stand. Wooden backdrops could seriously injure someone if they topple over.
Either lean them up against a sturdy wall or tree, or put your construction skills to the test and create a frame or stand for them.
For lighter options like fabric and paper, you don't have to worry too much about injuries. Just make sure that your backdrop is securely fastened in case it gets bumped into or it's an extra windy day.
This post was all about the best graduation photo booth ideas for your party.
You may also like: