19 Graduation Party Dessert Ideas To Impress Your Guests
Are you looking for unique graduation party dessert ideas? Here are 19 treats to sweeten your graduation party.
This post may contain affiliate links, which means I'll receive a commission if you purchase through my link, at no extra cost to you. Learn more: Affiliate Disclaimer.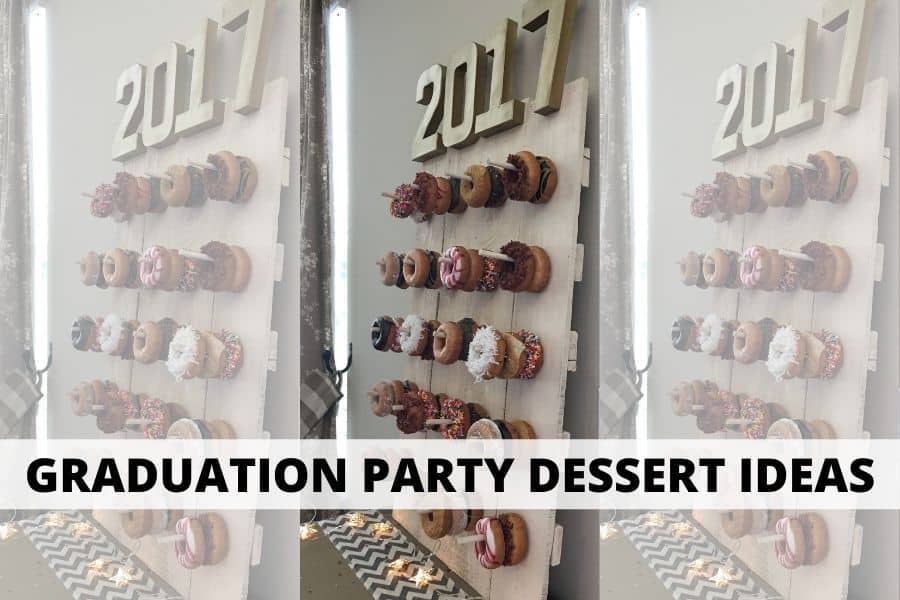 We're heading into graduation party season and I'm so excited!
Let's be honest – the best part of being a guest at a graduation party is all of the free food (aside from celebrating the graduate lol). And what's the best part of any meal? The dessert of course!
If you want to make sure that your graduation party is a big hit with your guests, you'll definitely want to have something sweet for them to munch on after the main meal.
Here are 19 perfect sweet treats you should serve up at your graduation party.
Graduation Party Dessert Ideas
1. One Smart Cookie Bar
One of my favorite dessert ideas for a graduation party is a well-decorated cookie bar. Load up on a ton of different types of cookies and add some cute signs to the table.
Make sure to add a big sign that says "One Smart Cookie" for extra cuteness. This one from Etsy is gorgeous and it's perfect for guys and girls.
[RELATED: 40 Insanely Fun High School Graduation Party Ideas]
2. Cupcake Cups
If you're looking for a classier graduation party dessert idea, you should definitely make these adorable cupcake cups.
Fill the bottom with hard candies in school colors, add a cupcake on top, and top the whole thing off with a graduation hat cupcake topper like this one.
If you don't want to serve them in your fancy glassware (totally understandable), I recommend getting some high quality plastic glasses like these. They look just as classy but you don't have to worry about ruining your nice wine glasses.
3. Chocolate Graduation Caps
How adorable are these chocolate graduation caps as a grad party dessert? All you need are Reeses peanut butter cups, some chocolate squares, sour ropes, and mini M&Ms in your graduate's school colors.
I definitely recommend having a few extra chocolate squares to use as a glue. You'll melt them down and then use the melted chocolate to stick all of the pieces together. Once you have the caps made, you can serve them as is or add a stick for easy eating.
4. Graduation Dessert Pretzel Rods
Another creative DIY graduation dessert idea are these chocolate covered pretzel rods.
The recipe from Hungry Happenings is a little bit advanced, but if you have the skills you should definitely try it out. I think these would look so cute at any graduation party!
[RELATED: 23 Outdoor Graduation Party Ideas For A Super Memorable Party]
5. Diploma Cookies
These diploma cookies are SO easy to make but they would look so cute at a graduation party. All you need are some Pirouette cookies and red ribbons.
Tie the ribbon around the cookies to look like diplomas and you're all done! So easy.
6. Ferrero Rocher Graduation Caps
Another super easy DIY graduation party dessert is these Ferrero Rocher graduation caps. Here's what you'll need for this cute graduation treat idea:
Black squares of paper
Hot glue gun
You basically just flip the chocolates upside down and glue all of the pieces on top. So easy but such a cute dessert for a grad party.
7. DIY Cookie Bar
A great idea for a more interactive graduation dessert is a do-it-yourself sugar cookie bar. Set out some plain sugar cookies, frosting, and cookie decorations and let your guests get creative.
I love the idea of just having plain white frosting and fruit as a topping. It's simple, elegant, and delicious. Make sure you have everything out on a nice tiered serving tray for easy access.
8. Graduation Dessert Assortment
Can't decide on one dessert idea? Set out a whole assortment of treats!
Get a plastic tiered cake tray and fill it with chocolate covered pretzels, cupcakes, and cake pops. Add a cake to the top to finish off the whole look.
9. Graduation Cake Pops
I absolutely love these graduation cap cake pops. If you've never made cake pops before, they're actually surprisingly simple to make.
Just crumble up a baked cake, mix it with frosting, and roll it into balls. Then you dip the cake balls into melted white chocolate dyed with your school's colors.
Top the cake pops off with squares of chocolate or square cookies to make them look like graduation caps.
10. Grad Cap Cupcakes
This is one of the easiest graduation desserts to make yourself. All you need are cupcakes (homemade or store bought) and some tiny graduation caps to top them off.
11. School Spirit Cake
One fool-proof graduation party dessert that you should have at your party is a cake. It doesn't need to be anything fancy – just make sure you deck it out in school colors!
Top the whole thing off with a super cute graduation cap cake topper like this one.
12. Graduation Themed Candy Station
Another super easy graduation dessert idea is to set out a themed candy station. You can find super cute graduation themed signs on Etsy that correspond with different types of candy.
Fill up some clear glass jars with various candy, add in the signs, and let your guests dig in!
13. Simple Graduate Themed Sugar Cookies
I am absolutely obsessed with these adorable graduation themed sugar cookies. I won't go into too much detail on how to make these, because Hungry Happenings has super clear instructions on their site.
14. Swiss Roll Diplomas
Here's another super easy DIY diploma dessert idea. Just wrap a little bow around some Little Debbie chocolate Swiss rolls and you're all set!
15. Rock Candy
Want a graduation party dessert that takes pretty much zero effort? Serve up some rock candy sticks in your school colors. Such a fun and nostalgic dessert idea.
16. Candy Lightbulbs
This festive graduation party dessert doubles as a party favor. Fill up some fake plastic lightbulbs with candies in your school colors.
Tie some cute notes around them with ribbons and you have a perfect sweet little grad party favor.
17. Rice Crispy Treats
Rice Crispy treats are a crowd favorite that will definitely be a hit at your graduation party. Dip them in melted chocolate to up the yumminess factor.
If you want to make them a little bit festive, put them on sticks and tie some ribbon around each one in your school's colors.
You could also dip them in white chocolate with food coloring in your school's colors. So many fun and festive options with this dessert ideas.
18. Chocolate Dipped Oreos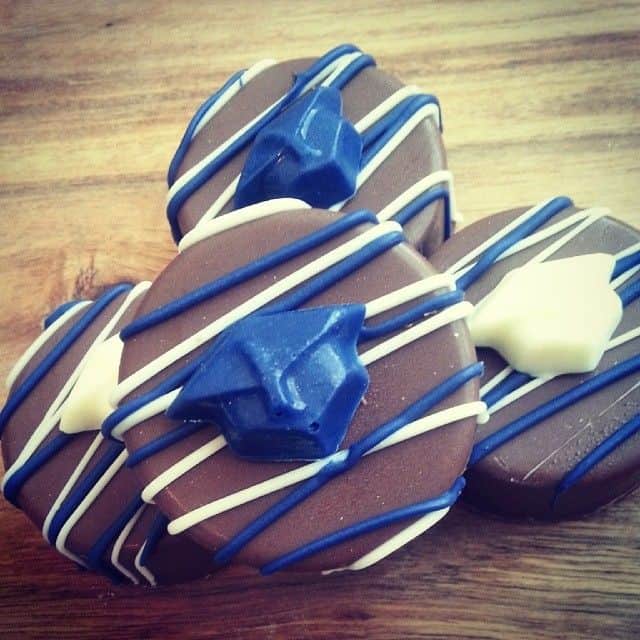 Looking at these chocolate covered Oreos is making me seriously hungry. All you need to do is melt down some chocolate, dip your Oreos in, and allow them to cool.
To make them extra festive, drizzle on some white chocolate with food coloring in your school's colors. Pour some of the chocolate into silicone molds in the shape of graduation caps and add those to the top as well.
19. Graduation Donut Wall
Last but definitely not least, this incredible donut wall. Donut walls are a super popular dessert idea for parties right now.
You can DIY this donut wall but honestly, it's going to be pretty time consuming. I recommend buying an affordable donut wall from Amazon like this one. Make sure to add your graduation year to the top to make it more festive!
This post was all about genius graduation party dessert ideas.
You may also like: