Not sure what to do for your graduation party? Here are some of the absolute best graduation party ideas for guys that you'll want to copy.
This post may contain affiliate links, which means I'll receive a commission if you purchase through my link, at no extra cost to you. Learn more: Affiliate Disclaimer.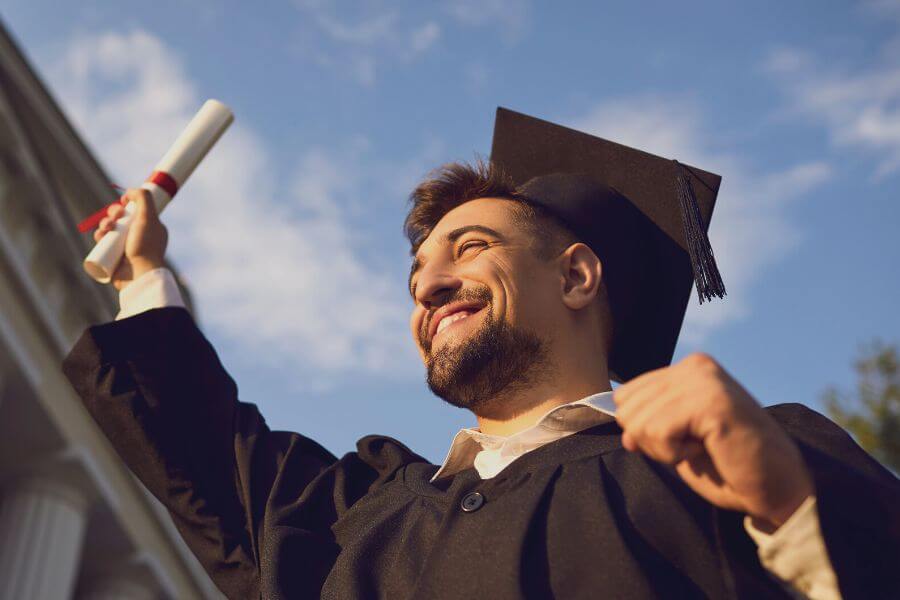 Graduating from school is a major accomplishment, and a graduation party is a fantastic way to celebrate with family and friends.
If you're planning a graduation party for a guy, you'll want to make sure it's a memorable event that reflects his unique style and interests.
In this post, we'll cover everything you need to know to throw an unforgettable graduation party for a guy. From creative decoration ideas to mouth-watering food suggestions and fun games, we've got you covered.
Whether you're hosting an intimate gathering or a big bash, these graduation party ideas for guys will help you plan an event that everyone will enjoy.
Graduation Party Ideas For Guys
Grad Party Decor For Guys
If you're planning a graduation party for a guy, you'll want to create a festive atmosphere that reflects his unique style and personality. From photo collages to thoughtful centerpieces, there are endless ways to elevate your party decor and make it a memorable occasion.
Here are some creative ideas for graduation party decor that are sure to impress any guy:
1. School Picture Photo Display
One really thoughtful way to celebrate the graduate is to display pictures of them throughout the years.
These graduation party photo display frames from Target make it super easy to show just how much the graduate has grown over the years.
Out of stock? These graduation photo frames from Amazon are very similar:
2. Words Of Advice Centerpiece Jars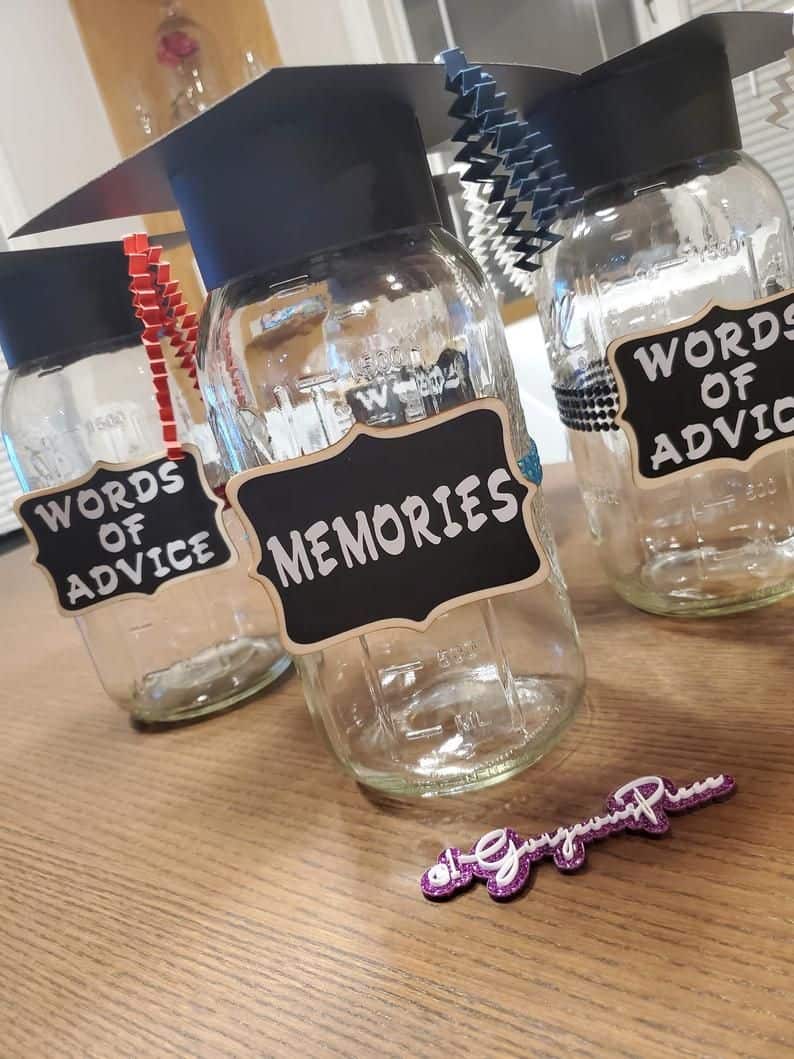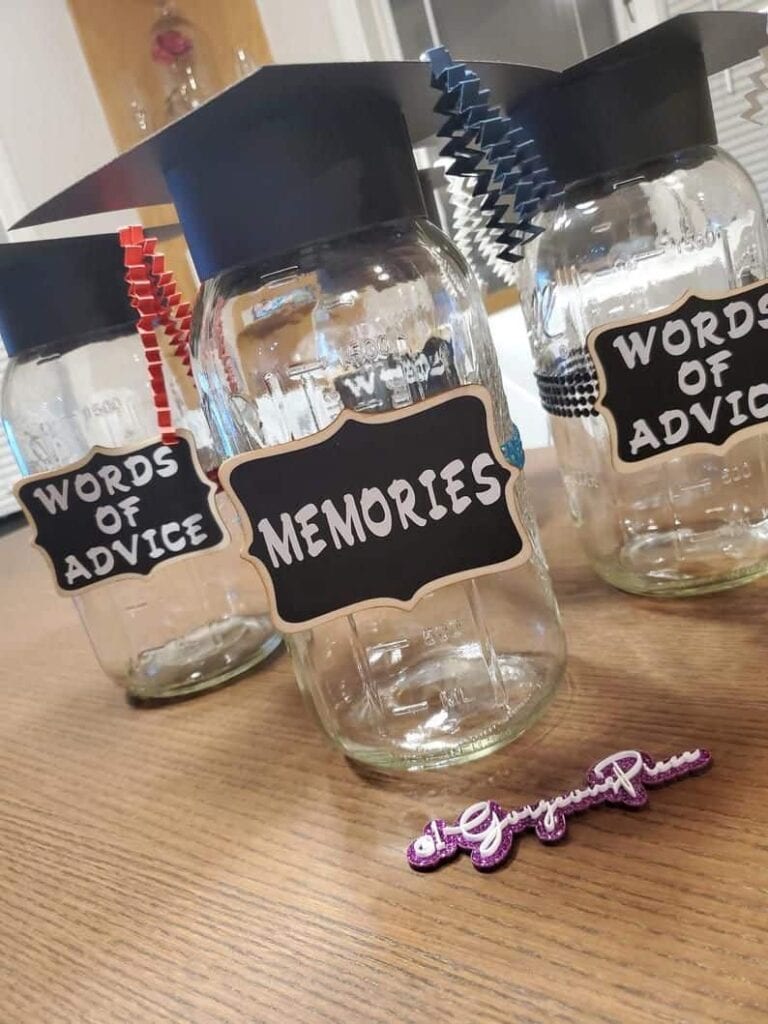 I'm so obsessed with these graduation centerpiece ideas! You can scatter these around your party and let your guests give words of advice to your graduate.
Make sure you set out pens and small pieces of paper for them to use!
You could easily DIY this centerpiece idea or you can buy them pre-made on Etsy.
3. Grad Party Photo Collage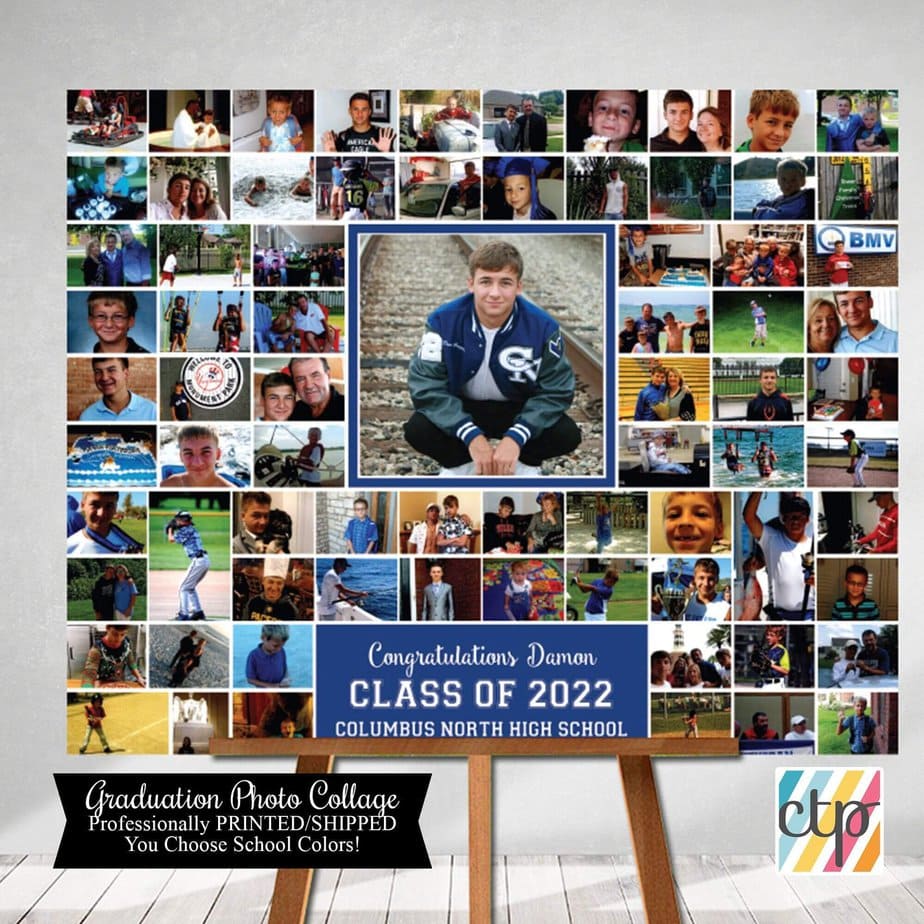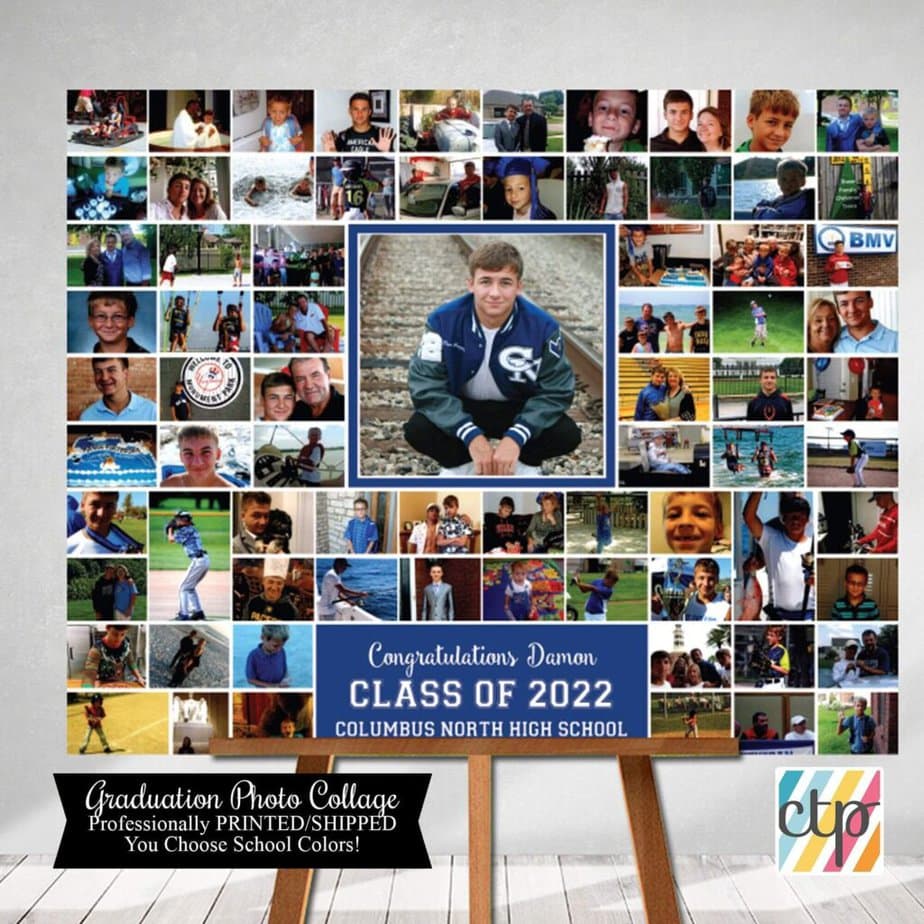 I'm sure there are SO many memories you want to display at your graduation party. And what better way to do it than a giant photo collage?
Looking for more creative ways to display pictures at your graduation party? We have you covered with this post: 11 Best Graduation Party Photo Display Ideas For Your Party.
4. Graduation Cap Balloons
This graduation-themed balloon sculpture is definitely the most creative decoration for a guy's school graduation party.
DIY this in just a few minutes by getting regular party balloons and affordable paper graduation caps from Amazon.
Recreate this graduation party idea for guys:
5. Decorate With Your School Colors
One of the best graduation party decoration ideas is to decorate with your future college colors. Balloons, tablecloths, banners, etc.
Copy this grad party idea for guys. And don't worry – Amazon has options for all different schools:
6. Decorate With Yard Signs
Welcome your guests to your party the right way with some welcome signs in the yard.
There are SO many graduation yard signs on Amazon, so you'll definitely be able to find one that fits with your party decor.
7. Set Up A Photo Booth Backdrop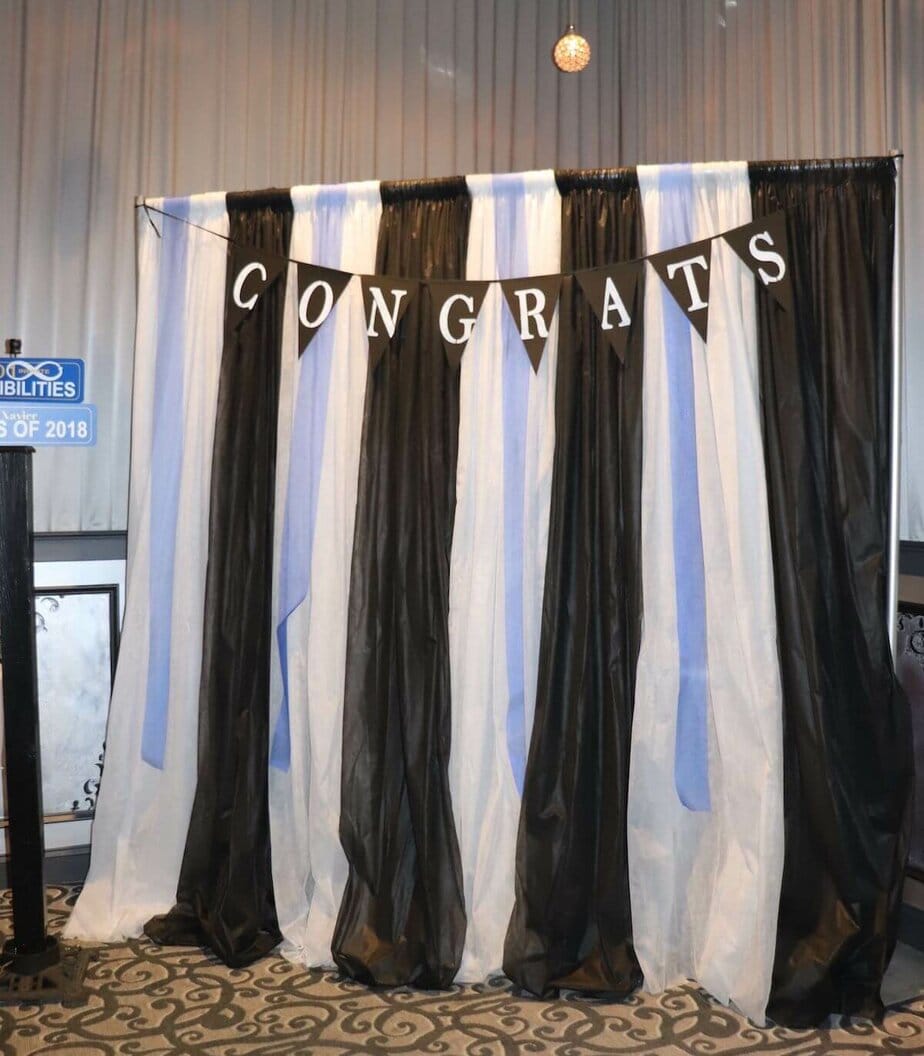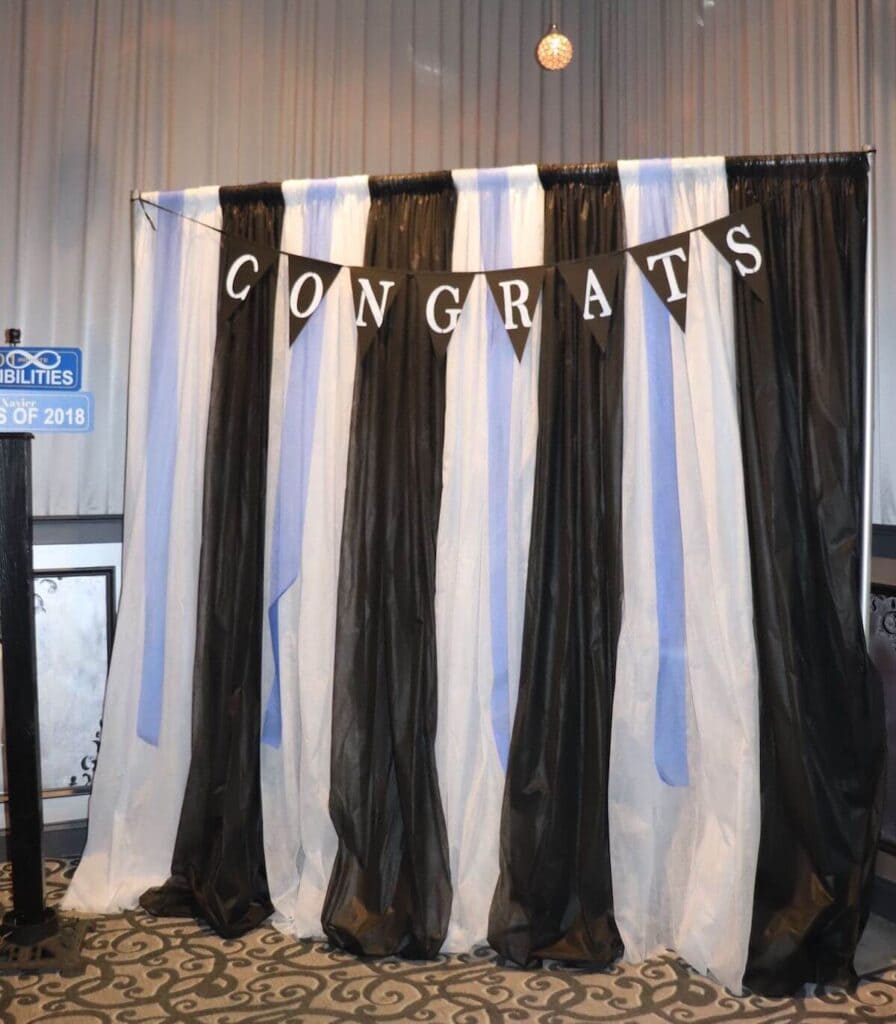 We're a big fan of photo booths for a graduation party. But a lot of the graduation party photo booth ideas out there seem to be geared more towards girls.
This black and white photo booth backdrop would be perfect for a guy's graduation party.
Recreate this grad party idea for guys:
8. Graduation Door Banner
One of the simplest yet most effective ways to make a graduation party more festive is by hanging a decorative banner around the front door of the house.
You'll set the tone of the party before anyone even walks through the door. Plus it's a great way to help your party guests find your house more easily!
9. Graduation Beach Balls
Throwing a pool party for the graduate? These fun beach balls are perfect for guys!
They're a decor piece but they can also be used for a game of pool volleyball once everyone gets in the water.
10. Grad Themed Tableware
Graduation parties usually mean one thing for guests – food! Incorporate your party decor into the food table with this festive tableware set.
11. Grad Year Balloons
One of the simplest graduation party ideas for guys is to hang up some balloons in the shape of their graduation year.
It's a great way to fill up a blank wall, plus people will definitely use it as a photo backdrop during the party!
12. Grad Balloon Boxes
How unique are these graduation-themed balloon boxes? These would look really good outside your front door or at the entrance to your backyard graduation party.
13. Graduate Display Table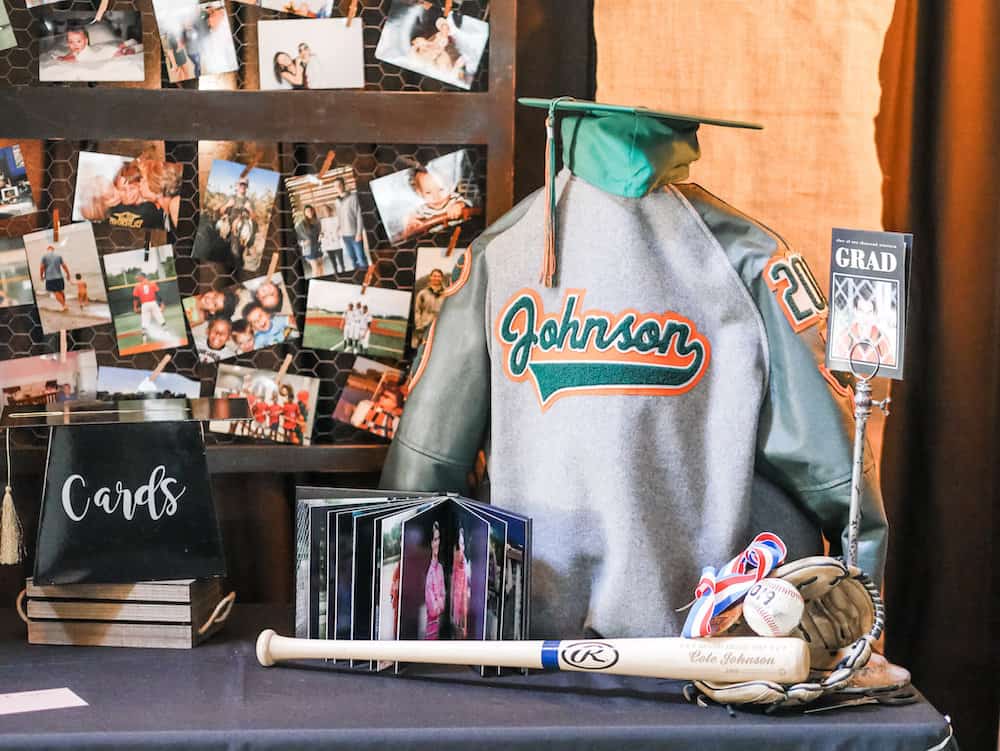 Every graduation party needs a display table filled with memorabilia from your years in school!
This is a spot to showcase sports and academic accomplishment, photos of friends and family, and other special moments in the graduate's life.
14. School Photo Walkway
How cute is this photo walkway for an outdoor graduation party? Display a photo from each year of the graduate's life for guests to see as they walk up to the party.
There are a ton of different ways you could do this, but I love the simplicity of just securing a photo to a wooden stake in the yard.
Graduation Party Food For Guys
If you're planning a graduation party for a guy, you'll want to make sure the food is on point. Whether you're hosting a casual backyard barbecue or a formal dinner party, the right menu can take your event to the next level.
Here are some tasty graduation party food ideas for guys that are sure to satisfy even the pickiest eaters.
15. Graduation Themed Candy Bar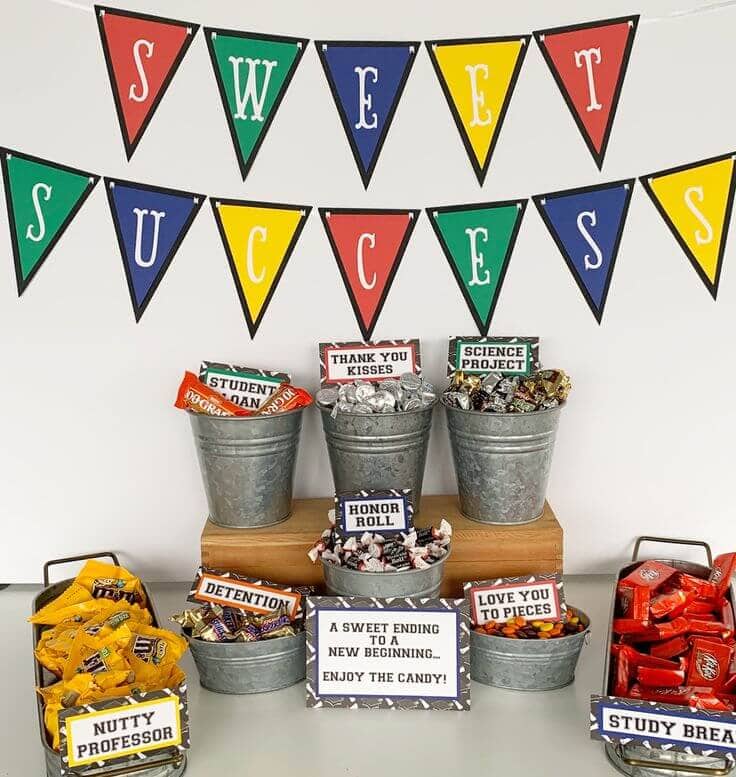 To satisfy your guests' sweet tooth, make sure to set out some fun graduation-themed candy jars!
This bundle from Etsy includes the graduation candy signs, a "sweet success" banner, and the table sign. So easy if you don't want to DIY it yourself!
16. Charcuterie Table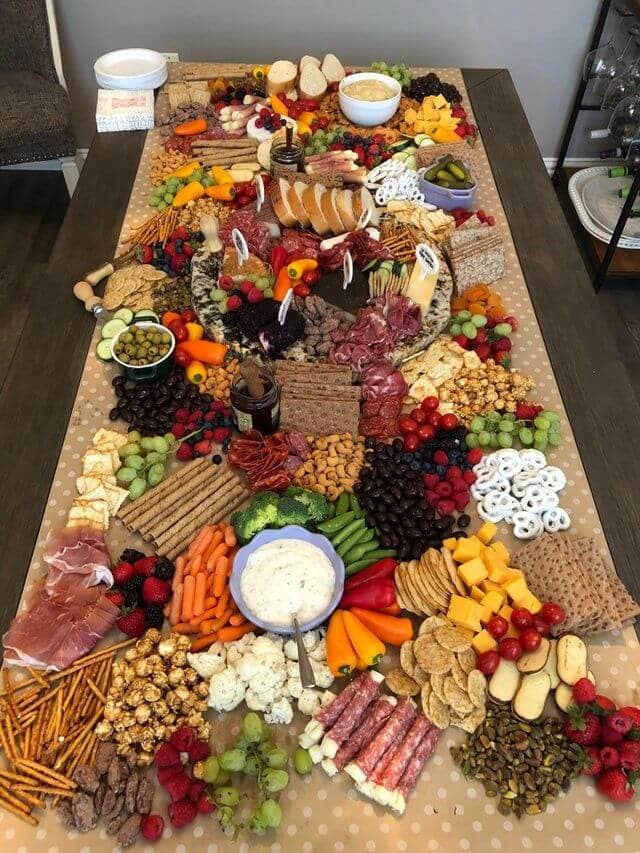 A charcuterie table might sound too fancy for a guy's graduation party, but it's actually pretty perfect!
Set out a variety of the graduate's favorite snacks on a long table. Just make sure to cover the table with a plastic or paper tablecloth – it could get messy!
17. Taco Bar
When throwing a graduation party, it's best to go with crowd-pleaser foods. And what's more universally loved than tacos??
I love doing a taco bar for a party because people can customize it to their liking. Plus, it's so cheap and can be vegetarian-friendly!
18. Build Your Own Burger Bar
Another great graduation party food idea is to let your guests build their own burgers. This works especially well for an outdoor graduation party, because you can just throw a ton of burgers on the grill at once.
Make sure you set out a variety of toppings for guests to choose from. And don't forget the veggie burgers for any vegetarian guests!
19. Create A S'mores Bar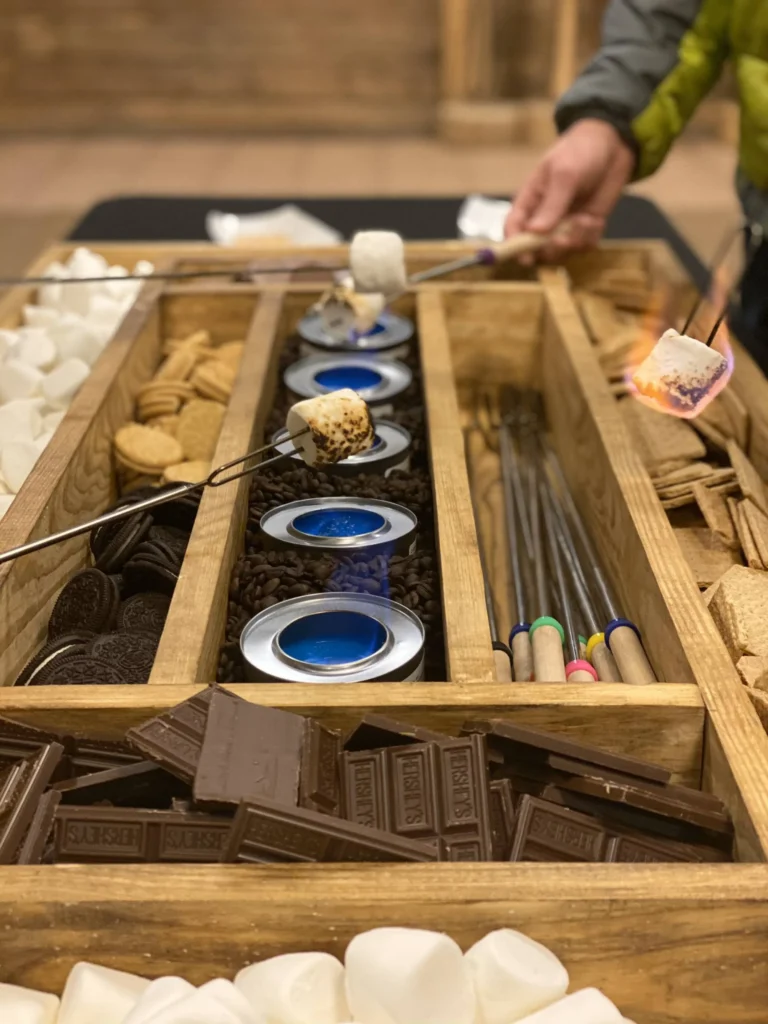 S'mores are one of my all-time favorite summer treats. There's nothing like the combination of a gooey marshmallow, melty chocolate, and a crunch graham cracker.
But did you know that you can serve them up at a party – without even needing a bonfire going? There are tons of options out there for tabletop s'mores fire pits that would be perfect for graduation parties.
Here's what you'll need:
Need more sweet treat ideas? We have a full post on the absolute best graduation party dessert ideas.
20. Serve Up Pinwheel Sandwiches
What's the easiest way to serve sandwiches or wraps at a party? In pinwheel form, of course!
This post has some incredible recipe ideas for pinwheel sandwiches.
Graduation Party Games For Boys
While good food and decorations are essential, games and activities can make your party even more memorable. If you're planning a graduation party for a guy, you'll want to include games that are fun, engaging, and cater to his interests.
Here are some of the best graduation party games for guys that are sure to keep everyone entertained. From classic lawn games to trivia challenges, these ideas will help you create a fun-filled event that your guests will never forget.
21. Who Knows The Graduate Best Game
Of course, we have to recommend some graduation-themed games for a guys' grad party.
This party game will test your guests' knowledge of the graduate. It's a perfect way to keep guests entertained while also celebrating the guest of honor.
22. Has The Grad Ever Game
Another great graduation-themed game is this version of "Never Have I Ever". But instead of answering for themselves, the guests will answer for the graduate.
It's a great way for your party guests to get to know the graduate a little better.
23. Party Pong
Sure, you could just play the tabletop version of this popular party game. But why think small?
Go big with this giant yard version. It's perfect for any outdoor graduation party. It can be played with or without alcohol, depending on the age of your graduate.
24. Grad Libs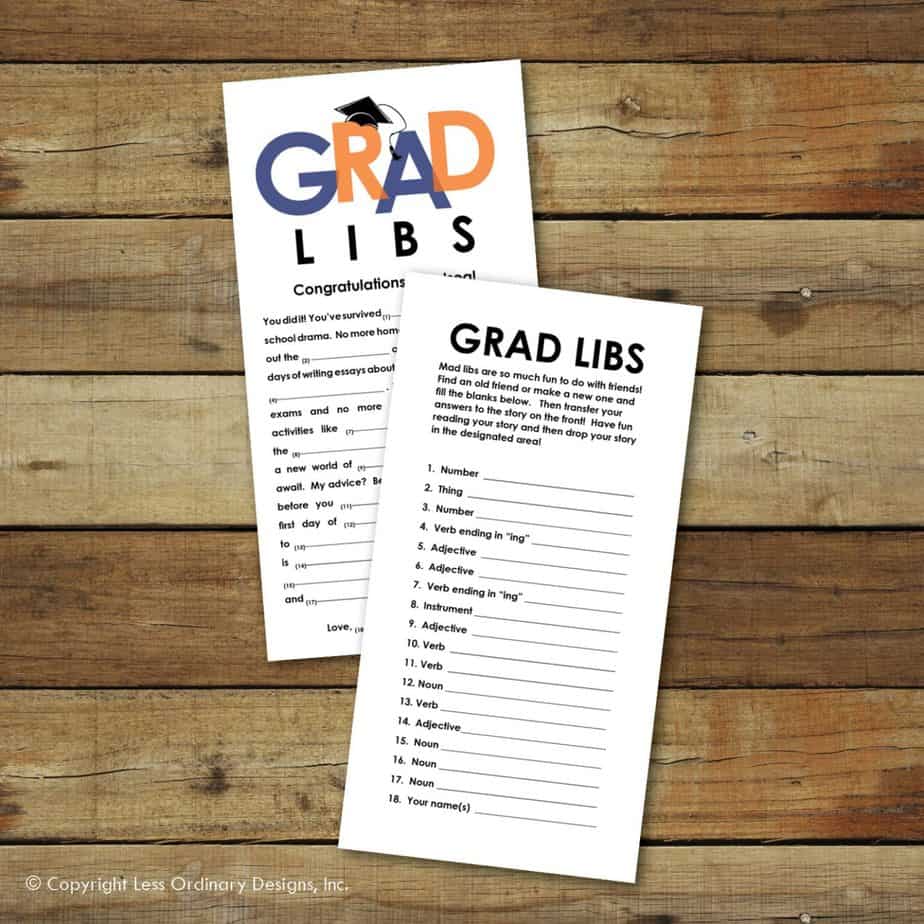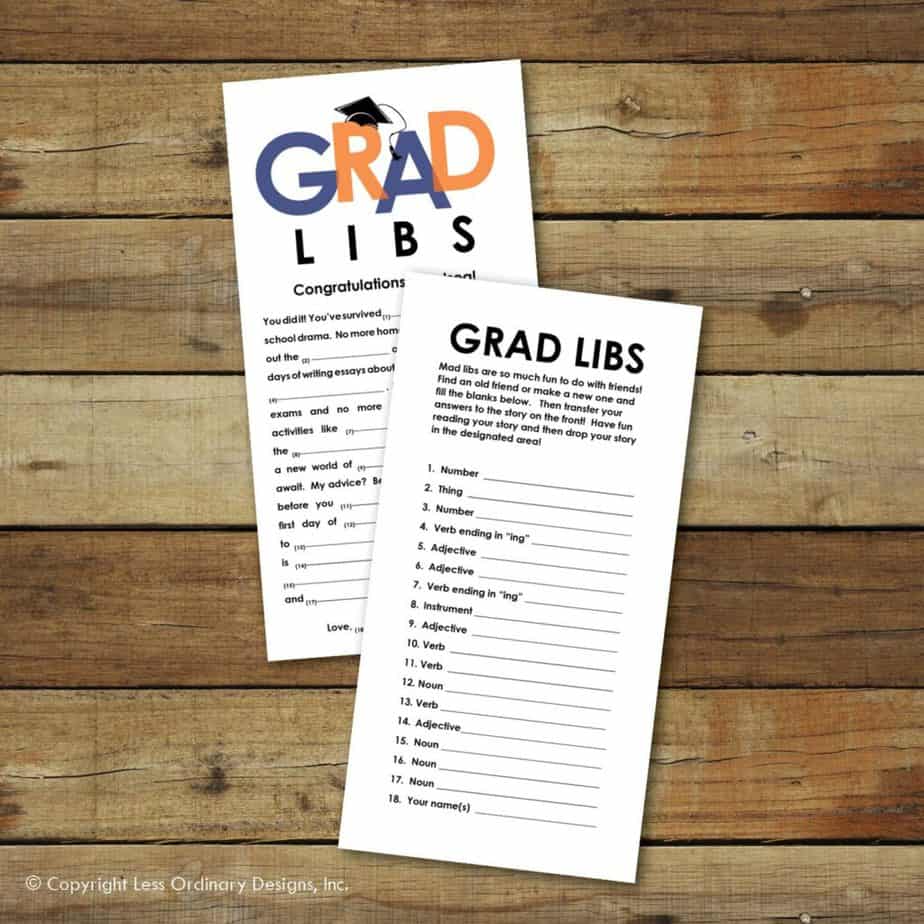 Grad Libs is a super fun fill-in-the-blank designed to give funny (or serious) advice for the graduate.
Guests fill in the sheets with words that fit the category. Then the words are transferred over to the story sheets. Expect a ton of laughs and ridiculous advice given!
Note: this particular game is geared towards high school graduates. If you're throwing a college graduation party, you'll want this version from Etsy.
25. Giant Jenga
One of the best graduation party ideas for guys is to have a bunch of yard games out for people to play. Graduation parties aren't always the most exciting events, so it's important to keep your guests occupied.
One of the most popular yard games is giant Jenga. This game is perfect for big crowds because several people can play at once.
Just make sure you won't have little kids running around near where the game is being played – those pieces can really hurt if they fall on someone!
This post was all about the best graduation party ideas for guys.
You may also like: