How Much Money To Give For A College Graduation Gift (2023)
Cash is always a good option when it comes to college graduation gifts. But how much should you give? Here is a guide to how much money to give for a college graduation gift in 2023.
This post may contain affiliate links, which means I'll receive a commission if you purchase through my link, at no extra cost to you. Learn more: Affiliate Disclaimer.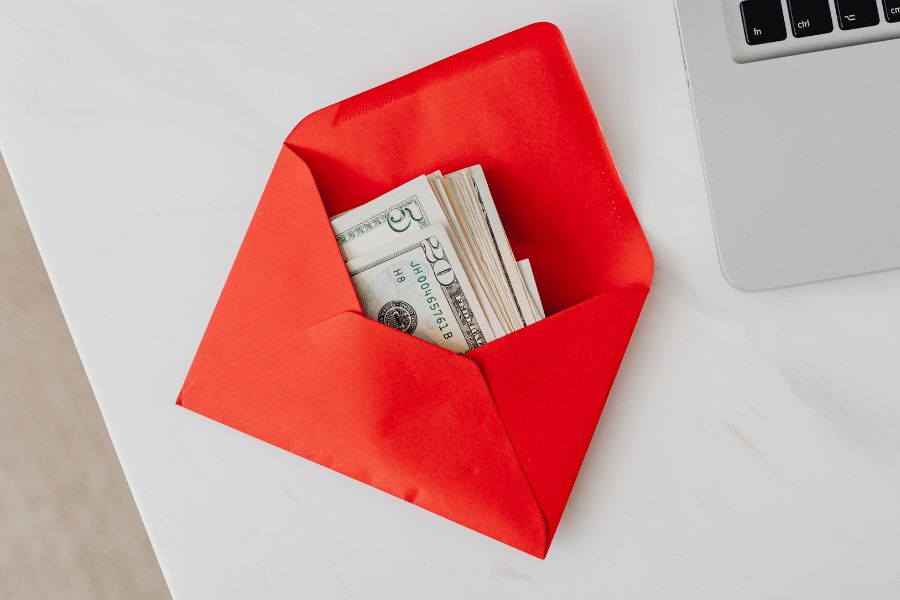 Cash is a versatile gift that anyone likes to receive at a birthday or holiday celebration, but it's an especially useful gift for a recent college graduate that's probably strapped for cash.
When it comes to giving your relatives cash when they graduate from college, it's important to realize that however much you give them, it'll make a difference.
You can give as much or as little money as you want—you know it'll be used sooner rather than later.
Generally speaking, $25-100 is an appropriate amount of money to give to a college graduate. The exact amount you decide to give will depend on your relationship with the graduate and your personal financial situation.
Here is a guide to how much money to give to a college graduate, as well as how to present it in a creative way!
Should You Give Money As A Gift To College Graduates?
Money is one of the best gifts you can give to college graduates.
Depending on your relationship with the college graduate, you might already know what gifts they need right after they graduate.
For example, if they're about to move into an apartment and mention that they don't have a toaster yet, boom! A toaster would be a gift they need and will actually use.
But odds are, you don't know every little thing that the college graduate desperately needs as soon as they receive their diploma. Money is a safe gift that you know a college graduate will end up using!
Final answer: yes. You absolutely should give money as a gift to college graduates.
It's the most versatile gift out there because they can fit it to their unique needs after graduation.
And it doesn't have to be delivered in a plain envelope or card. As we'll soon talk about, there are a bunch of fun, clever ways to give money to your loved one.
How Much Money Should You Give For A College Graduation Gift?
Wondering how much money is appropriate to gift to a college graduate? In general, here is the amount of money that should be given:
From parents: $100-500
Close relatives like grandparents: $50-250
Distant relatives: $50-100
Older siblings: $25-50
Younger siblings and friends: $10-20
Of course, the exact amount you give will depend on your own financial status. So let's dive a little deeper into those numbers.
If you're a friend, sibling, or extended family member…
Friends, siblings, and extended family members typically give $20-100 for a college graduation gift.
If you're a sibling or friend who's still in high school or college yourself, you probably don't have a ton of cash to give. In that case, $10-20 would be a very appropriate amount of money to give a college graduate.
If you're an older sibling or a friend who is established in their career, you could give closer to $25-50. It's not so much that it'll break the bank for you, but enough that the college graduate will be able to spend it on something nice.
In the case of an extended family member, you may only get to see the college graduate a few times per year. If you can afford it, $50-100 would be a great amount to give as a college graduation gift.
If you're an extended family member who can afford to give more, by all means, do it. But don't break the bank if you're on a budget.
If you're the parent of the graduate…
Parents of the college graduate have the closest relationship to them, so expectations for their gifts are typically higher.
That being said, parents typically give at least $100 to their child for college graduation.
For context, the National Retail Federation found that in 2022 the average expected spending on a graduation gift was $114.89. If that's how much the average is on gifts in retail, you can use that as a reference point for money gifts, too.
Usually, parents are on the upper end of spending for graduation gifts. If the average on gifts is around $100, you can assume that parents spend above that amount.
But there are other factors at play. If you're a parent who has been fully financially supporting your child throughout college, you may not feel as much pressure to spend that much on their graduation gift.
By the same token, if you have the means, you might want to give your college graduate more than $100. They'll appreciate every last penny if they're getting ready to support themselves right after graduation!
If you're the grandparent of the graduate…
Then you can give as much money as you'd like, but that usually ends up being $50-$100.
Grandparents have a special relationship with their grandchildren. Typically, grandparents like to spoil their grandkids.
If you're a grandparent with some cash to spare, you'll likely give $100-250 to celebrate an accomplishment like graduating college.
For grandparents in a lower income bracket, $25-$50 is the perfect range for a college graduation gift.
A new college graduate will appreciate the extra cash for gas, living expenses, or whatever they're saving up for after college.
Creative Ways To Gift Money For Graduation
Now that you know how much money to give for a college graduation gift, let's talk about how to give it.
Of course, the envelope with cash or a check works just fine. But what if you want to get a little bit more creative with it?
Here are some of the most creative ways to give the gift of cash as a college graduation present:
Make A Dollar Bill Lei
The dollar bill lei is a classic sign of love and good luck for your college graduate's future.
They'll love wearing their lei at graduation—and they'll love spending the money after graduation, too.
Stuff It Into A Piggy Bank
Rather than shoving cash or a check into a graduation card, give your college graduate a piggy bank full of money.
They'll know right away that the present is money, but they'll appreciate the piggy bank twist.
Money Pull Out Box
What's better than receiving money for college graduation? Receiving "unlimited" money for graduation.
The money pull out box tactfully hides how much money you're willing to give the college graduate while allowing them to use a gift that keeps on giving long after they walk the stage.
DIY Money Cake
Fans of DIY projects will appreciate the delivery of cash on this gift. You can make your money cake with as many layers as you want—presentation is key.
To make a money cake, just roll up your dollar bills into cylinder shapes. Then secure them around the layers of a foam cake dummy set.
Cake Money Pull Box
Can't decide between a money cake and a money pull out box?
You can give your favorite college graduate the best of both worlds with the money pull box inside of a cake!
Just bake a cake and cut out part of the bottom. Then place the money pull box in the opening you created.
Pizza "Dough" Box
A college graduate loves a pun as much as the next person, especially when there's money involved.
The pizza "dough" box is a clever concept that allows you to give your loved one cash in a creative, funny way.
Pez Dispenser
A Pez dispenser is a great way to give out cash for a graduation gift. The portion where the candy is held is big enough to fit some rolled up cash.
Just make sure your college graduate knows to look inside the dispenser to get their real gift!
Here's a tutorial for how to stuff it with cash, in case you've never done this.
Chocolate Box
Though your college graduate would probably love a box of chocolates to munch on after receiving their diplomas, this chocolate box is full of money in different currencies: ones, fives, tens, twenties, and even coins.
The money chocolate box is an adorable way to keep their money hidden while still delivering a cash present.
Money Umbrella
Who doesn't love the old money umbrella trick? For this graduation present, you just need to tape money attached to different sized ribbons to the inside of the umbrella.
When the college graduate opens what looks like a plain old umbrella, it'll "shower" them with cash!
This post was all about how much money to give for a college graduation gift, as well as some creative ideas for gifting money.
You may also like: