This post is all about how to decorate your graduation cap without ruining it.
This post may contain affiliate links, which means I'll receive a commission if you purchase through my link, at no extra cost to you. Learn more: Affiliate Disclaimer.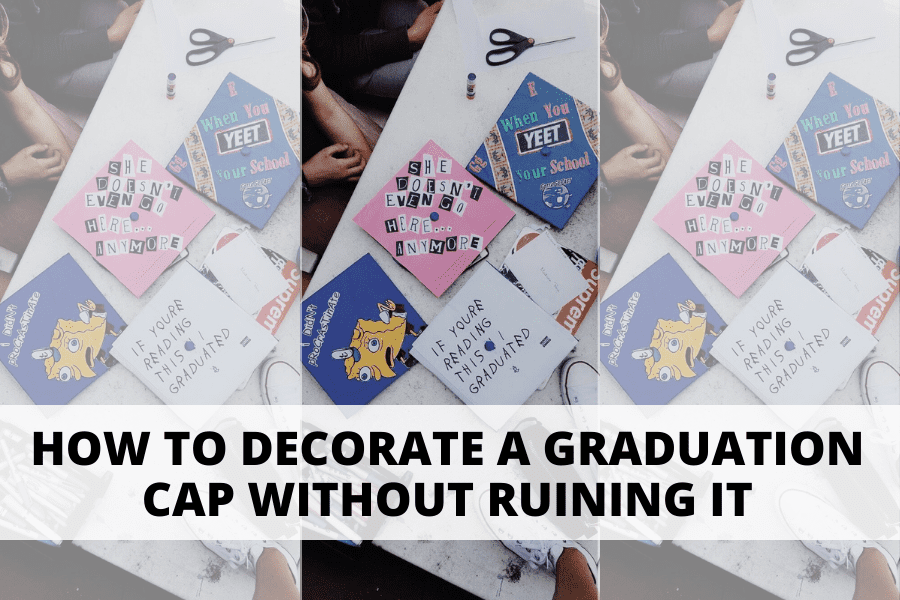 If your graduation is coming up, it's time to start thinking about how you're going to decorate your graduation cap!
There are so many ideas out there for WHAT to put on your graduation cap (see my post 31 Clever Graduation Cap Ideas You'll Obsess Over), but not a lot of posts telling you HOW to do it. Especially how to decorate it without ruining it!
If you want to express your self on graduation day, but you don't want your decorations to permanently destroy your grad cap, this is the post for you!
In this post, I'll show you the best ways to decorate your graduation cap without ruining it.
How to Decorate Graduation Cap Without Ruining It
1. Use Pre-Made Graduation Cap Toppers With Adhesive
Did you know you can get a pre-made graduation cap topper that won't ruin your cap? There are tons of options available on Amazon and Etsy, so you'll definitely find one that fits your theme.
Some of them come with little adhesive rounds that you can place in the corners of your cap. That allows you to move it around if you made a mistake, or take it off completely if your school doesn't allow graduation caps to be decorated during the ceremony. Then, you can just stick it back on for pictures after the ceremony is over!
My favorite brand of pre-made graduation cap toppers is called Tassel Toppers. Here are some of their most popular designs:
2. Use Removable Adhesive Strips
If the topper you choose doesn't have adhesive included, you can do this yourself pretty easily! Just use a heavy-duty removable adhesive strip to attach your graduation cap topper to the top of the cap.
Most graduation caps are made of fabric, so you want to make sure that the adhesive you use is compatible with fabric.
Here are some good options for fabric-safe removable adhesive:
3. Print Your Own Design
This printable grad cap design product on Amazon is the perfect solution to decorate your graduation cap without ruining it.
You can print any design on it, and it comes with removable fabric adhesive backing so you can stick it on easily without destroying your cap. I love that it comes in a pack of 5, so if you mess up your first couple of times printing you have plenty more tries! Plus, it's very affordable.
If you don't feel confident designing your cap on the computer and printing it, you can also just add stickers or drawings to the blank cap topper.
Here are some fun stickers that could be used to create awesome graduation cap designs:
4. Use A Do-It-Yourself-Kit
If you want to add a little bit of creativity to your graduation cap without ruining it, you can use a DIY kit. Here are some of my top picks for do it yourself graduation cap toppers:
This kit from the brand GradWYSE is the easiest DIY option that I saw. The topper comes with a sparkly black base and flowers already attached.
The only part you need to do yourself is add the letter stickers. You can spell out whatever you want with the stickers provided, or use your own stickers for more customization options.
It comes with a convenient peel and stick base that's easy to attach and to remove after the ceremony.
If you want even more freedom to customize your graduation cap without ruining it, you should definitely check out this kit from Tassel Toppers.
It comes with a blank black base, adhesives, glitter glue, stickers, gemstones, and a bow. Pretty much everything you need to create a really cute graduation hat design!
5. Have an Extra Graduation Cap
I know, I know this is kind of cheating. But if you really want to decorate your graduation cap and your school doesn't allow it, you can just decorate a different cap!
Have one plain cap that you use for the ceremony, and then pull out the decorated cap for pictures or to wear at your graduation party.
Graduation caps really aren't that expensive (some of them are under $10), so it honestly might just be cheaper to buy an extra one and decorate it however you'd like!
This post was all about how to decorate your graduation cap without ruining it.
You may also like: