Do you wish you could attend Hogwarts instead of college? If so, you'll want to check out these 10 schools that look like Hogwarts.
This post may contain affiliate links, which means I'll receive a commission if you purchase through my link, at no extra cost to you. Learn more: Affiliate Disclaimer.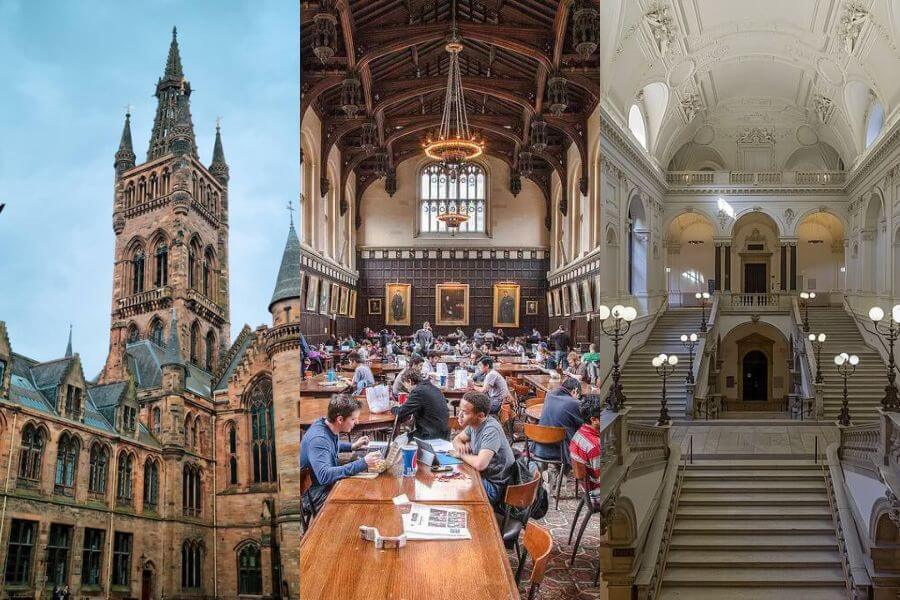 If you're a Potterhead, to say that you love the magical look of Hogwarts is an understatement. If you received your Hogwarts acceptance letter today, you would pack up your things and leave your home without a second guess.
What if you could attend a college that reminds you of your beloved school of magic? In this article, we'll go over ten schools that look like Hogwarts
10 Colleges that look like Hogwarts:
The University of Glasgow
Oxford University
University of Chicago
Durham University
Cambridge University
University of Coimbra
Yale
Boston College
Bryn Mawr College
The University of Vienna
The architecture and style of these universities and colleges will make you feel like you're visiting Hogwarts! So let's examine what makes each of them so magical.
10 Schools That Look Like Hogwarts
Who wouldn't want to attend a Hogwarts-like college if they had the chance?
While there will be no wizards, sorting hats, or quidditch, you can still experience the ambiance of Hogwarts! Here are the top ten colleges around the world that look like Hogwarts. 
1. The University of Glasgow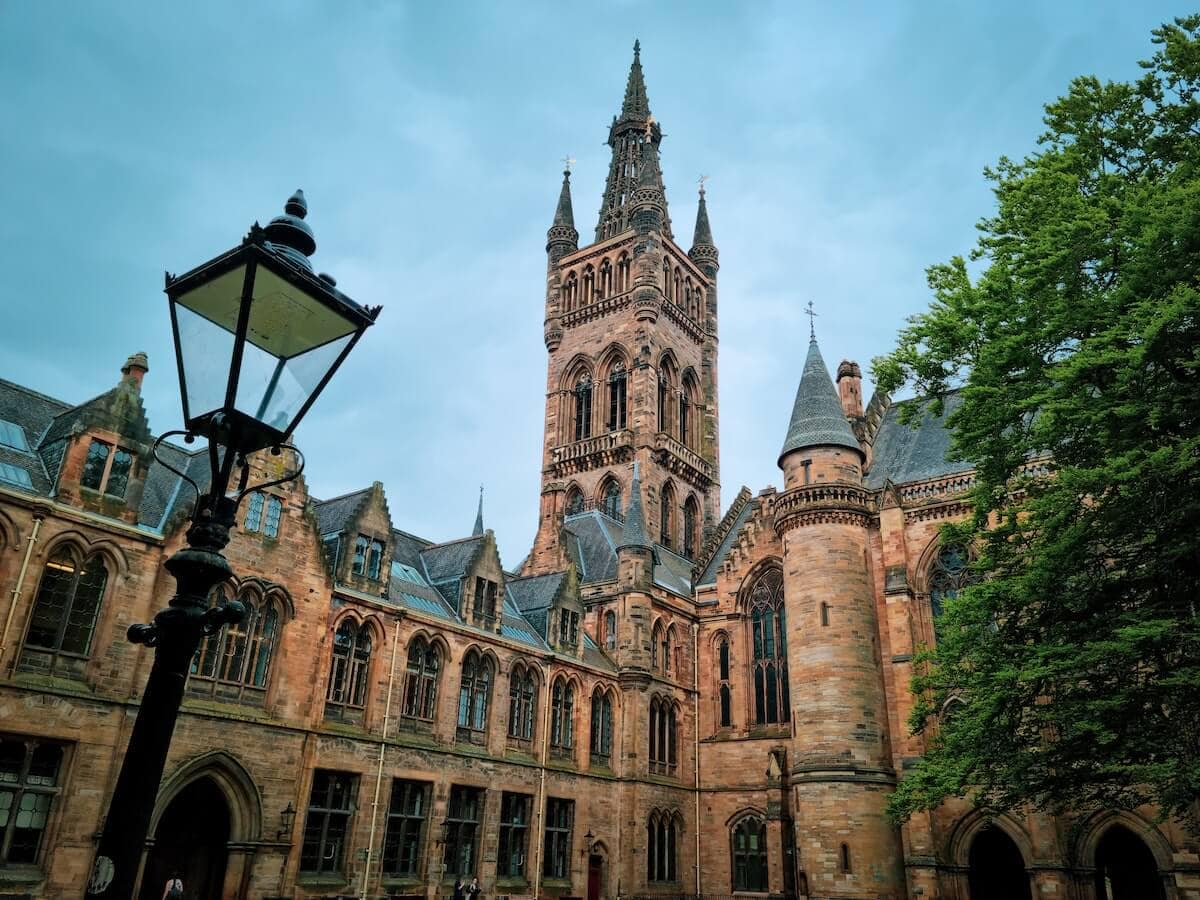 The University of Glasgow is located in Scotland and has a Gothic revival architectural style. It was originally designed by English Architect George Gilbert Scott.
Both the outside and inside of the university resemble the architecture and style of Hogwarts.
The towers, cloisters, stunning staircases, and lawns will make you feel like you are visiting Hogwarts.
The Harry Potter movies are actually set in the Scottish Highlands, so there are tons of filming locations around the country. Some notable places in Scotland are:
The Glenfinnan Viaduct – this beautiful railway viaduct carries the Hogwarts Express train in the Chamber of Secrets movie.
Loch Arkaig, Clachaig Gully, and Glencoe – these locations in the Scottish Highlands were all filming locations for the Harry Potter movies.
Victoria Street in Edinburgh – many believe that this charming street was the inspiration for Diagon Alley in the movies.
2. The University of Oxford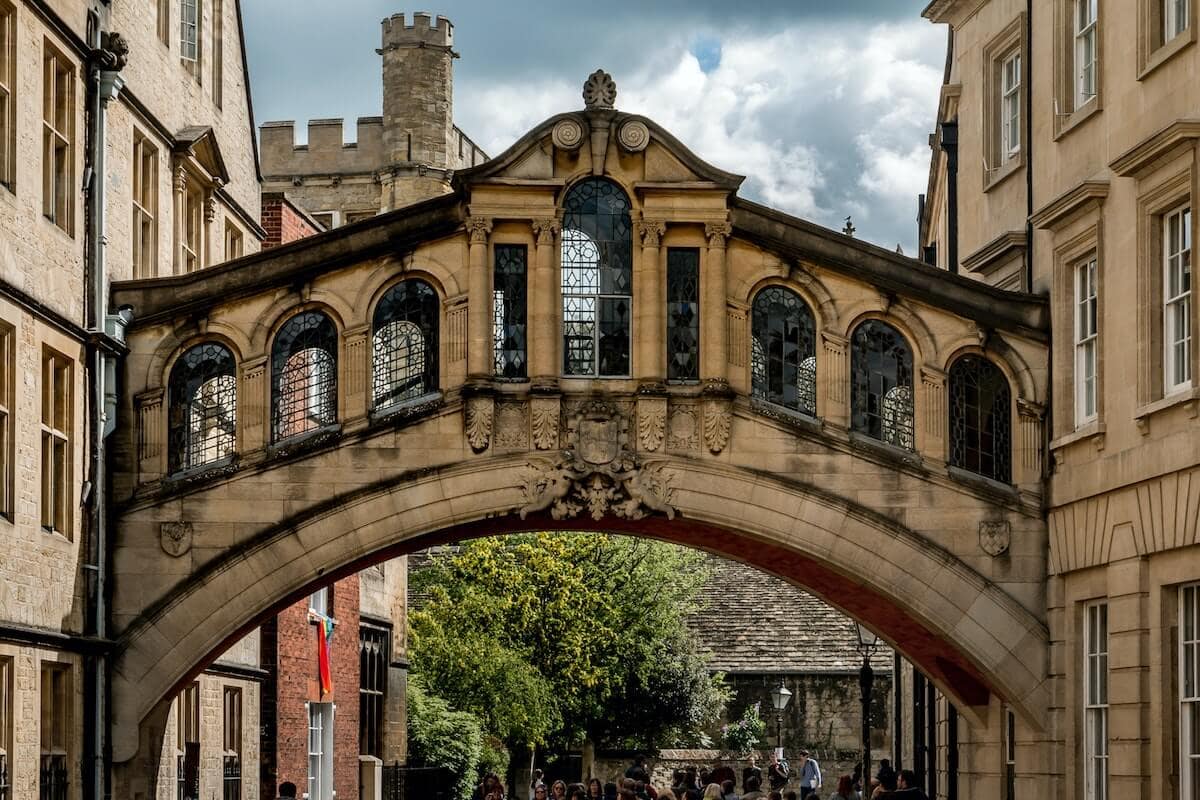 Oxford University is an old and prestigious university in England. It mostly resembles English Gothic and Gothic Revival architectural designs.
Fun fact: numerous Harry Potter scenes were shot in Oxford, England. The Divinity School, which is part of the University of Oxford, was where many scenes were shot. 
The Bodleian Library at Oxford looks very much like the Hogwarts Infirmary. That's because it was where many of the scenes were shot, like the scene where Hermione Granger uses the Time Turner in Harry Potter and the Prisoner of Azkaban to transport herself and Harry Potter back in time to save Buckbeak from execution and Sirius Black's soul from being sucked out by dementors. 
This location was also used in Harry Potter and the Goblet of Fire when students practiced their dances for the Yule Ball.
So if you want the Hogwarts experience, visit the University of Oxford. You won't be disappointed!
3. University of Chicago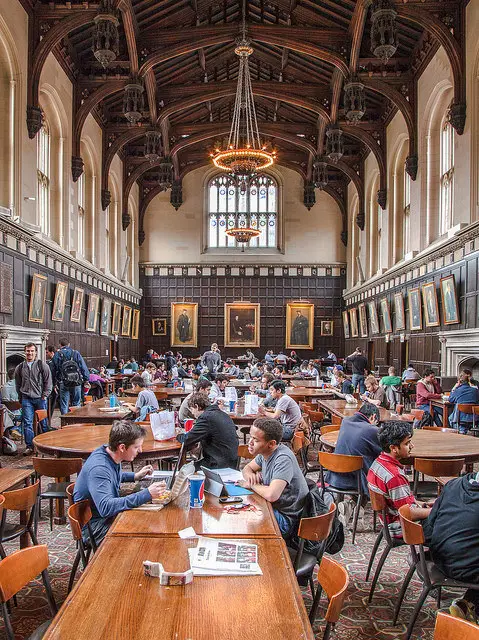 If you're looking for a little taste of Hogwarts in the United States, you can't get much closer than the University of Chicago.
The University of Chicago will remind you of Hogwarts due to its famous Victorian Gothic architecture.
Its dining center closely resembles Oxford's Christ Church which was used in the Harry Potter films as the Great Hall of Hogwarts, where students all sit and eat together.
In real life, this hall in the University of Chicago is also used by students and staff to dine together. They even have different houses, much like in Harry Potter. 
4. Durham University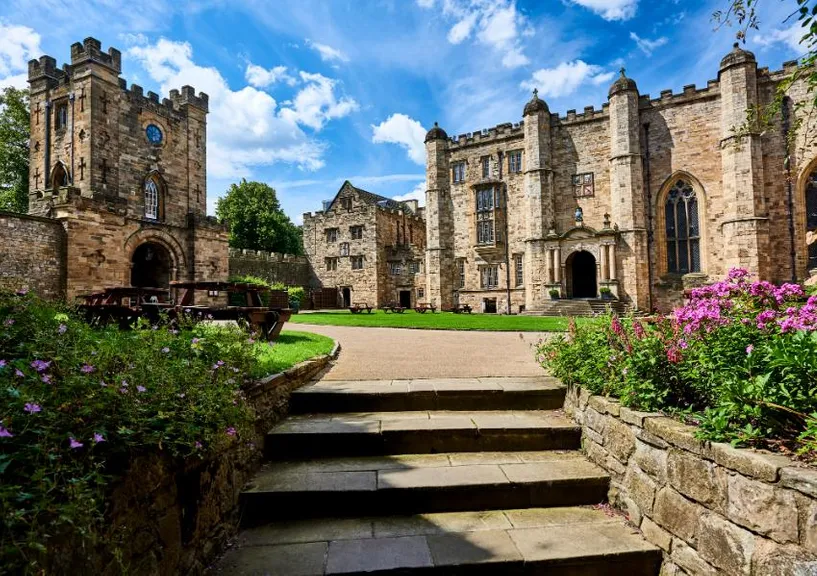 Durham University is located in England and was founded in 1832.
With its beautiful, rustic brick stone walls and courtyard, the university looks straight out of the Harry Potter universe. Complete with a stunning lake! 
You can even take a Harry Potter course at Durham University. Unfortunately, they won't teach you how to make potions, fight dark wizards, or play quidditch.
But you can enroll for the "Harry Potter and the Age of Illusion" module to study the reasons for the popularity of the book and film franchise.
5. The University of Cambridge
Like Hogwarts, the University of Cambridge in England has an early Gothic Revival style. Its design will transport you to the magical grounds and hallways of the magical school.
This university has graceful towers, high hallways, beautiful chapels, formal dining halls,  and stunning gardens, making it a great substitute for Hogwarts. 
The university's library is also similar to the one in Harry Potter, where Hogwarts students frequently do their research.
Like in Harry Potter, you are also divided into "houses" or, more specifically: colleges. 
6. University of Coimbra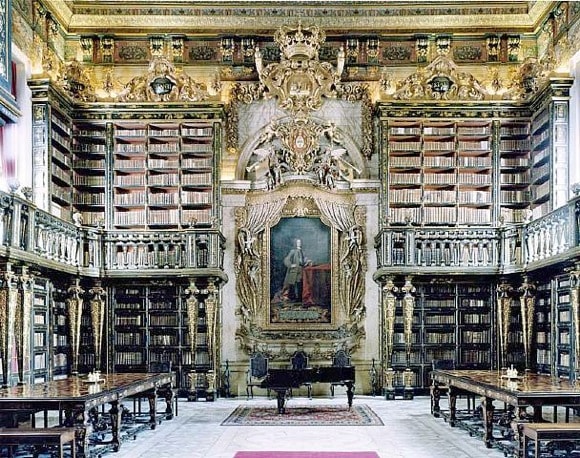 The University of Coimbra is located in Lisbon, Portugal, and was founded in 1290.
While it does not have that Gothic Revival style, there is one amazing place in this University that is sure to make you feel as if you're at Hogwarts. The university's library, named the Joanina Library, is easily one of the most breathtaking libraries in the world. 
This library, one of the most beautiful in Europe, has complex and stunning carvings, hidden ladders to access books that are too high up for you, was made with exotic woods, and boasts grand painted ceilings.
An interesting fact about this library is that the university utilizes the colony of bats living within the library to get rid of insects that may damage the books. 
Students also wear formal, black cloaks, just like Hogwarts students.
7. Yale
We all know that Yale University, located in Connecticut, is one of the most prestigious universities in the world.
But if you're a Harry Potter fan and have ever visited Yale, you will know that it's well known for its comparison to Hogwarts, mostly due to its old and gothic architecture.
For example, the buildings have ghoulish gargoyles, much like the gargoyles at Hogwarts. 
The dining halls also feature long communal tables, similar to the setup of Hogwarts' Great Hall.
In addition, Yale's greenhouses filled with wonderful plants will remind you of Professor Sprout, where she teaches Herbology to Hogwarts students. 
8. Boston College
Boston College, located in Massachusetts, also features Gothic architectural designs reminiscent of the Hogwarts buildings.
Its Bapst Library is known as "the Harry Potter library" among all who study there.
The Gargan Hall inside the library will also transport you to Hogwart's Great Hall.
9. Bryn Mawr College
Bryn Mawr College in Pennsylvania also has a Gothic architectural style, which is similar to the design of the University of Oxford.
The buildings are similar to that of Hogwarts, making it a great college to attend if you love the architectural style of Hogwarts.
10. The University of Vienna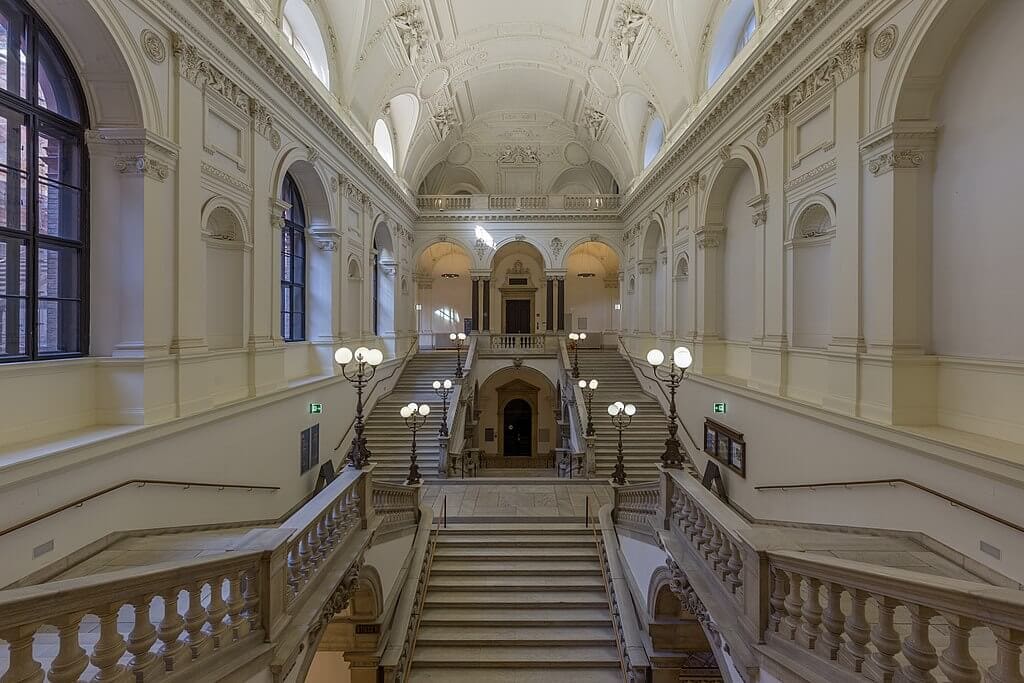 The University of Vienna, located in Austria, has staircases that look just like the ones at Hogwarts!
Of course, they do not move, but you will feel like a Hogwarts student climbing the stairways on your way to class.
The beautiful library at the university is also similar to the one you will find at Hogwarts!
Final Thoughts
Attending Hogwarts may be impossible, but with this list of universities, you will feel like you're really there!
Their Gothic Revival architectural styles will transport you to the world of Harry Potter and make you feel at home.
From grand and tall towers to majestic libraries, these universities and colleges are a great choice if you want to attend a Hogwarts-like educational institution.