40+ Unforgettable 18th Birthday Ideas For 2023
Looking for super memorable ways to celebrate becoming an adult? Here are 40+ of the absolute best 18th birthday ideas that you'll want to copy.
This post may contain affiliate links, which means I'll receive a commission if you purchase through my link, at no extra cost to you. Learn more: Affiliate Disclaimer.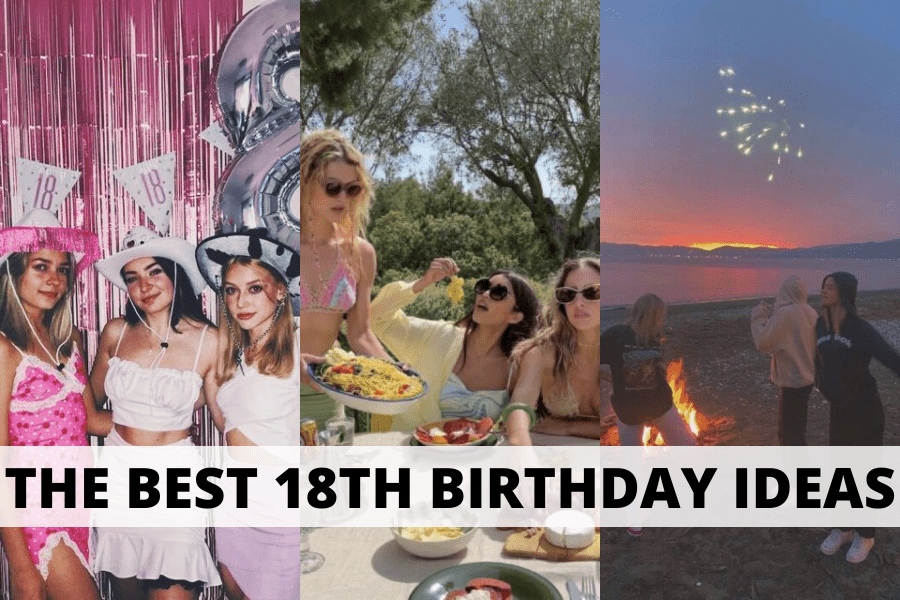 Turning 18 is such a huge milestone in your life! You're finally a "real adult" and that's definitely something to celebrate.
When it comes to how to celebrate your 18th birthday, it can be a little bit tough. You're not old enough to go out drinking, but you're an adult now so you definitely want to plan something memorable.
In this post, I'll go over all of the best 18th birthday ideas. You'll see the best things to do for your 18th birthday, 18th birthday decorations, and amazing gift ideas for 18th birthdays.
Fun Things To Do For Your 18th Birthday
1. Check Into A Hotel
A lot of hotels require you to be 18+ to make a reservation. Celebrate your 18th birthday by booking a hotel room with a bunch of friends!
You could do this in your city and have a little staycation OR you could go to a nearby area and do a friend trip.
I always use booking.com when I'm traveling because they have the best rates for hotels.
Order room service, do some face masks, and watch a fun movie on the hotel TV. Make sure to book a hotel with a pool so you can have a pool party with your friends!
2. Go To A Concert Or Music Festival
How fun would it be to go to a concert with all of your friends for your 18th birthday party?
Check to see if there are any upcoming shows in your area and get a group of friends to go with you. If your birthday is in the summer, you could do a music festival instead!
That way you can see a bunch of different performers with just one ticket. This is definitely one of my favorite crazy 18th birthday ideas.
3. Have An Aesthetic Picnic
Aesthetic picnics are all the rage right now on Instagram and TikTok.
Set up a table or cute picnic blanket, get some colorful pillows, and throw together a charcuterie board for you and your besties.
If you don't want to do it yourself, there are tons of companies now that will set up your picnic space for you. Just google "aesthetic picnics" and your city and you should be able to find one!
4. Host A Dinner Party
You're a *grown up* now, so have some fun with your friends and throw a sophisticated dinner party. Go all out with the table decorations, fancy food, and some fun mocktails.
If you'd rather not host everyone at your place, you could also rent out a room at a nice restaurant to have a private dinner party.
5. Do A Spa Day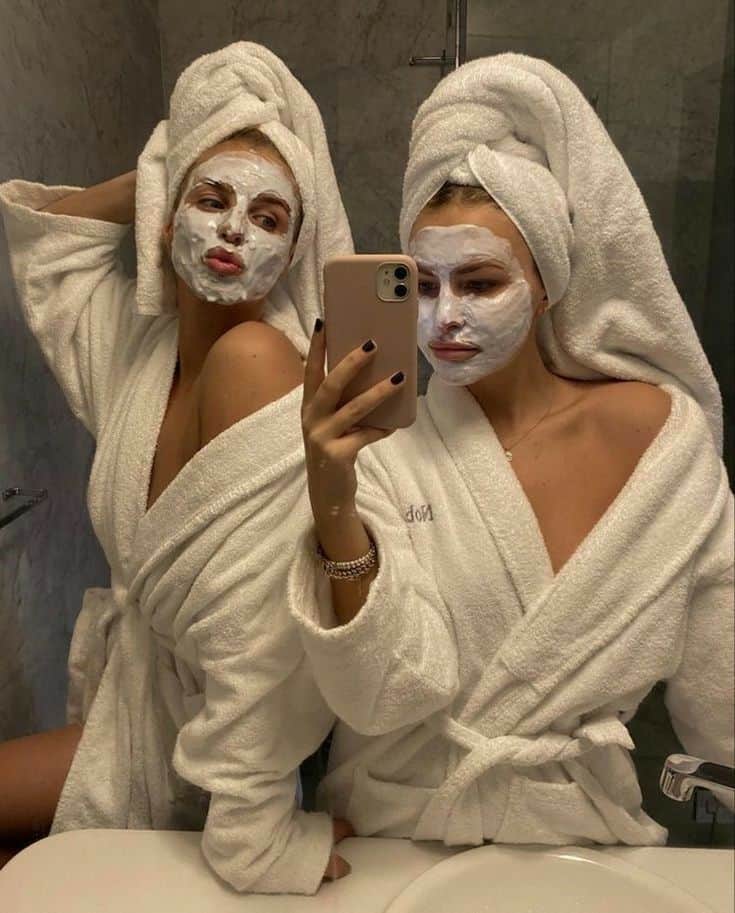 This is definitely one of my absolute favorite 18th birthday ideas because it's so relaxing!
You could grab a friend or two and head to the spa for a day of pampering. I love checking Groupon for good deals on spa treatments.
Or you could grab some face masks, nail polish, and body scrubs and do an at-home spa day.
Don't forget to take allllll the cute selfies in your face masks and robes!
6. Go For A Hike
If you have any good nature areas nearby, grab some friends and go for a birthday hike. I love this idea because you get some fresh air and exercise while still celebrating turning 18.
Make sure to head out for a good meal after you're done hiking – you've earned it!
If you want to extend this 18th birthday idea, you could turn it into a camping trip! Camping with friends is SO much fun and it's a great way to celebrate a birthday.
7. Throw A Theme Party
Everyone loves a good house party to celebrate their birthday. And what makes a house party even more fun? A theme of course!
Some fun theme ideas for an 18th birthday party are:
Disco party
Outer space theme
Cowgirl theme
Alice in Wonderland theme
Roaring 20s party
Dress like the opposite sex
Preppy theme
Garden party
8. Have A Bonfire
Do you have a nice backyard area where you could light a bonfire? Have some friends over at night to sit around the fire and hang out!
You could also set out some yard games like giant jenga, beanbag toss, etc. so that there's plenty to do. Oh and make sure you provide plenty of s'mores ingredients!
If any local beaches allow for fires in your area, a beach bonfire is also a SUPER fun 18th birthday party idea.
9. Watch Movies On A Projector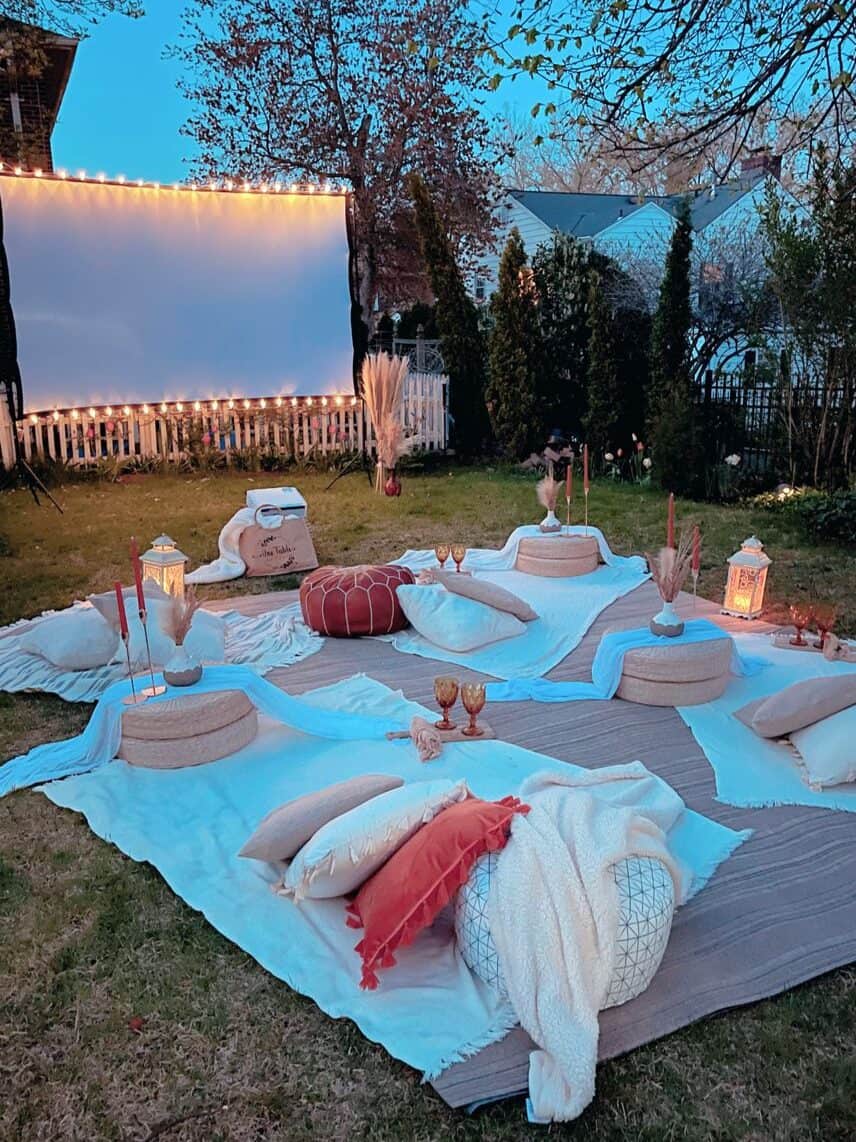 One of my favorite ways to have a movie night with friends is to use a projector.
Set up a white sheet in front of a wall and put a movie on over your projector. Everyone can sit in yard chairs or on blankets and pillows on the ground.
This is so much fun to do outside during the summer, but you can also do an indoor movie night if you turn 18 while it's still cold out.
10. Do "Adult" Things
Now that you're an adult, it's time to do some grownup things!
There are lots of things that you can't do until you're 18 so now's the time to do them. Book a hotel room, get a tattoo, visit an adult store, register to vote, etc.
Not sure what adult things you can do now that you're 18? This article tells you everything you can finally do when you turn 18!
11. Have A Photoshoot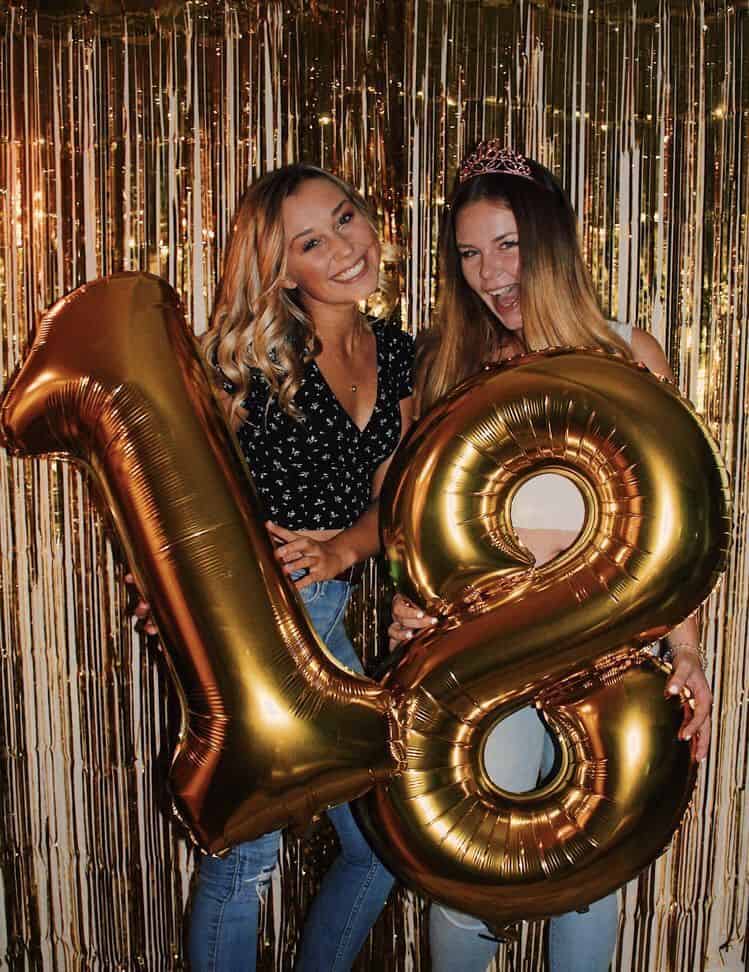 A great way to celebrate your 18th birthday is to have a fun birthday-themed photoshoot with some friends.
You can either hire a professional photographer for a few hours, or get a friend or family member to take some pictures of you!
Find a pretty spot outside or set up a backdrop indoors for some bomb pictures. Bonus points if you get numbered balloons to take photos with!
[RELATED: The Cutest 21st Birthday Photoshoot Ideas]
12. Go On A Shopping Spree
It's your birthday – time to treat yourself! Head to the mall and have the ultimate splurge day to celebrate your big day.
This would be a fun activity to do with friends or with a family member. When I was a teenager, my Grandma always loved taking me to the mall and letting me pick out a few things for my birthday.
Want to make your day even more special? Make sure you schedule some time for a mani pedi and some lunch while you're out shopping.
13. Go Out For Brunch
If you're looking for something a little bit more low-key to do for your 18th birthday, I recommend grabbing some friends and going out for brunch!
I love brunch because it feels a little bit fancier than other meals. Tell your friends to dress cute and look up the best brunch spot in your city.
14. Go To A Theme Park
How fun would it be to get all of your friends to go to a theme park with you for your 18th birthday party?
If you have a Disney theme park, Six Flags, etc. near you, you definitely need to do this 18th birthday idea.
Ride all of the rides, eat the crazy theme park food, and take plenty of pictures!
15. Rent A Boat
If you live near the ocean or a big lake, you definitely need to rent a boat for your 18th birthday party.
I live near a lake and a TON of my friends and family have access to a boat so this could be a super affordable birthday idea. If you don't have access to a boat, you can check online if there are any boat rentals near you.
Stock the boat up with plenty of snacks, drinks, and a good speaker so you can have a dance party.
Just make sure that someone has their boating license and can drive you around! Otherwise, you can try to rent a boat that comes with a driver.
16. Have A Pool Party
One of the most fun 18th birthday ideas for the summertime is to have a pool party.
If none of your friends have a pool at home, you can try to find a hotel or local pool that allows for party rentals.
Get plenty of pool floats, sunscreen, snacks, and drinks and invite all of your closest friends.
The Best 18th Birthday Decorations
1. Birthday Balloons
It wouldn't be a milestone birthday without some epic numbered balloons! These are perfect for hanging on the wall or to hold on to while you take your birthday photos.
2. Time To Adult Banner
You're a real adult now – time to show it off to the world!
3. 18th Birthday Candles
It's not a birthday without a cake! Make sure your cake is decked out with numbered candles so nobody forgets what they're celebrating.
4. Birthday Garland
How cute is this 18th birthday idea? Hang this garland behind your cake table, in the doorway, or pretty much anywhere.
5. Balloon Arch
I'm obsessed with a good balloon arch at a party. It really elevates the decor and fills up space on empty walls or doorways. Amazon has a ton of different balloon arch kits so you'll definitely find one that fits with your color scheme.
6. Photo Backdrop
You're definitely going to be taking selfies on your birthday, so why not have an amazing photo backdrop for everyone's pictures?
7. 18th Birthday Crown
You want everyone to know that it's your birthday! You'll definitely turn heads wherever you go if you wear a birthday crown.
8. Birthday Cake Topper
A cake topper is definitely a must-have 18th birthday party decoration. Not only will it look cute in person, but it's also makes your cake an adorable prop to pose with!
9. Photo Props
If you're going to be setting up a photo station at your 18th birthday party, you definitely want to make sure you have some photo props.
This whole set on Amazon is less than $10 and you get 18 super cute props to pose with!
10. Birthday Tableware
No birthday party is complete without some themed tableware.
This set comes with plates, napkins, cups, straws, and a tablecloth for less than $25 which is amazing. It serves 24 so it's perfect for small to medium sized parties!
11. Birthday Girl Sash
Make sure everyone knows you're the birthday girl with this 18th birthday sash!
12. 18th Birthday Streamers
Hang these streamers from the ceiling for a super cute 18th birthday decor idea.
13. I'm 18 Bi***es Banner
Such a funny banner to hang at your party.
14. 18th Birthday Yard Signs
If you're having people over to your house, this is a great way to decorate outside without spending a ton of money.
18th Birthday Gift Ideas
Here are some of the best 18th birthday gift ideas. If you need even more inspiration, we have a full post about the best 18th birthday gifts for girls.
1. Cute Candles
Aesthetic candles are all the rage right now. This is the perfect 18th birthday gift because it's really thoughtful but they're also really affordable.
2. Sheet Mask Set
A great gift for an 18 year old is this sheet mask set by the brand TONYMOLY. I've used this brand before and they're such great quality for a really affordable price.
I love this set because you can try out different kinds so you know what works best with your skin type. Plus, it just feels so luxurious to lounge around in a sheet mask.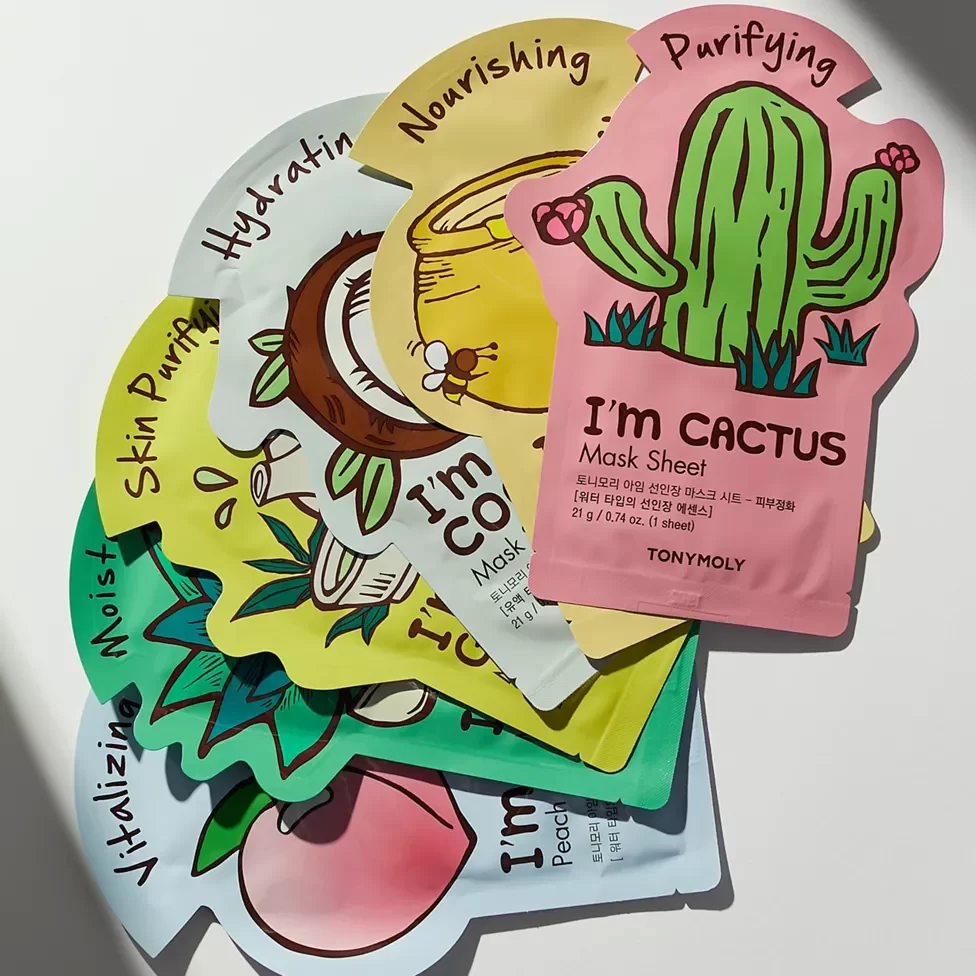 3. Leather Pants
Leather pants are SO on trend right now, especially the straight leg ones from Abercrombie. You can't go wrong with buying her a pair of these trendy pants for her 18th birthday.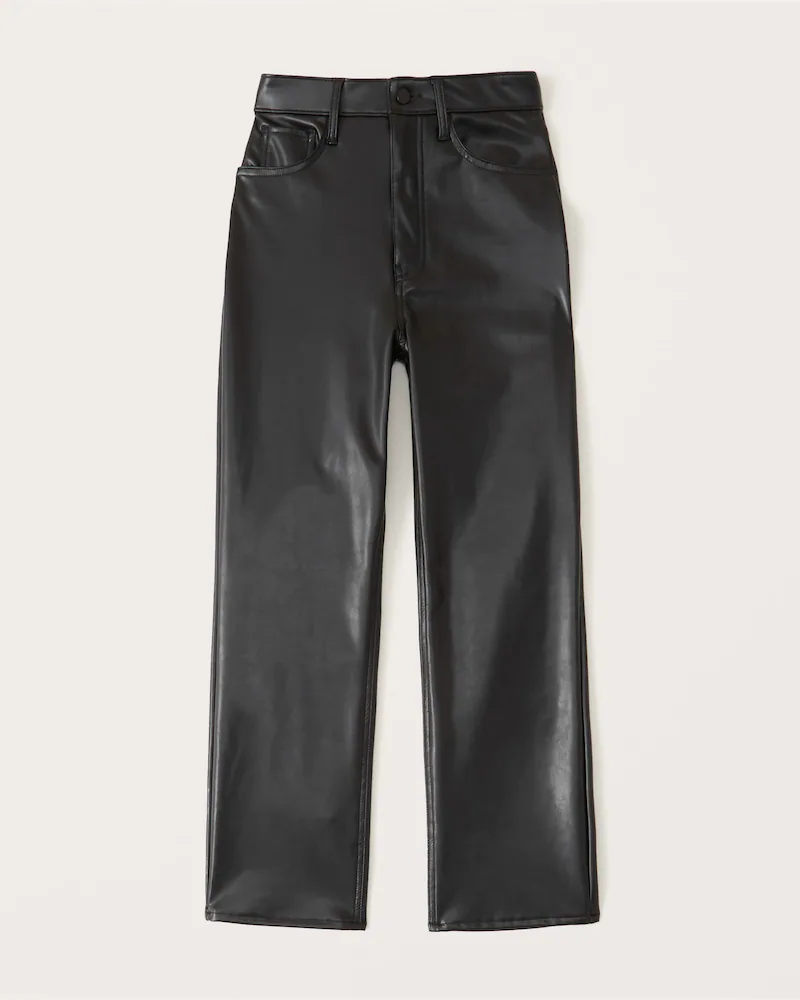 4. Jewelry
You can't go wrong with jewelry for an 18th birthday gift, especially timeless and dainty pieces that are super wearable. My absolute favorite places to get high quality jewelry are Etsy and Gorjana.
If you're looking for fine jewelry that will be timeless, Gorjana makes really high quality jewelry in gold plated materials.
I also love getting gold filled jewelry from Etsy. I got this Herringbone chain necklace months ago and I wear it every day (in the shower, swimming, etc.) and it still looks brand new! Plus it's only $23 which is insane.
[RELATED: 50+ Super Trendy Gifts for Teen Girls]
5. Smartphone Printer
I absolutely love the idea of giving someone a smartphone printer for their 18th birthday.
I have a million photos on my phone that I honestly really never look at again. It would be so cool to be able to print them out so I could hang them in my room.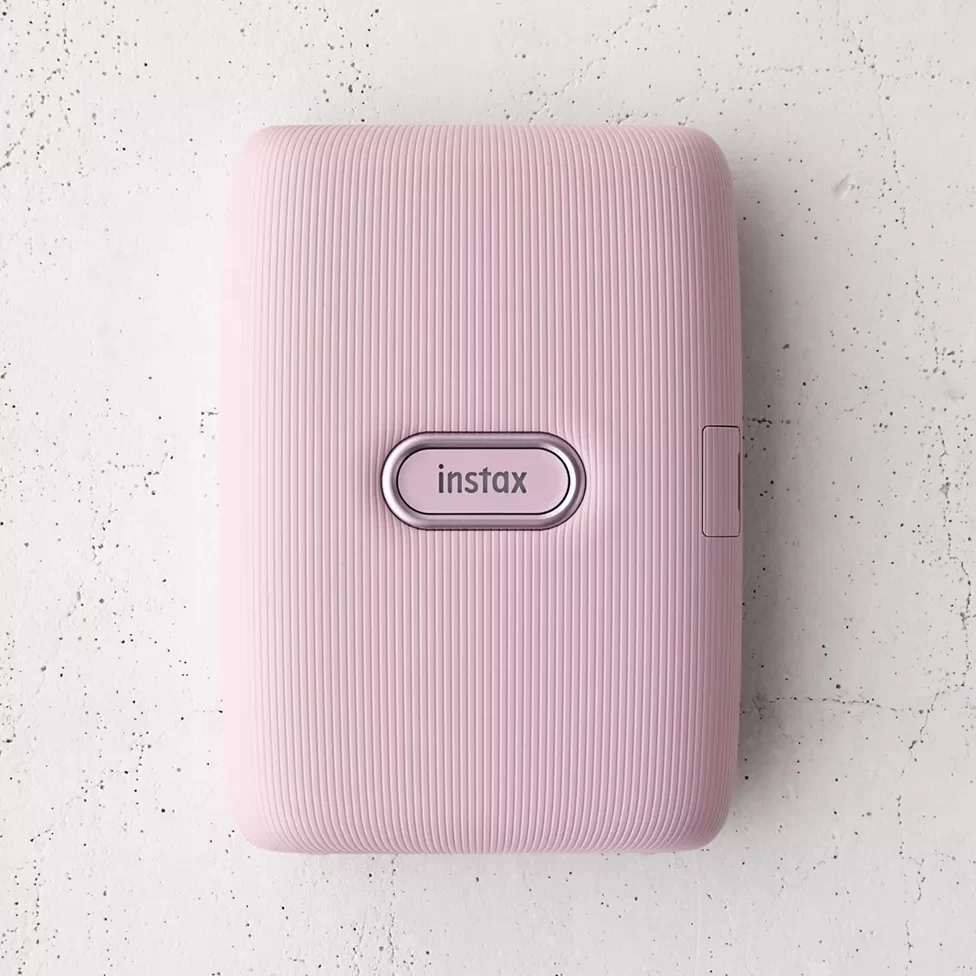 6. Cozy Pajamas
Who doesn't love getting a set of cozy pajamas as a birthday gift?
7. Leather Puffer Vest
I think the leather puffer vest is going to be THE outerwear item of the season this year. I just got back from Europe and I saw these puffer vests everywhere.
She'll be ahead of the trend with this super cute faux leather puffer vest from Amazon.
8. Claw Clips
Claw clips are SO on trend right now and I am absolutely loving it. If I were turning 18, I'd love to get some more claw clips to add to my collection.
The most popular ones that girls are wearing are this set from Amazon. I have these exact ones and I'm obsessed because they actually hold my long hair up all day!
9. Lululemon Belt Bag
Everyone is OBSESSED with the Lululemon belt bag right now. It's definitely one of the most popular gifts for 18th birthday.
Honestly, anything Lululemon will definitely be a good gift. But I love this belt bag because it's one of the more affordable products they sell.
[RELATED: 25 Best Gifts Under $25 For Anyone On Your List]
10. Scrunch Handle Bag
The scrunch handle bag has been super popular with teen girls for the past year or two. Any 18 year old will definitely love getting this purse as a birthday present!
11. Coffee Maker
A coffee maker is a great gift for an 18 year old because they're probably heading off to college pretty soon. If they drink coffee, they'll definitely want to have a coffee maker in their dorm room.
My favorite dorm coffee makers are the Keurig Mini coffee maker and the Nespresso Vertuo.
The main difference between the two is that the Keurig brews regular coffee and the Nespresso brews espresso AND coffee.
12. Gel Manicure Set
Teen girls love having their nails done but it can be SO expensive. She'll save money and she can do her nails anytime she wants with this at home gel manicure set.
This is definitely one of my favorite gift ideas for 18th birthday on the list.
I recently got this set and I'm OBSESSED! I'm saving so much money on getting my nails done and I can change them up every few days if I want to.
This post was all about the best 18th birthday ideas for an amazing day.
You may also like: