50 Amazing 19th Birthday Ideas You'll Want To Copy
Turning 19 soon? Here is the only guide you'll need to throwing the best 19th birthday party possible!
This post may contain affiliate links, which means I'll receive a commission if you purchase through my link, at no extra cost to you. Learn more: Affiliate Disclaimer.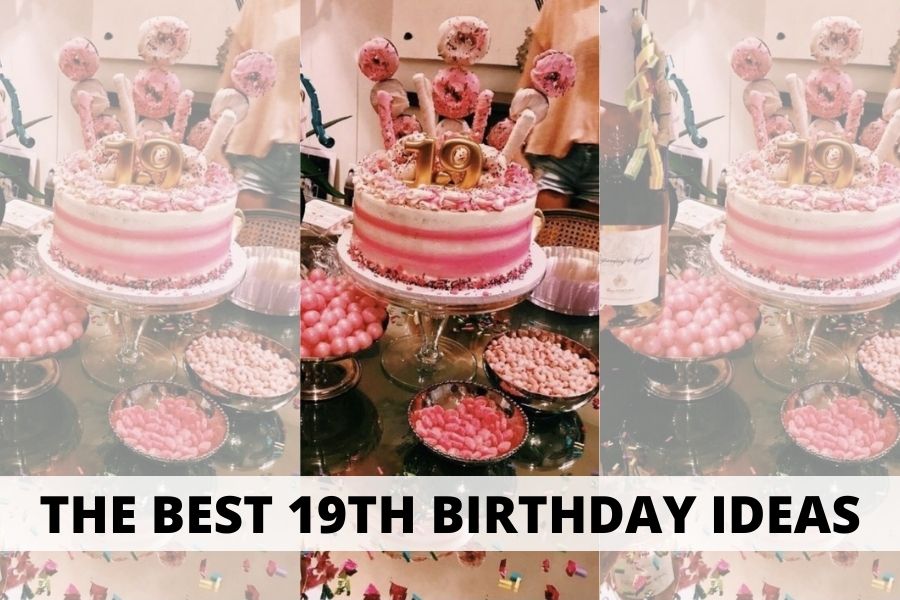 Are you turning 19 soon?
Congrats! 19 is such a fun year of your life. You're still a teenager for one more year, but also have the freedom and maturity of being a legal adult.
To be honest, I had a little bit of anxiety about turning 19. I had been a teenager for SO long, and it felt like I was saying goodbye to that phase of life.
Don't worry too much about that though, the best time of my life was just around the corner. Being in my early 20s has been SO much fun and so rewarding. But I definitely look back on my teenage years and reminisce about how fun those times were!
I recommend enjoying your last full year of being a teenager by living life to the absolute fullest! Starting with your 19th birthday party.
If you're having trouble thinking of fun 19th birthday ideas, we have you covered! Here are 50 amazing ways to celebrate your 19th birthday.
What Is Special About A 19th Birthday?
You may be wondering what is so special about turning 19.
At first, it seems like it may not be that significant of a birthday. You already became a legal adult last year, and you have to wait a few years before you can drink if you live in the US.
Turning 19 is special because it is your last year as a teenager, so that's definitely a good reason to celebrate.
Next year you'll no longer be considered a teenager, but rather a "young adult", so make sure you live it up and enjoy the last of your teen years properly!
Things To Do On Your 19th Birthday
Figuring out what to do for your 19th birthday can be tough.
You're still a teenager, but you may feel too grown up or mature to do things that are popular with younger teens. You're also too young to do adult party things like drink or go to a club.
Here are some cool ideas for how to spend your 19th birthday. They're birthday ideas that I think would be fun for older teenagers, but they don't necessarily involve anything that you're not legally able to do yet.
1. Go On A Shopping Spree
One fun way to treat yourself on your birthday is to take yourself out on a shopping spree. You could do this by yourself, with a family member, or with some friends!
Make a whole day out of it – do some shopping, grab brunch, and maybe even get a manicure while you're out! It's your birthday, you deserve to treat yourself!
2. Have A Bonfire
One of my favorite birthday party ideas in my later teenage years was to have a backyard bonfire party. I would always have a bunch of friends over, put out s'mores stuff, and have some yard games for people to play.
It was easy to plan, super cheap, and everyone had a great time!
My birthday is in summer so obviously this is easier for me to do! If you have a winter birthday, you may want to stick with some of the other ideas on the list.
3. Spa Day
Another way to pamper yourself on your big day is to head to the spa. Grab a friend or family member and get some spa treatments done.
My favorite spa treatments are facials and massages. I always feel unstoppable when I step out of the spa after a treatment!
If you're on a budget, you could have some friends over for an at-home spa day. Get some face masks (I love these ones from Tony Moly), nail polish, and body scrubs and get your pampering on.
4. Host A Dinner Party
If you want to have a super classy and grown-up 19th birthday, host a dinner party! I love the idea of having friends over for a sophisticated dinner party.
If your birthday is in summer, take the party outside and dine under the stars. Hang some fairy lights outside and have a super magical garden party. This will definitely be a 19th birthday that you and your friends remember forever.
5. Do A Photoshoot
A super fun (and memorable) 19th birthday idea is to have a photoshoot! You could either do this alone or with some friends.
Get dressed up, grab some props, and recruit a friend who's good with a camera (or hire a professional). You'll love looking back on your birthday pictures in a few years.
[RELATED: The Cutest 21st Birthday Photoshoot Ideas]
6. Have A Beach Day
If you live near a beach and your birthday is in summer, why not have a beach party? Fill a cooler with some drinks and snacks, pack a swimsuit, and head to the beach with your besties.
I recommend bringing a volleyball or some beach games to keep people occupied. One really fun game that can be played on the beach is Spikeball.
7. Pool Party
Another great summer birthday idea is to throw a pool party. You could either ask to use a friend's yard with a pool or head to a local pool and rent out one of the shade areas.
My local pool has birthday parties almost every single day and they always look like so much fun!
Pack a bunch of fun floaties, snacks, and party decorations for the day. Make sure to provide everyone with towels and sunscreen too!
8. Have A Picnic
One party idea that has become really popular in the past couple of years is the aesthetic picnic birthday party. This is WAY more fun than your standard picnic blanket and finger sandwiches.
An aesthetic picnic party usually involves a ton of decor, comfy pillows to sit on, and a whole spread of fancy food to eat.
If you don't want to put it all together yourself, look up luxury picnic services in your area.
9. Game Night
If you're looking for a low-key way to celebrate your 19th birthday, have your friends over for a game night! Grab all of your favorite board games and some good party snacks.
Some of my favorite games for game nights are Settlers of Catan, Cards Against Humanity, and Catchphrase.
If you prefer video games, you could also do that! Some really fun party video games are Mario Kart, Super Smash Bros, Among Us, and Quiplash (not really a video game but a super fun online game for parties).
10. Take A Road Trip
A super unique 19th birthday idea is to take a road trip with some friends! Take the whole weekend off of work or homework and drive somewhere fun.
You don't even have to go too far to make this a fun adventure! Look up fun things to do within a few hours of your town and make a trip out of it.
You could either do a day trip or rent an Airbnb for a night or two and stay for the weekend.
11. Go For A Nice Dinner
Going out to dinner may sound like a super basic birthday party idea, but it's a classic for a reason!
Sometimes it's hard to get your whole friend group together for dinner, especially if you guys are all in college.
Your 19th birthday is a great excuse to get everyone together for a nice dinner. If you don't want the night to end, you could head to someone's house after dinner for a little after party.
12. Go Camping
One of my favorite 19th birthday ideas is to go camping with your friends! You don't even have to go too far to have a fun camping trip.
Look for campsites near your house that have hiking trails, a lake to swim in, or just some interesting sights nearby. This is a super fun and affordable 19th birthday party idea.
13. Have A Painting Night
If you're feeling artsy, you could have a painting or crafting night with your besties. Buy a few cheap canvases from Amazon, some acrylic paint and brushes, and just let your creativity flow.
14. Slumber Party
One of my all-time favorite birthday ideas is just to have a few of your best friends over for a slumber party! It sounds so simple, but I promise it can be SO fun.
Have everyone bring pajamas, order takeout, and watch cheesy romantic comedy movies. You could even do some at-home spa treatments like face masks or pedicures if you need some pampering.
15. Go Rollerskating
When is the last time you got your friends together and went rollerskating? The roller rink isn't just for little kids anymore!
Throw on a pair of skates and have some fun with your friends for a few hours. If you want to make it extra memorable, you could have everyone dress up in retro 80s roller skating outfits.
16. Go To A Concert
If your favorite artist is coming to town during your birthday, go see them in concert! This is a super fun 19th birthday idea because you can make a whole night of it.
Grab some dinner before the concert and maybe even get a hotel room with your friends for an after party! This will definitely be a memorable 19th birthday.
Cute 19th Birthday Decorations
17. Complete 19th Birthday Party Decor Kit
This kit comes with everything you need to decorate for your 19th birthday party. You'll get giant number balloons, a photo backdrop, a cake topper, photo booth props, decorative balloons, and a happy birthday banner.
Can you believe all of this is under $30? Such a perfect decor kit for a 19th birthday party.
18. Oh S*it I'm 19! Banner
If you know me, you know I love a good funny birthday banner. This "oh s*it" birthday banner is hilarious but also not too raunchy for family birthday parties!
19. Birthday Queen Sash
Every 19 year old deserves to feel like a queen on her birthday. Make her feel super special with this sash and tiara that she can wear during her party.
20. Gold And White Party Supplies
If you're serving food at your 19th birthday party, you need to have some festive plates and cutlery to serve it on!
This gold and white party supplies set would be so cute at any birthday party. It comes with enough stuff to serve 25 guests.
21. I Am 19 B*tches Party Banner
This is another funny banner that you could hang up at your 19th birthday party. I love that it comes with balloons that you can use as party decor too!
22. Birthday Streamers
Another great 19th birthday decor idea is to hang streamers from the ceiling. I love going ALL out for my friends' birthday parties, so I would definitely get some of these cute streamers to hang all over the house.
23. 19th Birthday Cake Topper
You have to serve cake at a birthday party! So if you want to make your cake look extra special, add a cute 19th birthday topper to it.
24. 19th Birthday Poster
This is such a cool 19th birthday idea that I've never seen before!
This poster has a ton of info about what life was like in the year that you were born. Things like what music was popular, how much things cost back then, and what movies came out that year.
They have them for every year, so you'll be able to find one for your birthday party no matter what year you were born in!
25. Cheers To 19 Years Sign
Another super cute 19th birthday banner you can hang at your party!
26. Black And Gold 19th Birthday Decor Kit
A lot of the 19th birthday decor options on Amazon are super pink and girly. I love this black and gold birthday decor kit because it can be used for guys and girls.
Gift Ideas For A 19 Year Old
27. Film Camera
One of my favorite gift ideas for 19th birthday is an inexpensive film camera like this one. Shooting on film is so much fun, and film cameras are really popular with teenagers right now.
I have this exact film camera and I absolutely love it! It's lightweight, easy to use, and has a built in flash so you can take pictures at night.
Just make sure you get some film to go along with it. I use the Kodak Gold 200 Film.
28. Cute Backpack
Every 19 year old would appreciate getting a cute backpack for a birthday present, especially if they're a college student.
I have this exact backpack and I use it ALL the time. It holds way more than it looks like it does, and it even has a protected sleeve for my laptop.
29. Coffee Maker
A perfect gift for a 19th birthday is a good coffee maker that they can use in their dorm room or college apartment.
The Keurig Mini is such a perfect coffee maker for college because it's SO easy to make a cup of coffee with it. Plus, it comes in a ton of fun colors.
[RELATED: 27 Best Dorm Gifts College Students Will Love]
30. Scented Candle
One gift that's pretty much perfect for anyone of any age is a scented candle. You can never have too many scented candles in your house in my opinion!
I love that this one comes in a super cute jar that can be re-used once you've burned through the candle.
31. Boba Tea Kit
If you're looking for a super unique gift idea for 19 year olds, get them this DIY Bubble Tea kit! Boba tea is huge with teens right now, and they can make their own at home with this super fun kit.
It comes with 7 different flavors of tea, so they'll definitely be able to find one that they love. Plus, the Boba is gluten free and vegan so it's great for all different diets.
32. 19th Birthday Gift Set
This 19th birthday gift set comes with everything you would need to pamper yourself on your birthday!
It has a scented candle, bath bomb, loofah, reusable shower cap, pumice stone, and cute 19th birthday tumbler. Such a thoughtful gift idea for a 19 year old.
33. Gold Plated Tennis Bracelet
Can you believe this gold plated tennis bracelet is under $15?! It seriously looks like it would be hundreds of dollars.
Tennis bracelets are super trendy right now, and they're seriously on every teenage girl's wish list.
This bracelet is made by my favorite Amazon jewelry shop. Everything I've bought from them has been super high quality and lasted for a really long time.
34. Money Cake
Who wouldn't want to get cash as a 19th birthday present? One creative way to give money as a birthday present is to make it into a money cake.
All you really need for this project are a foam tiered cake, dollar bills, and some clear hairbands. Get the full instructions here.
19th Birthday Theme Ideas
35. Space Cowgirl Theme
The space cowboy / cowgirl theme is SO popular right now for birthday parties, halloween costumes, and even bachelorette parties.
I see this theme idea ALL over TikTok and Pinterest, and it's pretty easy to recreate. The best decorations for a space cowboy party are metallic photo backdrops, blow up aliens, and tons of balloons.
Recreate this 19th birthday party theme:
36. Boho Picnic Theme
How gorgeous is this boho picnic themed 19th birthday party? If you're throwing an outdoor party, I definitely recommend this theme!
37. Tiki Party
If you're doing a pool or beach party, you should definitely have it be tiki themed! Have everyone wear tropical patterned clothes, serve drinks out of coconuts, and give everyone leis when they walk in. So fun!
Recreate this party theme:
38. Murder Mystery Party
One really fun theme idea for a 19th birthday party is to host a Murder Mystery Dinner. I've always wanted to go to one of these so I would have loved it if one of my friends did this for their 19th birthday!
The easiest way to do a murder mystery party is to get a pre-made kit on Amazon. It'll give you all of the instructions and things you need to host the game. The one linked above is for 6-14 players, so you'll be able to invite that many people to the party!
You'll give everyone their character assignments ahead of time. Definitely encourage everyone to dress up as their characters to make it even more fun.
39. Disco Theme
Another super fun birthday theme that I see all over TikTok and Pinterest these days is the disco theme. I love this one because you can go SO over the top without spending a ton of money.
Get some cheap metallic backdrops, blow up some disco ball balloons, and put a disco playlist on your spotify. Such a fun 19th birthday theme idea.
Recreate this party theme:
40. Mean Girls Theme Party
How fun would it be to have a Mean Girls themed 19th birthday party? Have everyone dress in pink, make a burn book guestbook, and put up a bunch of Mean Girls decor.
This is obviously more suited for a birthday party with all girls, but your guy friends may secretly enjoy this theme too!
Recreate this Mean Girls party theme:
19th Birthday Quotes For Instagram
Looking for the best Instagram caption for your 19th birthday? Here are the best quotes about turning 19.
41. Cheers to my last year as a teenager
42. 19th done right
43. Cheesin' because I'm 19
44. I'm too young to feel this old
45. Act my age? Maybe next year
46. Last year as a teen? Let's go
47. Scorpio season (or whatever your sign is)
48. It took 19 years to get this awesome
49. Starting my 19th lap around the sun
50. So begins chapter 19
---
This post was all about the best 19th birthday ideas.
You may also like: