15 Cute & Affordable Jingle Basket Gift Ideas
Have you heard the latest gift trend? 'Jingle baskets' (also called brr baskets) are a sweet way to show someone you care this holiday season. If you're not sure what to put in yours, here are some of the best jingle basket ideas you can copy.
This post may contain affiliate links, which means I'll receive a commission if you purchase through my link, at no extra cost to you. Learn more: Affiliate Disclaimer.
In case you've missed the latest TikTok trend, people are gifting 'jingle baskets' to their loved ones. These winter gift baskets are also referred to as 'brr baskets'.
If you're looking for a thoughtful way to show someone you care over the holidays, you should definitely consider gifting them a jingle basket.
It's basically just a gift basket filled with lots of cozy holiday-themed gifts!
But before we get started on gift ideas, you'll need a basket to put everything in!
We recommend checking out the dollar store or the Target dollar deals section for affordable baskets. They always have cute basket and container options!
The Best Jingle Basket Gift Ideas
1. Fuzzy Socks
Cozy socks are perfect to add to a holiday gift basket! They're affordable, super cute, and you can get them just about anywhere.
2. Holiday Face Masks
If your brr basket recipient is into skincare, they'll love these Christmas themed face masks!
3. Cozy Blanket
A cozy blanket is a super thoughtful addition to a jingle basket. Get one in holiday colors to keep it festive!
5. Christmas Tree Candles
These Christmas tree candles are almost too gorgeous to light! Add one or two of these to your jingle basket if the recipient is into home decor.
7. Gingerbread House Kit
Who doesn't love building gingerbread houses during the holidays? A gingerbread house kit is a super cute gift to add to a burr basket.
9. Festive Pillow
Another great gift idea is a fun holiday-themed pillow. Target has a really good selection of affordable ones in fun shapes.
10. Christmas Mug
How adorable is this Santa mug? It's the perfect mug to sip hot chocolate out of all winter long.
11. Candy Canes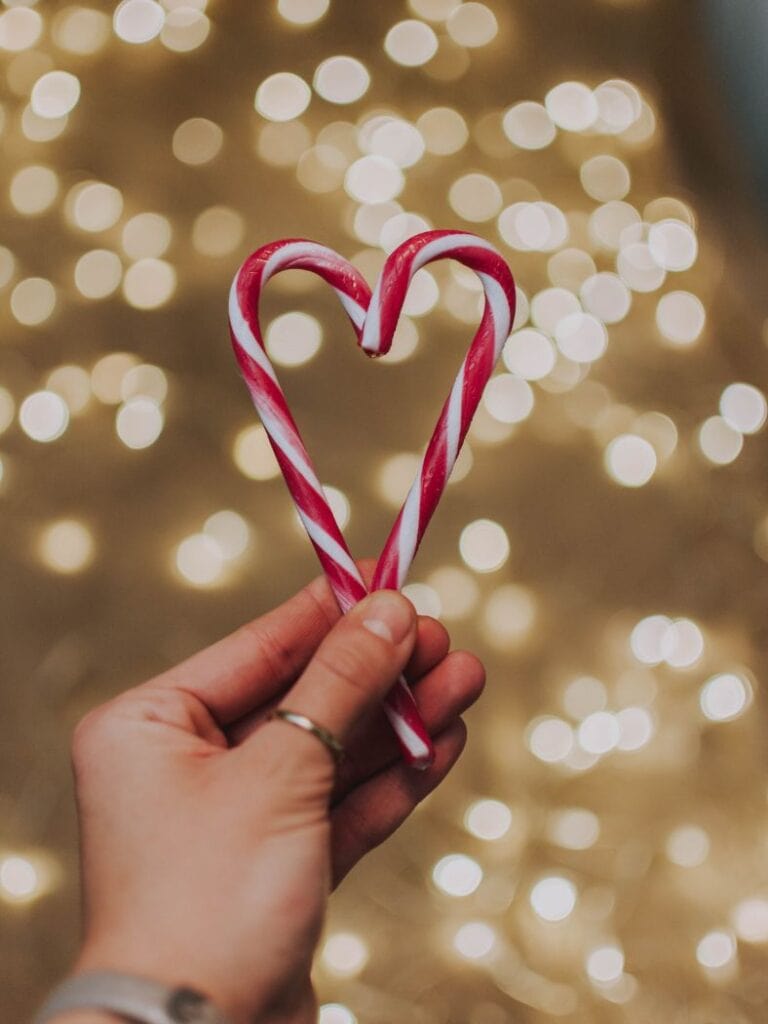 One super cheap way to sweeten up a holiday gift basket is to add candy canes. You can buy a whole case of them for just a few dollars!
12. Christmas Cookie Cutters
Here's another super affordable gift basket idea. Cookie cutters are usually around $1 each so you could add a few to your brr basket!
13. Seasonal Soaps
I absolutely love any kind of seasonal scented soap! It's an affordable way to add a little holiday cheer to your house.
14. Lip Balm
I think just about anyone would love to get a fresh tube of lip balm in their gift basket! It makes a really good stocking stuffer as well.
15. Holiday Chocolates
It just wouldn't be a holiday gift box without some festive chocolates! I'm a big fan of the Peppermint Bark chocolates, but there are lots of options out there for different tastebuds.
Hopefully this post gave you some inspiration for what to put in your jingle basket this year!
Need more holiday gift ideas?