Are you and your blonde bestie looking for Halloween costumes to dress up in this year? Here are 15 of the cutest and easiest Halloween costumes for two blondes.
This post may contain affiliate links, which means I'll receive a commission if you purchase through my link, at no extra cost to you. Learn more: Affiliate Disclaimer.
If you and your bestie are on the hunt for killer Halloween costume ideas for two blondes, look no further.
We've put together a list of the most iconic blonde duo costume ideas for besties.
We've also included ideas for a blonde girl and guy. So if you and your blonde partner are looking for couples costumes, we have you covered!
From iconic duos that'll have everyone talking, to classic faves that never go out of style, we've got you covered.
Get ready to rock those blonde locks with these cute and easy costume suggestions!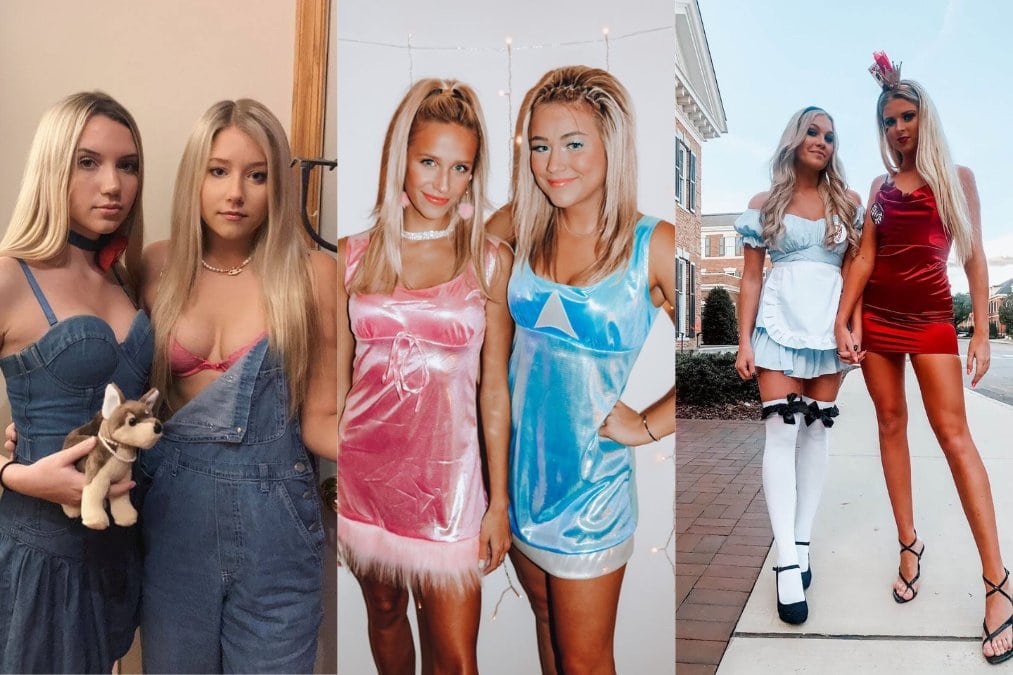 Costume Ideas For Two Blonde Girls
Looking for coordinated costume ideas for you and your blonde bestie? Here are the absolute cutest Halloween costumes for two blonde girls.
[RELATED: 25 Iconic Blonde Halloween Costumes For Girls]
1. Paris And Nicole (Simple Life)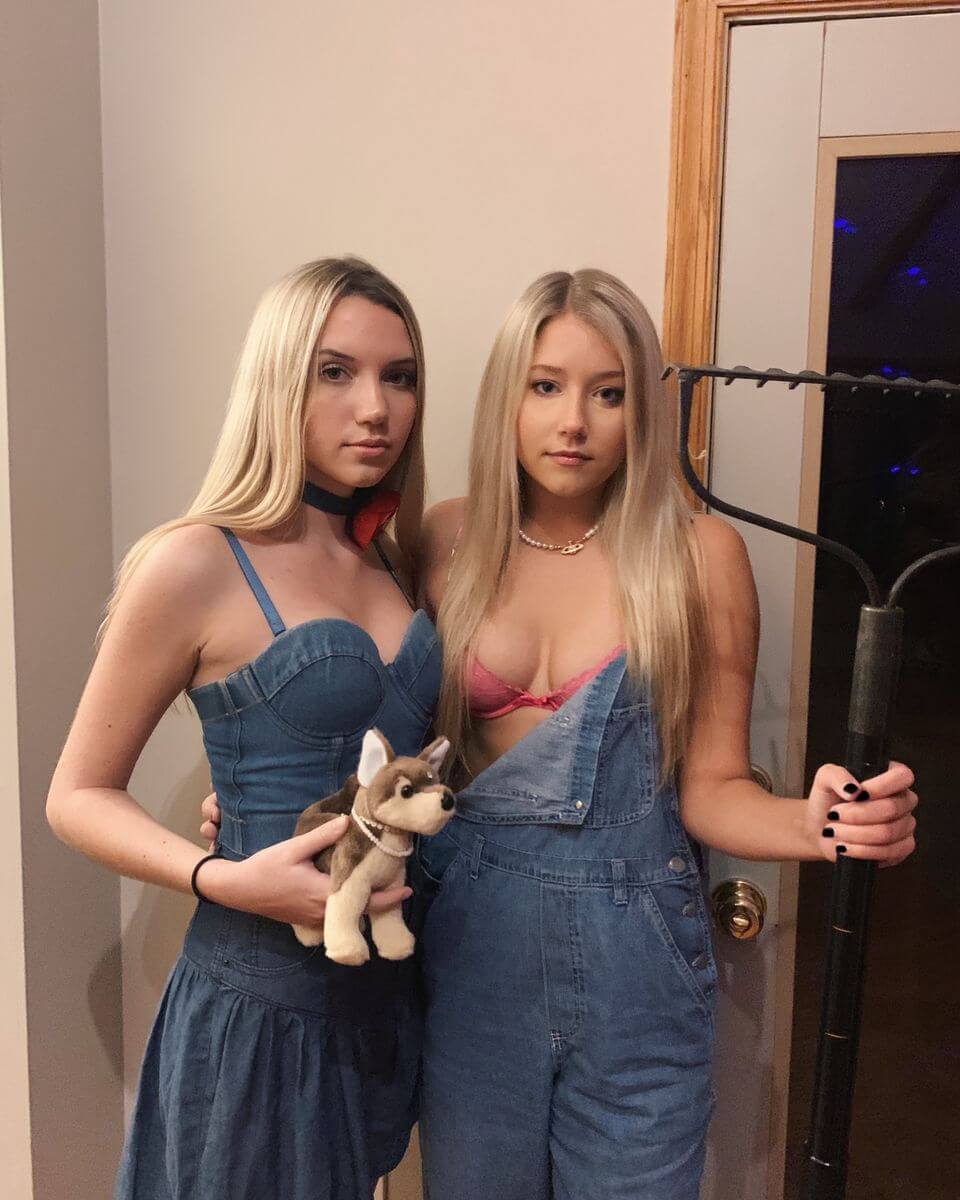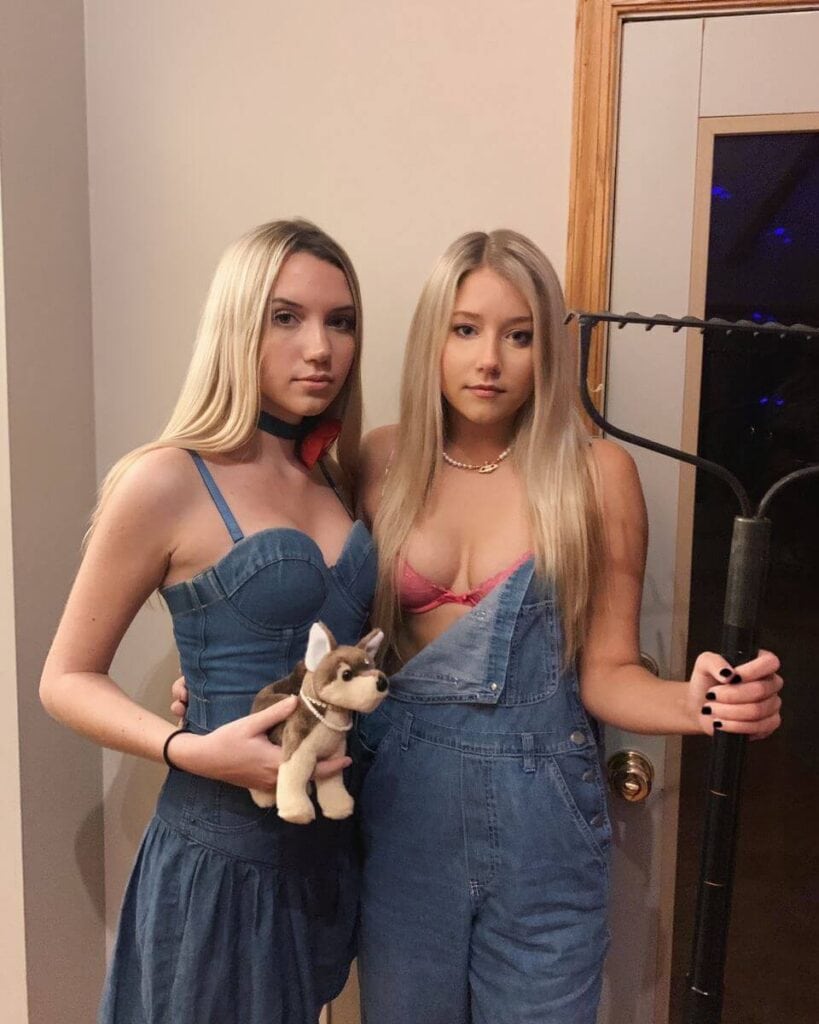 These two blondes basically had the early 2000s in a chokehold. Paris and Nicole from "The Simple Life" would make a really good Halloween costume for two blondes.
Embody their iconic style by throwing on a denim dress or overalls, a pink lacy bra top, and holding a little stuffed dog.
Recreate this Halloween idea for two blondes:
2. Regina And Karen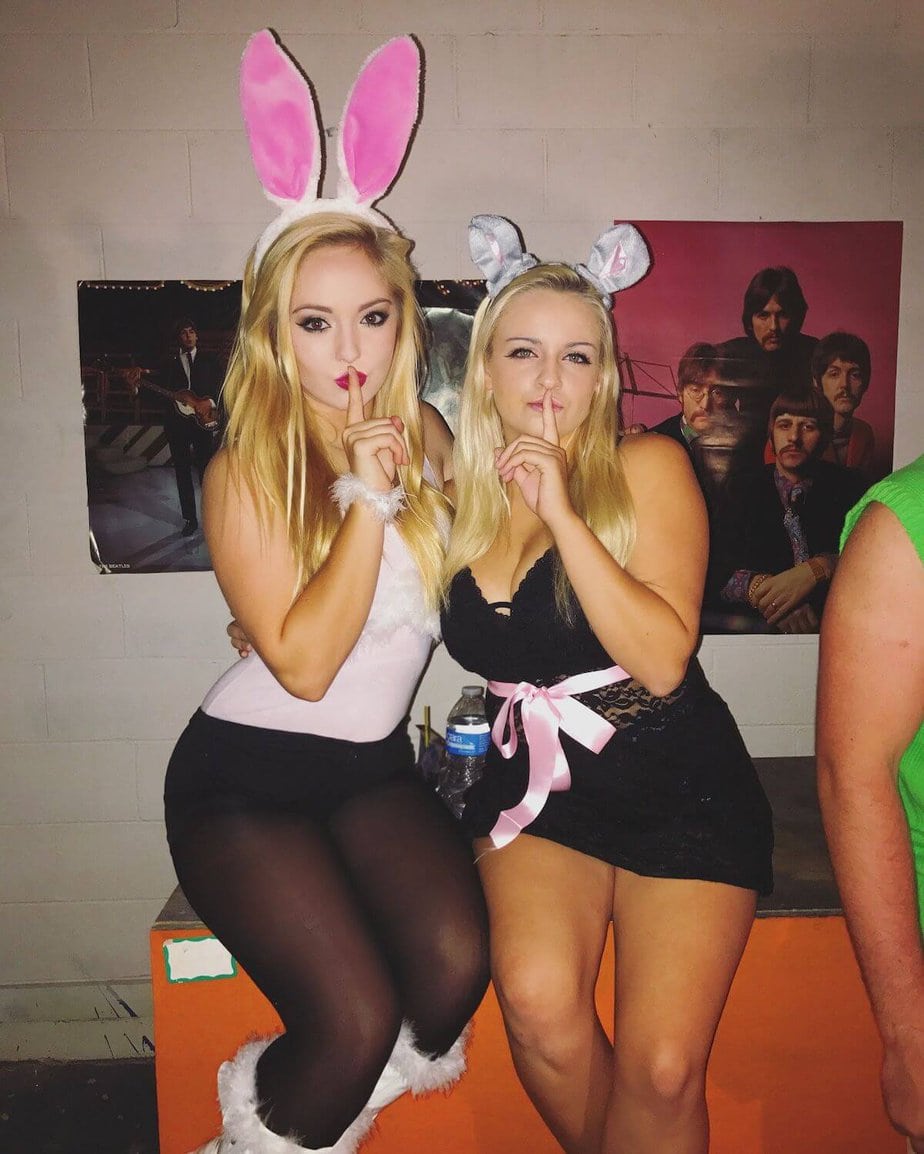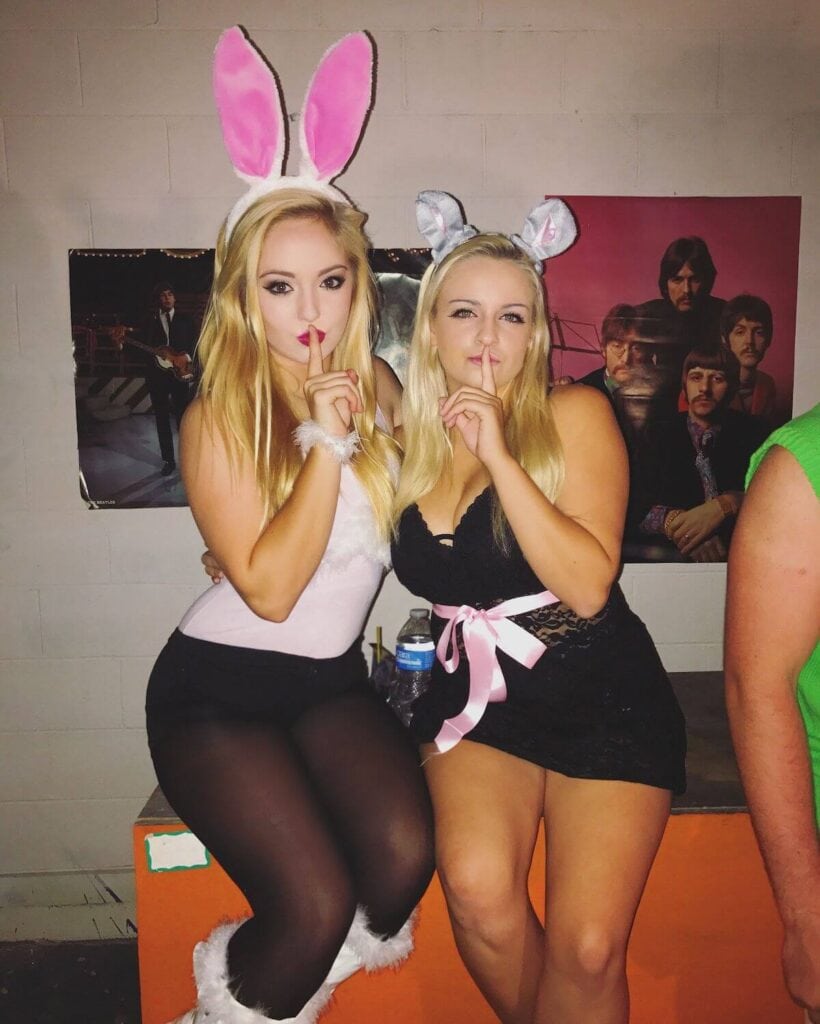 Another blonde duo from the early 2000s is Regina and Karen from Mean Girls.
These two lead characters actually wore these outfits to their own Halloween party in the movie.
Remember Karen's iconic line, "I'm a mouse. Duh!"
Recreate Regina's costume:
Recreate Karen's costume from Mean Girls:
3. White Chicks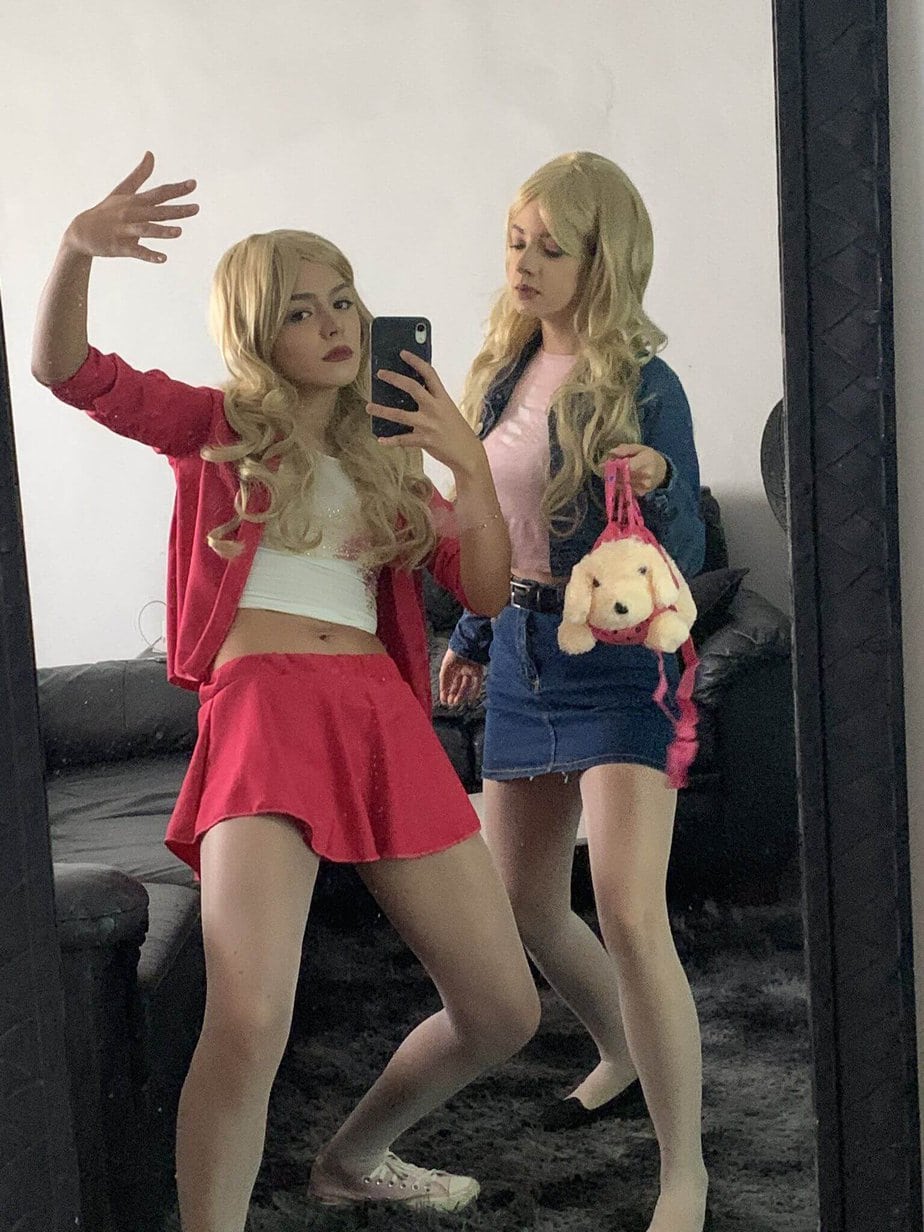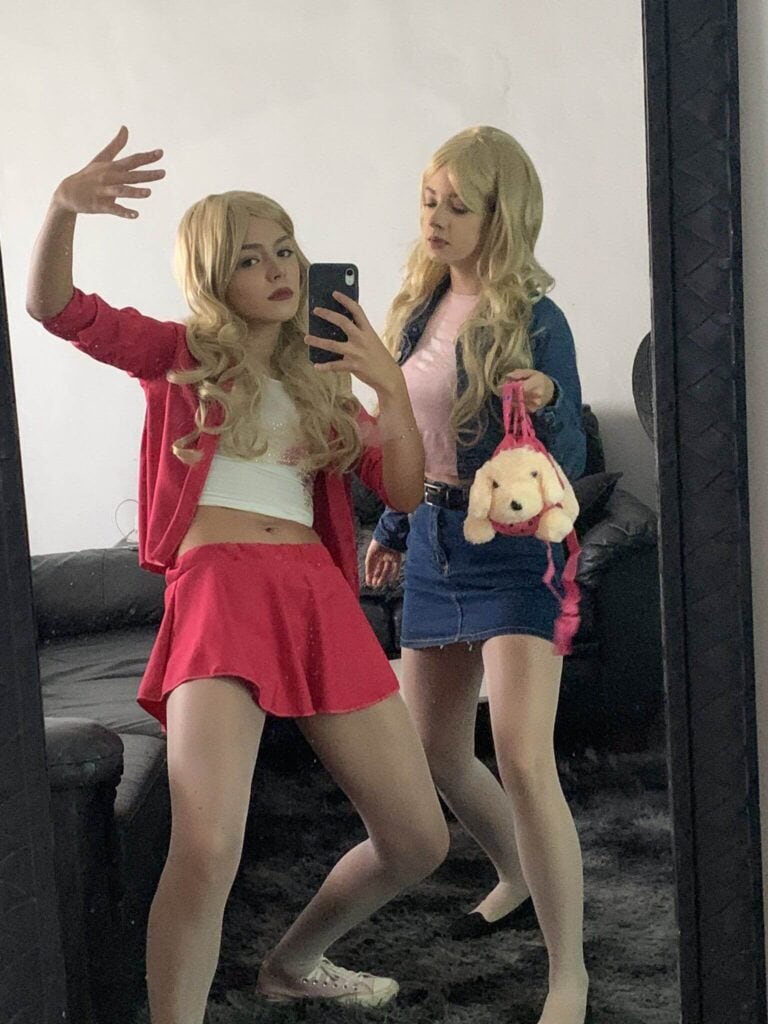 Let's keep going with the early 2000s inspired looks by dressing up as the main characters from White Chicks.
In the movie, the two brothers disguise themselves as a pair of white, blonde sisters. Their costumes are pretty iconic, so this would be a hilarious Halloween look for two blondes!
Recreate this blonde duo costume idea:
4. Legally Blondes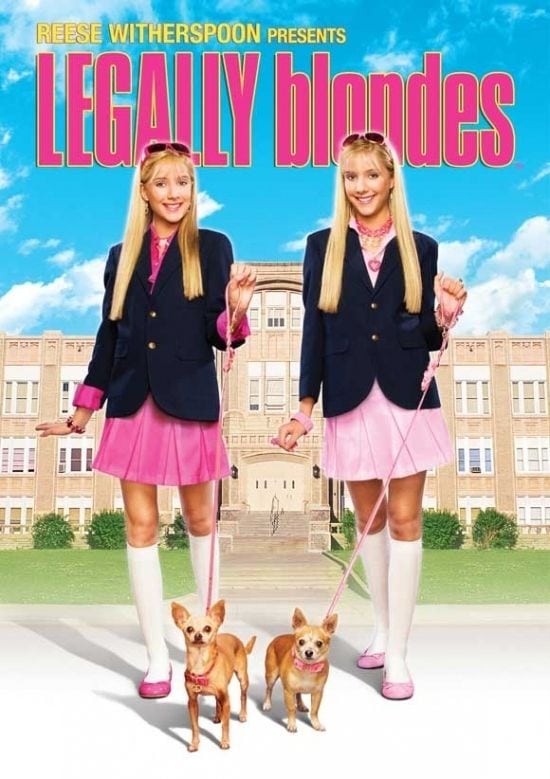 Did you know that there was actually a spin-off of Legally Blonde that featured two blonde leads?
Dress as the little cousins of Elle Woods with your blonde bestie. They can be seen wearing a pink pleated dress, navy blazer, and knee-high socks on the cover for the movie.
Recreate this fun blonde duo's costume:
5. Dancing Twins Emoji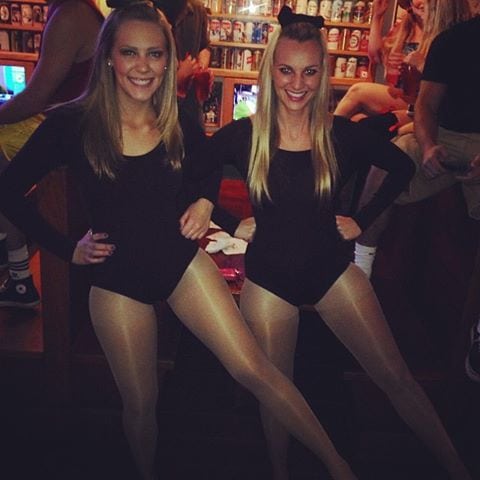 It's every girl duo's favorite emoji! These blonde twins are pretty much universally loved at this point.
Copy their look with a black bodysuit, sheer tights, and a pair of black animal ears.
Recreate this cute costume idea for two blondes:
6. Romy And Michele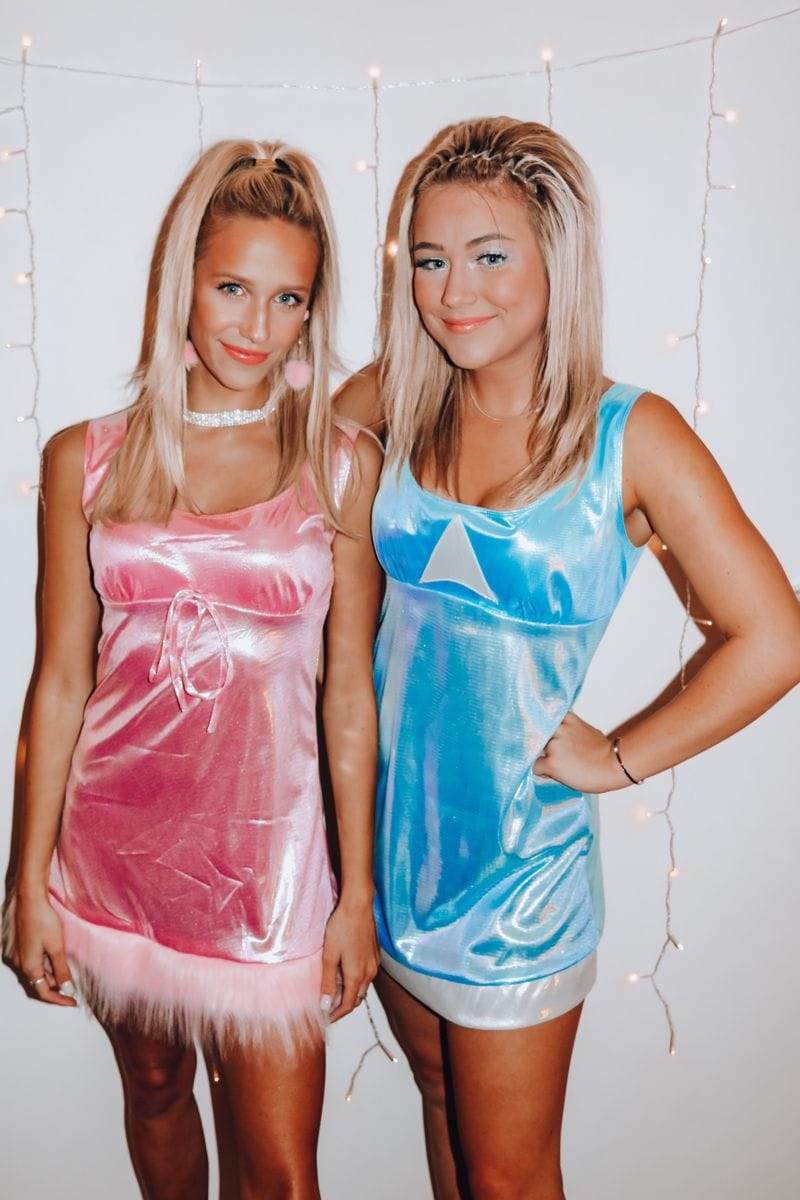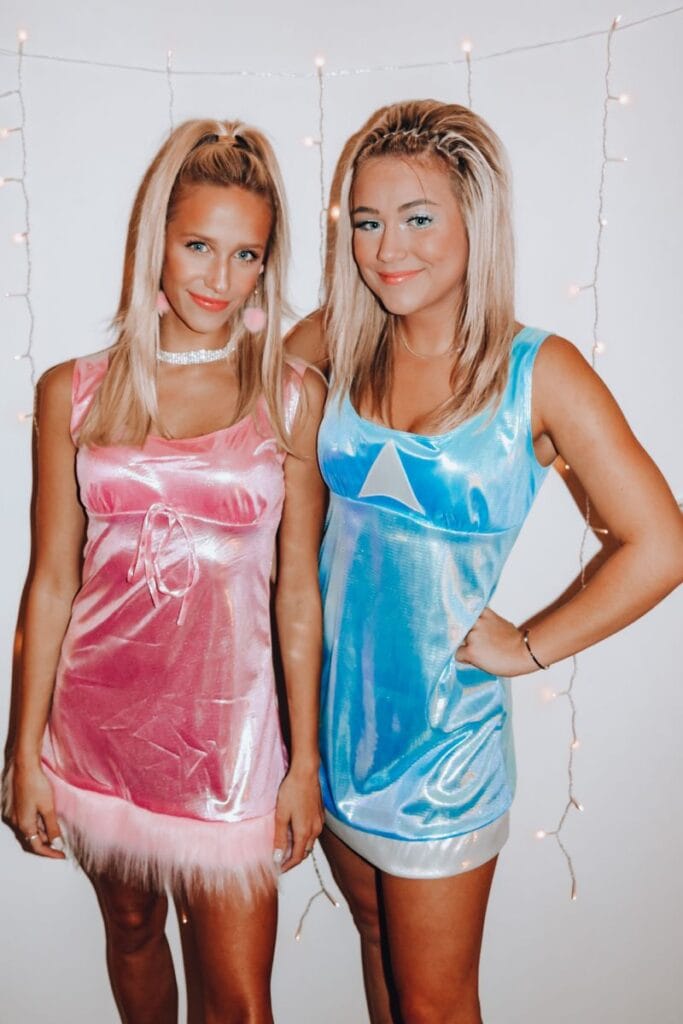 Romy and Michele's High School Reunion may be 25+ years old now, but the costumes definitely stand the test of time.
Michele rocks a pink dress with feather trim and a choker necklace. Romy's iconic look is a metallic blue dress with silver accents.
Recreate this iconic blonde duo Halloween costume:
7. Alice In Wonderland And The Queen Of Hearts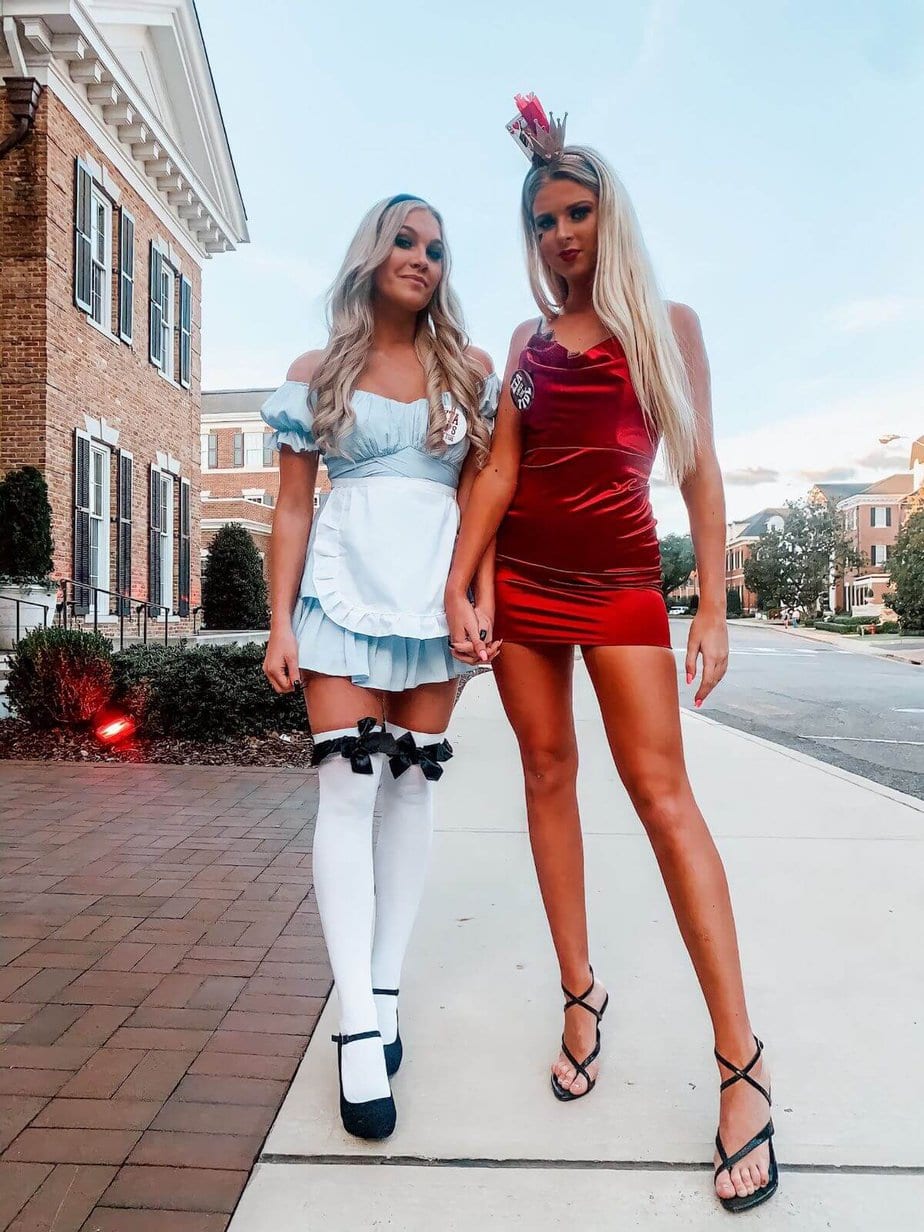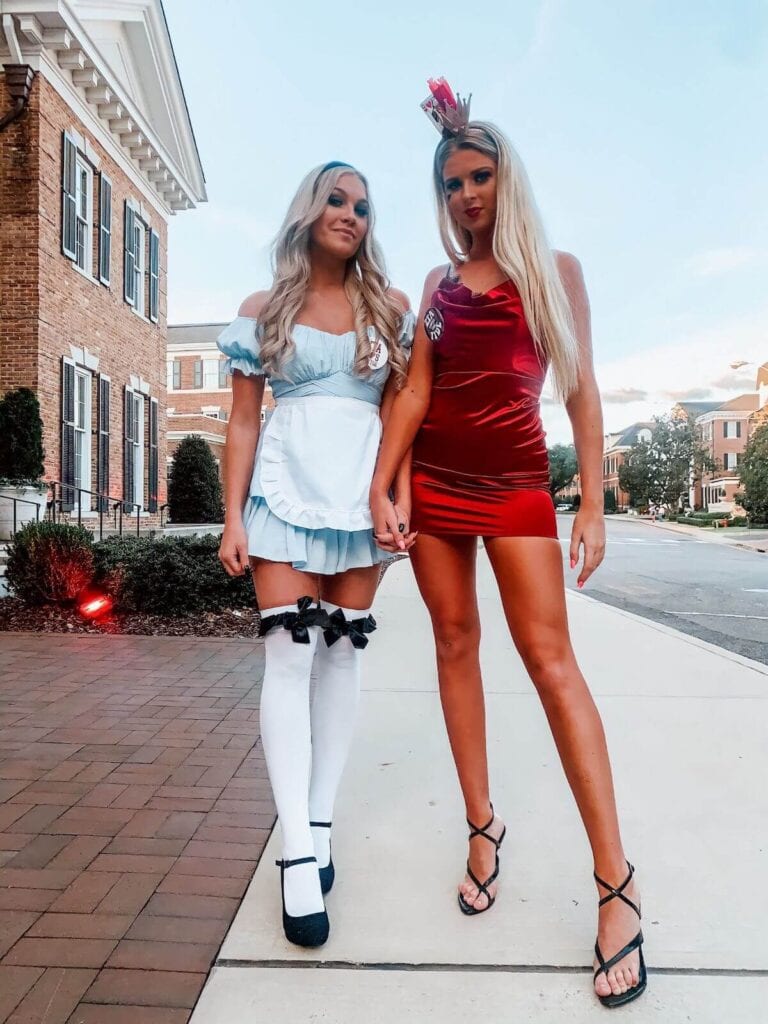 This is one of our favorite halloween costumes for two blondes.
One blonde dresses as Alice with a blue dress, apron, and high socks. The other blonde bestie will wear a red dress with a heart-themed crown.
Recreate Alice in Wonderland's costume:
Copy the Queen of Hearts Halloween costume:
8. Mary-Kate And Ashley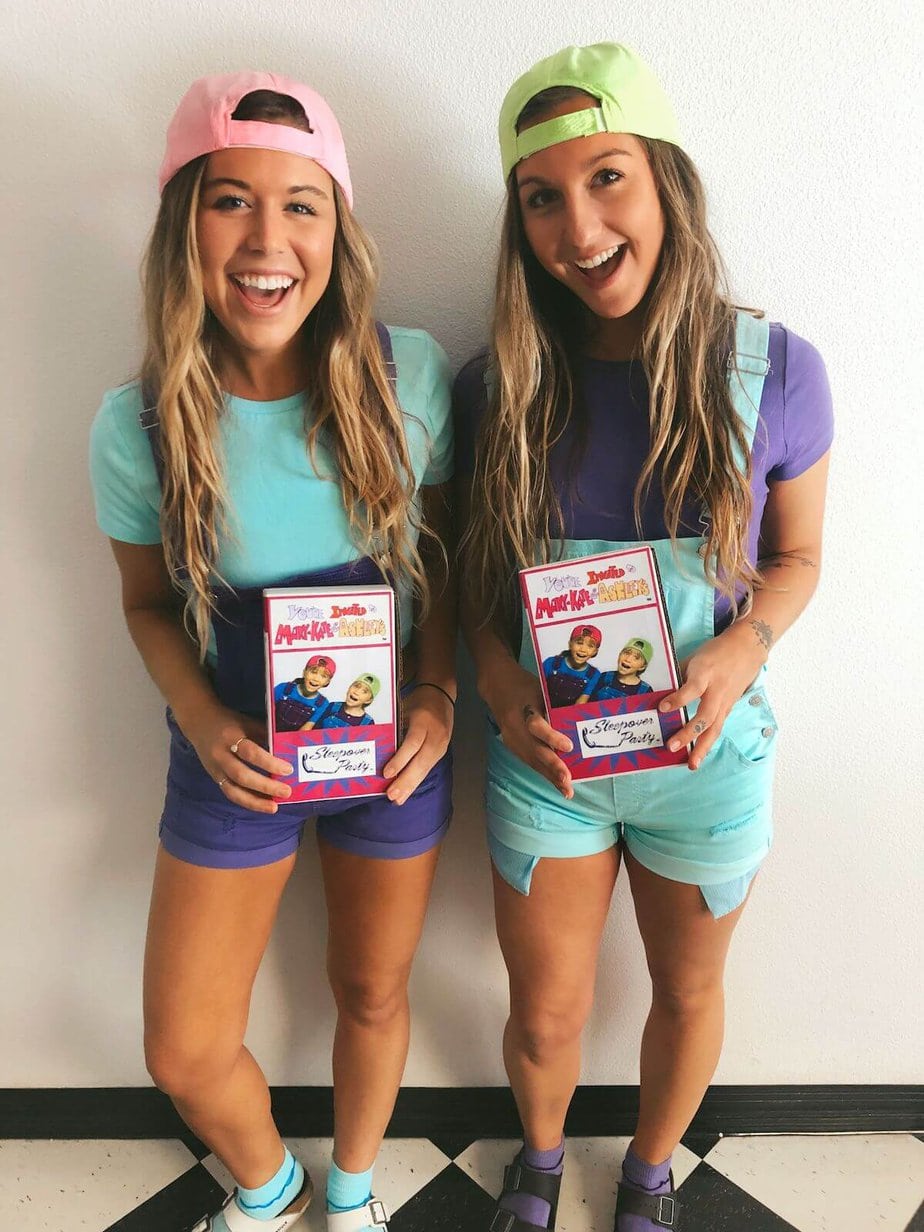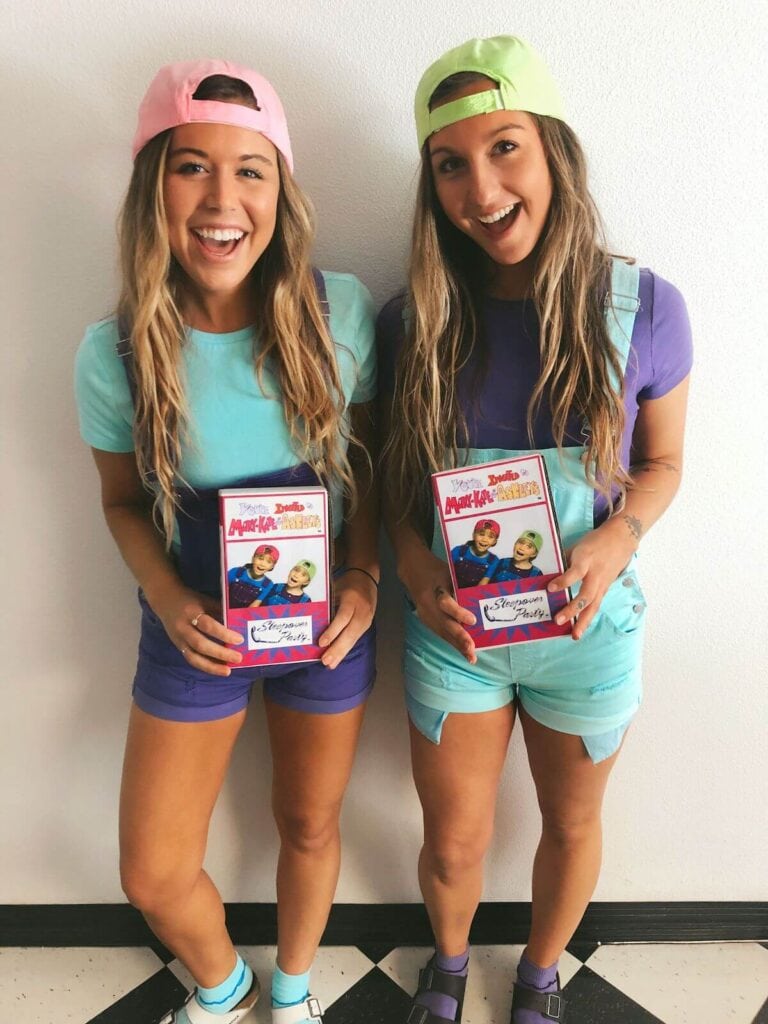 Looking for another throwback costume idea for two blondes? Go as the most recognizable blonde twins – Mary-Kate and Ashley!
Recreate their iconic sleepover party movie look with purple and teal overalls, neon baseball caps, and t-shirts.
Recreate their look:
9. Angel And Devil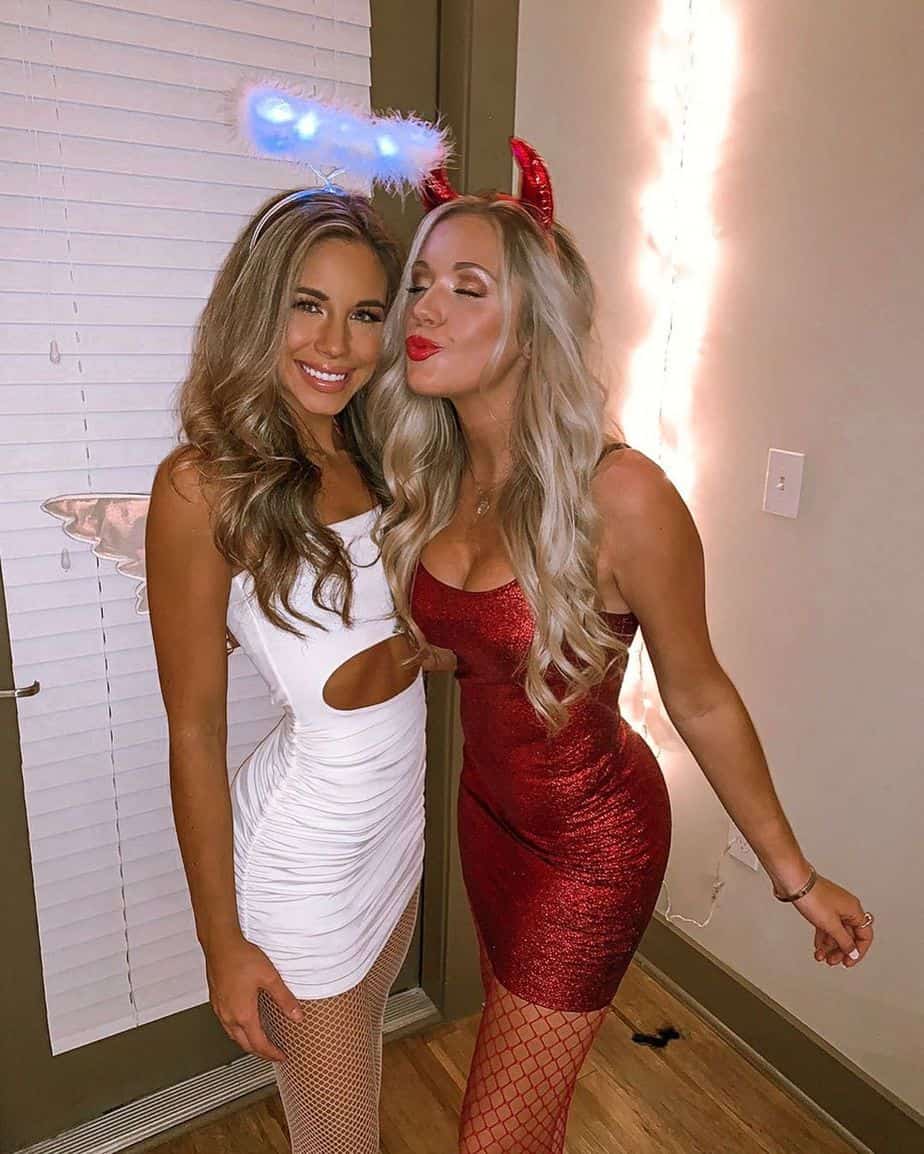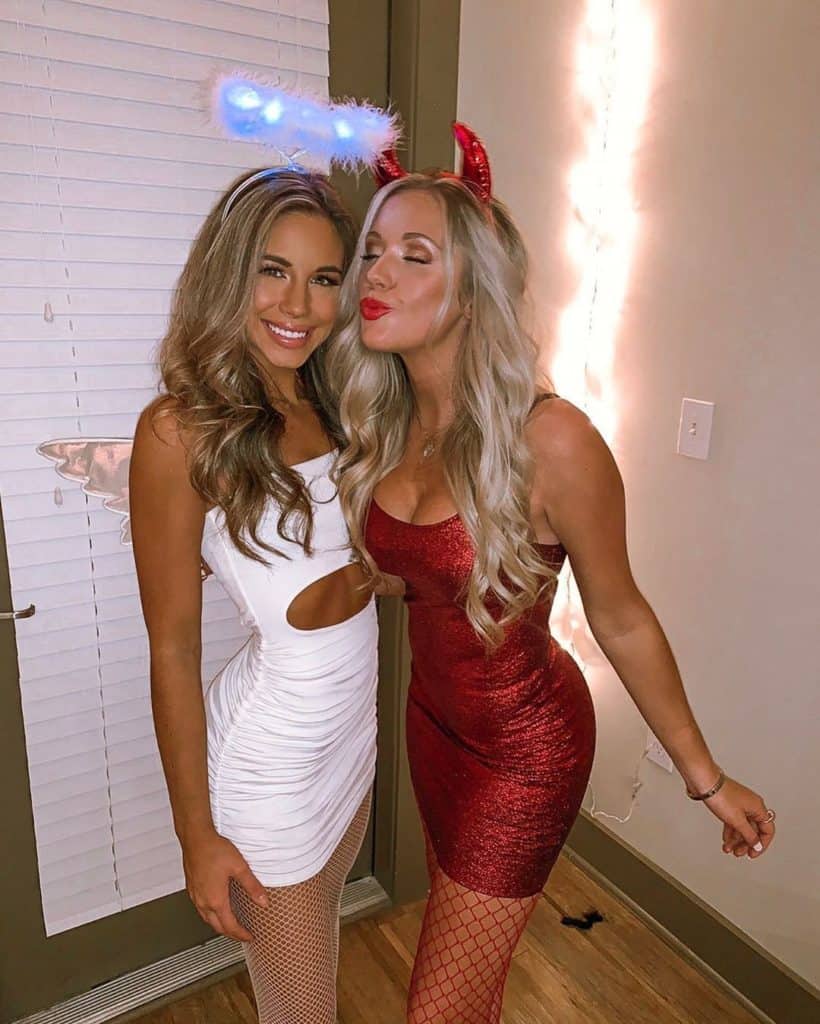 While you don't necessarily both have to be blonde for this duo costume idea, it would look totally cute on two blondies!
One friend can dress up as an angel in a white dress and halo, while the other channels her inner devil with a dred dress and horns.
Recreate this cute angel Halloween costume idea:
Recreate this hot devil Halloween costume:
[RELATED: 10 Perfect Halloween Costumes For A Blonde And Brunette]
10. Space Cowgirls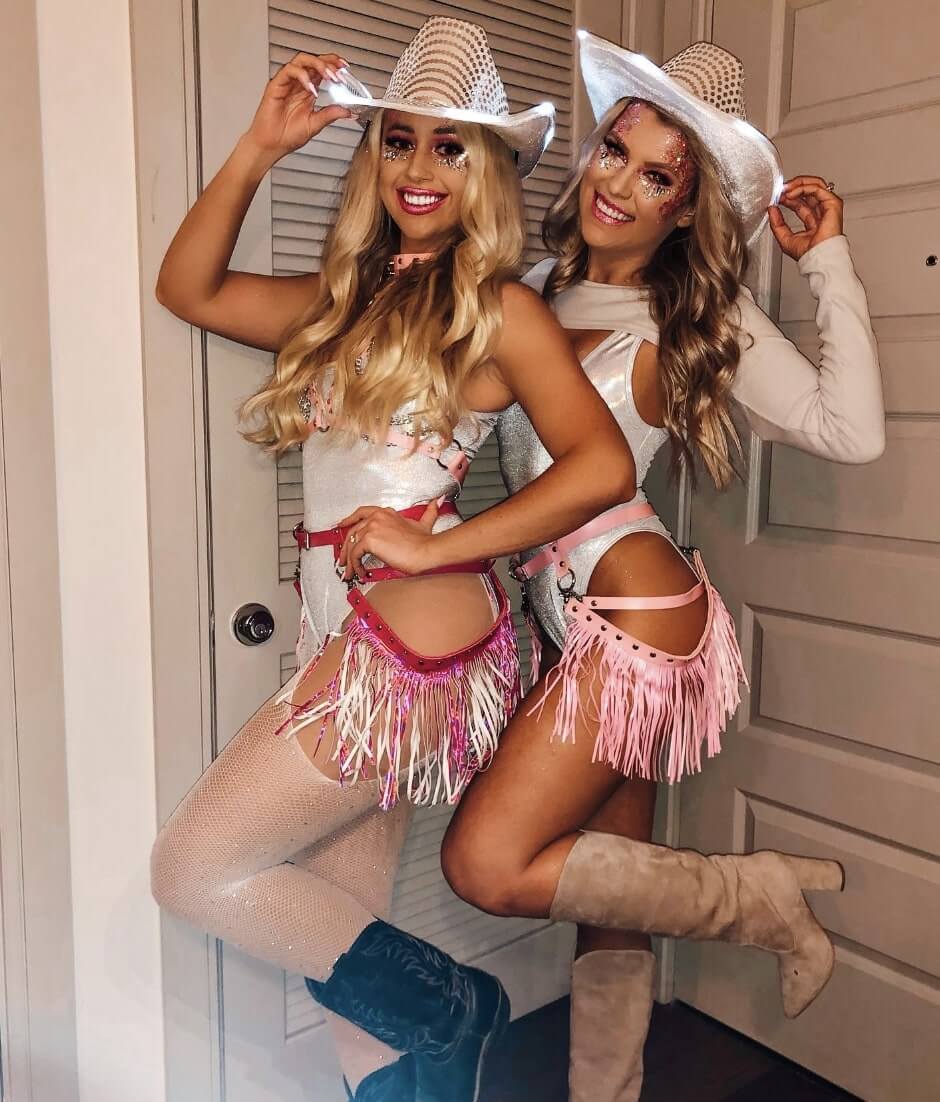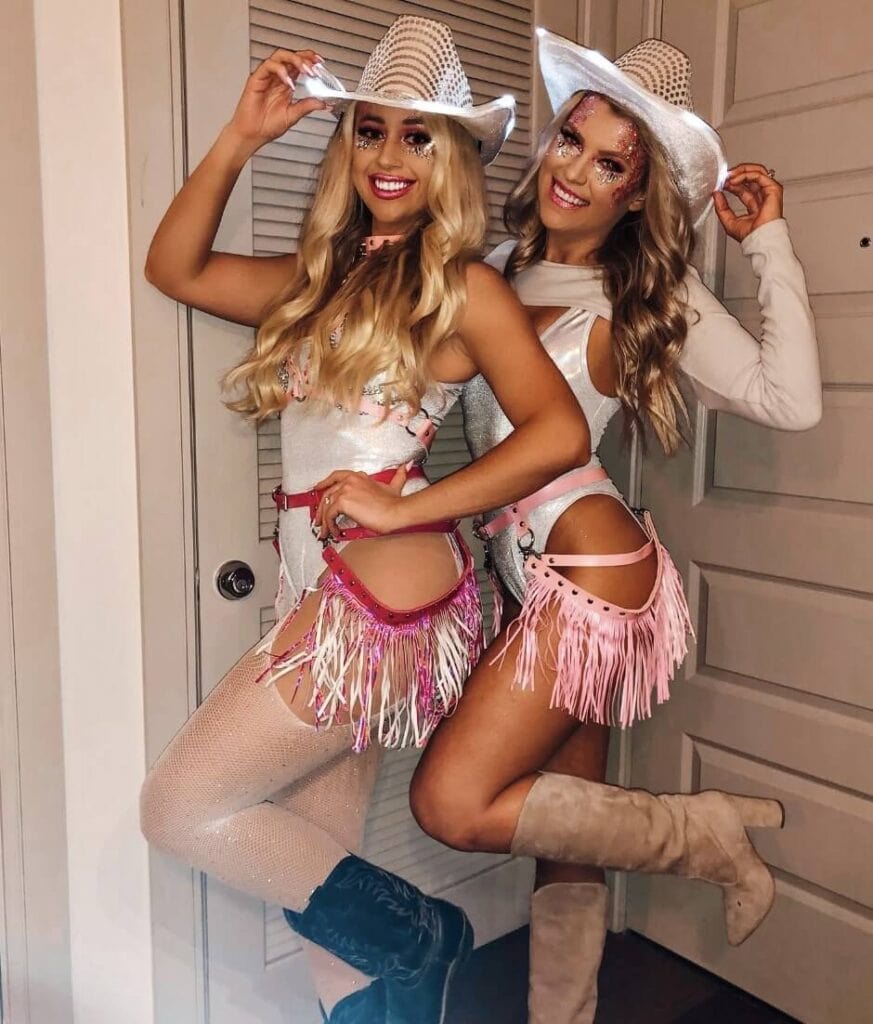 Here's another duo costume idea that would look good with any hair color. But doesn't it look totally cute with two blondes?
Throw on a pair of cowboy boots, a hat, and a fringe belt for a super cute cowgirl look. Add in a metallic bodysuit if you want to be a space cowgirl.
Copy this super cute blonde cowgirl Halloween costume:
11. Girl Scouts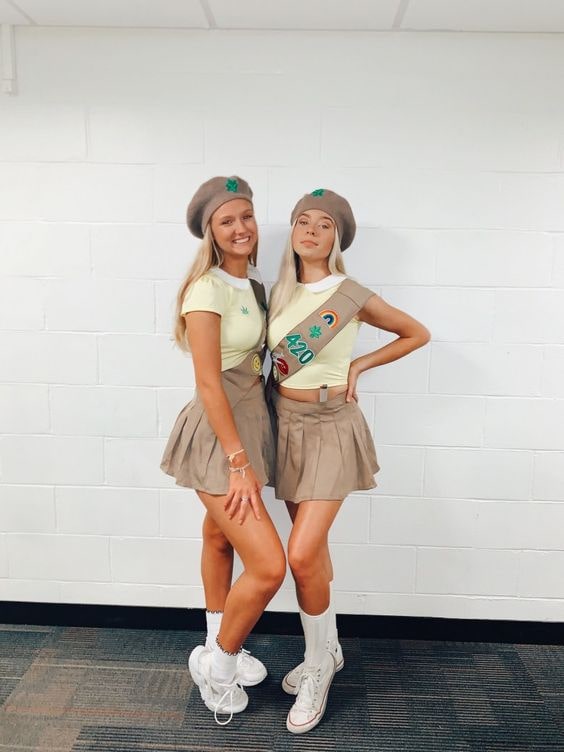 Another cute idea would be to dress up as girl scouts with your blonde bestie.
Just put on a brown pleated skirt, sash, and a brown beret to channel your inner scout.
Recreate this cute blonde duo costume idea:
Blonde Duo Costumes For A Girl And A Guy
Heading to a Halloween party as a blonde couple? Here are the best Halloween costume ideas for a blonde guy and girl.
[RELATED: 35 Last Minute Halloween Costumes For Guys (Quick & Easy)]
12. Barbie And Ken
We can't make a list of blonde couple's costumes without mentioning Barbie and Ken.
One of their most iconic looks from the movie is this pink and black western outfit. Luckily, you can buy the full costumes on Amazon now, so you won't have to do too much DIY'ing.
Get Barbie and Ken's western costumes:
13. Sharpay And Ryan
This sibling duo from High School Musical would be an awesome costume idea for a blonde girl and guy.
Their most iconic scene in the movie is definitely their onstage performance, so we'd recommend recreating those costumes.
Recreate Sharpay's costume from HSM:
Recreate Ryan's costume from the movie:
14. Britney Spears And Justin Timberlake
This all-denim look from Britney Spears and Justin Timberlake had to have been one of the most iconic celebrity outfits of all time.
You can easily recreate it with a denim dress for Britney and an all-denim outfit for Justin.
Recreate Britney's legendary denim look:
Copy Justin Timberlake's denim fit:
15. Justin And Hailey Bieber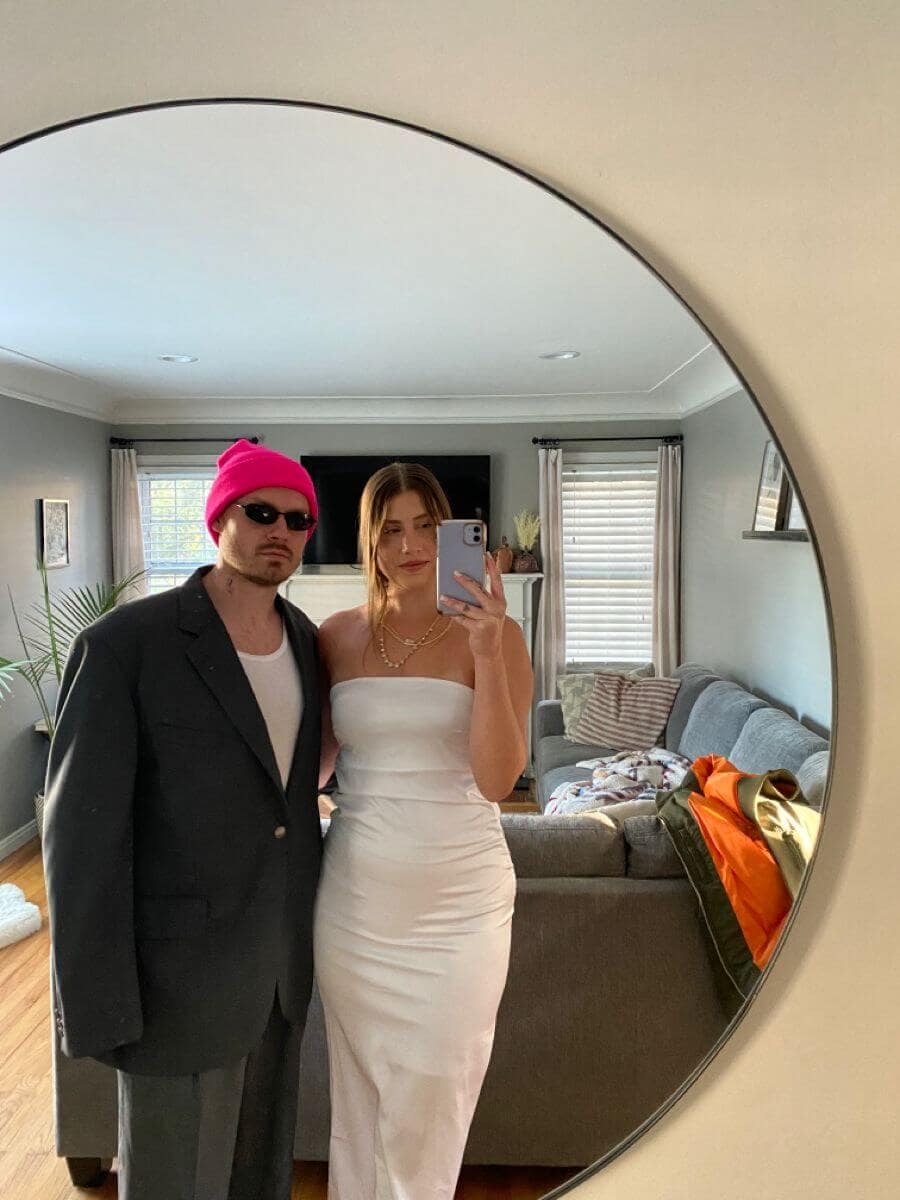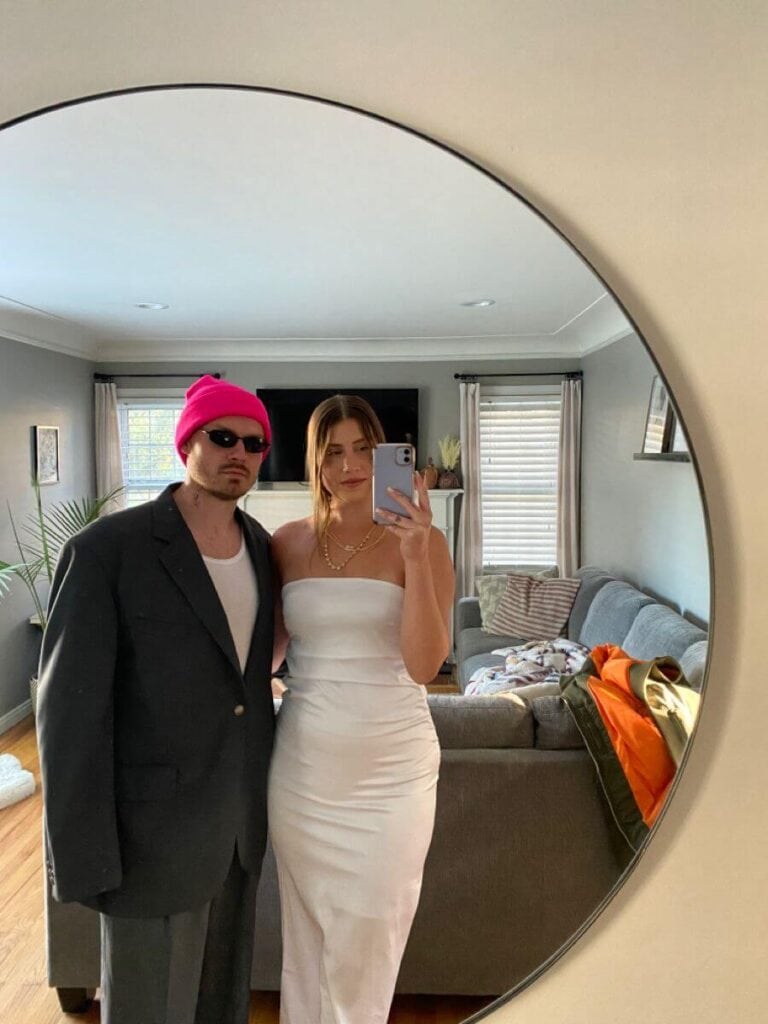 Hailey and Justin are known for their dirty blonde locks and iconic outfits.
Recreate one of their most notorious red carpet looks for Halloween this year.
Justin rocked. a hot pink beanie and an oversized suit jacket, which I recommend browsing a thrift store for. Hailey looked very bridal in a white satin gown.
Recreate this blonde couple's costume:
This post was all about the best Halloween costumes for two blondes.
Looking for more costume ideas?