19 Gifts for Engineering Students They Will Geek Out Over
This post is all about the best gifts for engineering students.
This post may contain affiliate links, which means I'll receive a commission if you purchase through my link, at no extra cost to you. Learn more: Affiliate Disclaimer.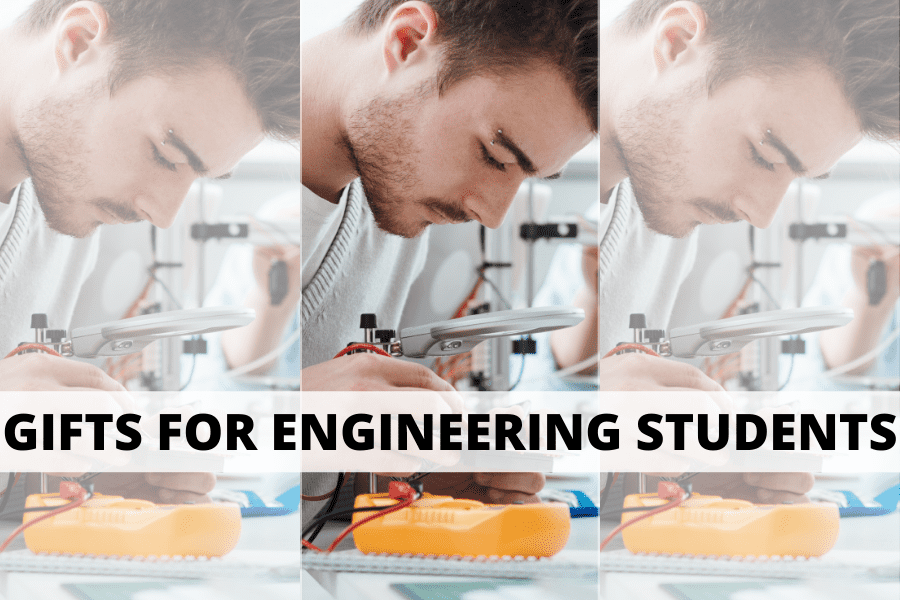 Looking for the best gifts for engineering students? An engineering student can be hard to shop for because they're not out on the field yet but they still may need some gear for their engineering classes. That's why I put together this guide for the best gifts for engineering students.
Whether you're looking for a Christmas gift, birthday gift, or just a gift to celebrate Engineer's week, these gifts are guaranteed to make any engineering student geek out.
Here are our top picks for gifts for engineering students:
The Best Gifts for Engineering Students
1. Funny Engineering Shirt
How hilarious is this t-shirt for engineering students? As the seller says, not everyone can be the worst or best at something. It's okay to admit you're just the okayest.
2. Wallet Engineering Ruler
This all-in-one engineering ruler is definitely one of the best gifts for engineering students. They'll never have to look up a basic science equation, physical constant, or unit conversion ever again as long as they have this in their wallet.
It also includes a ruler, protractor, and angle drawing tools so they'll always be equipped to take measurements or sketch a new design.
Because this gift is so affordable, you could add in a nice wallet so your engineer has something to put it in right away!
3. Printed Circuit Board Coasters
I absolutely love functional gifts that people will actually use. These printed circuit board coasters are the perfect gift for electrical engineers. They'll definitely nerd out every time they have to use them.
Not only is the design incredible, but they're made from high quality materials that will protect tables from rings and won't scratch your surfaces.
4. 3D Printer
If you really want to treat the engineering student in your life, you can't go wrong with a 3D printer. You can make just about any small 3D objects at home with this compact printer.
Keep in mind that this isn't a large, commercial 3D printer (those things are SO expensive). These tabletop 3D printers are better suited for hobbyists or anyone who wants to tinker with printing small items at home.
5. 3D Printing Pen
Did you know you can draw in 3D? The engineering student in your life will totally geek out over this 3D Printing Pen.
Make sure you include plenty of 3D Pen PLA Filament Refills to round out this epic gift. The 3D printing pen kit includes 3 colors of ABA plastic filament, but it's always a nice idea to include extras in your gift!
6. Math Throw Blanket
The coziest gift on this list is this awesome math throw blanket. The print features tons of different equations and math symbols.
Don't forget the matching math throw pillows!
7. 3D Wooden Puzzle
The engineering student in your life will love putting together this 3D wooden puzzle.
It includes pre-cut wooden puzzle pieces that are made from environmentally-friendly wood that is not treated with any toxins. It is recommended for ages 14+ and is meant to be complex and challenging – perfect for engineers!
8. Circuit Board Card Holder
This business card holder would be the PERFECT graduation gift for computer engineering students. It's well-made, professional looking, and beautiful.
This card holder is great for business cards or for carrying around everyday cards like credit cards or ID's. It has room for 15-20 business cards or 4-5 thicker cards.
9. Chemistry Whiskey Glasses
The chemical engineering student in your life will go crazy over these chemistry whiskey glasses. They'll probably be too busy checking out all of the chemistry diagrams to even drink their drink!
10. Nixie Tube Clock
This nixie tube clock is one of the most impressive gifts for engineering students. It's made from genuine vintage nixie tubes that have not previously been used in any other equipment.
The built-in motion sensors turn the nixie tubes off when no one is around. This greatly prolongs the life of the nixie tubes. If you want them on all the time, you can disable this feature.
This is definitely one of the pricier gifts for engineering students but it will definitely be their favorite present that they get this year!
11. Tesla Patent Posters
A super unique gift for the engineering student in your life is this set of four Tesla patent prints. Nikola Tesla is best known for his contributions to the design of the modern alternating current electricity supply system.
These prints work with any 8×10″ frames and they would make an amazing addition to an engineering student's dorm or apartment.
12. Soldering Iron Kit
Any electrical or mechanical engineering student will appreciate getting this soldering iron kit as a gift.
13. Aviator Safety Glasses
These aviator safety glasses are infinitely cooler than the typical safety glasses engineering students have. Plus, the reviews say they provide good protection.
14. Piece of Meteorite
Aerospace engineers will appreciate owning this genuine meteorite piece. Honestly, this would be a great gift for anyone! Who wouldn't want the opportunity to own a piece of space?
15. Levitating Moon Lamp
How insanely cool is this levitating moon lamp? This levitating moon lamp is powered through electromagnetic induction, so no need for cables. It has 16 colors and you can adjust the brightness so it's totally customizable.
16. Engineering Cheat Sheet Shirt
Show off your love of engineering with this amazing engineering cheat sheet t-shirt. It's covered in engineering equations, concepts, and elements.
17. Arduino Robotics Kit
This Arduino-compatible tank robot car kit is a super unique gift for electronics engineering students. It's advertised as the perfect gift for Arduino beginners because of the easy-to-understand instructions, while still providing a challenge.
It contains a control board, two motors, two tracks, a photocell sensor, an ultrasonic module, an infrared receiver module, an 8*16 LED panel and a Bluetooth module. The kit is compatible with Arduino and Mixly.
18. Rocket Desk Organizer
How cool is this rocket desk organizer for aerospace engineering students? Not only can you store desk essentials inside of it, but you can also pin reminders to the outside because it's made out of a natural cork material.
19. Engineer's Field Bag
If your engineer will be out on the field a lot, they'll really appreciate getting this rugged messenger bag. It has room for a laptop, tools, gadgets, water bottles, etc. Your favorite engineering student will love carrying this bag around to class or on the field.
This post was all about great gift ideas for engineering students.
Looking for more gift guides?