19 Spooky Basket Ideas That Are Perfect For Halloween
On the hunt for the best spooky basket ideas? Here are 19 fun and spooky things to put in a boo basket for Halloween.
This post may contain affiliate links, which means I'll receive a commission if you purchase through my link, at no extra cost to you. Learn more: Affiliate Disclaimer.
Looking for the perfect items to include in your spooky Halloween gift basket? Whether you're planning a spooky gift basket surprise for your boo, your best friend, or a family member, we've got you covered.
In this article, we've gathered 19 of the best and spookiest items to include in a boo basket, guaranteed to impress Halloween enthusiasts of all ages.
So grab your cauldron and get ready to create the ultimate Halloween gift basket.
Spooky Basket Ideas For Halloween
Putting a Halloween gift basket together for your special someone? Here are some thoughtful ideas for a boo basket.
1. Add A Fall Scented Candle
One of the best boo basket ideas is to add a nice scented candle. We're obsessed with fall scents, so get something like vanilla pumpkin, honey crisp apple, or fall spice.
Want to make things spookier? Add a candle in a spooky shape, like a skull or a pumpkin, to set the eerie mood.
Here are some perfect fall candles to include in your spooky gift basket:
2. Include Spooky Treats
Who wouldn't like to open up a gift basket filled with treats? Fill the basket with delicious fall-themed candy like Reeses pumpkins, gummy eyeballs, chocolate bats, etc.
Here are some of the most popular treats to include in a Halloween gift basket:
3. Throw In Some Halloween-Themed Bath Bombs
Help them relax after a long day with bath bombs in spooky shapes, like ghosts or witches' cauldrons. Bonus points if they're fall scented!
Here are some good options for Halloween bath bombs:
4. Wrap Your Basket In Tulle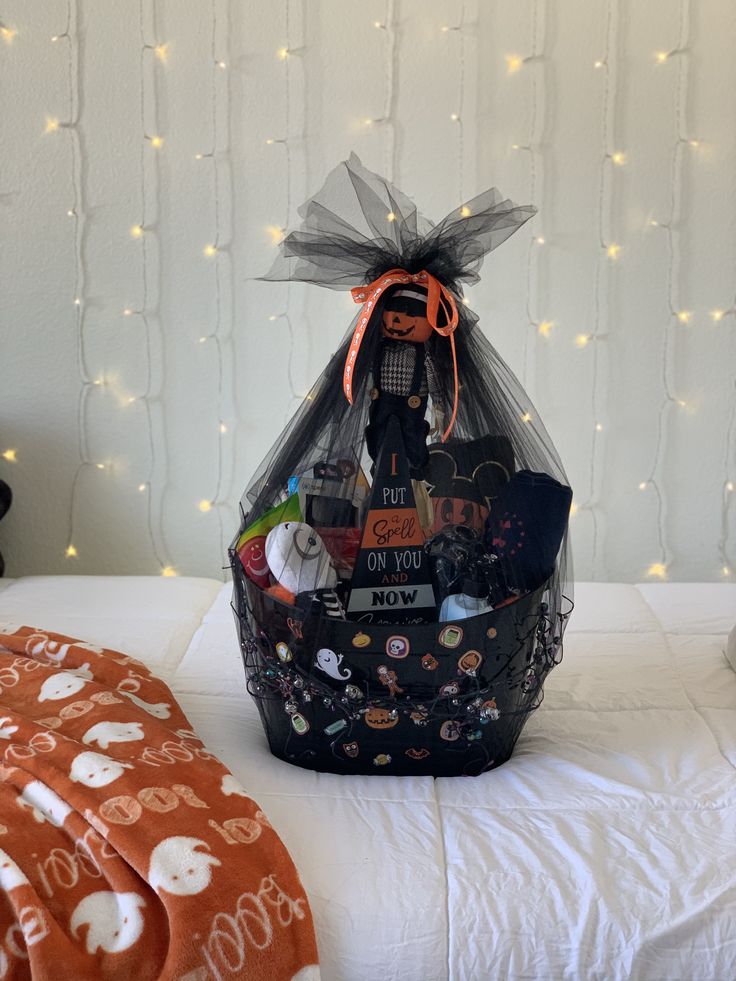 Looking for a beautiful way to wrap up your boo basket? Why not wrap the whole basket in pretty tulle and tie it off with a ribbon?
This is a really elegant and classy way to finish off a gift basket for any occasion.
Here are some good wrapping options for a Halloween-themed basket:
5. Add Sentimental Pictures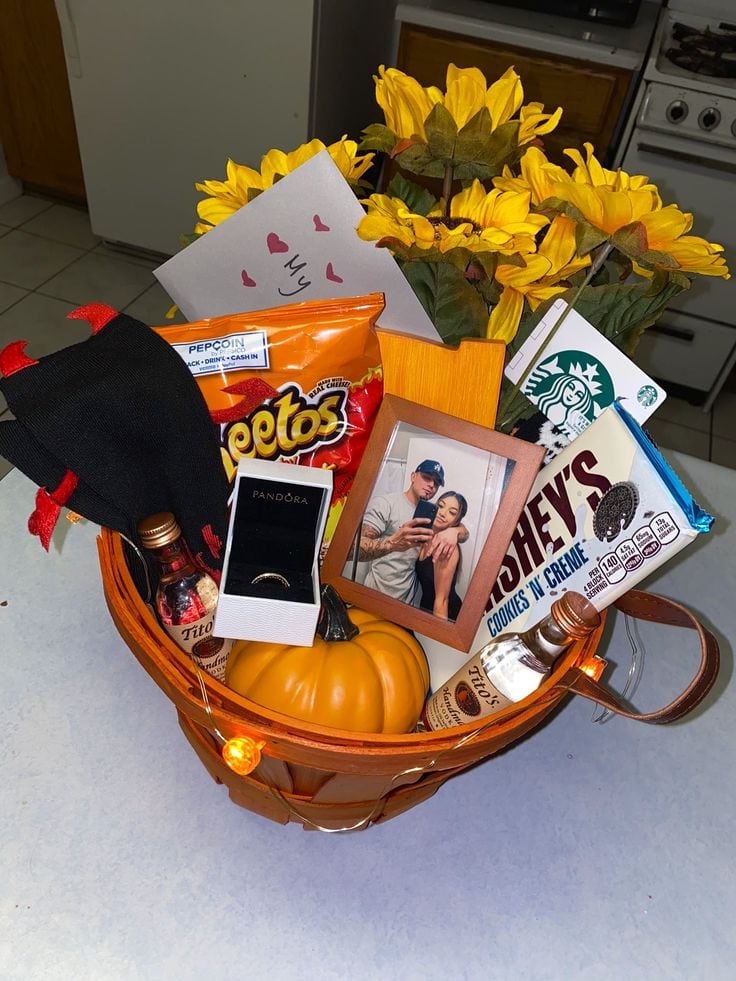 A super sweet idea is to include some pictures of the two of you in your boo basket.
You could include pictures from previous Halloweens (if you've been together that long), or just pictures from special moments in your relationship.
Recreate this Halloween spooky basket:
6. Throw In Some Cozy Socks
Keep their feet warm and festive with some cozy socks in fall colors.
Or make things spookier by including socks in prints like ghosts, pumpkins, or witches.
Here are some cute options to include in a gift basket:
7. Write A Festive Quote On The Basket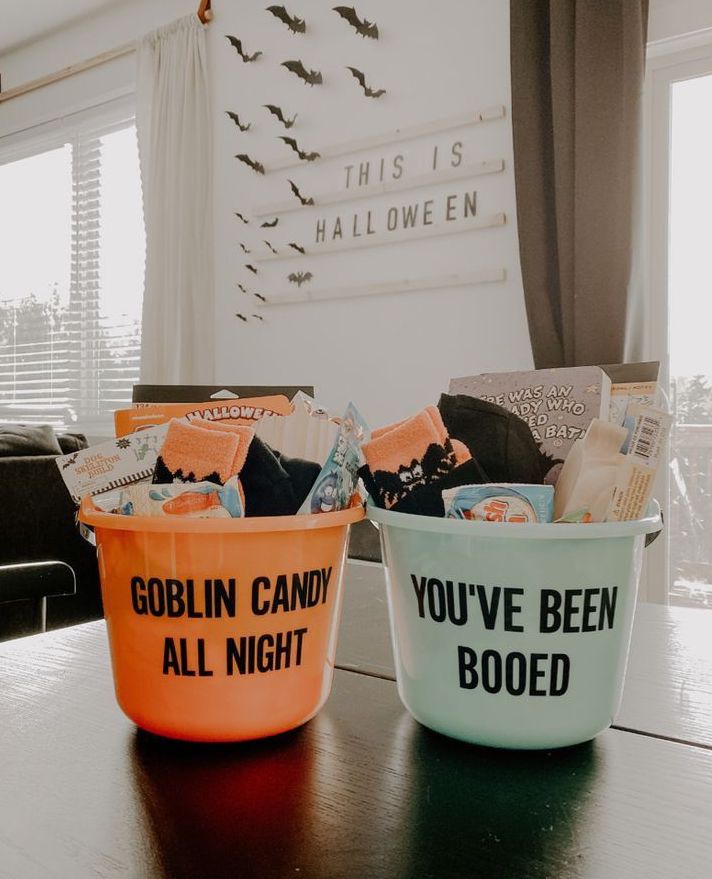 This is one of the cutest ideas we've seen for the outside of a boo basket. Use letter stickers to write festive sayings like "you've been booed" or "goblin candy all night" on your basket.
Here's what you'll need to recreate this:
8. Gift A Pair Of Halloween Crocs
This is definitely one of the cutest boo basket ideas we've seen! Include a pair of crocs with some Halloween-themed charms on them.
Here's how you can recreate this Halloween gift idea:
9. Add A Halloween-Themed Blanket
Keep them cozy during those chilly fall nights with a Halloween-themed blanket. Look for ones with spooky prints like haunted houses or bats.
Here are some adorable Halloween blankets to include in a gift basket:
10. Send Your Boo Basket As A Care Package
Want to gift a spooky basket to someone who lives far away? Send it as a care package!
Fill it up with all of the Halloween goodies that you would normally include in a boo basket, but just package it up in a box and stick it in the mail. Bonus points for decorating the box with cute stickers and signs!
Here are some ideas for what to put inside:
11. Make A Halloween Movie Night Kit
Put together a Halloween movie night kit with their favorite spooky movies, popcorn, and Halloween-themed snacks.
Such a cute and thoughtful care package idea for Halloween!
12. Add A Fall Puzzle
Putting together a puzzle is one of the coziest fall activities ever. Give your boo a fall puzzle that they can work on when the temperatures get low.
Here are some cozy fall puzzles to include in your boo basket:
13. Pumpkin Spice Everything
Fill the basket with pumpkin spice-flavored goodies, like pumpkin spice coffee, pumpkin spice cookies, pumpkin spice candies, and pumpkin scented candles.
Here are some good pumpkin spice-flavored items you can include in your basket:
14. Miniature Halloween Decorations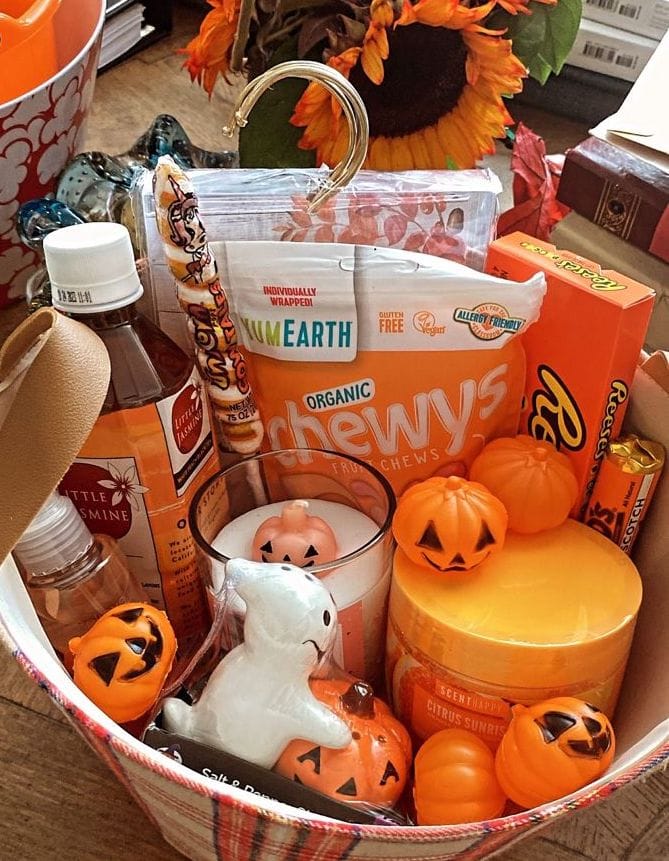 Include miniature Halloween decorations, like tiny pumpkins or skeletons, that they can use to decorate their desk or shelves.
Here are some good decor options to include in a spooky basket:
15. Make A Self Care Boo Basket
One really sweet way to pamper your boo is to make them a self care gift basket for Halloween.
Include all of their favorite self care products like skincare, bath bombs, face masks, lotions, etc. And of course throw in some Halloween decorations like spiderwebs and witches hats!
16. Include Their Favorite Drink
You know the recipient of your spooky basket better than anyone, so why not make this gift as personalized as possible!
Include things that you KNOW they would love like their favorite beverage, a picture of the two of you, their favorite scent of candle, etc.
17. Add In Some Adult Beverages
If you're giving your boo basket to someone who is 21+, you definitely should add a little adult beverage for them to enjoy.
Get some smaller sized bottles of their favorite wine, liquor, or hard seltzer for them to enjoy with their other Halloween goodies.
19. Make A Coffee Themed Spooky Basket
While we're on the topic of drinks, why not make your whole basket drink themed? More specifically, coffee themed!
Stuff your basket with fall-flavored coffees, a festive mug, and coffee accessories like creamer, syrups, a coffee scoop, etc.
Here are some items you can include in a coffee-themed spooky basket:
This post was all about the best spooky basket ideas. Hopefully this gave you some ideas for what to include in a Halloween boo basket!
You may also like: