10 Best Dorm Room Safes To Protect Your Valuables In College
Looking for the best way to keep your valuables secure in college? Here are 10 of the best dorm room safes to keep important things locked up while you're at school.
This post may contain affiliate links, which means I'll receive a commission if you purchase through my link, at no extra cost to you. Learn more: Affiliate Disclaimer.
Living in the dorms is such an exciting time for any college student. You're constantly experiencing new friendships, exciting experiences, and embracing your newfound independence.
Amidst all of the excitement, it can be easy to let your guard down when you're living in a dorm room.
You may be rushing off to class and forget to lock your dorm door behind you. Or maybe you have some new friends over to your room and forget to hide your valuable items.
More often than not, things will probably work out fine. But the sad fact is that dorm room theft is more common that you may think.
Did you know that an average of 11,000 dorm burglaries occur every single year? And the most commonly stolen items are laptops, cash, credit cards, textbooks, and jewelry.
One of the best way to protect yourself from theft is to have a lock box or dorm safe in your room.
We also recommend using a tether or cable lock to secure your safe to a heavy item in your dorm room. This will prevent thieves from just walking off with your lock box.
In this article, we'll share our top picks for dorm room safes and lock boxes, as well as share some important safety tips.
Why Is Dorm Room Security So Important?
Even though college can be such a fun and exciting time in your life, bad things can still happen. There are bad people everywhere, including on college campuses.
Moving to college is a thrilling and overwhelming time in your life, and unfortunately that can make you vulnerable to theft and other bad things.
I'm not trying to scare you, but it is important to take some precautions in college! Especially when it comes to securing your dorm room.
Dorm Safety Tip: Use common sense when it comes to protecting your valuables and other dorm items. Lock your doors when you leave the room, keep your valuables in a safe, and don't flaunt your expensive items.
What Are The Most Commonly Stolen Dorm Items?
The most commonly stolen items are smaller valuable items and electronics. Things like cell phones, debit and credit cards, laptops, and jewelry are very common targets of dorm theft.
Textbooks are another very commonly stolen dorm item. College textbooks are expensive and thieves know that they can resell them for a lot of money.
Try to keep your textbooks with you in your backpack or in your locked dorm room when you're not using them.
The Best Dorm Room Safes For College Students:
1. V5.0 College Dorm Room Safe
The vertical design is perfect for closets or other places in your dorm room where space is limited.
Fits just about any laptop – up to 18″.
Security cable included for tethering the lock box to heavy items.
This dorm room lock box features three padded shelves to keep your valuable items safe and secure.
Ability to run a power cord through an access hole so that you can charge your electronics while they're inside.
The V5.0 College Dorm Safe is my top pick for a dorm room safe. It's made from high quality steel and is equipped with an electronic keypad lock.
This safe was designed specifically for dorm rooms. The vertical design fits perfectly in a closet, next to your desk, or in any other tight space. The large safe can fit a laptop up to 18″, plus several other smaller valuable items on the three interior shelves.
One of the most impressive features of this college dorm safe is the high security NL UL Approved Type 1 Electronic Lock. This type of lock is considered the most reliable electronic lock in the safe/lock box industry.
Another important feature is the included security cable. Wrap the cable around any fixed object to prevent someone from walking away with the lock box.
[RELATED: Amazon Dorm Essentials | 21 Life Changing Dorm Items You Can Buy on Amazon]
2. Vaultz Locking Storage Chest/Dorm Storage with Combination Locks
Plenty of space for your laptop, tablet, wallet, and other valuable items.
Security cable included so you can tether it to your bed, desk, or other heavy item.
Lined with a soft, felt lining that will protect electronics from bumps and scratches.
The Vaultz Locking Storage Chest is another one of my top picks for dorm room safes. It's large enough to fit a small laptop, as well as many other small items (passport, camera, tablet, etc.).
The dimensions are 24 x 13.5 x 6.5 inches. The combination lock allows for convenient keyless locking.
Another important feature of this lock box is that it has a security cable included. With the cable, you can fix the box to your bed, desk, or any other heavy item to keep it safe and secure.
The interior is lined with a soft felt material to keep your valuables safe and free from scratches. It also has an interior mesh pocket for organization and storage purposes.
Dorm safety tip: If your keys ever go missing, report it to your dorm front desk or security immediately. You may have to pay a fee to replace the keys but that's nothing compared to the cost of replacing valuable items if they get stolen.
RELATED: 23 Under Bed Dorm Storage Ideas You Need In Your Dorm Room
3. Locking Nightstand
This locking safe nightstand is a great two-in-one solution for dorm rooms.
The locking compartment is large enough to fit most laptops, cameras, and other valuable items.
The dimensions are 16.1″D x 13.75″W x 28.3″H
One really unique option for a dorm room lock box is this nighstand. At first glance it just looks like a normal storage nightstand, but it actually comes with a lock and key.
This is a great option for dorm rooms because it's a two-in-one solution – storage space and a safe spot for valuables!
It's also smart because while someone could just walk away with your whole safe, it would be very difficult to steal an entire nightstand.
4. Locking Storage Mirror
The perfect multipurpose locking storage solution for dorm rooms.
Includes 6 motion-activated LED lights so you can easily see what's inside when you open it.
Comes with a set of two keys, so you have a backup if you lose one of them.
The dimensions are 47.2″H x 14.6″W x 3.8″D.
There is NOTHING I love more than multipurpose dorm room items. And this one is basically a three-in-one!
It's a full-length mirror, a storage spot, AND it can function as a lock box. Plus, it hangs over a door (aka no mounting required) so it's perfect for a dorm room.
Obviously this wouldn't be a great safe to try to fit your laptop into, but it's perfect for jewelry and other small valuables.
Plus, who wouldn't want a full-length mirror and extra storage space in their dorm room?
5. C&N Footlockers Slim Lockable Trunk
Slim design fits under most dorm beds.
Large enough for any laptop and several other valuable items.
Can be used with any type of standard padlock. You decide the level of security you need.
Made of super durable steel exterior and solid birch plywood interior.
The C&N Footlocker is another great pick for a lockable storage box for dorm rooms. It's very spacious at 32 x 18 x 8.25 inches.
You could fit a laptop, cameras, and several other valuable items in here. The slim design is perfect for fitting under your dorm bed.
This trunk also comes with a cable lock that allows you to tether it to any heavy item. I would suggest wrapping it around your bed frame or desk for maximum security.
One thing I love about this dorm vault is that it is covered by C&N Footlocker's lifetime free repair warranty.
The rugged construction of steel and plywood will keep all of your valuables safe while you're living in the dorms.
6. Master Lock 5900D Portable Safe
This small safe is the perfect size to fit smart phones, passports, small cameras, and cash or credit cards.
You can set your own four-digit combination to something that you'll easily remember.
Constructed with shock-absorbing foam to keep your valuables safe from damage.
20″ braided cable included so you can lock the safe down to your bed, desk, or other fixed object.
If you're looking for a convenient, portable lock box, the Master Lock 5900D portable safe is your best option.
You won't be able to fit a laptop or large camera, but there is just enough room for your smaller valuable items.
This portable safe can be securely locked to a fixed object with the included 20″ cable. You set your own four-digit combination so you can set it as something you'll easily remember.
This small dorm safe is water resistant and constructed with shock absorbing foam to keep your valuables safe and dry.
Dorm safety tip: Don't draw attention to your valuable items. Flaunting your new $2000 laptop or solid gold jewelry to strangers is never a good idea. Don't tell people that you have expensive items in your dorm room.
7. Yak About It Locking Safe Desk Hutch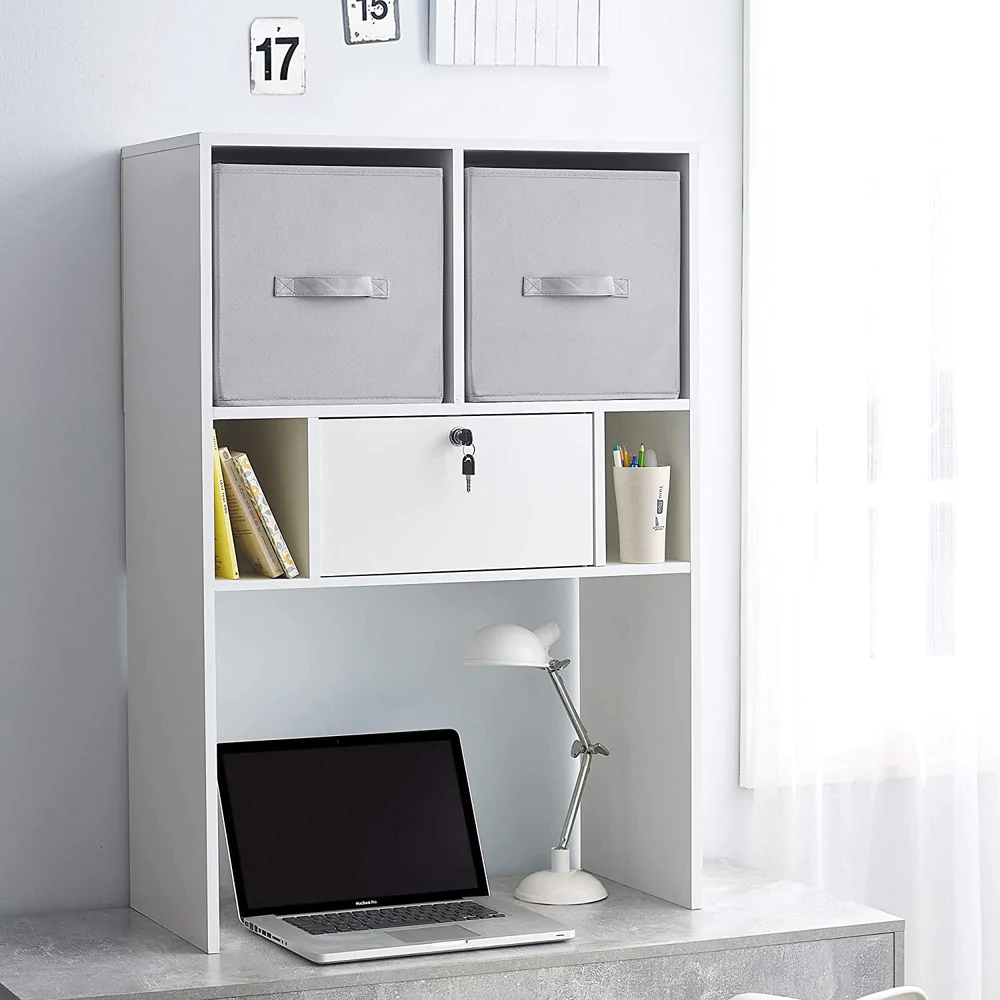 This is a two-in-one desk shelf and safe that is big enough to hold your laptop and other valuables.
This locking desk hutch comes with two keys, so you have a backup in case you lose one.
It comes in several colors so you can match it with your desk and decor style.
The dimensions are 27.8″W x 13.3″D x 41″H.
Another great two-in-one option is this locking safe desk hutch from Dormify. It adds some extra storage to your dorm desk area, while still providing a secure spot for your valuables.
Vertical storage is the best for dorm rooms because they tend to be seriously lacking when it comes to space. This desk hutch will give you a ton more storage space without taking up much room on your desk.
The locking component of the desk hutch isn't huge, but it's big enough to fit a laptop, camera, and a few other small valuable items.
It comes with two keys so you can leave one with a parent or trusted friend as a backup.
8. Book Safe with Combination Lock
This book safe for dorm rooms fits smaller valuable items and will blend in perfectly with your other books.
Set your own code with the three digit combination lock.
This dorm room lock box is made out of sturdy materials to protect your valuables from environmental damage.
This dorm room safe looks exactly like a real dictionary. Obviously it's not 100% theft-proof (someone could easily walk away with it), but it's very unlikely a thief would look in a dictionary for valuable items.
It's not big enough to fit a laptop or any other large items, but it's the perfect size for passports, jewelry, and other small valuables.
This lock box for dorm rooms is made of sturdy materials and is harder to break into than it looks. You can set your own three digit code on the combination lock.
Another benefit is that it's an extremely affordable option for a dorm room safe. At the time of writing this, it's listed for under $15, making it the cheapest option on this list.
[RELATED: The Ultimate Guide to Dorm Shopping | Helpful Tips, Where to Shop, and a FREE Printable Packing List]
9. Alarmed Laptop Safe
Large enough to fit most standard sized laptops.
Has an alarm feature that goes off after 3 unsuccessful code attempts.
The dimensions are 7.87″H x 16.93″W x 13.78″D.
Laptops are one of the most commonly stolen college items, so it's a good idea to buy a safe specifically designed to hold a laptop computer!
This safe is wide enough for most laptops, and has several cool safety features that I haven't seen on many other safes.
The biggest feature that sets it apart is the alarm that will sound after 3 unsuccessful code attempts. You can also set a code of 3 to 8 digits, making it much more secure than standard 3 or 4 digit safes.
It also comes with 2 override keys, so you don't have to worry about the electrical unlock system failing.
10. Plant Pot Safe For Dorm Rooms
Super cute design that looks like a real flower pot.
Comes with a key lock mechanism so your valuables are extra secure.
The dimensions are 4.8″D x 4.8″W x 5.2″H.
This definitely has to be one of the most unique dorm room lock boxes we've seen! It's a plant pot with a locking storage compartment in the bottom.
While this safe is on the smaller side, it's definitely big enough for valuable items like keys, cash, jewelry, credit cards, etc.
Plus, it's cute enough to be part of your dorm room decor!
What To Look For When Buying A Dorm Safe:
Size: Consider the size of the items you'll be putting into your dorm room safe. If you'll be storing laptops or other large electronics, make sure you look for something larger. If you're locking away smaller valuables like jewelry, cash, or passports, a smaller lock box will do.
Tether Cable: A reinforced tether cable is a very important feature because it prevents people from picking up the lock box and carrying it out of the room. Tether cables will allow you to tie down your dorm safe to a heavy object like a bed or desk.
Lock type: There are tons of different lock types for dorm room lock boxes. You can find lock boxes with keys, electronic keypads, or combination locks. If you're worried about forgetting the code, make sure you get a box with a backup key.
Other Ways To Protect Your Valuables In A Dorm Room
Aside from keeping your valuables in a dorm room safe, there are a few other ways you can keep them secure. Here are ways to keep valuables safe in a dorm room:
Lock Your Dorm Room Doors
It's a good idea to keep your dorm room doors locked at all times when you're not in the room. Even if you're just running to the bathroom or grabbing food from the dining hall, you should be locking your door behind you.
If you're sharing your dorm with a roommate, make sure you establish a rule together that you'll both lock the door behind you if you're the last to leave.
If one of you locks the door but the other one forgets all the time, it leaves your belongings vulnerable to theft anyways.
Keep Track Of Your Valuables
The quicker you notice something is missing, the better chance you have of getting it back. Make sure you keep inventory of your valuable items so you can report them missing to campus police ASAP.
If you keep your valuable items in a safe, try to check inside the safe every week or so to make sure everything is there.
Don't Show Off Your Expensive Items
I know it can be tempting to show off your expensive items to your friends.
But flaunting your valuable items will just make you a target for dorm theft, especially if you're doing it in public.
If you really want to show your friends your new purchase, have them over to your dorm room and only show people you 100% trust. Better yet, just leave it at home and show them a picture.
While we're on the subject of pictures, keep your expensive items off of social media too. You're just asking for trouble if you flaunt expensive things or share your location publicly.
Get Insurance
One thing that most college students don't often think about is insuring their belongings. Insurance will help cover the cost of your items if they are stolen or damaged.
Check out College Student Insurance, which covers college student property and rental insurance for students.
Register Valuables With Your School
Most colleges offer the option to register your valuable items with the campus to help prevent theft.
Having the serial numbers for your electronics on file with your college will help the security department locate your stolen goods much faster.
Some colleges even offer engraving or S.T.O.P. (Security Tracking Of Office Property) tags that make it really hard for thieves to resell your stolen goods.
This post was all about the best dorm room safes and how to keep your valuables secure in college.
Looking for more dorm info?