12 Easy Ways to Make Your Dorm Room Smell Good Without Candles
No one wants a funky smelling dorm rooms! Here are 12 genius ways to make your dorm room smell good and stay fresh all semester.
This post may contain affiliate links, which means I'll receive a commission if you purchase through my link, at no extra cost to you. Learn more: Affiliate Disclaimer.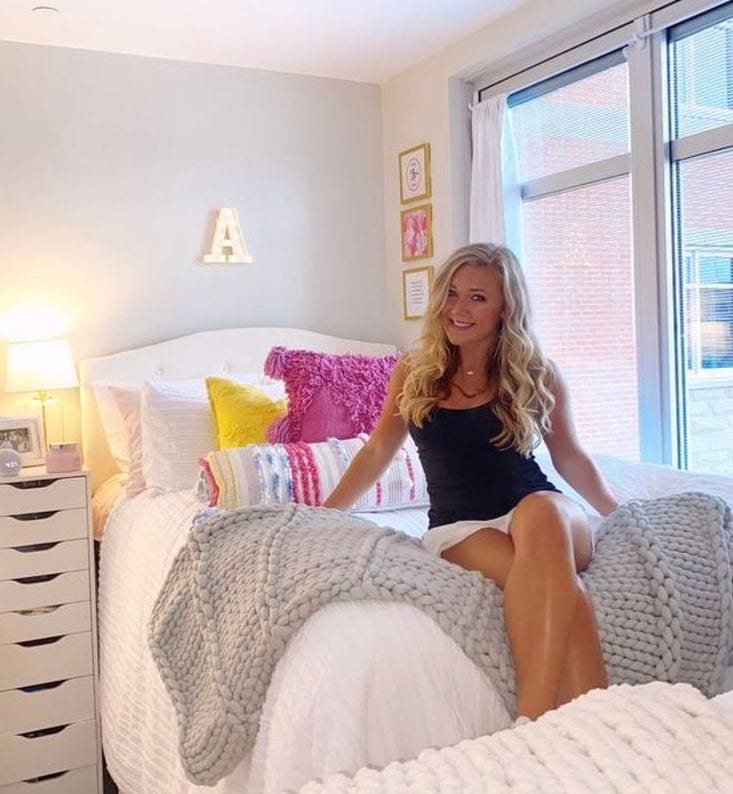 Dorm rooms are TINY, and they can get smelly fast.
When you're eating, sleeping, studying, and socializing in the same tiny room, there's going to be some odors happening.
Even if you're relatively clean, smells tend to linger in small spaces with poor ventilation. And unfortunately, most dorm rooms don't allow you to burn candles.
Luckily, it's fairly easy to eliminate odors and keep your dorm room smelling fresh.
We'll go over methods for preventing and getting rid of odors in a college dorm, and we'll also share easy ways to make your dorm room smell really good without candles.
How To Get Rid Of Odors In A Dorm Room
First of all, you need to figure out why your dorm room smells bad to begin with.
Plugging in an air freshener might work for awhile, but if you don't find the source of the stink, your dorm won't ever truly smell fresh and clean.
Now that we know what could be causing the smelliness, let's go over some solutions.
1. Keep A Regular Cleaning Schedule
The easiest way to prevent and eliminate bad smells in a dorm room is to stay on top of your cleaning routine.
Here are some tasks you should ideally be doing at least once a week:
Change your bedding: A lot of dirt, sweat, and oil builds up in your bedding when you're spending 7-8 hours in it every night. Wash your sheets weekly and your heavier blankets monthly to avoid gross, smelly bedding.
Cleaning out your fridge: Make sure you regularly get rid of old, expired food from your mini fridge.
Vacuum: Prevent dust and dirt from building up by regularly vacuuming the floors of your dorm room.
Wipe down surfaces: Use antibacterial cleaning wipes to freshen up your desk, vanity, dresser, etc.
Need some cleaning motivation? We love the TikTok trend of doing a "Sunday reset" in your dorm room.
Here's some inspo:
2. Hang Dehumidifier Bags
2. Use Scented Trash Bags
3. Get A Trash Can With A Lid
4. Store Food In Airtight Containers
5. Use Shoe Deodorizing Bags
6. Get A Hamper With A Lid
7. Air Out Your Dorm Room
How To Make Your Dorm Room Smell Amazing
Now that we've identified the source of the gross smells, we can focus on adding in nice smells to our room!
You typically can't light candles in a dorm room, but here are some other genius ways to make your dorm room smell good.
8. Use a Plug In Air Freshener
[RELATED: 21 Dorm Cleaning Supplies Every College Freshman Needs]
9. Run an Essential Oil Diffuser
10. Get a Wax Melt Warmer
11. Spray Linens With Fabric Spray
12. Stick a Dryer Sheet in Your Fan
[RELATED: 15 College Life Hacks That Will Make Your Life So Much Easier]
Your dorm room is such a small place, and it can easily start smelling bad. It's always a good idea to know how to make your dorm room smell better without candles.
This post showed you 12 clever ways to make your dorm room smell good.
Looking for more dorm room tips and tricks?