35 Best Guys Dorm Room Ideas You'll Want To Copy
Moving into a dorm room soon? Here are the best guys dorm room ideas that you'll want to copy this year.
This post may contain affiliate links, which means I'll receive a commission if you purchase through my link, at no extra cost to you. Learn more: Affiliate Disclaimer.
Decorating a boys dorm room can be so hard! Most guys don't have a ton of decor ideas, and there's not many good inspiration pictures on the internet.
If you're looking for some simple ways to decorate and arrange a boys dorm room, you came to the right place!
Here are 35 genius guys dorm room ideas that will give you some inspiration.
Genius Guys Dorm Room Ideas
Not sure how to make your dorm room look cool? Here are some awesome ways to decorate your dorm room for guys:
1. Create a Lounge Area Under Your Bed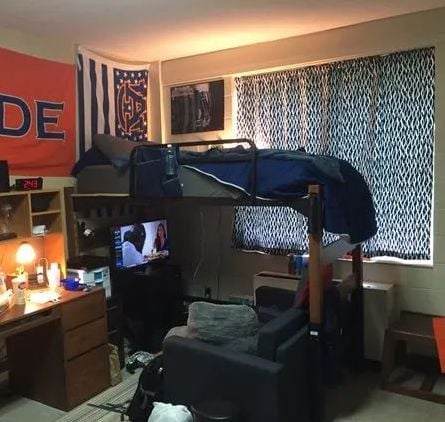 Lofting your bed gives you SO much more space and storage room in your dorm.
One smart way to utilize the space under your bed is to make a little hangout area.
Put your desk, a comfy chair, or even a futon under your bed to make a little "man cave" area.
2. Hang Closet Organizers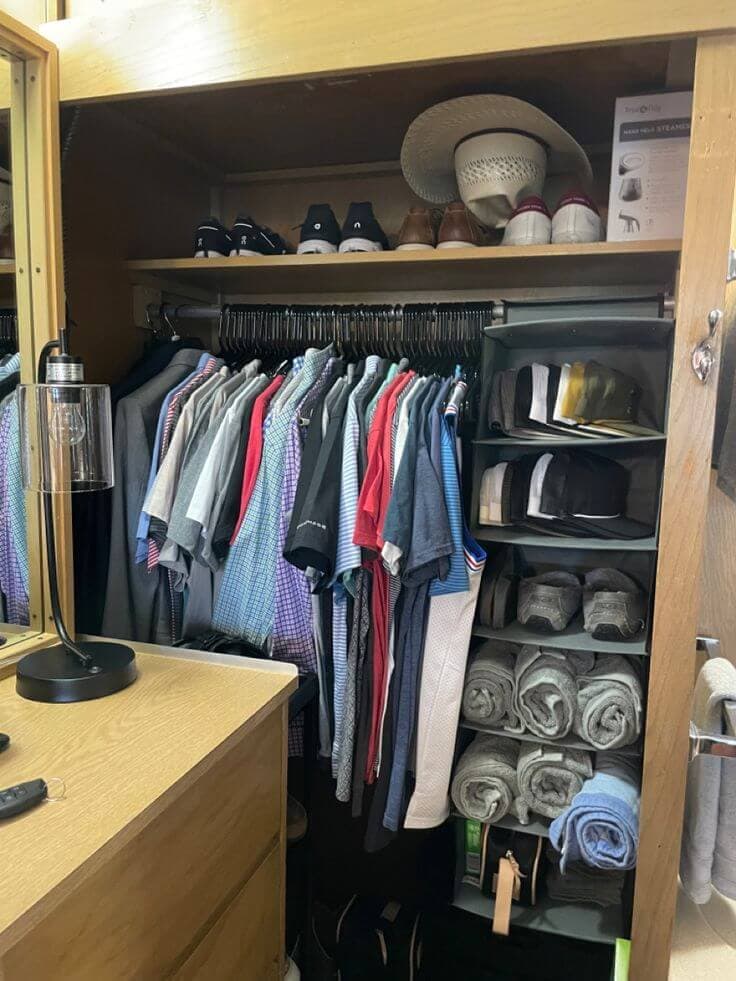 Take advantage of vertical space in your dorm room by hanging some organizers in your closet.
You can use these for extra clothing storage space, or for storing oddly shaped items like hats, towels, shoes, etc.
They even make hanging organizers with added drawers, so you can hide your less attractive items that you don't want seen.
3. Get Furniture With Built In Storage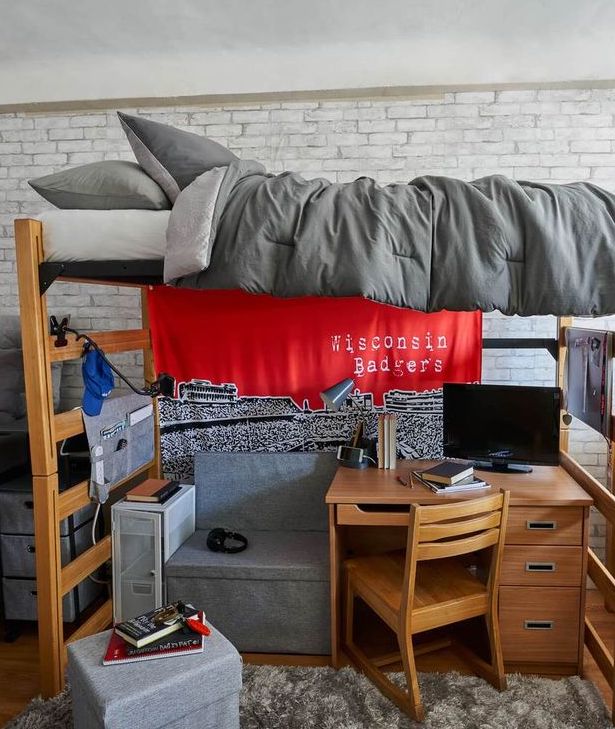 Another great way to maximize your storage space is to get furniture that doubles as storage.
Storage ottomans, benches, and night stands are all great furniture options for dorm rooms.
4. Put Shelves Under Your Bed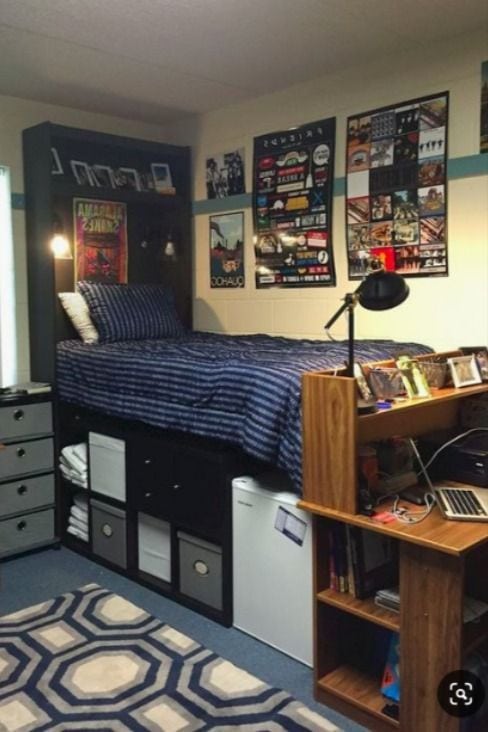 If you're feeling low on storage space, this is a great dorm room configuration for guys. Raise your bed up but don't fully loft it.
Then add some cube storage shelves under the bed. You may find you even have room to put your mini fridge under your bed as well.
5. Create A Snack Area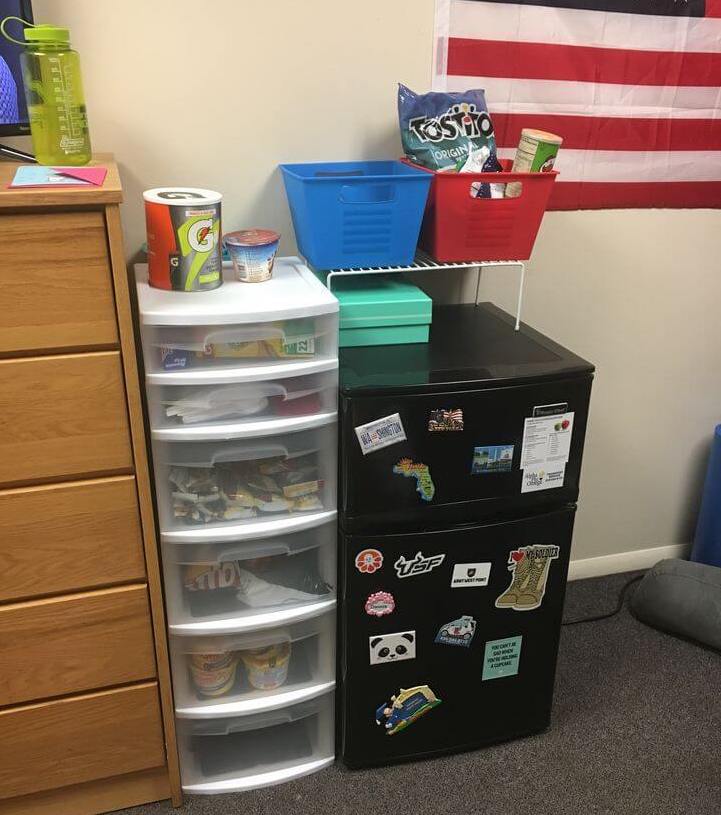 One storage idea that's really common in guys dorm rooms is to have a shelf above your mini fridge.
This will give you lots of storage for snacks and utensils without taking up much room.
Another great idea is to use a mini fridge caddy. These take up pretty much zero space in your room, and are a really genius way to store your dorm kitchen accessories.
6. Create Storage Above Your Desk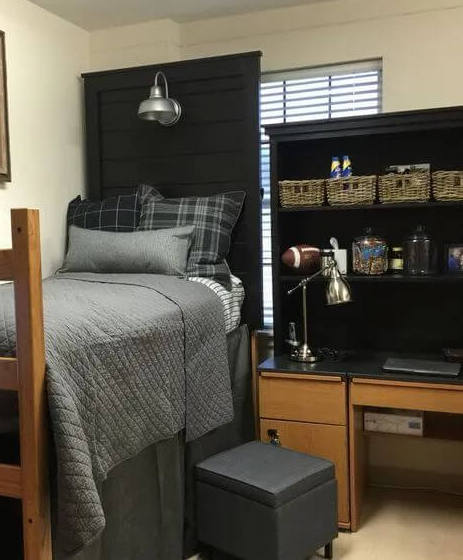 A great place to add more storage in a guy's dorm room is above his desk.
A hutch that's specifically designed for dorm desks is a perfect way to add additional storage space. Here's one from Amazon that works perfectly in a guys' dorm room.
Some dorms already come with dorm desk hutches, so be sure to check with your campus housing before you buy your own.
7. Utilize Vertical Storage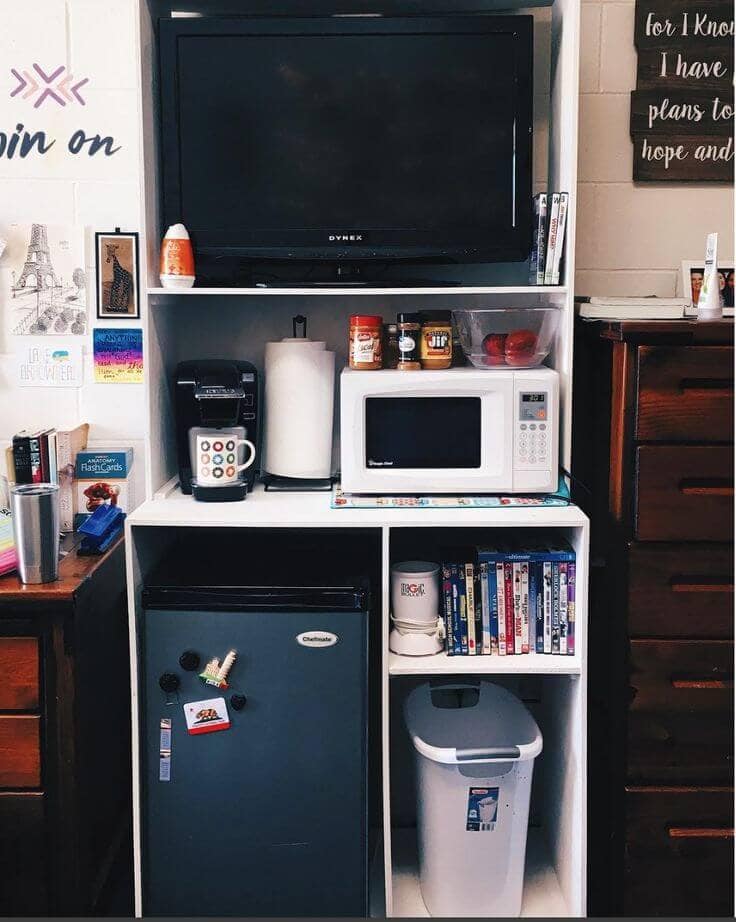 Most dorm rooms are pretty tiny, so it's important to utilize vertical storage space whenever possible.
Vertical shelves like this give you SO much more room for larger items like your TV, mini fridge, garbage can, microwave, etc.
It was made specifically for dorm rooms, so you know it'll fit all of your dorm items perfectly!
8. Get A Bed Rest Pillow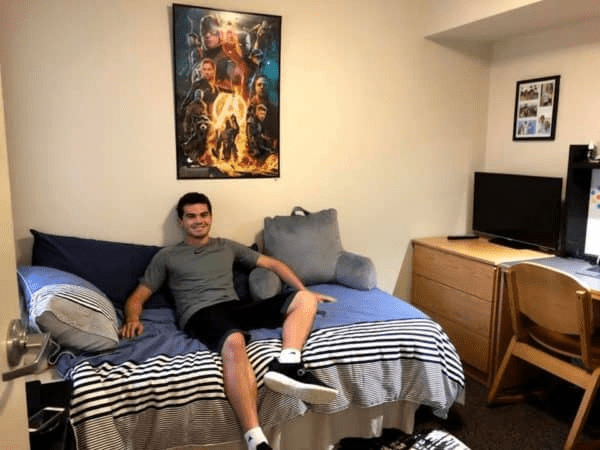 A bed rest pillow comes in handy all the time in a dorm room.
Having a bed rest pillow allows you to study, watch TV, play video games, and read comfortably from your bed.
9. Put A Futon Under Your Bed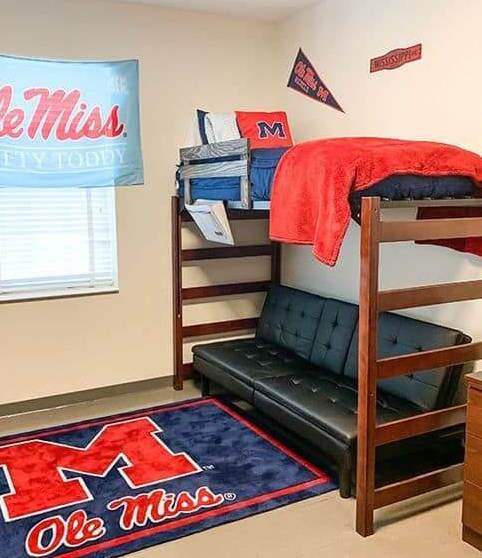 Futons are a really popular seating option for college dorms.
They don't take up too much room, they're pretty affordable, and they can be folded out for when you have friends sleep over.
One of the best places to put a futon is underneath your lofted bed.
10. Hang Blackout Curtains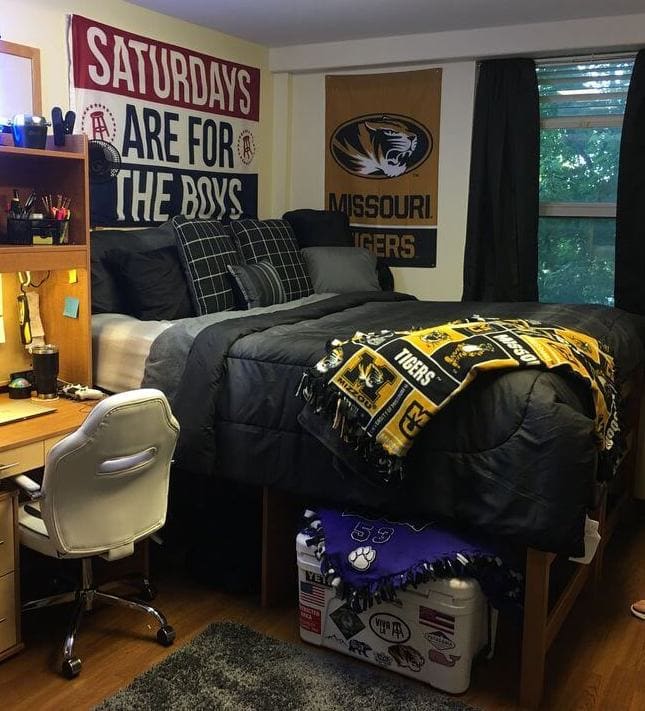 Hanging blackout curtains in a dorm room is a great way to block out light and noise while sleeping.
Plus, it just makes your whole room feel cozier and more like home.
If you're not sure how to hang curtains in a dorm room without causing damage, we have a whole guide that goes over that.
11. Add An Area Rug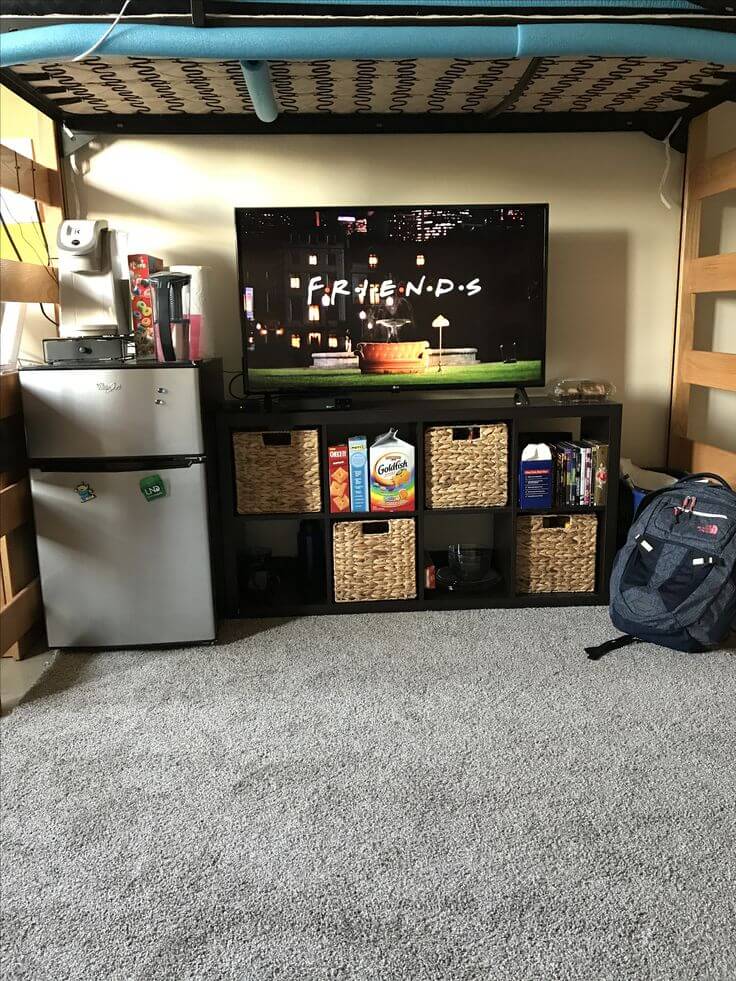 Another great way to make your dorm room feel cozier is to add an area rug.
Dorm floors are usually pretty cold and ugly. Put down a cheap area rug to soften up the space and keep your feet warmer.
12. Coordinate With Your Roommate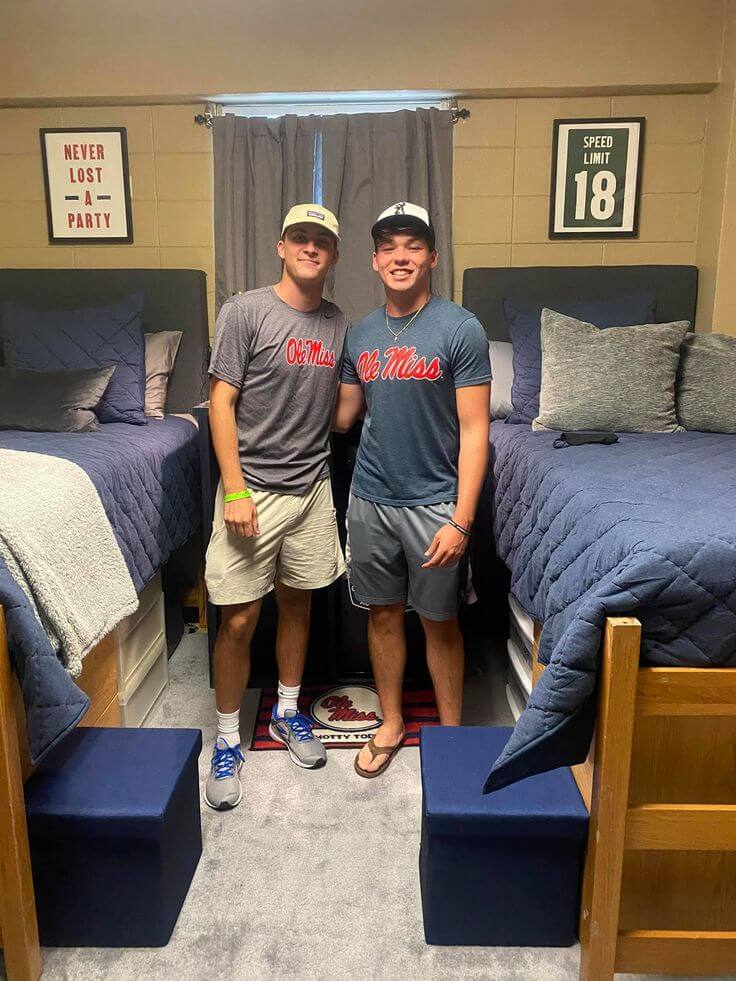 A great way to make a guys dorm room look more put-together is to coordinate your dorm decor with your roommate.
Get your bed spreads, headboards, and ottomans in the same colors so that your room looks more coordinated.
If you don't want things to look too "matchy", you can just check in with each other before the semester starts to make sure your colors and patterns don't clash.
13. Hang Your Hats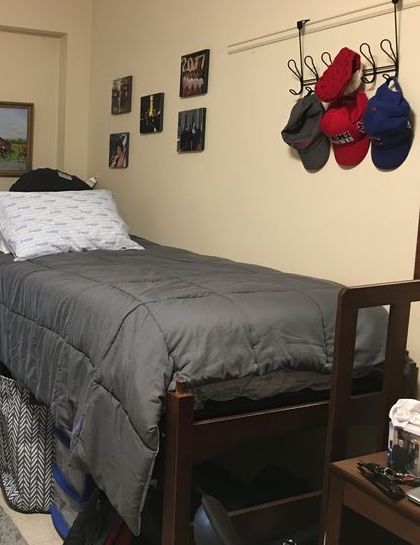 Hats are one of those items that it feels like you can never find a good spot for. Why not put them on display by hanging them from hooks on your walls?
If you have a closet door or a pipe running along your wall, you can use an over-the-door hook system like this one.
If not, you can just use command hooks to hang them around your walls.
14. Create A Seating Area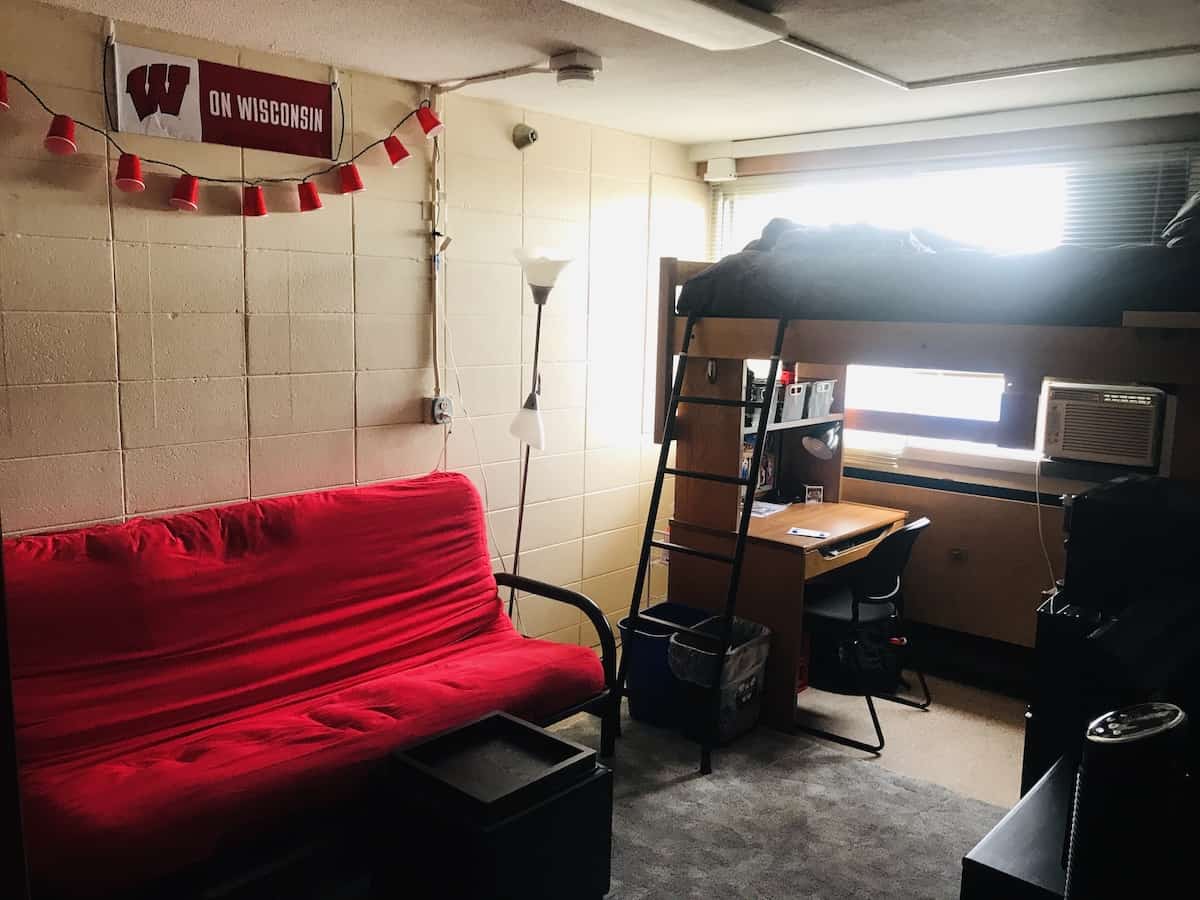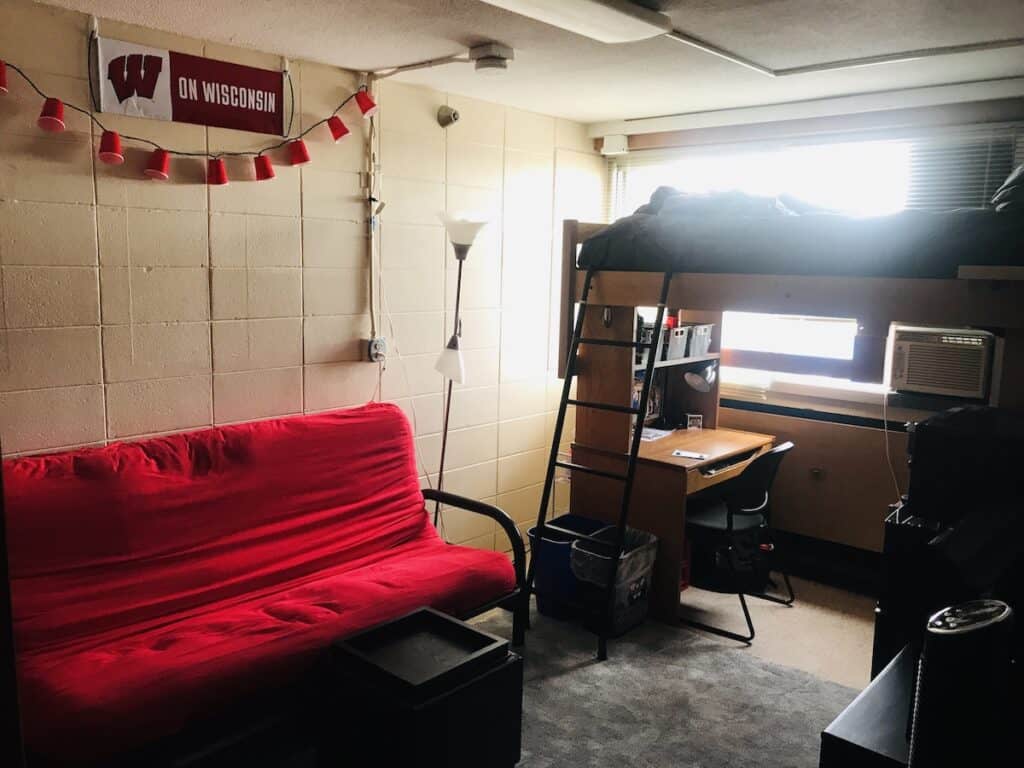 If you have the space for it, it's a good idea to create a dedicated seating area in your dorm room.
This is a spot where you can hang out with your roommate and watch TV, eat from, or have people sleep on when they stay over.
I also love the decor hanging above the futon for a guys dorm room. Those solo cup string lights just scream college dorm decor!
15. Put Shoe Racks In The Closet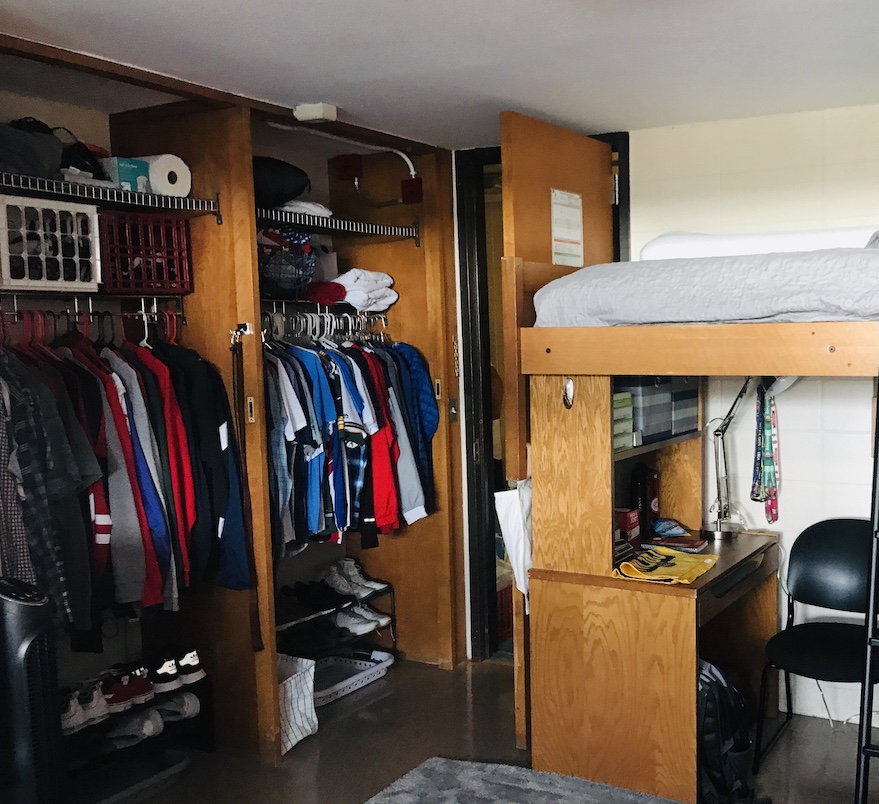 One of the best guys dorm room ideas for guys who have a lot of shoes is to have dedicated shoe storage shelves in your closet.
Most guys just throw their shoes on the floor of their closet in their dorm. Then it takes forever to find a matching pair when you're leaving for class.
Shoe storage shelves help keep your shoes organized and make your closet look a lot cleaner. Plus, they're super affordable and easy to assemble.
16. Hang Album Covers As Wall Art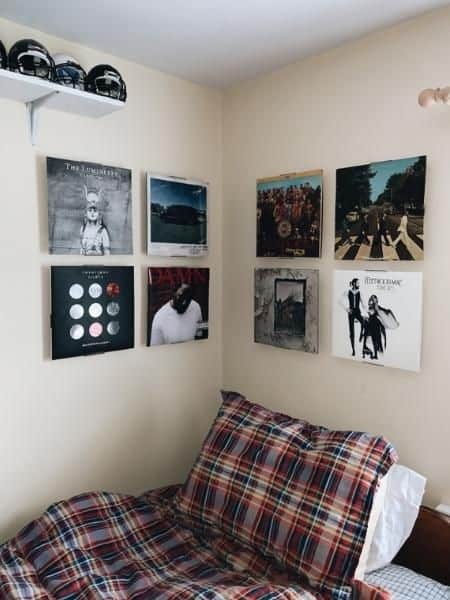 One of my favorite ways for guys to decorate their dorm walls is with album covers.
You can buy these album cover display mounts on Amazon, which work really well for dorm rooms. They're peel and stick so they won't damage your dorm walls!
17. Add Some School Spirit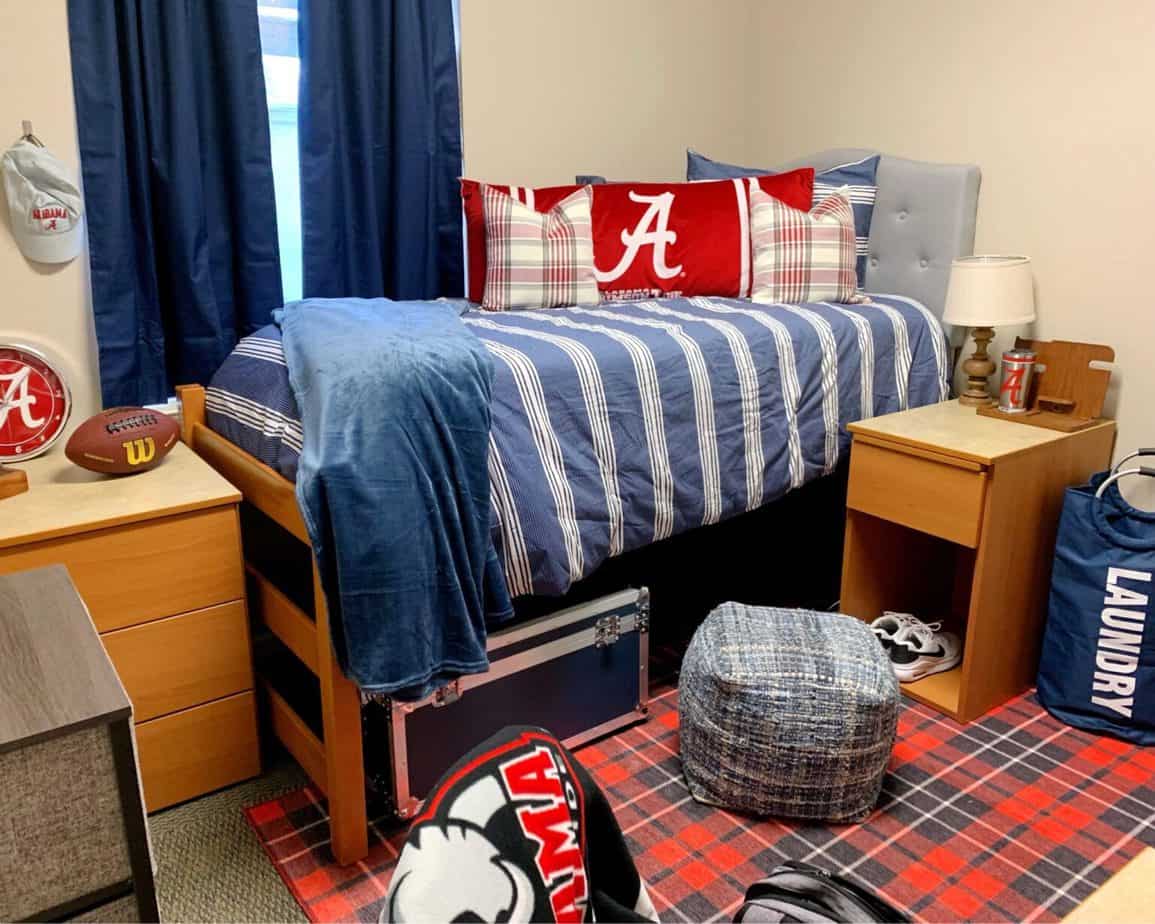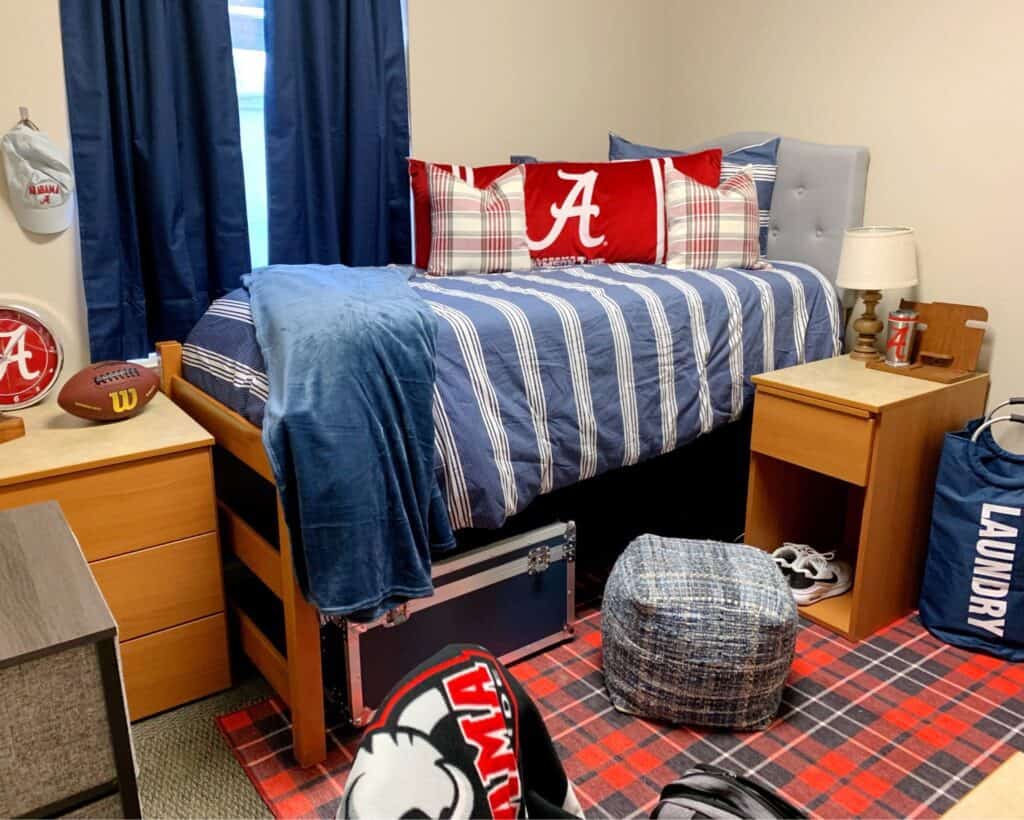 Don't be afraid to show a little school spirit in your dorm decor!
You definitely don't want to go overboard, but a pillowcase or a small desktop decor piece with your school's logo is perfect.
18. Hang Lights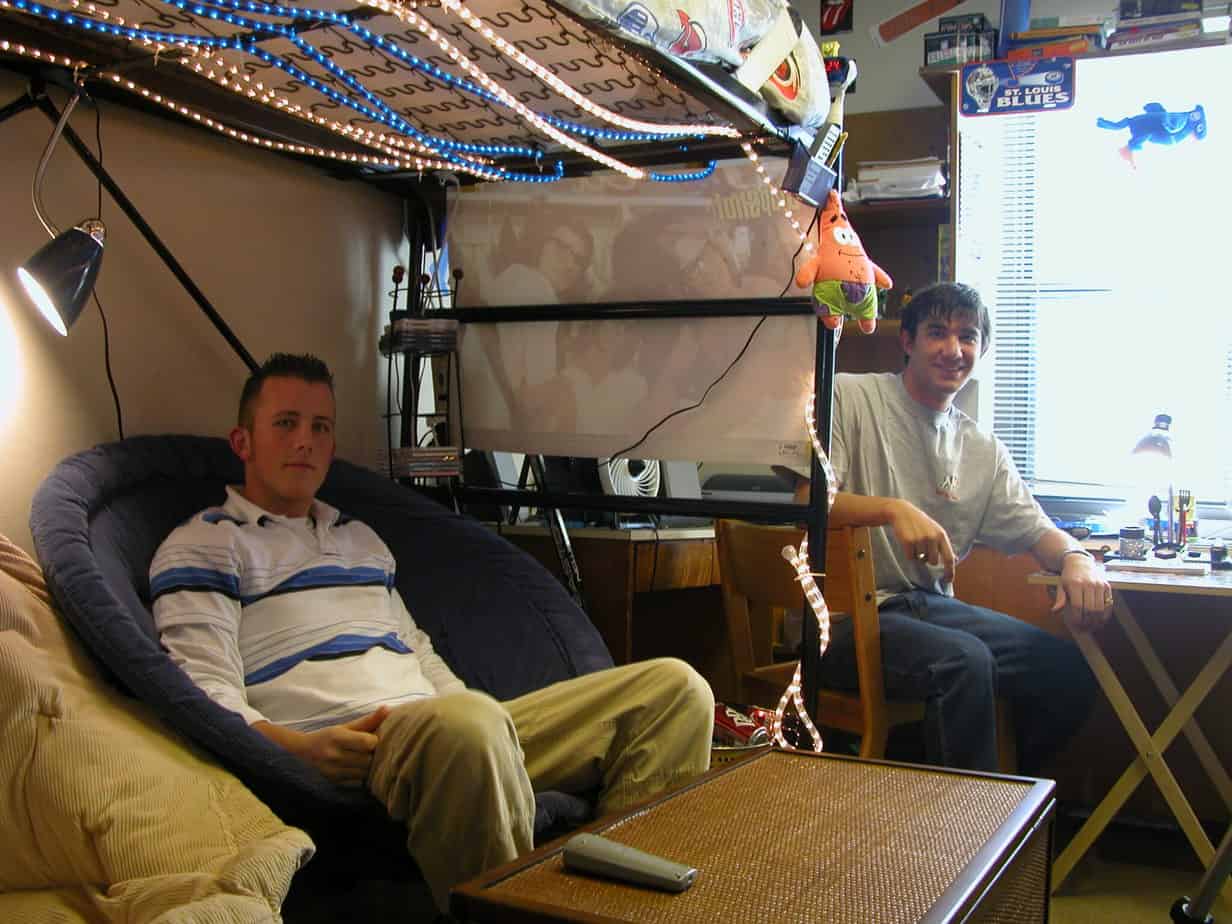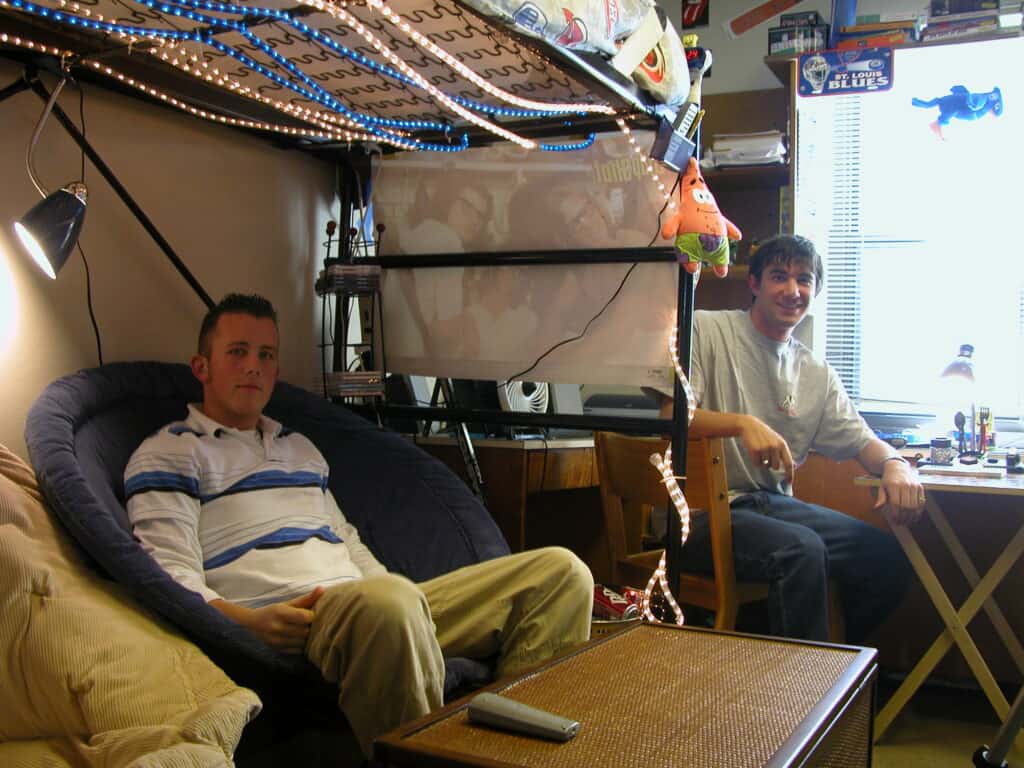 String lights are a classic dorm decor item. They look super cool and they add some mood lighting for when you don't want the overhead lights on.
If you don't want to go for the classic fairy lights look, you can get some cool rope string lights.
They come in different colors and look a bit more masculine than traditional twinkle lights.
Dorm Room Essentials For Guys
Here are some of the top items that every guy needs for his dorm room.
Looking for more? We have a full post of 50+ top dorm room essentials for guys.
19. Mattress Topper
This mattress topper is one of the top selling items that we recommend here. It has insanely good reviews and it seriously makes your dorm mattress feel like a hotel bed.
Don't believe me? Check out some of the reviews on Amazon! Trust me, this is an underrated dorm room essential that you'll be glad you brought.
20. Twin XL Bedding
Most dorm rooms in the US have Twin XL mattresses. It's the same width as a twin mattress, just a little bit longer.
Make sure that you get bedding that will fit this size mattress.
This bedding set from Amazon is perfect for dorm rooms and has really great reviews. It includes a comforter, sheets, pillowcases, and shams.
21. Mini Fridge With Freezer
A mini fridge is another necessity for college guys.
Even if you think you'll eat all of your meals in the dining hall, it's still nice to have a fridge for snacks and drinks in your dorm room.
This mini fridge is my top pick for dorm rooms because it looks really cool, has plenty of space, and includes a small freezer section.
22. Tool Kit
Another unexpected dorm essential for guys is a tool kit. Pretty much all dorm furniture comes unassembled, so you're going to need some tools for move-in day.
They also come in handy for repairing things throughout the semester. You never know when your futon is going to have a screw loose!
This tool kit is perfect for dorms because it's compact but has everything you'll need for small repairs and putting furniture together.
23. Mini Keurig
Coffee drinkers absolutely need a coffee maker in their dorm room. Coffee shop trips get so expensive and they can be inconvenient when you're running late to class.
This Mini Keurig machine brews up a single cup of coffee really quickly. It's also small enough that it'll fit on your desk or on top of your mini fridge.
24. Safe
You may be surprised to hear that dorm theft is actually super common on campuses. Smaller valuable items like phones, credit cards, and laptops are common targets for thieves.
Make sure you have some type of safe in your dorm room for storing all of your valuables.
This safe is a really popular option for dorm rooms, but I have a full post with the best lock boxes for dorm rooms if you want more options.
25. Shower Caddy
A shower caddy makes it really easy to carry your things from your dorm room to the communal showers.
I recommend getting a mesh caddy rather than a plastic one because it'll dry much quicker and won't bring water back to your dorm room.
26. Shower Shoes
If you're living in the dorms, you absolutely NEED shower shoes. Seriously, it's non-negotiable.
Communal bathrooms are disgusting and you don't want to be walking around barefoot in them.
These shower shoes will protect your feet and have drainage holes so you don't track water back to your dorm room.
27. Under Bed Storage
Storage in dorm rooms is often pretty limited, so most students will have some storage units under their bed for things like snacks, school supplies, and extra clothes.
I really like these plastic drawers for underneath a raised dorm bed. They look nice, are pretty affordable, and they hold a ton of stuff.
28. Closet Organization
Dorm closets are usually pretty small, but there are some genius ways to optimize your closet space.
These space-saving hangers are so useful for cramped closets. They allow you to fit way more clothing in your close than you would with regular hangers.
I also really like these hanging storage shelves for dorm closets. They're perfect for items like pants, t-shirts, shoes, and hats.
29. Laundry Basket
This laundry basket backpack is absolutely genius for college guys.
It allows you to carry your laundry on your back, which is really handy for going up and down the stairs in your dorm building.
The backpack also has external pockets for carrying your laundry detergent and dryer sheets.
Dorm Room Decor For Guys
Here are some of the most popular options for dorm room decorations for guys.
30. Tapestries
Tapestries are one of the most popular dorm decorations for guys rooms. You can find tapestries that fit pretty much any design style.
I love tapestries as dorm decor because they're cheap, cover a lot of space on the wall, and are easy to hang without damaging your walls.
31. Mini Basketball Hoop
A mini basketball hoop is great for hanging over your door in your dorm room.
It's perfect for killing some boredom in between classes or during your studying breaks.
32. LED Light Strips
LED Light strips are a classic dorm decoration for college guys.
You can stick them pretty much anywhere in your dorm room – along the ceiling, under your bed, around your TV, etc.
33. Wall Collage Kit
These wall collage kits are another great way to decorate your dorm room walls.
They're super affordable, easy to hang, and there are tons of different design and aesthetic options to choose from.
34. Dorm Flags
Flags are another popular choice for guys dorm decor.
You could get the classic American flag, or you could go for one of the funnier options like this one.
35. Posters
Dorm rooms and posters pretty much go hand-in-hand. Most college campuses even have poster sales during the first few weeks of classes.
Amazon has a really great selection of posters for college dorms, so be sure to check there as well.
This post was all about genius guys dorm room ideas.
You may also like: